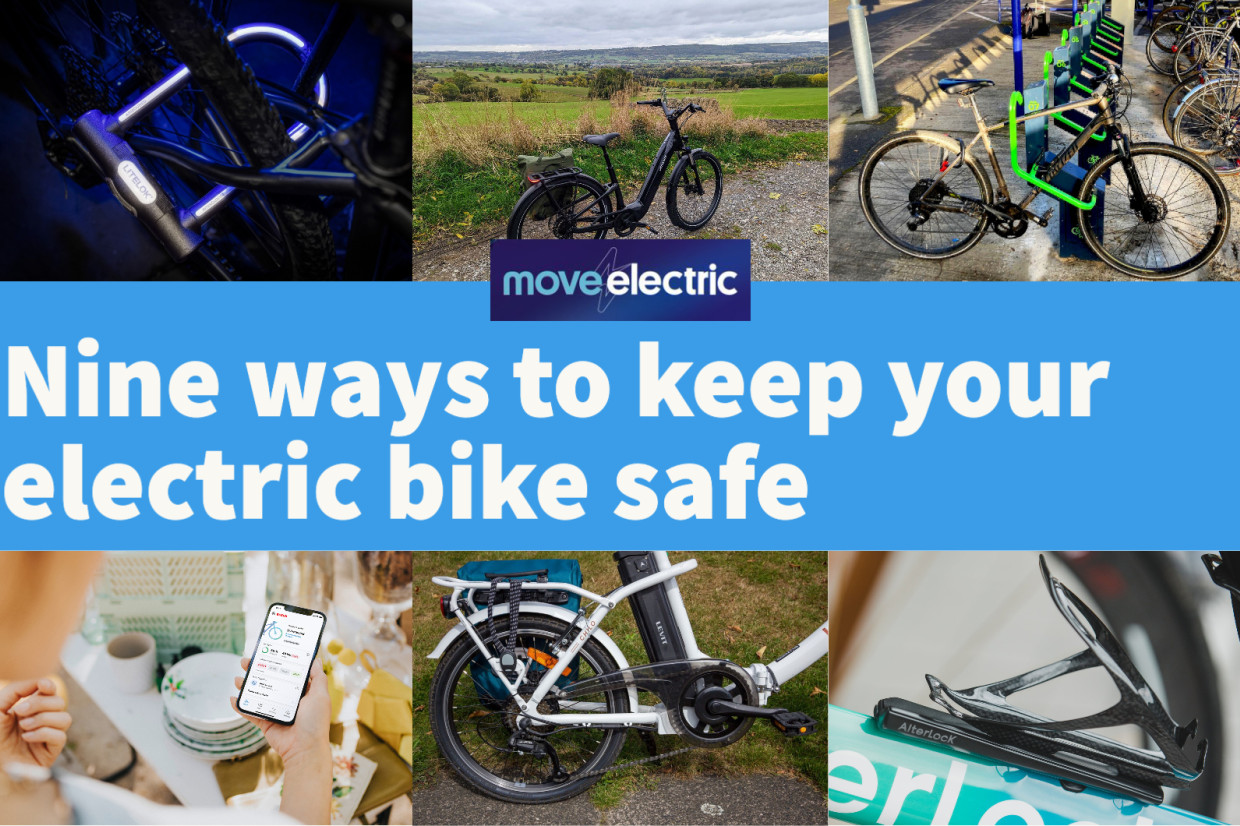 Whether you've got a £10,000 electric road bike or a £500 folder, you shouldn't have to feel like it might not be there when you come back to wherever you locked it up.
With thefts becoming more targeted, particularly with e-bikes, it's a good time to evaluate how you can keep yours a little bit safer. We spoke to some of the industry experts on how you can keep your e-bike safe and deter thieves from having a crack at taking it.
Investigation: how common is e-bike theft?
1. Use an appropriately rated lock
Cycling locks have a graded system called Sold Secure, which essentially determines the strength of the lock. Or, if we're being pessimistic, the amount of time it would take a thief to pick it or break it. It's worth checking closely: if you have cycling insurance, the type of lock you need to use may be a condition of your policy. 
Get the latest e-bike news: sign up for our FREE newsletter
So which lock should you pick, and how do you lock it properly? Phil Dowling, Brand & Product Lead of lock brand Litelok says: "Choose a busy spot, use an armoured U-lock, ensuring that it's locked to something solid and is ideally locked through the frame and rear wheel of the bike. Keep the lock off the ground and try not to use your top tube. The seat tube is a good one to lock the bike up with.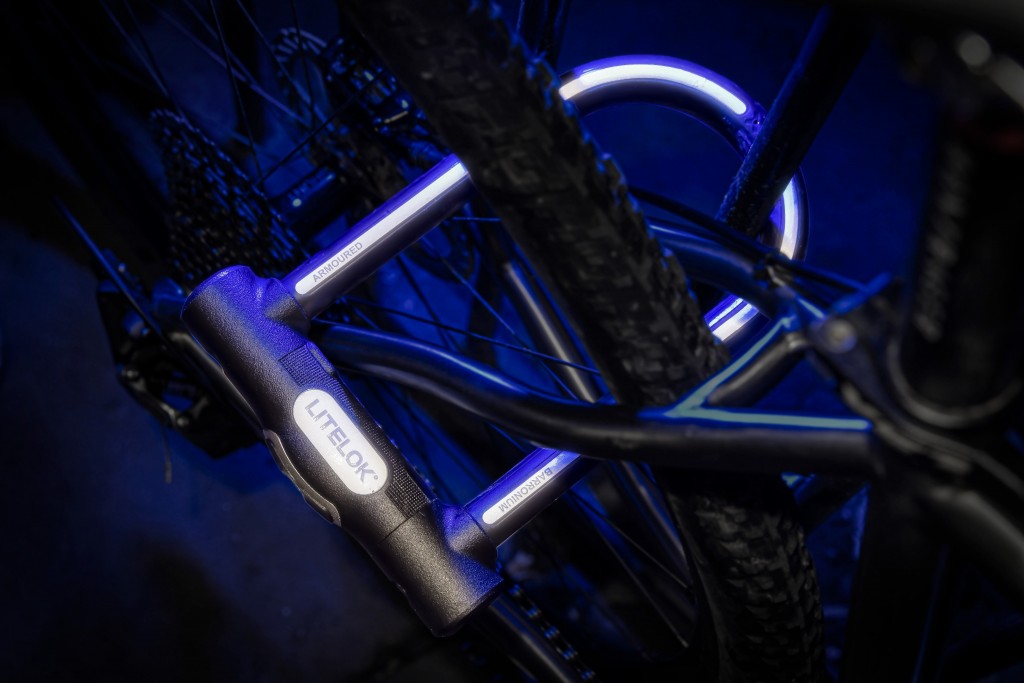 "Essentially you want to make the lock difficult to get to by a would-be thief. We'd also recommend using a pair of locks, you can secure both wheels to the solid object then and it can help put a would-be thief off attacking your bike."
There are lots of types of locks, from U-locks to chains to folded locks. Something like the Litelock X1 uses a "patented fused ceramic composite material called Barronium", which the firm claims can provide, five times "higher angle-grinder resistance" than other U-locks. The firm claims it does that turning an angle grinder's energy back on itself "destroying grinder discs and flattening batteries in the process".
While we can't vouch for the effectiveness of this particular lock, choose something heavy-duty that will make a thief's life difficult if they try to cut through it.
2. Make your bike less attractive to thieves in public
We're not suggesting you spray paint your e-bike or let it rust to make it seem less appealing, instead, try and make it look like it won't be worth the effort to try and take it. One notable trend among e-bike thefts is that the bike itself isn't the target – the battery is.
Nick Bailey, founder of the Boost conversion kit, says: "You should always remove the battery from your bike, so if you're going to buy an e-bike, buy one that you can take the battery out of. Once you take the battery out, the motor and control system is just not worth that much. And it's a lot more faff to have to take a 15-20kg e-bike around with no battery."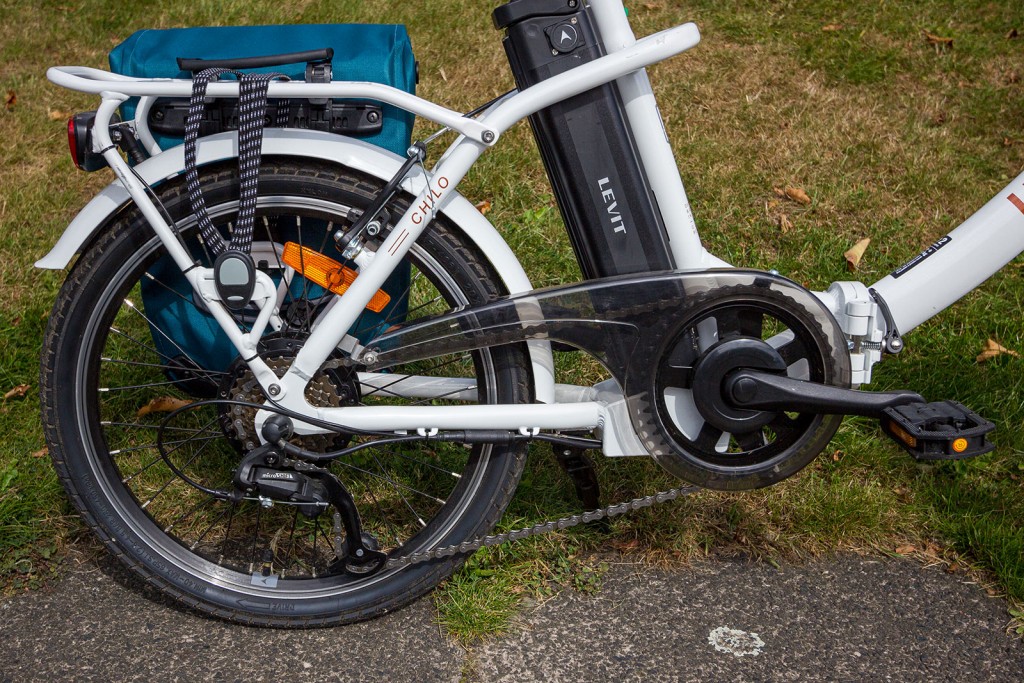 Other things you can do include double locking the bike, and keeping it somewhere busy so people are less likely to try something during the day.
3. Park it somewhere secure
While there aren't that many secure e-bike parking options available to the public just yet if you can find one, use it. London-based Spokesafe provides an app that manages bookings in secure cycle parking across England. Their new update will provide allocation to suitable spaces depending on your bike type – including e-bikes, as founder Max Wilson explains.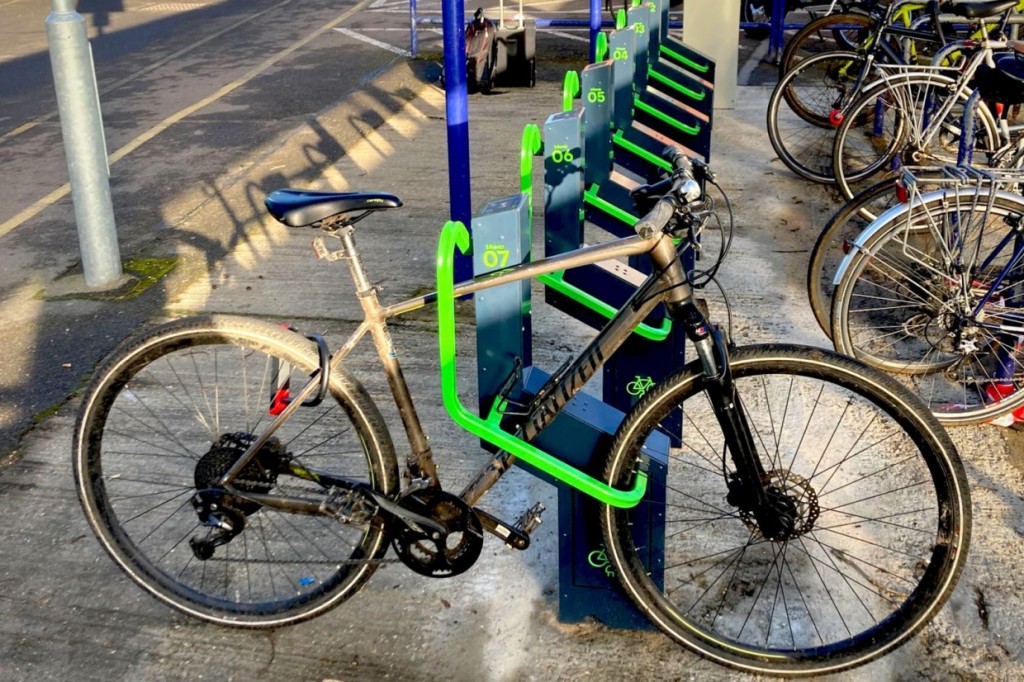 "If you're going to a train station or city centre and you've got a cargo bike, you'll be able to select a space which is suitable for that bike," says Wilson. "We're trying to make it as accessible as possible, and make the journey as pleasurable as possible. So you get there, you know the space is going to be right for your bike. A lot of the spaces also have a locker, which is accessible through the code which is individual to you. So you can put your bag there, and you can go do your shopping. Some locations even have a bathroom." 
4. Park it somewhere well-lit and busy 
If you don't have secure cycle parking at your fingertips, then parking your e-bike should be done somewhere busy, and covered by CCTV. Make sure the area is well-lit and not in a CCTV black spot. Whilst CCTV on its own isn't enough security when used in conjunction with good locks and a busy environment, it could act as a deterrent to would-be thieves. 
5. Consider an e-bike tracker
We can track almost anything these days. From suitcases to dogs, e-bikes are just one of the many things making use of GPS and tracking technologies. Whether it's something like the AlterLock system (pictured below) or something integrated into the bike like the Bosch eBike alarm, if you're worried about where you're leaving your bike, it could be worth the investment.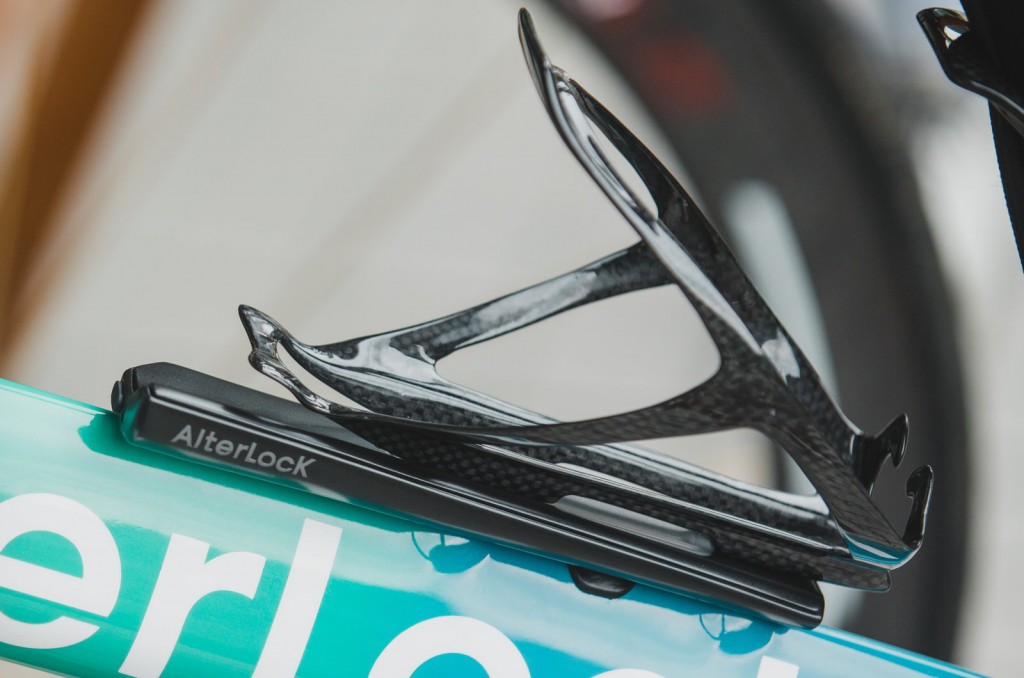 Chris Astle, UK Marketing Manager for Bosch eBike Systems, says: "Thanks to the eBike Alarm function, users can be more relaxed about parking their eBike in public. In addition to a mechanical lock, eBike Alarm improves the theft protection of an eBike and the owner will be informed about the eBike's status via the eBike Flow app.
"If a thief tries to tamper with the eBike, eBike Alarm will respond with deterrent alarm signals. If this isn't enough to put them off and the eBike is moved, tracking is automatically activated, and the owner will receive a message on their smartphone."
6. Have proof of ownership
If the worst happens, it's good to have a recent image of your e-bike to hand with any accessories or recognisable components you may have added. Not only this but having the correct proof of ownership like an invoice is key to a successful theft claim via some insurance policies. See, taking all those pictures of your e-bike for Instagram isn't just a vanity project after all.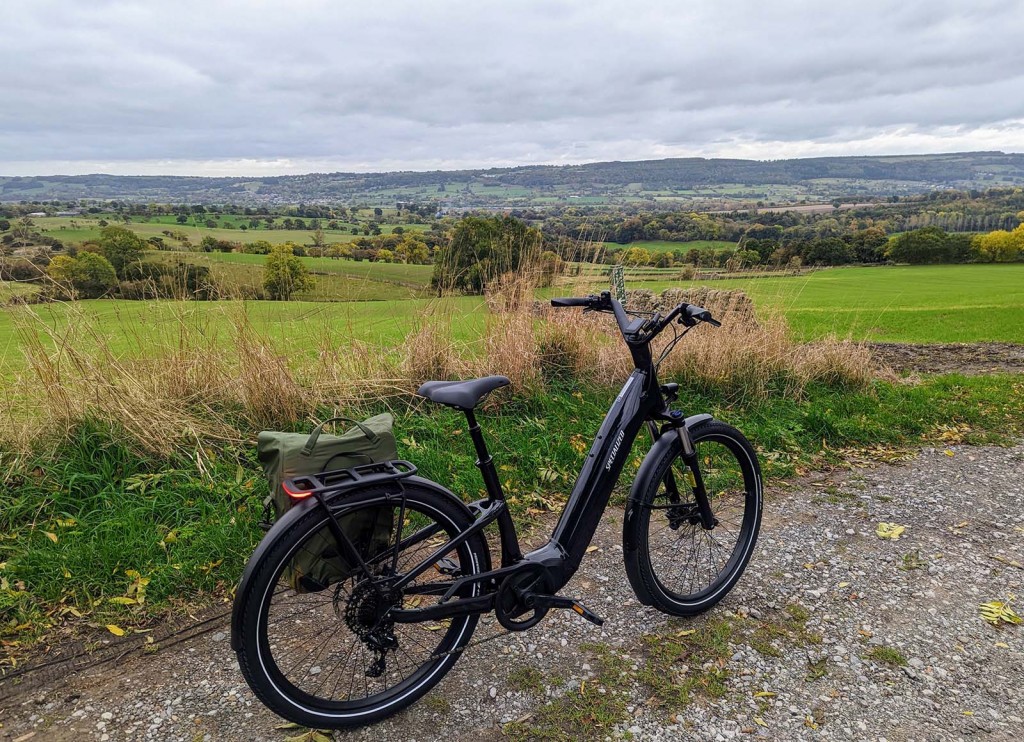 7. Keep it secure at home
Although most insurance policies don't require your e-bike to be locked if it's inside your home, if you're not fortunate enough to be able to bring it inside the actual house and it has to stay in the shed or garage, then having it locked up will bring a bit more peace of mind. 
8. Don't leave it unlocked on a bike rack
If you're an e-mountain biker, chances are you don't live directly next to a trail. So if you are driving your car with your e-bike on a rack, make sure you take the following precautions, courtesy of Roger Seal, Sales & Marketing Manager of Mobile Security at ABUS.
"Bikes in or on cars are often left unattended and are highly vulnerable. Never leave a bike on a bike rack without a high-security lock. In an ideal world, the bike should be transported inside your car where it is much less visible, but it should still be locked up inside your car/van."
9. Get it registered
We don't mean with the DVLA, but registering it to something like the National Cycle Database can deter thieves, especially if you advertise it's a registered bike.
Tim Goodall, Managing Director of Islabikes explains: "As a preventative measure, you can opt to register with the National Cycle Database. If your e-bike is ever unfortunately stolen but the police can recover it, then they'll be able to immediately contact you as the owner to retrieve your bike."
E-bike-specific insurance is also worth considering if you plan on leaving it outside the home for extended periods, for example, commuting or holidays. It is, however, worth checking if your home insurance already covers you for everything you need.
READ MORE
Subscribe to the Move Electric newsletter
e-CARS
Ten electric cars we're excited for in 2023
Getting an EV sideways: how easy is it to drift a Kia EV6 GT?
Q&A: Jaguar Racing's Sam Bird and Mitch Evans on Formula E's new era
e-BIKES
Ten electric bikes we're excited for in 2023
Can you get fit using an electric bike?
e-MOTORBIKES
Ten electric motorbikes we're excited for in 2023
Super Soco TC Max electric motorbike review
Cake and Polestar team up for new special edition Makka e-motorbike
e-SCOOTERS
Planned laws to legalise private e-scooters face delay
Five key takeaways from the rental e-scooter trials report
Which train firms have banned e-scooters from their services?
e-WORLD
Move Electric's best features of 2022: lap records, tuk-tuks… and sausage rolls
Volvo Trucks keeps on electric trucking with three new models
VIDEO: Watch Move Electric's epic e-race across London