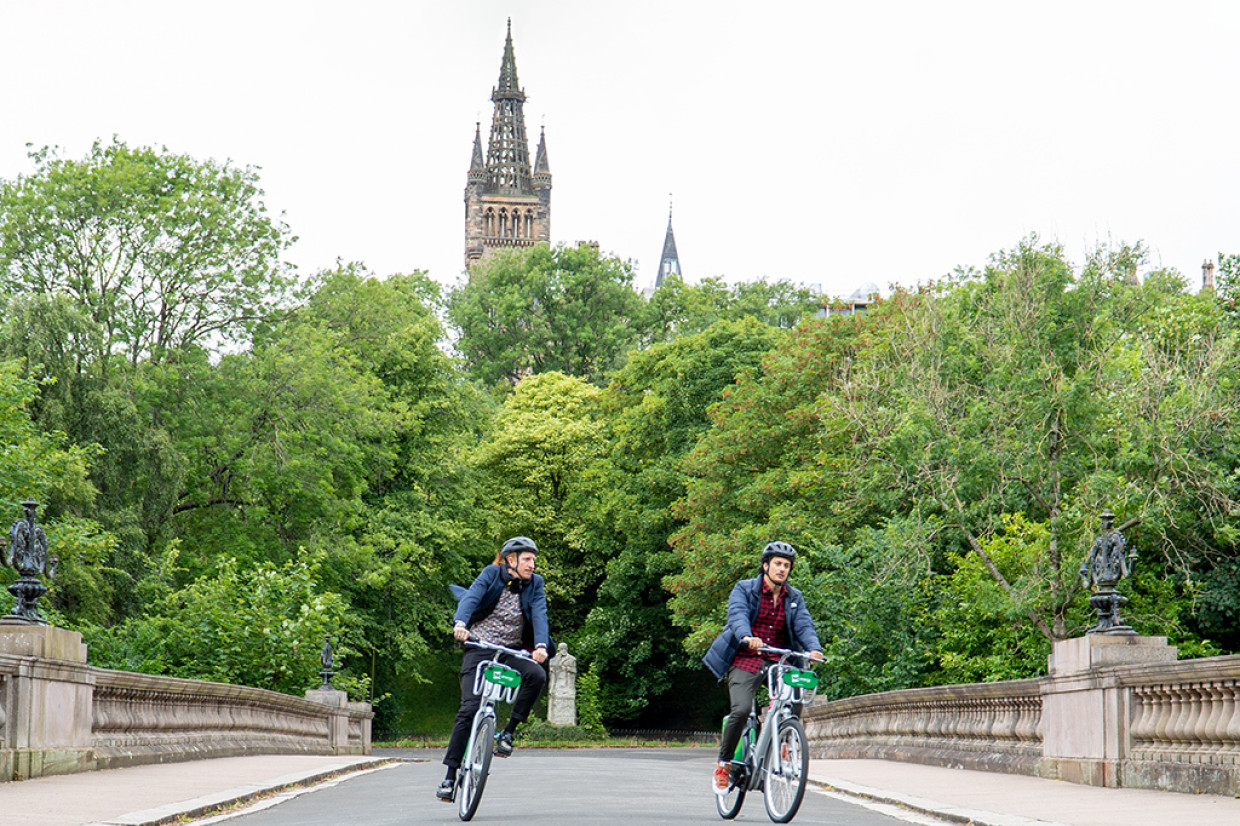 The next time you ask someone for a simple way to lower your carbon footprint, and they tell you to: "Get on your bike", don't be offended. Opting for pedal power over the car, bus, tram or train is one of the easiest ways to reduce the impact of the journeys we make – especially in busy urban areas, where it seems as if we spend a lot of time creating a lot of carbon and emissions while not moving very fast at all.
According to the University of Oxford, cycling every day can reduce the CO2 output of your daily transport by 84%. Equally, doing just one bike journey a day can reduce your annual carbon footprint by over 6 per cent. Cycling is also a great way of staying more physically healthy, while also making a positive contribution to your mental health. So, imagine the benefit of doing even more trips on two wheels.
That's why OVO Energy is investing in an innovative pay-as-you-go bike-hire scheme powered by nextbike that is changing the way people travel around Glasgow, Cardiff and the Vale of Glamorgan. As part of its mission to make home energy cheaper, simpler and greener, OVO Energy has always thought way beyond the 100% renewable electricity that it offers to all its customers, finding even more ways to help them cut their broader carbon impact. That includes planting nearly two million carbon-reducing trees on behalf of its one million members.
So, helping people cycle more was perhaps the next logical step. Which is how we find ourselves heading to Glasgow to experience OVO Energy's bikes for ourselves.
Learn more about OVO Energy's e-bike scheme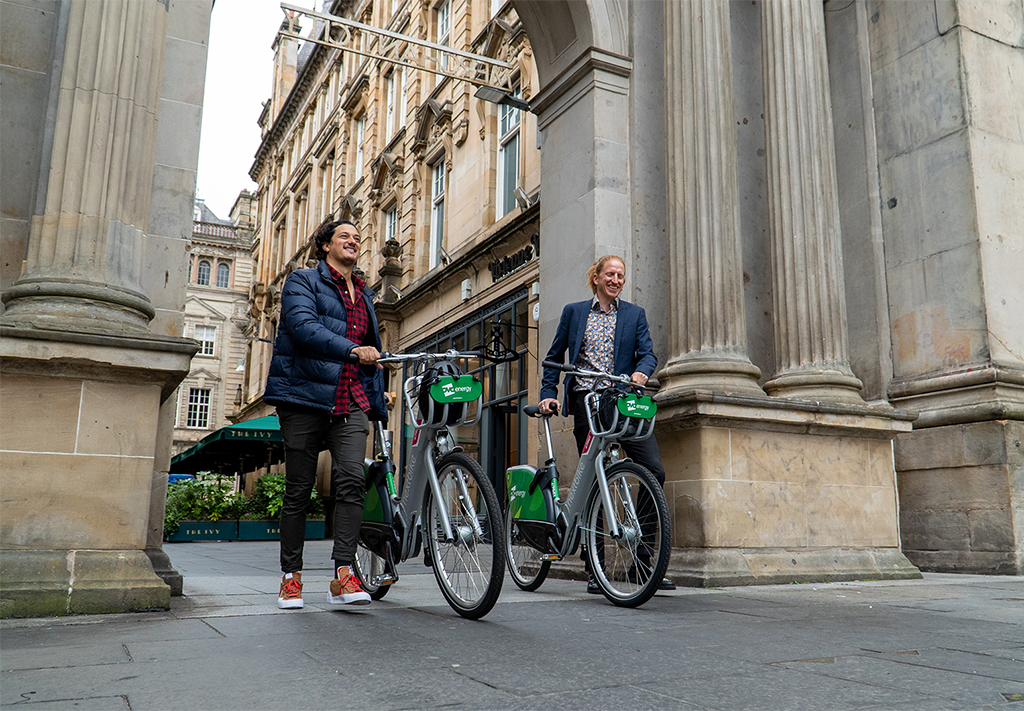 How OVO Energy is making bike hire easy
Outside Glasgow Central, we meet nextbike Business Development Manager Leigh Richards, and set off to find our wheels – a process which proves incredibly easy. Using the simple and intuitive nextbike smartphone app, we quickly spot a bike station across the road – boasting a full rack of OVO Energy e-bikes and pedal bikes in their eye-catching bright-green livery, all ready for hire.
With your debit or credit card synced to the app, paying for a bike and releasing it from its dock takes a matter of seconds. Simply choose the bike you want, use the app to scan its QR code, then select the corresponding bike on the app. That's it.
If you're picking an e-bike, you'll want to know how much charge is already available in its battery before you set off. Handily, you can check the percentage on all of the available bikes on the self-charging stands before you even get to the bike station. Then, once you're standing next to the bike, you can also triple check its battery percentage using the clear, built-in indicator on the bike frame.
A few taps of the app, followed by a satisfyingly mechanical clunk of the bike uncoupling, and we're ready to begin our journey and start learning how OVO Energy's e-bikes work. "It literally takes minutes to register with the nextbike app, find the nearest bike station, plan your route and get cycling", Leigh says. "The app lets you see live locations of all the bikes throughout your city and availability at each station, and even check the amount of charge each e-bike has. It also has all your account details, how to share feedback, and how to reach customer service, too."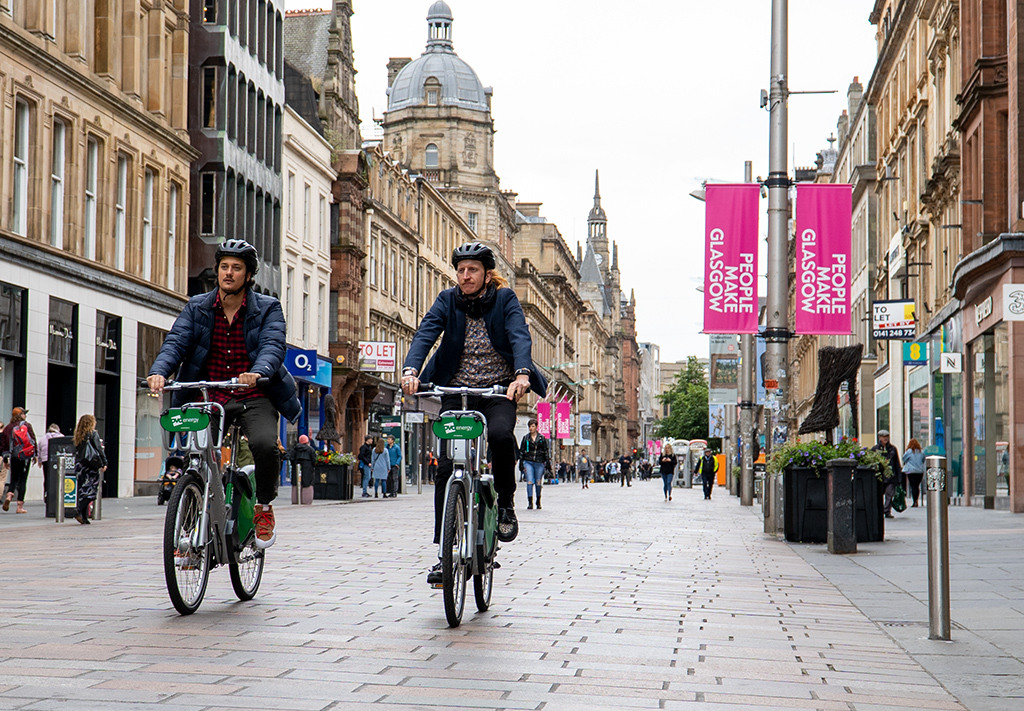 What are OVO Energy's e-bikes like to ride?
With the goal of becoming a carbon-neutral city by 2030, Glasgow is the perfect location for OVO Energy and nextbike's bike-hire scheme. In fact, since nextbike first started its bike-share scheme in 2014, Glaswegians have racked up an astounding 1.2 million rentals around the city, helping to reduce CO2 emissions and congestion while also keeping the population fit and healthy.
It only takes a couple of minutes of riding to see just how easy OVO Energy's e-bikes are to use. They've clearly been designed for anyone to grab, go, and get pedalling. Unlike some bike-share models available across the UK, the front forks on nextbike's latest-generation e-bikes feel perfectly weighted. The electric assistance offered by the e-bike's motor and battery is equally seamless – and incredibly welcoming.
As a hilly sprawling city, Glasgow can be tiring to ride over long distances, meaning that a helping hand of battery power can open up cycling to even more users. Depending on which of the five gear ratios you're in, the bike will provide an extra push of electrical assistance as you pedal away, taking the effort out of any journey.
"The e-bikes are 'pedal assist', where the motor is activated by the rider pedalling," Leigh explains. "You have assistance from the motor up to 15.5mph, helping to increase the range per charge. There are no new controls for riders to learn. You just get on and ride it like a normal bike. They flatten hills and get you to your destination quicker than most forms of transport." Case proven, as we complete our first few miles, feeling almost as fresh as we did when we first climbed on.
As we head west through Glasgow's Victorian and art nouveau architecture, Leigh can see from our spirited cycling, that we're getting the hang of the e-bikes quickly. "They're super simple to use, right?" he says, smiling. "The perfect way to dip your toe into the world of electrified urban transport."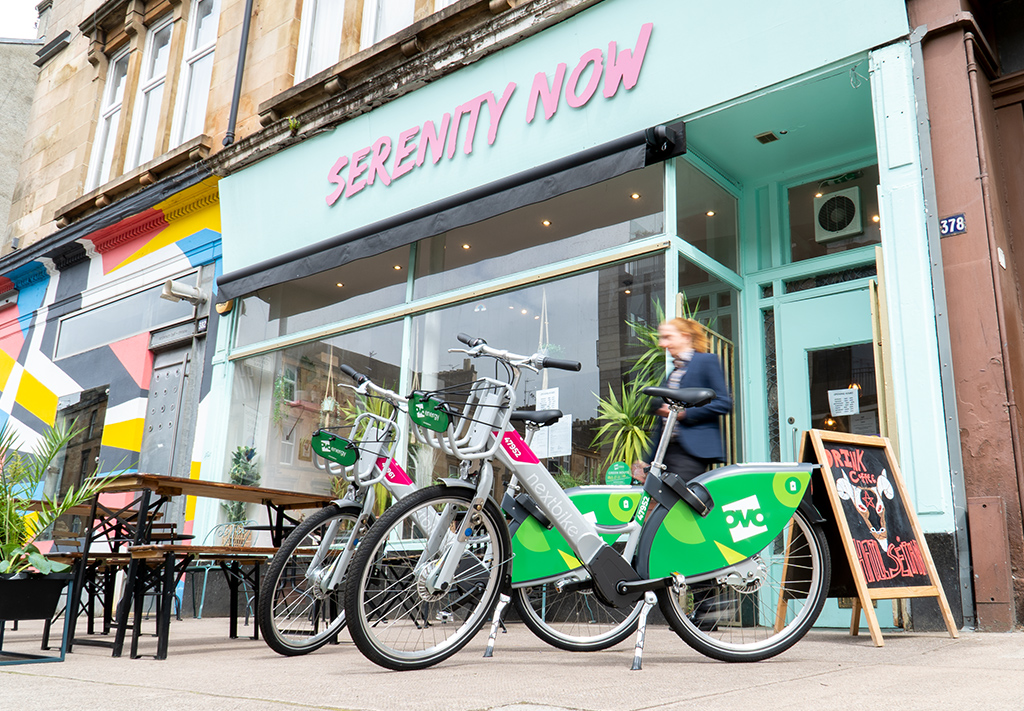 What is the OVO Green Route and who is it designed for?
One of our reasons for picking Glasgow to sample OVO Energy's e-bikes is the Green Route. It is a carefully curated map of local eco-businesses that offer sustainable products and services to create a better, brighter, greener future. From restaurants and thrift shops, to cafes and even greengrocers, OVO Energy's Green Route offers those unfamiliar with the city and with an interest in greener living, a chance to experience the eco life, all the while enjoying the wind in their helmet.
"The Green Route was designed to help promote independent, like-minded, sustainably focused businesses throughout Glasgow," Leigh explains. "Local initiatives like thrift stores and shops selling plant-based products promote a cleaner environment with less waste produced. For locals, we want to highlight the people and places that are actively on a mission to change for a cleaner way of life. For visitors to Glasgow, we hope to help them find these hidden gems that may be otherwise missed."
A quick mid-morning pitstop at Serenity Now – a plant-based cafe in Glasgow's West End, focusing on healthy vegan cuisine – provides the perfect opportunity to talk to Leigh about how the OVO Energy and nextbike partnership came to be. It also lets us sample how easy it is to hop on and off OVO Energy's e-bikes, using the reassuring frame lock mechanism to secure the bike so they're ready for your return.
"OVO Energy's focus on sustainability makes them a perfect match for us," Leigh explains. "OVO Energy is not only committed to being a net-zero carbon business, but it's also supporting its customers to reduce their emissions. In the same way, nextbike is committed to offering low-cost, sustainable travel to the public.
"For customers who care about the environment, getting about on an e-bike and choosing a renewable energy provider are two positive steps they can take in their personal lives to reduce carbon emissions and improve their local environment."
We also ask why OVO Energy and nextbike have opted to focus on e-bikes and pedal bikes, rather than on one of the increasing number of government-approved e-scooter rental-scheme trials? "We think that bikes and e-bikes are the ideal option, especially for longer journeys," says Leigh. "Our e-bikes have a rack for carrying luggage and let you sit in a comfortable position. E-bikes have a low barrier of entry for new users as well."
As the sun comes out and we remove our jackets, Leigh's point becomes evidently clear – the handy built-in basket up-front – complete with cable ties – helps to ensure that our valuables don't go flying out.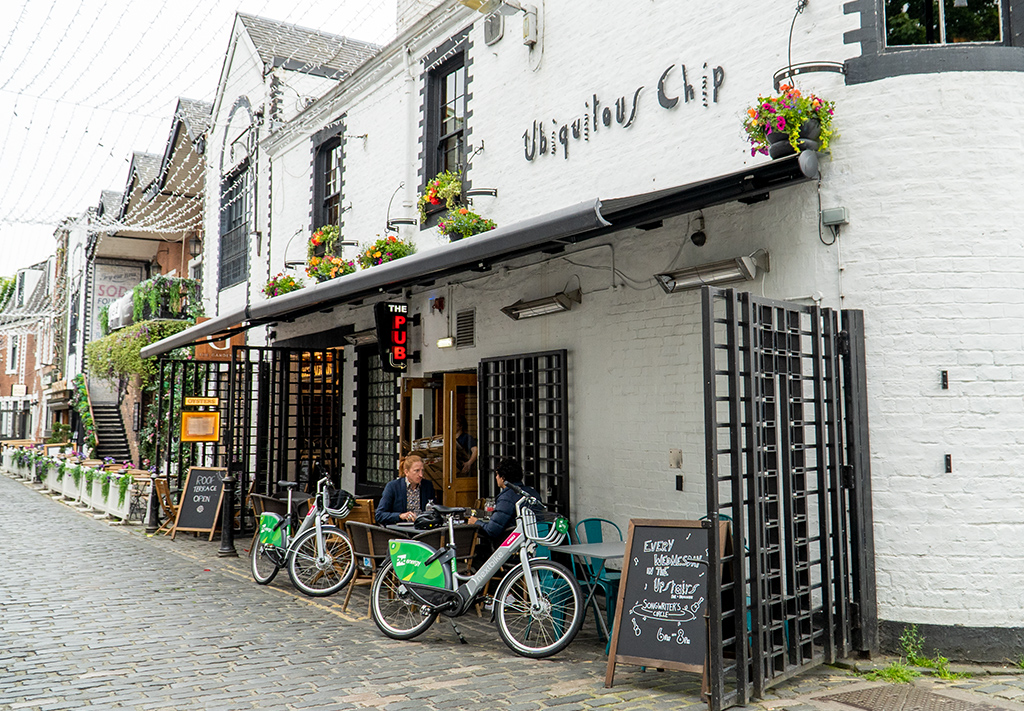 Green businesses large and small
A short ride up the Great Western Road brings us to the spectacular free-to-enter Glasgow Botanic Gardens. With 9000 species of plants and over 20 hectares of landscaped grounds to explore, you'll have more to see than time to spare, and we don't waste a second – taking in the natural beauty as we walk through the park.
As lunchtime beckons, we head to Ubiquitous Chip – another stop on OVO Energy's Green Route. Tucked on the corner of Ashton Avenue, this enchanting eatery offers sophisticated Scottish grub in a traditional pub restaurant, come east-end greenhouse. After a morning of riding, we're hungry to learn more about how e-bikes, in particular, help us reduce our impact on the world around us.
"E-bikes are one of the lowest-carbon means of travel for most urban journeys," Leigh explains. "More so shared e-bikes, which are utilised multiple times per day.
They're more accessible to users, offering a power assist to more casual riders who would otherwise potentially find it difficult to pedal up a hill or longer distances. They let you extend your commute and travel across cities to visit friends easily, producing carbon emissions of around one thirteenth of that of car travel.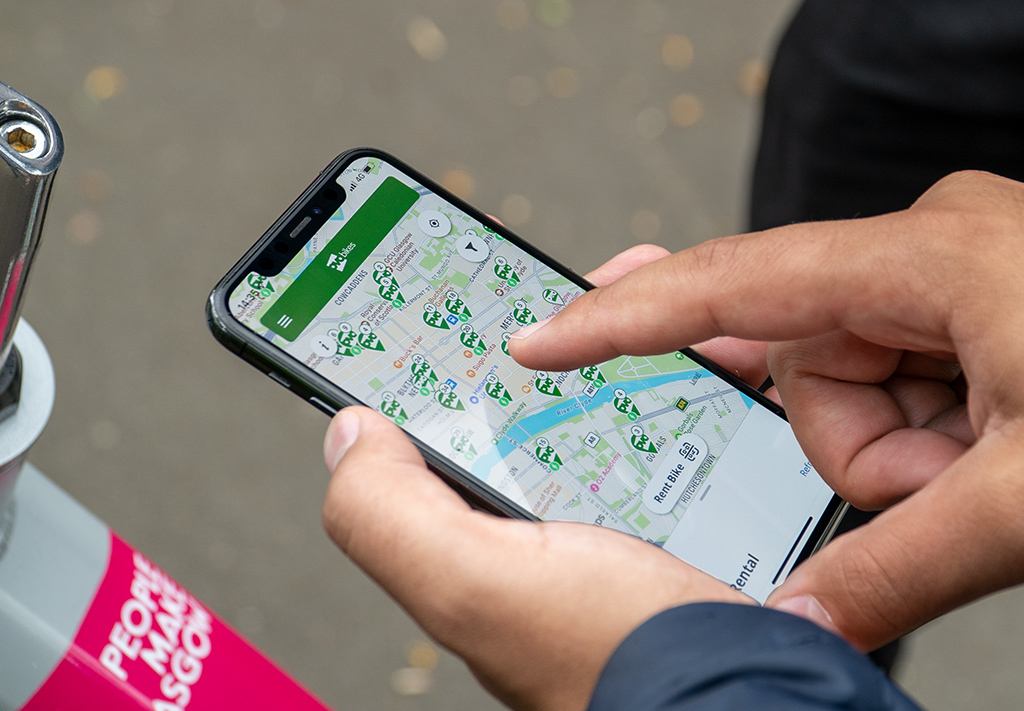 "Commuting with an e-bike gets you to the office and home faster, meaning more time with the kids or an extra 20 minutes in bed in the morning. You can commute in regular clothes and arrive at your destination with more energy and vitality to take on the day. Plus, using active travel to get to work also incorporates exercise into your daily routine without taking up any extra time, which brings additional health benefits. What's not to like?"
Thanks to OVO Energy and nextbike's flexible and cost-effective pricing, hiring a pedal bike or riding an e-bike doesn't cost the earth, or empty your wallet. If you're a local, you can pick a cost-effective monthly or annual membership which reduces the pay-as-you-go costs of pedal bike hire, and gives you up to 30 minutes of free usage per day. Or, you can choose to pay-as-you-go for as little as £1 for the first 30 minutes for a pedal bike, or £2 per 20 minutes on an e-bike.
That makes e-bikes a fun, flexible and cost-effective alternative to most forms of public transport – whether you're exploring the city or commuting. "You'd be surprised how much distance you can cover on an e-bike in that time," says Leigh.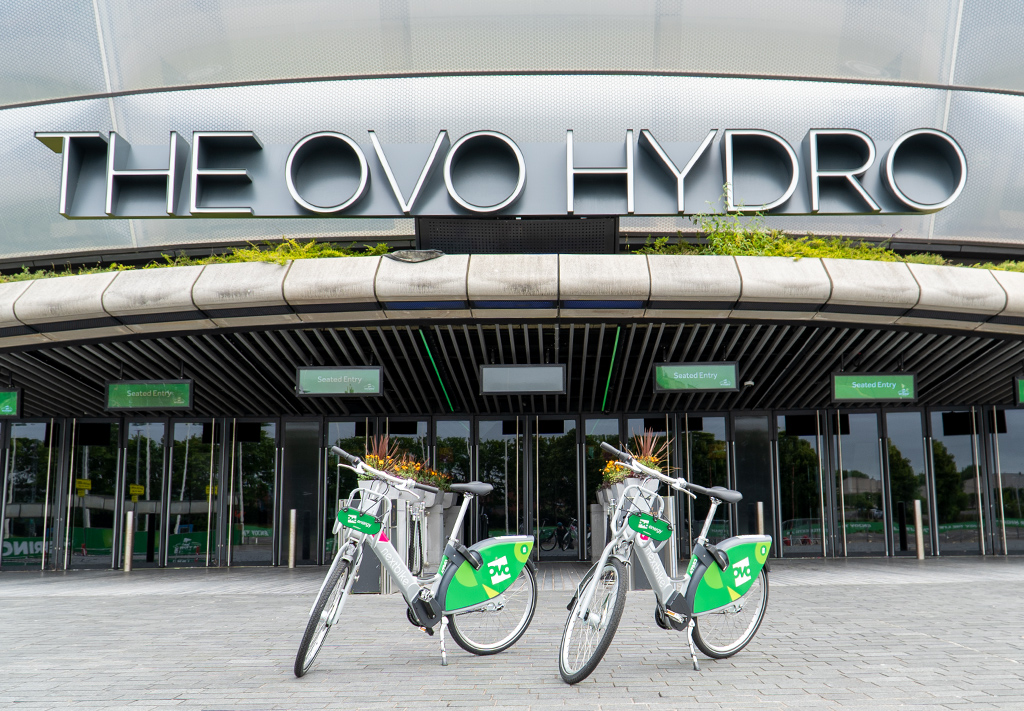 Having only used 25 per cent of our e-bike's battery, we put the power to the pedals and head safely back to Glasgow Central Station in record time. On the way, we pass the dramatic riverside OVO Hydro – OVO Energy's brand-new multi-purpose indoor arena, which is not just the largest entertainment venue in Scotland, but is also the most sustainable, having recently become the first arena in the world to achieve a Greener Arena (AGA) certification.
Returning the e-bikes is as easy as it was to hire them out. "Our e-bikes can be returned to any station around Glasgow, making it as convenient as possible for the regular user," says Leigh. Simply slide the front wheel into one of OVO's bike station docks or park next to the rack and press down on the frame lock behind the seat. An audible beep will confirm that your rental has ended. But, what if the racks are all full? Provided you're in proximity of the bike station, you can simply pull the kick stand and push down the frame lock lever and end the rental session on the app. It's that easy.
In our short time with OVO Energy and nextbike's latest generation of e-bike, it's clear just how effective they are. "At OVO, we're on a mission to zero carbon," says OVO Energy Head of Partnership and Sponsorship, James Watts . "Our OVO bikes are part of our Plan Zero strategy to create a carbon free world, whether that's the transport we use or the way we power our homes.
"Glasgow is a thriving city with so many fantastic, independent businesses who champion sustainable practices, which is why we wanted to highlight the good work they're doing through our OVO Bikes Green Route. Opting to travel around via bicycle, couldn't be an easier and healthier way of discovering a city."
With a slick app, plenty of bike stations around the city and mind-blowing battery efficiency, the good that OVO Energy's pedal bikes and e-bikes have on the environment is obvious. But, what is less obvious is just how much fun you'll have exploring the city on two wheels. This really is the future of public transport, realised today, and a glorious gateway into a whole new world of e-mobility.
Find out more about the OVO Energy Green Route