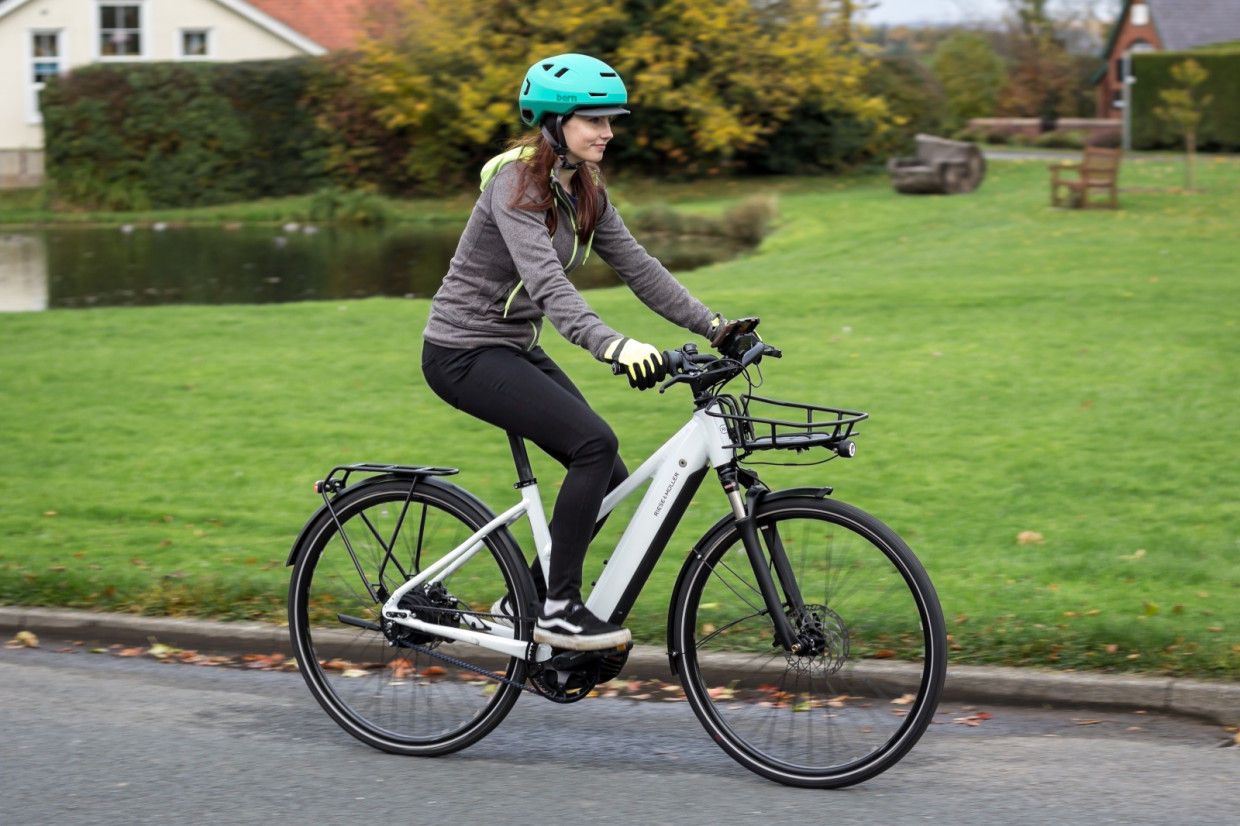 Move Electric rating: four stars out of five
What does it cost? 
Prices start at £4429.
What is it?
The Riese & Müller Roadster Mixte Vario is an elegant city bike, but underneath the polished surface is some serious technology that makes it an impressive electric bike. Complete with basket and rear rack options, and suspension in both the forks and seatpost, this urban e-bike oozes durable style.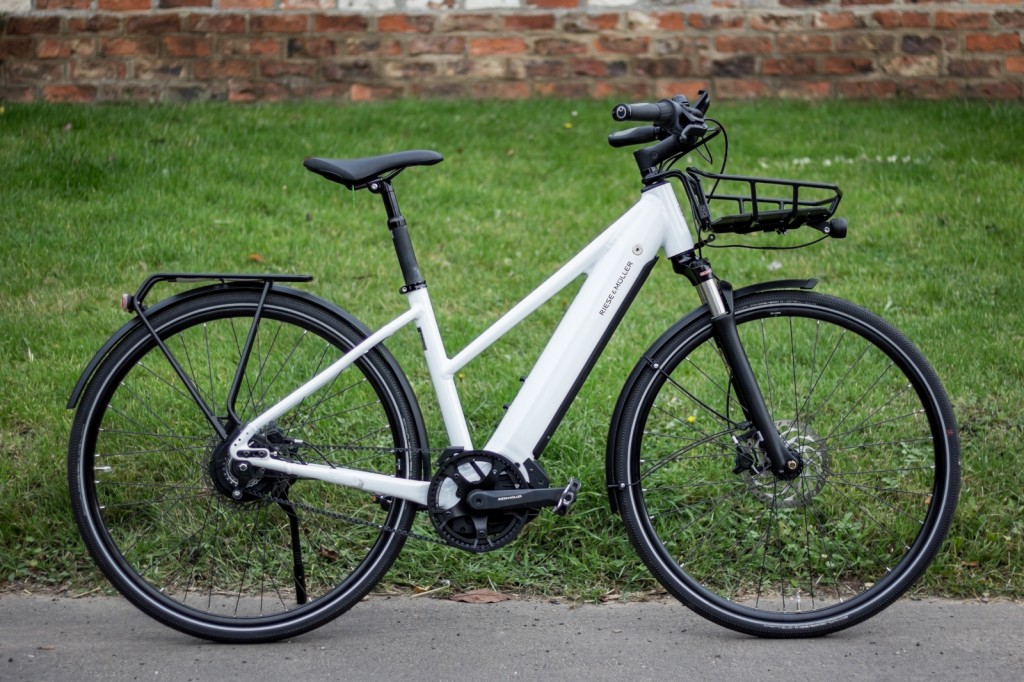 What is it like? 
The Roadster Mixte Vario inspires images of riding through sunny France with sunflowers beaming at the side of the roads. Instead, I'll have to live with the miserable Yorkshire scenery but the feeling is the same. It's a premium bike, and the German brand has done well to integrate style and technology. It looks like a classic city-style bike. 
The suspension is interesting because I felt it the most while I was going uphill – as soon as you get out of the saddle you feel the extra bounce in the form of resistance. But trundling along the road, not so much. This might be down to my poor adjustment, but with only 63mm of travel in the forks, and 40mm in the seatpost, I personally didn't feel like it necessitated it.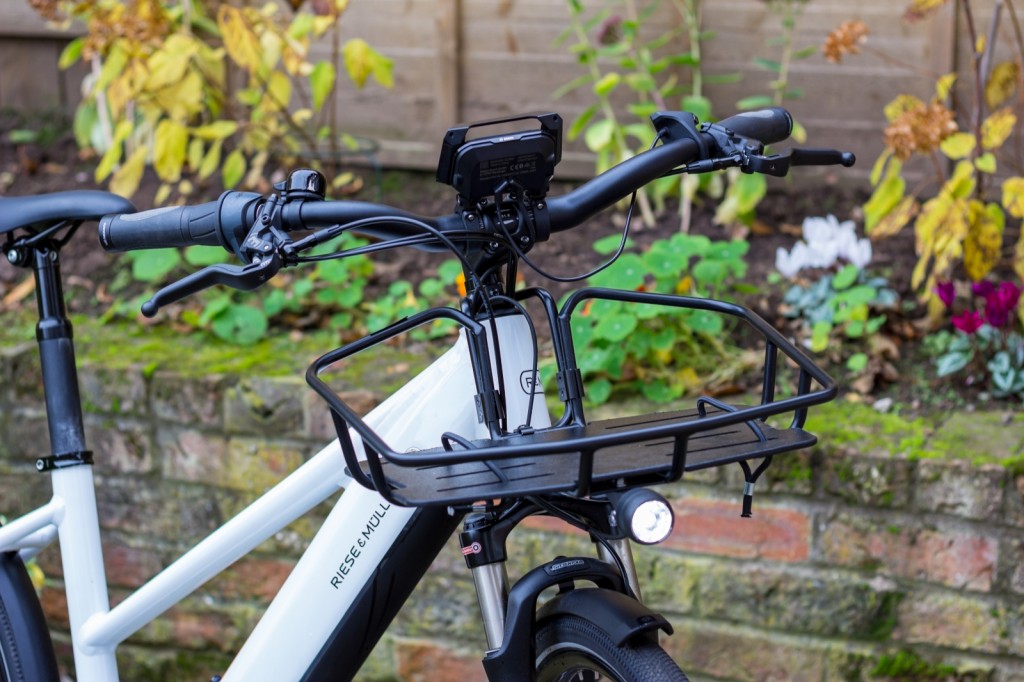 What is impressive about this bike is the technology. Upon first glance, you might be fooled into thinking it's a common city bike. Pretty, yes, but innovative? Perhaps not. That is until you begin to ride it. For one thing, the traditionally used chain has been replaced by a belt drive. This is brilliant for reducing maintenance, and, in my case, dripping oil over the carpets. Additionally, you'll notice that there doesn't appear to be any external gears – they're part of the hub, an Enviolo 380 hub to be precise. 
The Enviolo gear hub isn't like your traditional hub gears. Instead, it uses Continuously NuVinci Variable Planetary (CVP) technology, similar to that of Continuously Variable Transmissions (CVT) featured in some cars. The Enviolo hub uses balls that can be rotated and incline adjusted, which are positioned between two discs. When the shifter is turned, the connected cable adjusts the balls on the horizontal axis, thus changing the gear ratio. Due to its innovative design, the hub offers up to a 380% ratio range so you'll be able to find a suitable gear for almost any application.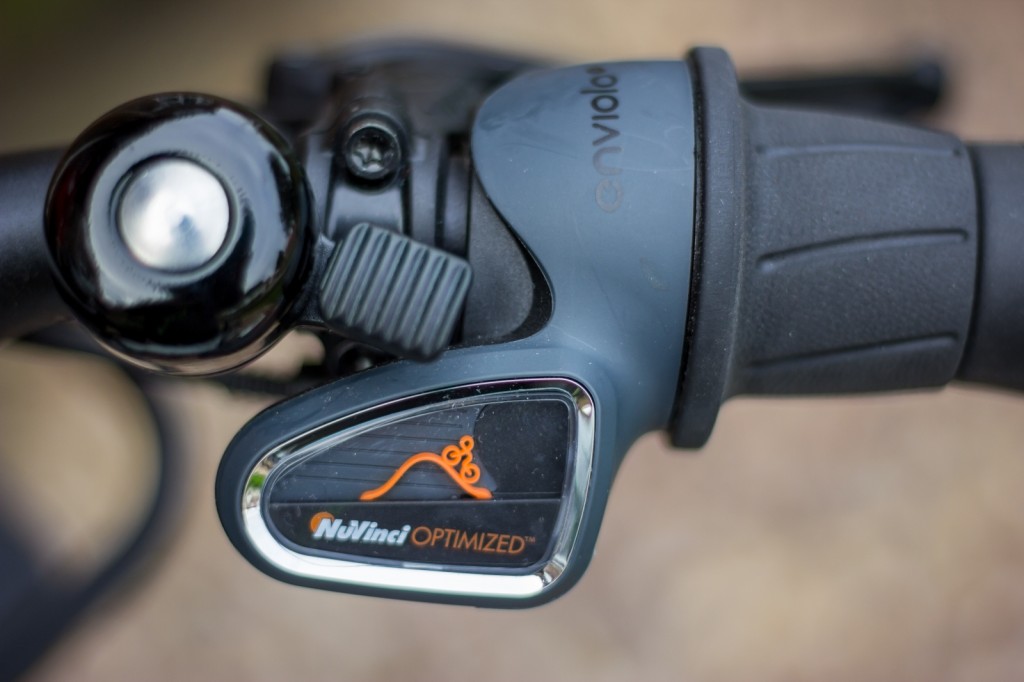 I found these stepless gears rather impressive. The Enviolo grip shift is easy to use, even with gloves – which is vital if you expect to ride through winter. I never found I was wishing for extra gears with the Enviolo hub; even up relatively steep hills it performed well. Additionally, it's really quiet. I'm used to the drone that a chain operated drivetrain makes, but this was a revelation.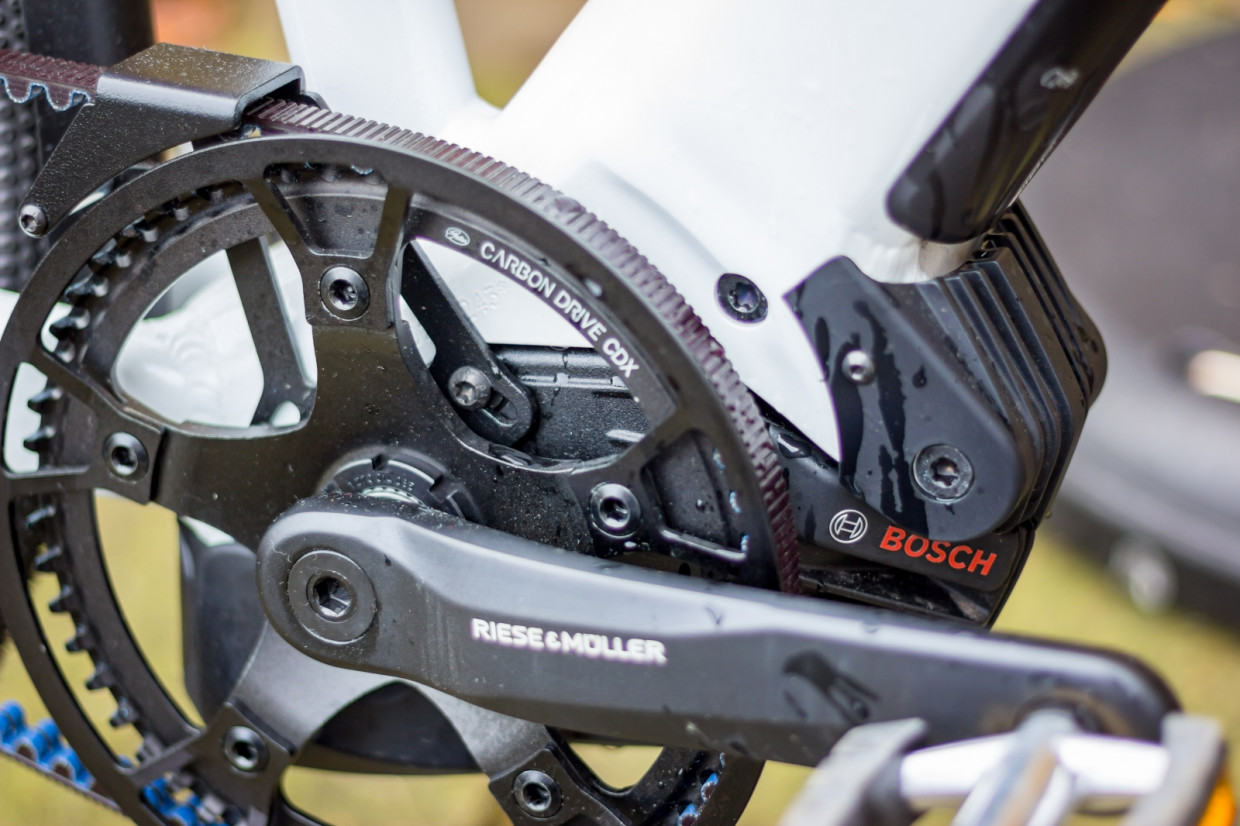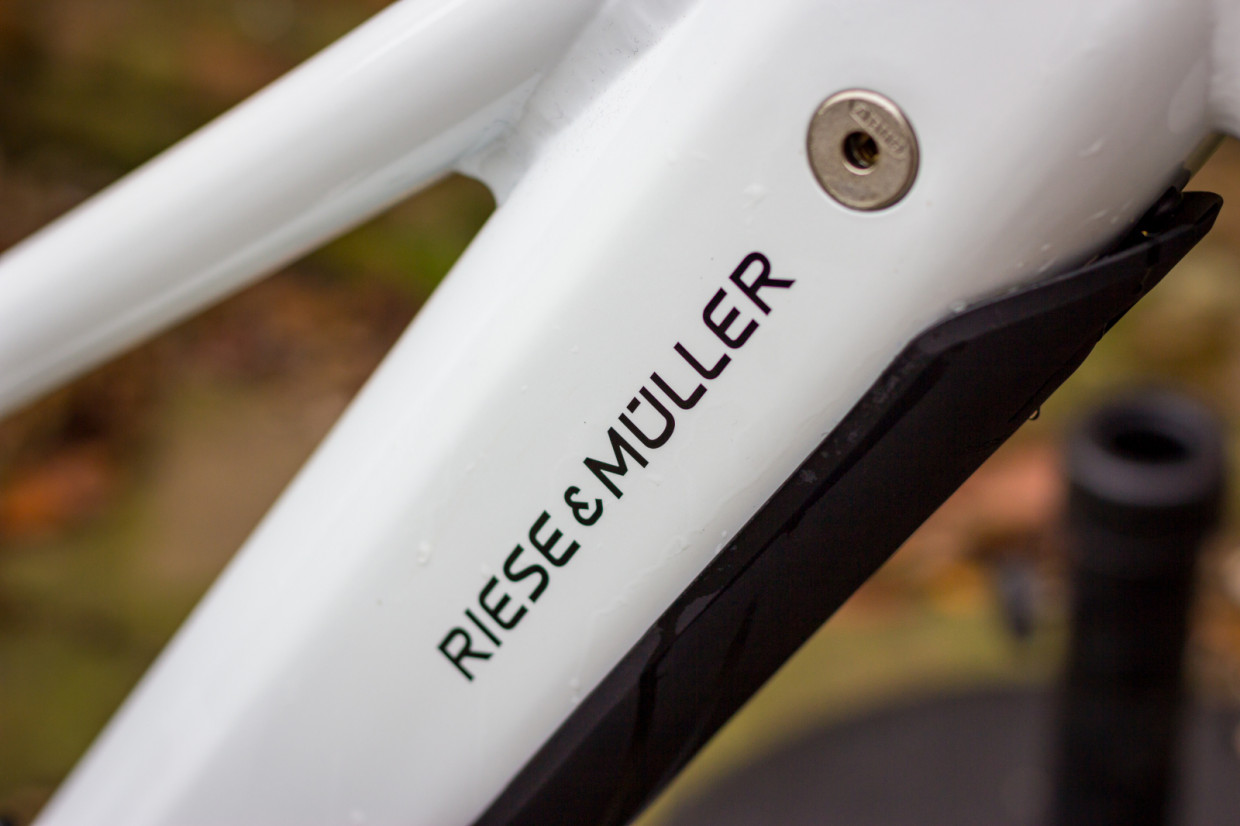 The motor is equally as impressive. Riese & Müller has used the Bosch Performance Line CX mid-drive motor, more traditionally recognised as an eMTB motor. It provides a hefty 85 nm of torque (on this model), and uses pedal sensors that tell the motor how hard you're working, and thus how much assistance it needs to give.
Unlike other motors where you can tap the pedals without any effort and the motor will fly you along at top speed, this one is a bit more intelligent and thus adapts to your riding situation with ease. And with it being a mid-drive motor, the balance of the bike is great – and it makes it easier to predict.
The only time I found myself at the cusp of doing a wheelie or falling off was as I set off with one hand on the handlebars. As you initially put out a bit more power than you might when you're cruising, it threw me off balance  luckily hurting nothing more than my pride in front of the watching pigeons.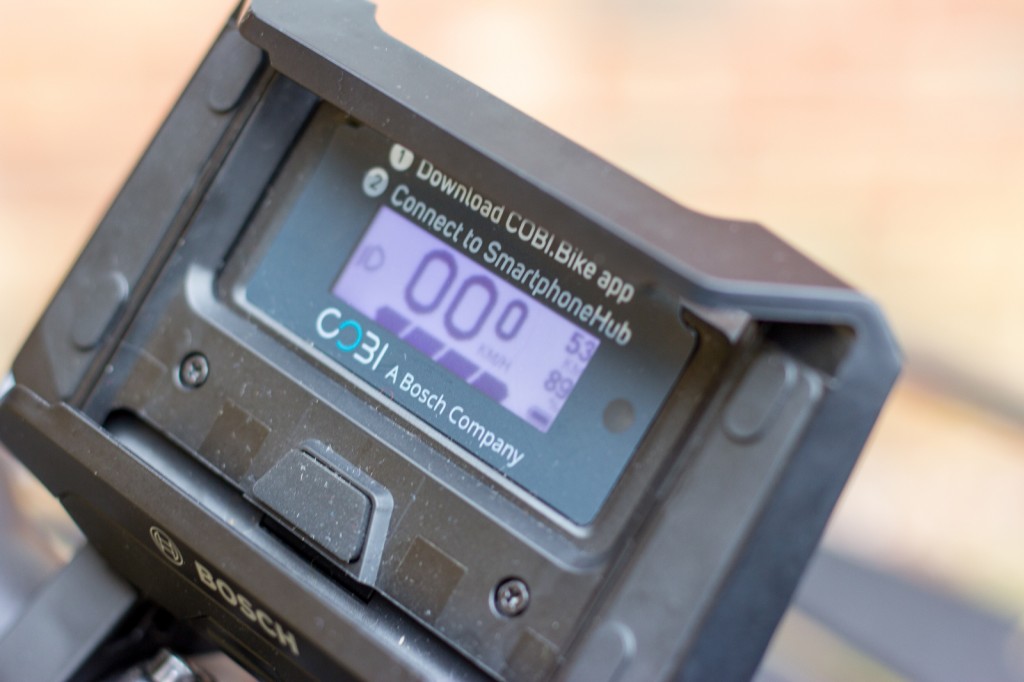 You can control your bike through your phone, and there are three control unit options at the point of purchase to choose from. My review bike came with a smartphone hub, the mid-priced option, which sits on the handlebars and allows you to use an app to control your bike. It also allows you to play music, check the weather, follow a map - infact, basically everything bar cleaning the bike for you. If you don't have a smartphone, there's also a handy control pad on the handlebars from which you can adjust the settings and toggle the inbuilt lights. 
The Roadster can also be customised when you order, including the addition of a front and rear rack, a comfort package, which includes ergonomic bar ends and a wider saddle, a lock, and of course, the cheaper and more expensive control unit options.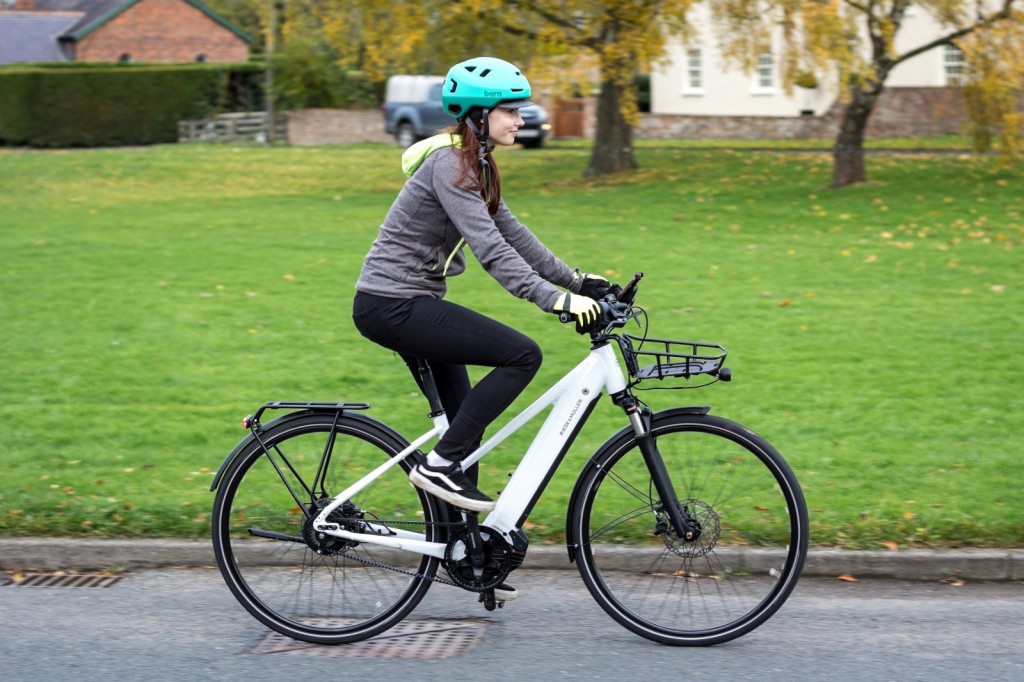 Where can I buy it?
Online and through retailers such as Fully Charged – a London and Silverstone based electric bike specialist shop, whose staff were incredibly helpful and patient with me while I tried to dissect the workings of the Enviolo hub to put into words. 
How does it arrive?
It arrives largely assembled. Simply adjust the handlebars, saddle height and light angle and you're good to go.
Verdict
Overall, the Roadster Mixte Vario is a luxurious city bike. It's not overtly opulent, but the technology inside warrants the price tag and makes for a tremendous ride. The ride quality is smooth and forgiving, so if you have the cash to part with, it's an excellent runaround bike both in the city and the countryside. 
Riese & Müller Roadster Mixte Vario specification
Cost
From £4429
Frame size tested
45cm
Weight of bike
24.3kg
Suspension
Suntour NCX 28", tapered (63mm of travel)
Groupset
Enviolo 380, 36H
Gates drive belt CDX
Magura MT4, disc brake
Wheels/tyres
28" wheels, Mach1 650 rims
Schwalbe G-One 40-622 tyres
Motor
Bosch Performance Line CX (Gen4)
Battery
Bosch PowerTube 625 Vertical, 36 V, 16,7 Ah/625Wh
Mileage range
Roughly between 40-85 miles based on the Bosch eBike range assistant calculator
Assistance levels
Eco, Tour, eMTB, Turbo
Charge time
5 hours
Included extras
Integrated lights
Mudguards
Bell
Kickstand
READ MORE
e-CARS
e-BIKES
e-MOTORBIKES
e-SCOOTERS
Are e-scooters legal in the UK?