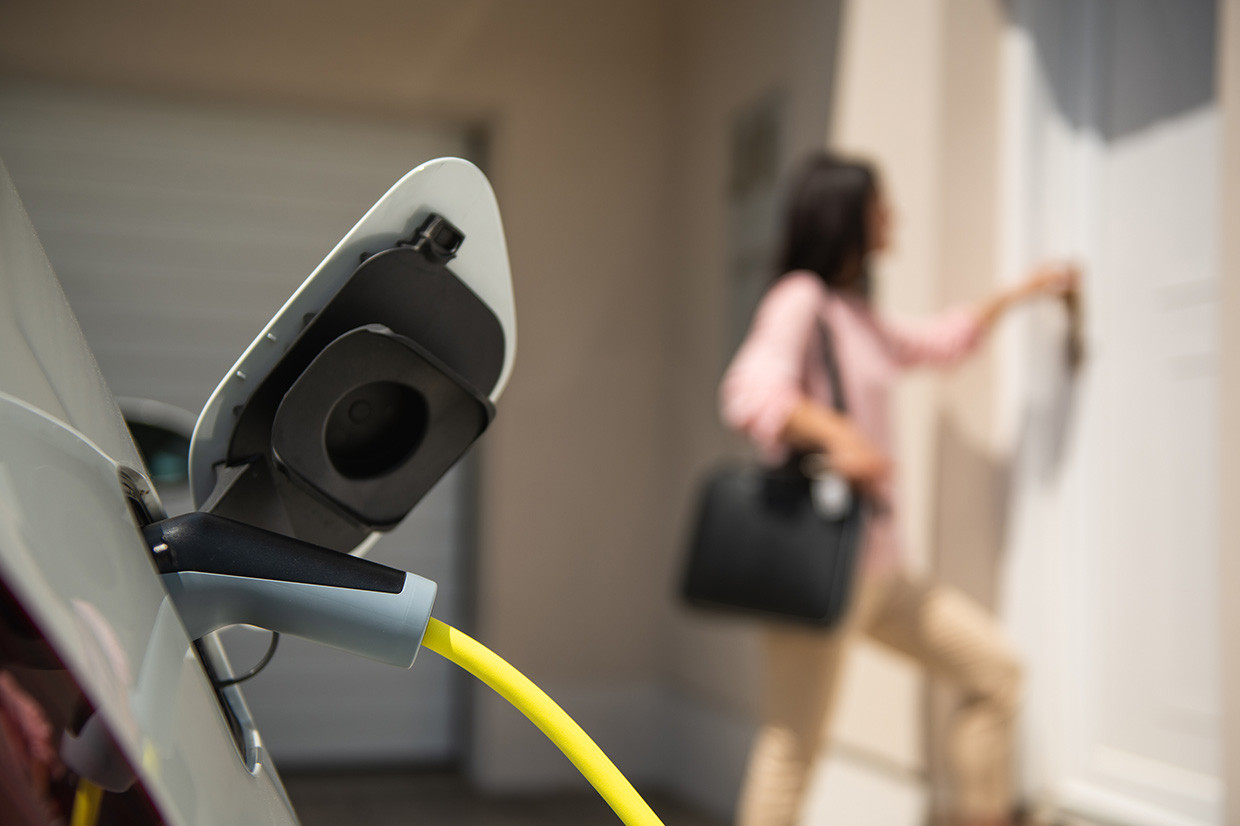 Over the last three years, pioneering home energy provider and Move Electric's official home charging partner – OVO Energy – has played a key role in one of the world's largest domestic trials of a new technology that could change the game for electric car home charging: vehicle-to-grid (or V2G).
Learn more about OVO Energy vehicle-to-grid charging
What is vehicle-to-grid (V2G) charging?
Most electric car charging is 'one-way' – with cars drawing power from the grid through a public or home charger to refill their batteries. Vehicle-to-grid uses two-way charging technology, which is starting to appear on mainstream EV models. This lets electric cars push energy from their batteries back to the grid.
As electric cars spend a lot of time parked at home, plugged into a charger, it effectively makes the car a home energy battery. Owners can charge their EV at the cheapest off-peak rates and times (usually overnight), then store energy for later: whether driving their EV, using remaining battery capacity to power their homes, or even selling unused energy back to the grid at peak times and rates. 
The result: electric car owners using V2G charging can reduce the cost of both their driving bills and their home energy bills. It also works for homeowners who generate their own power – whether through rooftop solar panels or a home wind turbine.
Looking further ahead, as more electric models with two-way V2G charging become available, that means more 'mobile batteries' parked around that UK and greater capacity to support the broader energy grid at peak load. 
The UK is rapidly increasing the amount of energy created from renewable sources such as wind and solar energy, but as these aren't wholly consistent, being able to store energy locally makes the grid more balanced and flexible, benefitting us all.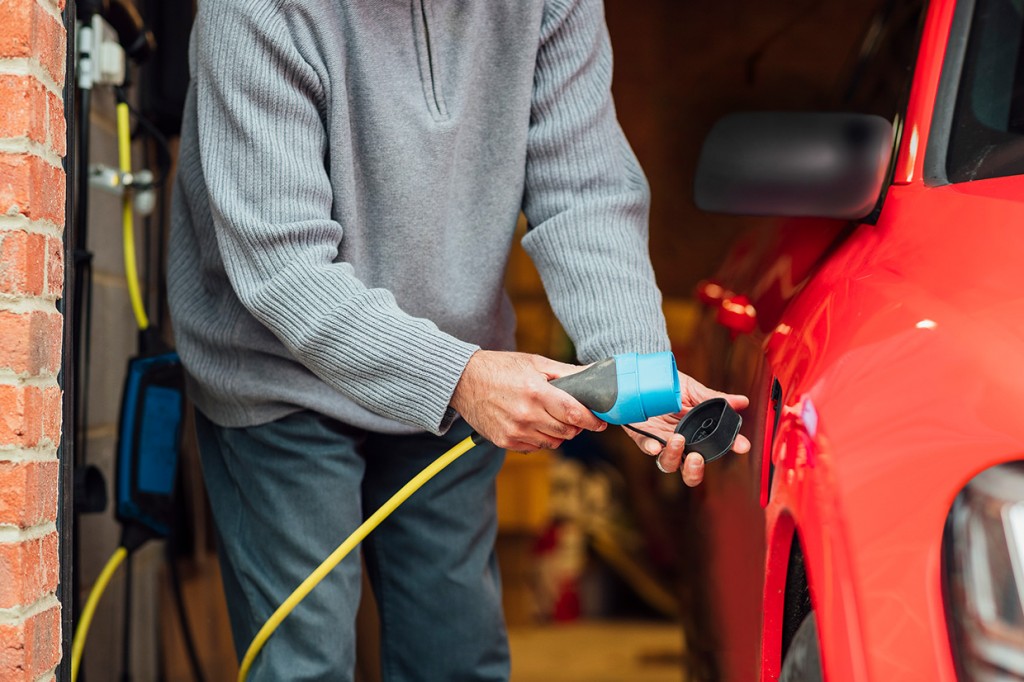 How did OVO Energy's V2G trial work?
OVO Energy was a key stakeholder in a three-year trial that monitored the usage of 320 domestic vehicle-to-grid chargers across the UK. 
It was held in partnership with the Department for Business Energy and Industrial Strategy (BEIS), the Office For Zero Emission Vehicles (OZEV), and the UK government's research and innovation body Innovate UK, as well as low-emission vehicle research consultancy Cenex.
Also involved were home charging specialist Indra and Nissan, which offers V2G charging capability on its all-electric Nissan LEAF family hatchback and e-NV200 van. The V2G charging for the trial was powered by Kaluza: an intelligent software platform with a web app that lets users monitor and control their charging to a fine degree. Using advanced algorithms, Kaluza ensured users were buying and selling their car's energy at times that created the most financial benefit while supporting the grid.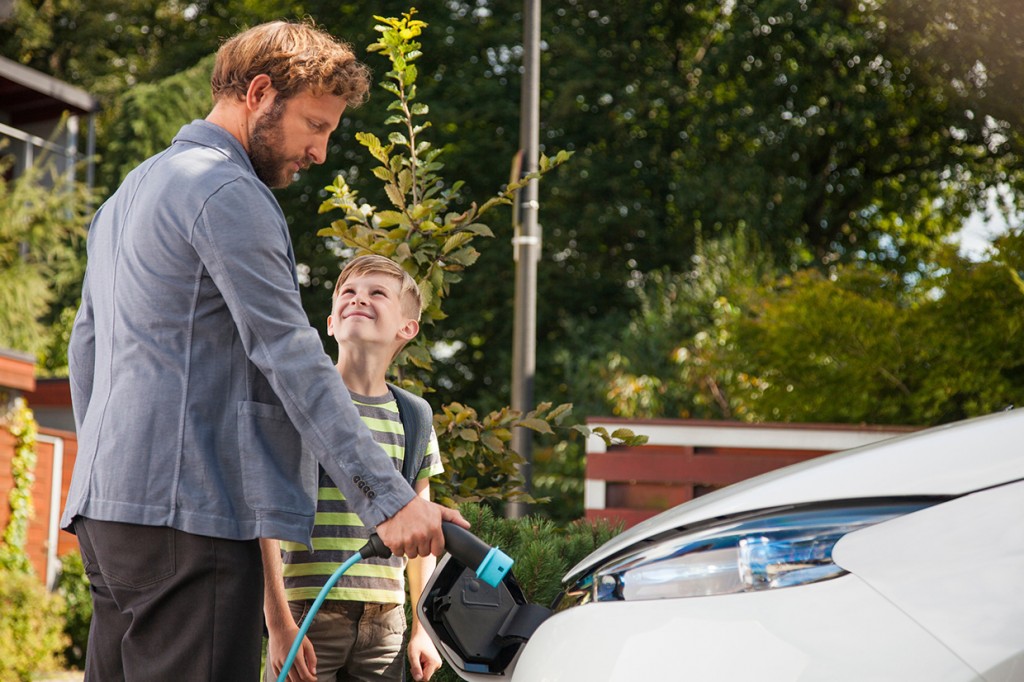 What did OVO Energy's V2G trial discover?
First: as a result of taking part in the study, vehicle-to-grid home charging users saved up to £725 – potentially recouping the majority of their home energy costs.
Users discovered that V2G charging is particularly well-suited for cars with larger batteries of 40kWh+. Just under 90% said they had no worries about using V2G technology, with 73% saying that the ability to use V2G charging would be either important or highly important when it came to shortlisting their next electric model.
The study also confirmed some of the behaviours we're likely to adopt with electric cars – such as 75% of users plugging in their EV after every journey, or peak plug-in events happening around 5pm-6pm every evening before cars are unplugged again between 7am and 9am in the morning.
The number of cars that were plugged-in for several days at a time also proved compelling – amplifying the idea of electric cars being just as useful as 'batteries' for the home as much as powering journeys. 
This was particularly true as our working and commuting patterns changed as a result of working from home during the Covid-19 pandemic. For example, the amount of time people had their cars plugged in at home increased from 57% earlier in the trial to 70% in 2020. 
As we're discovering, the 'new working normal' is likely to mean less commuting to the office and more working from home – changing how we use our home energy and amplifying the importance of vehicle-to-grid.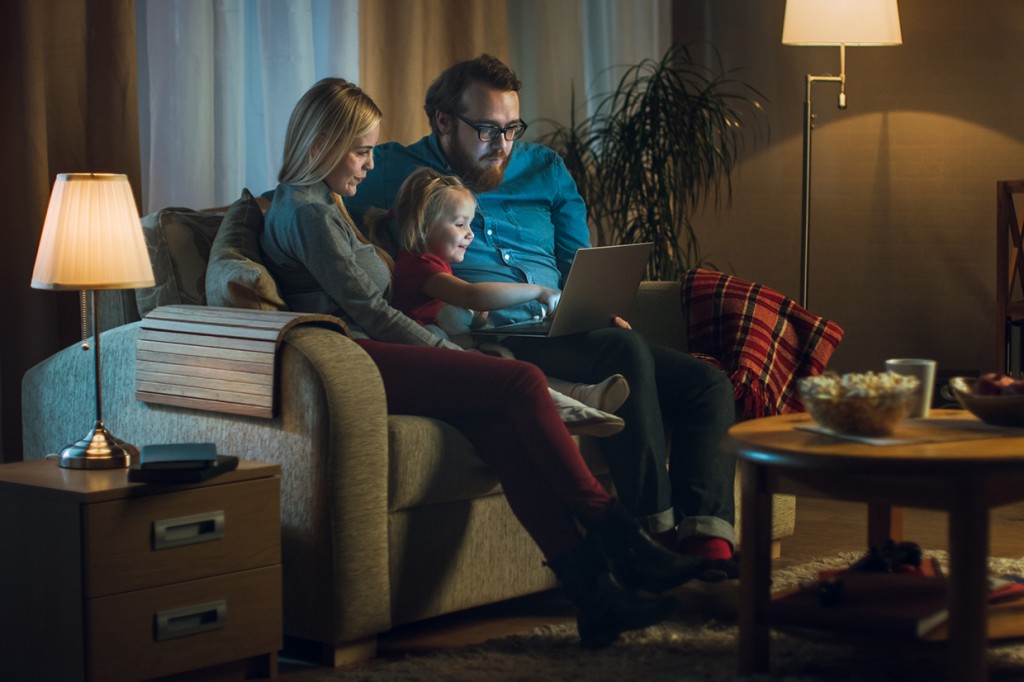 The next step: increasing uptake of V2G 
The trial also focused on how improvements could be made to vehicle-to-grid charging to encourage take-up. Although installation costs for a domestic V2G charger were higher than that of a smart charger, it's calculated that mass take-up (and therefore mass production) of V2G chargers could drive down costs to a point where the initial investment by the owner is paid back in under five years.
As a result, the final report recommended that the costs of vehicle-to-grid hardware need to be reduced further – and that there is more funding for V2G chargers – in order to encourage more people to make the switch. 
"In 2018, we unveiled the world's first widely available domestic vehicle-to-grid charger, proving the technology to electrify transport across the UK is here today," said Chris Russell, Chief Commercial Officer of OVO Energy. 
"Over the past couple of years we've enabled our members to store energy in their cars, use that to power their homes and sell energy back to the grid at peak times – ultimately allowing our members to earn rewards from smart-charging their electric vehicle. We hope this trial acts as a blueprint for wider adoption to ensure we collectively unlock the huge environmental opportunity that electric vehicles offer."
Learn more about OVO Energy vehicle-to-grid charging