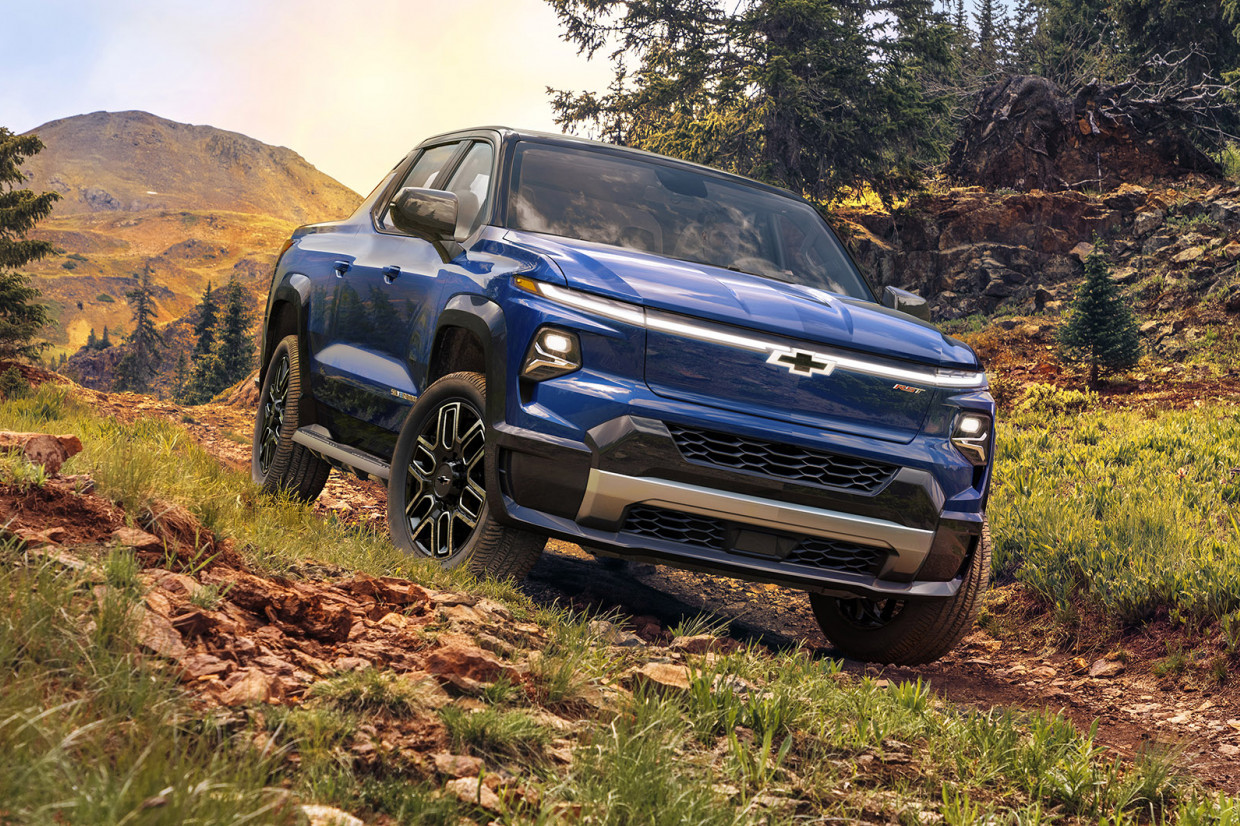 Pick-ups are the most popular sort of vehicle in the USA, so it's no surprise there's an ongoing arms race among car firms to produce massive electric trucks. The latest contender is the new Chevrolet Silverado EV, which arrives with up to 488kW to take on rivals from Ford, Tesla and Rivian.
The Silverado has been around since 1999, and was the third best-selling pick-up in America last year, behind the Ford F-Series and the Ram pickup. But the electric version is an entirely new machine, built on a dedicated electric platform (which is shared with the similarly mighty GMC Hummer EV).
Revealed at the CES tech show in Las Vegas, the four-door pick-up is a similar size to the combustion-engined Silverado – which is to say it's massive – but with a more aerodynamic design to boost efficiency. The cab has also been shifted forward slightly to create more interior space.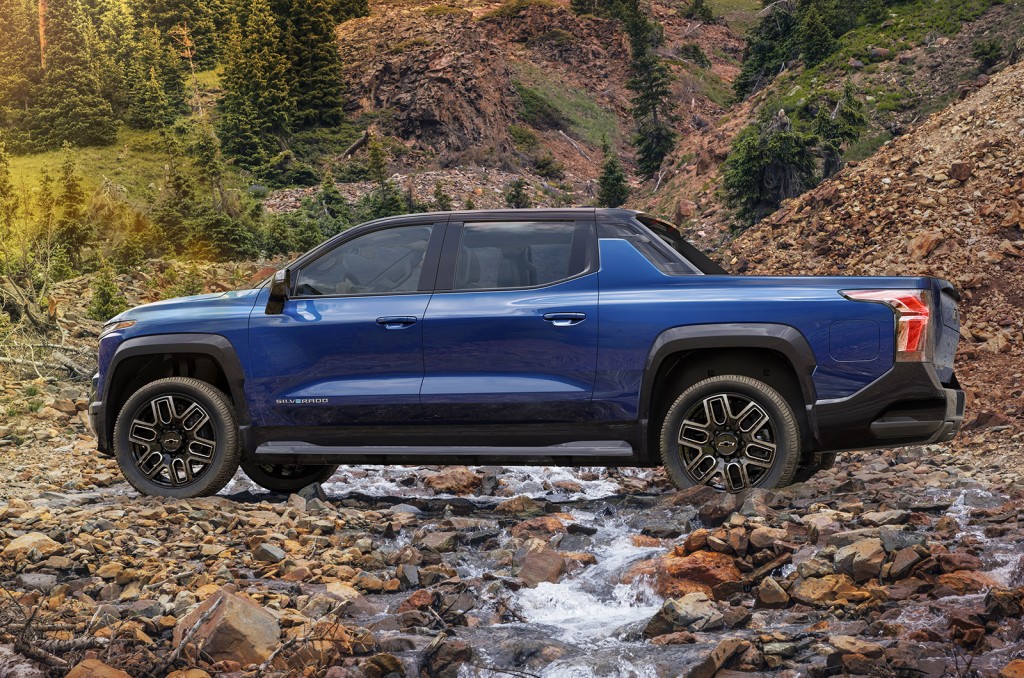 The Silverado EV will go on sale in 2024 in two configurations, both featuring twin electric motors: the rear-drive Work Truck (WT) spec will produce 380kW (509bhp) and 615lb ft, while the all-wheel-drive RST First Edition spec offers 495kw (664bhp) and 780lb ft. 
The RST First Edition mode will feature a special 'Wide Open Watts Mode' that will enable the machine to power from 0-60mph in less than 4.5 seconds, which is frankly a bit ridiculous for a big truck. That top spec model also features 24in wheels, all-wheel-steering and adaptive air suspension.
Both models are powered by a 24-module, 200kWh battery, which allows for a claimed range of 400 miles (although we suspect that will be considerably reduced by excessive use of the Wide Open Watts Mode...). The Silverado EV has an 800V electrical architecture and supports 350kW charging, allowing for around 100 miles of range to be added in ten minutes.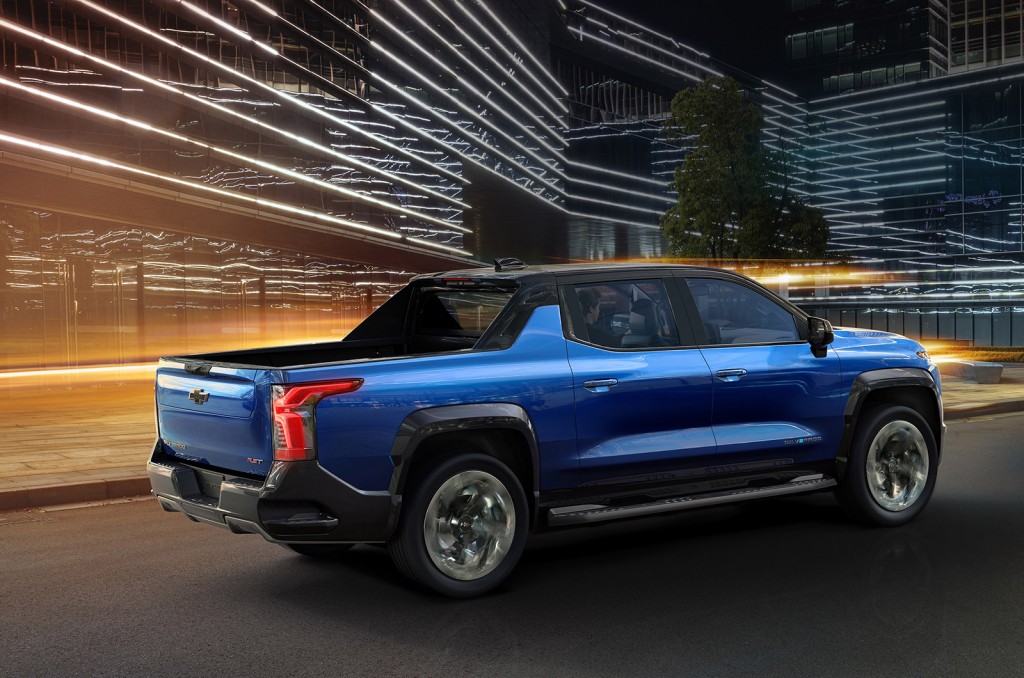 Of course, much of the appeal of pick-ups to American buyers is their rugged design and incredible capability –  and the Silverado EV offers plenty of features designed to maximise its versatility. Top-spec versions can carry a payload of 590kg in its 1803mm flatbed, and tow trailers with a payload of 4535kg – with a future model planned that can tow up to 9072kg.
The Silverado EV's battery can also be used as a power bank, with a special PowerBase charging system allowing up to 10 outlets with a total of 10.2kW of power - enabling owners to power tools, another EV or, in the case of a power cut, an entire house.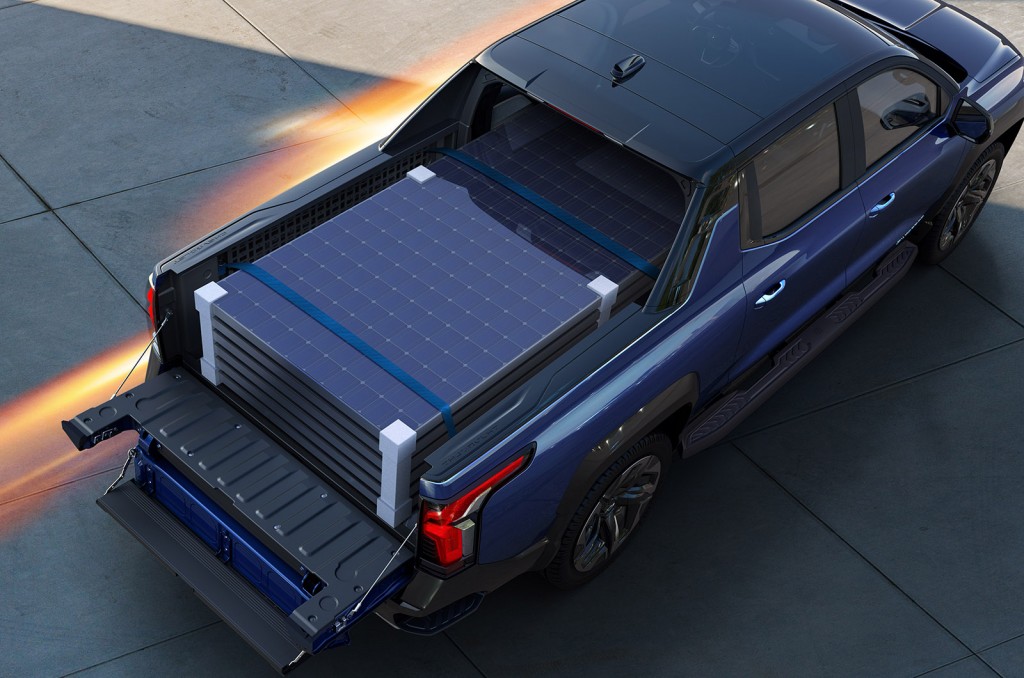 Chevrolet will also offer GM's Super Cruise driver assistance system, which allows for hands-free running on compatible roads (GM claims there are more than 200,000 miles of such roads in the US and Canada).
While built to be rugged, the Silverado EV is also intended to offer plenty of interior comfort. There's a 17in digital infotainment screen and an 11in digital driver display, along with a 14in head-up display. The infotainment can also be updated over-the-air.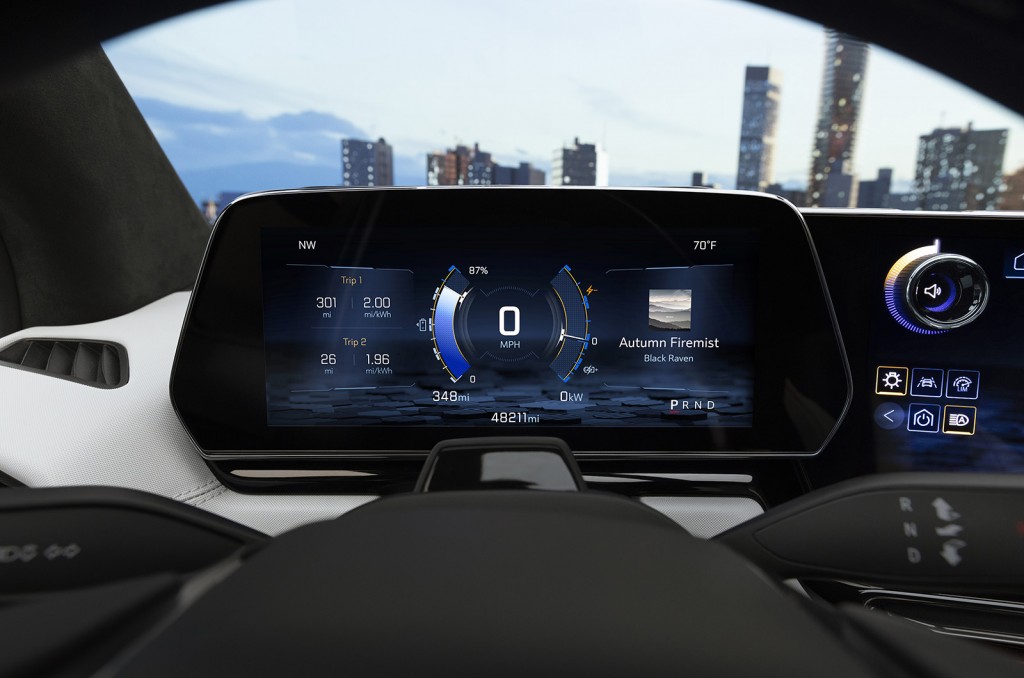 There's also plenty of storage beyond the pick-up's flatbed. A modular console up has been designed to house a lunch cooler, while there's an eTruck – Chevrolet's term for a frunk, basically – under the bonnet where the combustion engine would traditionally sit. A special 'midgate' hatch also allows for large items to be sorted between the cab and tailgate.
The Silverado EV will be produced at GN's dedicated electric factory in Detoit-Hamtramck, and will be priced from $39,900 (£39,500) in entry-level WT trim. The range-topping and spec-heavy RST First Edition will be the first model to go on sale, and will be priced from $105,000 (£77,600).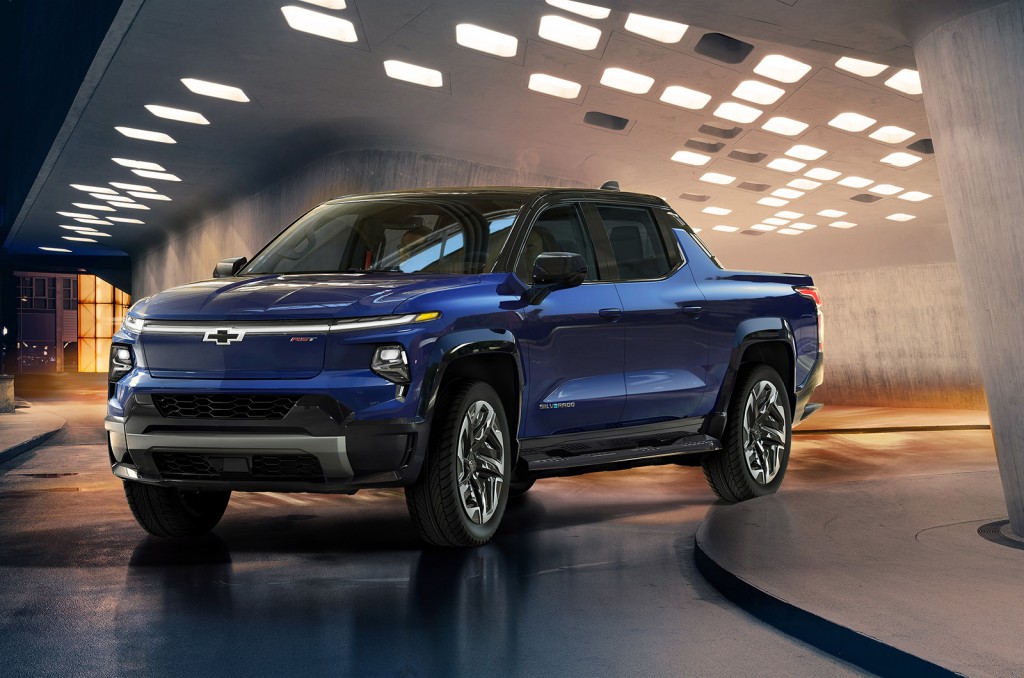 Chevy's new electric truck will place plenty of competition in the zero-emission pick-up market - including from arch-rival Ford's F-150 Lightning. While the Silverado has around 100 miles more range than the Ford, the F-150 Lightning is due on sale shortly – more than a year ahead of the Chevrolet.
Both machines will face competition from a number of upstarts, including hotly tipped EV start-up Rivian's R1T. Ram is also working on an electric pick-up, and there's also the long awaited Tesla Cybertruck. Elon Musk's first pick-up was revealed in 2019 features bold styling and impressive stats, although the start of production has already been pushed back until late 2022.
Don't expect any of these pick-ups to be sold in the UK officially, mind. While smaller pick-ups such as the Ford Ranger are growing in popularity here, full-size pick-ups such as the Silverado and F-150 likely wouldn't fit down many British roads...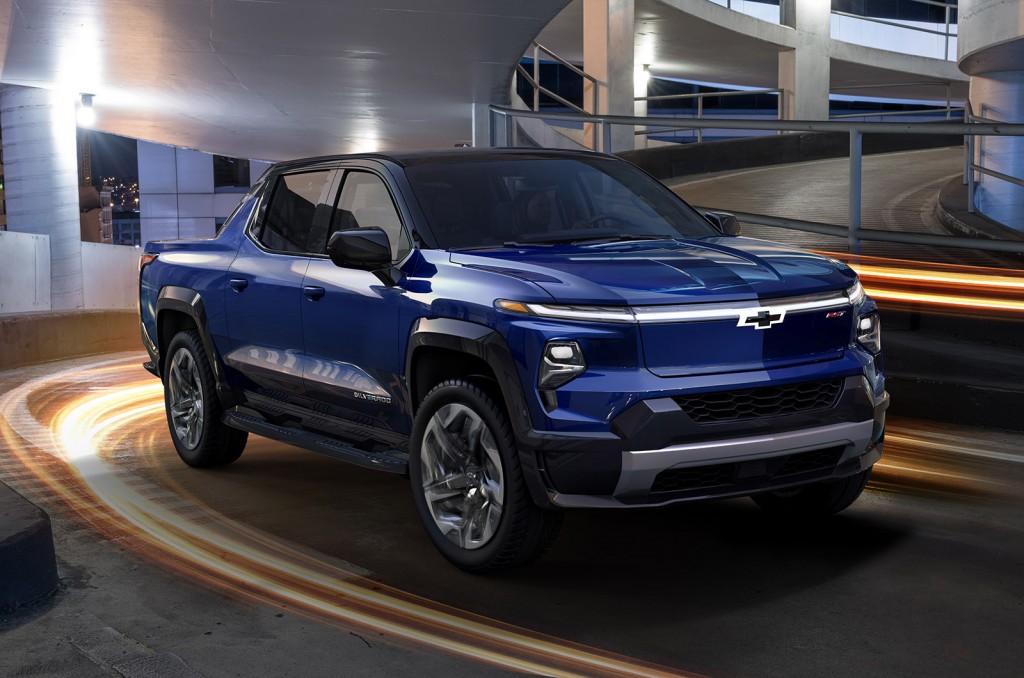 READ MORE
e-CARS
e-BIKES
e-MOTORBIKES
e-SCOOTERS
Are e-scooters legal in the UK?