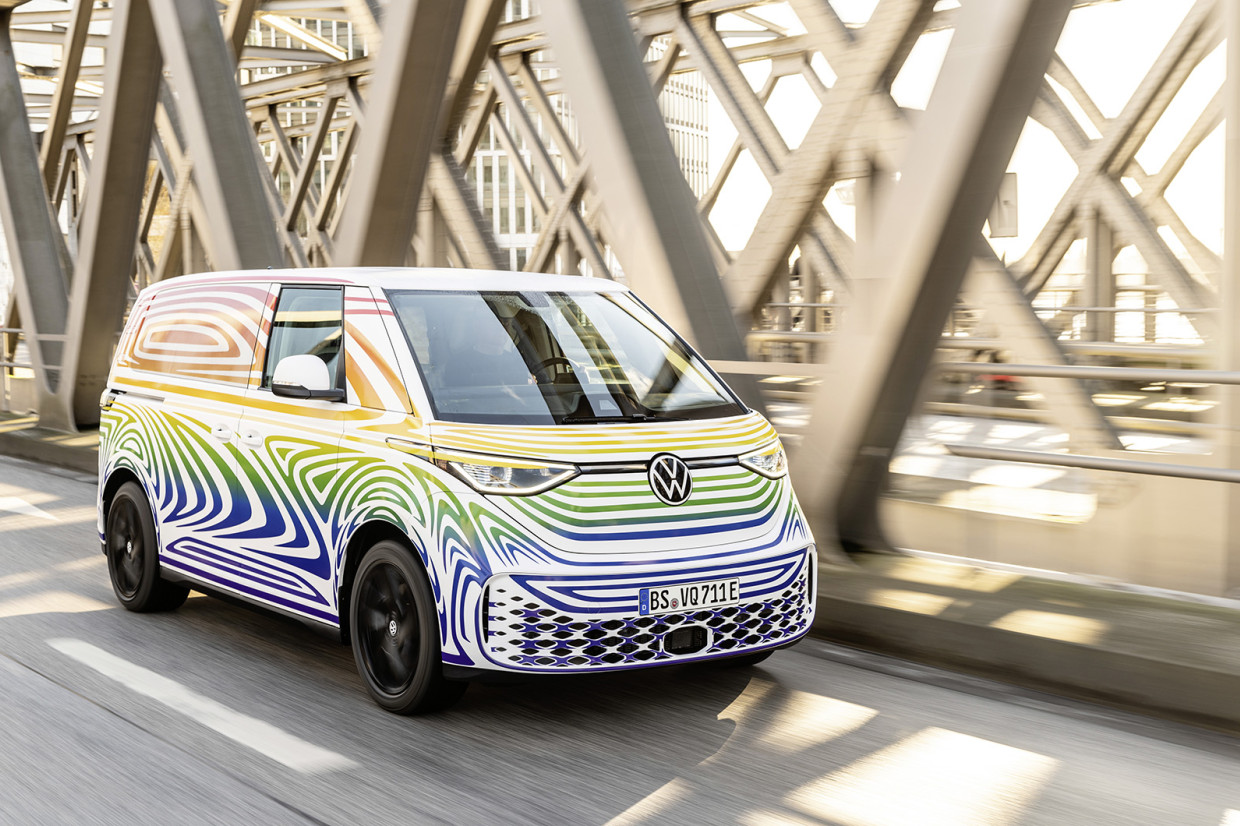 Sell it to me in a sentence…
The Volkswagen ID Buzz is the long-awaited, all-electric successor to Volkswagen's iconic and much-loved Type 2 van. 
That's the camper van right?
Coming along in (wait for it) 1949, the Type 2  was only Volkswagen's second-ever model (hence the 'Type 2' designation), but it became a cult classic utility car beloved especially by the liberated, hallucinogenic-enhanced free-thinkers of the 1960s. But it wasn't just those who inevitably earned the car the nickname of 'Hippy Van' on North America's free-loving west coast that adopted, and still fondly remember, the Type 2.
In Germany, it was affectionately titled 'Bulli'. In popular culture and in later-generation form, it even inspired Scooby Doo's Mystery Machine. At one stage, this vehicle really was everywhere, and could so easily be recognised wherever it went. Even now, when the local owners' club thrums past you on the motorway, all chrome-gleaming and peace-sign-bedecked, it's darned hard to resist a smile.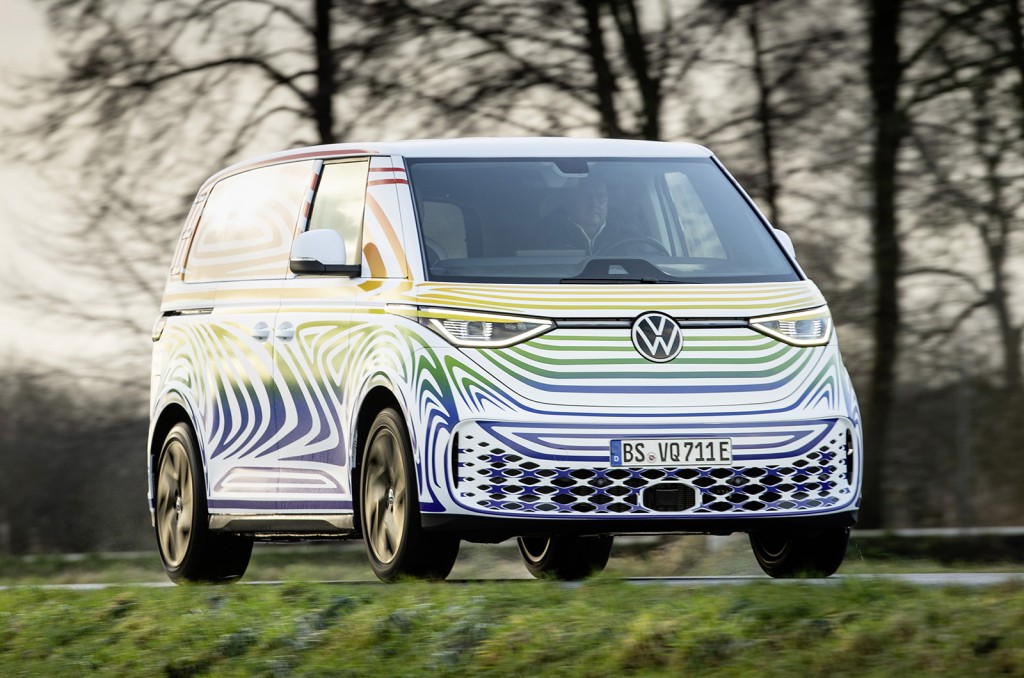 So you could say that we've been waiting for this follow-up act for some considerable time. During the last two decades especially, the rejuvenation of VW's 'Microbus'  has been visited and revisited, with several show cars teasing a concrete corporate intent that has flattered to deceive. 
Until now. Now, Bulli is on the cusp of returning in the form of the all-new ID Buzz, with production of the car gearing up to start in Hannover, Germany, this summer, and UK vans due in showrooms in the autumn of 2022. A camper version will follow too.
So how do you make a 70-year old van modern – and desirable?
Well, a sustainable electric drivetrain is the right place to start. Just like the Type 2 (which was built on the chassis of the original Beetle), the ID Buzz shares a passenger-car model architecture: the MEB platform used for Volkswagen's ID 3, 4 and 5 (and loads more models from VW's sister brands).
That not only makes it a ground-up, electric-specialised car, but it also allows it to avoid some of the technical compromises that tend to affect how commercial-derived, van-like electric MPVs perform, ride and handle. So, where rivals might use coarser-feeling suspension, perhaps with solid axles or leaf springs, the ID Buzz has entirely car-like coil springs and fully independent suspension at both ends.
Later versions will offer greater power and twin-motor four-wheel drive, but at launch the ID Buzz will be powered by a rear-mounted 'PM-SM' electric motor making 201bhp and 229lb ft of torque: plenty in both cases, by the standards of its box-van-MPV peers. It'll have an under-floor battery of 77kWh usable capacity (again, generous by class standards) which should be good for around 250 miles of lab-test-certified range.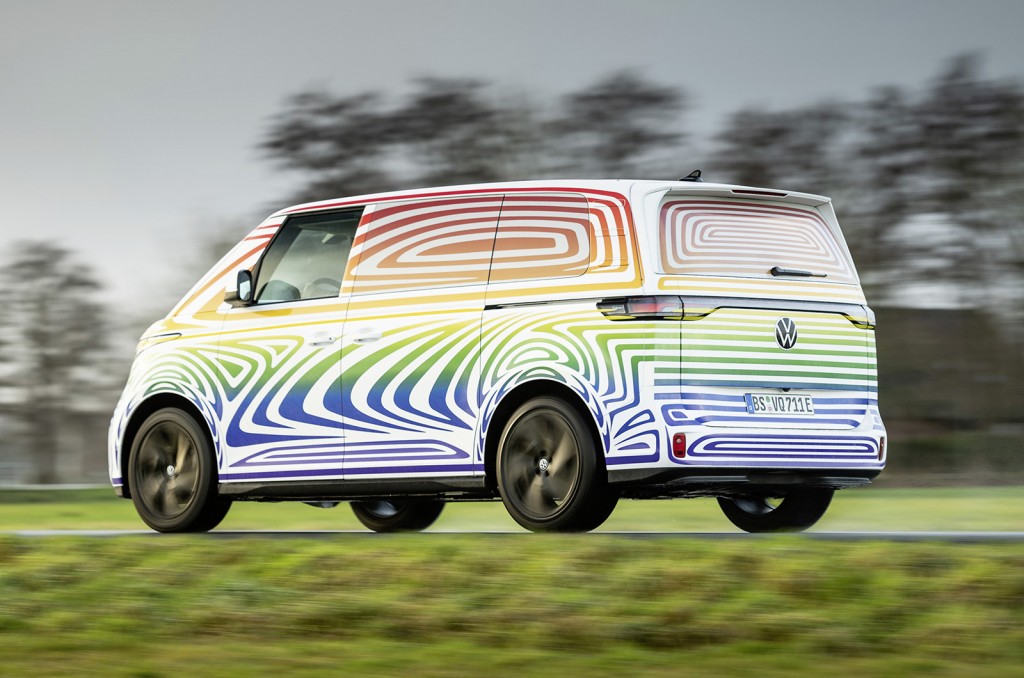 And if those stats aren't enough to seal it for you, VW is hoping that the car's super-functional but well-equipped and inviting interior might (think wireless device charging, ambient lighting features and quietly colourful material themes). That's assuming the exterior design hasn't won you over already.
You suspect VW knows, deep down, that VW Camper traditionalists might turn their nose up at the design - but better risk that and actually make something this time than bow to it. The ID Buzz isn't exactly 'micro', after all, measuring over 4.7 metres in length at its smallest. It hasn't got the Type 2's tiny wheelbase or its 'forward control' design configuration either (one as part of which the driver sits ahead of the front wheels, leaving more space for passengers and cargo behind him – but risking disaster, needless to say, in the event of a head-on collision). 
VW has also squared off the corners of the ID Buzz concept car of 2017 for this production version, so it looks a bit less cutesy and retro than the show car did, but a bit more modern with it – and offers greater interior space as well.
That said, we've yet to see the final version: as the pics here giveaway, our late prototype version was sporting a stripey rainbow camouflage wrap to hide the final details.
Just how practical is this thing?
The ID Buzz has a wheelbase almost as long as VW's full-sized T6.1 Transporter. It's not quite as tall, keeping its roofline well below two metres so it'll comfortably fit below car park height restrictors; and it doesn't have front and rear axle overhangs nearly as long. And so it fits in between existing MPV vehicle class sizes, really. It's a good deal taller, longer and more upright than a Citroën e-Berlingo, but a little smaller than, say, a standard-sized Ford Transit (so it'll fit into an average parking space more easily).
The passenger version has a five-seater cabin with sliding seats and loads of space for adults in the back; and then it has a 1100-litre boot behind that - which is more space than plenty of family hatchbacks have when loaded to the roof with all of the seats folded down.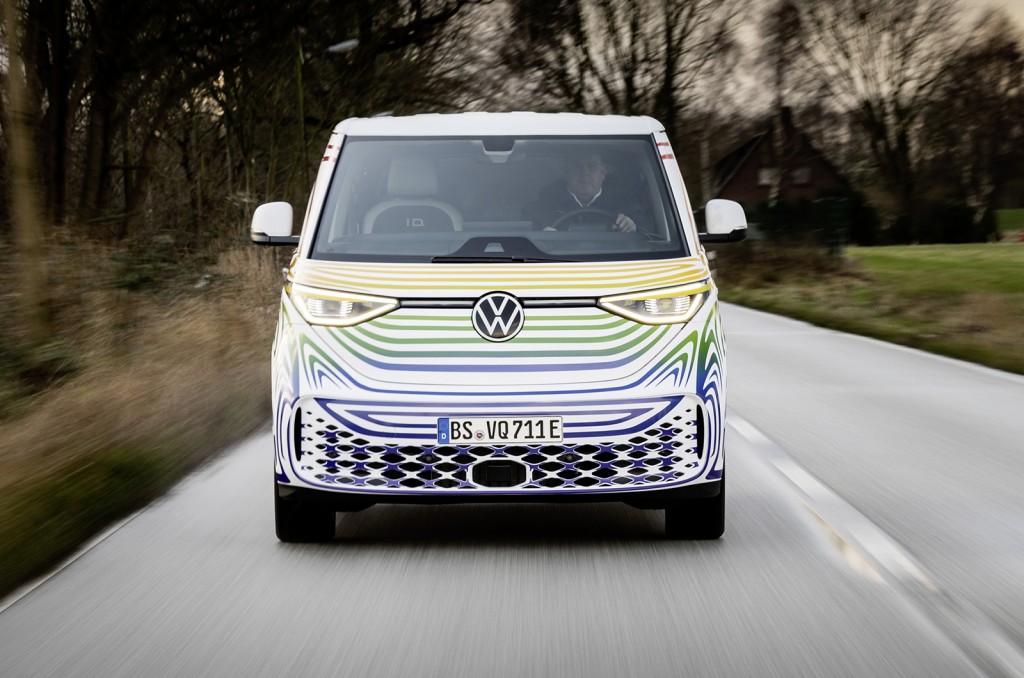 If you buy the 'Cargo'-badged commercial version, the volume of the back is almost four metres cubed. It's not quite tall enough to stand in, but it'll swallow the paraphernalia of a week under canvas in the Lake District for a family of four without missing a beat.
Alternatively, if you're an enterprising type, it can accommodate two 'euro-pallets' weighing up to 600kg between them. You can get a van with a secret compartment under the front seats, so you can slide in loads longer than 2.2 metres (although the surfboard is meant to go on the roof, dude). And if that doesn't sound big enough, there's a long-wheelbase version coming in 2023 with an extra 200mm of loadbay length; and then comes the inevitable Camper version.
And how does it drive?
Volkswagen gave us an hour in a Buzz Cargo prototype as an advance taste of what's to come. It can be had with either two or three seats across the front row, and with or without a bulkhead loadbay divider, but we drove it in two-seater form.
Volkswagen hasn't confirmed what the car will weigh yet, but it feels fairly big and heavy on the road, although it's smooth, refined and very easy to drive. While it's more power than many electric monocab MPVs and vans have, 201bhp isn't enough here to make the ID Buzz feel particularly quick out of town, although it gets up to speed swiftly from crawling pace, and is responsive enough to seize any gap you like in a traffic queue.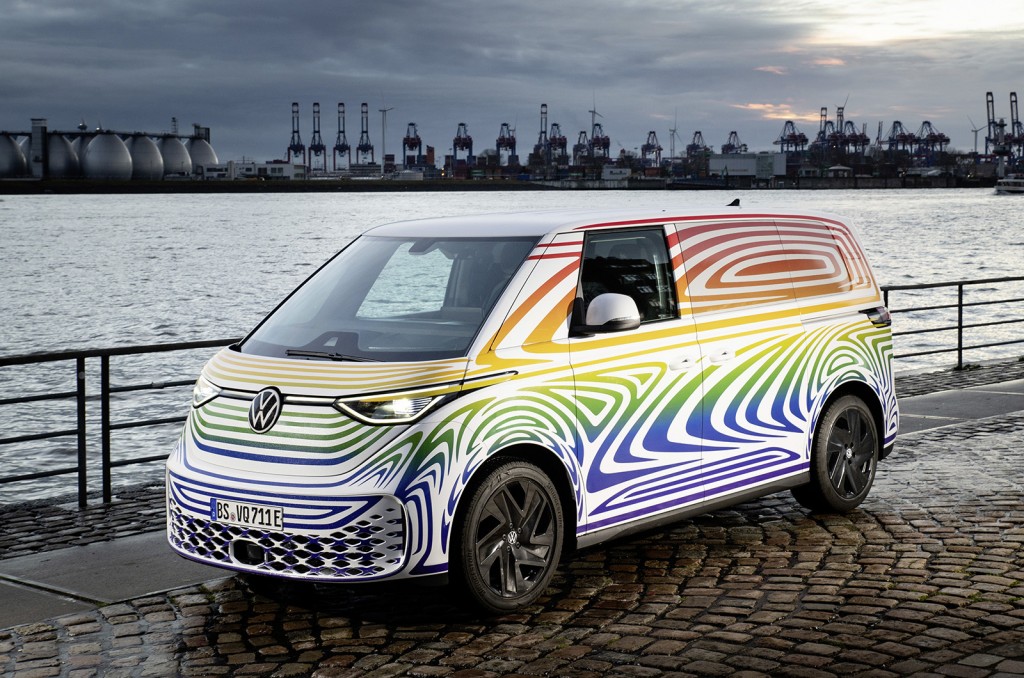 From 50mph upwards, the car accelerates well enough, though, and it's well-mannered too - impressively filtered from both road noise and wind rustle for something so large and upright. But the assertive turn of pace you might expect from an electric passenger car isn't so evident closer to motorway speeds. This is no Tesla-like driving experience, and probably won't be until VW gets around to fitting that extra drive motor up front and a GTX badge on the back.
For now, you're more likely to be taken by this car's smooth ride, good cruising manners and its wieldienss at low speeds, if you know van-based MPVs at any rate. Even the 'Cargo' version (which has stiffened rear suspension in order to support its payload) rides bumps gently and without crashing or fussing. 
It has light, manageable steering, too, with only moderate directness but consistent weight; and because the front wheels are able to turn to greater angles than in most rivals (the electric motor's in the back, remember), the car turns really tightly when manoeuvring, and is surprisingly easy to park. 
It has sliding rear passengers doors, too, and can be bought with twin boot doors rather than a hatchback rear end - both of which help to make it seem smaller in confined spaces.
Verdict
On this evidence, the ID Buzz looks ready to take the electrified utility car into a new and interest dimension in so many ways: from onboard comfort and refinement to performance and range, and from static desirability to carrying configurability.
It'll do all of that at a cost, mind you. Passenger car launch versions are expected to cost more than £50,000, and while commercial derivatives, and later ones with smaller drive batteries, might make for greater affordability, this car is never likely to be cheap compared with its technically simpler opponents.
Even at that price, those who do see the appeal of this car will recognise a car that does things no rival can; and that might not be a fun driving experience relative to other EVs at the same money, but will certainly enable a lifestyle that's varied, active and interesting.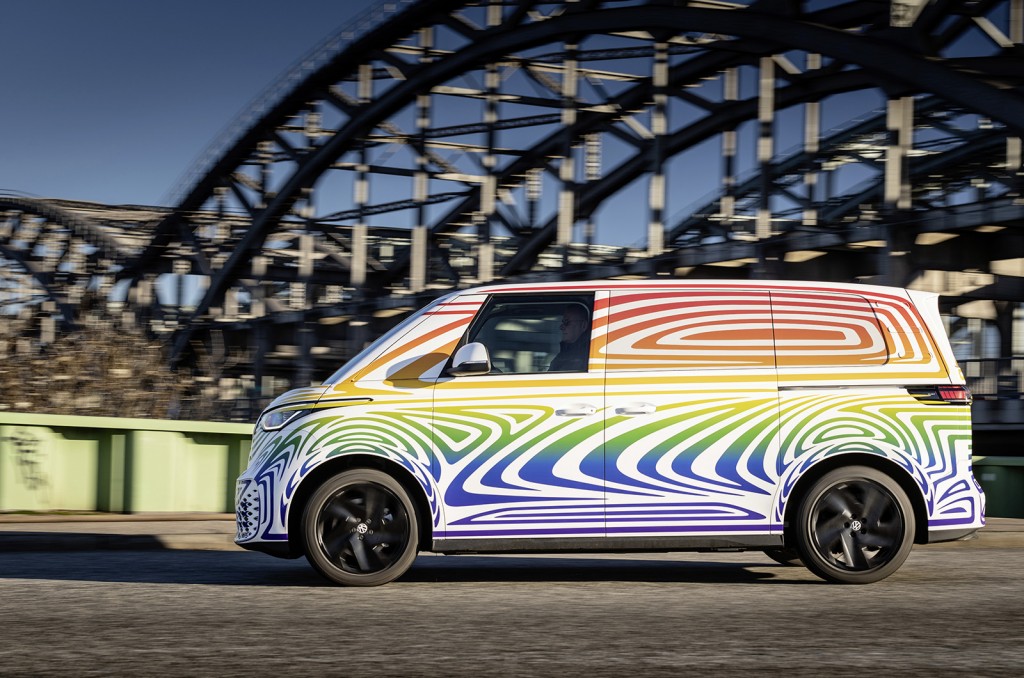 As for the car's all-important design: that's about as close to the size and shape of the classic Type 2 that VW can achieve in a crash-safe, modern-looking family car with the cabin space needed to compete with what else is already on the market. 
Having stared long and hard at it, the company's decision-makers could have shrugged and put the car on ice for another decade, of course - but they've taken the bolder decision instead to see if a new generation of fans might take the eternal 'VW Bus' to their heart. And, if they can afford it, we'd say there's a good chance they might.
Matt Saunders
Volkswagen ID Buzz Cargo
Price from: tbc
Motor: 1 x rear-mounted, 'PM-SM'
Gearbox: Single-speed reduction gearing
Driven wheels: two (as tested here) or four
Power: 201bhp
Torque: 229lb ft
Battery: lithium-ion, mid-mounted, 77/82kWh (usable/total)
Maximum speed: 90mph (limited)
0-62mph from: tbc
Electric range: 250 miles (tbc)
CO2 emissions: 0kg
Kerb weight: 2200kg (tbc)
RIVALS
Mercedes eVito
Toyota Proace Electric