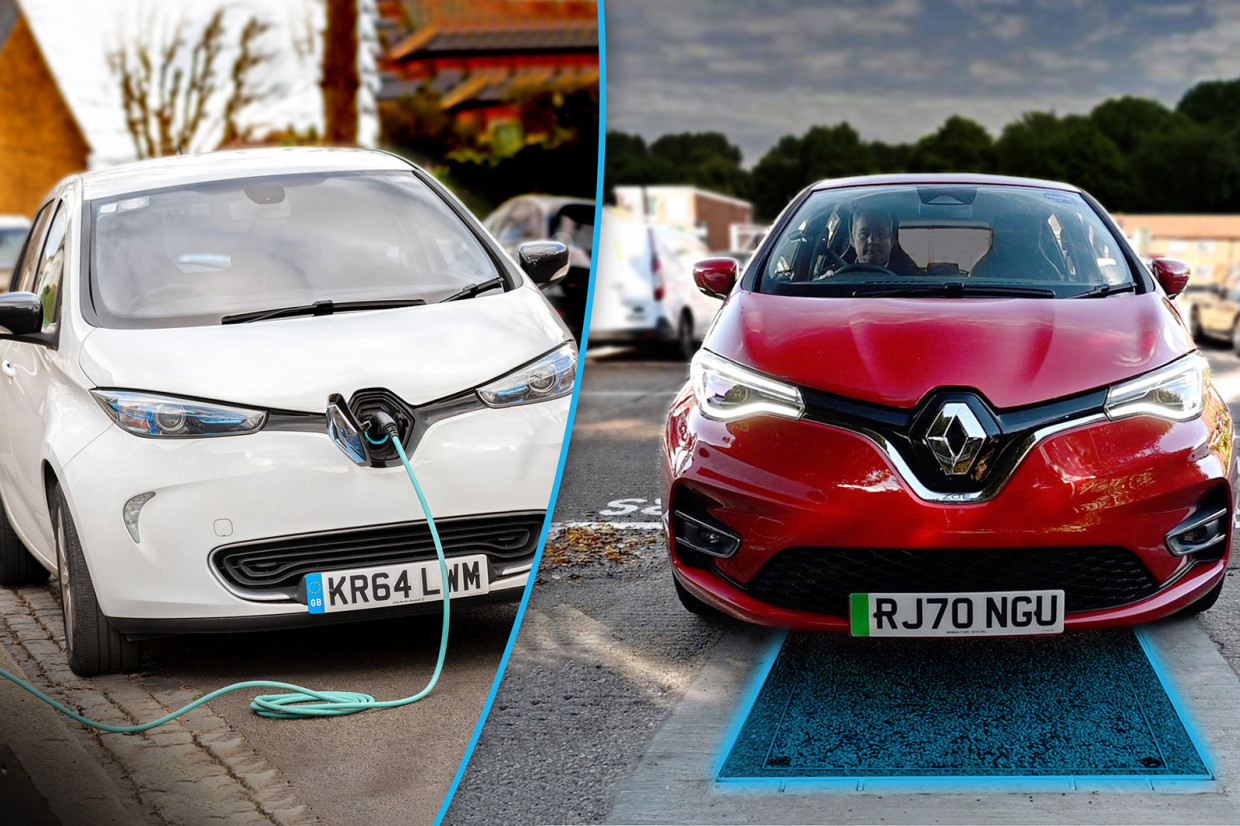 If you've ever stood in a dark car park on a chilly night awkwardly wrestling with an unruly charging cable thinking 'there has to be a better way', then we have some good news: it might soon be possible to charge your electric car without plugging it in.
That's because EV charging specialist char.gy has recently undertaken the first public UK trial on on-street inductive charging – in which an EV is charged wirelessly through a special pad built into the road surface. It's basically the same technology as wireless smartphone charging pads – but for cars.
The new trial is taking place in Marlow, Buckinghamshire, with a special inductive charging pad developed by IPT Technology that can power specially adapted Renault Zoes that the public can hire through peer-to-peer rental service Hiyacar. The pads are similar to those being trialled on a bus route in Milton Keynes.
The 10 Zoes being used for the trial will retain their conventional charging cables and ports, so they can be still be charged even without using the inductive pad in the Liston Road car park.
The charging pad – which uses magnetic induction to transfer energy to the floor of a compatible EV – are built into the road surface, and can be driven over without damage. As with an on-street charger, it requires a power source going to it. To use the inductive chargers, EVs will need a compatible pad on the underside of their body – which can be original equipment or, as in the case of the char.gy trial, retrofitted.
As well as removing the hassle of having to wrestle with charging cables, inductive charging could also reduce the number of cables being draped across pavements – a particular problem for elderly and disabled pedestrians – and car parks as the number of vehicles in the UK rises. It could also reduce the amount of 'furniture' that is required to be built in car parks or on streets.
The trial is one of several tests that are being backed and funded in part by the UK's Office for Zero Emission Vehicles and Innovate UK. With char.gy saying that the results from the Marlow trial have been positive so far the firm is aiming to shortly start trials in seven other locations, including Milton Keynes and Redbridge in East London. It will also eventually start testing with a second-generation inductive fast charger being developed by the Warwick Manufacturing Group.
While the char.gy trial in Marlow is the first inductive charging test that has been open to the public, the technology has previously been tested with a limited number of taxis in Nottingham.
READ MORE
e-CARS
e-BIKES
e-MOTORBIKES
e-SCOOTERS