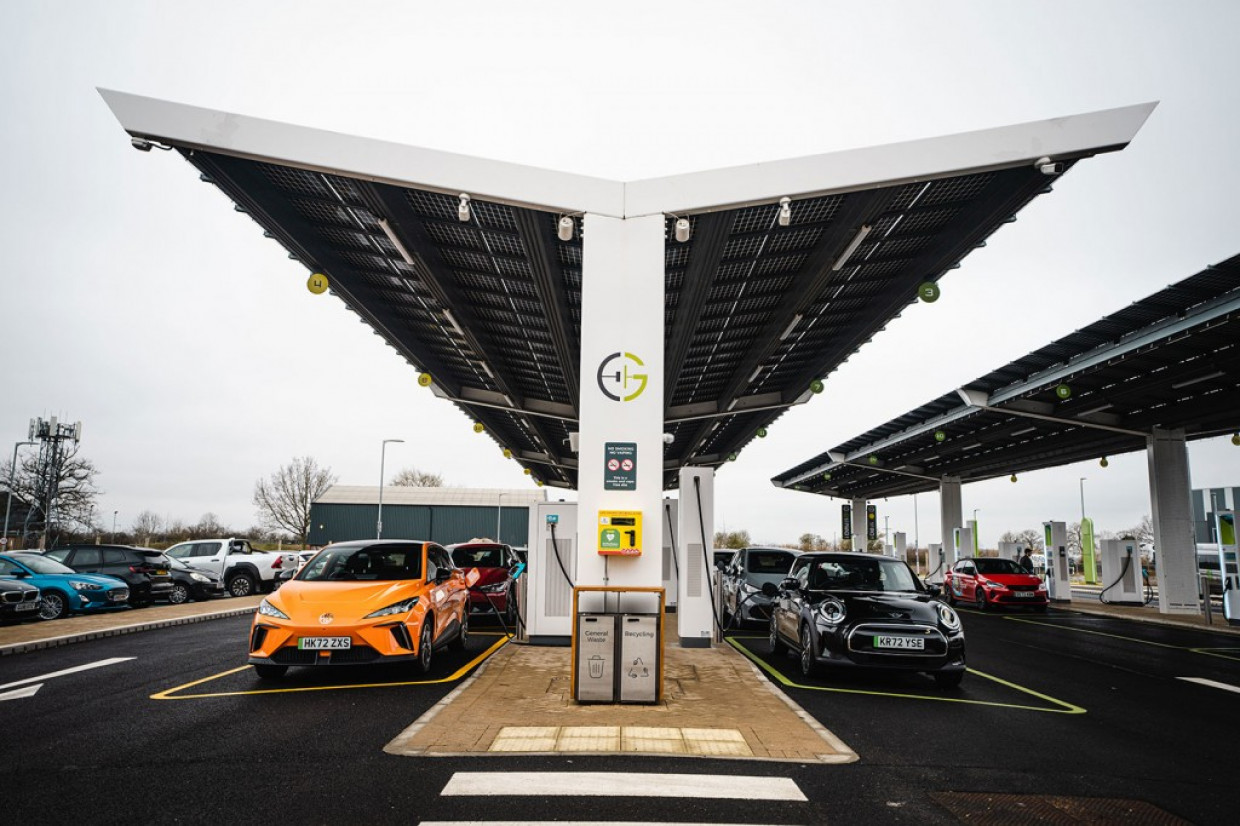 The UK government has outlined details of its planned Zero Emission Vehicle (ZEV) mandate, which would require manufacturers to sell an ever-increasing percentage of zero-emission machines such as electric cars.
The plan is for the ZEV mandate to come into force in 2024, sitting alongside the existing average fleet emission targets that manufacturers have to hit. The mandate is designed to push manufacturers into increasing their zero-emission vehicle sales in the build up to the 2030 ban on the sale of most petrol and diesel cars.
Your mandate to receive the latest EV news: it's our FREE newsletter
The details of the scheme came as part of the government's raft of 'Powering up Britain' announcements, which included further details about future energy strategy. The ZEV mandate has been put out to public consultation, with the government inviting input on its website. But what exactly does it mean, and how will it work?
What is the ZEV mandate?
The ZEV mandate would apply across England, Northern Ireland, Scotland and Wales. Under the proposals, car manufacturers will have to ensure that a certain percentage of new cars they sell in the UK will be zero-emission – with that percentage rising each year. The ZEV mandate will cover 2024 until 2030.
The plan is for it to come into force in 2024, with an initial ZEV sales share target of 22 per cent. That rises to 28 per cent in 2025, 33 per cent in 2026, 38 per cent in 2027, 52 per cent in 2028, 66 per cent in 2029 and 80 per cent in 2030. For context, around 17 per cent of cars sold last year were zero-emission.
That 2030 date is in line with when the government will ban the sale of most non-zero emission cars bar cars with 'significant zero-emission capability' (SZEC). That basically means some form of plug-in hybrids, although the government has yet to outline exactly what those exemptions will be. It added that it will then introduce future legislation to set sales targets until 2035, at which point 100 per cent of cars sold are planned to be fully zero-emission.
A separate ZEV mandate will be set for new van sales, reflecting that the electric van market is "less mature" than for cars. As a result, the target starts at 10 per cent in 2024, rising to 19 per cent in 2025, 22 per cent in 2026, 34 per cent in 2027, 46 per cent in 2028, 50 per cent in 2029 and 70 per cent by 2030.
As with cars, targets for 2031 until 2035 will be set by future regulation, although the plan is again for 100 per cent of sales to be zero-emission by 2035.
That sounds relatively simple.... but it won't be that simple, will it?
Of course not. As with similar fleet emission schemes that are in place, there's a load of small print and details designed to aid smaller manufacturers and also encourage schemes such as car clubs.
Small-volume manufacturers (those that produce less than 2500 units per year) and micro-volume manufacturers (less than 1000 units per year) will receive allowances exempting them from elements of the scheme, although the 2030 and 2035 targets for the end of non-zero emission vehicle sales will still apply. Notably, small-volume manufacturers who do produce EVs will be given special allowances, which could be sold to larger manufacturers to help those firms hit their targets.
Effectively, each sale of a zero-emission vehicle would results in a credit, which offsets the sale of non-ZEV machines. Manufacturers would be able to form 'pools', which would allow, for example, the Volkswagen Group to have all of its brands (Audi, Bentley, Cupra, Lamborghini, Seat, Skoda and Volkswagen) together. 
Manufacturers would also be able to 'trade' allowances, a bit like football stickers. That means firms that only sell ZEVs – and therefore would exceed the percentage targets – would be able to sell their 'excess' ZEV credits to another manufacturer.
It might get even more complicated than that, too. The government is inviting feedback on whether it should allow firms to 'borrow' credits from future years (allowing them to sell fewer EVs initially), and to gain additional credits for supplying ZEVs to car clubs or as wheelchair accessible vehicles. But they'd have to pay back anything they borrow, with an annual interest of 3.5 per cent.
What happens if a manufacturer doesn't hit the target?
Then they get fined. The government will decide how much following the consultation, but it has set out early targets based on similar schemes in place in China, California in the USA and British Colombia and Quebec in Canada.
The government is proposing a payment of £15,000 per 'excess activity' for cars, and £18,000 for vans. That would basically mean, once all those complex exemptions above are accounted for, car manufacturers would face a £15,000 fine for each vehicle they sell past their total ZEV target. That would add up: if they miss the target by 2000 vehicles, the fine would be £30 million.
What else has the government announced?
As part of the announcements, the government has launched a £381 million Local Electric Vehicle Infrastructure (LEVI) fund, with an extra £15 million going in the On-Street Residential Charging Scheme. Both previously announced, the two funds are intended to help fund the expansion of the UK's public charging infrastructure. 
The government has also opened the second round of applications for the £165 million Advanced Fuels Fund, which is focused on developing sustainable aviation fuel for passenger jets.
What are people saying about it?
Paul Willcox, the managing director of Stellantis UK (which includes Citroen, Fiat, Peugeot and Vauxhall) said the firm was "fully committed" to achieving 100 per cent EV sales in the UK by 2030, but added: "We now urgently need to have certainty and regulatory clarity on the pathway that the Government will set, strong support for the industry in making the necessary investments in the manufacture of electric vehicles in the UK and action to develop our battery manufacturing capacity."
Tim Slatter, the chairman of Ford Britain, said the ZEV mandate was "a crucial piece of the electrification puzzle that provides a vital indicator of charging infrastructure needs in the coming years."
He added: "We know from our customers that the biggest barrier to uptake of electric vehicles remains the availability and ease of charging. The ZEV mandate gives a clear direction and should provide the confidence for infrastructure investors to commit and enable the future for electric vehicles on UK roads. With new, higher targets for van customers, it is crucial that the government's Plug-in Van Grant is retained in early years to support businesses making the switch."
Mike Hawes, the chief executive of the Society of Motor Manufacturers and Traders industry body, said: "While the proposals rightly reflect the sector's diversity, late publication and lack of regulatory certainty make product planning near impossible, and the continued lack of clarity as to what technologies will be permitted beyond 2030 undermines attempts to secure investment."
Fiona Howarth, the boss of Octopus Electric Vehicles, said: "The industry needs clarity and decisive action to place the UK EV market in pole position. We need to end our reliance on imported fossil fuels as we transition to zero emission vehicles powered by homegrown green energy.
"The devil will be in the detail, and this is our chance to further drive down costs and encourage new models to enter the market, giving drivers access to cheaper, greener, tech on wheels transport."
Guy Spence, the boss of LV+ ElectriX, said that, if done right, the mandate "will help us reach price parity of electric vehicles with petrol and diesel cars sooner. It should also increase the makes and models of electric cars available and will have the longer-term benefit of a more buoyant second-hand market for electric cars, making EVs more affordable across our communities."
Richard Dilks, the boss of shared transport charity Collaborative Mobility UK, said he was "delighted that the UK, Scottish, Welsh and Northern Ireland governments have taken on board our case as to why car clubs need a strong supply of EVs. This consultation recognises that car clubs cut congestion, reduce the number of cars, and provide much wider access to EVs than solely relying on people owning them."