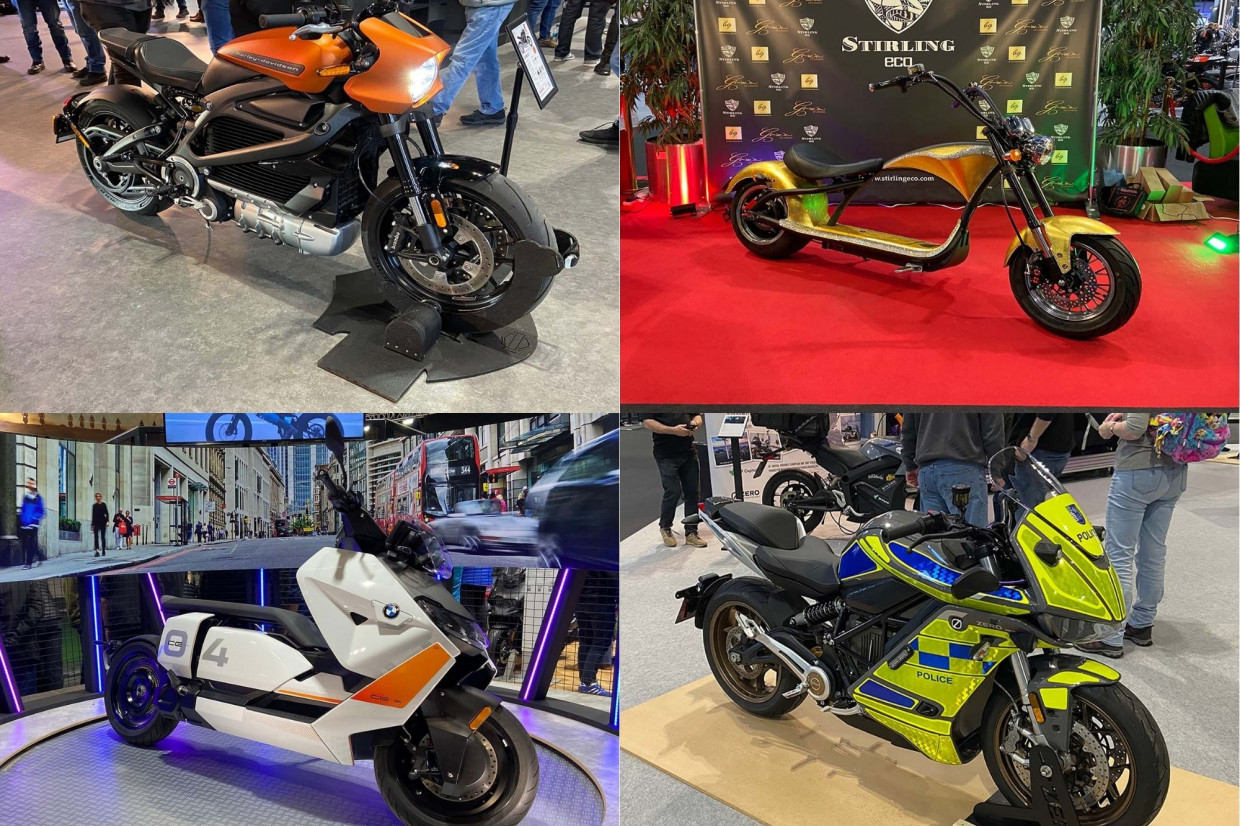 Want to go electric on two wheels without any compromises? 
There's a new wave of hugely desirable zero emissions motorbikes and scooters on the market now, many highlighted this week at this month's Motorcycle Live event at the NEC in Birmingham.
They come at a variety of prices and with similarly diverse ranges and top speeds. We tracked down the best:
BMW Motorrad CE 04
Unveiled over a year ago, the CE 04 was quickly dismissed as an over ambitious concept. Now, however, BMW is putting the futuristic scooter into production and first impressions are eye-catching; with its angular body panels and lengthy wheelbase it certainly doesn't look like a conventional scooter. 
Thrusting the CE 04 along is a liquid cooled synchronous motor which is coupled to a 8.9kWh battery that delivers an admirable 89 miles of range and a maximum power output of 41bhp. BMW also offers a reduced capacity, 30bhp variant of the CE 04, which has a slightly lower range of 62 miles. 
Charging time using a wallbox charger is four hours and 20 minutes. However, if you opt for the quick charger this time is reduced to just an hour and 40 minutes. And, if charging from 20% to 80%, then expect an even quicker charge time of 45 minutes. 
Prices start from £11,700 but BMW offers a host packages and optional extras that could push that up further still, including a quick charger and seat heater.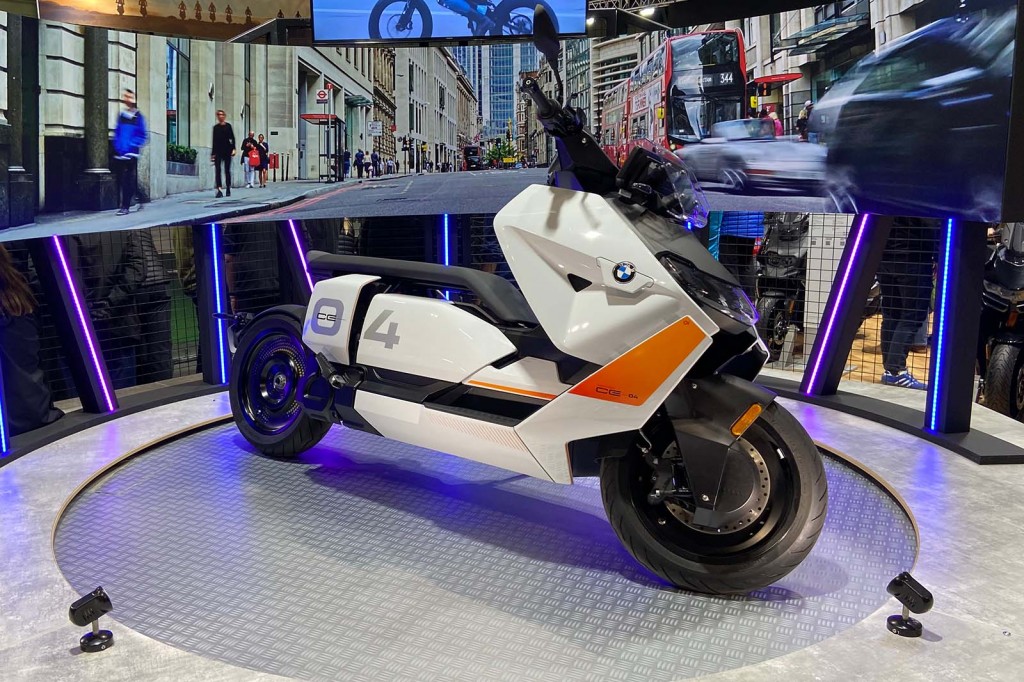 Harley Davidson Livewire
Harley has taken an early lead in the race to electrification. This is the brand's first all electric motorcycle, and it hits the mark by offering a range of 95 miles, a top speed of 115mph and a 0-60mph time in a rapid three seconds. 
Charge comes from a 15.5kWh lithium ion battery which can be topped from empty up to 80% in 40 minutes, or fully in 60 minutes when using a DC charger. 
The bike has four rider modes that trade range for performance called, fairly obviously, sport, road, range and rain. There are also three additional modes which the rider can customise.
Prices start from £28,995 making it a pricey choice. However, this is an electric motorbike that is aimed at delivering performance akin to that of a petrol motorcycle - and reviews suggest it delivers.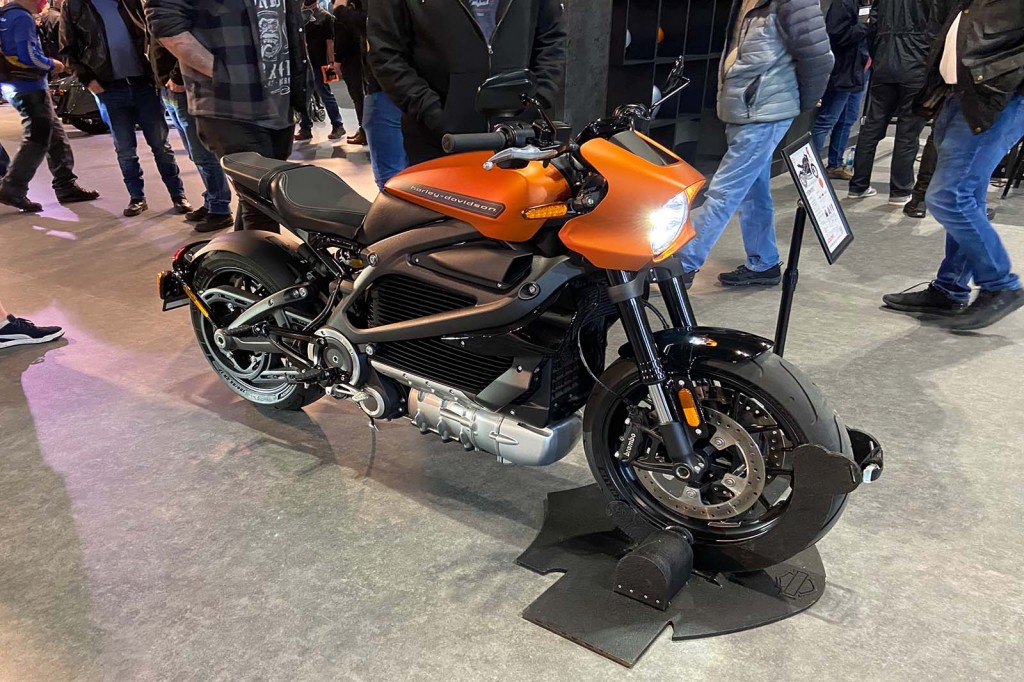 Horwin CR6 Pro
You might think that because an electric motorbike has an electric motor it's impossible for it to feel like a regular petrol-powered motorcycle? Wrong. Step forward the Horwin CR6-Pro, an e-motorbike that has a permanent magnet synchronous motor which is coupled to a five-speed manual gearbox, a set-up the brand says is a world first. 
Sitting in the lower part of the frame is a 72v 60Ah Lithium-Ion battery, offering 75 miles of range and a top speed of 68mph, making it a solid choice for urban riding (or even slightly further afield). 
The battery can be recharged fully in three hours. It can also be charged using a domestic plug.
Prices start from around £6300.
Anyone else think that the brown seat adds a scintilla of retro-charm?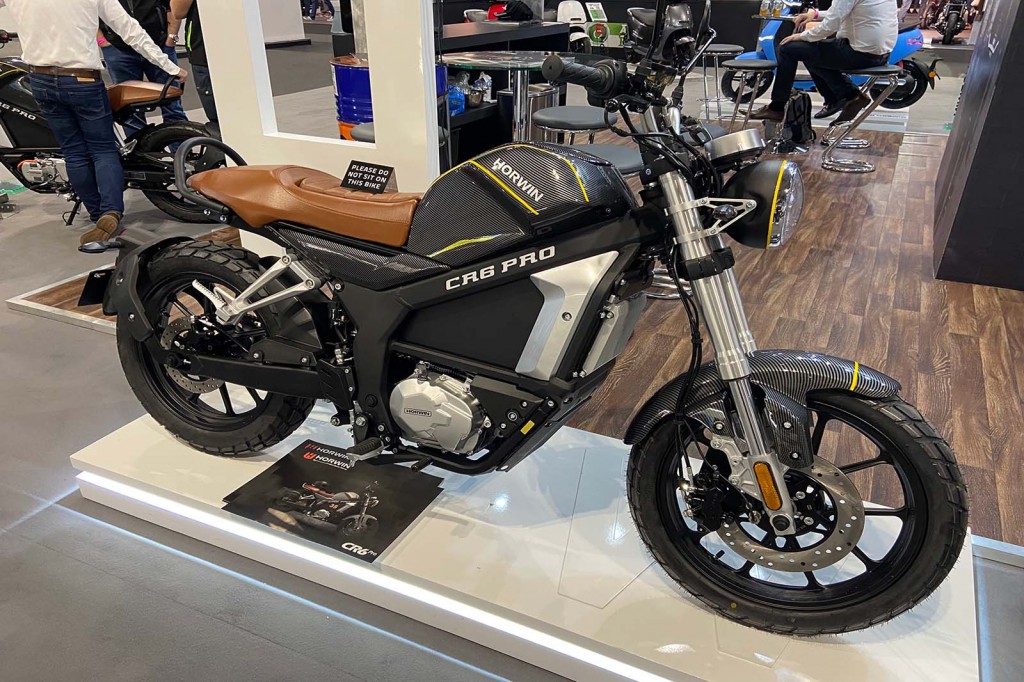 Lexmoto Cypher
More moped than a motorcycle, this diminutive two-wheeler has plenty of entry-level appeal, not least because its titchy 1.9kWh battery and 30mph top speed means it can be ridden by 16-year-olds. 
 
Range needn't be a worry, either, as the small battery packs a decent punch, managing a decent 40 miles between charges, enough for any teenager of today to earn some privacy without disappearing from sight.
When you deduct the 20% OLEV grant it costs £2299 - which is a lot for a bike with such  limited performance, but reasonable in the context of the futuristic tech on offer.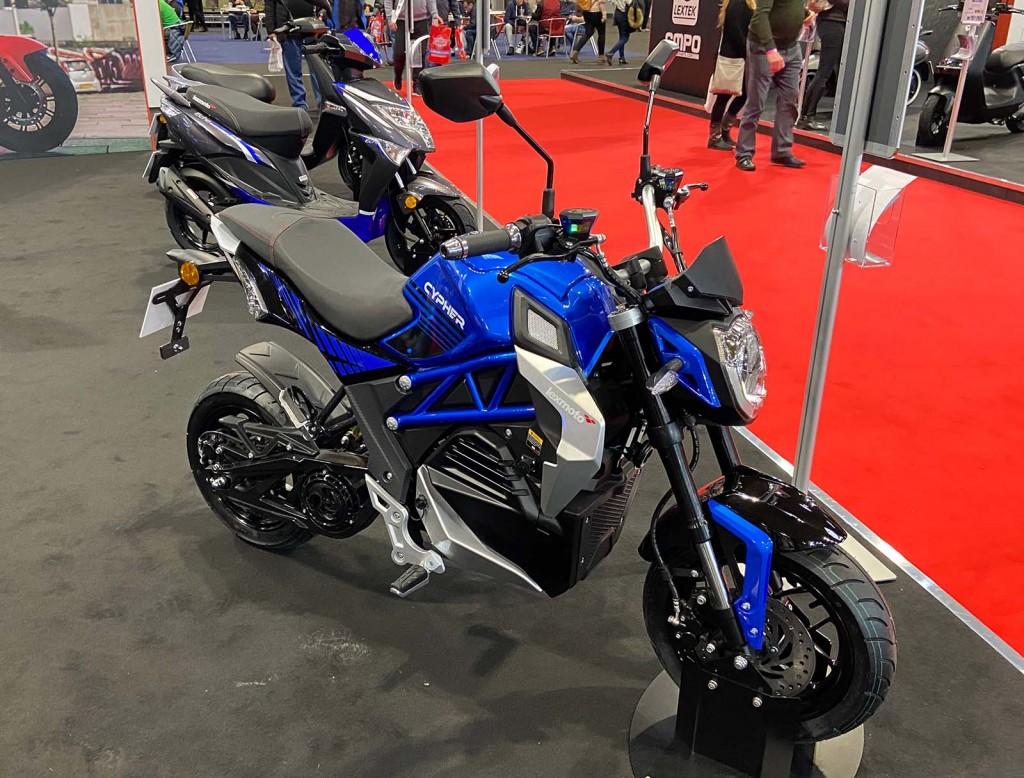 Maeving RM1
The retro-styled Maeving RM1 e-motorbike is the first production model from this new British start-up, and is hand-built in Coventry.
Weighing just 98kg the bike is relatively lightweight despite its battery and has a top speed of 45mph (although you can opt for a cheaper 28mph version too). 
One of the highlights is its clever removable batteries, which can be swapped in and out. They weigh 10kg each, and the bike can carry two at a time, each offering 40 miles of range, or up to 80 in total.
They can be removed and charged using a domestic plug socket, allowing users to charge from their office or home in around three and a half hours. 
If you like the retro-charm of the RM1 you'll have to find £4995 though. And if you fancy an additional battery that will cost £1195, although this drops to £995 if you purchase it alongside the bike. 
Silence S01
This entry-level electric scooter from Silence has a lightweight design helping it travel up to 62 miles between charges, despite it only having a 4.1kWh battery.
With a top speed of 52mph and a 0-30mph time of 5.9 seconds it is more than suitable for last-mile delivery and urban commutes. 
Charge times vary but you can expect to replenish the battery in around five to seven hours using a domestic socket. Silence also offers some useful optional extras such as a 47 litre rear box, further helping the brand to target last-mile delivery riders. 
It also offers great practicality; for instance, underneath the seat you can fit not one but two helmets.
Prices start from £4995 but after the OLEV Government Grant is applied you can expect to pay £4395.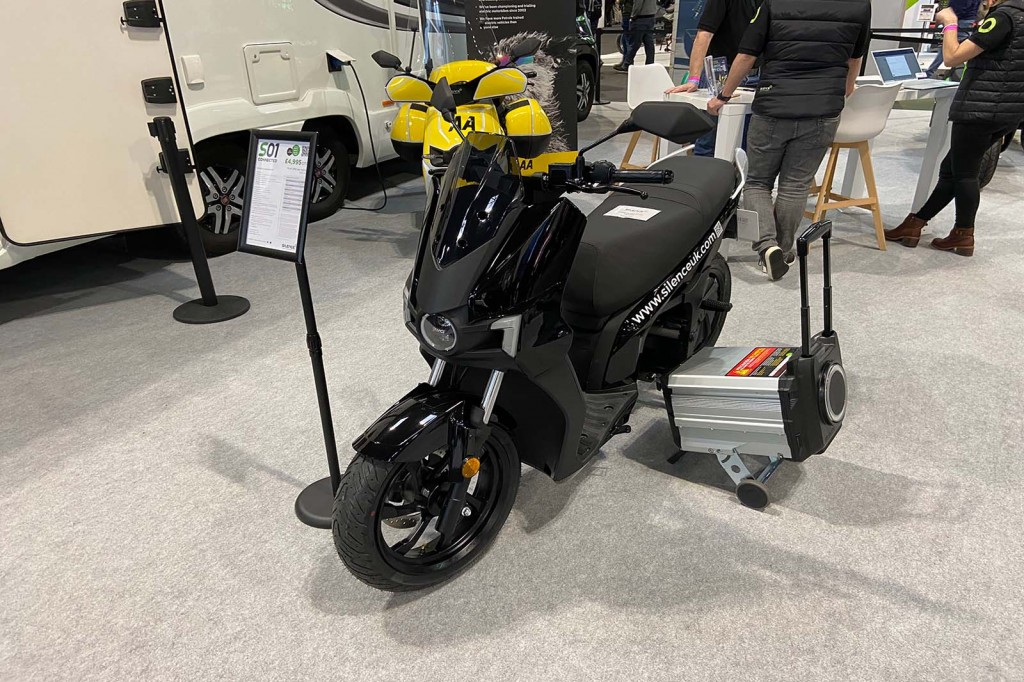 Stirling Eco
No your eyes aren't playing games with you, this is a gold chopper motorbike, and that alone guarantees that the fact it is electric won't even be the main talking point!
Known as the M1, it has a top speed of 30mph and a range of 30 miles. It is lightweight for an e-motorbike, weighing just 82kg, and has three different riding modes; eco, medium and high, allowing riders to vary the power output of their motorcycle, trading performance for range.
It also has a removable battery which can be charged from a domestic plug socket, with charge times around the four hour mark.
If this example isn't eye-catching enough for you or you want to add your own personal touch, then Stirling Eco also offers a bespoke painting service where your desired design can be painted onto the body of the motorbike.
Prices for both the M1 and the M1 art bike start at £2410, although you're free to spend as much as you like on a custom model.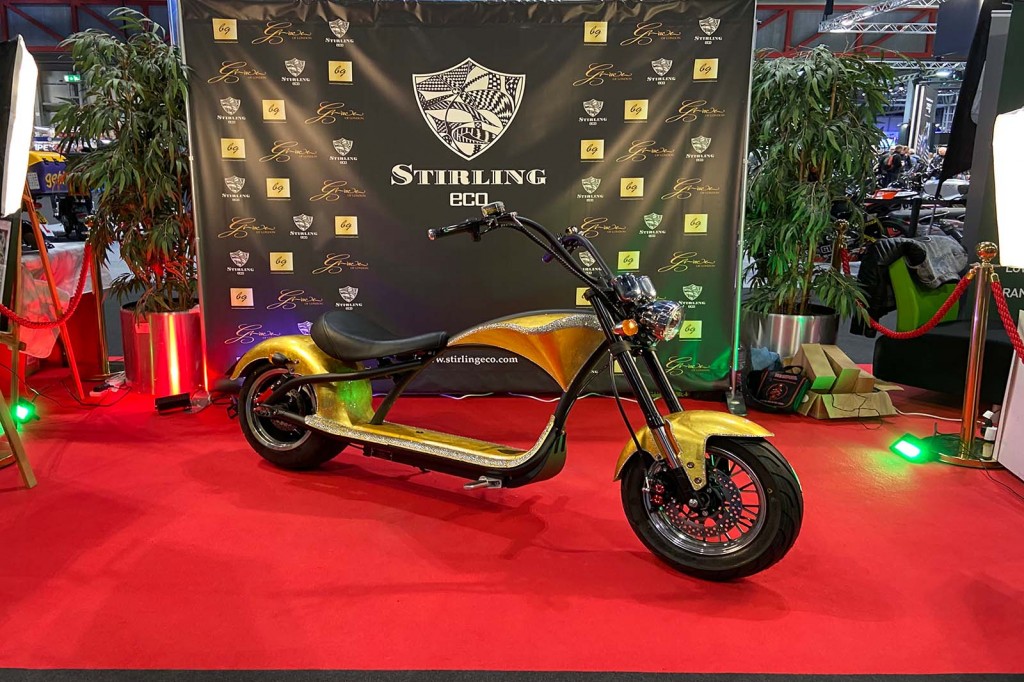 Super Soco CU Mini
This little machine reminds us of a new puppy; it's so cute you want to look after it, let it sleep on your bed and take it out as much as possible.
Just note you won't be going too far or too fast: pushing the Super Soco CU mini along is a 600-watt motor, offering a top speed of 25mph, while it goes just 25 miles between charges.
It has a removable lithium-ion battery weighing 7kg, which like many of the other bikes listed can be charged using a domestic three-pin socket.
After the 20% Government discount is applied it costs £1499. It is AM licence compliant, meaning it can be ridden with a valid CBT or by anyone with a car licence prior to 2001.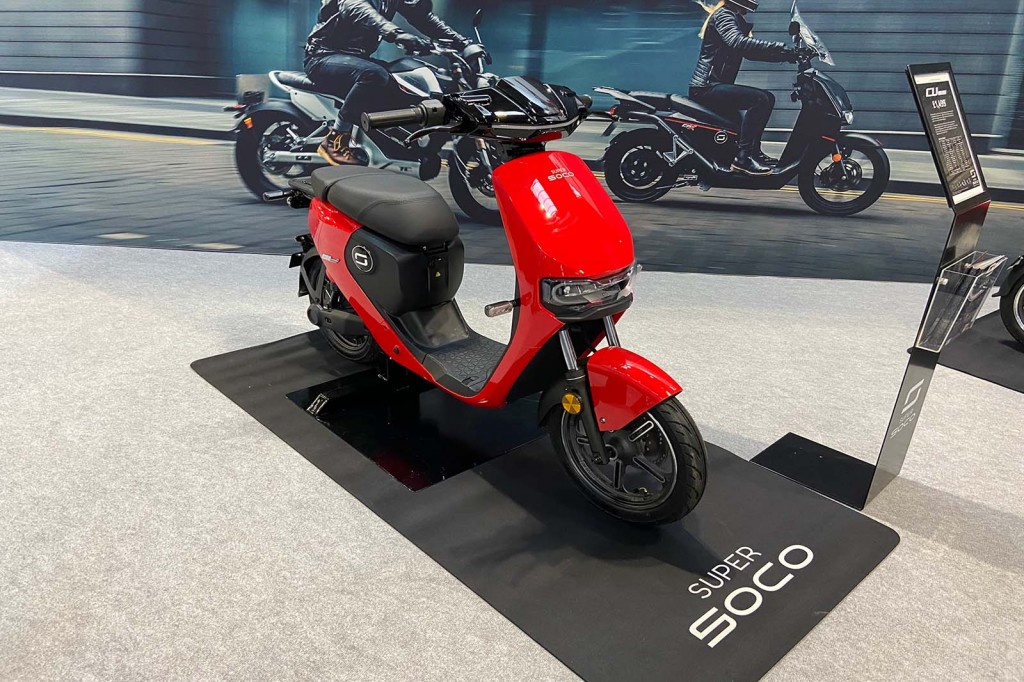 The Electric Motorbike Company Farsta 6000
If range is your concern then the Farsta 6000 has the answer. It'll do 120 miles between charges - although at 10-12 hours to replenish the battery you'll be waiting a while if you want to turn around and go home again.
The 6000 watt motor is powered by a 72V 100Ah battery and can be charged using a domestic plug socket. 
Although there aren't any weight figures available, the fact that the bike is fitted with a reverse gear probably tells you all you need to know about how heavy it is.
It comes with a host of useful features including LED headlights, a lockable glovebox and a top box or panniers if needed.  
Expect to pay £5895 once the OLEV 20% Government discount has been applied.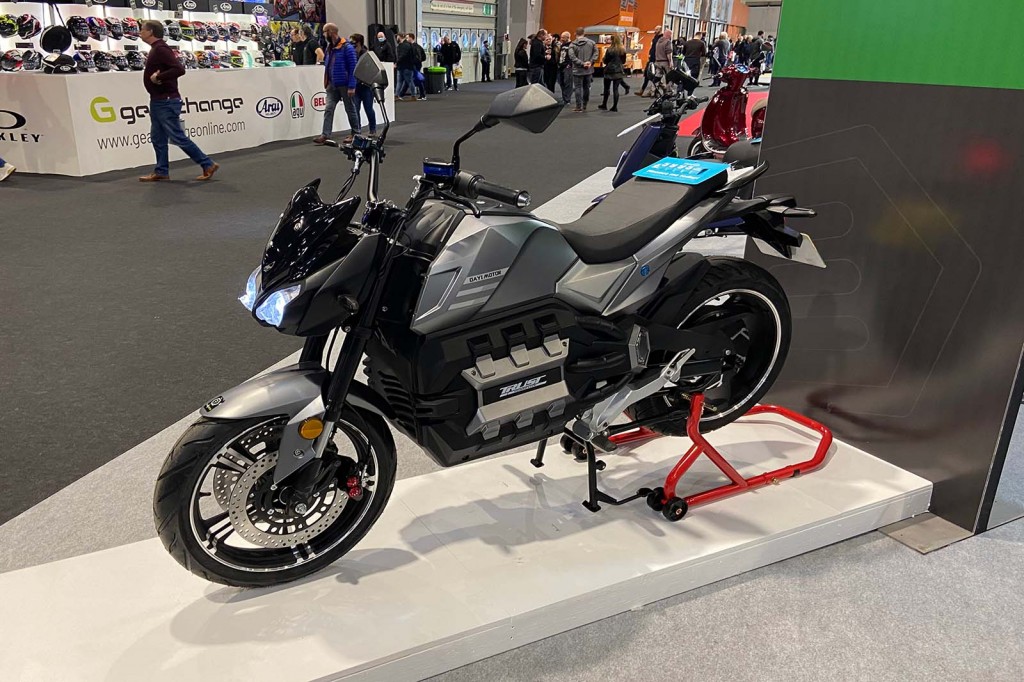 Zero SR/S Police Bike
We've ridden the Zero SR/S, but alas (if only because of our inner 12-year-old) not this show special, adapted for use as a police motorcycle.
Underneath the colour scheme and away from the flashing blue lights, this SR/S offers the same performance as the standard bike. It's billed by SR/S as a sports tourer, has a top speed of 124mph and a claimed city range of 156 miles.
Its 14.4kWh battery adds weight - the bike is 235kg all in - but for an electric bike it has admirable performance, as shown through its 110bhp figure, making it a solid alternative to the powerful petrol bikes we see from Honda, Suzuki and Kawasaki. 
The police-ready look is not just for show, either. The bike has been trialled by a number of police forces around the country and looks set to be used by some. Beware the fast and silently approaching copper...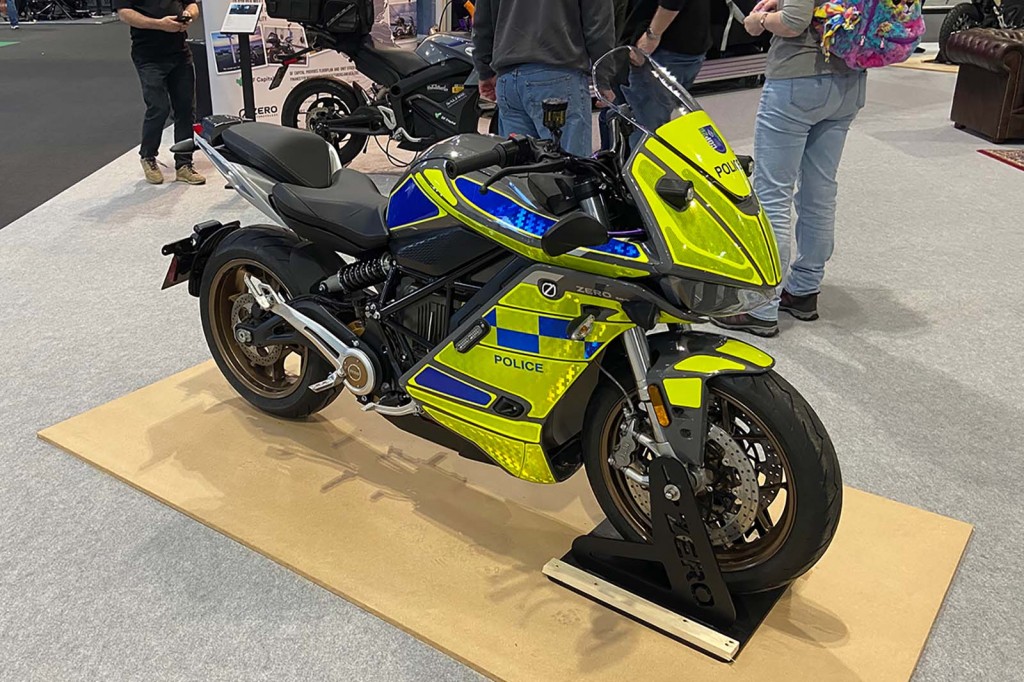 READ MORE
e-CARS
e-BIKES
e-MOTORBIKES
e-SCOOTERS