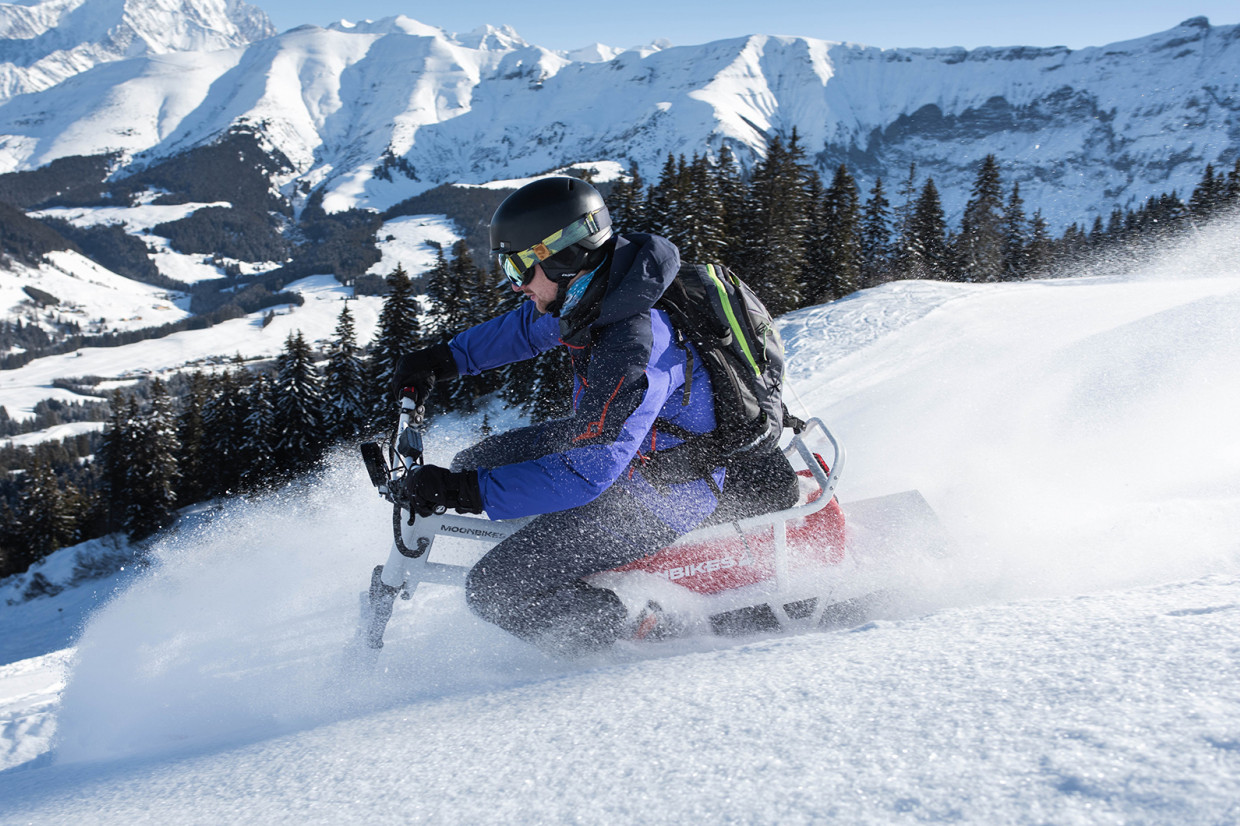 Snowbikes – effectively mash-ups of snowmobiles and motocross bikes – have been rapidly rising in popularity among winter sports fans in recent years. Until now they've been powered by combustion engines, but French firm MoonBikes is aiming to change that with the first electric snowbike.
MoonBikes was founded by Nicolas Muron, a former aeronautical engineer at Dassault Aviation, in 2018. Muron had a vision for a lightweight electric snowbike that was smaller and more versatile than a snowmobile, offering the power of a motorbike with the practicality of an e-bike – and which produces no emissions.
Most petrol-engined snow bikes are made by taking a motocross bike and replacing the front wheel with a ski and the rear with a snowmobile-style track. The MoonBike is a bespoke creation that looks similar, but with the rear track driven by an electric motor that produces 3kW (4bhp) pf power and 125lb ft of torque. With the MoonBike weighing just 87kg in single battery form, that allows for a top speed of 26mph.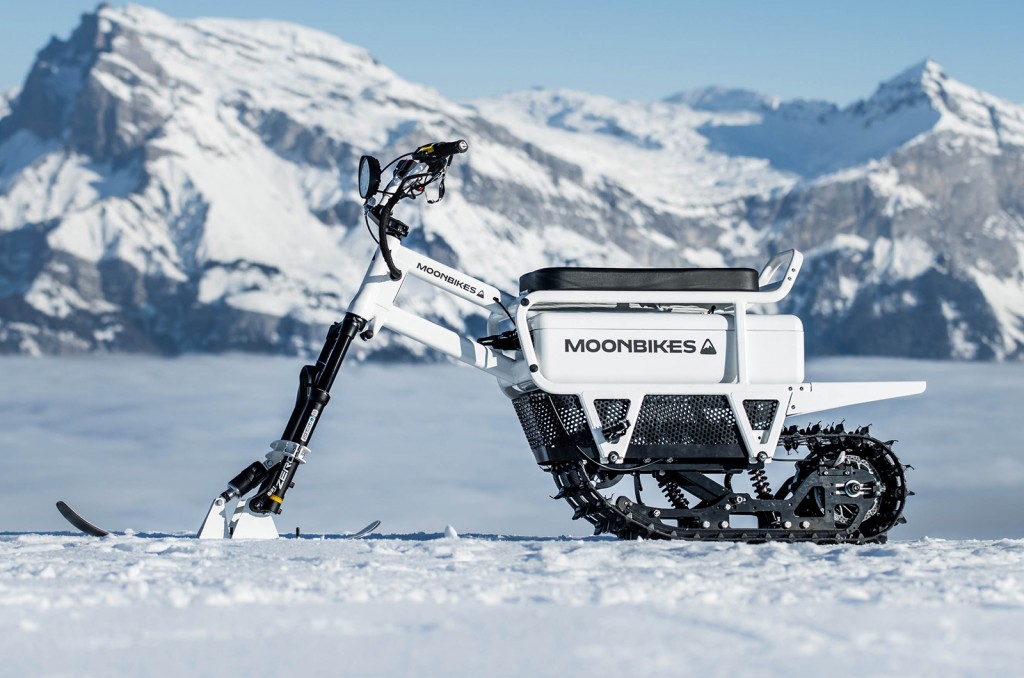 It's also been designed to offer true go-anywhere ability (as long as wherever you want to go is on snow, obviously): it can be used on snow with a powder depth of up to 30cm, and can traverse 40% grades on groomed slopes.
The electric motor is powered by either a 2.5kWh or 5kWh battery, which in Eco mode gives a range of 1hr 30mins and 3hr 00mins respectively. To keep them in top condition, the batteries are stored in a special heated box that offers cold resistance to 25C. A full charge takes three hours with an optional fast charger (or 5hrs 45mins with the standard unit), and the batteries can be charged on the bike or removed and plugged in at home.
The machine is relatively compact, too: it is 224cm long and 70.5cm wide, with a track width of 25.4cm. In Europe, the MoonBike is priced at €8760 (£7300).
While MoonBikes is a new start-up, the firm has some proven partners including tyre firm Michelin and tech giant Bosch. The machines are currently manufactured by Bosch, and the hills at 12 ski resorts in Europe are already alive to the, er, lack of sound of MoonBike music. The firm has now expanded to the US market.
Perhaps predictably, given the usual lack of snow on these shots, MoonBikes are not yet being offered in the UK – although a spokesperson told Move Electric that "we are open" to the possibility.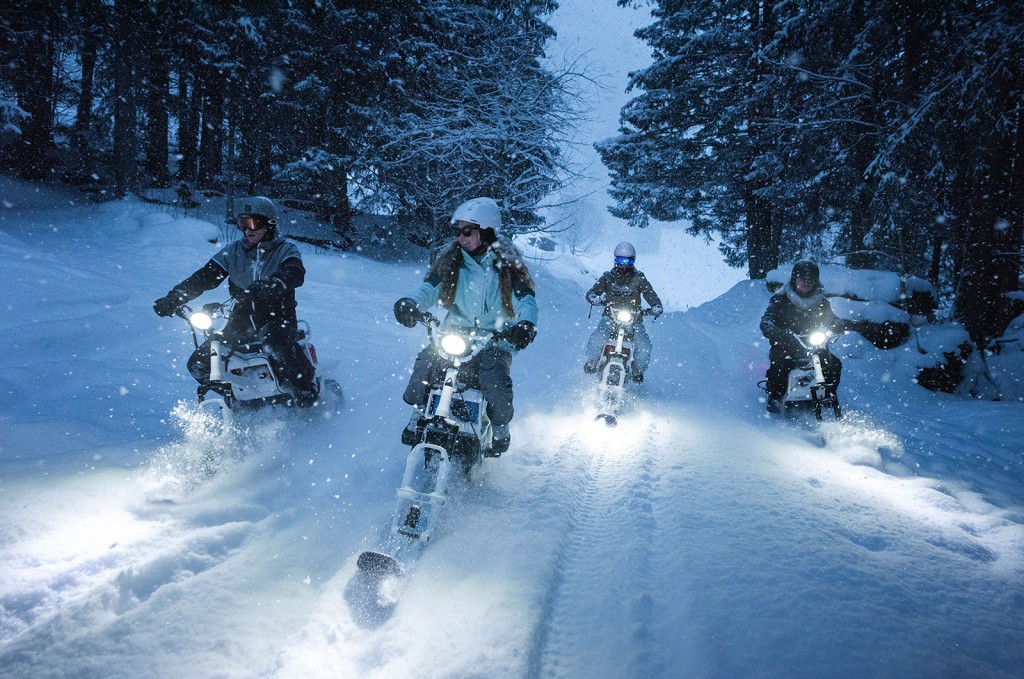 READ MORE
e-CARS
e-BIKES
e-MOTORBIKES
e-SCOOTERS
Are e-scooters legal in the UK?