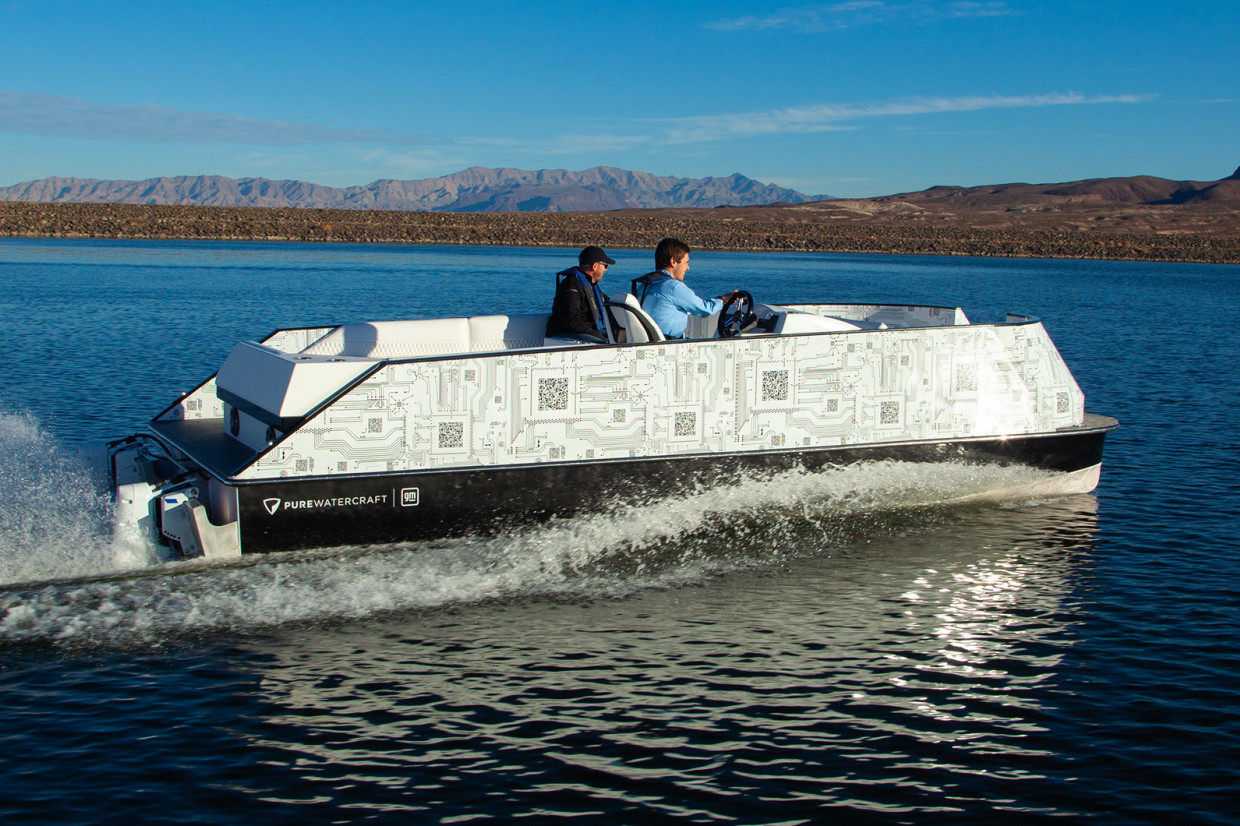 Fans of Steven Spielberg films will know that if you want to catch a big fish – well, a big shark – you're gonna need a bigger boat. But American electric boat manufacturer Pure Watercraft has put a new spin on that: it's caught a big fish to help it build a bigger boat.
The American firm, founded in 2011 and based in Seattle, already offers a range of small electric watercraft. It has now unveiled its biggest machine to date: a large electric pontoon boat. It's the result of a new partnership with the big fish it has reeled in: General Motors. The US car giant made a major investment in Pure Watercraft, a deal that also included a technical partnership.
The pontoon boat – that's a low, flattish boat often used as pleasure and fishing boats on lakes and rivers – has been revealed at the CES tech show in Las Vegas, and combines Pure Electric's electric boat technology and GM's battery expertise. 
Pure Electric's previous machines have been small Rigid Inflatable Boats (RIBs), two-seat Bass fishing boats and coaching launches. The new pontoon is far bigger, measuring 7493mm and with seating for up to 10 people.
GM recently agreed a major partnership in Pure Watercraft, which included both investment and a technical partnership. It's a fairly traditional design for a pontoon boat, but the big innovation is found in the outboard motors that power it.
The pontoon is offered with either a single or twin electric outboard driving a 16in propellor. Each motor offers the equivalent to 50hp, resulting in a top speed of 15mph for the single motor and 23mph for the dual.
The motors draw power from a GM-built car-spec battery back that can be up to 66kWh in capacity. At top speed, that results in a range of 36 miles for the single outboard pontoon, and 32.2 miles for the dual. At a speed of 5mph – and given boating is supposed to be a relaxing experience, that will be plenty for many – the range of both powertrains extends to 100 miles.
There are integrated 120V and 240V charging outlets. A full charge will take 27 hours at the lower speed, increasing to 8.5 hours at 220V. It can also be charged via a DC fast charger, which the firm claims will take one hours to go from zero to 80 per cent capacity.
Pure Watercraft highlights several key benefits to the electric powertrain, beyond enabling virtually silent running, not producing any fumes or emissions, and not risking petrochemicals leaking directly into the water.
Because the electric outboard motors are sealed and have fewer moving parts, the firm claims they do not need regular maintenance and do not need special work to flush clean or prepare for winter. The motors will work in both fresh and salt water, which no special preparation work required to switch between the two. Pure Electric claims the outboard motors should last for more than 10 years.
Pricing in the USA is expected to start from $45,000 (£33,000) for the single outboard version, and $60,000 (£44,000) for the double. Deliveries are due to begin in late 2022.
READ MORE
e-CARS
e-BIKES
e-MOTORBIKES
e-SCOOTERS
Are e-scooters legal in the UK?