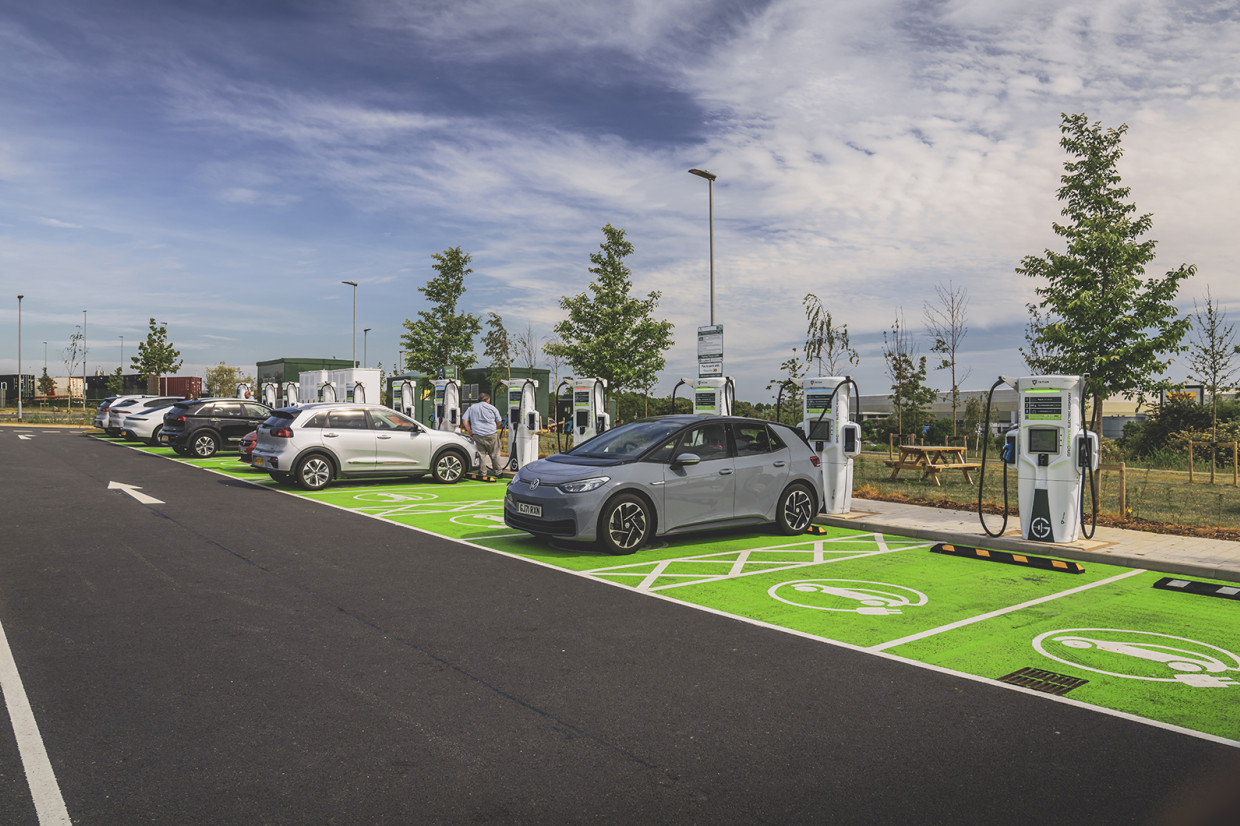 Charging network Gridserve has revealed the best and worst times of the day to try to plug in an electric car on its motorway-based Electric Highway network – and will be trialling on-site support at Moto Rugby Services over the Easter Holidays.
Gridserve is currently the dominant charging firm at UK motorway service stations, with  mix of medium- and high-speed chargers. Gridserve is anticipating that EV owners will drive a combined 35 million miles between Good Friday and Easter Monday, which is expected to lead to service stations being around 20 per cent busier.
EV charging news in your inbox: sign up for our FREE newsletter
In an attempt to even out that demand, Gridserve has analysed the busiest and quietest times to charge up. The demand for charging usually peaks at around midday, but is quieter at around 1000hrs and then at 1600hrs. The network is also quieter before 0800hrs, with demand dropping dramatically after 1600hrs.
Meanwhile, Gridserve and Tesla are teaming up to offer on-eiste support at the UK's busiest charging site, Moto Rugby Services. Three attendants will be on hand on all four days of the Easter weekend from 1000hrs until 1600hrs, and will help to manage the arrival of drivers – and prevent queue jumping. We'd still prefer a supermarket deli-style ticket machine, but it's a start.
We test drive Gridserve's EV test drive programme
The firm has also offered some tips for how to charge considerately at busier times. That includes not blocking bays or staying longer than you need, not charging past 80 per cent when the charging rate slows down, and choosing the right speed of charger for your car and planned stop length.
It also suggests communicating to other EV drivers, perhaps by laving a note on your windscreen about how long you'll be charging for.
Busiest and quietest times at key Gridserve charging sites
Gridserve has revealed the best and worst times to charge at its Super Hubs, which feature 350kW-capable high power chargers, and its medium power Electric Hubs.
And remember, these are just trends based on past data, so you might still find an empty charger at peak time or have to wait if you turn up when it should be quieter...
Busiest Gridserve Electric Super Hubs
Moto Rugby: busiest 1500hrs, quieter 1000hrs
Moto Exeter: busiest 1200hrs, quieter 0900hrs
Moto Wetherby: busiest 1200hrs, quieter 0900hrs
Moto Pease Pottage: busiest 1200hrs, quieter 1700hrs
Moto Cherwell Valley: busiest 1600hrs, quieter 0900hrs and 1800hrs
Moto Thurrock: busiest 1300hrs, quieter 1100hrs/1700hrs
Moto Burton-in-Kendal: busiest 1300hrs, quieter 0900hrs/1000hrs
Moto Leigh Delamere Westbound: busiest 1200hrs, quieter 0900hrs
Moto Heston Westbound: busiest 1100hts, quieter 0900hrs
Solstice Park: busiest 1200hrs, quieter 0900hrs
Busiest Gridserve Electric Hubs (dual-charging medium power)
Roadchef Norton Canes: busiest 1200hrs, quieter 0900hrs
Welcome Break Birchanger Green: busiest 1200hrs, quieter 1500hrs and 1700hrs
Welcome Break Hopwood Park: busiest 1300hrs, quieter 0900hrs
Westmorland Gloucester Southbound: busiest 1200hrs, quieter 0900hrs
Welcome Break Oxford Waterstock: busiest 1400hrs and 1600hrs, quieter 0900hrs
Extra Beaconsfield: busiest 1300hrs, quieter 0900hrs
Moto Donington Park: busiest 1100hrs, quieter 1000hrs
Extra Cobham: busiest 1200hrs, quieter 1000hrs
Roadchef Strensham Northbound: busiest 1500hrs, quieter 1600hrs and 1700hrs
Roadchef Chester: busiest 1200hrs, quieter 1600hrs and 1700hrs
Moto Tamworth: busiest 1100hrs and 1300hrs, quieter 0900hrs and 1000hrs