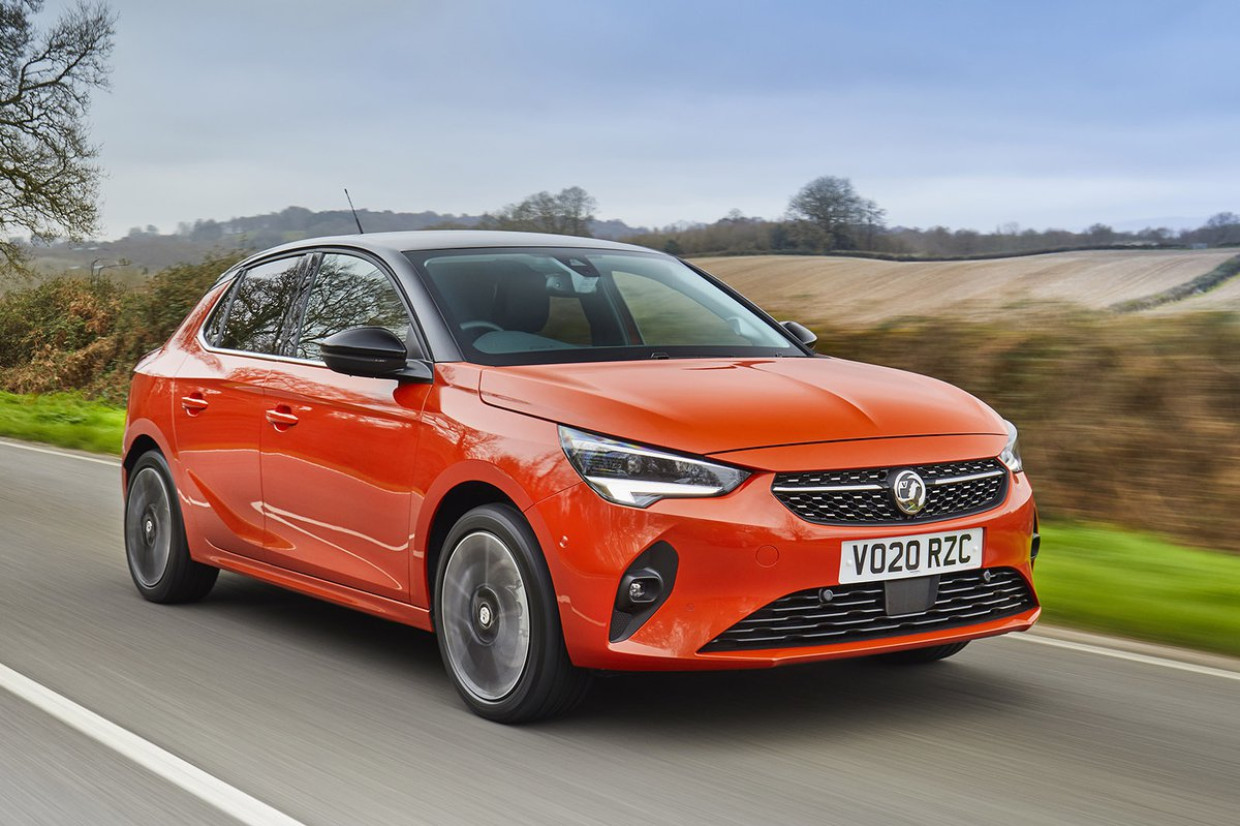 Move Electric verdict: four stars out of five
Sell it to me in a sentence….
The Vauxhall Corsa-e is one of the most affordable and user-friendly small electric cars you can buy, combining low running costs, practicality and comfort into one compact and sensible package; one that's so successful it's currently the UK's best selling small SUV.
That's quite some success, tell me more
Essentially Vauxhall has gone from an EV zero to sales chart hero in the space of about 18 months. Yet rivals such as the Renault Zoe have been refined over the years, Vauxhall has been given a bit of an electric car jump start thanks to sister company Peugeot. Essentially that means the British brand's Corsa supermini uses the same structure and mechanicals as the French firm's 208, including its excellent EV version.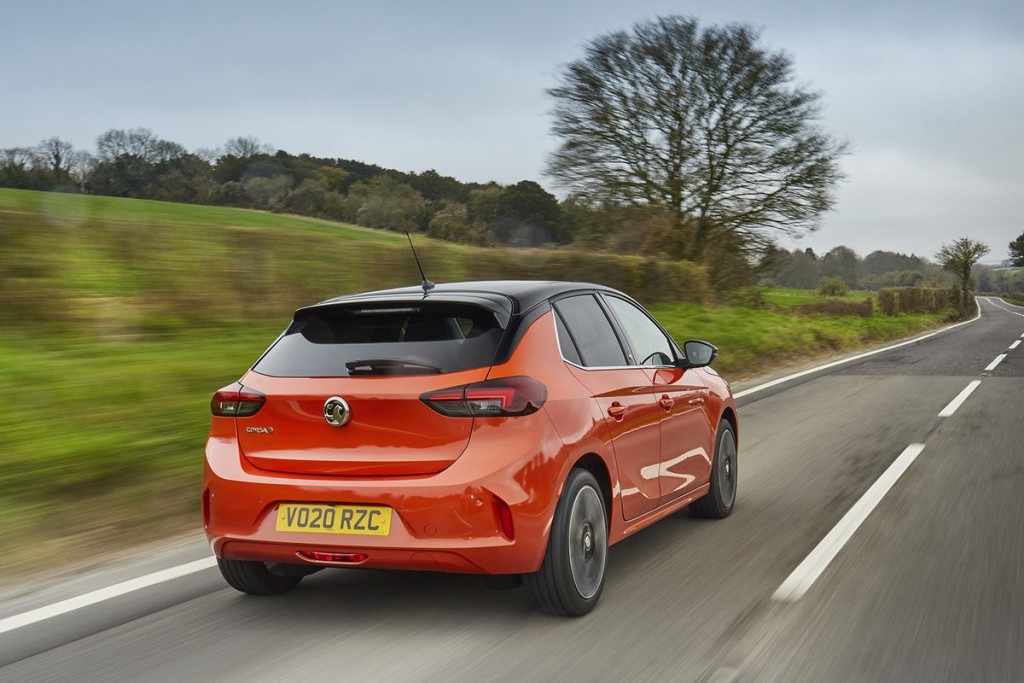 No, the Corsa-e isn't as stylish as its closely-related cousin, but its straight-laced and sensible approach is very appealing if you're making your first steps into EV ownership. There's nothing surprising or shocking here (no jokes about charging in the rain please), just a thoroughly pleasant and practical small car. 
Hmmm, I'm not excited yet, how about some highlights?
In all honesty, there's nothing really game-changing here, but like we said that's a big part of the Corsa-e's appeal. If you've driven, been in or even seen any current version of the Corsa then there's nothing that will surprise you here. There are sharper looking, more spacious and keener driving small cars, but the Vauxhall's balanced blend of talents makes it very easy to rub along with.
On the move you get all the usual benefits of EV ownership, including sprightly and near silent acceleration that makes mincemeat of tight urban streets yet never feels out of its depth on the open road. It's easy to drive too, with light steering and forward and reverse gears to deal with.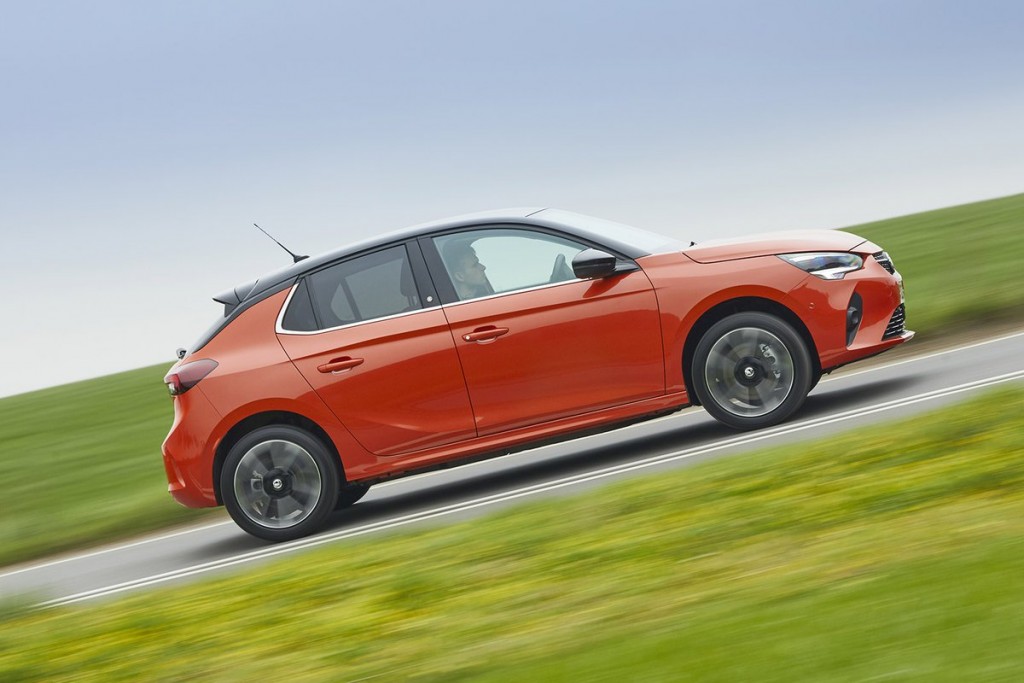 Of course there's a regenerative braking function like many EVs that harvest electrical energy for the battery as lift off the accelerator, yet it's not as powerful in the Corsa as, say, a Renault Zoe or MINI Electric. While that means you're not putting quite as much charge into the battery it does mean the Vauxhall feels smoother and more normal to drive.
What's most remarkable about the Corsa-e isn't the car itself, however, but the amount you pay for it. The entry price of £26,390 is one of the lowest for a battery powered supermini, plus Vauxhall continues to offer numerous dealer discounts and attractive low rate lease and PCP deals. 
Also currently on offer is its Plug & Play scheme, which bundles in a free home charging wallbox with a six months BP Pulse subscription and eight year breakdown recovery plan. You can see why the Corsa-e is such a big seller, can't you.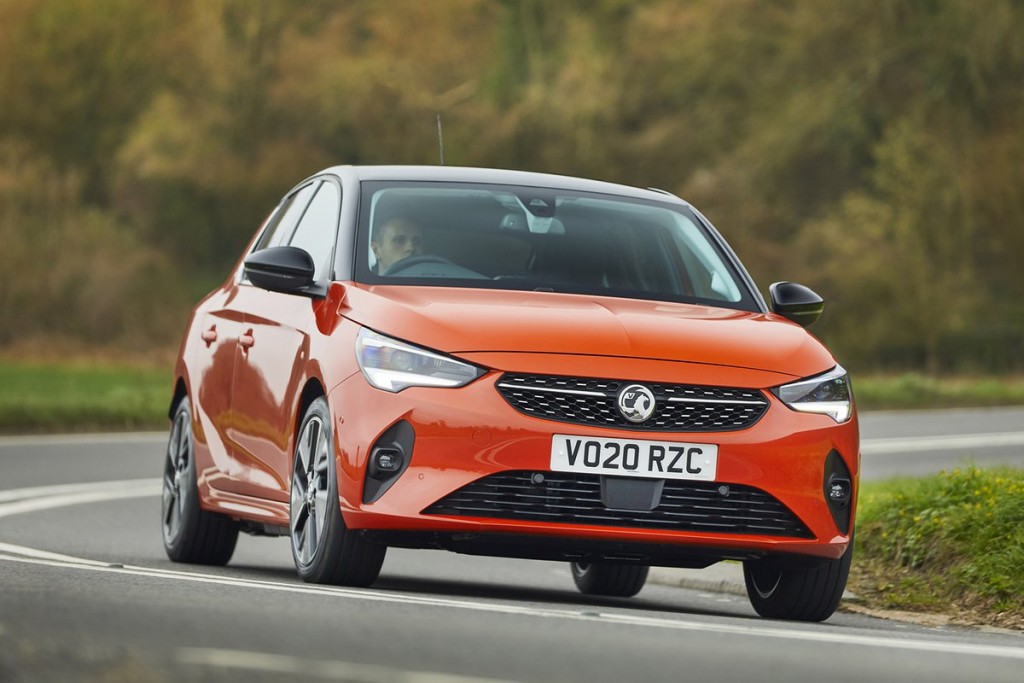 Those are some impressive numbers, what about the electrical stats?
Yes, it's not just the financial figures that look good, because the Corsa-e packs a decent range too. Packaged under the floor (this latest Corsa was designed from the outset to be an EV, so there are no mechanical compromises) is a 50kW lithium ion battery, which makes it almost as powerful as the Renault Zoe. 
That translates into a very useful 209 mile range (although that's oddly eight miles short of the otherwise identical Peugeot e-208), which translates as a realistic 160 to 180 miles in everyday use, which is more than enough to undertake most journeys without having to worry about being caught short.
Take advantage of Vauxhall's free 7kW domestic Wallbox offer (and why wouldn't you?) and you can be fully charged in a smidgen over 6 hours, which is perfect for overnight refills. If you have access to a three phase supply and a 22kW charger then the Corsa's standard 7.4kW onboard 11kW onboard charger allows charging time to be reduced to 4 hours.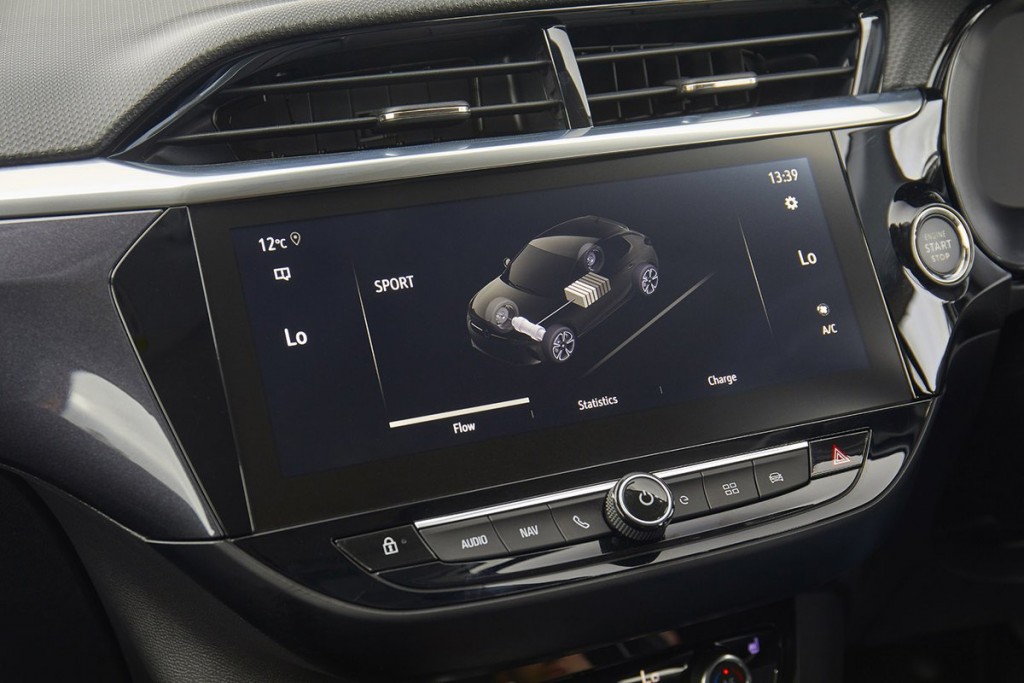 Better still, unlike rivals such as the Renault Zoe the Corsa is wired as standard to support rapid DC CCS charging at up to 100kW, which means you can go from empty to eighty percent in just 30 minutes, which should give you enough time to grab and sandwich and gulp down a cuppa.
There's only one motor option, which is the same muscular 134bhp unit as you'll find in the (you guessed it) Peugeot e-208. You can toggle through various driver modes to make the motor respond more quickly to your right foot, but the performance remains the same with a lively 0-62mph sprint of 8.1 seconds - enough to leave any boy or girl racers wondering which way you went.
But in every other respect this is just like any other Corsa, right?
Yep, that's exactly so, which means it's very capable if a little unexciting. That extends to the way it drives, which is very grown-up and sensible. Brisk EV acceleration aside this isn't a small car that's going to have you grinning from ear-to-ear like a MINI Electric, but if you just want to get from A to B with the minimum of hassle, then it's perfect.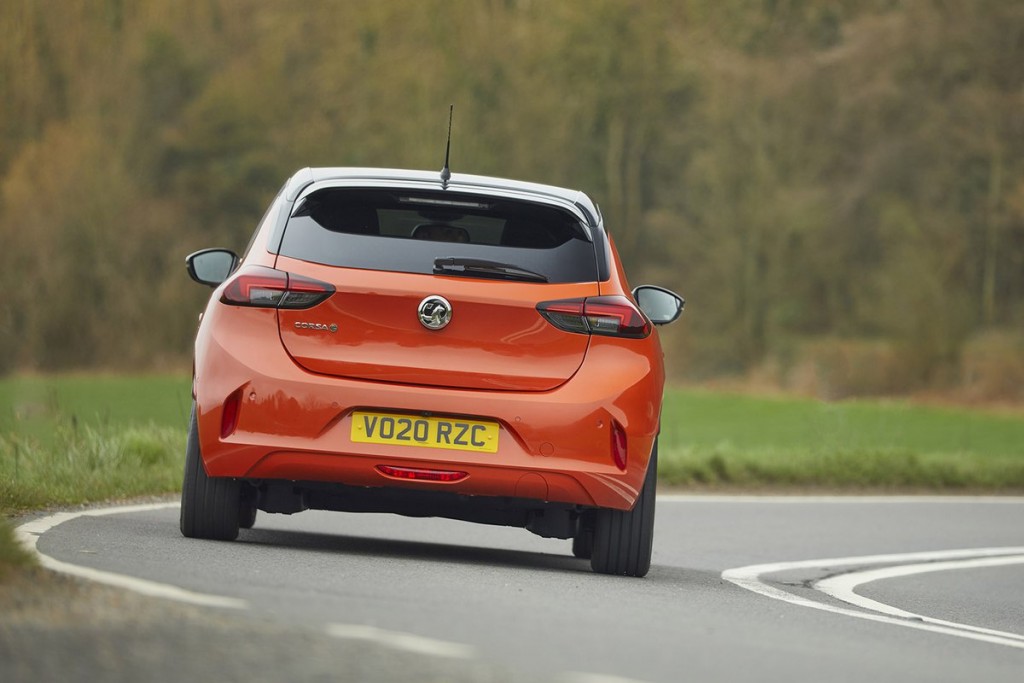 The steering is light and precise, allowing you to place the car accurately in corners, while its compact exterior dimensions allow you to make light work of tight city streets and awkwardly placed car parking spots. It doesn't feel out of its depth on faster roads either, with low noise levels and a ride that deals well with bumps, only getting upset by the biggest potholes and the most battered and broken Tarmac. 
It won't have you grabbing the keys for a late night run on your favourite road just for the hell of it, but overall it's a pleasing and easy-going companion.
What about fitting people and stuff in?
Thanks to being designed from the outset as an EV, the Corsa-e demands no compromises over its petrol-powered relations. It's a small car, so you won't be offering a lift to your local seven-a-side rugby team, but it's got more than enough space to play the occasional family car.
It's boot is the same size as the standard car's, which means it's fractionally down on Renault Zoe's but is way bigger than a MINI's and will easily cope with a big weekly shop or luggage for a weekend away.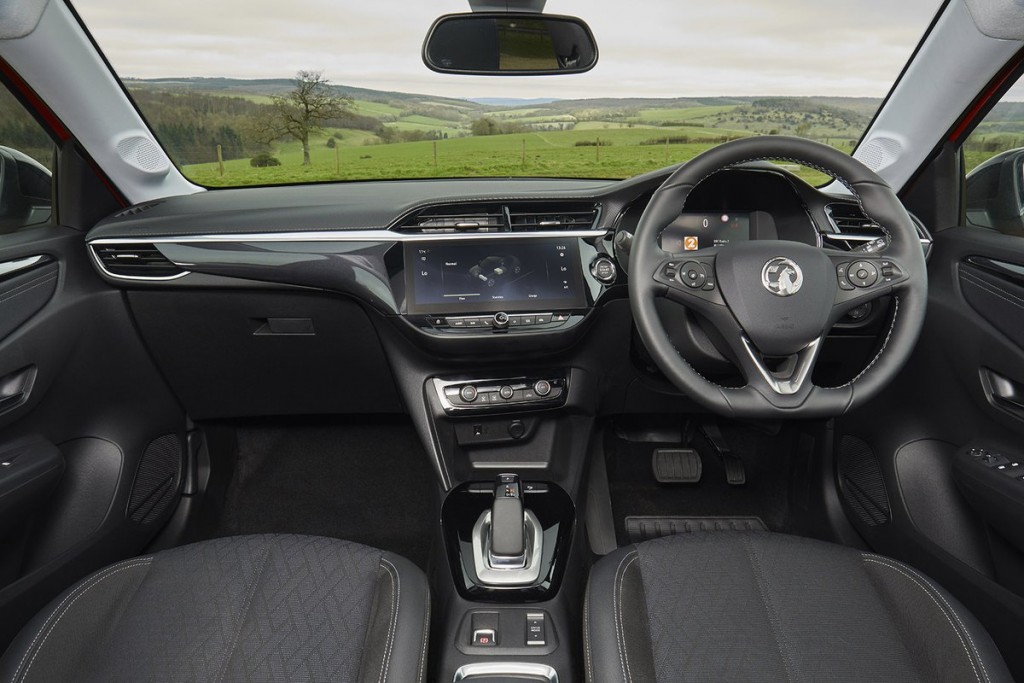 Versatility is further boosted by the fact all Corsa-e models have five-doors, meaning easy-peasy access to the rear seats where space is good rather than class leading. Kids and small adults will have nothing to complain about, but taller passengers won't thank you after a long journey in the back.
There's better news up front, where the driver gets a wide range of seat and wheel adjustment which makes getting comfortable a doddle. The dashboard also looks smart and, like the rest of the interior, is solidly built from materials that have a quality look and feel.
You won't feel short changed when it comes to gadgets either, with even the entry level SE Premium version featuring a slick seven-inch infotainment system with Apple CarPlay and Android Auto, climate control, rear parking sensors and LED headlamps, while safety kit runs to autonomous emergency braking, speed limit recognition and lane departure warning. There are even better equipped SRi, Griffin, SRi Premium and Elite Premium models but, really, the SE Premium has everything you'll need.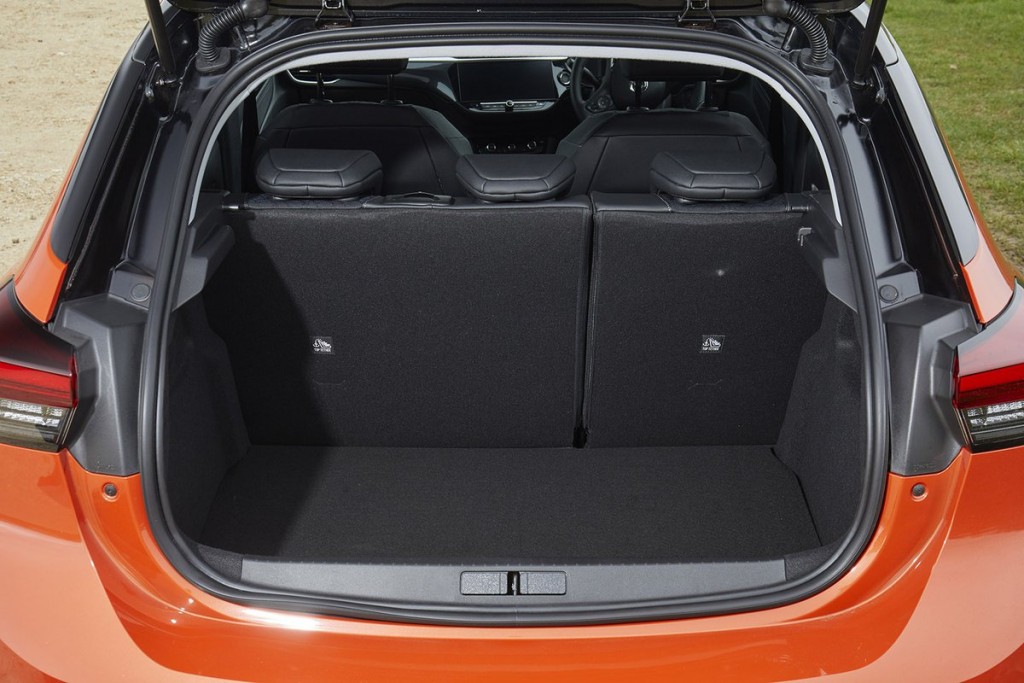 Anything to look out for?
Not really, and it'd be nit-picking if we did, but as you asked. One niggle is the fact that there's no three-pin slow charger as standard. Manufacturers recommend you use these in an emergency (it takes 24 hours for a charge), but usually supply one for just this eventuality. You want one for your Corsa, then you'll have to pay extra.
Also, unlike the petrol car you won't have the option of a spare wheel, the transition from internal combustion to battery-power resulting in loss of underfloor storage. In fairness, most cars go without these days in an effort to save weight, but you can usually option an extra wheel if you want puncture-protection peace of mind.
Verdict
This is not an electric car to get your pulse racing, but as a hassle-free entry to EV ownership the Corsa-e ticks plenty of boxes. It has a decent range, zippy performance and is easy to drive, plus there's all the kit you need and enough space for most. And of course it's a bit of a bargain to boot.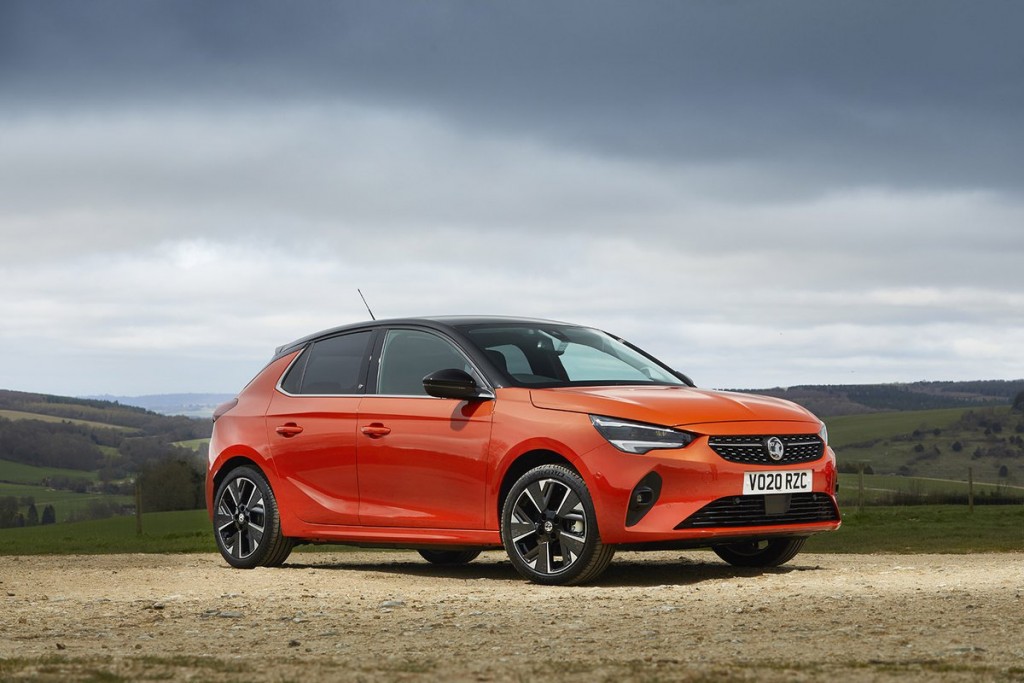 Vauxhall Corsa-e specification
Price from: £26,390
Motor: Electric permanent magnet synchronous
Gearbox: Automatic
Driven wheels: front
Maximum power: 134bhp
Maximum speed: 93mph
0-62mph from 8.1secs
Electric range (official) 209 miles
CO2 emissions: 0g/km
Tyres from: 195/55 R 16
Kerb weight: 1530kg
Height: 1433mm
Length: 4060mm
Wheelbase: 2538mm
Width with mirrors folded: 1765mm
Maximum boot capacity: 267 litres
Rivals
READ MORE
e-CARS
e-BIKES
e-MOTORBIKES
e-SCOOTERS