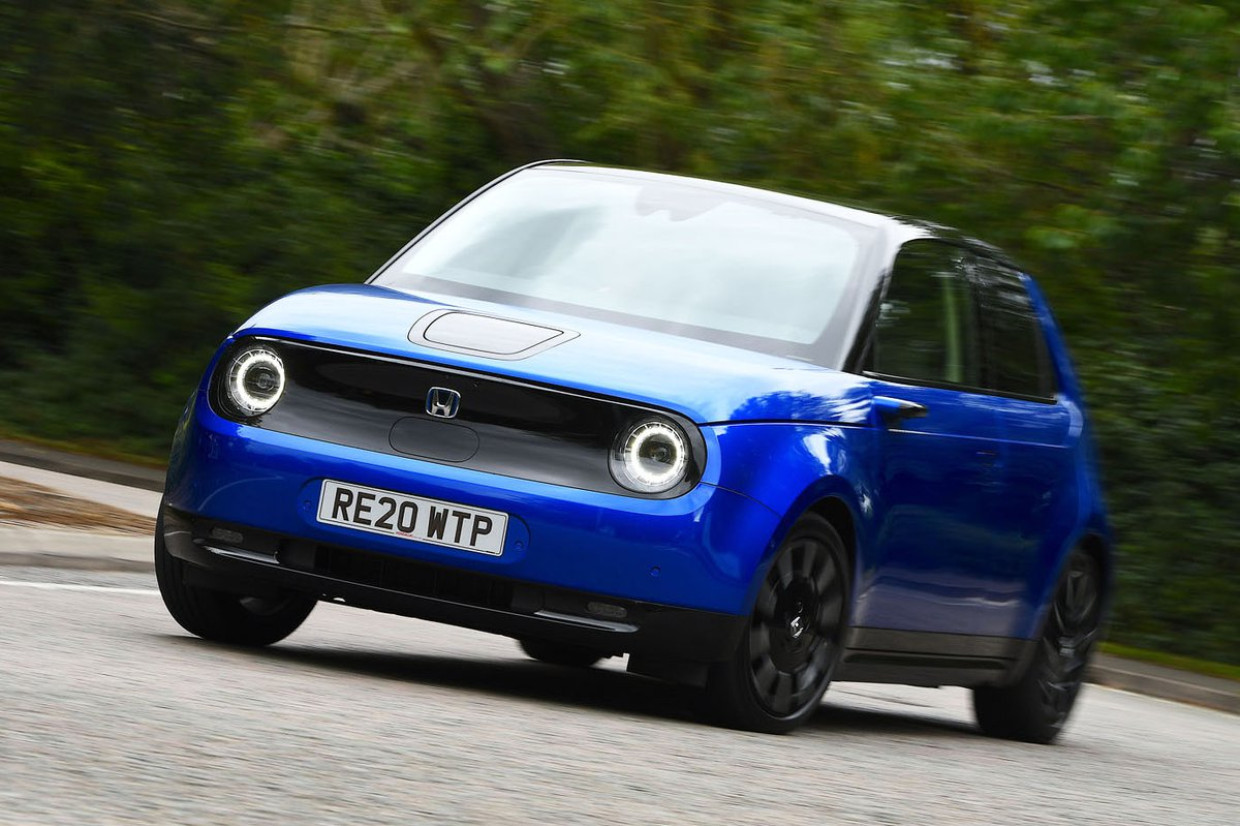 Move Electric verdict: three stars out of five
Sell it to me in a sentence….
The Honda E is a tiny electric city-car that's jam-packed with character, dripping with technology and is great fun to drive, but its hobbled by a short range.
Sounds interesting, tell me more
Make no mistake, on so many levels the Honda E is a brilliant little car. Not only does it look great with its retro-infused style, it's interior oozes premium appeal and it's a real giggle to drive. It's also packed with tech, some of it useful and some of it just plain cool.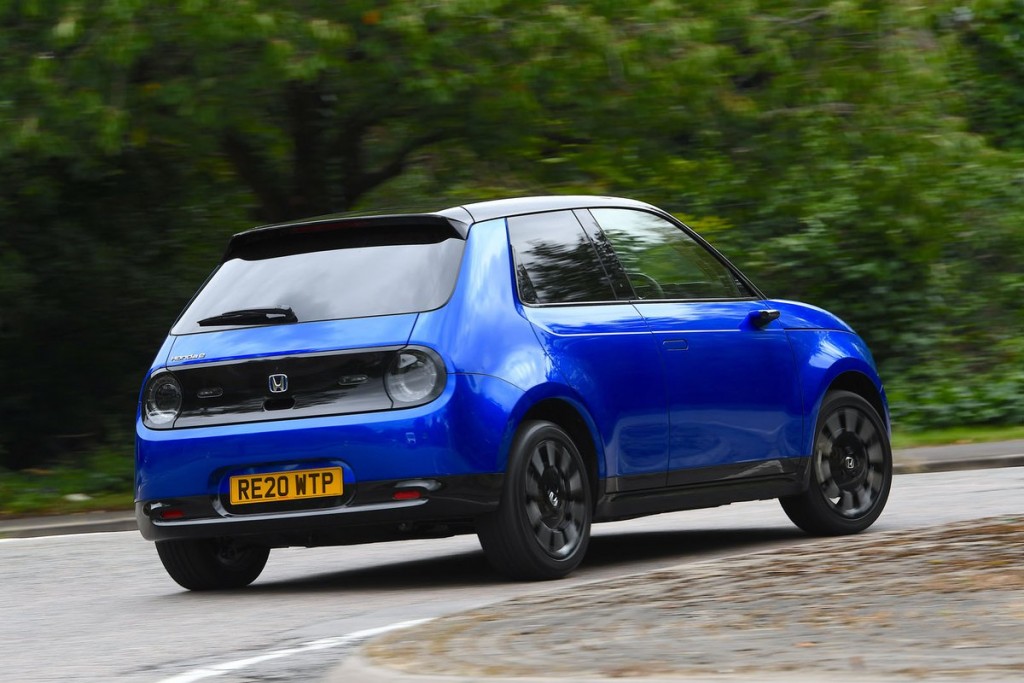 It's also filled to bursting with character and we defy anyone who tries one not to fall in love with it. Yet much of this is undermined by the fact that it suffers from one of the shortest ranges of any EV, so those with range anxiety need not apply.
Hmmm, we'll get back to that. What about the highlights first?
For many, the tiny Honda's biggest selling point is the way it looks, its boxy styling and intricate detailing managing to look both futuristic and retro. It's heavily influenced by the brand's 1972 Civic, but with its pop-out door handles, distinctive LED lights, smoothly sculpted surfaces it's also bang-up-to-date. 
You need to be prepared to be noticed in the E, because wherever you go you'll be the centre of attention. It's a diminutive thing, measuring just 3.9 metres long, but park up at the side of the road and it'll attract more admirers than any supercar. Yet if they think the interior's cool, just watch their jaws drop when they cop a load of the interior.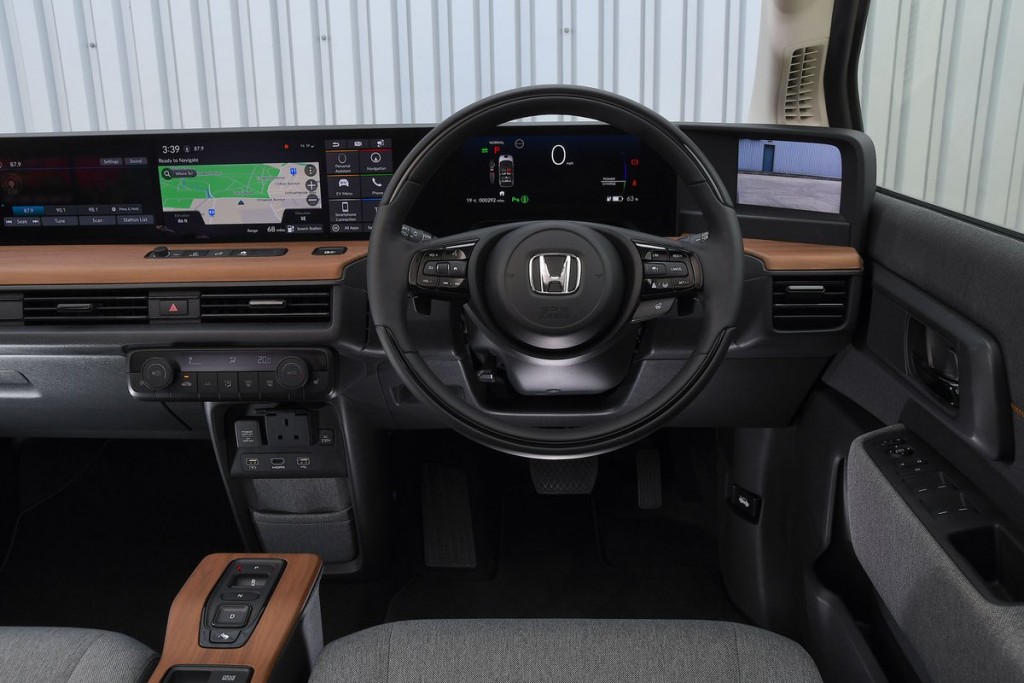 The stars of the show are the Honda's multiple screens, and there are quite a few of them. For starters, the driver gets an 8.8-inch TFT display, while next to this are two further 12.3-inch screens that stretch the width of the dashboard. 
This little lot is bookended by a pair of 6.0-inch displays that are for the virtual door mirrors, displaying images fed from a pair of rear-facing cameras mounted on small aerodynamic pods mounted on each door (not only do they look incredibly futuristic, they're more natural to use than you'd think).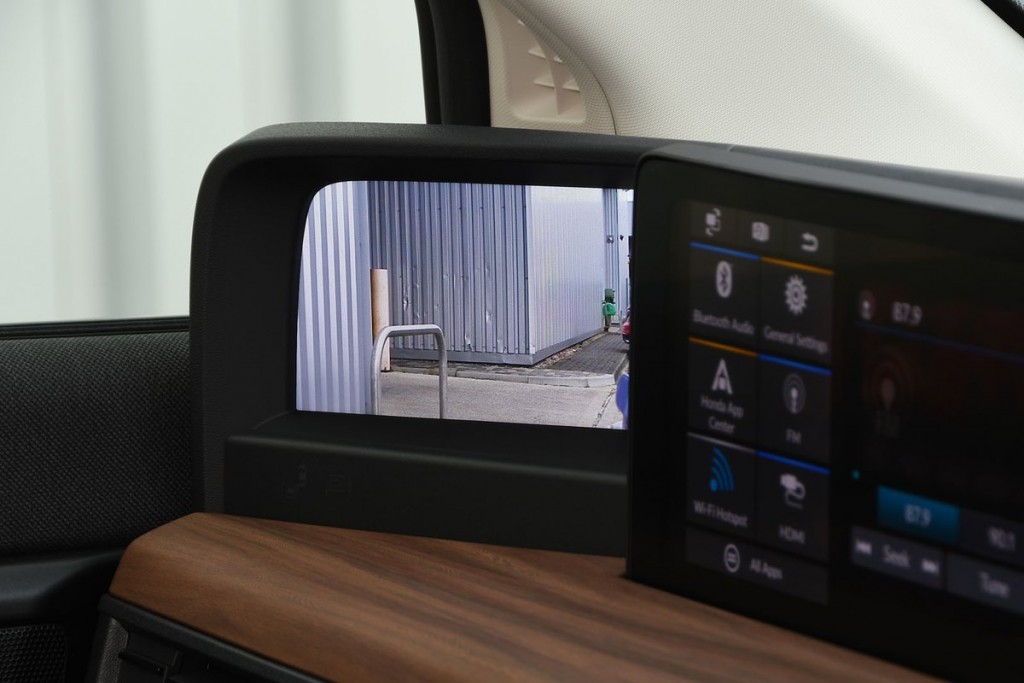 Set out in one long line across the dashboard, these screens give the Honda's interior a sleek and modern look. They also provide it with some of its most fun, if ultimately frivolous features. 
You want to combine the two biggest screens into a large virtual fish tank? No problem. Or how about using the HDMI port and three-pin plug to connect a video games console to while away the time while you're waiting for the battery to charge? But of course.
Elsewhere, the quality of the finish is impeccable, with the use of soft touch materials and hard-wearing fabrics. Yes we'd be surprised if the 'wood' trim used on the dashboard has ever seen a tree, but it's nicely integrated and suits the feel of the interior.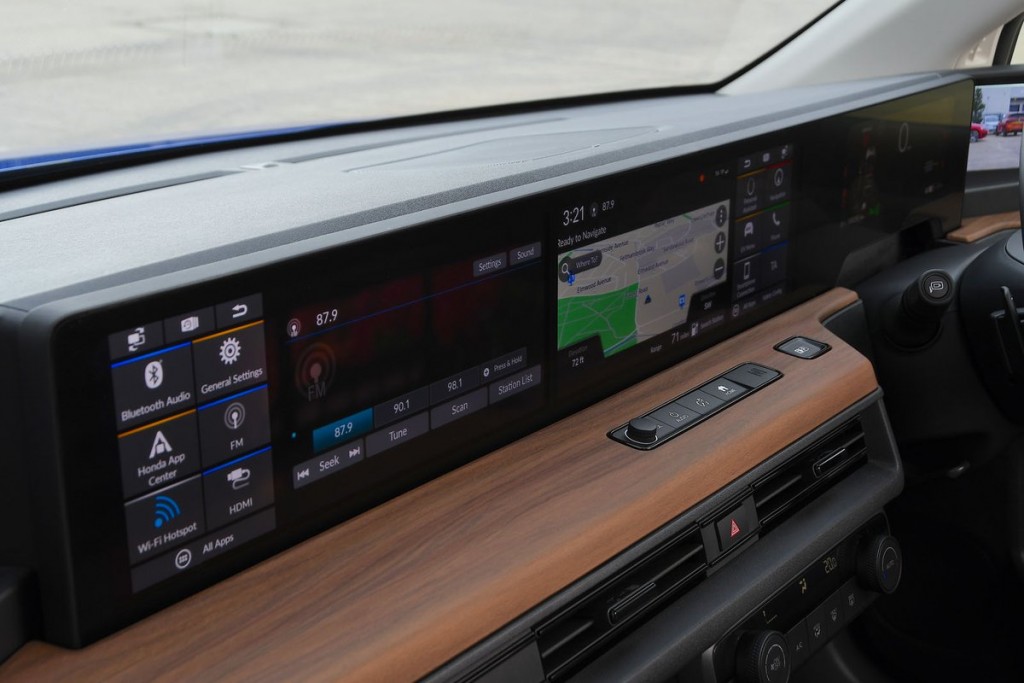 It's not perfect though, with so many screens and so many menus to choose from, the system can get tricky to navigate, even with practice. But for sheer surprise and delight it's hard to beat.
You said it was fun to drive too
We did, and it is. This is Honda's first EV and so it started with a clean sheet of paper, yet like many manufacturers on the same path it came up with the same basic 'skateboard' template. This involves mounting the battery beneath the floor and putting the motor at the rear to drive the rear wheels. 
Not only does this layout deliver packaging advantages, in Honda's case it allows extra steering lock for an incredibly tight turning circle. How tight? Well at 9.2 metres you'll be turning on a sixpence in the manner of a Black Cab. Around town the compact Honda is a hoot, ducking and diving with an agility few can match, while the instant torque of its electric motor allows you to zap into gaps others would miss.
Yet it's also fairly accomplished on the open road, with its wheel-at-each-corner stance making it feel surprisingly poised and planted as it scythes through bends. It's not even out of its depth on the motorway, it's controlled ride and low noise levels making it an impressively refined cruiser. Not that you'll be going far of course.
Ah yes, the range. Let's have the numbers then
We've been trying to put this off, but it doesn't matter how charming and fun the Honda is, there's no getting away from the fact its claimed range of 137 miles is rather poor. Worse still, our experience suggests that you'll struggle to crack 100 miles in real world use, while on cold days you'll be lucky to get 90 miles or so,
Of course the reason for this is the fact that the Honda has such a small battery - it's a small car after all. Packing just 35.5kWh of energy the lithium ion battery vies with the MINI Electric for least powerful EV honours. And while you'd expect a more compact unit to charge quicker, Honda's decision to cap the rapid DC CCS limit at 50kW means it takes the same half an hour to reach 80 percent capacity as many machines with larger batteries.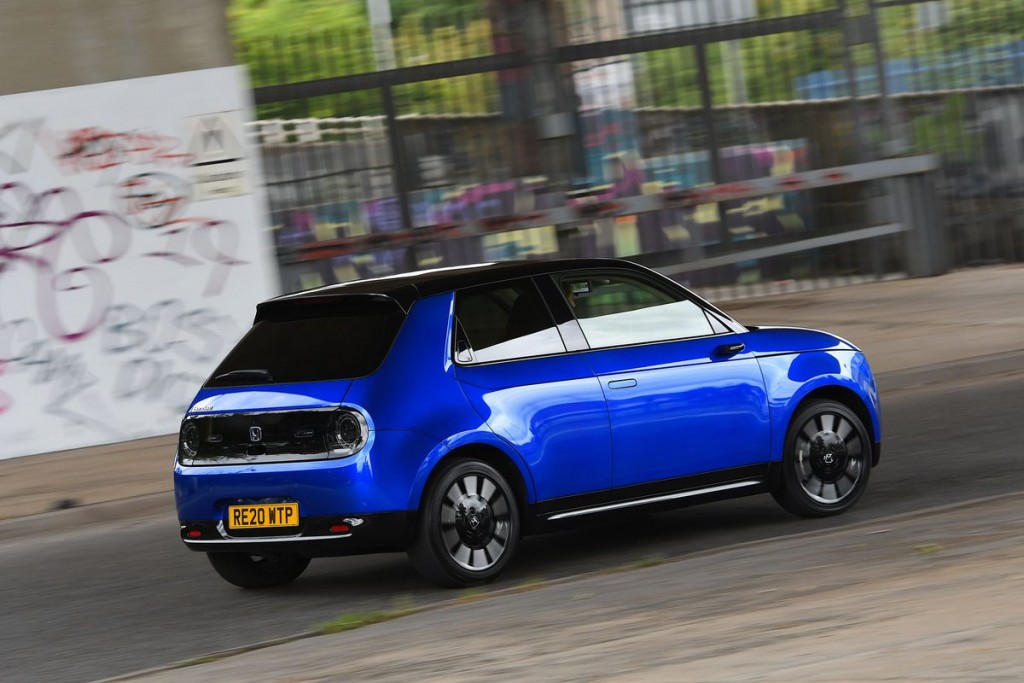 That said, the E requires just under six hours for a full charge using a 7kW home wallbox, while the handy position of the charging socket under a flap in the bonnet means you can drive straight into a bay when you need to top up.
There's a choice of motor outputs depending on trim level, with the Advance getting 134bhp and the Advance+ benefiting from 153bhp. The latter is obviously a bit quicker, with a 0-62mph time some seven tenths of a second faster at 8.3 seconds, but both deliver instant torque and respond quickly and eagerly to the accelerator. 
They can also be configured with very strong regenerative braking that allows one-pedal driving. It feels a bit unnerving at first, but persevere and both your anticipation and efficiency will be improved, helping to feed more power back into the battery.
And what about the sensible stuff?
Well, we've already mentioned the Honda is a teeny tiny thing, so if you're considering one it's probably not as a family car replacement. Yet that's not to say the E isn't useful.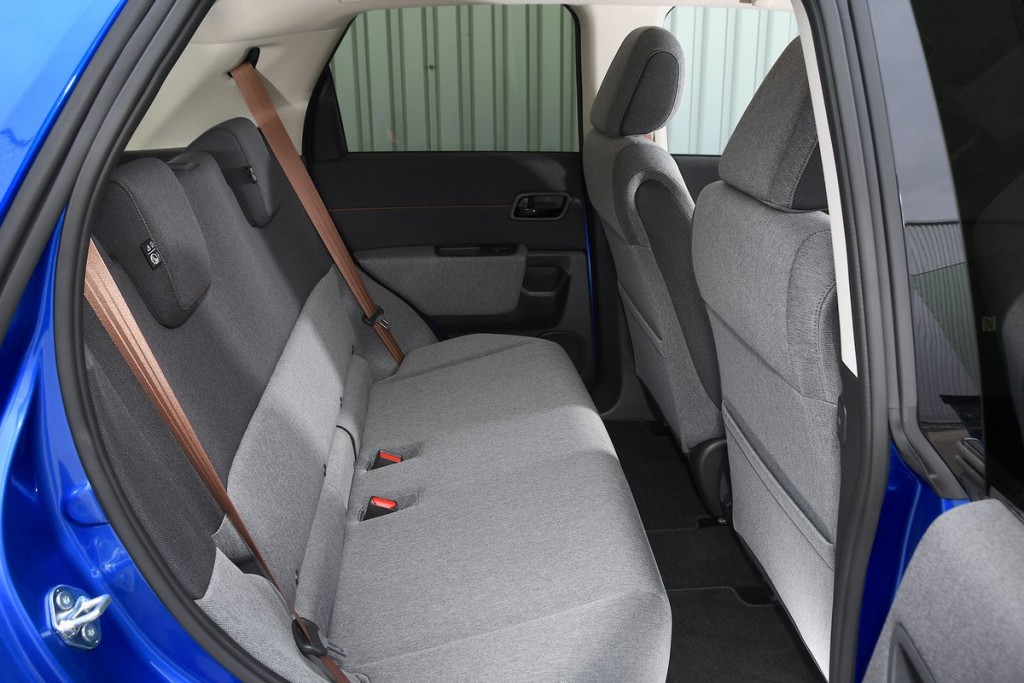 It has a five-door layout for a start, meaning access to the back seats is a lot more straightforward than a MINI. And while you'd only commit adults you didn't like to the rear for long journeys, for shorter hops they're fine, while kids will have no complaints.
The boot is small as well, it's 171-litre capacity being handy for a small weekly shop, but anything more will require travelling light or folding the rear bench flat.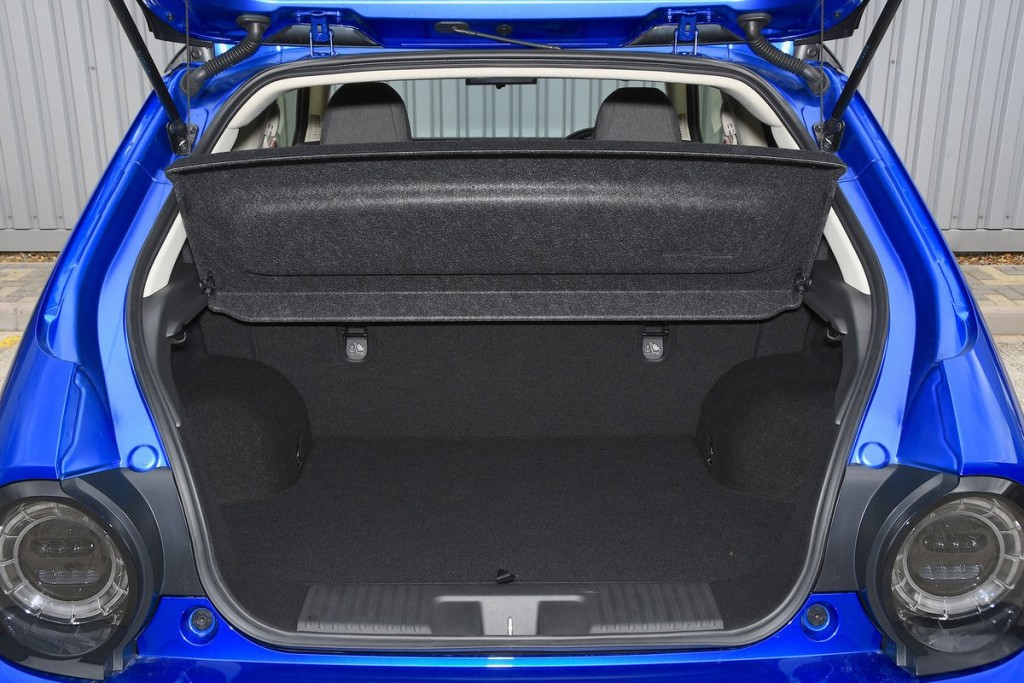 I'm going to ask about the downsides, but I think I already know the answer
We don't want to overdo it, but the range really is woeful in an age where most rivals can now cover at least 200 miles. Yet Honda claims that potential buyers won't worry about this as many Es will be second or third cars used mainly for short urban jaunts. 
If that's you and the E fits into your lifestyle, then maybe the lack of stamina isn't an issue. However, there's no doubt it does limit Honda's otherwise brilliant potential.
Yet arguably an even bigger sticking point is the price, which at £29,165 for the basic car is fairly hefty when you consider the compromises you're going to have to make by choosing the Honda. 
It's comparing apples with pears of course, but it's worth pondering on the fact the spacious MG5 estate costs around £3000 less yet will carry a lot more stuff and promises 250 miles on a charge.
Hmmm, I'm still tempted, but what else should I consider?
Probably the closest rival for the Honda is the MINI Electric, which delivers the same mix of premium appeal and fun driving dynamics with woeful interior space and limited range. It's not as hi-tech as the Honda, but prices do start lower.
In more traditional supermini territory there are also more sensible rivals such as the Peugeot e-208 and Vauxhall Corsa-e, but neither come close to matching the Honda's charm and personality.
Verdict
We're not going to pretend the Honda hasn't got flaws, fairly major ones when you consider its short range. Yet if you can look past this and the funky little machine can be made to fit into your life, then few other EVs are so packed full of charm or so capable of putting a smile on your face.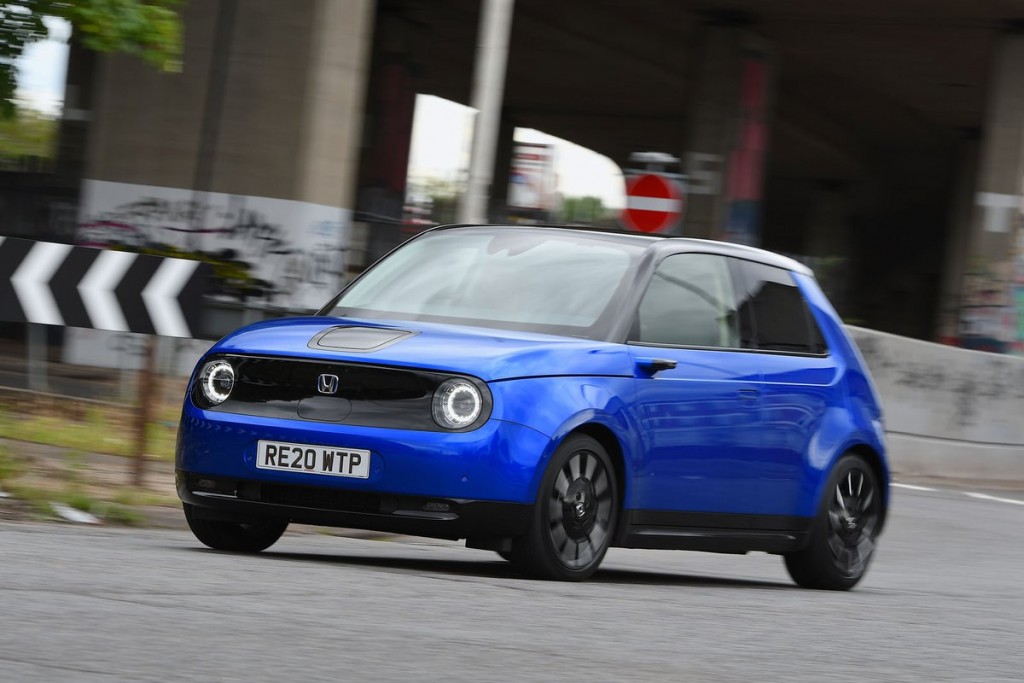 Honda E specification
Price from: £29,165
Motors: Electric asynchronous
Gearbox: Automatic
Driven wheels: two
Maximum power: 153bhp
Maximum speed: 90mph
0-62mph from: 8.3-9.0secs
Electric range (official) 131-137miles
CO2 emissions: 0g/km
Tyres from: 185/60 R 16 (front)/205/55 R16 (rear)
Kerb weight:1513-1543kg
Height: 1512mm
Length: 3894mm
Wheelbase: 2538mm
Width with mirrors folded: 1752mm
Maximum boot capacity: 171-861 litres
Rivals
READ MORE
e-CARS
e-BIKES
e-MOTORBIKES
e-SCOOTERS