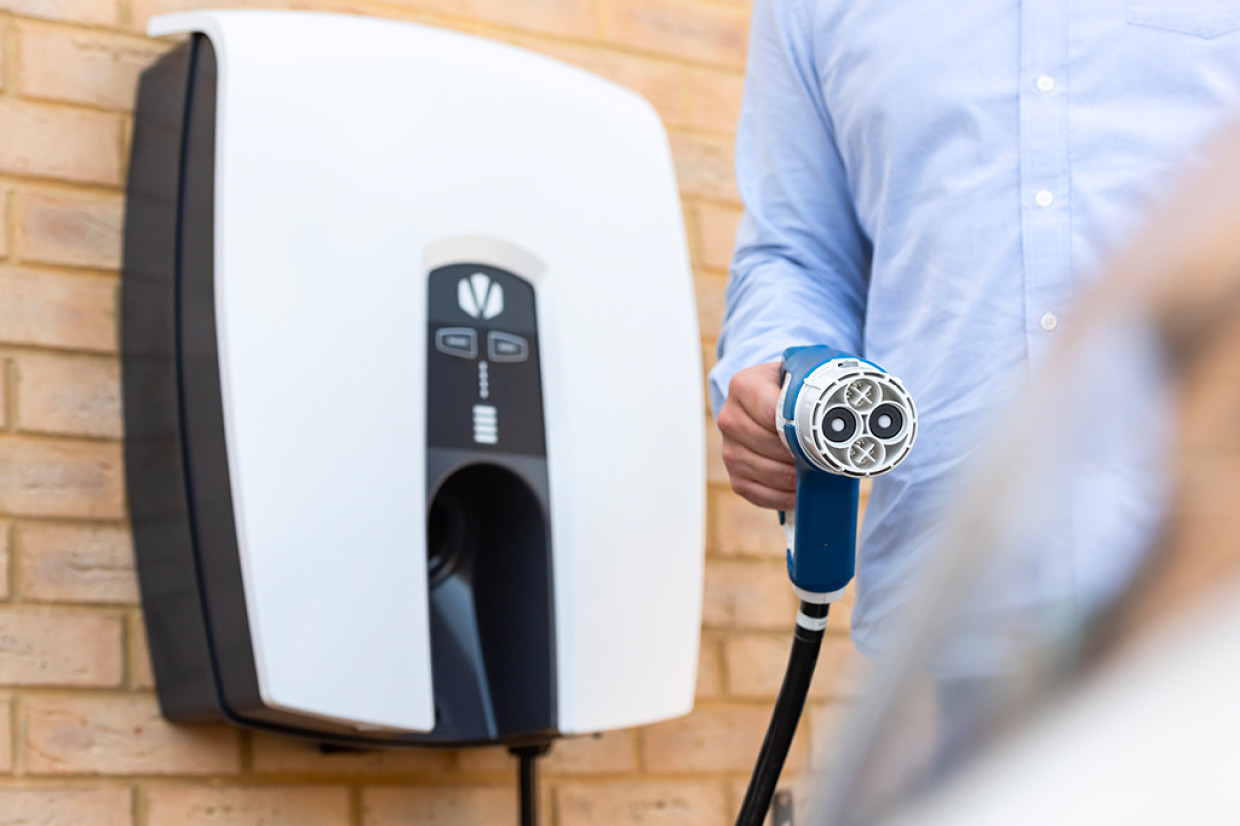 Every year, more renewable energy is added into the UK's fuel mix. But, due to the occasionally unpredictable nature of green energy, it's difficult to lean on sustainable sources like wind and solar power when demand is high.
Alongside innovations like its OVO Beyond sustainable energy tariff add-on, its affordable ride-and go e-bike schemes, and even the simple act of planting trees on behalf of its customers, OVO Energy is helping its customers to lower their carbon footprint. But OVO also believes that by putting power back in the hands of those who use it, we can work together and make our own small contribution to better optimise our energy grid.
That's where vehicle-to-grid (V2G) comes in. Unlike a conventional EV home smart charger where you simply plug in your electric car for a top-up, V2G lets you discharge surplus electricity from your EV's battery back to the grid – giving it a helping hand during peak demand, and even opening up the potential to offset your charging costs in the process.
With V2G technology developing at an ever-increasing rate and becoming more cost-effective to buy, own and run, companies like OVO Energy are leading the way in highlighting the potential of V2G. "We want to be at the forefront of sustainable technology, solving one of the biggest challenges facing the energy sector: supporting and balancing the grid," says Alex Thwaites, Head of Zero Carbon Living, OVO Energy.
As a result, OVO Energy has played a leading role in the largest ever UK domestic V2G trial. After talking to Paul Kershaw – a participant in this two-year trial, and a bona fide V2G convert – we were keen to discover more about what OVO Energy has learned.
Learn more about OVO Energy's V2G trial here
What was the OVO Energy V2G trial?
Over a two-year period, OVO Energy's nationwide domestic V2G trial (the largest in the world) stress-tested the impact of V2G technology in a real-world way to comprehensively prove it can lighten the load on our grid and its users' pockets at the same time.
It would not have come to fruition without the unique expertise of key players in the energy, transport, and infrastructure space – each with their own unique set of skills and expertise, but all sharing OVO's vision of a more sustainable future.
Nissan – at the time of this trial the only consumer-facing car manufacturer offering V2G capability – was the automotive partner. Indra provided the 320 domestic V2G bi-directional home charging units, while Cenex provided the research and independent expertise powering OVO's key V2G strategic decisions.
Crucially, Kaluza's sophisticated charging software brought new meaning to the term 'smart charging'. Using AI and machine learning to optimise every EV charging event, Kaluza's software analysed real-time grid supply, weather and pricing data, charging the owners' cars when energy costs and carbon levels were low, and exporting back to the grid when local demand increased – all with minimal input from the user.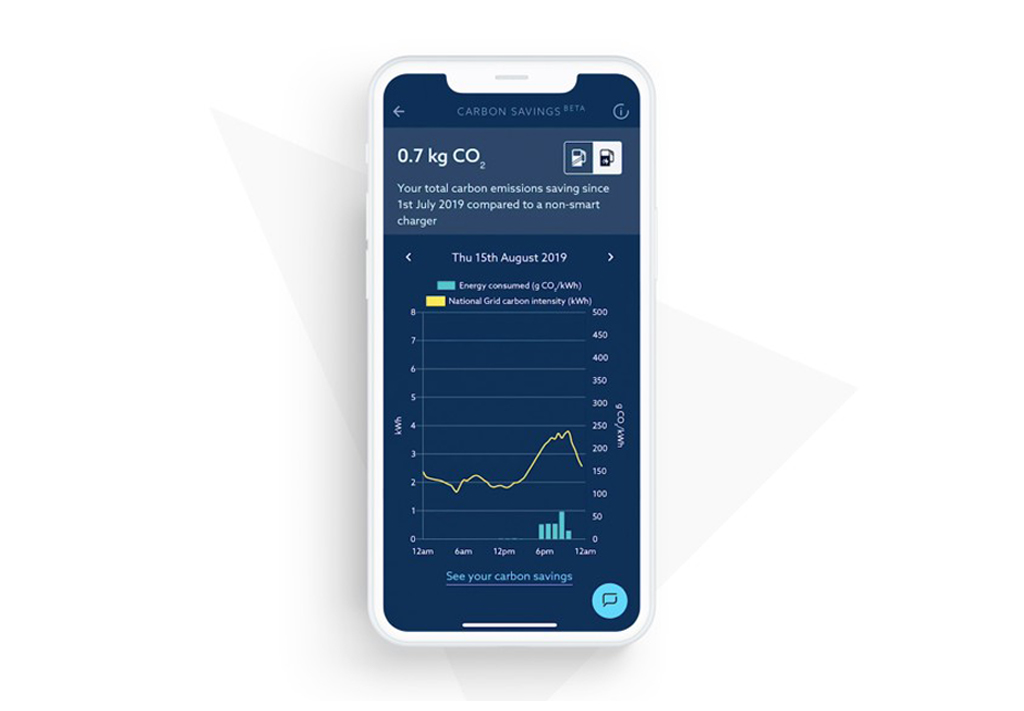 What was the result of OVO Energy's V2G trial?
It's one thing to conceptualise how V2G might work and quite another to prove it. As with all of OVO Energy's endeavours, the trial was designed to explore if you really can save money. The results spoke for themselves.
In conjunction with OVO Energy's V2G specific tariff, electric car drivers were able to save hundreds of pounds on their bills, which is remarkable considering that participants made no changes to their daily life*. "You've invested all that money in a car, why have it sitting doing nothing," said one of the trialists. And they're right. With the average UK car spending 96% of its life parked up, and 73% of that time at home, V2G can make a sizeable contribution to your life with minimal change to your charging routine.
"Our partners BEIS and OZEV, calculated that V2G technology could save customers £340 a year, compared with £120 when using one-way smart charging" says Alex. "In addition, by enabling the V2G chargers to provide grid services like frequency management via Kaluza's smart platform, this figure can increase up to £725."
That's enough for many EV users to entirely offset their EV charging for the year, and can even help to reduce home energy bills. But it's not just the pounds and pence. V2G fits perfectly with OVO Energy's laser-focused road to Plan Zero – it's ambitious sustainability strategy, which in OVO's words, 'powers progress towards zero-carbon living'.
"We want a future where you can turn on the kettle, drive your car, and live your life, all without harming our planet," says Alex. "Our V2G trial has proven that we really can use the intelligent charging of electric cars to maximise cheaper, greener energy – effectively turning individual households into their own mini green power stations".
How soon will V2G become more common and accessible?
So, how soon can we all start to think about using V2G? Well, the first barrier is the cost of the V2G charger itself. "During the trial, the V2G hardware and installation cost was around £3,700 higher than that of a smart charge point" says Alex.
"However, with mass production, we expect prices to come down significantly. A cost of around £1,000 would mean the payback period for V2G installations could comfortably sit below the five years of those on tariff optimisation (conventional smart charging) alone."
Interestingly, participants in the trial showed they were no longer concerned by the complexity of this technology, instead embracing the nuances of bi-directional home charging. "Participants reported that they wanted their next EV to have V2G capability, demonstrating that customers are ready for a V2G proposition," Alex explains.
Nissan continues to be the only car manufacturer offering V2G capabilities right now, available on both the e-NV200 van and Leaf electric car. But with Volkswagen's ambition of becoming the first major carmaker to start rolling out V2G technology across all its ID models – ranging from the ID.3 to the upcoming ID. Buzz – expect it to start becoming common place in the next few years.
To our mind, this real-world response proves how simple this technology is once it's off the page and into the hands of those using it day-to-day. V2G really works, and it's only a matter of time before we can all enjoy the benefits of running our own miniature green power stations.