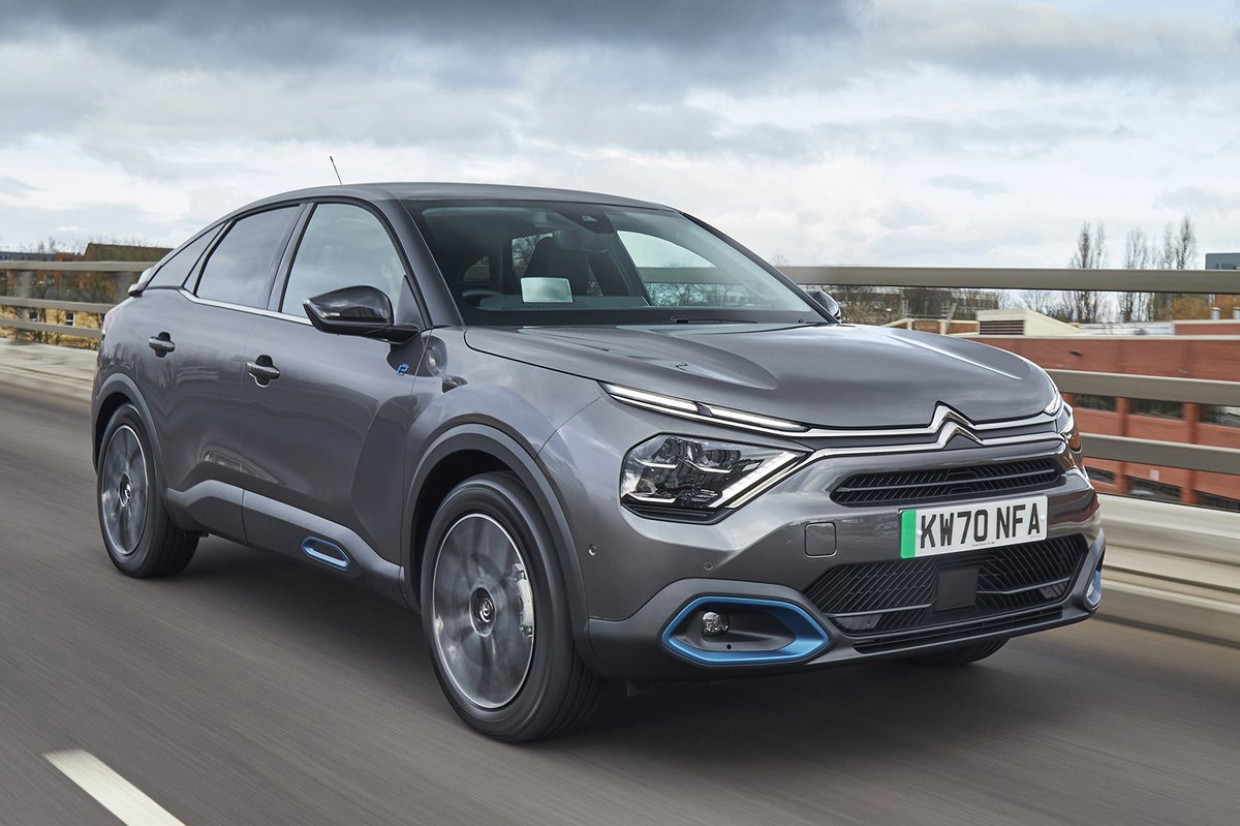 Move Electric verdict: three stars out of five
Sell it to me in a sentence….
With the sleek looks of a coupe, the practicality of a hatchback and the rugged stance of an SUV, the Citroen e-C4 is an eye-catching family car that majors on style and comfort; it's also not bad value.
I like the sound of that, tell me more.
Citroen has gone for bold with the latest version of its C4 family hatch, ditching the frumpy looks of its predecessors in favour of something altogether more arresting. In fact, the stylish French machine's swooping roofline is more than a little reminiscent of the firm's legendarily graceful and revolutionary DS of the Fifties.
However, while there are retro influences in the e-C4's design, the rest of the car is bang-up-to-date. Unlike the VW ID3 the Citroen isn't based on a bespoke EV platform because you can also get petrol and diesel versions.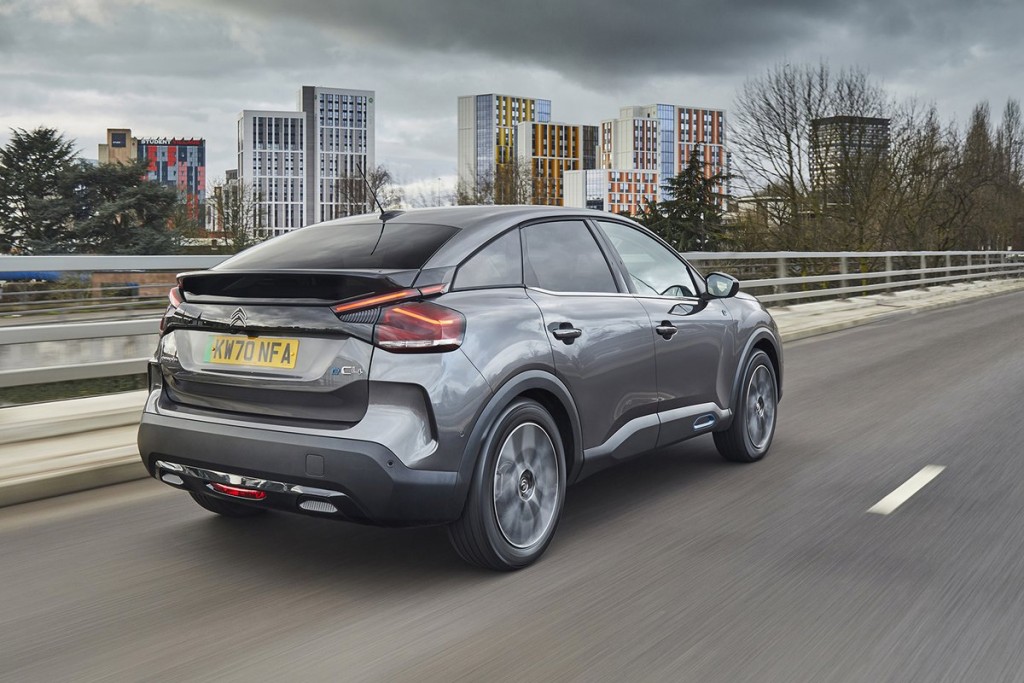 That means the Citroen feels very normal to drive, which will be a real bonus for those making the leap to electrification for the first time. And because there's only one motor and battery option choosing the e-C4 to suit you is as straightforward as it gets.
Okay, I'm hooked; hit me with the highlights
Sophisticated style aside, the e-C4's biggest selling point is its comfort - few family cars are as relaxed and easy-going.
This is partly down to the car's special suspension set-up that uses special hydraulic dampers to soak away the biggest bumps and potholes, leaving you and your passengers neither shaken nor stirred. You're further protected from the worst any road can throw at you by the  seats, which are broader and softer than most, giving a lounge-like feeling that's unlike any rival.
Of course this feeling of serenity is only enhanced by the electric motor's near silent delivery, while there's very little noise from the road or the wind. The car's single single-speed gearbox helps smooth your progress too, doing away with the jerky gear changes.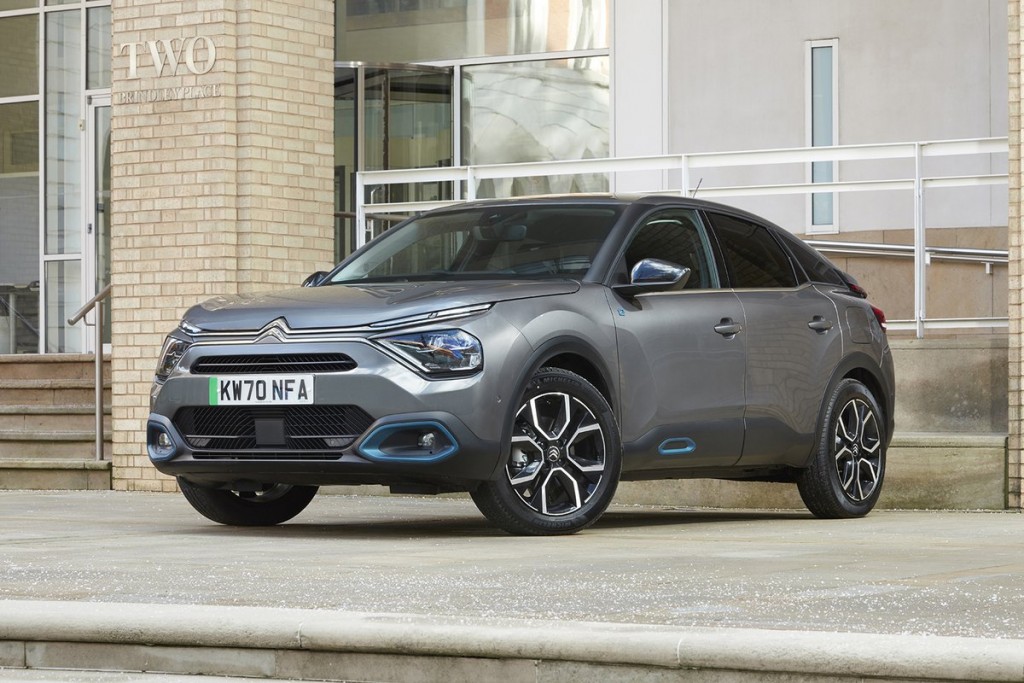 In fact, driving the e-C4 is a doddle, thanks to its light steering and a raised driving position that gives you the sort of elevated view of the road ahead that you'd normally get in SUV rivals such as the closely related Peugeot e-2008.  
It's perhaps not as fun to drive as some, but for the driving most of us do most of the time it's perfectly capable and composed, feeling as at home dodging town-bound traffic as it does slogging along motorways.
And while you get regenerative braking that slows the car as you lift off the throttle and feeds electricity back into the battery, it's not as aggressive as many and can be easily adjusted by using the gear selector, making the Citroen more natural to drive for EV first-timers
Anything else? Well, the interior looks just as distinctive as the exterior, its neat design and solid finish giving the car a real premium. There are soft touch materials used throughout and some stylish fabric options available for the seats. In looks and feel it's closer in poshness to a BMW i3 than VW and Kia e-Niro. High praise indeed. 
And you'll be able to spend a decent amount of time sitting the e-C4 too, because its battery  packs a half decent range that makes longer journeys a possibility.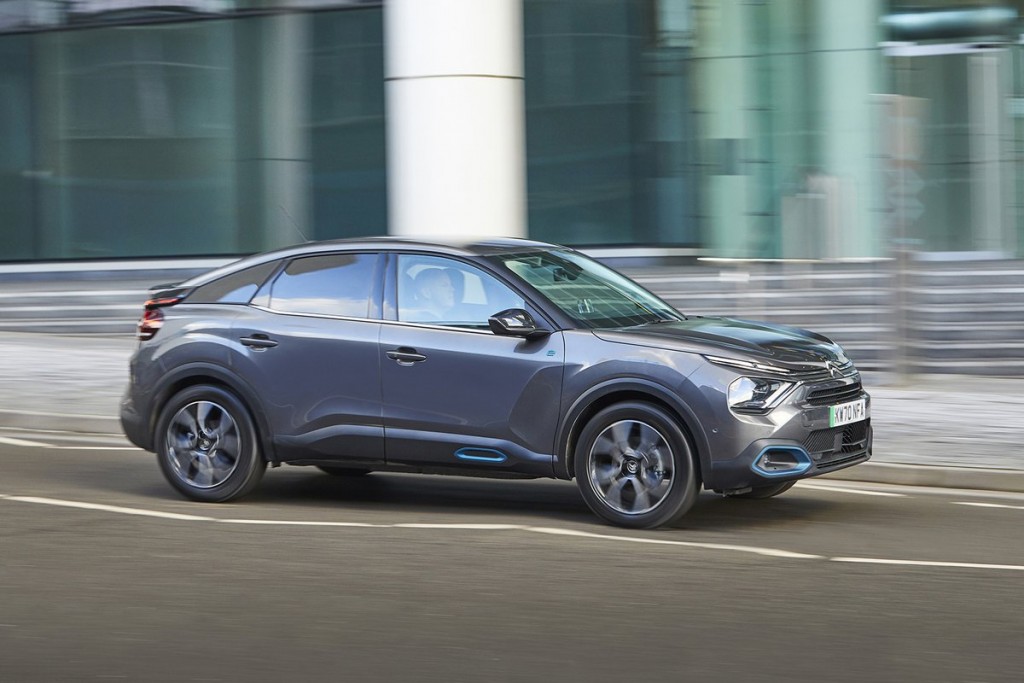 Ah yes, the range - give me some numbers
Okay, so under the e-C4's rakish skin is the same 50kWh battery and 134bhp electric motor that powers the Peugeot e-2008. Yet thanks to superior aerodynamics that allow it to slip through the air more easily, the Citroen delivers a claimed range of up to 219 miles, which is a 13 mile improvement on its French cousin.
Of course you'll struggle to match this figure in real world driving, but our experience suggests that 170 miles is a realistic target in usual mixed driving conditions, but that figure can drop to around 140 miles when it cold, you've got the heater on full and the windscreen wipers are going ten to the dozen. That said, there should be enough energy available that you shouldn't be biting your fingernails to the quick on longer haul trips.
Use a 7kW domestic wallbox for charging and you can replenish the battery in around seven hours, making it just around the perfect length for an overnight refill of the lithium ion pack. Better still, the e-C4 comes with 100kW DC CCS rapid charging as standard, which means when you're out and about you can splash-and-dash the battery back up to 80 percent in as little as 3 minutes.
Less speedy is the Citroen's performance off the line, with a 9.0 seconds needed for the 0-62mph sprint. The result is that the e-C4 doesn't have that instant slug of acceleration you expect with an EV, feeling more like an ICE in terms of its all-out performance. While that'll be a disappointment for some, it's perfectly in keeping with the car's laid-back character.
It certainly looks the part, but is it style and no substance?
Not at all. Despite its coupe-like lines, the e-C4 actually manages to pack in a fair amount of space for people and things. There's room for three adults at a pinch in the back, with all getting more headroom than that sloping roofline would have you believe.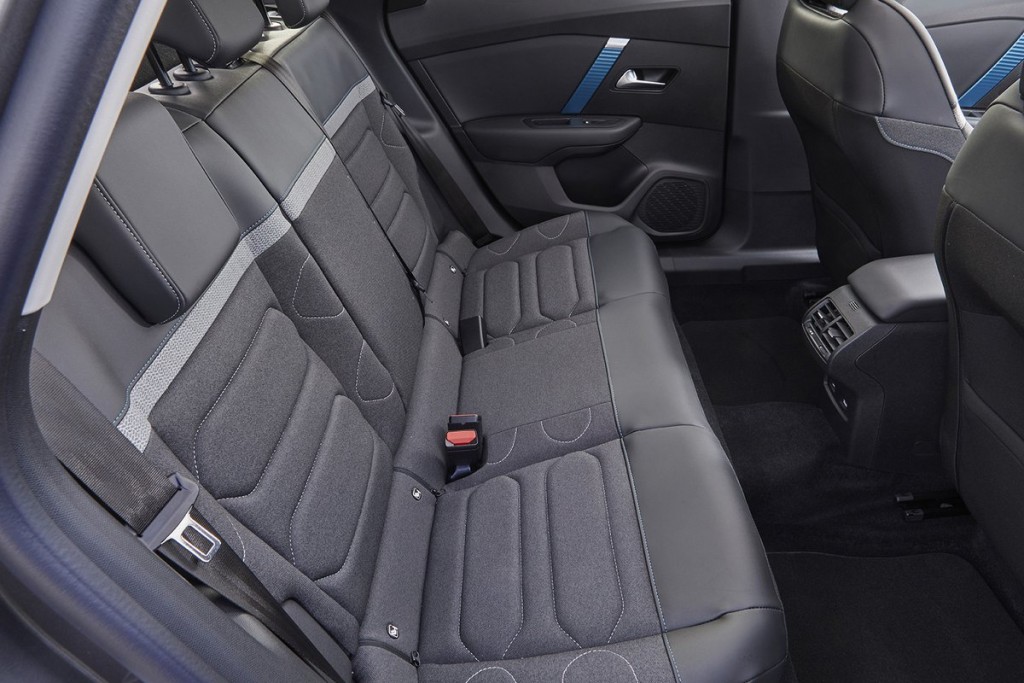 The boot is big and well-shaped too, its 380-litre capacity identical to that of a VW Golf. Better still, the rear seats can be folded flat in seconds by simply pulling on a pair of levers, while there's storage under the floor for charging cables - you don't get that on an ID3.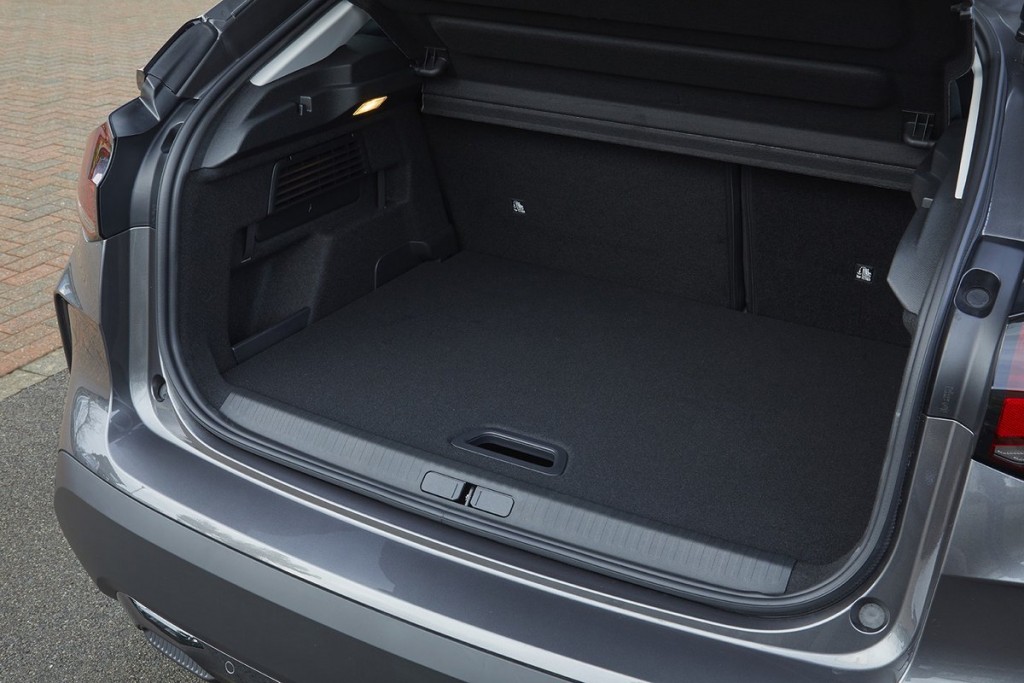 What about tech, aren't Citroen infotainment systems fiddly?
Not any more. Citroen has come on leaps and bounds in this area, and while operating the standard touchscreen isn't as straightforward as in an e-Niro, it's not far off.
All versions get a 10-inch touchscreen that's mounted nice and high on the dashboard, so you don't have to take your eyes too far off the road to operate it. The graphics look crisp and the menu system is easy to navigate, but the inclusion of Apple CarPlay and Android Auto means that it's probably easiest just to mirror your phone's screen on the display.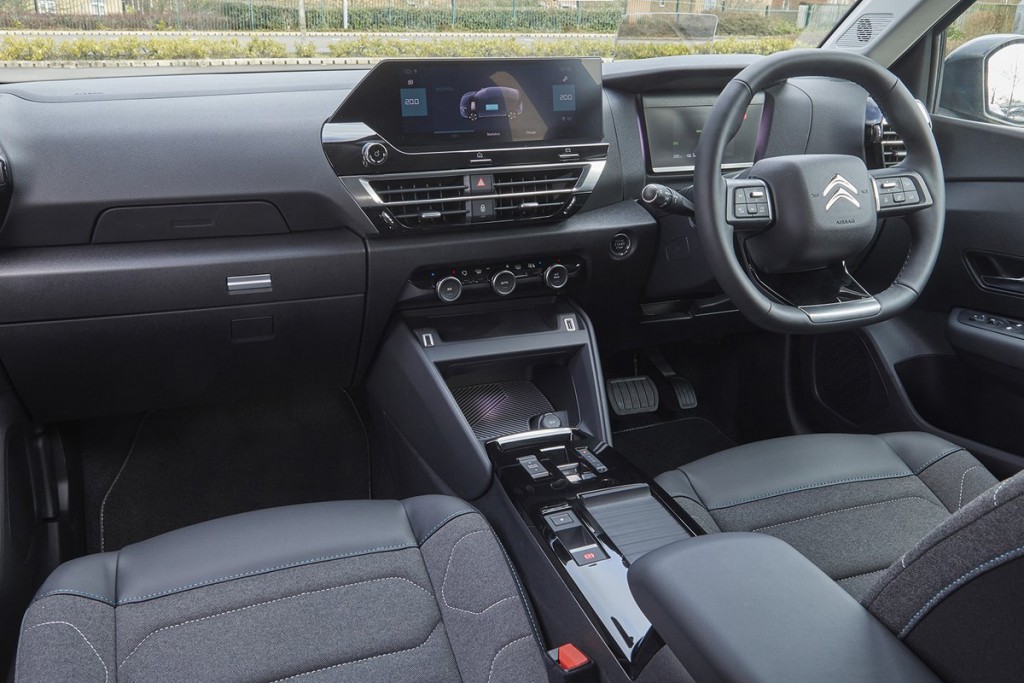 Speaking of standard equipment, you'll be swimming in it with the e-C4 as even the entry-level Sense Plus comes with enough kit to sink a luxury saloon. Not only is there that touchscreen infotainment system, you get climate control, parking sensors, a reversing camera and a head-up display. 
Okay, so what's the catch?
Well, we've already touched on the driving experience, but if you enjoy flinging a car down twisting back roads then the Citroen isn't really for you. It steers accurately and grips well, but there's very little sparkle there, something that's reflected in the rather sedate performance for an SUV.
Oh, and those head-turning looks mean visibility is compromised to the rear, the sloping tailgate and small side windows making it tricky to reverse the C4 into tight spaces. It's no wonder those parking sensors and rear view cameras are included as standard.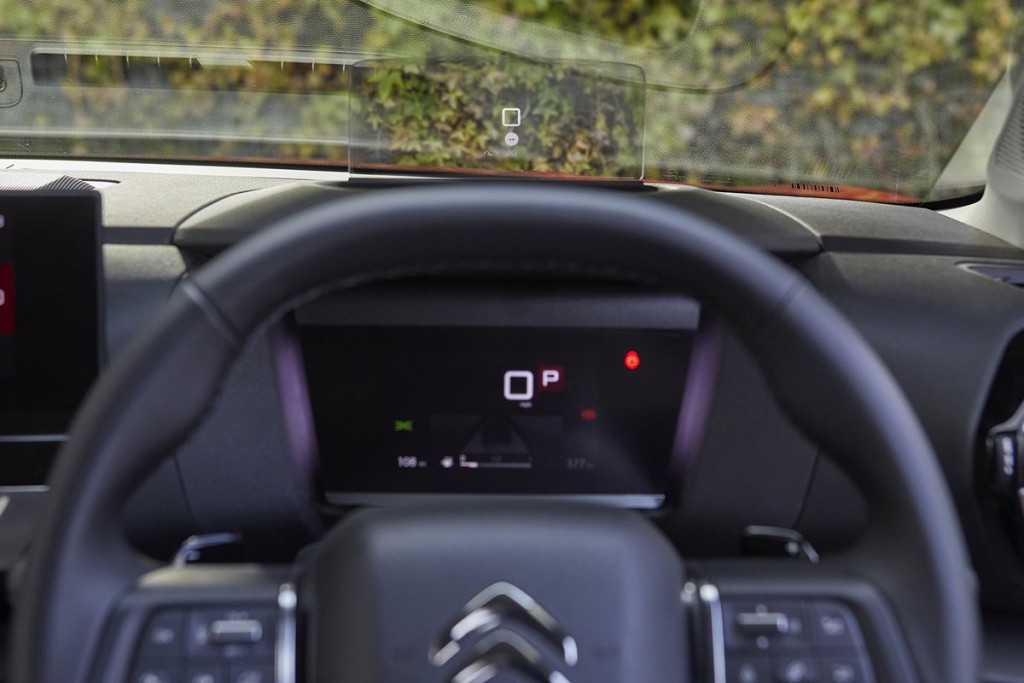 If we're being picky, then it's worth pointing out that you can get more range for your money too. An MG 5 isn't as desirable to look at or be in, but will travel an extra 60 miles between charges, while even an entry-level ID3 will get you further for similar cash.
Any others I should consider?
If you like the combination of French flair and comfort, then the very closely related DS3 E-Tense is worth a look. It's not as handsome or spacious as the Citroen, but it feels even more upmarket inside and has a similar range and performance.
For greater space and practicalty there are small SUV rivals in the shape of the Peugeot e-2008 and Kia e-Niro. While combing similar space and style are entry-level versions of the VW ID3.
Verdict
It's not the most exciting car to drive, but the supremely comfortable and stylish e-C4 is well suited to its role as an EV. If you want to reduce stress levels on the move, then the refined and relaxing Citroen is just the ticket. It's also lavishly equipped and competitively priced.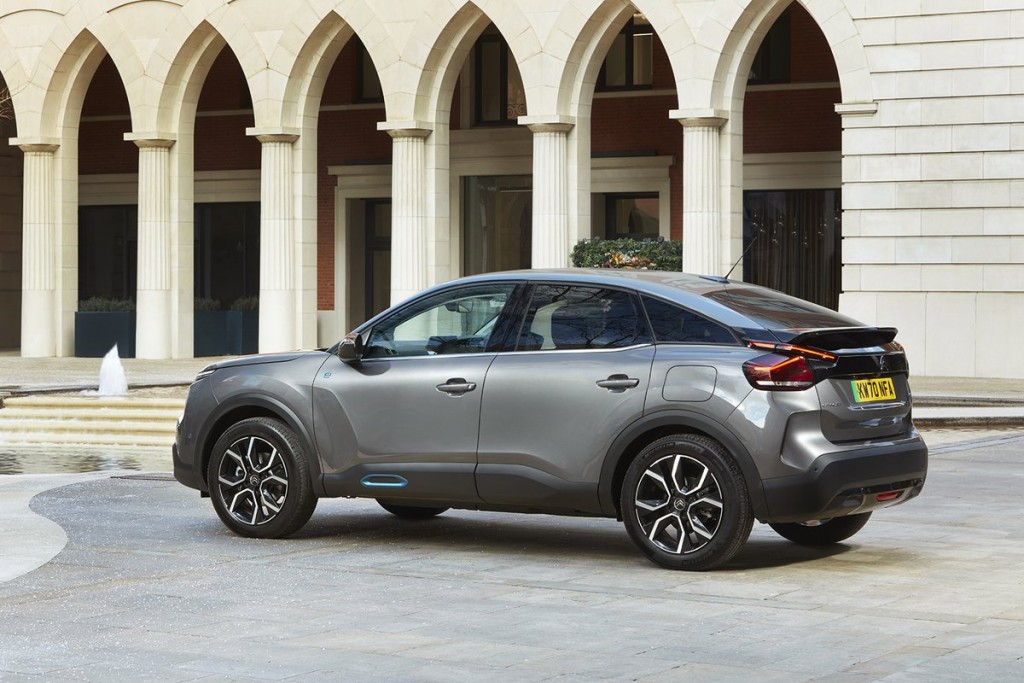 Citroen e-C4 specification
Price from: £30,895
Motors: Electric asynchronous
Gearbox: Automatic
Driven wheels: two
Maximum power: 134bhp
Maximum speed: 93mph
0-62mph from 9.0secs
Electric range (official) 217-219 miles
CO2 emissions: 0g/km
Tyres from: 195/60 R 18
Kerb weight excluding driver: 1561kg
Height: 1520mm
Length: 4360mm
Wheelbase: 2670mm
Width with mirrors folded: 1834mm
Maximum boot capacity: 380-1250 litres
Rivals
READ MORE
e-CARS
e-BIKES
e-MOTORBIKES
e-SCOOTERS