Move Electric rating: four stars out of five
Review updated September 2022 to reflect new trim and powertrain settings
Sell it to me in a sentence….
The Peugeot e-2008 is a stylish small EV SUV that makes a distinctive and cost effective alternative to traditional family hatchbacks. 
Haven't I already seen the e-2008 somewhere before?
Quite possibly, because like the brand's smaller e-208 supermini, the 2008 is available with both traditional petrol and diesel engines as well as an electric motor. In fact, the similarities don't end there, because both are based on the same structure, with the same battery and motor (it's also closely related to the Vauxhall Mokka-e and Corsa-e).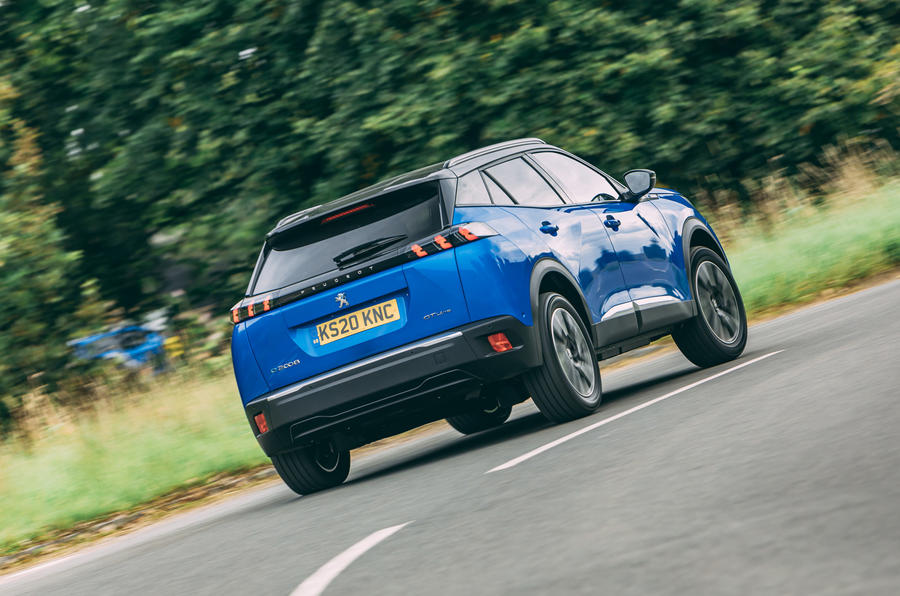 Unlike rivals that have been retro-engineered to accept battery power, the e-2008 was designed from the outset to have electric running gear as well as fossil-fuel burning engines, so it promises not to be shackled with the compromises that normally affect these types of cars, such as boot that's been shrunk to make way for a bulky battery.
Yet a big part of the Peugeot's appeal for many will be the fact it looks just like the standard car, and for the most part feels the same. That means it's an eye-catchingly styled small SUV with an interior that blends decent space and practicality with plenty of premium appeal, plus it's also comfortable and easy to drive. What's not to like?
In September 2022, the model has received a minor update, with changes to the Active Premium and Allure Premium trims (which get enough extra kit that Peugeot has rebranded both Premium+) and, more importantly, all versions now get a reworked powertrain.
Don't get too excited: it's the same motor and the same battery, but some subtle updates allow for a slightly longer range and slightly smoother drive.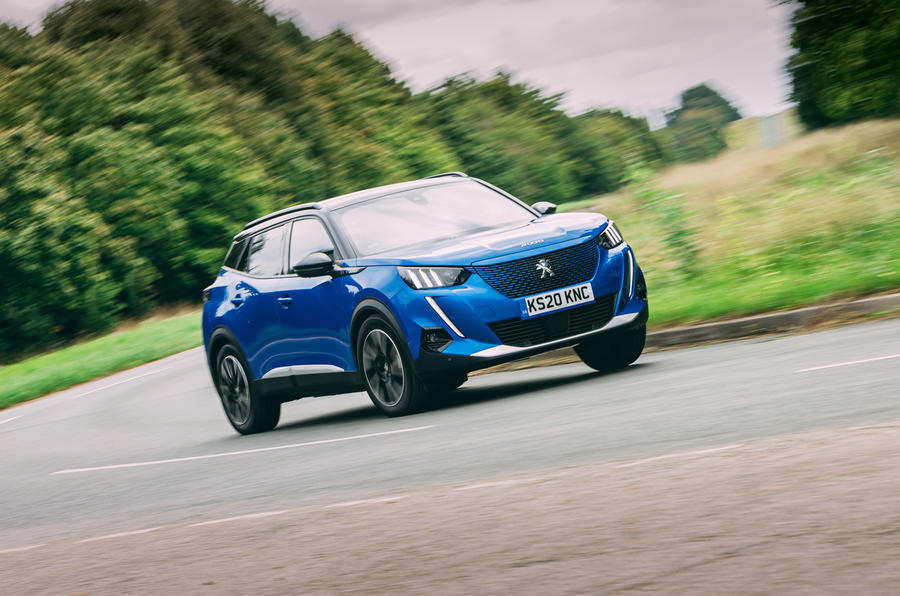 So what are the highlights?
The standard 2008 has always been one of the more refined, comfortable and easy-going compact crossovers, so it's arguably well suited to electric power. It's not as fun to drive as a, say, a Mazda MX-30 but it's composed and capable and offsets any lack of sparkle with a soothing approach to daily driving duties.
It's high-set driving position gives a good view out, while the light and direct steering combines with relatively compact exterior dimensions to inspire confidence on tight city streets and when slotting into parking spaces. It's just as capable on the open road, feeling nimble and composed on twisty back roads, while on the motorway it benefits from low noise levels and plush ride.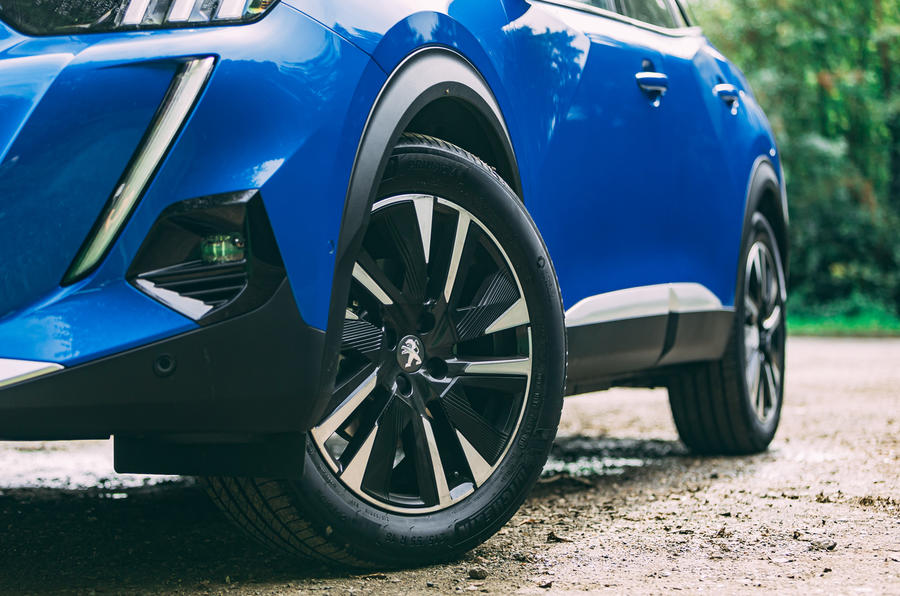 It all adds up to a car that creates a nice sense of calm behind the wheel, its soft suspension and accurate handling combining with the electric motor for serene progress. Acceleration is brisk and near silent, while with a simple single-speed gearbox there are no clunky gear changes to disrupt your smooth and effortless progress, or distracting vibrations from an internal combustion power plant. No matter what the journey, a reduced heart rate is guaranteed.
For those new to EVs, the e-2008 also has a relatively mild regenerative braking function, which can be accessed simply by slotting the gear selector from D (for drive) to B (for brake). Even in its most aggressive setting the Peugeot slows smoothly and progressively as you lift off the accelerator and the energy is fed back into the battery. It means it's not quite as efficient as models such as the Nissan Leaf, which can effectively be driven without using the traditional brakes).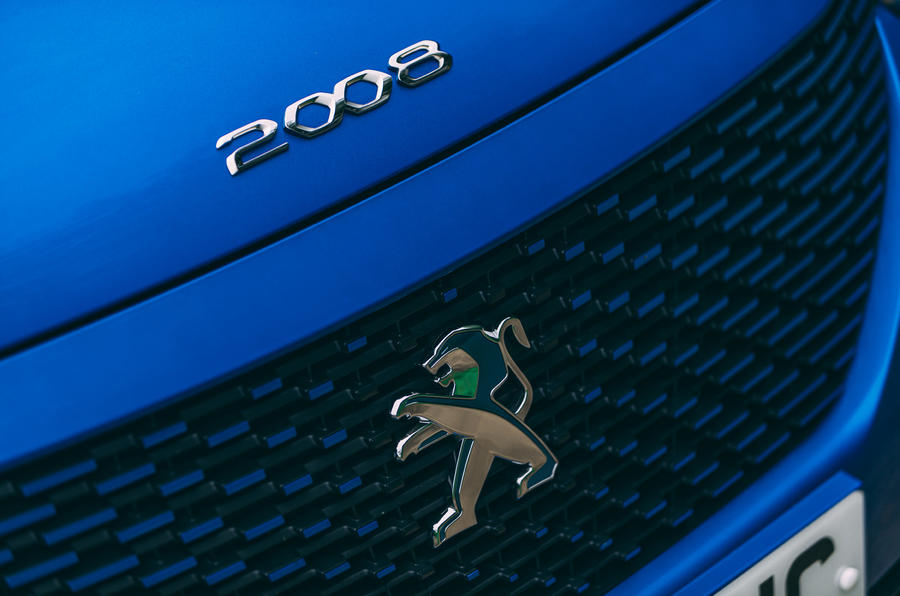 Talking of efficiency, what are the numbers?
As we've already discovered, the e-2008 shares its electrical bits with the smaller e-208, which means you have the same 50kWh lithium ion battery and 100kW (134bhp) motor. Given that it's a little bigger, heavier and slightly less aerodynamic it's probably no surprise to find the SUV has a slightly shorter range than its supermini sibling, although with a claimed maximum of 214 miles it's only 12 miles less.
If you like to know about such things, the powertrain revisions to the 2022 model year models include a new final drive ratio, so the motor doesn't have to spin as fast in top gear, a more efficient heat pump and a new humidity sensor better placed to adjust the heating and ventilation. There are also new low-resistance tyres.
Our experience of the e-2008 in the real world is that 170 miles is not an unrealistic target, reducing to around 140 miles in chilly conditions when the battery is naturally less efficient and you're also having to make more use of wipers, heating and headlamps to get you through the wintry gloom. Even so, this is likely more than enough for most daily duties and even gives you confidence to shed the range anxiety and tackle longer trips.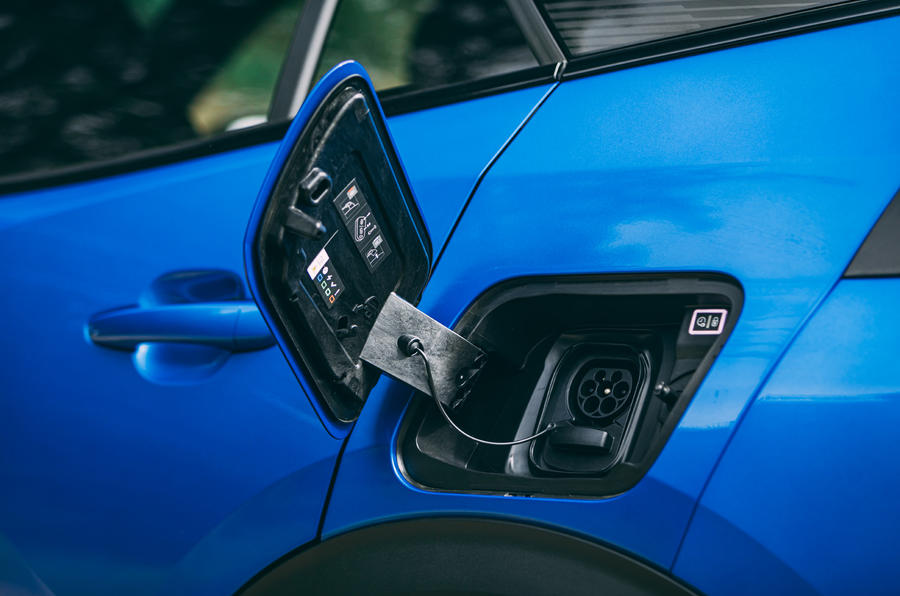 Working in your favour here is the fact that the Peugeot comes as standard with 100kW rapid DC CCS charging. This means you can have the battery back up to 80 percent capacity in as little as half an hour, the perfect time for breaking up a longer journey with a stop for a rest and a bite to eat.
Charging at home using a 7kW domestic charger takes a little longer, with seven and a half hours required for a full battery. Yet this can easily be achieved by plugging in overnight, plus like so many rivals you can pre-condition the car while it's on charge, heating or cooling the interior as you like. The only niggle is that the e-2008's charging port is located on the rear wing in the same place as the internal combustion engine model's fuel filler, meaning you have to remember to reverse into a space when plugging in.
Given the e-2008 weighs around 100kg more than the smaller e-208 it's no surprise to find its performance is slightly blunted. Even so, the 0-62mph takes a lively 9.0 seconds and the Peugeot feels faster thanks to the instant muscle offered by the electric motor. So sharp are its responses that the Peugeot can nip into gaps in the traffic and zap past slower traffic in a way that theoretically more powerful fossil fuel-powered machines can't.
You said it's as practical as the standard car. Is that right?
It absolutely is. By designing the 2008 from the start with an EV version in mind, Peugeot has managed to maintain the standard car's space and practicality. The battery is located under the floor, meaning it doesn't eat into the boot and passenger room.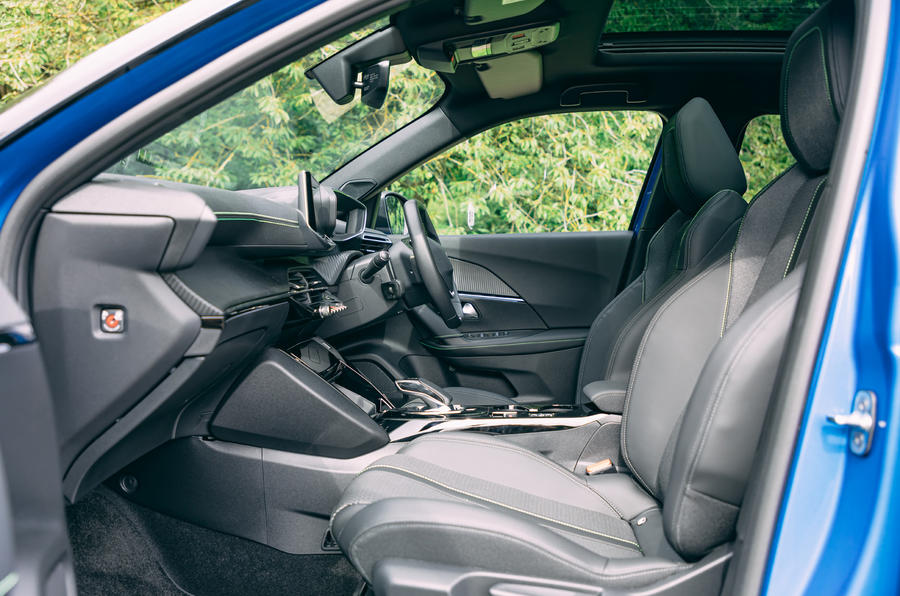 There's a surprising amount of space in the back, where six-footers will be able sit for longish periods without complaint. It's more spacious than a DS 3 Crossback E-Tense, but slightly smaller than the pricier Kia e-Niro.
You'll also not be short of places to store phones, keys, wallets and all the other flotsam that family life generates. There are decent door bins, a lidded cubby between the front seats and a neat flip down holder for your smartphone. Speaking of which, there are more USB sockets than you can wave a failing device at, with up to five available (including one USB-c).
The boot is also usefully sized, with a 434-litre capacity and 60-40 split/fold rear seats that can be lowered in seconds to free up even more space. Crucially, there's also some hidden storage under the boot floor for housing charging cables, which is a feature Volkswagen overlooked for its designed-from-the-ground-up-as-an-EV ID 3.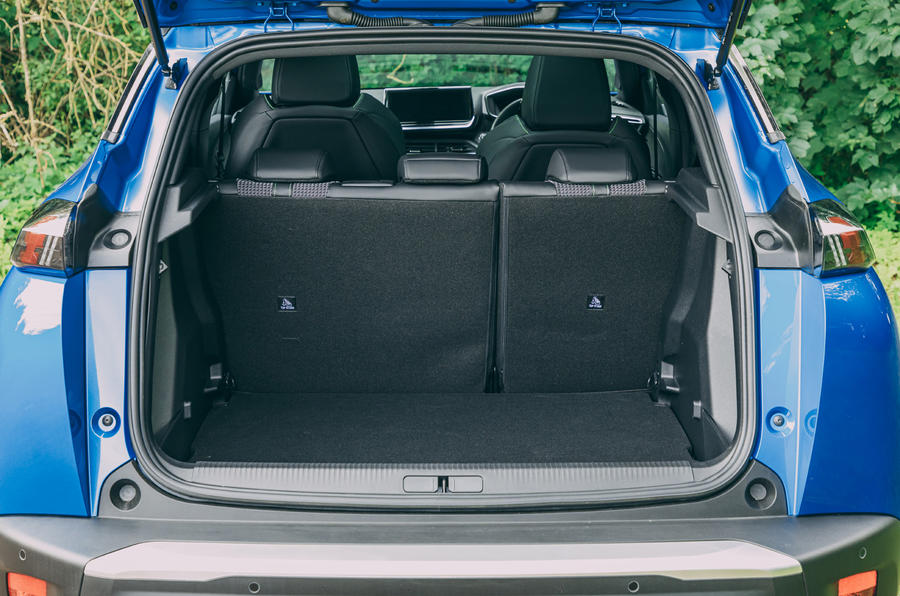 Then there's the standard kit, which is generous to say the least. Climate control, parking sensors and LED headlamps feature on all versions, while more expensive versions have enough equipment to make an executive saloon blush. 
There's also enough safety equipment to ensure a five-star EuroNCAP score, with multiple airbags, autonomous emergency braking and lane-keep assist to name just a few. Peace of mind basically comes as standard.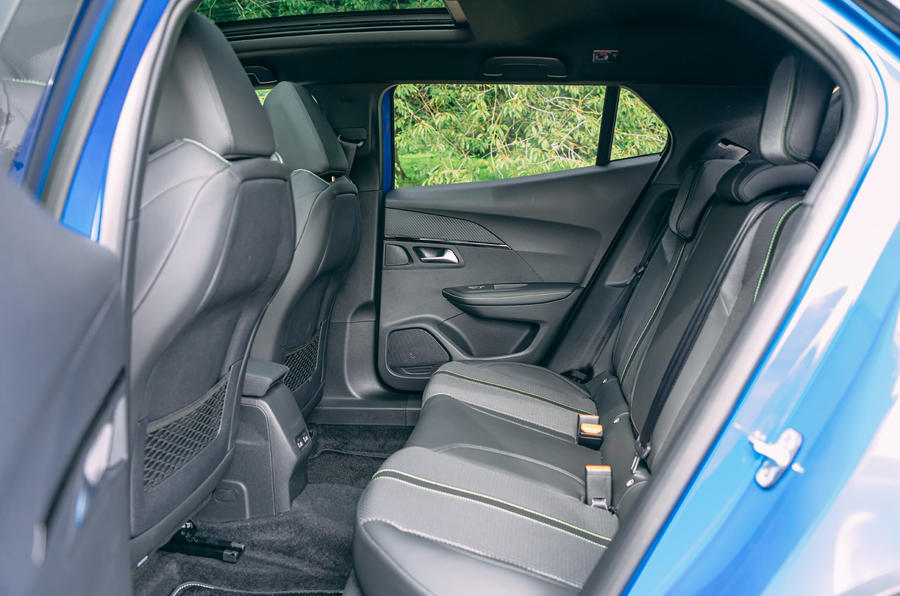 That's the substance, what about the style?
Of course one person's meat is another's poison as the saying goes, but we think the e-2008 is a devilishly handsome small SUV. With its bold angular lines, contrasting roof finish and distinctive LED running lights, the Peugeot certainly looks the part. More importantly, it looks just like the standard car, which will be a boon for those that don;t want to shout about their eco-credentials.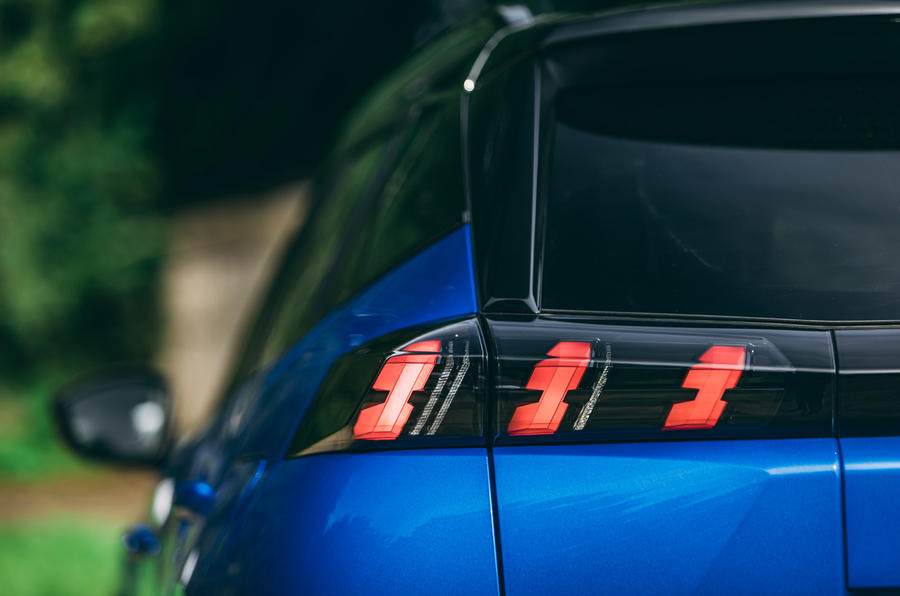 Perhaps the real highlight is inside, where the Peugeot feels more expensive than its price would suggest. Not only is it slickly designed, the materials have a quality look and feel that gives the e-2008 real premium allure. From its smart-looking touchscreen infotainment, through to its metal finished switches and ambient lighting strips, the French car is packed with luxurious flair.
Then there's the cool 3D effect digital dials that form part of the firm's trademark i-Cockpit layout, while the driving position is excellent thanks to the snugly soft seats that feature a wide range of adjustment.
Okay, what's the catch?
To be honest, we're being picky here, but there are one or two niggles. In fairness, these are issues that afflict the standard car as well, but either way they can be a little frustrating.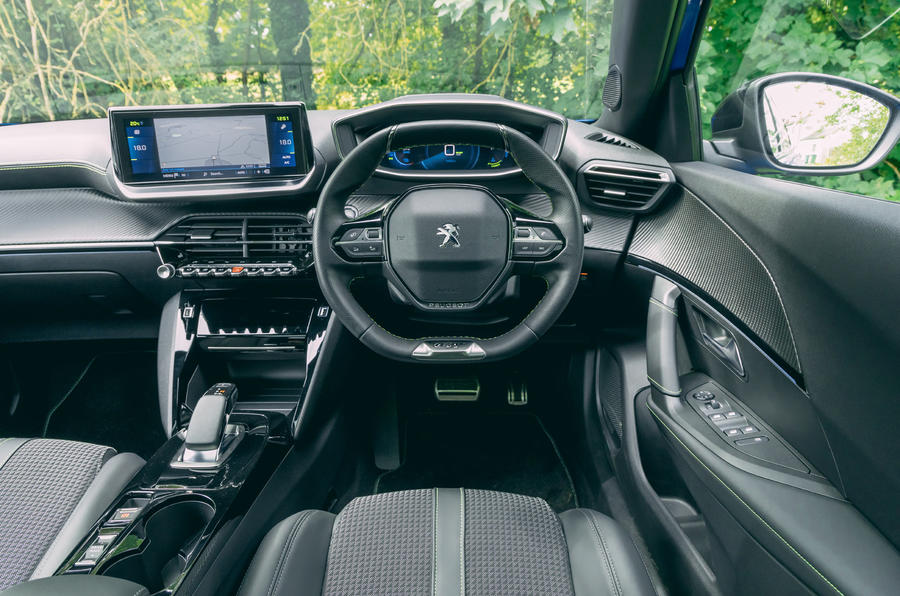 Most irritating of all is the touchscreen infotainment, which is smartly styled and available with either an eight or 10-inch display, with both Apple CarPlay and Android Auto as standard. However, unfortunately it doesn't work quite as well as it looks, with a frustrating lag to your inputs and menus that aren't as clear as they could be. Worse still, it also houses the climate control functions, meaning you have to delve into a sub menu just to change the temperature.
Oh, and then there's the i-Cockpit dashboard layout, which looks great but can be difficult for some drivers to see. Peugeot have placed the instruments high and even fitted a small steering wheel, but some drivers will need to set the wheel uncomfortably low to avoid obscuring the instruments. It's a small but frustrating oversight, so make sure it works for you before singing on the dotted line.
So what are my alternatives?
Well, if you like the idea of the Peugeot but want something equally stylish and with a Vauxhall badge, then there's the Mokka-e. Under the skin it's essentially the same car with an identical motor and battery. Strangely it claims a slightly shorter range of 209 miles, but with prices starting at around £2,000 less than the e-2008 you can hardly complain.
In terms of driving fun there's little to match the Mazda MX-30, while it's stylish design, quirky suicide rear doors and classy cabin give it real upmarket appeal. Yet it's not a car for long journeys, with a very limited claimed range of just 124 miles.
If you need a little more space and aren't that fussed about turning heads, then the second-generation Kia Niro EV and the larger MG ZS should both be on your shortlist. Both are a little more expensive, but offer more range and more space.
Verdict
Striking looks and classy, spacious interior are matched to impressive comfort and refinement to make the Peugeot a relaxing and desirable choice. It's also as easy to drive as it is to live with, while the range is just about good enough for stress free progress.
It doesn't have the largest range for its class, and other machines offer better value for money, but the e-2008 has plenty of French style and appeal. If the range fits your lifestyle there's plenty to recommend.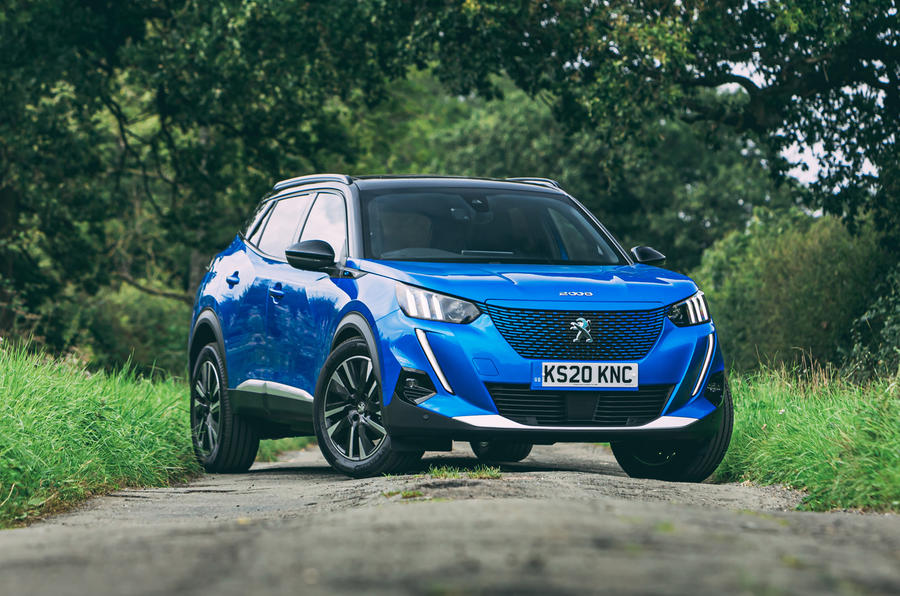 Peugeot e-2008 specification
Price from: £33,700
Motor: Electric permanent magnet synchronous
Gearbox: Automatic
Driven wheels: front
Maximum power: 100kW
Maximum speed: 93mph
0-62mph from: 9.0secs
Electric range (official): 214 miles (193 for pre 2022 model year cars)
CO2 emissions: 0g/km
Tyres from: 215/65 R 16
Kerb weight excluding driver: 1663kg
Gross vehicle weight: 2030kg
Height: 1550mm
Length: 4300mm
Wheelbase: 2605mm
Width with mirrors folded: 1770mm
Maximum boot capacity: 434-1467 litres
RIVALS
READ MORE
Subscribe to the Move Electric newsletter
e-CARS
Video: Can the National Grid cope with a surge in electric vehicles?
e-BIKES
What to look for when buying an e-bike: Move Electric's top tipsx
The rise of Volt Bikes: 'when we launched, people thought we were mad'
e-MOTORBIKES
Maeving RM1 electric motorbike review
Q&A: Zapp founder on why electric mopeds are the future
Government plans 2035 ban on new non-zero emission motorbike sales
e-SCOOTERS
Tier to upgrade e-scooter fleet with a smart 'Parrot'
Q&A: Neuron Mobility's UK boss on e-scooters, safety and helmet selfies
e-WORLD
Polestar to supply battery tech to electric boat firm Candela
Engineering giant ABB working on electric Dover-Calais ferry
Up, up and away: even hot air balloons are going electric