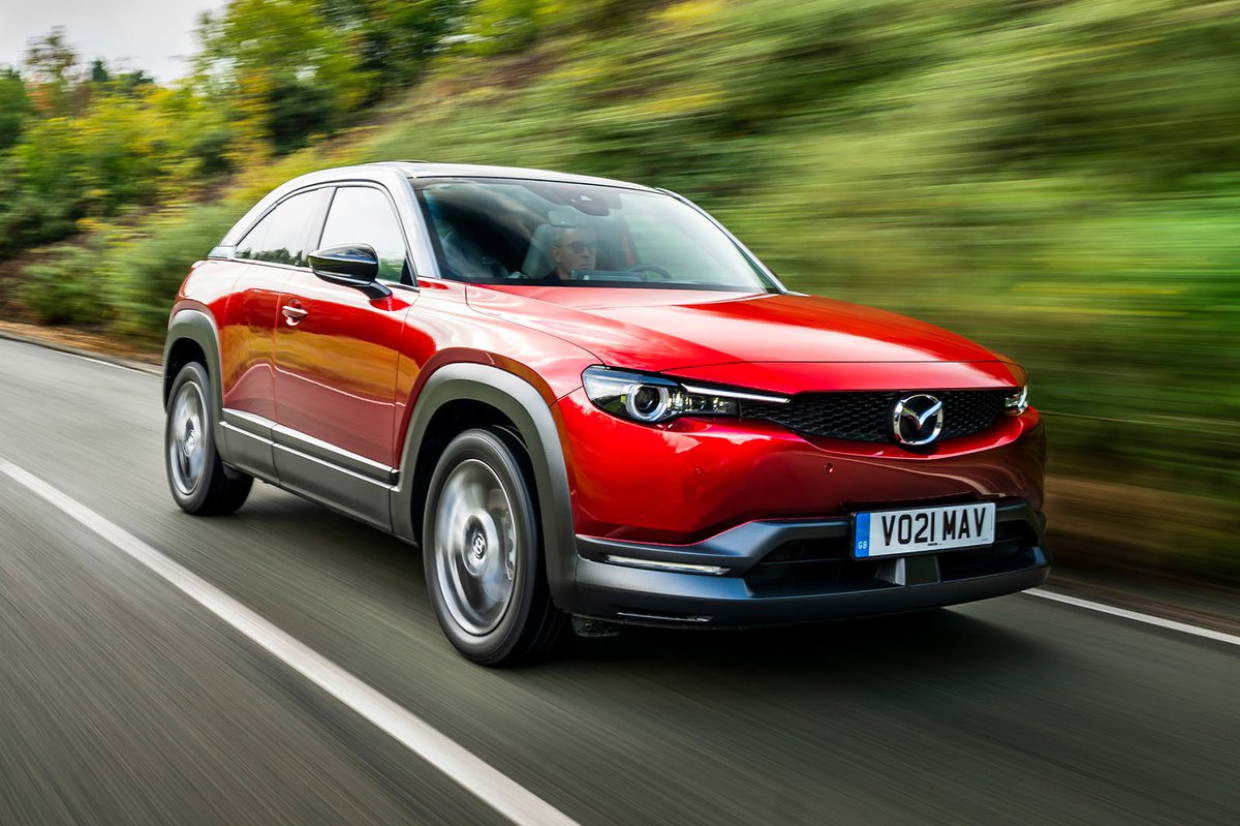 Move Electric verdict: three stars out of five
Sell it to me in a sentence….
A stylish and fun to drive compact SUV that's packed with quirky features, the Mazda MX-30 is undermined by an extremely short range.
A Mazda MX? What, like the MX-5?
Yep, the name is a little misleading, isn't it? If you know your Mazdas then the use of the MX badge suggests a sporty little drop top roadster or sleek coupe rather than a rugged compact crossover. However, delve into the history books and you'll find the tag actually stands for Mazda eXperimental, which is fitting when you consider this is the Japanese firm's first stab at an EV. So now you know.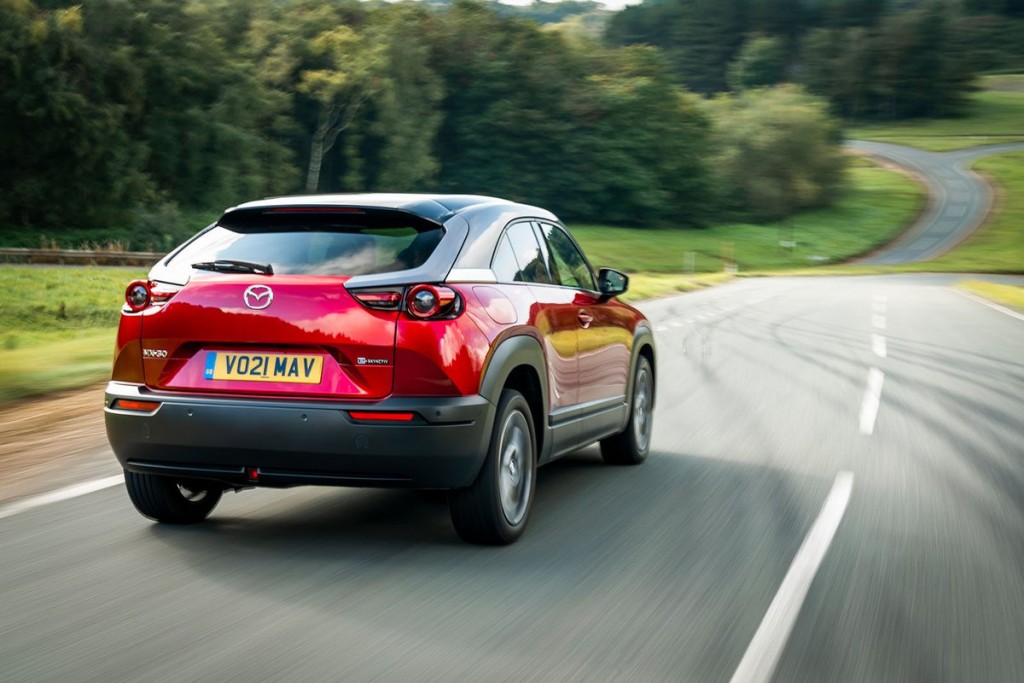 Okay, I'm intrigued - tell me more.
It's a little late to the electric car party, so Mazda has attempted to go its own way with the MX-30, staying true to its principles of saving weight for efficiency and delivering a car that brings a smile to it's driver's face. And overall it's pretty much achieved that goal, although it has led to some compromises, but we'll get to those in a bit.
First up there's that driving experience, which despite the overtly SUV looks is surprisingly entertaining. By using that smaller battery Mazda has kept the weight down, helping make the MX-30 feel almost as agile as the smaller MINI Electric. The steering is light and precise, there's not much body roll in the corners and it grips hard. There's genuine fun to be had when you seek out a few corners.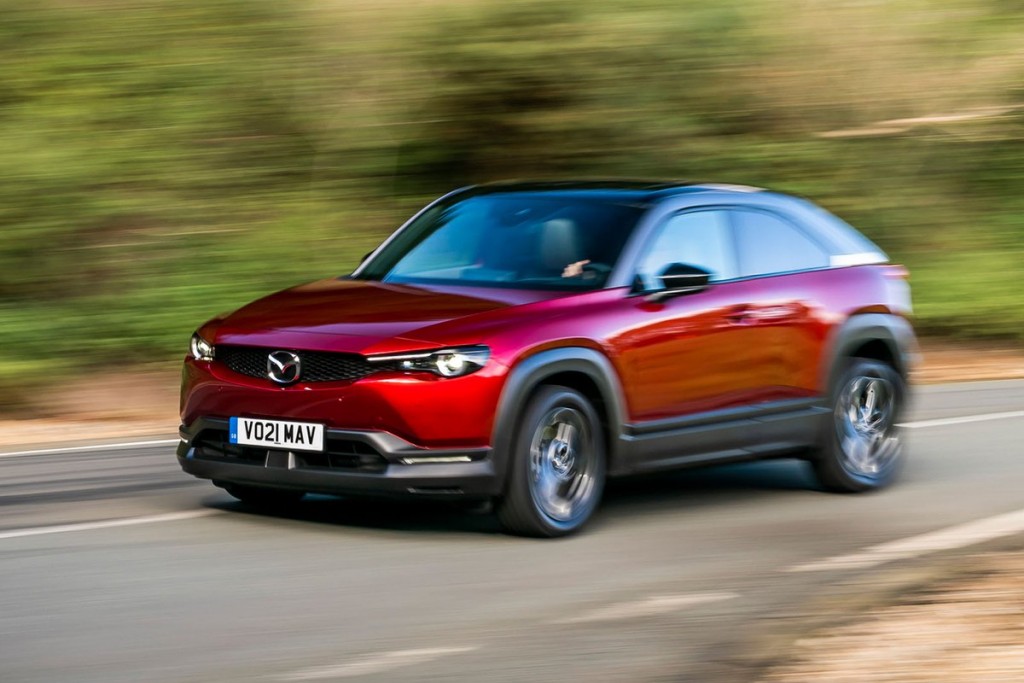 Yet the Mazda is quiet and comfortable too, the suspension giving a plush feel over bumps while the noise levels are low enough to shame a luxury saloon. It's also easy to drive, with light controls and a simple single speed automatic gearbox that helps deliver seamless, unruffled acceleration. The regenerative braking function takes some getting used to as it can quickly slow the car when you lift off the accelerator, but you quickly get used to it plus the you can reduce the level of braking easily if you prefer.
Other highlights? Well, beauty is in the eye of the beholder and all all that, but we think the MX-30 looks rather smart. It's mix coupe-like sloping roofline, raised ride height and tough body cladding helps the Mazda stand out.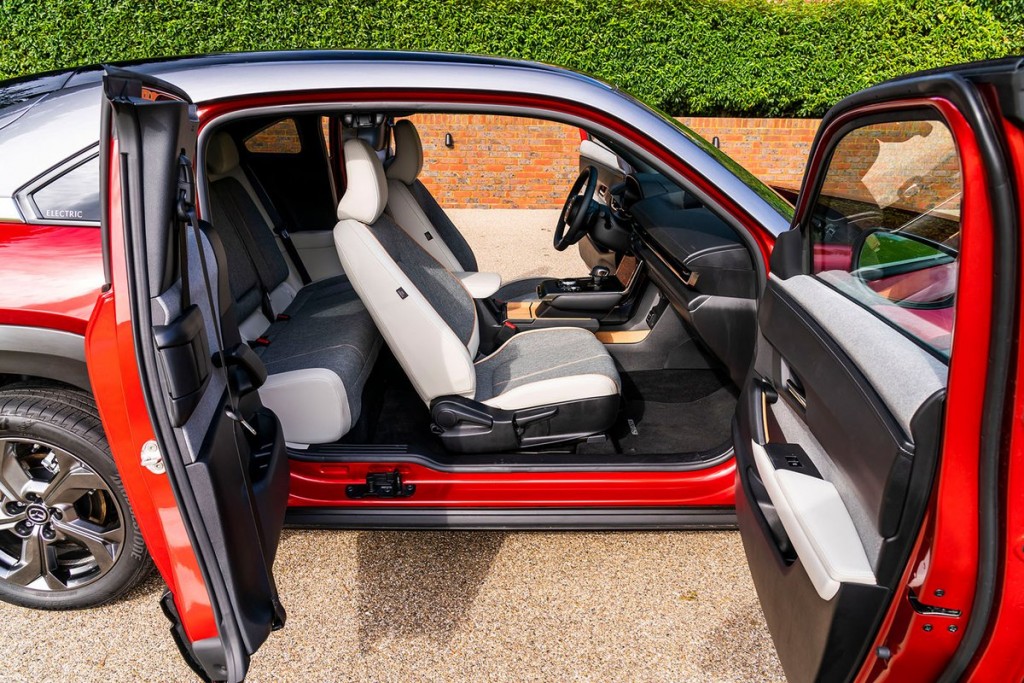 As do the suicide rear doors. Sorry, didn't we mention those? Yes that's right, just like the firm's old RX-8 sports car, the MX-30 gets rear-hinged back doors. It's a quirky feature that can be frustrating because the access is tight and you can only open them after fronts have been opened, but it does allow you to stop kids escaping until you're ready to let them out, especially useful if you're stepping out onto a road.
The interior's a bit of a treat too, it's sleek minimalist design combining with high quality materials to create a real upmarket vibe. It's all rather eco-friendly too, with classy looking wood inserts being sourced from sustainable forests, while the seats can be trimmed in either vegan leather or a cloth material that's made from repurposed denim. Yes really. You want more? Okay, while the plastic door coverings are formed from recycled water bottles while the linings for the trinket trays are sourced from wine bottle corks. Neat, eh?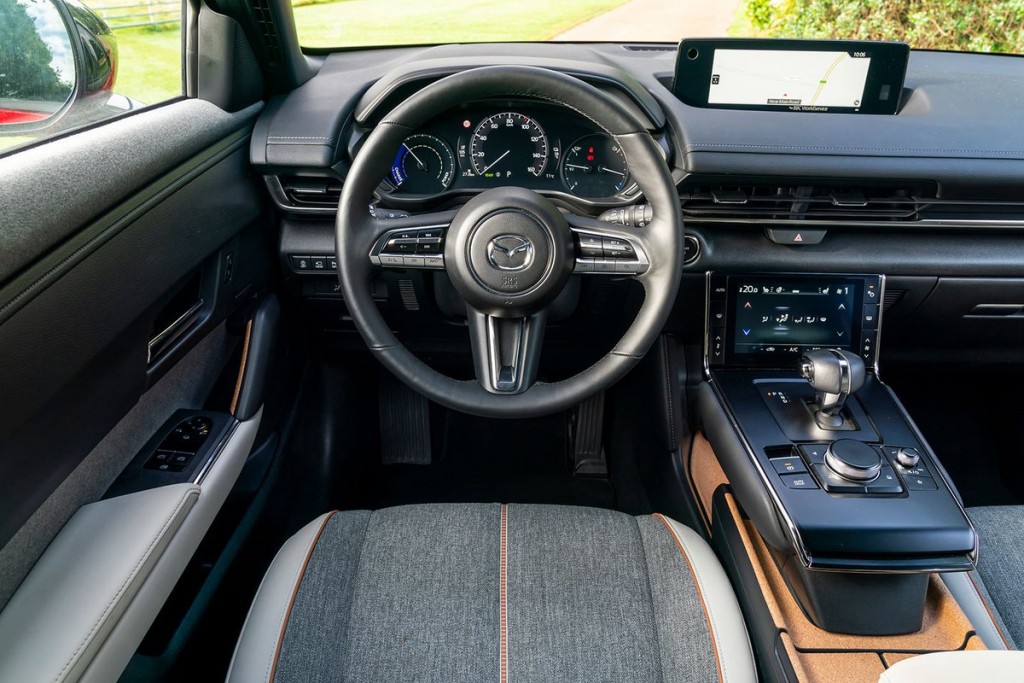 Okay, that is very cool. But what about the numbers?
We were trying not to mention this, but the truth is that for all driver entertainment, quirky style and sustainable materials, the Mazda has some EV issues. For starters there's that downsized battery, at 35.5kWh is only fractionally bigger than you'll see in the latest crop of plug-in petrol-electric hybrids.
It's compact size and low helps deliver the the MX-30's impressive on road agility, but it also results in a rather woeful claimed range of 124miles, which is worse than both the MINI Electric and Honda-E city cars. Crucially, in the real world you'll struggle to see more than 100 miles on a single charge, which rather limits the Mazda to short journeys, such as your daily commute or regular shopping trips.
Of course longer journeys are possible, but you'll have to plan ahead and factor in multiple stops to top up the battery. On the plus side you shouldn't have to hang around long at charging stations even when you take into account the car's rather low DC rapid charge rate of 50kW. The small battery means that you'll be back at 80 percent capacity in around half an hour, which is enough time for a quick bite to eat and to nip to the toilet.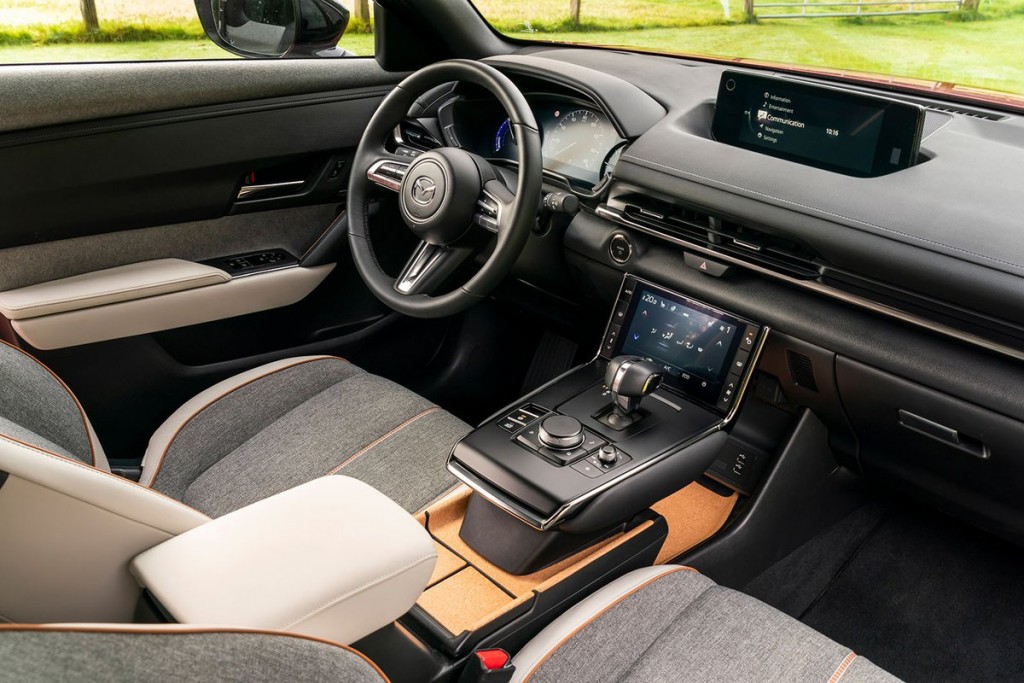 More relevant for most MX-30 owners, who are likely to use the car as a local runaround, is the fact that a full charge using a 7kW domestic wallbox will take six hours, which means you'll easily get a full charge overnight. 
There's only one motor choice with the Mazda and the 143bhp unit serves up adequate rather than exciting performance. Of course acceleration is silky smooth and there's even an electronically generated engine noise function if you want it (although it doesn't sound all that endearing), but the claimed 0-62mph time is sluggish compared to the MINI Electric and less costly options such as the Peugeot 208. Acceleration also trails off noticeably once you get to the national speed limit.
Hmmm, that's disappointing. What about practicality?
Again, we're going to have to highlight a few niggles here. Of course the Mazda is a compact car, but even so we'd expect a bit more from a machine that's clearly designed to be used for more than just occasional family duties.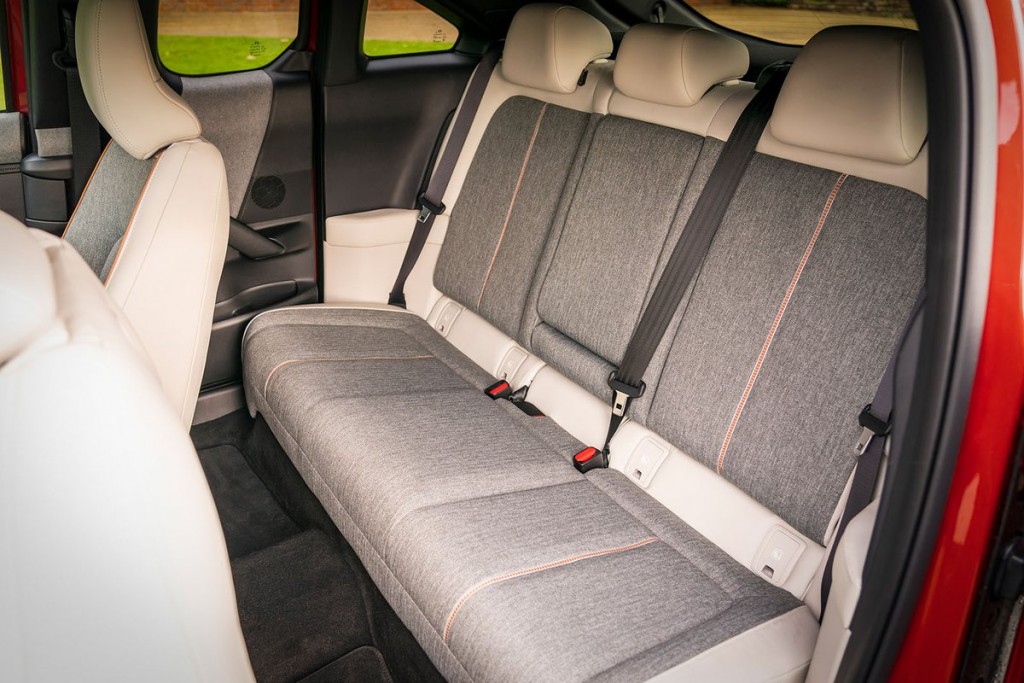 You and your passenger will be well catered for up front, where there's plenty of space to stretch out and driving position that combines a sporty low slung feel with comfort and a decent view out (although the small rear windows mean the standard parking sensors are welcome). There's also loads of handy storage, including a vast glovebox, more cupholders than you can throw a supersized coffee at decent door bins. And don't forget those trinket trays are lined with recycled cork, so your keys and loose change won't rattle around on the move. Nice.
Those sitting in the back won't rattle around either, largely because they'll be wedged in. It's fine for small adults and kids, but even those of average height wild find conditions cramped in the, and while those quirky suicide doors look cool they provide only a narrow opening for you to post yourself through. Most passengers would prefer it if you'd plumped for a Peugeot e-208 or Renault Zoe, which are smaller on the outside by roomier within and with easier access thanks to traditional rear doors.
At 366-litres the boot isn't exactly cavernous, but it should cope easily with a large weekly shop or a weekend away. Yet the similarly sized Peugeot e-2008 crossover's is even bigger, while the Mazda's versatility is hampered further by a lack of underfloor storage, meaning any charging cables will have to share space with your luggage. It's also worth bearing in mind more expensive versions with the, admittedly fine-sounding, Bose stereo upgrade getting an even smaller 341-litre capacity as space is given over to a bass-boosting sub woofer speaker.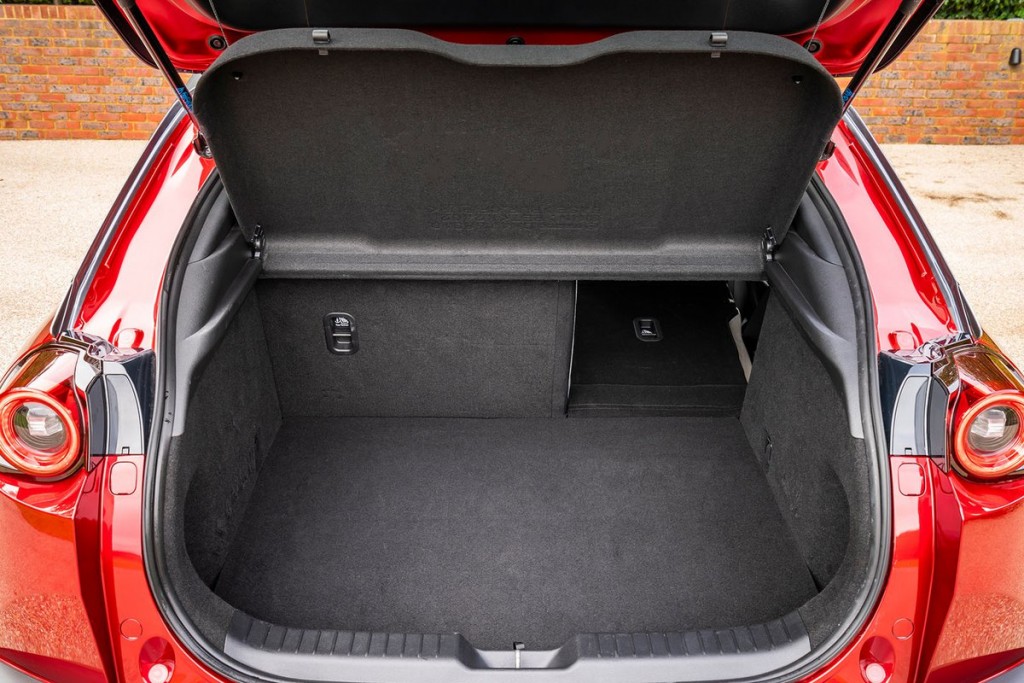 C'mon, there have got to be some highlights
Look, we don't want to be too hard on the Mazda, because if you can live with the short range and the lack of rear seat space isn't an issue then there's lots to like. We've already touched on the fun handling, the eye-catching looks and top notch quality, but there's also great tech at your disposal.
For starters, the 8.8-inch touchscreen infotainment mounted on top of the dashboard looks great and is a doddle to use. That's partly because the menus are clear and it's simple to connect your smartphone, but also because there's a second rotary controller on the centre console that's intuitive to use and results in less time with your eyes off the road.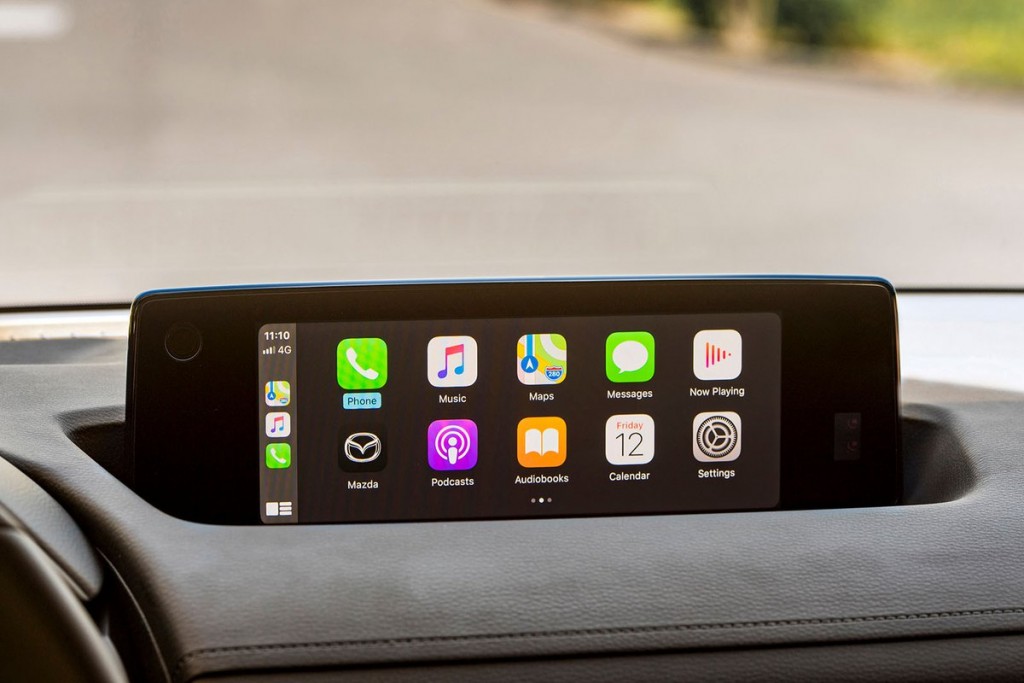 Then there are all the advanced driver aids, with even the entry-level SE-L autonomous emergency braking, adaptive cruise control, lane-keeping assist and driver drowsiness warning among a lost list. 
In fact, you won't go begging when it comes to kit on any MX-30, with all versions getting climate control, LED headlamps, a head-up display and alloy wheels. It costs a bit more than the competition, but there's enough standard kit to make a luxury limousine feel spartan. 
And it's also worth noting that entry-level models still qualify for the Government's plug-in car grant, even if it is a paltry £1,500 these days.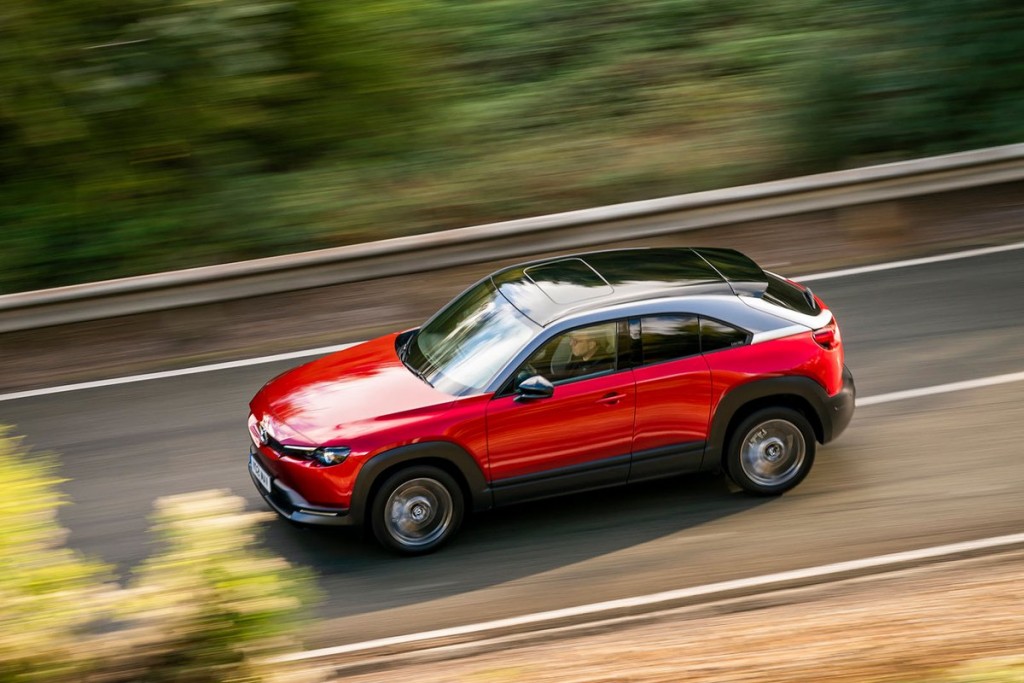 I'm tempted, but what else should I consider?
Well, in the fun-to-drive and limited range stakes there's the MINI Electric, which is brilliantly entertaining on your favourite back road and with 181bhp is very quick. Yet it's even more cramped inside than the Mazda, while its claimed range of just over 140 miles is barely any better.
A similarly stylish SUV choice is the Peugeot e-2008, which isn't as nimble or engaging to drive but claims just over 200 miles of range and can charge at up to 100kW. It's also got a roomier interior and bigger boot - although it doesn't look or feel as classy inside as the MX-30.
If you're on a tighter budget, then how about the Renault Zoe? No it can't rival the Mazda for premium appeal and it's nowhere near as sporty to drive, but it promises nearly 300 miles on a charge and is a more versatile family runaround.
Verdict
The Mazda demands some big compromises, particularly when it comes to range and practicality, but if you can look past these then the MX-30 is a characterful, stylish, beautifully built and brilliant-to-drive compact SUV.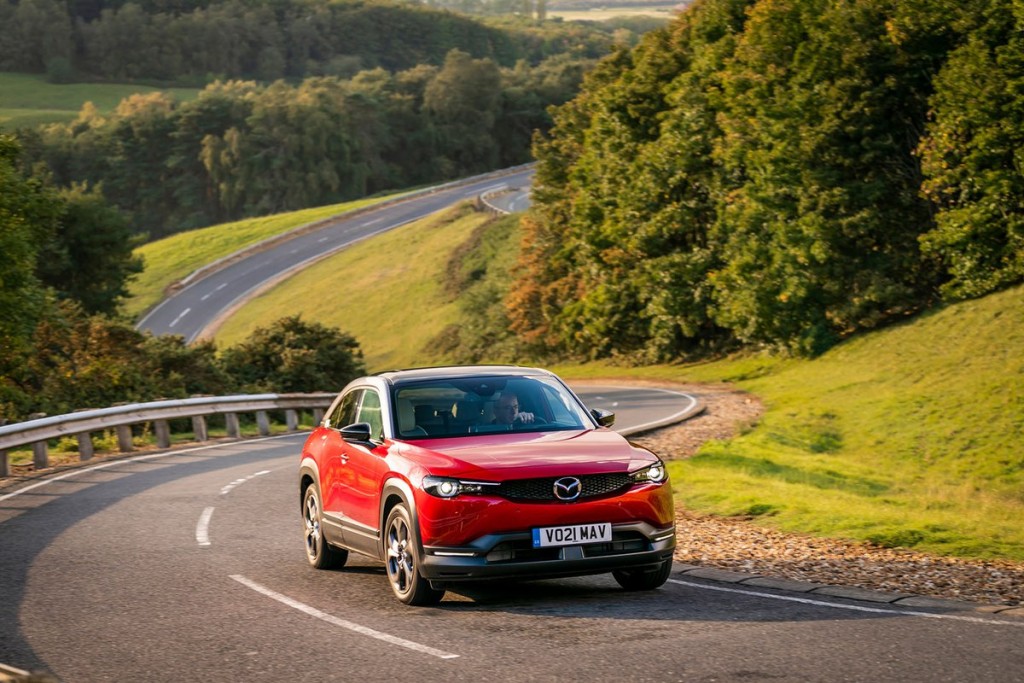 Mazda MX-30 specification
Price from: £27,145
Motors: Electric permanent magnet synchronous
Gearbox: Automatic
Driven wheels: two
Maximum power: 201bhp
Maximum speed: 100mph
0-62mph from 7.5secs
Electric range (official) 196 miles
CO2 emissions: 0g/km
Tyres from: 215/55 R 18
Kerb weight excluding driver: 1675kg
Gross vehicle weight: 2119kg
Height: 1555mm
Length: 4395mm
Wheelbase: 2655mm
Width with mirrors folded: 1795mm
Maximum boot capacity: 341-1171 litres
Rivals
Hyundai Kona Electric
e-CARS
e-BIKES
e-MOTORBIKES
e-SCOOTERS
Are e-scooters legal in the UK?