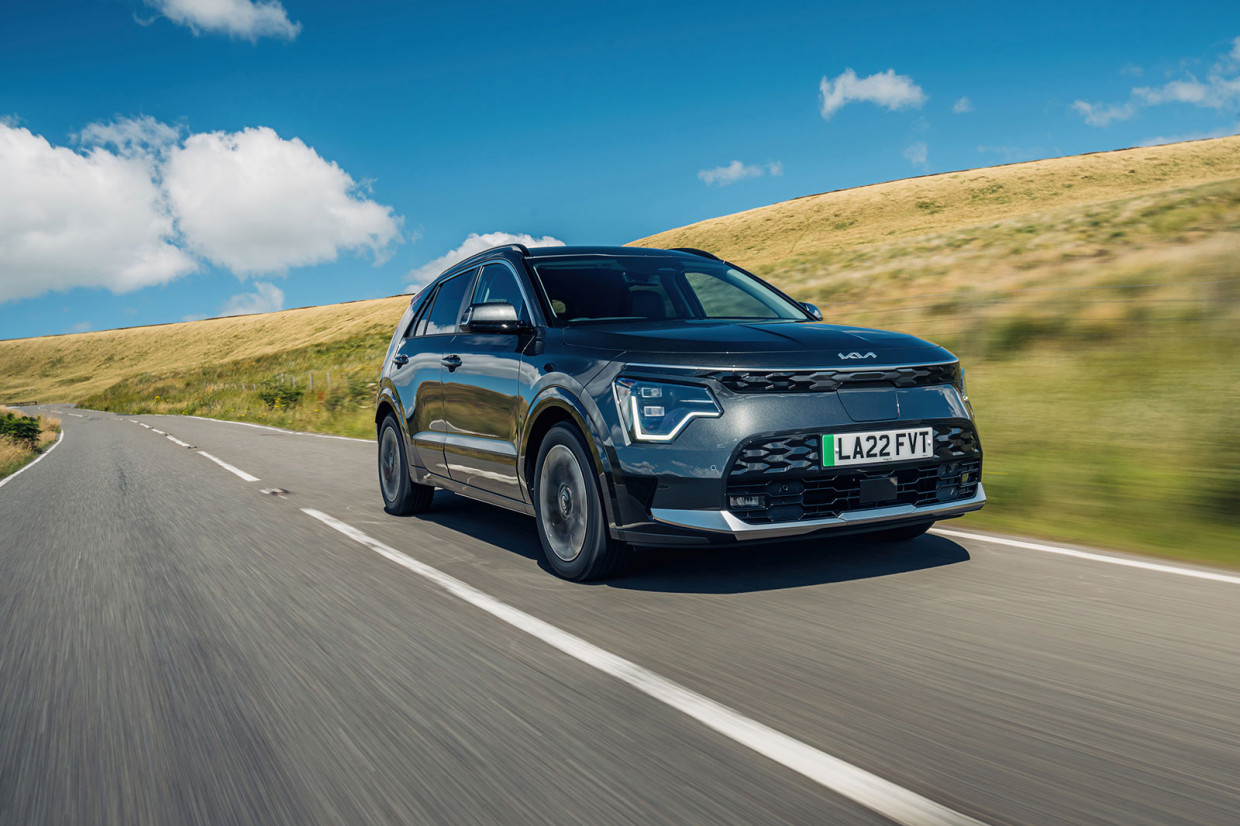 Move Electric rating: five stars out of five
Sell it to me in a sentence…
Great value, spacious and practical, the Kia e-Niro has long been one of our favourite cars – and this second-generation version that carefully improves on that winning formula.
You talkin' to me?
If you're about to make a Robert de Niro joke, let me stop you right there. The e-Niro has undergone a rebrand: it's now the Kia Niro EV, which brings it into line with the branding used for the Niro HEV and Niro PHEV hybrids, and the Kia EV6. 
The latest electric news in your inbox: subscribe to the Move Electric newsletter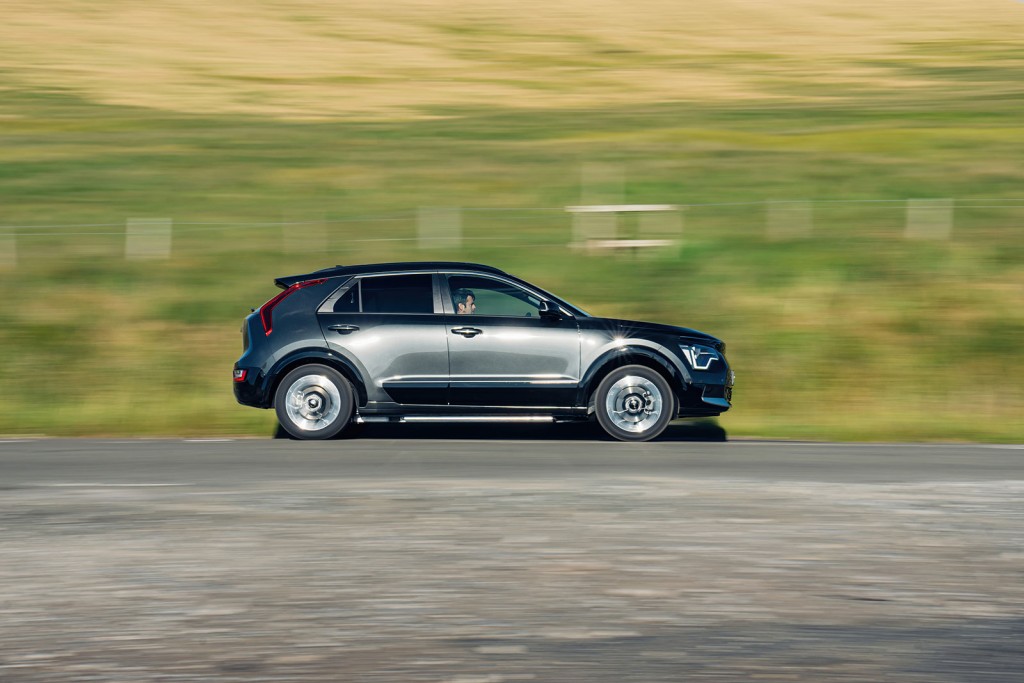 But while it might have a new name, the Niro EV is very much a straight sequel to its ultra-successful predecessor. And it really has been a big hit: it was the second best-selling EV in the UK last year, and sold in big numbers throughout its lifespan. You can argue it's up there with the likes of the Nissan Leaf, Renault Zoe and Tesla Model S as one of the true milestone electric cars.
The Niro has had a transformative impact on the Kia brand, too, winning over buyers who previously simply wouldn't have considered the Korean firm, and spreading a halo effect over the firm's other machines. Not bad for a battery-powered version of a family crossover.
We've previously sampled a late prototype Niro EV on UK roads, although it wasn't in full UK spec. We've not been behind the wheel of a full-production version in Level 3 trim.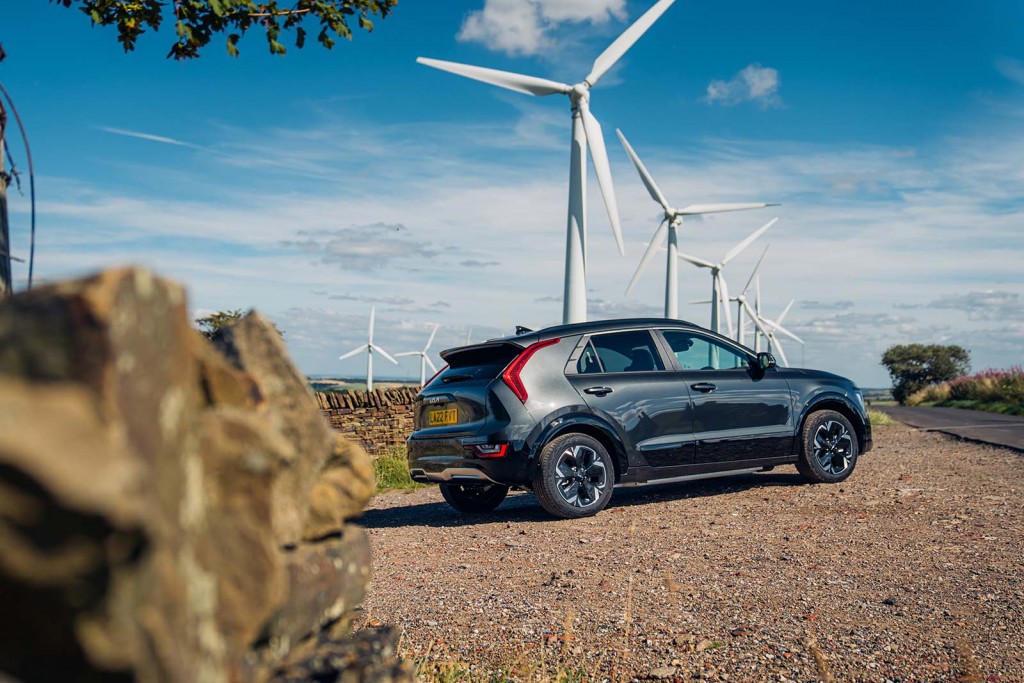 Given how popular it is, presumably Kia hasn't messed with a winning formula beyond changing the name and reworking the styling a bit? 
You'd be wrong, the Korean brand has actually made wholesale changes to the new model and is even based on an entirely new platform.
The Niro EV sits on Hyundai Motor Group's third generation K3 architecture allowing for the form to use the same platform on the Niro HEV, PHEV and EV models. 
\The new platform has also allowed the Niro EV to grow slightly: it's 4420mm long, which is a 65mm increase over the first-generation car. Meanwhile the wheelbase has increased by 20mm, which means there's just that little bit of extra room inside. It's also 1825mm wide and 1570mm high.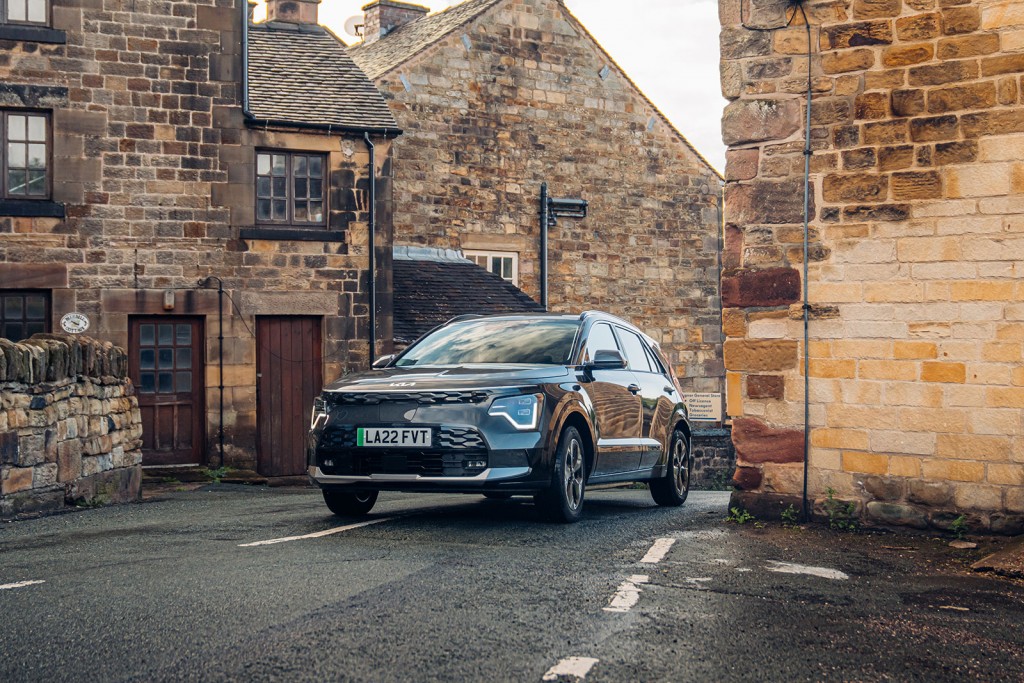 Has the exterior been restyled too?
The design of the Niro EV has also received a thorough makeover. That's always a risk, given the car's popularity, but a welcome one: our only real criticism of the first generation model was that it was a little bland, with an interior that felt a touch low-rent. It all felt a bit designed for purpose, a bit of a holdover from Kia's past producing budget cars.
That's all in the past now though as Kia has revamped the styling of its new EV, with the new model gaining a more stylish, streamlined and dynamic look. Of course design is totally subjective, but in our eyes the new model certainly hasn't lost any mainstream appeal.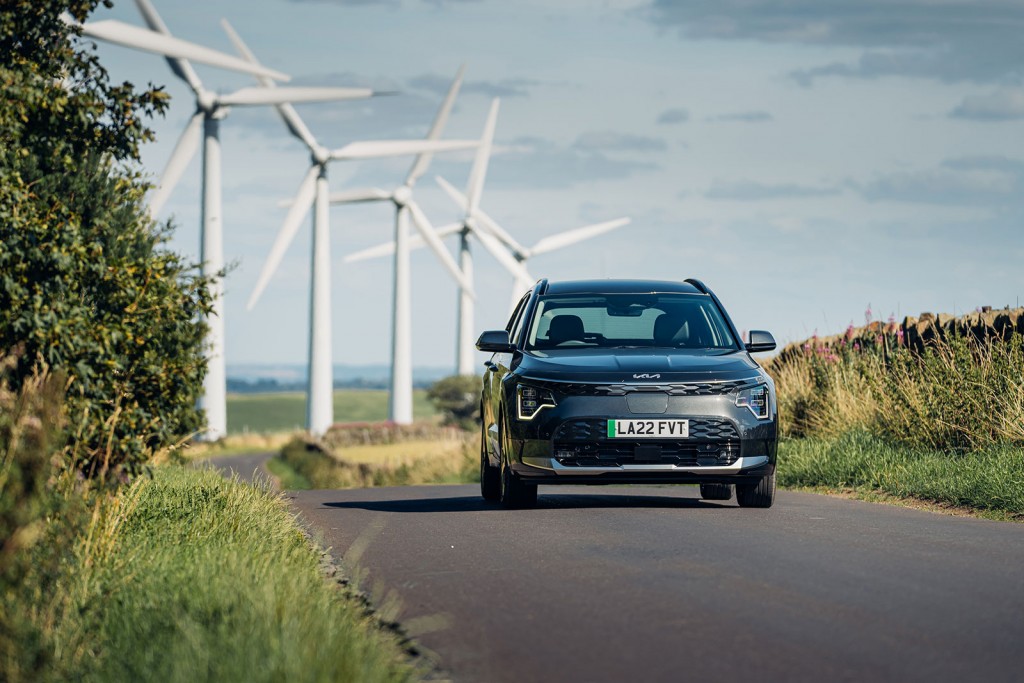 Based on the HabaNiro concept car, the big feature is a front design that uses Kia's bold 'Tiger Face' grille and new LED daytime running lights, which certainly brings a bit of character. The rest of the car is a little more standard, but there are sharper lines and some very interesting features.
Niro EV models gets a bespoke two-tone closed-grille, lower grille and bumper, a dedicated grey side cladding and 17in alloy wheels. While on the subject of the grille, the charging port has been moved from the edge of that grille to the centre. It's a small move, but help make charging a bit easier at charge points.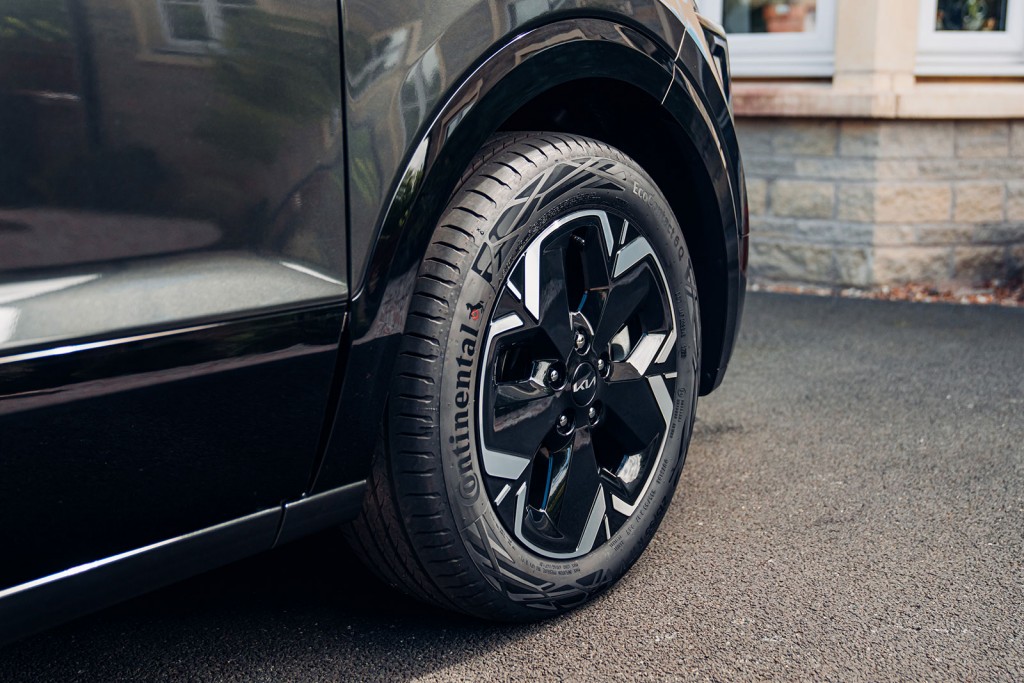 At the back of the car there's a visible diffuser and skid plate to help give the crossover a bit of a rugged look, and also bold new rear lights built vertically into the C-pillar. They also contain one of the most interesting design features: look closely, and you'll see a hole that runs through them.
Don't worry, Kia's engineers didn't leave a hole by mistake: it's there to funnel air through, improving the car's airflow and reducing its drag. Yes, that's the sort of thing you'd fine on Formula 1 cars being used on a mass market compact crossover. We live in strange times.
Oh and for those wanting to go the extra mile on the styling front, for an additional £150 you can have those C-pillars finished in either gloss black or gunmetal grey.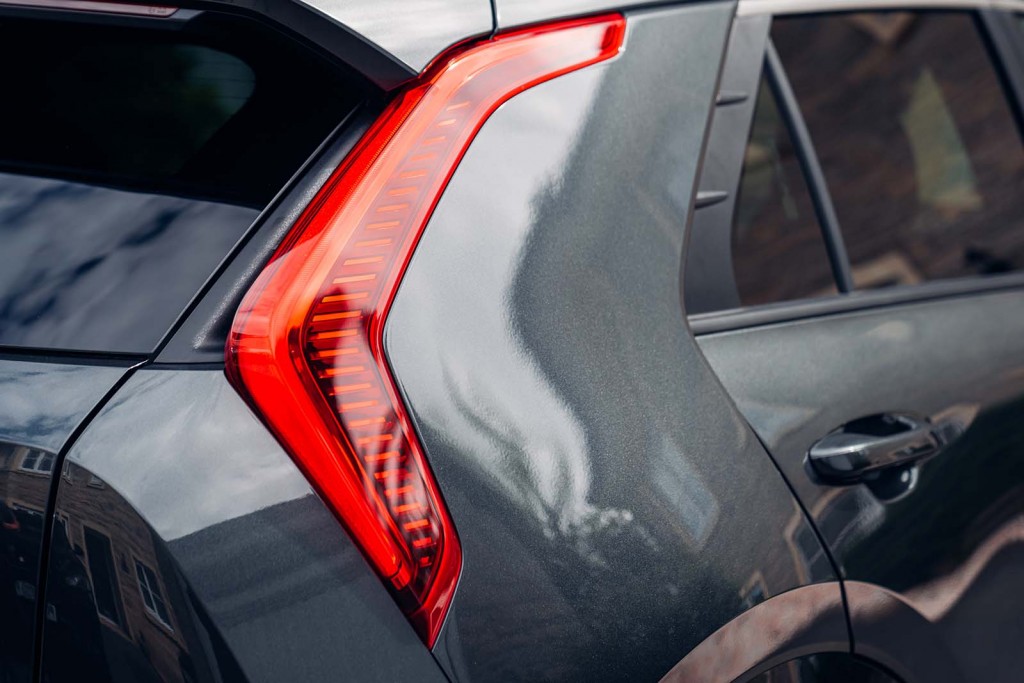 This all sounds great, but has the interior been given a makeover as well?
It certainly has. In fact the interior is a serious leap ahead by comparison to the e-Niro. Much of the design is inspired by the bespoke EV6, but it is by no means identical. 
The drive selector is positioned neatly in a centre console while a group of buttons in the lower dashboard are used for adjusting the climate controls.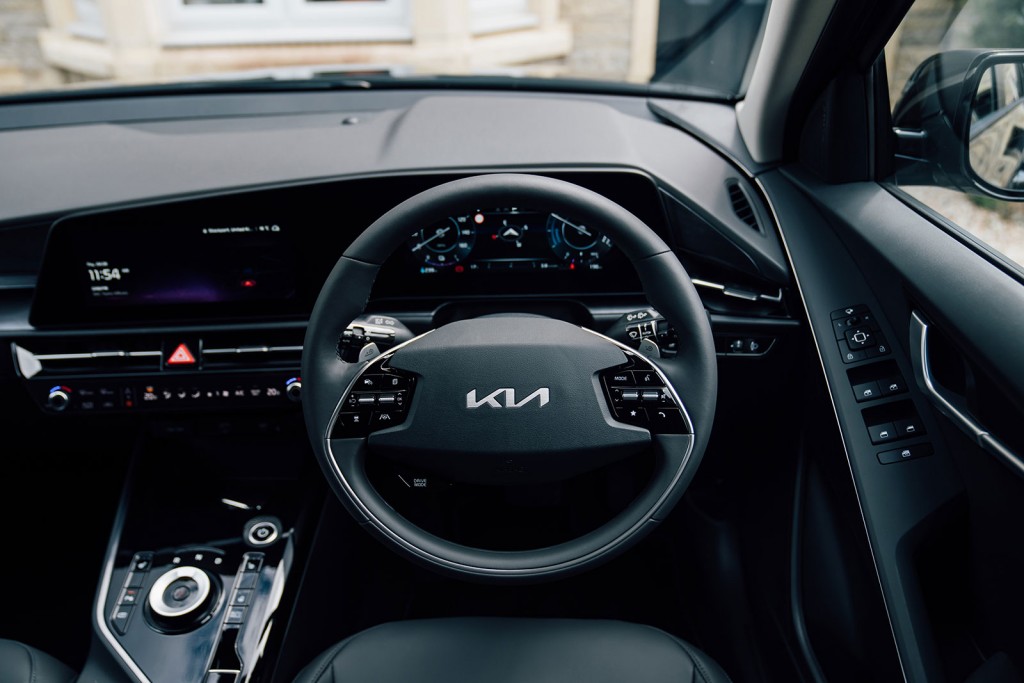 Several of the key controls, including the temperature systems and audio, are accessed via a 'Multi-Command' panel beneath the touchscreen. First seen on the Kia EV6, this is a haptic panel that you can flick between two sets of functions on. 
While we still have reservations over pressing panels instead of reassuring physical buttons, it actually works quite well – and there's also voice control and physical controls for most of the key operations, too.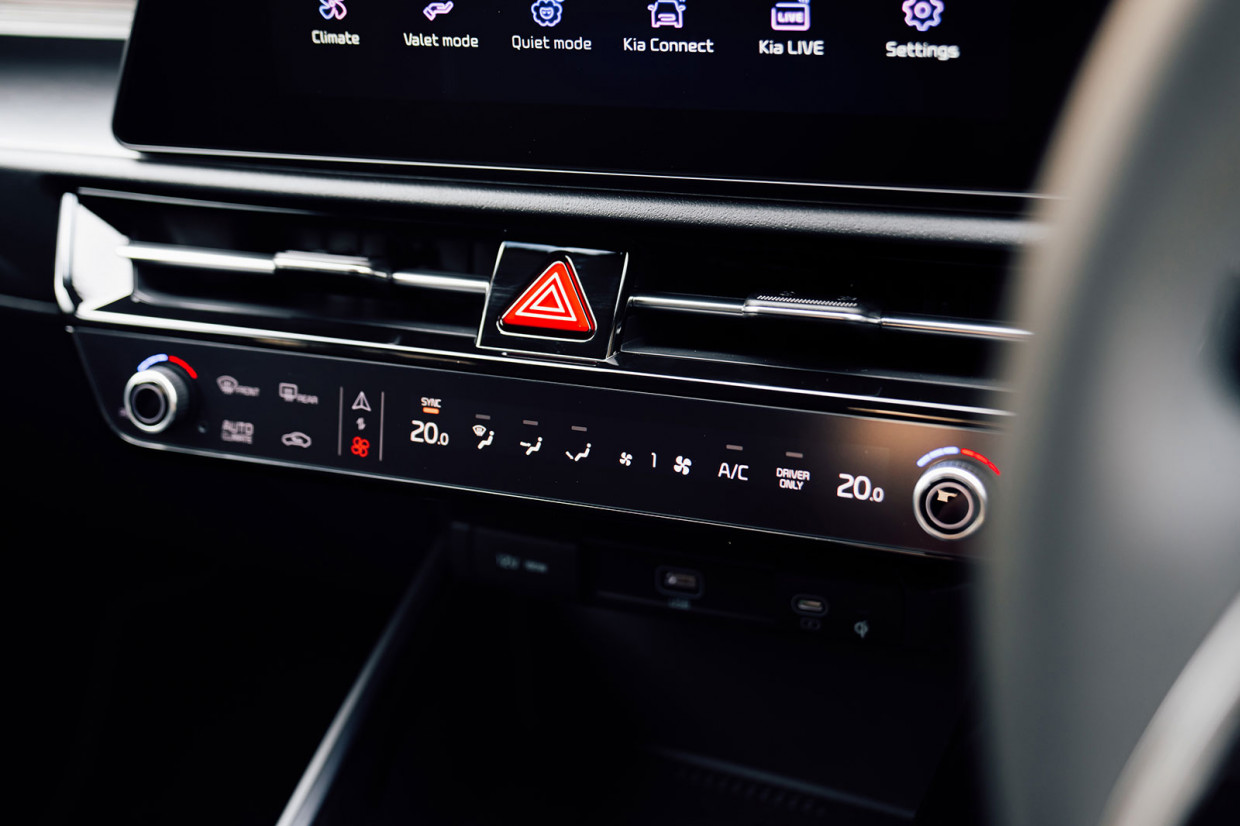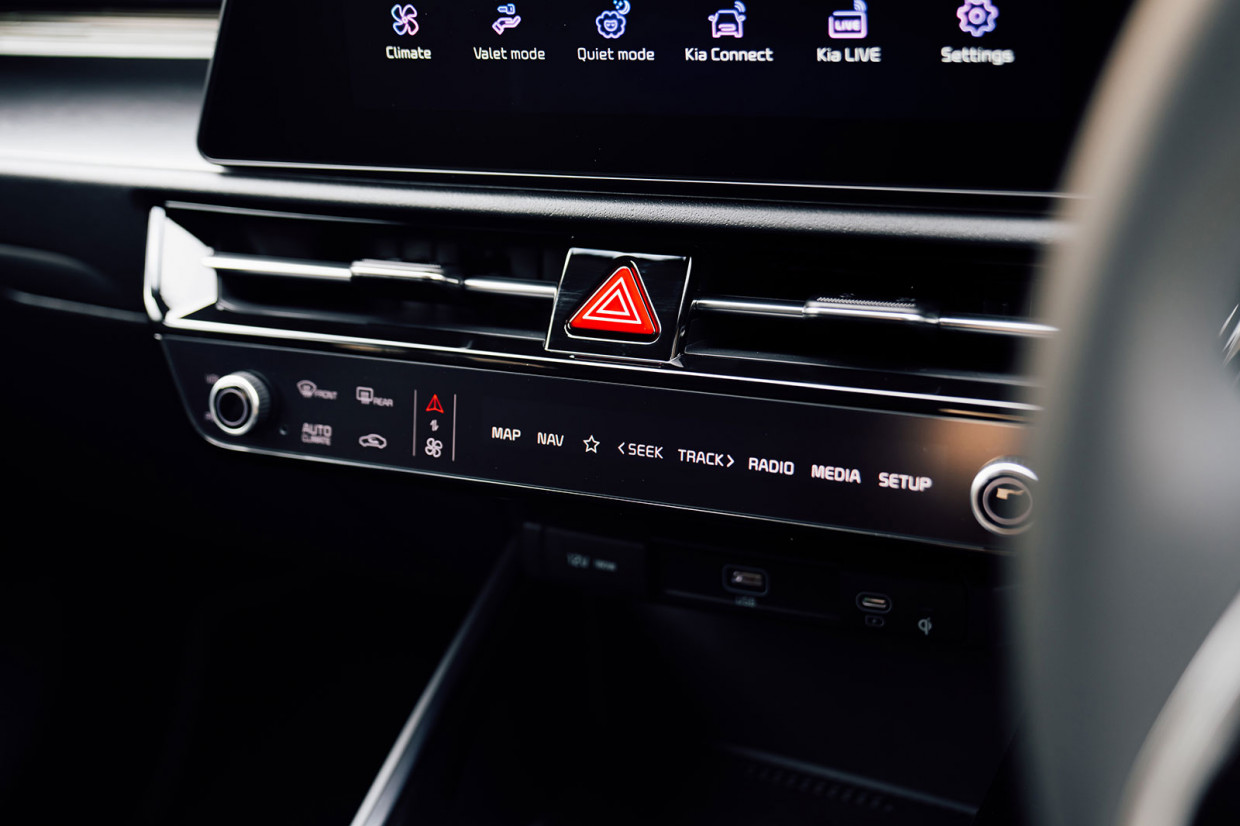 There are two sharp 10.25in display screens, one for the driver display and a touchscreen for the infotainment, both of which provide a more premium feel.
On the move the touchscreen takes a bit of getting used to and once familiar with the car's menu it was easy to switch through the different systems. Thankfully Apple Carplay comes as standard allowing you to use phone applications such as Waze through the infotainment screen, which proved handy when navigating the test route around central London.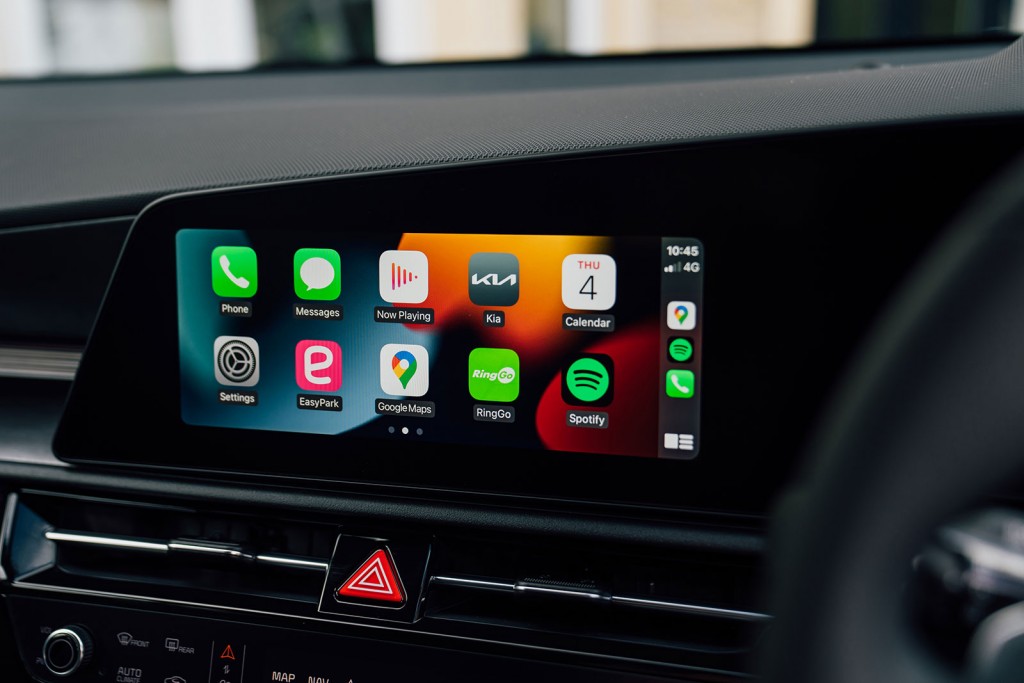 Thanks to the increased dimensions of the new platform the interior offers plenty of room both front and back. Passengers even get a 'relaxion' seat that can lift and recline when stopped - if you want to feel like you're about to have your teeth attended to or fancy a nap mid-journey. 
Kia has gone to great lengths to use recycled materials, including the headline that is made from recycled wallpaper and vegan leather upholstered seats made with Tencel from Eucalyptus trees. Sure enough the result is barely noticeable and the cabin exudes a greater sense of class than its forebear, but ultimately you have to accept a reduction in quality due to the cabin's sustainable bias.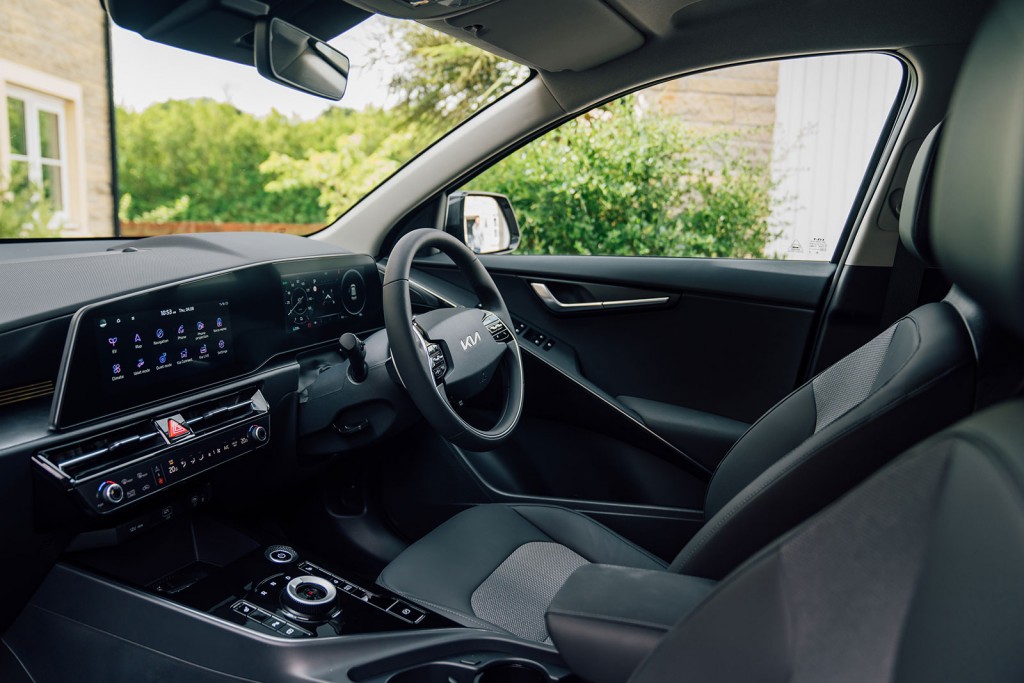 Rather handily the Niro EV is awash with USB-C ports in the cabin - and there's plenty of storage too. The boot is good too at 475 litres. Despite the batteries underneath, it is still bigger than the new HEV and PHEV versions - and you get an extra 20 litres of storage which in our case, is a good size for a laptop. 
So has the powertrain been revamped?
The car maker has wisely chosen to stick with a winning formula by opting to retain the 150kW powertrain from the first-generation car. Kia engineers have done some work to smooth it out a bit – the first-gen Niro could be a little too quick to deliver its power at times. There's now 188lb ft of torque, and a 0-62mph time of 7.8 seconds, with a top speed of 104mph.
Significantly, there is now only one battery choice: the smaller 39kWh offered on the original has been dropped, so the sole choice is now the larger 64.8kWh pack. That's not really a surprise given the extra versatility and popularity of the bigger-battery version, it is a shame to lose the entry-level models: you could get an e-Niro with the smaller battery from £30,395, but the cheapest version of the new car is now £34,995.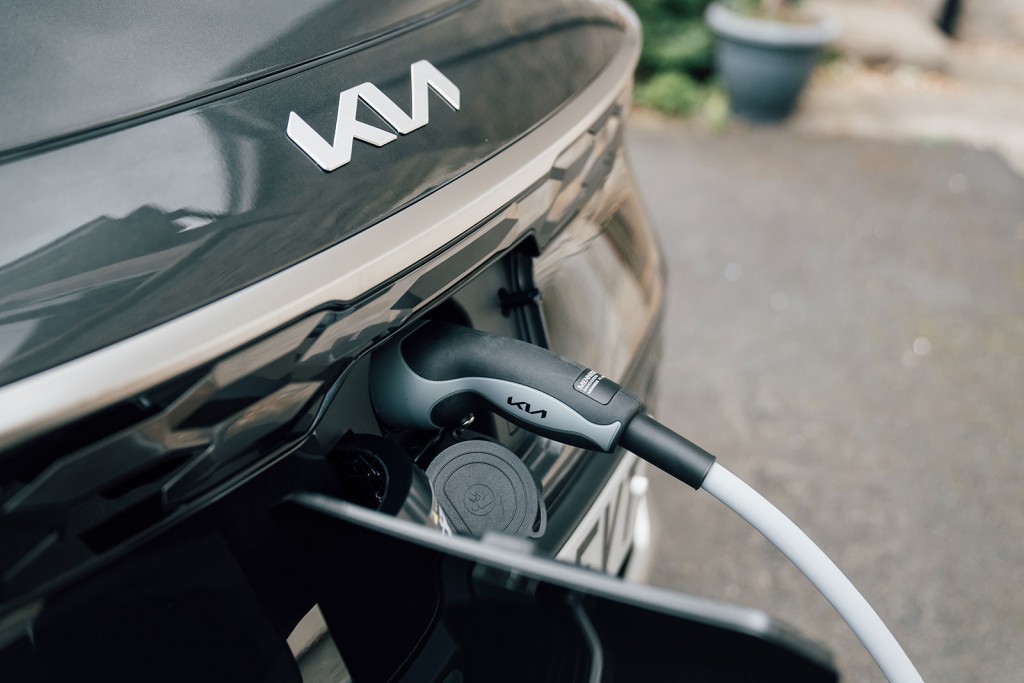 That said, at that price the Niro EV still undercuts many electric cars that can't match it for range and versatility. The new model has an official range of 286 miles, a modest four mile increase over its predecessor (we're thanking those aerodynamic channels in the C-pillar…). Kia has also improved the 85kWh charging, so a 10-80% charge now takes 43 minutes.
The new platform also means the Niro EV can adopt some of the tricks seen on the newer EV6, including optional vehicle-to-load charging – which basically means you can get an adapter that will allow you to use the car's battery to charge other things.
Okay, so what's it like to drive then?
It might not sound like the biggest praise to award a new EV but the Niro is admirably simple to drive. Its combination of being safe, confident, relaxing and comfortable creates a recipe of sedate motoring - which we reckon is a good thing.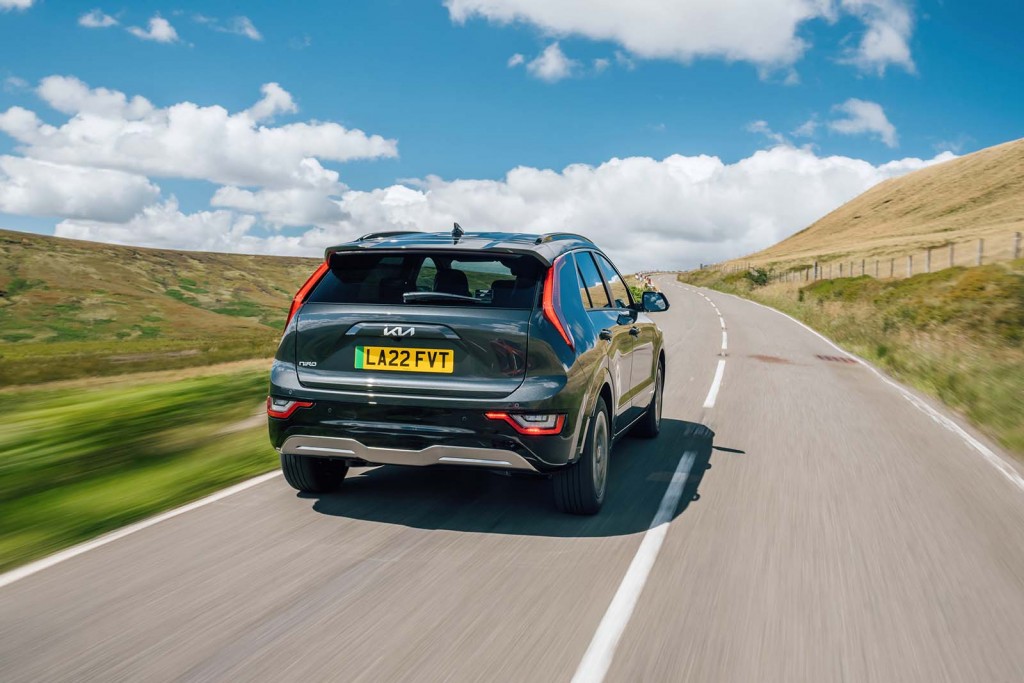 Remember this isn't a bespoke EV6, nor is it trying to be. It is about appealing to the mass market and offering them a car that would unequivocally replace a family's current ICE powered car.  
Besides, that's not to say the Niro EV isn't an improvement on the first-generation model. It responds more progressively to the throttle than the original: while that could get a little leery if you used the accelerator pedal too heavily, the Niro EV has calmed things down a little. 
Being electric, its ability to offer an instantaneous whack of power is impressive, yet there is a brief delay before the car's speed increases.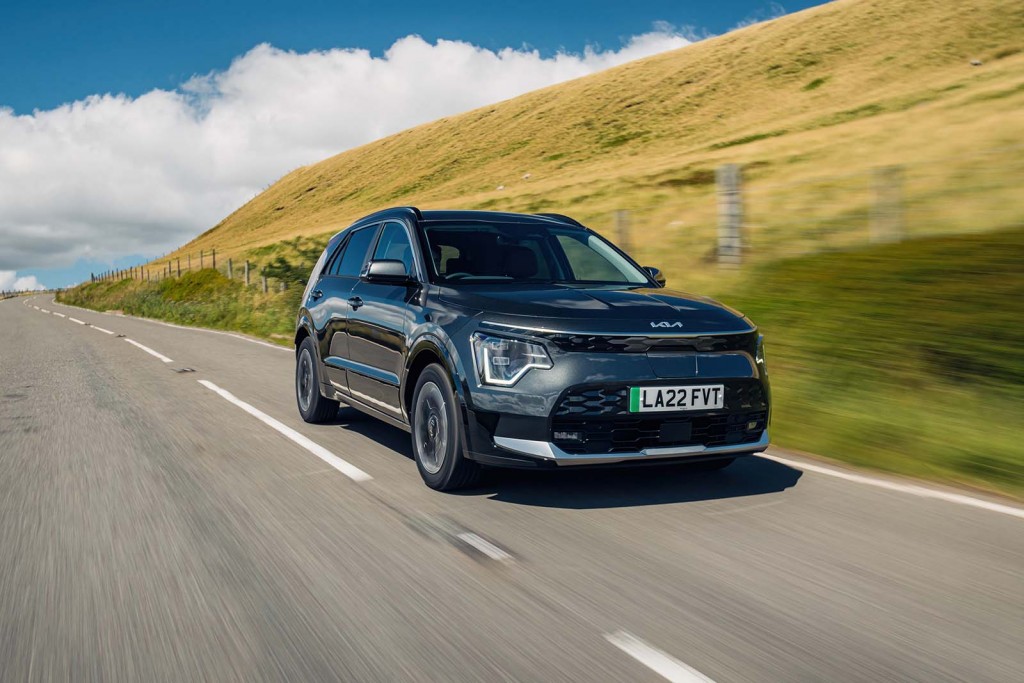 Around town the throttle is very easy to modulate and the auto-hold feature means you needn't worry about holding the car in the brake when you pull up at a set of traffic lights - the Niro EV has it covered. 
During our test drive, which involved a mixture of motorways, single carriageways and country lanes, the Niro EV's handling performed well.
Despite the steering lacking an element of engagement, the Niro EV is very easy to control and feels at home in all areas. Even around central London it was easy to place and navigated the maze that is Soho admirably. 
At lower speeds the ride can feel a bit busy and over more serve bumps there's an imperceptible bouncy feeling. Up to speed however the car's suspension performs well and rides undulations and potholes with aplomb. It even did well on a short cobbled section in central London.
As with the previous model there are three driving modes; Eco, Normal and Sport. Eco is as you would expect the most efficient driving modes and lessens the throttle response. Normal is the easier mode to gel with, while Sport mode goes some way to enlivening the driving experience.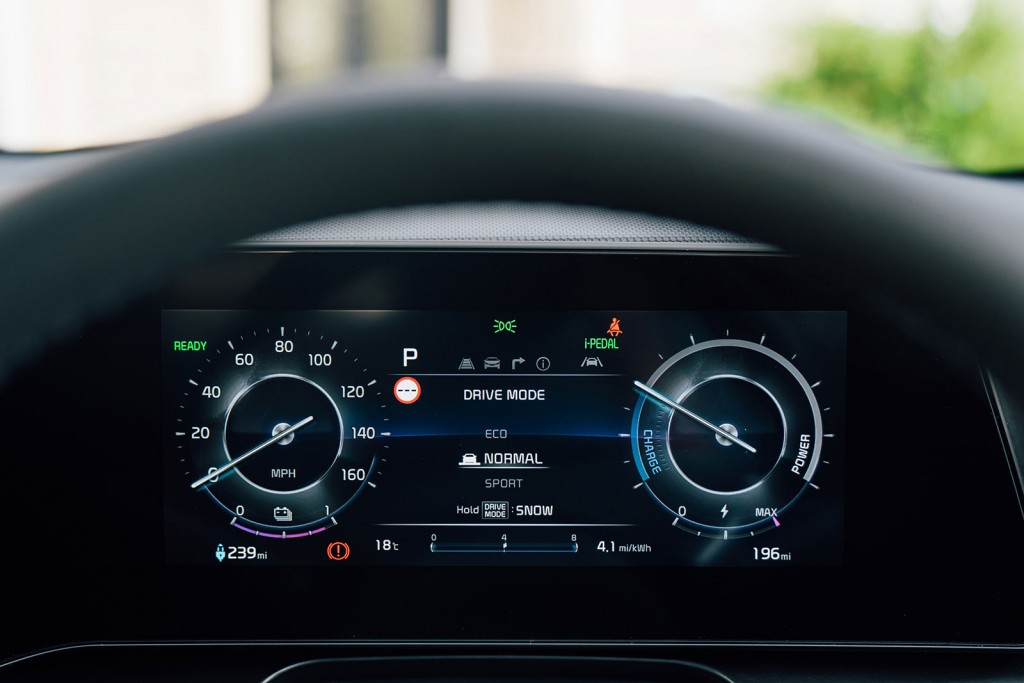 There are four levels of regenerative braking which you can adjust using the paddles on the back of the steering wheel. Even in a more aggressive regen mode the energy recapture never feels invasive unlike other EVs. Sure you feel the car reign you in somewhat but its a gradual slowing down rather than a sharp one. 
Offering a wide range of options can be a little confusing at first, but it's also a great way for EV newcomers – and the Niro EV is still a car designed to win over ICE converts – to be able to ease themselves into the benefits of regenerative braking. And once you've adjusted, the maximum one-pedal regenerative mode really can be operated with just the accelerator intuitively.
So Kia has changed loads, but the car still feels really similar?
Pretty much. The Niro EV really lives up to that whole 'new and improved' label: Kia has kept all the good bits of the previous car, and just tried to refine and freshen it up where needed. Given the Niro EV was already one of our favourite cars, that's a formula for success.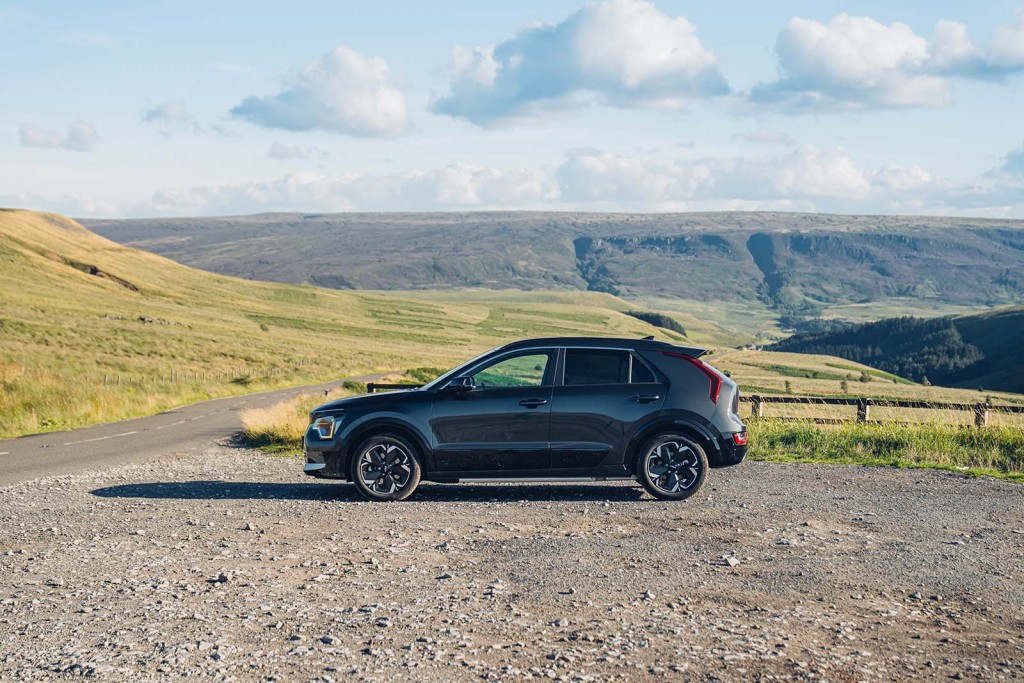 That does mean the Niro EV isn't as advanced, genre-pushing or groundbreaking as its Kia EV6 sibling, but that's not really the point. The Niro EV is designed to be a true mainstream family crossover that just happens to be electric, and it really works on that score. Any car buyer looking at an EV but slightly scared of making the switch could jump into a Niro EV and feel right at home within seconds.
But Kia has also infused it with some welcome new touches of dynamism and excitement. When the EV6 arrived it felt like nothing else in the Kia range. But this Niro EV some of the key strengths of that model and wraps them into a mainstream package.
​​So what will this cost me?
Our Level 3 trim car starts from £38,995, however if you're wanting a heat pump to warm the battery during the winter month then that version will cost you £39,895. 
That is a reasonable price jump by comparison to the entry level 2 trim (we're not sure what happened to 1) which now starts from £36,245; that's slightly more than the starting price of the first-generation 64.8kWh battery version.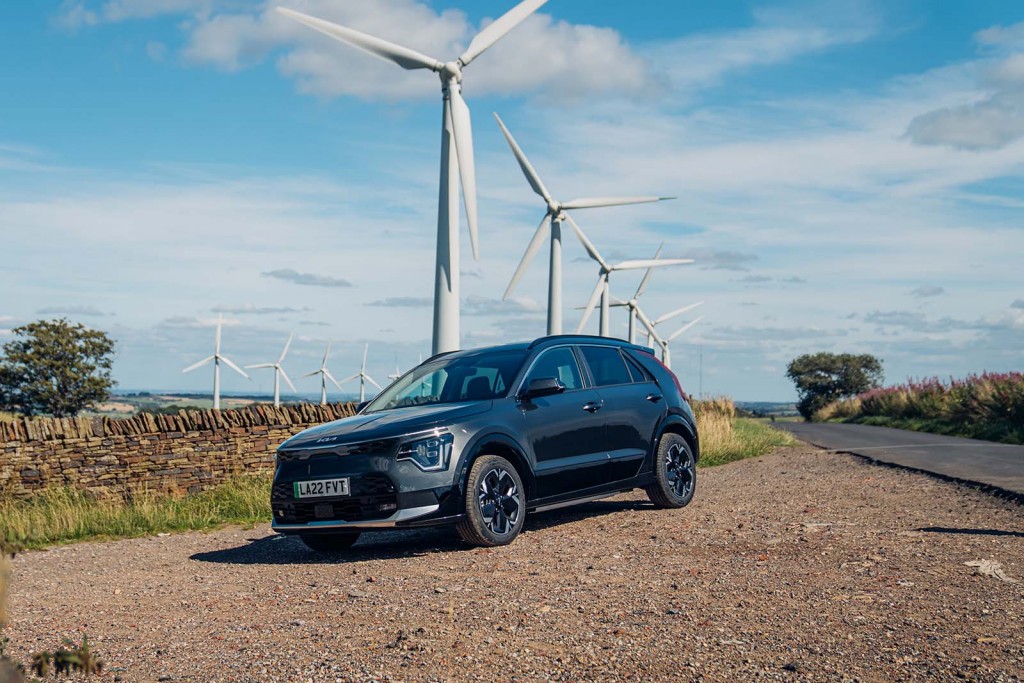 Level 3 trim models get great equipment as standard including LED headlights, heated front seats, a heated steering wheel, wireless mobile phone charging and reversing camera with sensors. And that's just scratching the surface. 
One particularly innovative feature, which some may view as a gimmick, is the Niro EV's Vehicle to Load (V2L) system. The car is equipped with a special adapter that turns the charging port into a three-pin plug socket. The car can then supply electrical appliances with AC power - now that is pretty neat. 
While enjoying the Niro EV we pulled over to sample the V2L technology by using it to charge a laptop. After working out how to use the system it was highly effective, boosting the battery of our laptop in no time. And it didn't make a significant dent on the range either.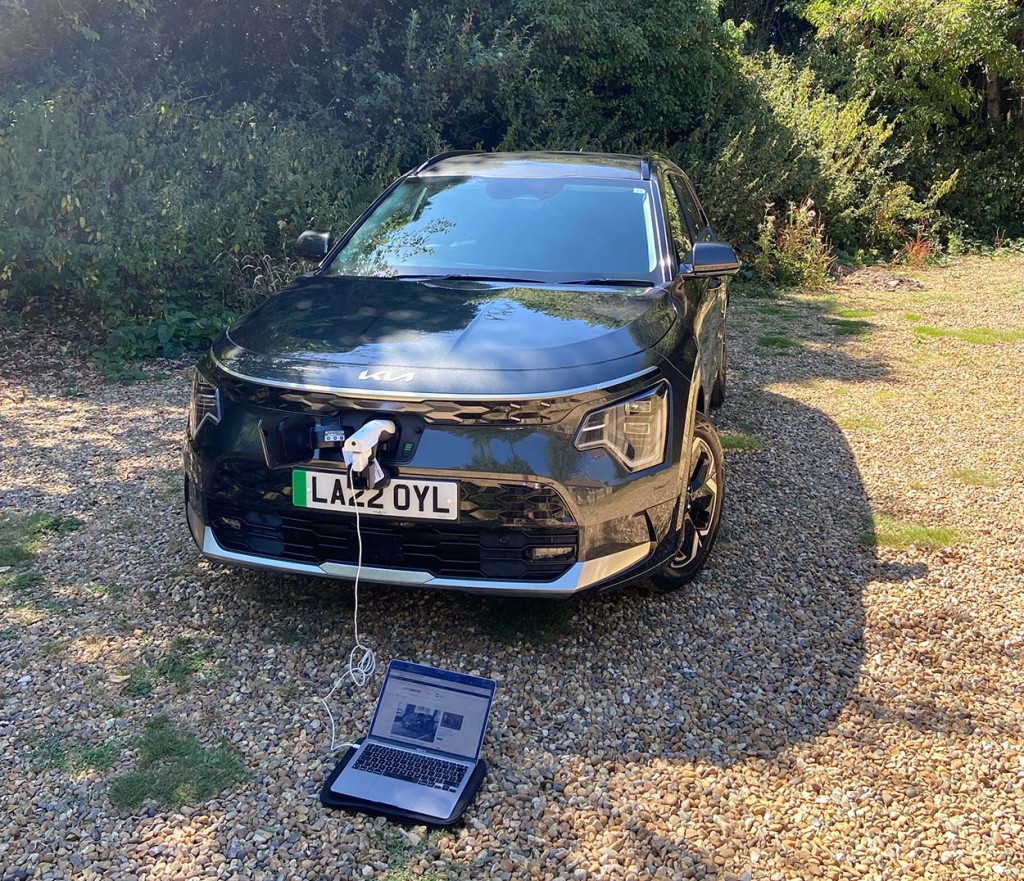 If you want a little more premium then the range-topping Level 4 trim is the one to go for. It gets a head-up display, the relaxation passenger seats and a Harmon Kardon audio system. As the range topper it does come at a price, £41,745 to be exact. 
Verdict
A winning formula can easily be lost when it comes to movie sequels - and the same can be said when it comes to second-generation models. But this isn't the case with the new Niro EV. It retains all of its strengths from the old version in terms of practicality, value, durability and comfort. It is a very hard car to fault and delivers an extra dose of refinement and style that is wrapped up in an uncomplicated package.  
We have no doubt in recommending it to any wannabe EV driver on the lookout for a new electric car.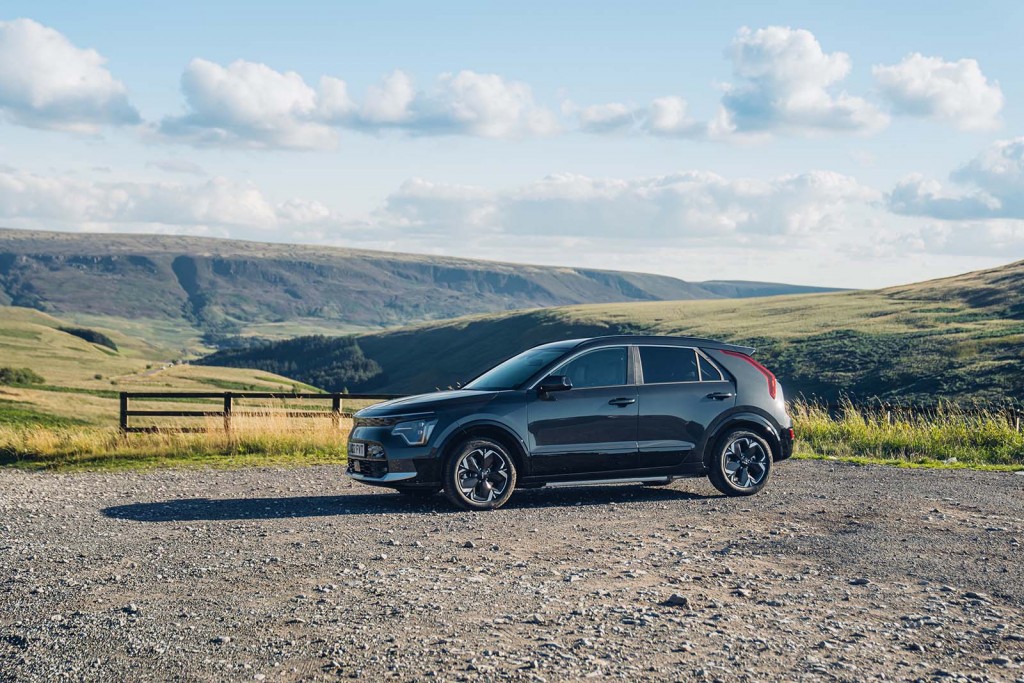 Kia Niro EV specifications
Price from: £36,245
Motors: 1 permanent magnet synchronous
Gearbox: Automatic 
Driven wheels: two
Power: 150kW
Torque: 188lb ft
Electric range (official): 285 miles
Energy consumption (official): 3.9mpkWh
0-62mph: 7.8 seconds 
Top speed: 103mph
Kerb weight: 1739kg
CO2, tax band: 0g/km, 2%
RIVALS
READ MORE
Subscribe to the Move Electric newsletter
e-CARS
New electric cars for 2022 and beyond: what's coming when
New BMW i7 unveiled as luxury electric saloon
e-BIKES
Best e-bikes for every category 2022
Moustache Samedi 28.7 e-bike review
e-MOTORBIKES
Yamaha Neo's electric scooter review
Cake launches new global electric motorbike race series 
e-SCOOTERS
Government set to announce plans to legalise private e-scooter use
New study finds e-scooters are five times safer than bikes
e-WORLD
World's first airport for flying taxis opens in UK