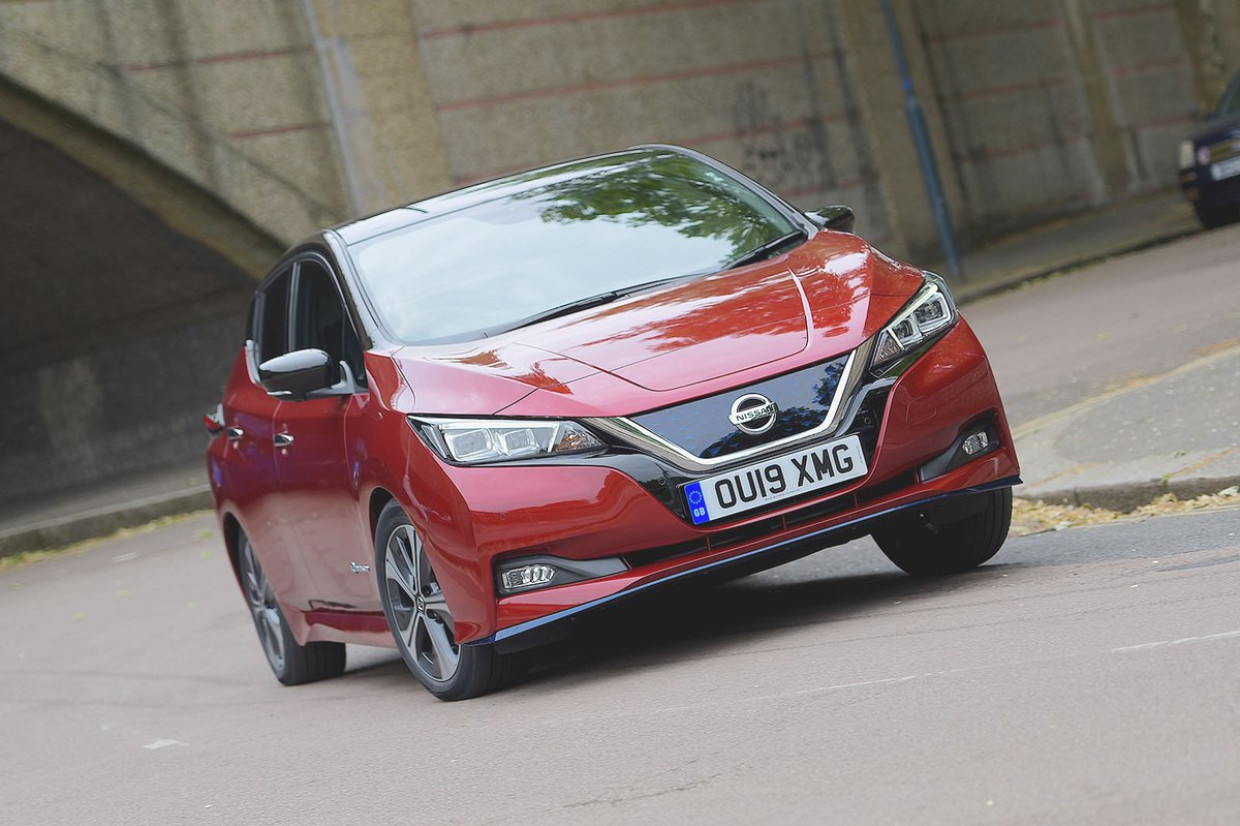 Move Electric verdict: three stars out of five
Is it true that the Nissan Leaf is the original EV?
Hmm. Not exactly. Yes, it might feel that the Nissan Leaf has been on sale since shortly after the turn of the Stone Age. But the truth is that it is only really at the vanguard of the latest attempts to make electric propulsion stick - the real pioneers were on our roads more than 100 years ago, when everyone was trying to work out if petrol, electricity or even steam were the way to go. As far as we know steam is unlikely to enjoy a similar resurgence.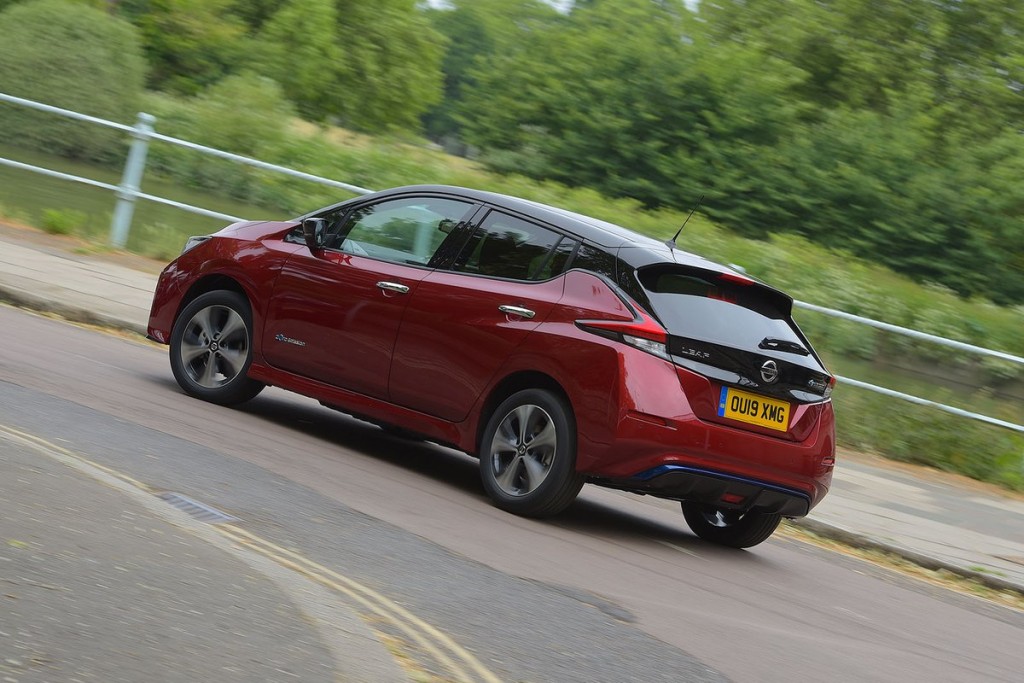 So the Leaf got there first. But is it still a leader?
Great question. It undoubtedly offers great value for money, good standard equipment and a reasonable amount of practicality thanks to a big boot. But it's also true to say that, while the Leaf had a head start and has improved immeasurably since, the opposition didn't spend its fallow years twiddling its collective thumbs.
What do I need to know then?
The entry-level Leaf starts from around £25,000 and is fitted with a 40kWh battery, giving an official range of 168 miles. The Leaf e+ has a 62kWh battery, which is officially good for 239 miles between charges.
How that compares to the opposition depends on where you look. While nobody would call the Leaf's design unassuming, the more striking Honda E is smaller, has less range yet is more expensive. In contrast, the similarly targeted VW ID3 is similar money for, you guessed it, very similar capabilities.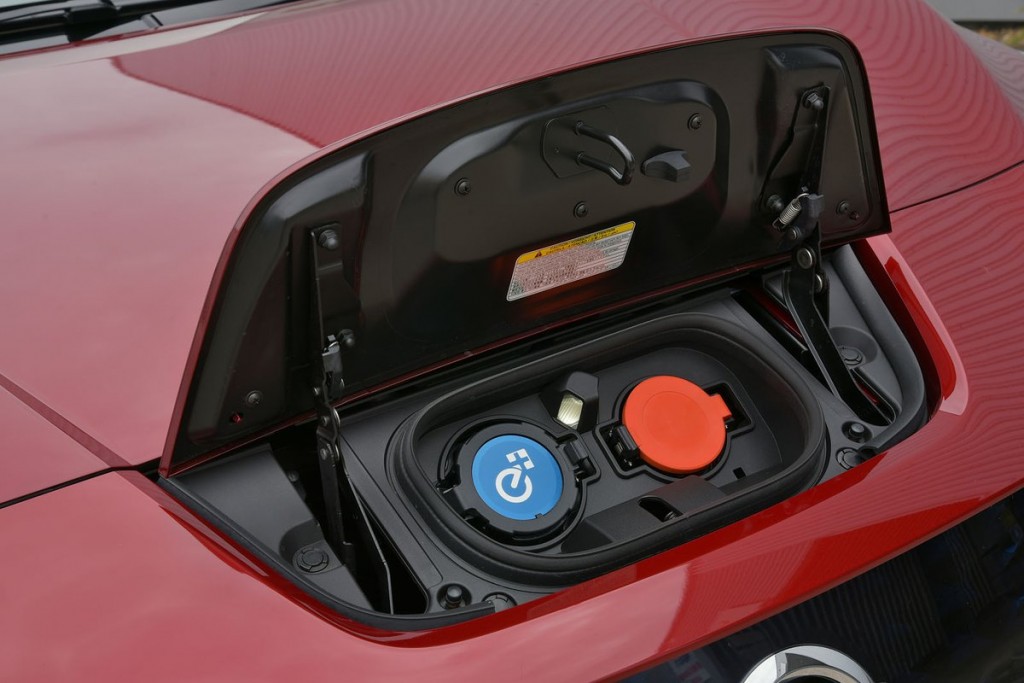 There are three different trim levels, starting with the Acenta, which actually gets a good amount of standard equipment for an entry-level model. Above this are two models with increasingly tempting kit lists, called N-Connecta and Tekna.
That sounds like a decent battery. Does it take long to charge?
With a 7kW home charging device you can, the 40kW Leaf can be topped up from almost empty in around six and half hours, meaning overnight charging is easily achievable. Using a 50kW charger, you can charge the Leaf 40kWh from 10-80% in around 40 minutes.
The 62kWh Leaf e+ takes nearer nine hours on a standard home charger, but also accepts a more powerful public charger. Give it all it can take on a 100kW CHAdeMO charging point and even if you arrive on next to no range you'll have topped up inside 35 minutes.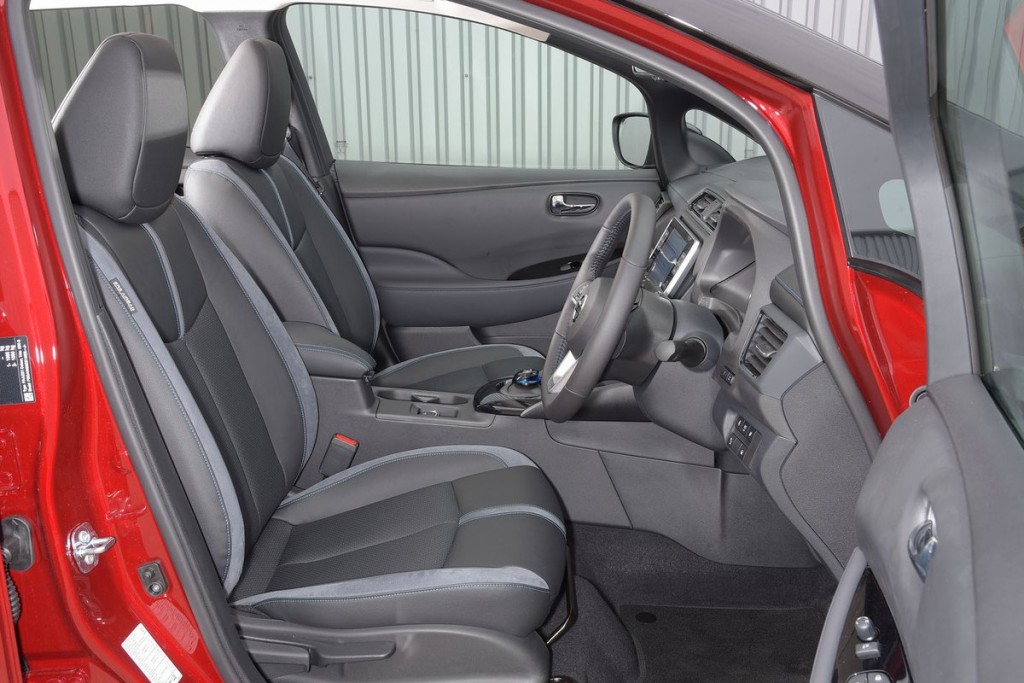 As an aside - or at least we hope for your sake it is - the Leaf can be charged from the humble three-pin plug. Just set aside at least 24 hours to do so...
Behind the wheel
The first thing you notice is that you sit high in the Leaf, which is no bad thing as it helps you see over the car and onto the road ahead. However, the chunky front windscreen pillars can sometimes undo that benefit, blocking your view out of junctions somewhat. 
Like all EVs, the Leaf is heavy thanks to its battery pack. Given that, its ride quality is commendable. It's comfortable and smooth on motorways and you only feel the bumps at slow speeds around town.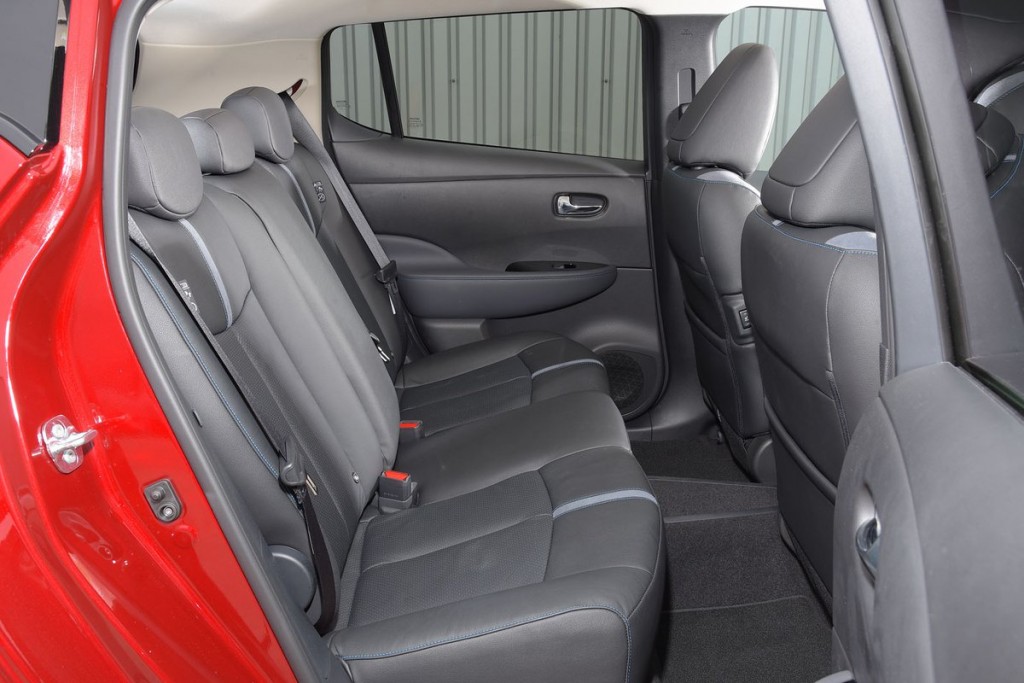 It is worth noting, however, that the 62kWh e+ has been raised by 5mm to accommodate the bigger batteries, but it's softer feel makes it more unsettled on motorways and you feel yourself bouncing around more over bumps. 
All Leafs handle well thanks to precise steering. There isn't too much lean in the bends, either, making it more enjoyable to drive than the Renault Zoe and MG ZS EV, and even a match for the likes of the BMW i3.
It's also worth a passing mention of Nissan's E-pedal. It activates when you lift off the accelerator and works like a brake, with a variety of sensitivity settings selectable that can even be firm enough to bring the car to a halt. It takes a little getting acclimatising to, but use it well and it helps turn braking power into battery range.
That said, the Honda-E or and VW ID3 are fractionally better to drive and be in. But, no question, out on the road the Leaf is perfectly acceptable. 
Sounds interesting. What's the Leaf like inside?
Shock! Is that..? Is that a switch?
Yes, the Nissan Leaf bucks the EV trend by opting to keep buttons and switches instead of trying to cluster everything inside the controls of an ipad-like touchscreen system. Old skool indeed. And, dare we say it, actually very welcome as its controls are much more intuitive for it.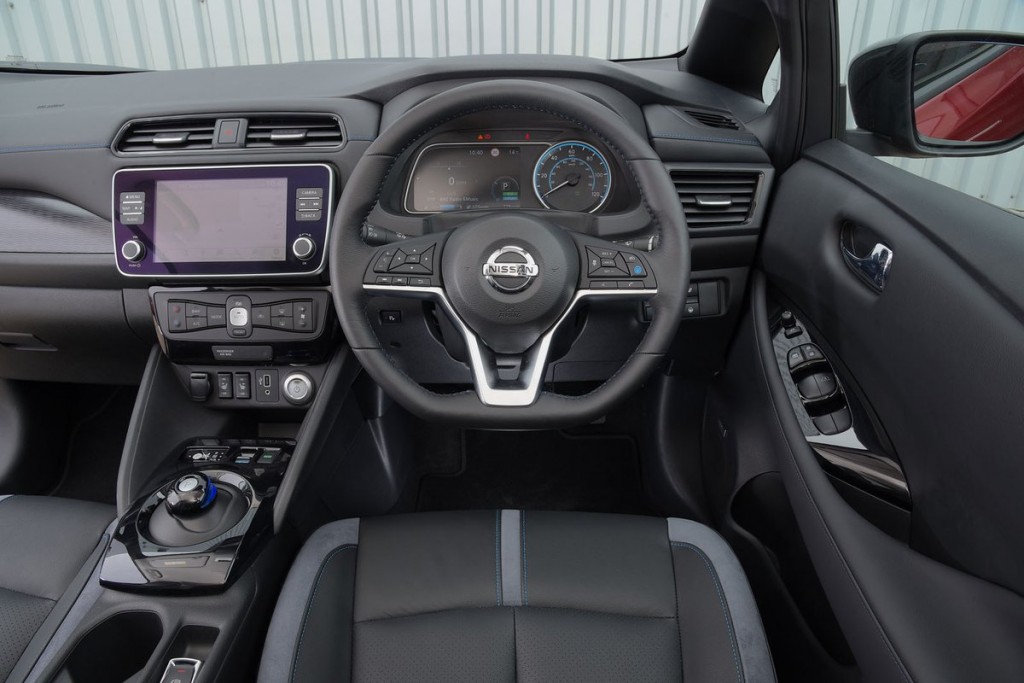 Touchscreen lovers needn't worry, either, as it does have one, albeit a rather modest one by today's standards. The 8.0 inch unit sits on top of the dash, is easy to use and is well laid ou. On the move it can be a bit tricky to hit the right buttons - but that's true of any touchscreen.
Nissan has also given the infotainment system all the useful features you could ever dream of needing, including Apple CarPlay, Android Auto, sat-nav and DAB radio. You even get a reversing camera as standard on the entry-level Acenta trim.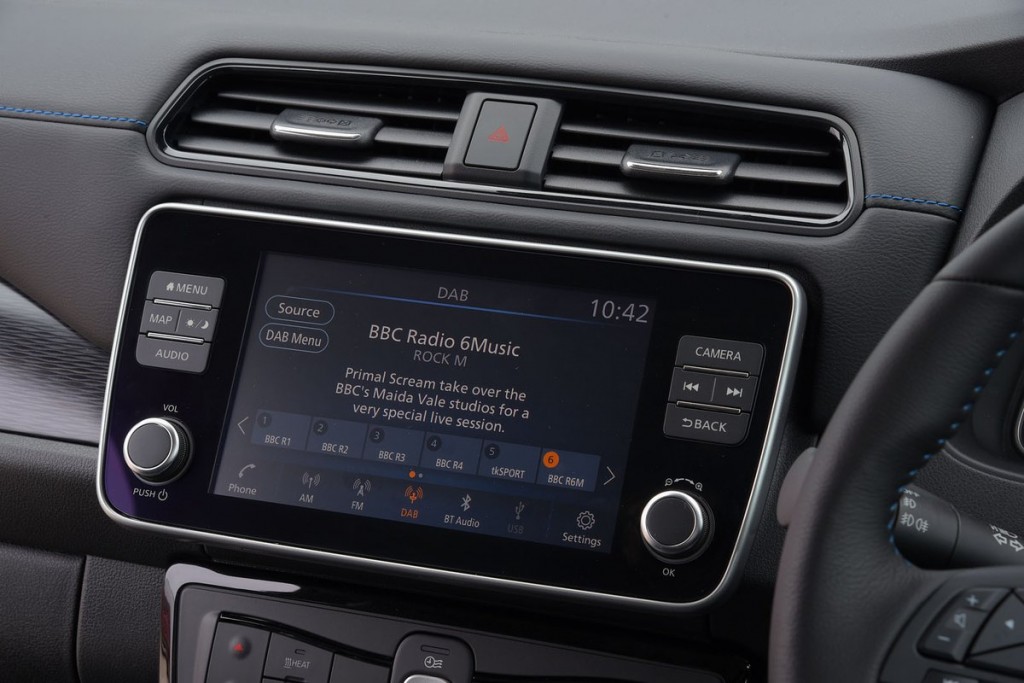 That all sounds very worthy. But surprise us
Step forward Nissan Propilot, a clever system designed to keep you out of trouble and help with various driving tasks.
For instance, it can track the car ahead of you and automatically maintain a safe distance, or even bring the car to a stop depending on the traffic flow. There is also a lane assist feature to prevent you from straying into the path of other cars on motorways.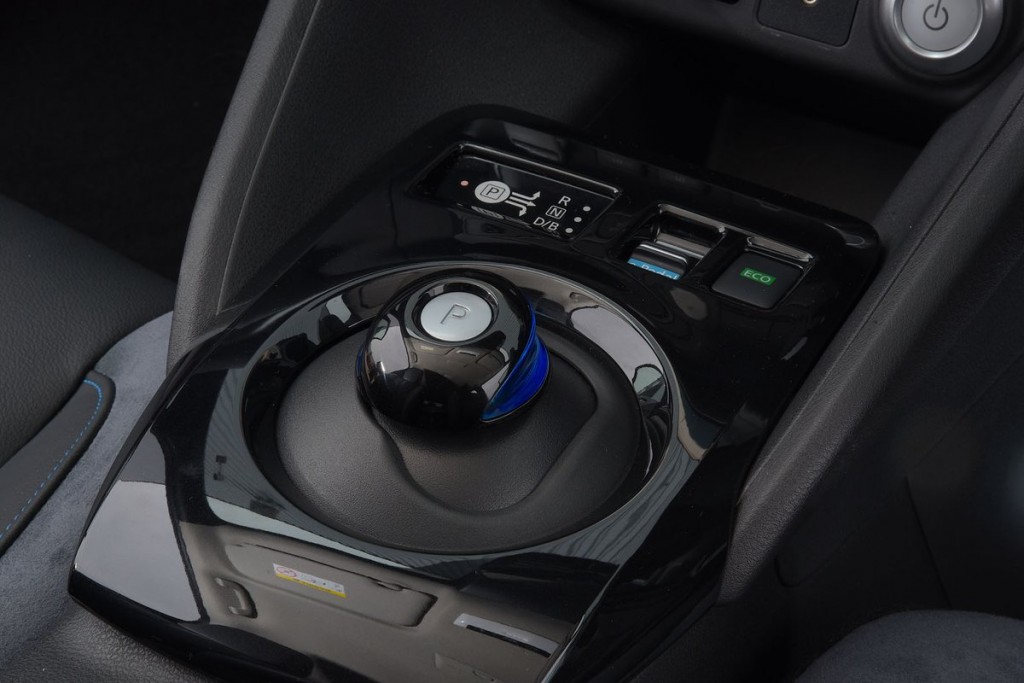 For an additional £795 you can also add Propilot Park. Point the car at a space and it will control the brakes, steering and acceleration to park your car without you needing to do a thing. This feature is only available on the range topping e+ Tekna model. 
If controlling your car from a distance appeals, then you'll also want the punctuation-defying Nissanconnect App. This allows owners to check the battery level of their Leaf, as well as adjust the climate controls inside the car, before they get in. If that sounds like a gimmick, wait until you wake up on a frozen winter's morning. Climbing inside a toasty, defrosted car that has been nicely warmed while plugged in will leave you feeling smarter than the average motorist.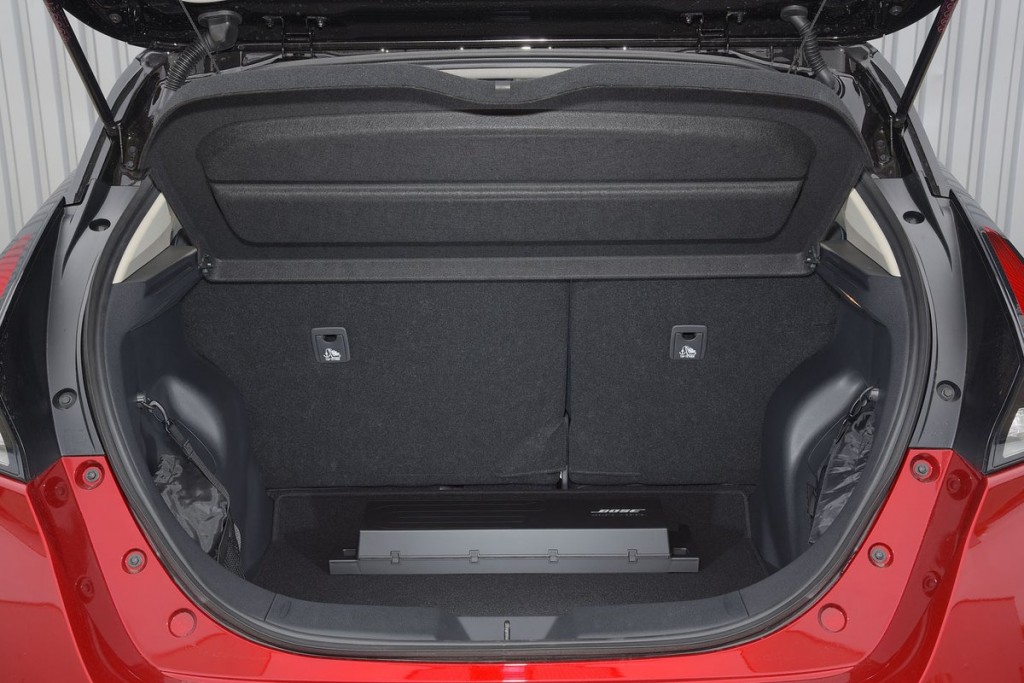 Any downsides?
Interior quality isn't great by comparison to other EVs on the market, with the Renault Zoe having much more premium feel thanks to its richer mix of materials. Meanwhile, the Kia e-Niro feels like a much more grown up vehicle . 
Not everyone will be able to get comfortable, either, because the steering wheel can only be adjusted up or down, so you can't pull it towards you or away from you. The vast majority of electric cars have far more adjustment, so this really is a bit of a shortcoming.
Should I consider any rivals?
The entry-level VW ID3 is the first car we'd suggest any prospective buyer compares the Nissan Leaf too. It offers excellent value for money, delivering a solid driving range of 264 miles, a good level of standard equipment and some tasty discounts if you shop around.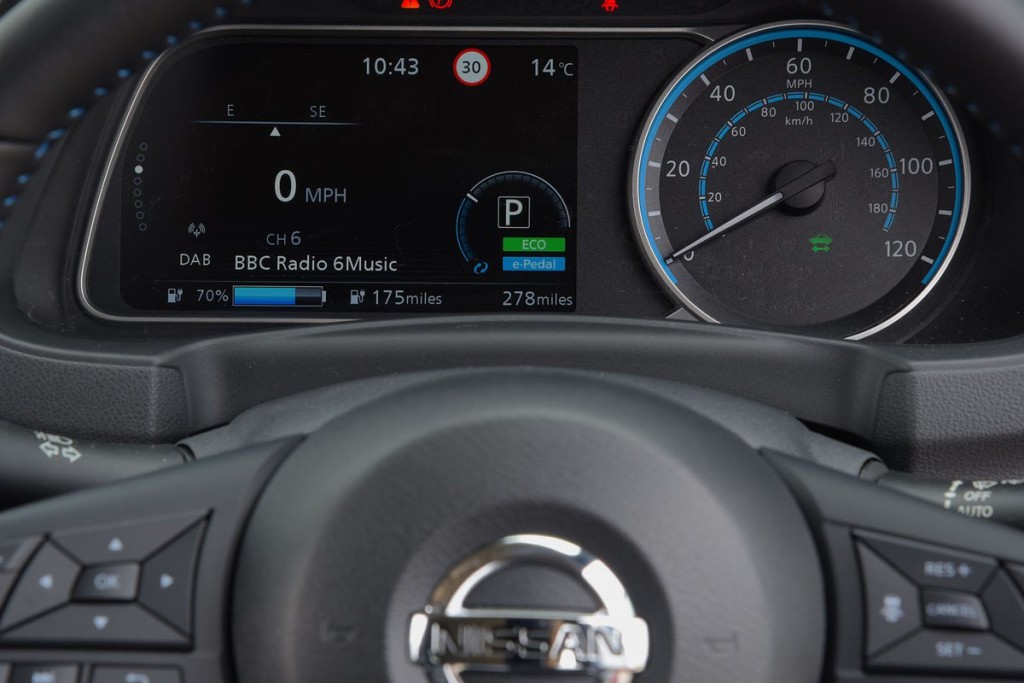 What's more, interior quality is somewhat better in the ID.3 and - despite our previous comments - we can't deny it feels more modern by comparison, with its digital dash and touchscreen infotainment system. It's also a good car to drive thanks to its accurate steering and excellent body control.
Other rivals include the BMW i3, Honda E, Kia e-Niro, Mini E and Renault Zoe.
Verdict
The Nissan Leaf regularly vies for the top spot in global EV sales charts. But, despite having an early advantage thanks to going on sale before every rival, its position at the top of the charts is slipping. Sure, it's comfortable and quiet to drive, it offers good practicality and the range in the e+ model is commendable. But always remember that many competitors offer more range between chargers, better interior quality and a more refined driving experience.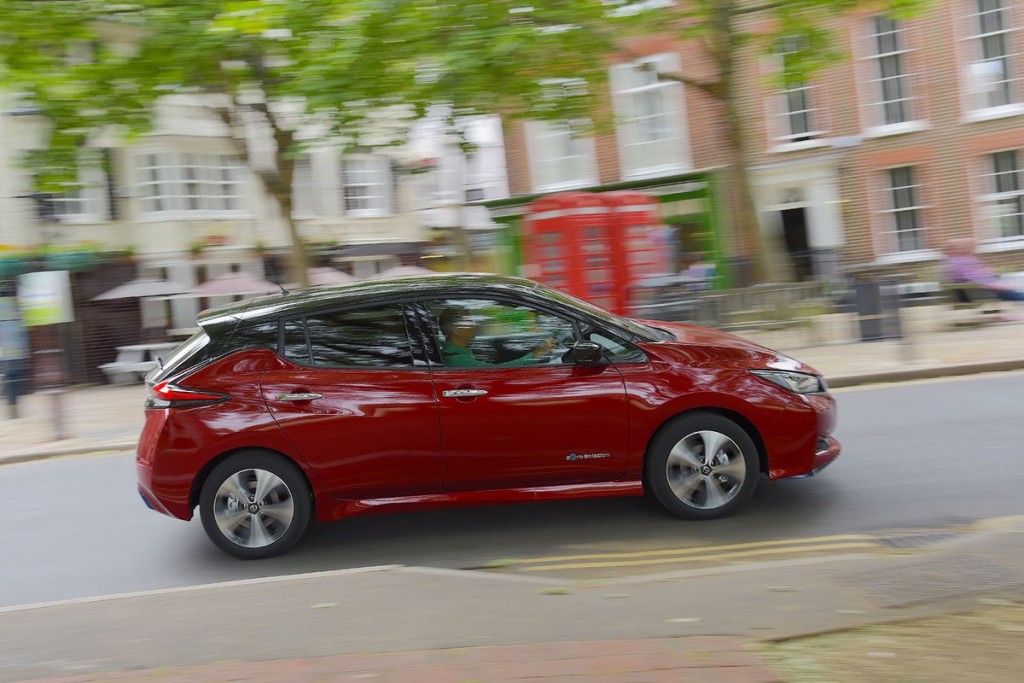 Nissan Leaf specification
Price from: £25,995
Motor: Electric synchronous motor
Gearbox: Automatic
Driven wheels: Front
Maximum power: 215bhp
Maximum speed: 89-97mph
0-62mph from: 11.5-7.3 secs
Electric range (official): 168-239 miles
CO2 emissions: 0g/km
Tyres: 205/55 R16 (Acenta) 215/50 R17 (Tekna, N-connecta, e+)
Kerb weight: 1580 to 1731 kg
Height: 1545mm
Length: 4490mm
Wheelbase: 2700mm
Width with mirrors folded: 1788mm
Maximum boot capacity: 420 litres
Rivals
READ MORE
e-CARS
e-BIKES
e-MOTORBIKES
e-SCOOTERS