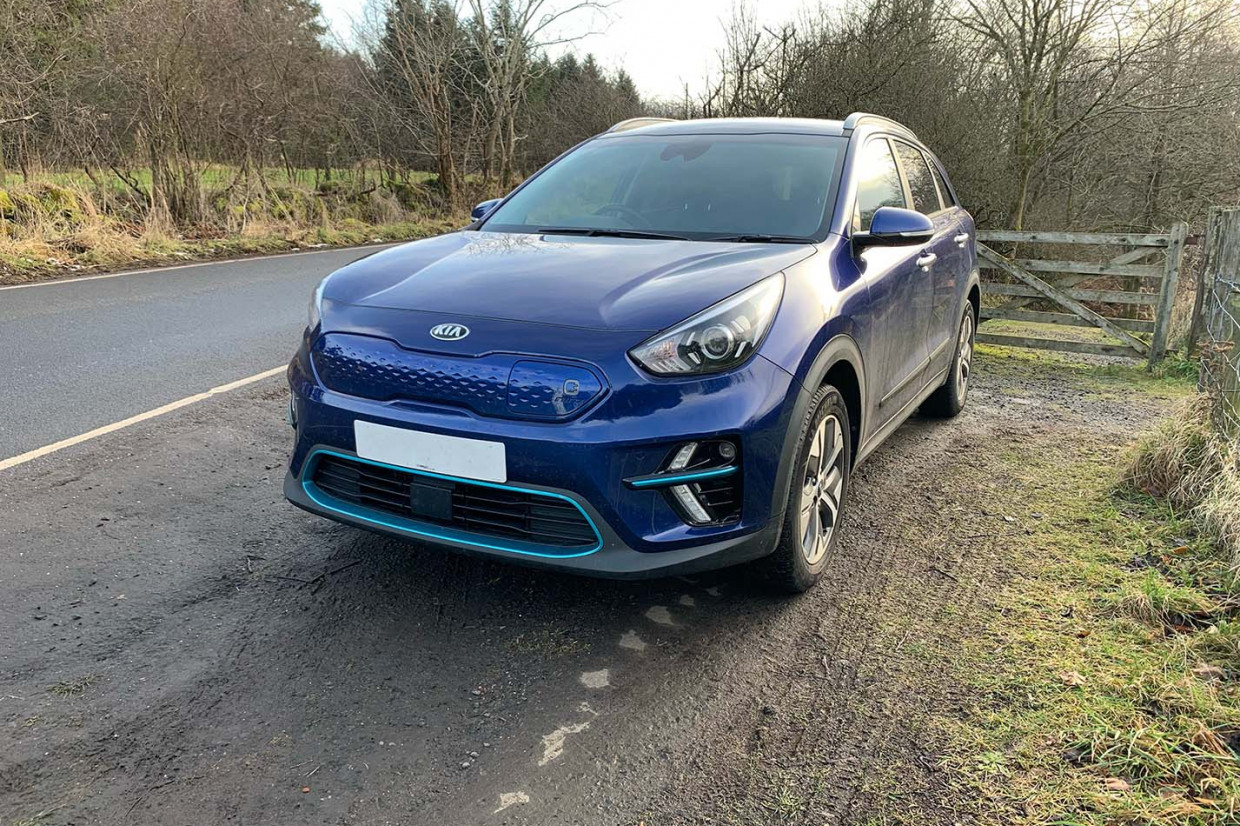 A year ago, I took the plunge and swapped my daily BMW X5 M and my wife's 12-month old Ford Puma for a Kia e-Niro 3 64kWh and a Renault Zoe R135 (50kWh battery). When the Hyundai Kona Electric first came out in 2018 it was, what I reckon to be, the first of the "affordable" EVs with a meaningful range, I drove it the 350 miles from home in Oxfordshire to Edinburgh and back to find out what the realities were and write about it in Autocar. It wasn't a token trip for me, but one I was doing several times a year to visit family. 
I'm a tech-nut and wanted it to work but at the same time, I won't make allowances for things that don't. If EVs are to be a substitute for conventional cars, they have to cost the same and deliver the same convenience. After that trip I came away in the certain knowledge of two things: that today's generation of reasonably affordable EVs could handle the range, but the rapid charging network for covering long distances was inadequate to the point of being a hopeless liability.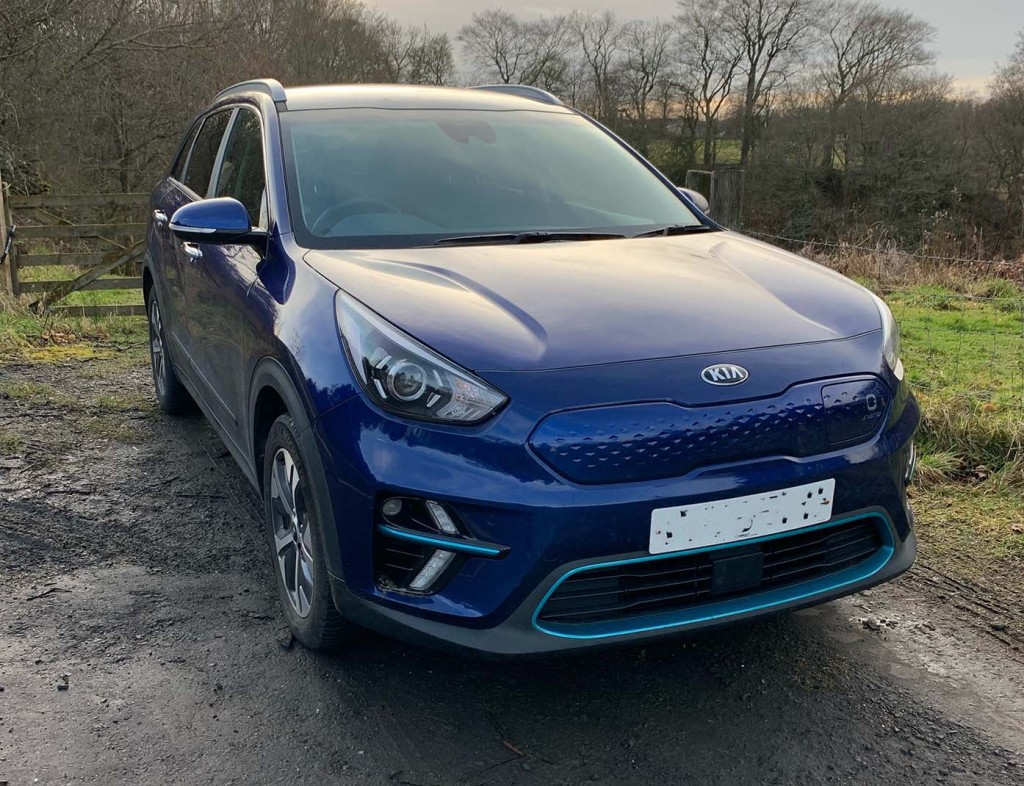 I did the same trip again the following year in an e-Niro test car and it was much easier, partly because I'd got the hang of anticipating infrastructure problems. Since then I've moved to West Lothian and do a similar, but longer trip down to Essex. I did six of the 800 mile round trips last year in the e-Niro, and another to JCB headquarters in Uttoxeter to cover the company's fascinating hydrogen story. That was 261 miles each way.
I love driving the Kia and in so many of the important details, it's one of the most complete and well thought out packages I've ever come across. During the pandemic, with mostly local miles only, I charge it on a home wall charger perhaps every 10 days. That's a big plus for me, I find stopping at filling stations tedious.
The e-Niro's range estimates are reasonable and the information screen updates as you use more energy, like when switching on the heating. For example, a few minutes before I sat down to pen this with the outside temperature at 4°C, the range was showing 255 miles on a full charge dropping to 219 miles with the heating on. Heated seats and steering wheel don't seem to make a deal of difference. Is the range difference between heating on and heating off bad? Not really. Conventional cars are heated by energy that is otherwise wasted (and paid for by the driver in fuel) whereas EVs waste very little energy and are more honest about it into the bargain.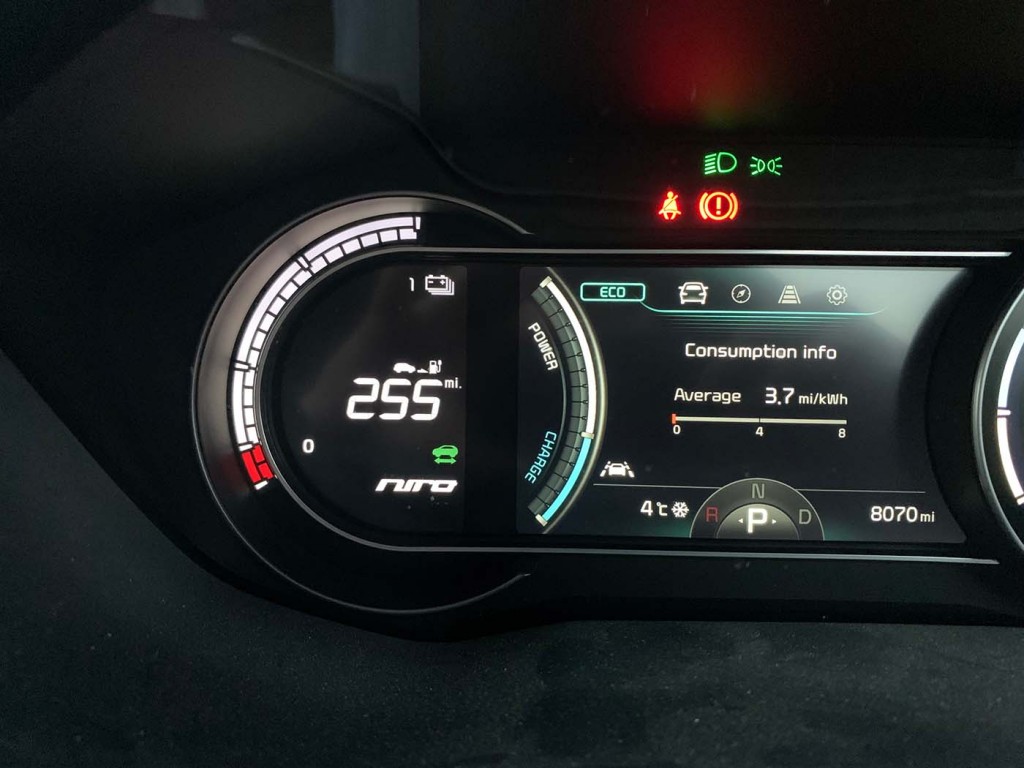 The e-Niro comes with the "UVO" phone app which works a treat, it gives the car's charge state and so on, but the main benefit is remote locking and pre-conditioning the cabin temperature whether or not it's plugged in. The interior heats up very quickly on the coldest days and I've included the heated seats and steering wheel in the settings. It communicates via the internet, not Bluetooth, so the car doesn't need to be in view or nearby.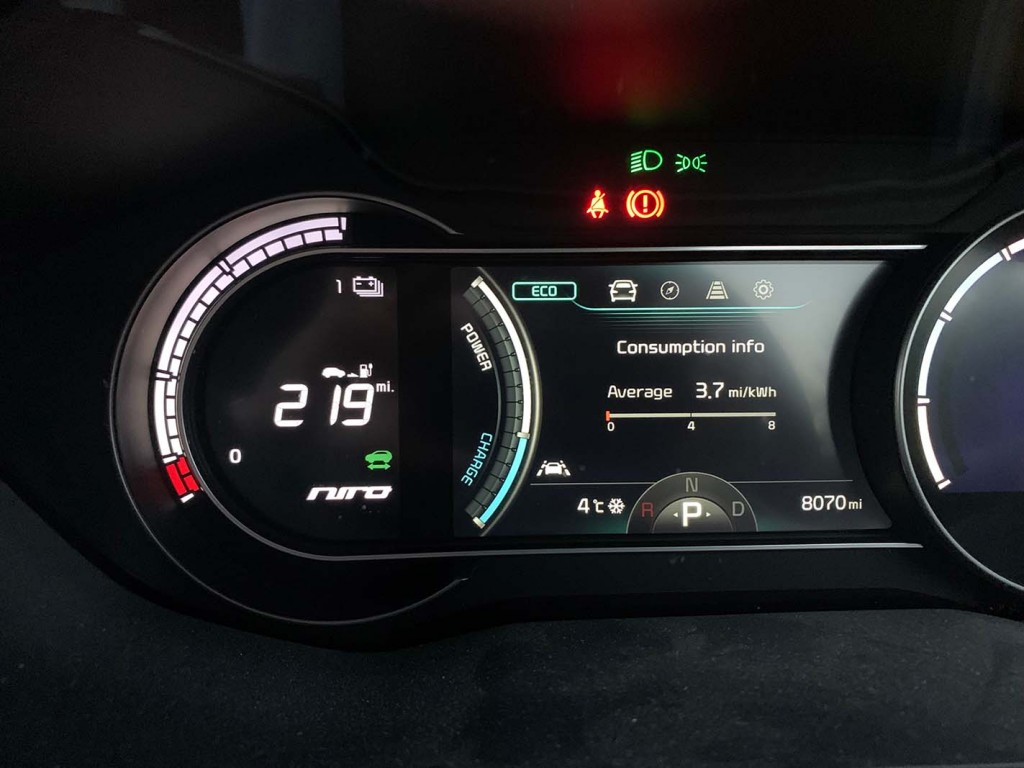 I've also realised that part of the answer to managing range lies in simply thinking about EV charging on a trip up front whereas with petrol and diesel cars it's not necessary. Even the latest Gridserve chargers, though good, can't be relied on 100%, so it's a brave driver who plans charging stops without enough range to reach an alternative. The petrol-diesel mindset of "I'll re-fuel when I get there" doesn't necessarily work with an EV.
There may not be fast enough charging (or any at all) at a destination but there are plenty of tools like Zap Map to help with that and the e-Niro's own nav system keeps you up to date with details of upcoming charge points en-route. I prefer Google Maps via Carplay for navigation but keep the Niro system, running in background if I want to for that reason.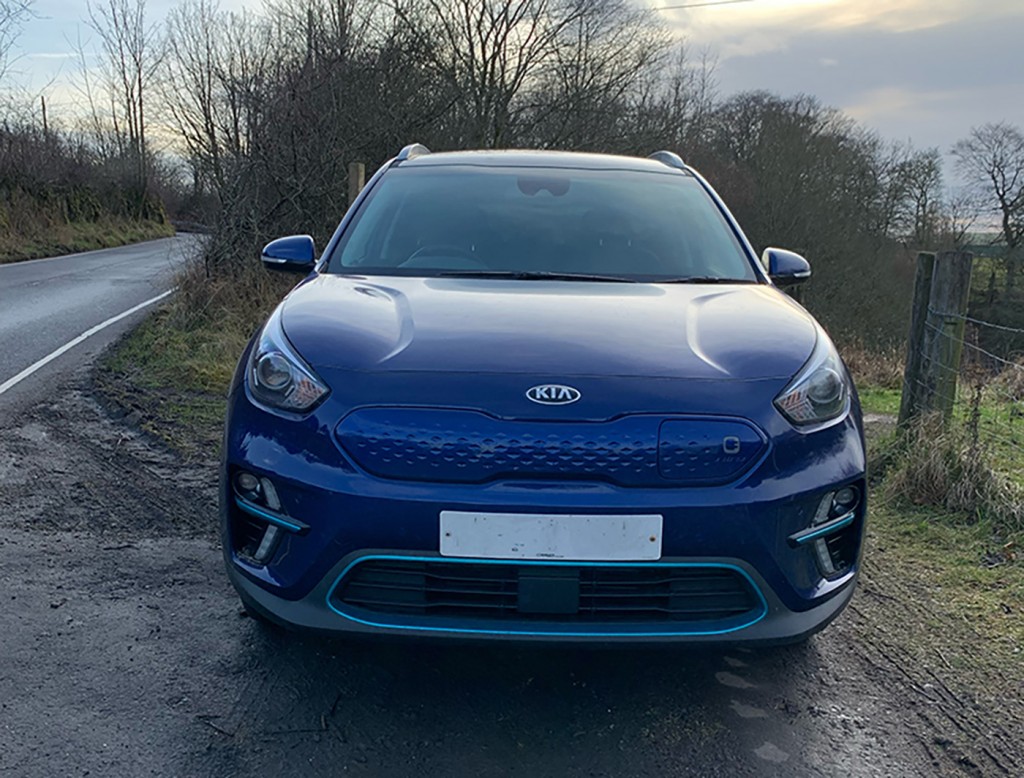 After a full year of EV-only transport, I reckon the ideal quoted range for an EV is around 320 miles. Given the cost of batteries, much more isn't really necessary unless you're going to bust a gut and do long journeys without a rest break and some grub. Why 300 miles? The e-Niro is quoted at 280 miles but working on winter conditions, I assume 250, minus the buffer for finding a charger that works, so allow 220. An extra 40 miles or so would be useful to have in the back pocket. 
On a 400-mile trip using trunk routes like the M6 it's worth remembering that while you might leave home with a full charge, a rapid charger only gives you 80% at high speed before the battery management system slows the rate of charge right down to a speed that isn't feasible on a road trip. It takes about 45 minutes for that at a 40 to 50kW charge rate depending what's left in the battery.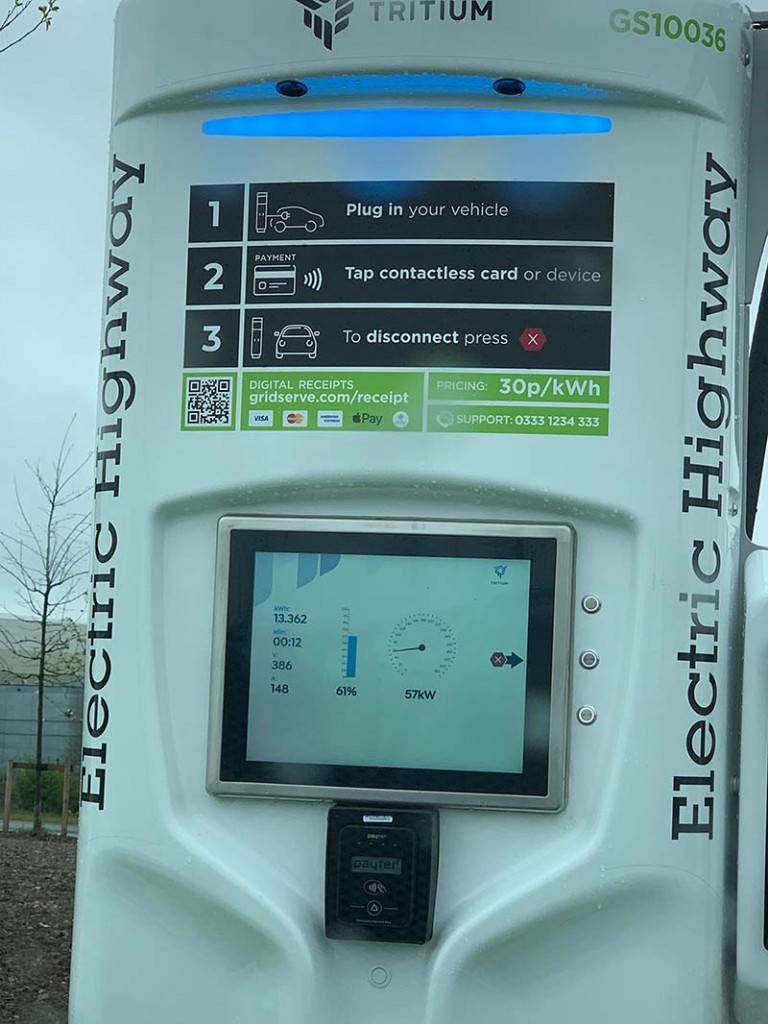 I'm also finding that even the reliable hardware of the latest Gridserve chargers is affected by the power available at a site. Having stopped once at everybody's favourite, Tebay on the M6 soon after the chargers had been upgraded, one of the two reported there wasn't enough power available coming into it, to deliver a charge. It was soon after lockdown and the place was heaving, presumably with the services draining massive amounts of power from the site's supply. 
The upside of giving EV re-fuelling some thought, is that thinking about the energy you're using also saves money. On that score, EVs are a lot cheaper to run anyway, with no road tax, cheap insurance and even cheaper home charging. I get a steady 3.7 miles/kWh from the e-Niro at 15p/kWh. So 250 miles on a home charge costs around £10. Even with forthcoming energy price hikes, it's still a massive win compared to over £100 a month for diesel in the X5.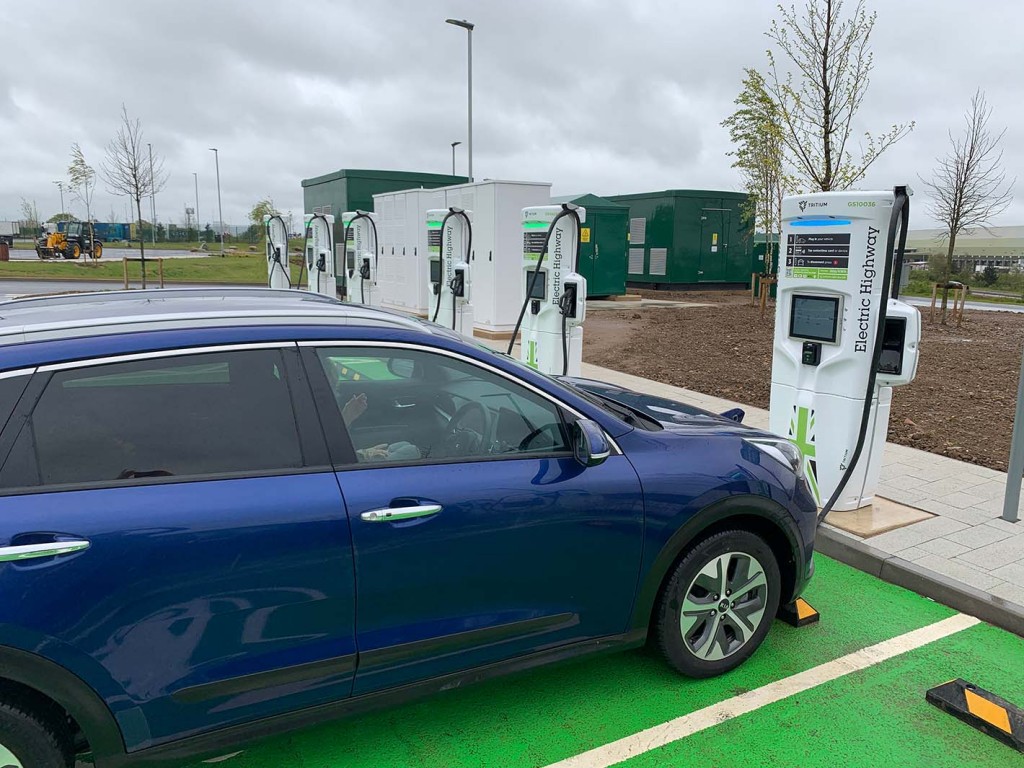 Owning a good EV has been the great fun I hope it would be. The performance is a blast and reliability has been 100%. The pros far outweight the cons so I'd be reluctant to go back to a petrol or diesel car for daily use. When the time comes to swap these two (which are on PCP so any EV-related residual value risks are the finance company's, not mine), I will happily take a cheaper, shorter range EV in place of the Zoe which doesn't ever get used for long journeys. EVs are still way too expensive but that should reduce the purchase price a lot if I choose the right car and I can't wait to see what's around when the time comes in 2024.
Jesse Crosse
READ MORE
e-CARS
The ten best-selling electric cars in the UK
e-BIKES
Cairn Cycles E-Adventure 1.0 e-bike review
Ten e-bikes we're looking forward to in 2022
e-MOTORBIKES
Ten electric motorbikes to look forward to in 2022
Art, sustainability and choppers - the wonderful world of Stirling Eco
e-SCOOTERS
Hypercar firm Bugatti's first electric vehicle is an 18mph e-scooter
Ride-hailing firm Bolt set for UK expansion after big investment
e-WORLD
Veolia to open first UK plant for recycling EV batteries
The new Bobcat T7X is a truly groundbreaking electric digger