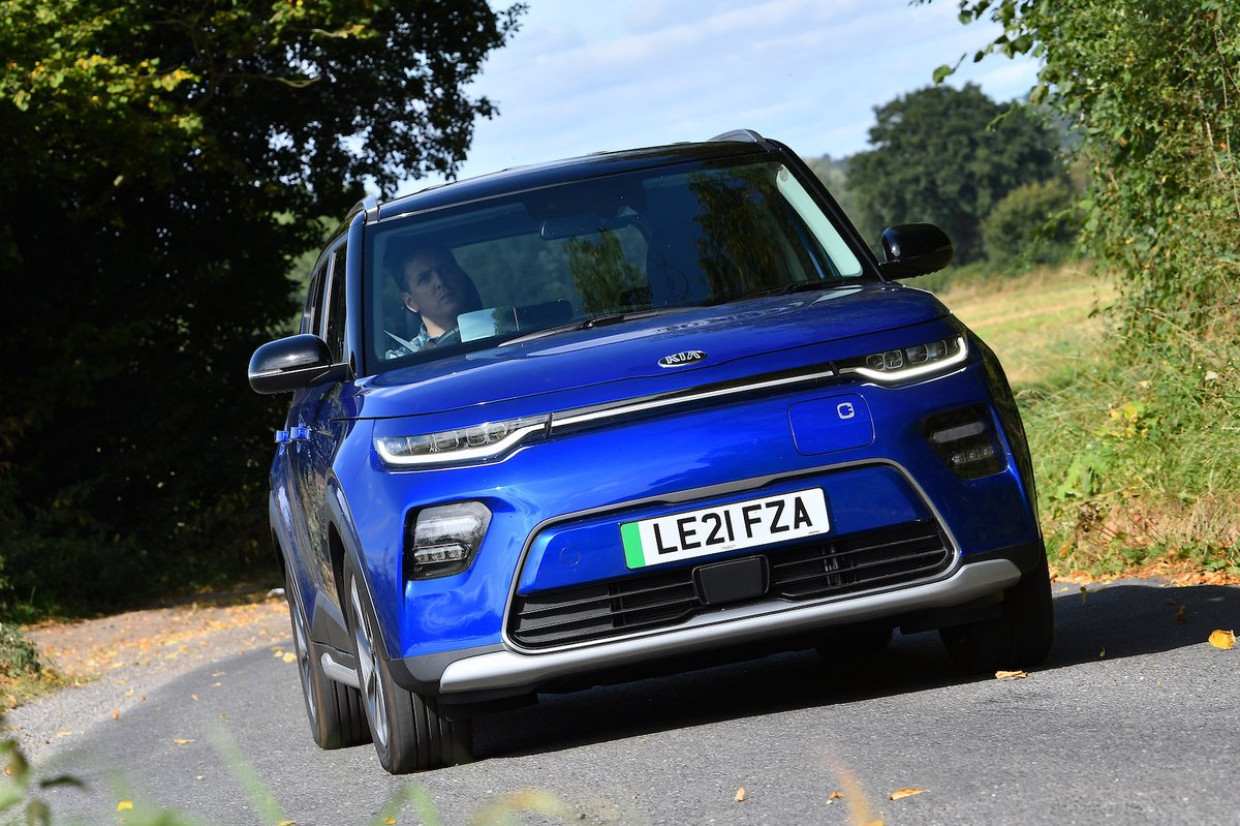 Move Electric verdict: four stars out of five
Sell it to me in a sentence….
If you're looking for an EV with a touch of character and, ahem, Soul, then this distinctive Kia is well worth a look, plus it's practical and packs a decent range.
Soul? You're not going to bombard us with cheap gags about music are you?
Wouldn't dream of it. We're certainly not going to jazz up this review by saying you should pop down to your local Kia dealer if you want a family car with a bit of funk. Okay, we couldn't resist, but clunky puns aside, the Soul is a surprisingly desirable small car that combines real personality with decent value and everyday usability.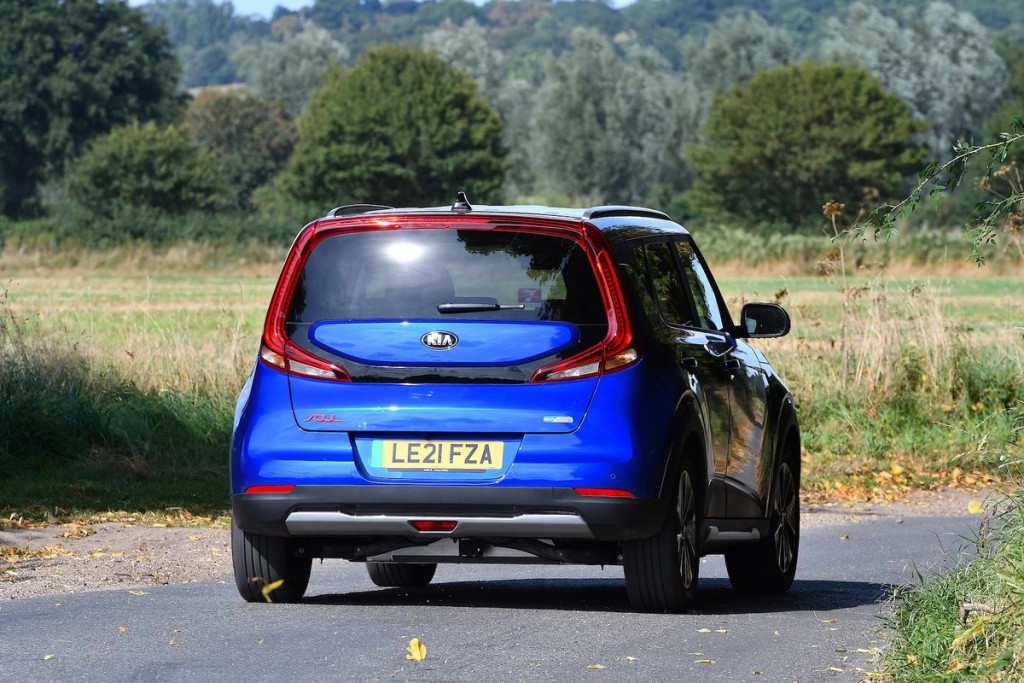 Okay, you're forgiven. What are the highlights?
Well, we've already touched upon it, but the Soul really is an attention grabbing small car. Unwilling to be neatly dropped into any class, it looks like a cross between an SUV, an MPV and a traditional hatchback. It's packed with neat details too, such as the LED rear lights that wrap almost all the way around the rear window and the contrasting roof colour. Available as a traditional and petrol in other countries, in the UK this quirky Kia can only be had with electric power.
The interior is equally stylish, with bold curves and soft touch materials helping to give it a surprisingly upmarket feel that many wouldn't expect from a Kia. There's only one trim level, the Maxx (yes that's right - two 'x's) but it comes loaded with the sort of standard equipment that would make an executive saloon owner green with envy. There's leather trim for the heated seats, climate control, a 10-speaker Harman Kardon stereo system.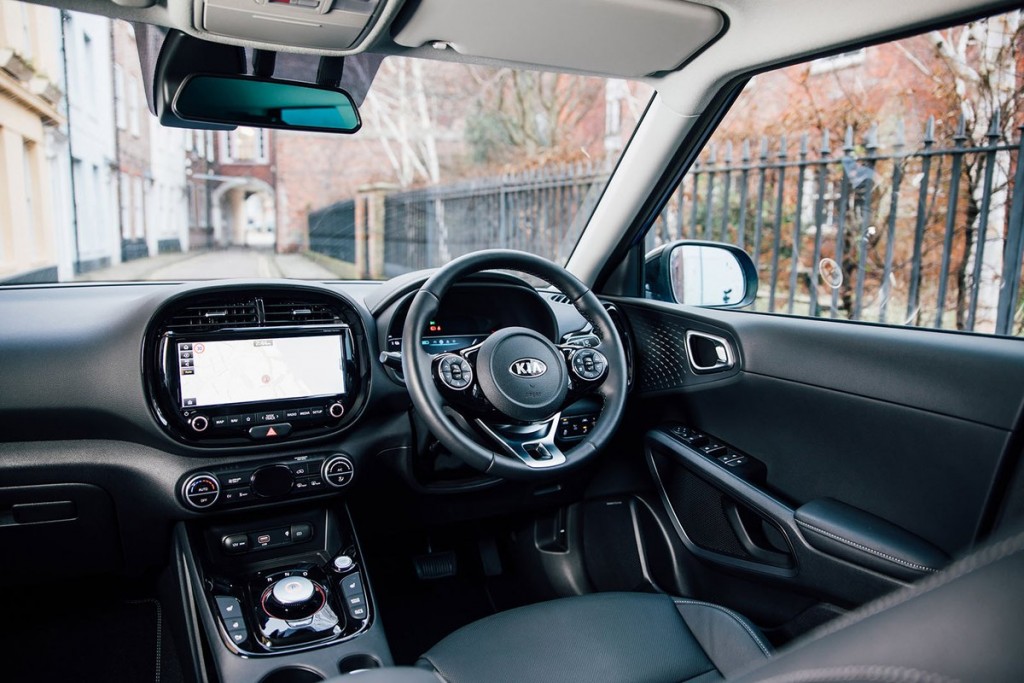 It's good to drive too, in an easy-going sort of way. Like so many cars the controls are simple, you just engage drive using the stubby gear selector that's handily mounted on the centre console, squeeze the accelerator and away you go. There are no clunky gear changes to interfere with your smooth progress, while the large windows, upright driving position and light steering make it a doddle to place on the road.
Regenerative braking is standard, slowing the car as you release the accelerator to feed power back into the battery. It feels a little strange at first, but you soon get used to it, while paddles on the steering wheel allow you to quickly and easily adjust the braking effect to a level you're comfortable with, from virtually nothing at all to near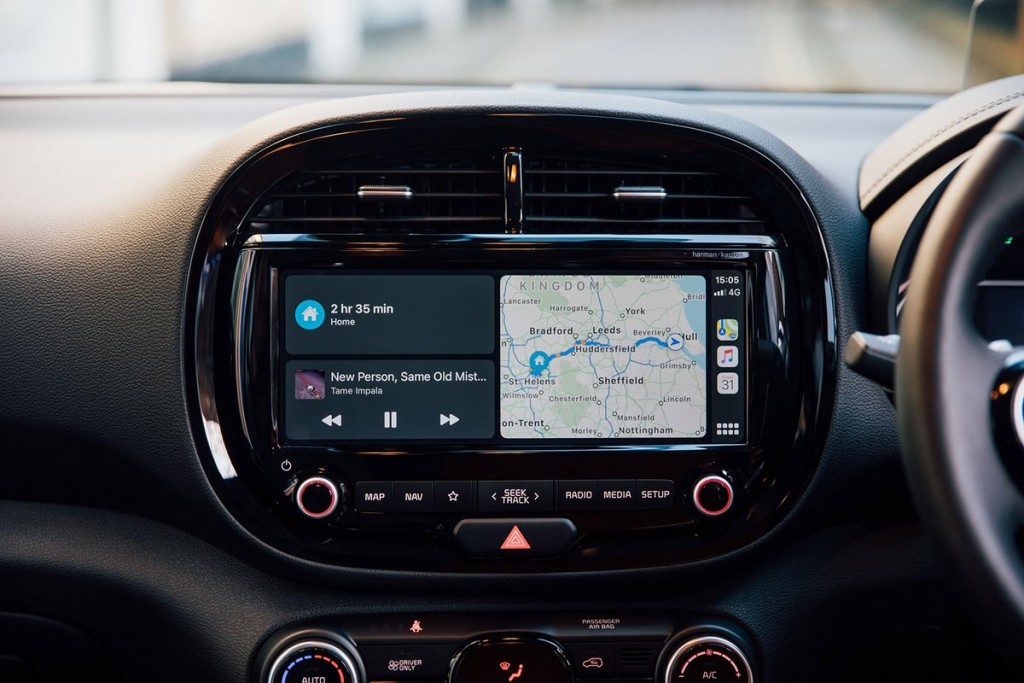 As you'd expect from an EV, it's quiet and comfortable, with very little noise from the motor or the road, while the suspension soaks away bumps and potholes. It feels safe and secure through a series of corners, and while it's not a car you'd take a spin in just for the hell of it, the Soul is nippy and agile, especially around town.
Oh, and pretty importantly for an EV it's got a decent range, meaning you shouldn't suffer from nail-biting anxiety every time you venture further than the local shops.
Ah yes, the range. Hit me with some numbers.
Kia has kept it simple with the Soul, so there's only one battery and motor combination. Shared with more expensive versions of the brand's slightly larger e-Niro SUV, the lithium ion pack delivers a healthy 64kWh and the front-mounted motor serves up a muscular 201bhp.
While it's a little more compact than the e-Niro, the Soul's upright styling is less aerodynamic, meaning it doesn't go as far on a charge. That said, a claimed range of 280 miles is not to be sniffed at, while our experience of the car suggests that over 200 miles is easily achievable, meaning you can confidently tackle longer runs without breaking out in a sweat.
That said, you'll need to not be in much of a hurry if you need to stop and top-up the battery on route. While the Soul supports rapid DC CCS charging, the maximum electricity flow it will accept is 100kW (rivals now offer 150 or 200kW), meaning you'll need just shy of an hour to replenish the cells to 80 percent capacity. This is fine if you're planning a leisurely lunch, but if you're in a rush to make an appointment it could prove costly.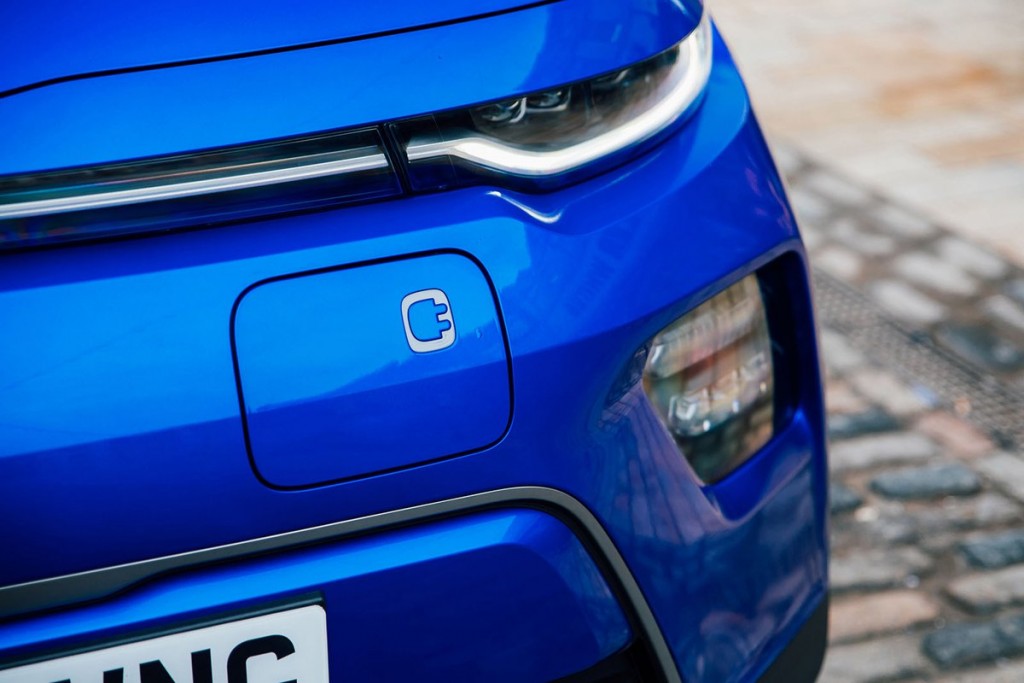 Most owners, however, will charge using a 7kW domestic wallbox that can have the battery brimmed in just over nine and half hours - perfect for overnight use. There's also a three-pin slow charger for emergency use, but this requires 29 hours for a full charge.
In terms of performance, the Kia is faster than it looks. With that hot hatchback-rivaling 201bhp output the Soul can sprint from 0-62mph in a claimed 7.9 seconds, which is far from shabby.  What's more, it feels even faster in the real world, the motor's instant power delivery allowing you to zip past slower traffic in the blink of an eye. In fact, some care is needed when accelerating, particularly in wet or slippery conditions, as the Soul can quickly spin its skinny front tyres.
It's stylish and can go far, but is it sensible?
Look beyond it's eye-catching exterior, and the Kia is actually a rather sensible machine. Similar in size to a traditional family hatchback such as a Volkswagen Golf, it serves up decent space and versatility.
Of course it's quite a tall car, which in combination with a rather upright seating position means that there's more space than you'd think inside. In fact, it's fractionally more accommodating than the larger e-Niro, with even taller adults finding decent head and legroom in the back.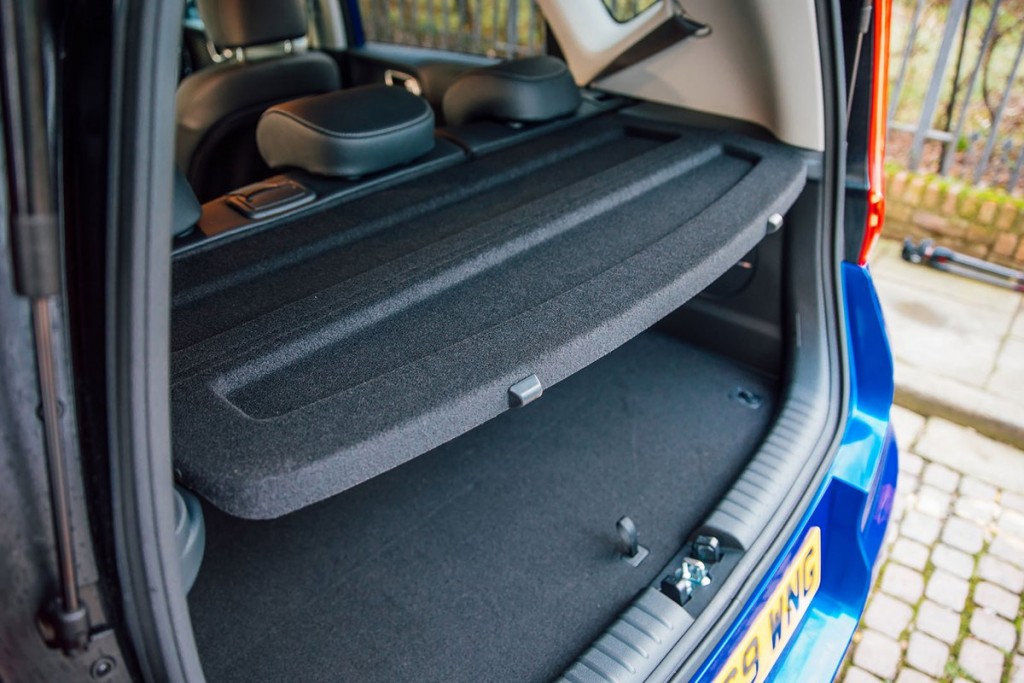 It's even roomier up front, where you'll find a wide range of seat adjustment and a large, deep windscreen that creates a panoramic view out. There's bags of storage too, with a big lidded cubby between the front seats, a tray for your mobile phone, a cavernous glovebox and numerous cup holders (of course). 
At 315-litres the boot isn't all that big (a Volkswagen Golf's is 381-litres) but it has a handy variable height floor with space below to store charging cables - you'd be amazed how many EVs overlook this. You can also quickly fold the rear seats flat, while a 60/40 split-fold function adds to the versatility.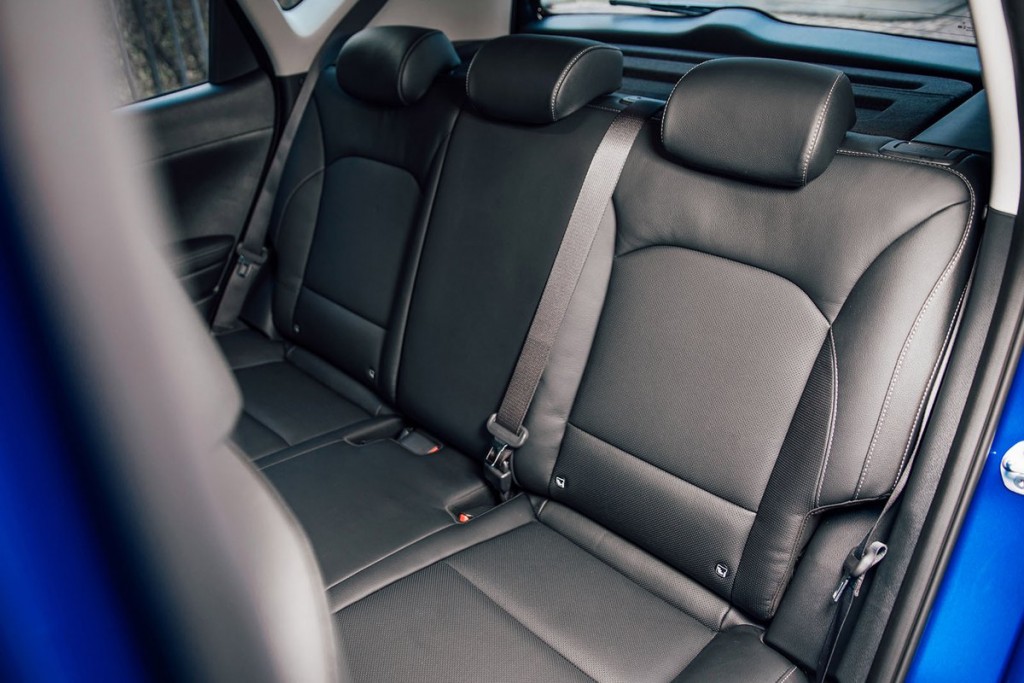 Anything else I should know?
There are maybe a couple of other things to point out, not least the Soul's clever tech. For starters, its 10.25-inch infotainment system is easy use and packed with features, such as Apple CarPlay and Android Auto. The display features crisp graphics and easy to use menus, while the unit itself is mounted high in the dashboard, allowing you to access its functions without taking your eyes off the road for too long.
The Soul is also crammed with handy driver assistance systems, such as adaptive cruise control that maintains the gap to the car in front by automatically controlling the accelerator and brakes. It also features (deep breath) lane keep assist, lane departure warning, autonomous emergency braking, blind spot monitoring and rear traffic alert (for when you're reversing out of a parking space). Hell, the headlamps will even automatically dip and engage the main beam for you.
Oh, and there's also Kia's famous seven year warranty for even more peace of mind, complete with its lengthy 100,000 mile limit.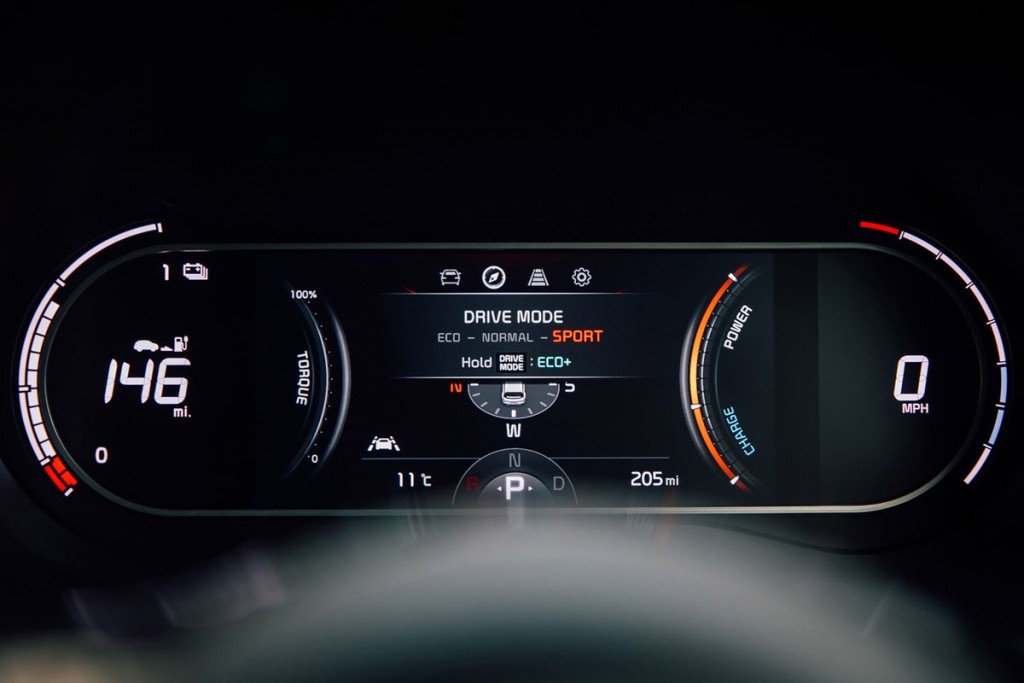 C'mon then, what's the bad news?
To be honest, we'd be splitting hairs to find fault with the Soul, but like most things in life the Kia isn't perfect. There are one or two niggles that are far from being deal-breakers yet should be taken into consideration before you take the plunge.
While it's easy to drive and delivers brisk performance, it's not exactly fun in the traditional sense. Keen drivers will find the Kia precise and accurate, but there's very little in the way of excitement and if you like taking the long way home the Soul is unlikely to be top of your list.
Then there's the price, which at £34,995 is exactly the same price as the slightly larger Kia e-Niro, which shares the same battery and motor, and has a slightly longer range. Yet the bigger car isn't as stylish or well-equipped, meaning choosing between these two is a real 'head vs heart' situation.
Finally, there's that 100kW rapid charging limit, which is likely to date the Soul from a usability point of view. Such is the rate of change in the EV sector that this figure is already feeling a bit prehistoric against a landscape of cars with 800V electrical tech and a public charging network that can now replenish a battery at a rate of up to 350kW. One great example of such a car: Kia's own EV6.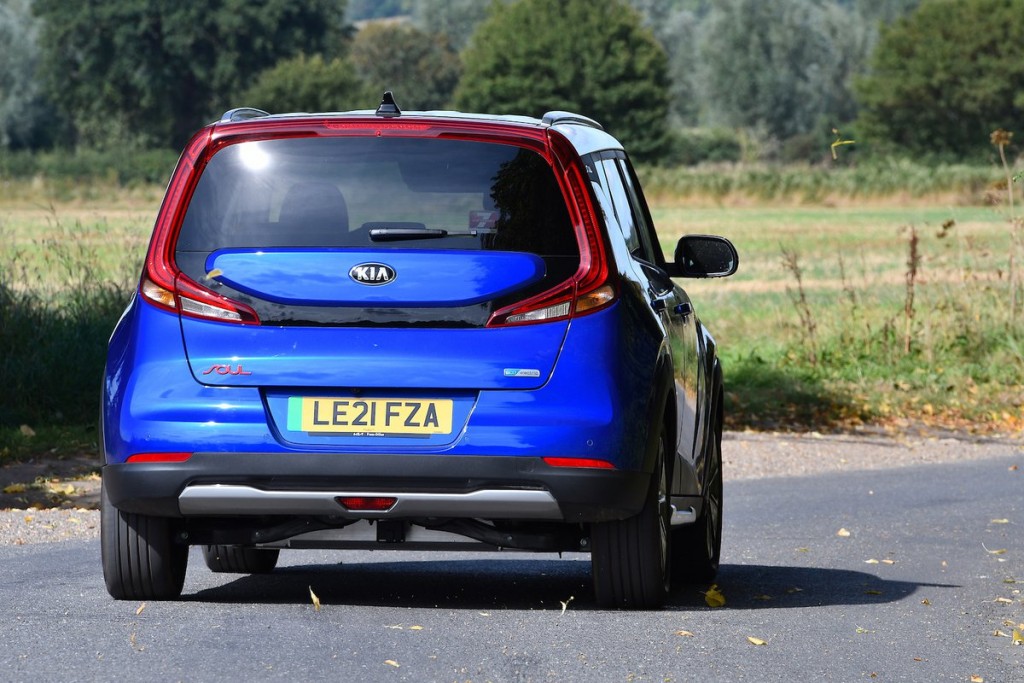 Putting these concerns aside, what are my other options?
Well, as we've seen Kia already offers a more practical and sensible alternative in the form of the popular e-Niro. Then there's sister firm Hyundai that has the smaller but similarly powered (64kWh battery and 201bhp motor) Kona Electric.
If you're after a stylish and fun option and to hell with the practicality, then the Mini Electric is well worth a look. Its rear seats and boot are laughably small, while its range is ridiculously short, but the agile handling and zappy performance will keep you smiling.
Equally good looking and with a similarly SUV vibe to the Soul is the Peugeot e-2008. It's range is nearly 100 miles short of the Kia's and it's not as quick, but it turns heads, is well-equipped and has a reasonably roomy interior.
Verdict
Head-turning looks, a good range, an excellent warranty as decent practicality make the Soul a quirky and characterful alternative to more mainstream family EVs.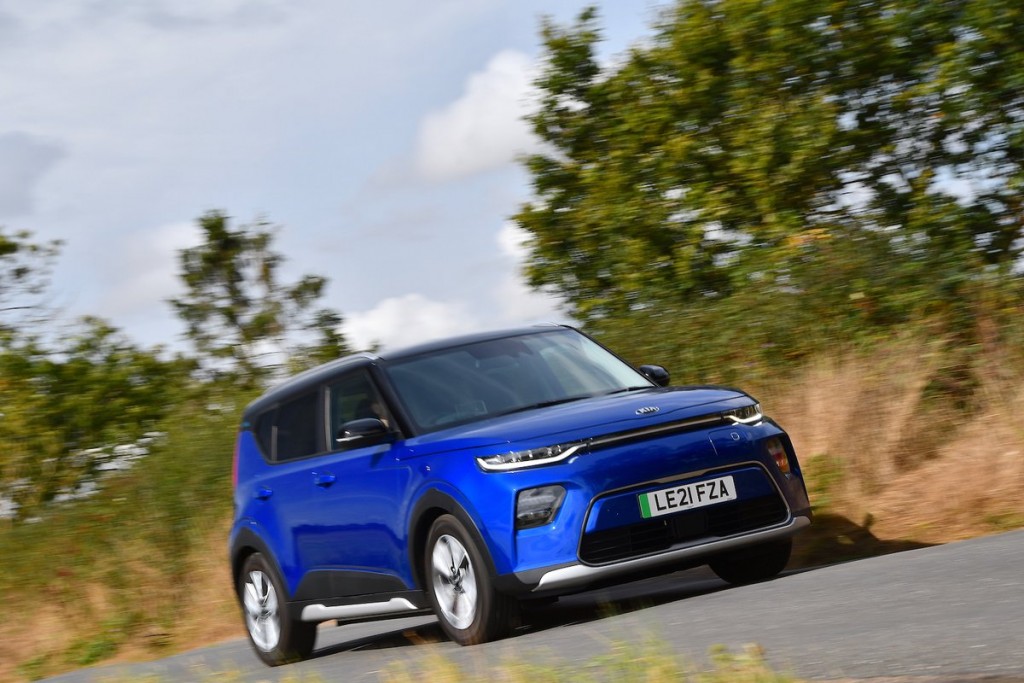 Kia Soul EV specification
Price from: £34,995
Motors: Electric permanent magnet synchronous
Gearbox: Automatic
Driven wheels: two
Maximum power: 201bhp
Maximum speed: 104mph
0-62mph from 7.9secs
Electric range (official) 280 miles
CO2 emissions: 0g/km
Tyres from: 215/55 R 17
Kerb weight excluding driver: 1757kg
Gross vehicle weight: 2180kg
Height: 1605mm
Length: 4195mm
Wheelbase: 2600mm
Width with mirrors folded: 1800mm
Maximum boot capacity: 315-1339 litres
Rivals
READ MORE
e-CARS
e-BIKES
e-MOTORBIKES
Seat Mo 125 electric scooter review
e-SCOOTERS
Exclusive: E-scooter CO2 saving
e-WORLD