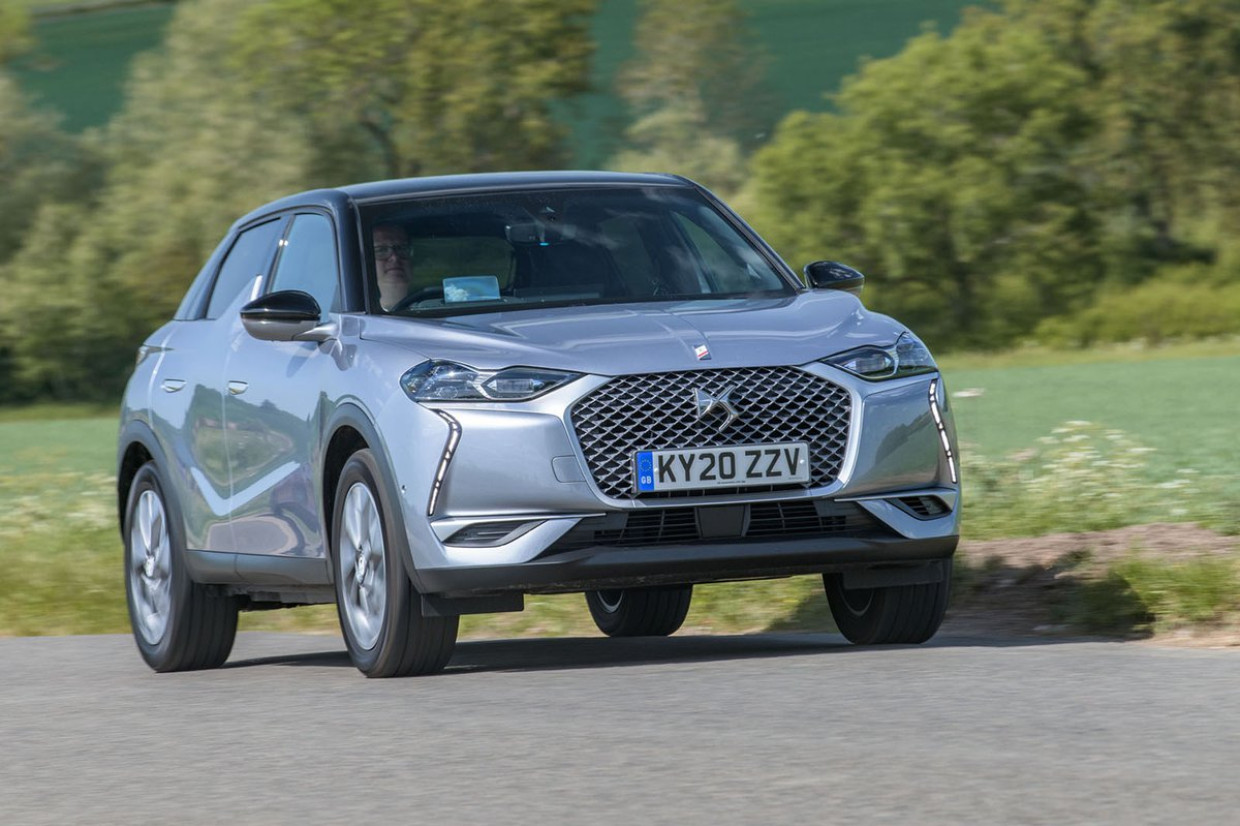 Move Electric verdict: three stars out of five
Sell it to me in a sentence….
The DS3 Crossback E-Tense is a small SUV that aims to tempt buyers with distinctly French flavour of luxury and style, while also undercutting traditional premium rivals on price.
That's a fair bit to take in, but tell me more.
This is the first EV from the fledgling luxury French brand (essentially its Citroen's posh alter ego). Yet under its distinctive compact SUV body work it uses the same electric motor and battery as the Peugeot e-2008 and Citroen e-C4.
However, DS claims the Crossback is a much more upmarket proposition, with its own unique style on the outside and an interior that's rich in premium materials and dripping with the latest technology.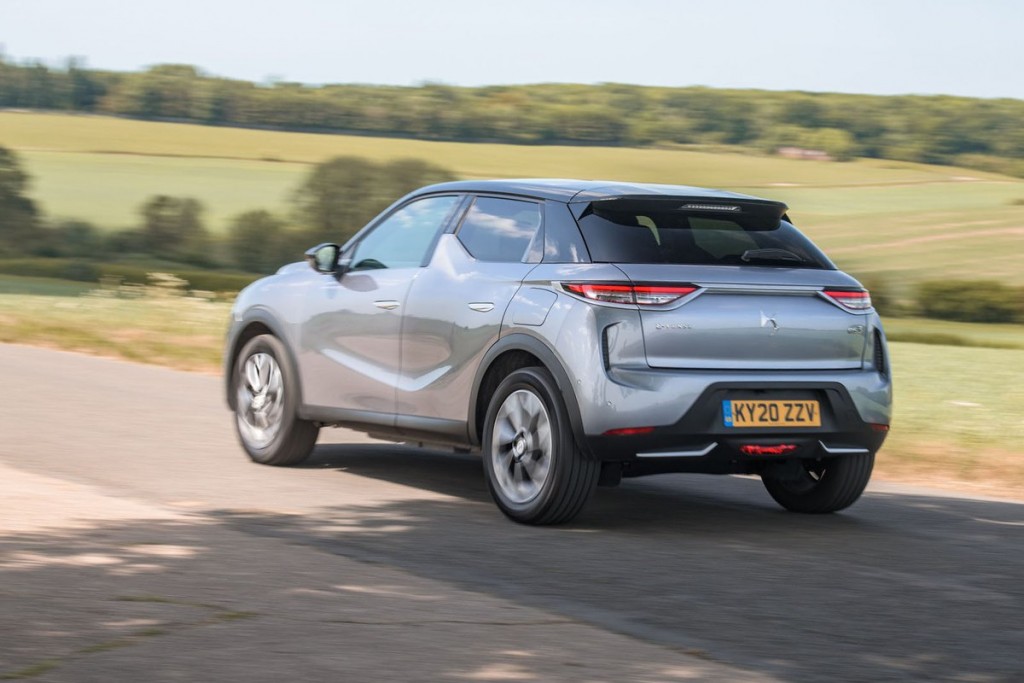 DS3 Crossback, isn't that also an internal combustion engined model?
Yep, that's correct. Unlike models such as the VW ID3, the DS3 isn't built on a bespoke EV platform but instead shares its structure with traditional petrol and diesel engined versions. 
That said, while it doesn't have some of the packaging advantages of standalone EV models, the DS3 Crossback was designed to be electric-powered as well, so in terms of practicality, space and usability it gives nothing away to the fossil fuel-powered versions as there's no reduction passenger space or boot capacity to make way for a battery.
So, what are the highlights?
Obviously beauty is in the eye of the beholder, but there's no denying the DS3 Crossback has a certain 'je ne sais quoi', as they say in France. With a body that's made up of curves, sharp creases and interesting shapes, the E-Tense looks like nothing else on the road.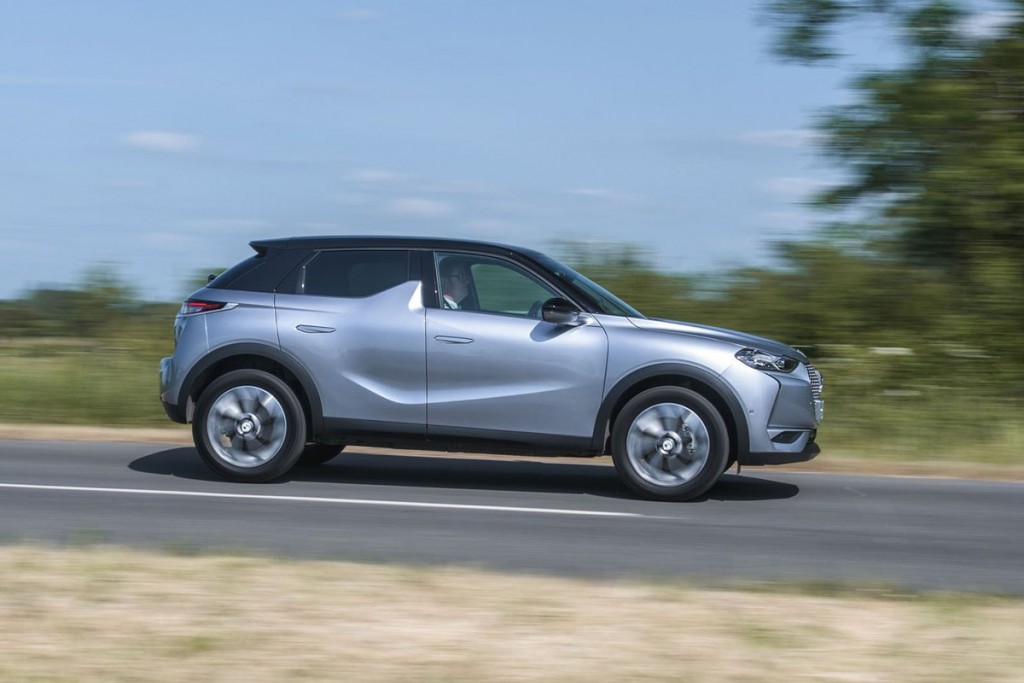 It's certainly not to all tastes, but it makes no bones about trying to be different. There are loads of neat touches too, such as the door handles that pop out when you unlock the car, the reversed shark fin panel in the rear door and the numerous customisation options that allow you to add a personal touch .
This bold approach continues inside, where you'll find a cabin that's distinctive and luxurious in equal measure, and for many it will come as a breath of fresh air of the sober-suited look of many premium rivals.
It's clear that diamond shapes are the order of the day, as they appear everywhere, from the air vents through to the switches for the hazard warning lights and the speaker grill surrounds. It's luxurious too, with leather covering almost every surface, including the seats, dashboard, wheel and door trims. You probably won't be surprised to learn that diamond patterns are stitched into much of it.
Yet for all its quirky visuals the DS3 is actually very straightforward to drive, just like the internal combustion-engined version. Relatively compact dimensions make it easy to place on the road, while the steering is light and accurate. There are no gears to worry about either, the single speed automatic requiring you to do no more than select drive and then forget about it.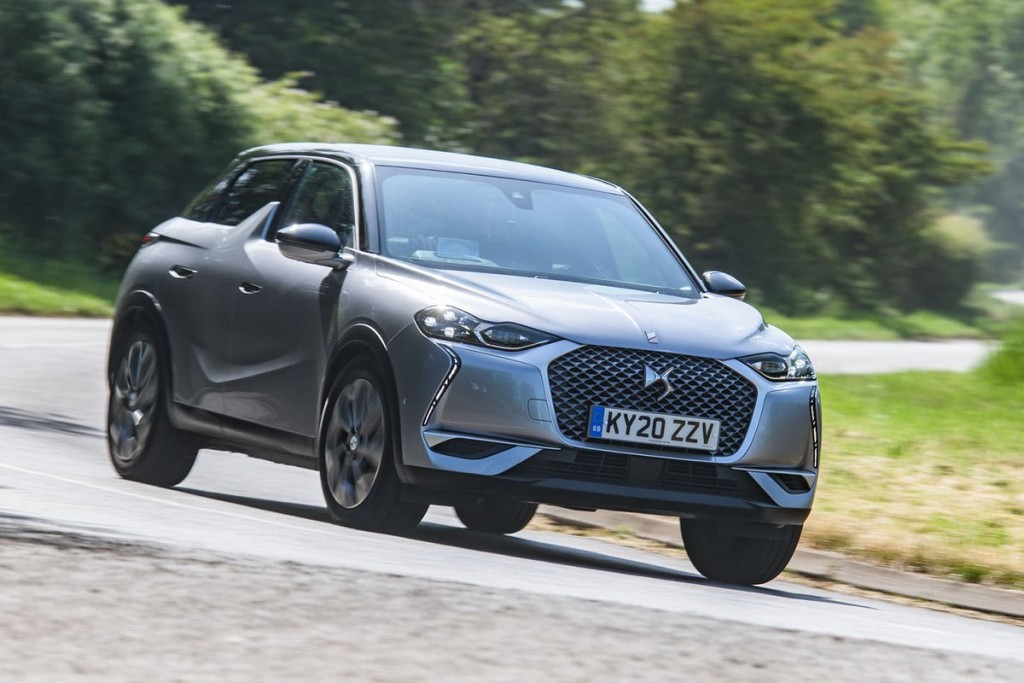 It's also remarkably quiet and comfortable. Not only is the electric motor whisper-quiet, engineers have added extra sound-proofing to eliminate roar from the tyres and reduce wind noise, making it better than the standard car, if not class-leading.
Like other DS models the DS3 Crossback has soft suspension for soaking up bumps, which in combination with the wide and squidgy seats makes it remarkably relaxing regardless of the journey.
Okay, I'm sitting comfortably, so now hit me with some stats and facts
If you've spent any time studying the Peugeot e-2008 or Citroen e-C4, then the DS3 Crossback's vital statistics will look remarkably familiar. That's because they all use the same 50kWh lithium ion battery that powers a 134bhp electric motor driving the front wheels.
According to DS the E-Tense should be able to travel up to 206 miles on a single charge, which unsurprisingly is almost identical to the e-2008m - although it is further than a BMW i3 can manage. Our time with the car in real world testing suggests that 140 miles is the minimum you can expect, with around 170 miles a realistic target.
Like its close relatives, the DS benefits from the ability to charge at up to 100kW using a DC CCS rapid charger. This makes longer journeys relatively hassle-free as you can get the capacity back up to 80 percent in just 30 minutes, which is more than enough time to stop for a bite to eat and trip to the loo.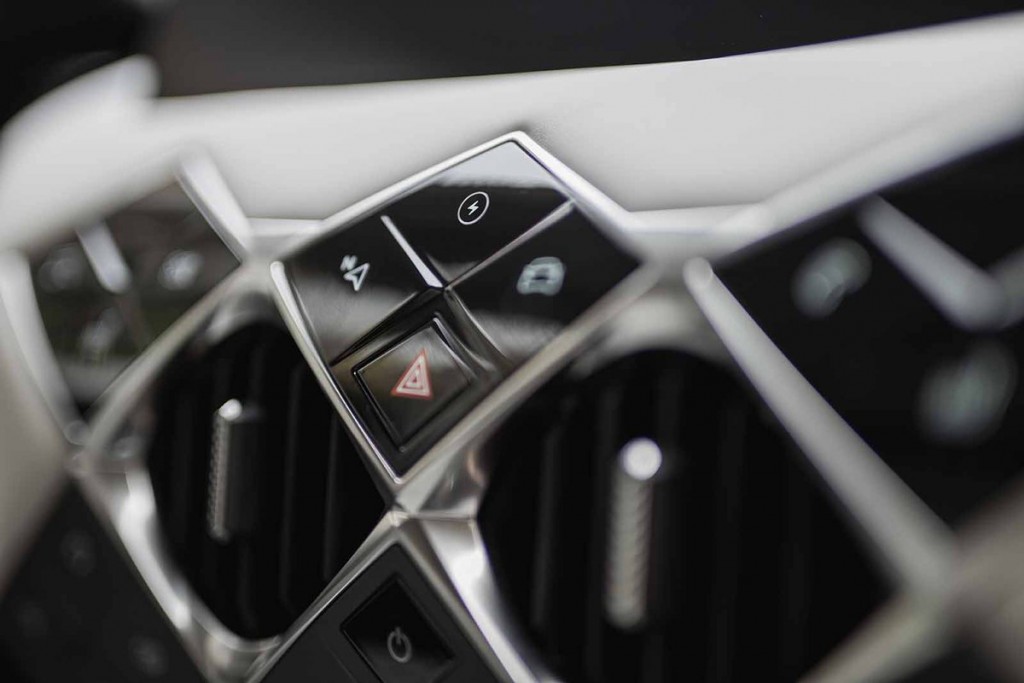 At home you're most likely to use a 7kW domestic wallbox, which can replenish the battery in seven and a half hours, which means an overnight charge for most. That said, all versions get an 11kW onboard charger, meaning it can handle rapid AC charging from a three-phase supply if you have access to one.
There's just the single motor choice for the Crossback, so that's one less thing to worry about when thumbing through the brochure. Performance is brisk but not as neck-snappingly fast as some EVs, the 0-62mph taking 8.7 seconds. 
If you've never driven an electric car then the French car's lack of zap will actually be reassuringly familiar, even if the welcomingly smooth and seamless delivery of the power won't. It's not a car to get the blood-pumping, but for most in the market for a luxurious and compact SUV, that's just fine.
You mentioned technology earlier, what can I expect?
Ah yes, that's true. DS is keen to pitch itself as both a luxury brand and one that pioneers the latest tech. So depending on the version and the depth of your pockets you can get a heads-up display, a larger 10-inch infotainment screen and LED matrix headlamps. All very fancy.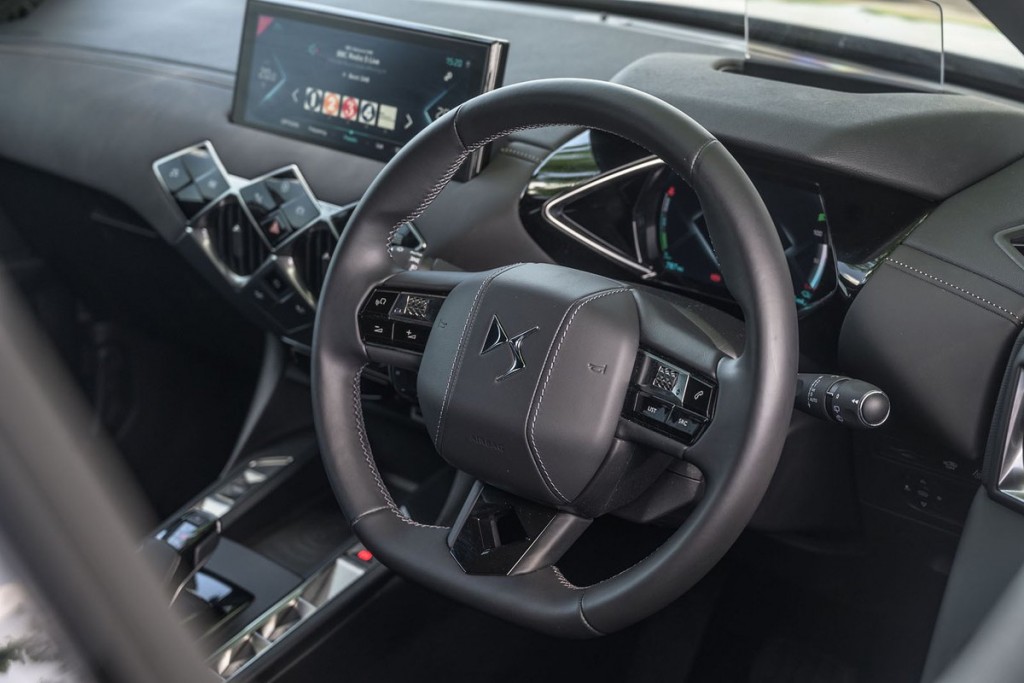 There's also the optional Drive Assist set-up. As the name suggests, this system combines adaptive cruise control and active lane keeping aid to deliver a limited form of autonomous driving. So long as you keep your hands on the wheel, then between 40mph and 110mph on the motorway the DS can effectively steer, accelerate and brake itself.
Very clever, but what about the sensible stuff?
There are more practical alternatives to the DS3, but it has just enough space and versatility to pass muster as an occasional family car. Taller passengers won't be sending you a Christmas card if they've been asked to endure a long journey in the back, but kids will be absolutely fine.
And while the interior looks a bit wacky, it packs a decent amount of storage, with cupholders galore and useful lidded cubbies. There's also a usefully-sized 350-litre boot that features a variable height floor, plus a 60/40 split/fold rear seat that can be lowered in seconds at the touch of a button.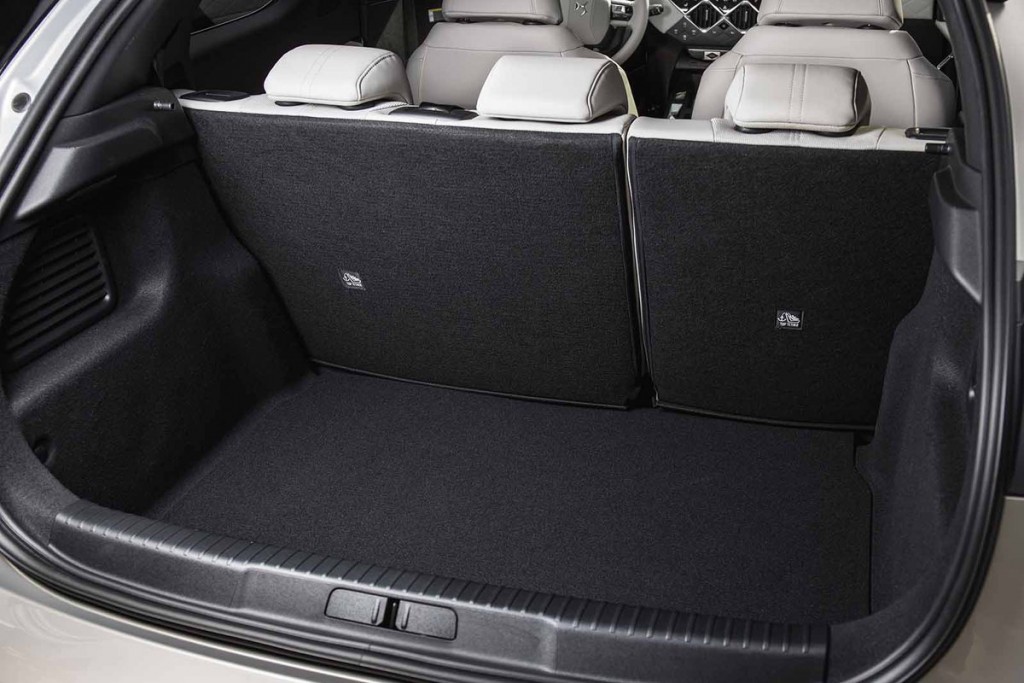 You can't grumble about the amount of kit on offer either, with all versions getting climate control, keyless start and touchscreen infotainment with Apple CarPlay and Android Auto. Speaking of trim levels, the E-Tense is available in exotic sounding Bastille, Rivoli and Performance Line guises. Oh la la!
Just bear in mind that only the lower spec versions qualify for the Government's £2500 plug-in grant, making them considerably more appealing to your bank manager.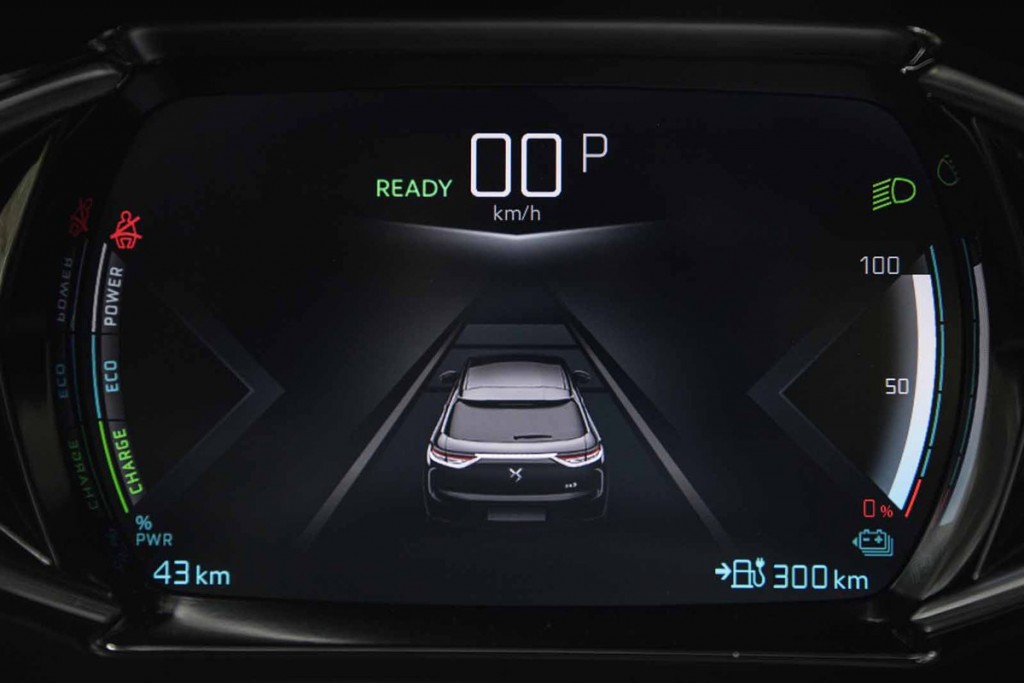 Go on, what are the downsides then?
Like all quirky machines the DS3 isn't without its foibles. If we're honest it's not all that much fun to drive, with numb steering and lots of body roll putting you off pushing on through corners. And while overall the E-Tense rides bumps well, bigger potholes and imperfections can send shockwaves thumping through the cabin.
Yet arguably the biggest bugbear is the infotainment, which just isn't as slick and responsive as others. It's a similar story with the buttons on the dash and steering wheel that are touch sensitive, but not sensitive enough, leading to increasingly frustrated prodding as your chosen command isn't obeyed.
What else should I be looking at?
Well, close to home are the Peugeot e-2008 and Citroen e-C4, which both use the same motor, battery and structure as the DS. Both are eye-catching to look at, comfortable and well-equipped, it just depends on whether you prefer the former's rugged look or the latter's coupe cues.
Both the Hyundai Kona Electric and Kia Soul serve-up similarly funky looks and SUV vibes, but both will go considerably further on a charge.
Verdict
If you were considering a petrol or diesel DS3 but could be swayed by an EV, then the E-Tense is the car for you. It has the same bold style and luxury feel, but is more refined, comfortable and easier to drive. Even so, with so many talented small electric cars out there now, this quirky machine is one you'll buy with your heart rather than your head.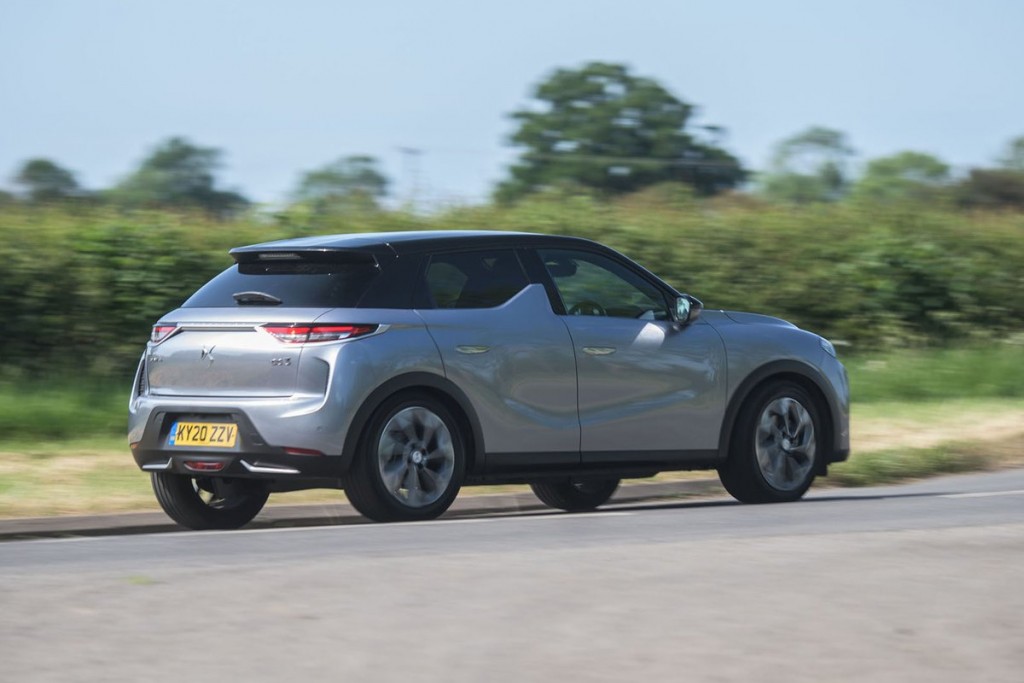 DS3 Crossback E-Tense specification
Price from: £31,500
Motors: Electric asynchronous
Gearbox: Automatic
Driven wheels: two
Maximum power: 134bhp
Maximum speed: 93mph
0-62mph from 8.7secs
Electric range (official) 191-206miles
CO2 emissions: 0g/km
Tyres from: 215/60 R 17
Kerb weight excluding driver: 1523kg
Gross vehicle weight: 1975kg
Height: 1534mm
Length: 4118mm
Wheelbase: 2558mm
Width with mirrors folded: 1802mm
Maximum boot capacity: 350-1050 litres
Rivals
Peugeot e-2008
Hyundai Kona Electric
READ MORE
e-CARS
e-BIKES
e-MOTORBIKES
e-SCOOTERS