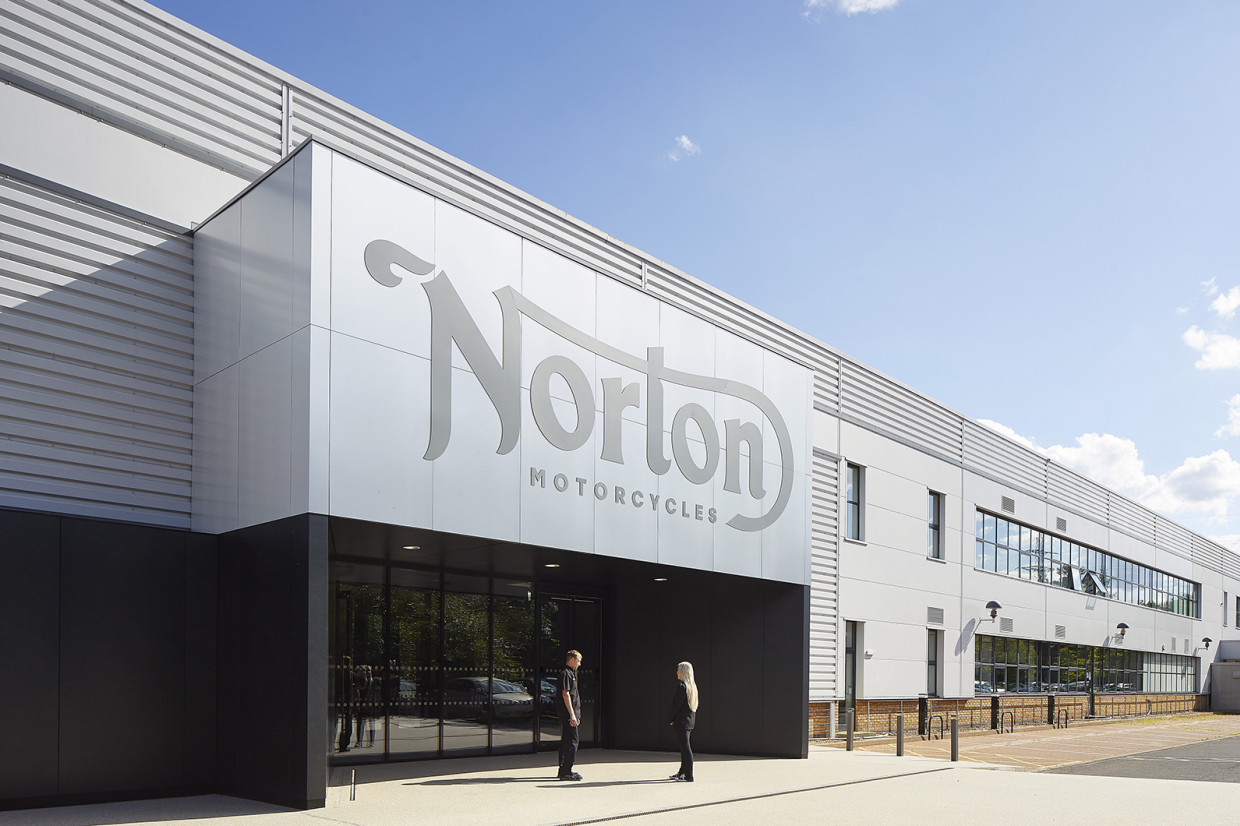 Long-running British firm Norton Motorcycles will start to develop a range of new electric motorbikes in the UK, after securing funding from a government scheme.
The Solihull-based company, which has a history dating back to 1898, has secured a "significant investment" from the Advanced Propulsion Centre (APC), a government-backed initiative that is tasked with helping UK firms develop low-carbon technology.
Norton is working with six other partners on the Zero Emission Norton project, which it says will lead to a range of "world-class" electric motorbikes. The firm says the machines that will be developed will "still look unmistakably Norton", but will feature "modern twists" that will include new innovations and digital solutions.
The Zero Emission Norton project is due to run for 30 months, and will create a "significant" number of jobs in manufacturing and R&D. Norton says it will help make the UK the "global technology leader for motorcycles".
The firm added that a major focus of its development would be to offer both "race performance and touring range", eliminating what it sees as the compromised design of existing electric motorbikes which, due to the weight and size of batteries, tend to focus on one of those characteristics.
Norton will work with a rage of specialists on the project. Delta Cosworth will develop the battery pack, HiSpeed will work on motors and inverters, Formaplex Technologies will contribute precision composites and M&I Materials will contribute fluids for cooling. Meanwhile, Indra Renewable Technologies will add expertise in vehicle-to-home charging, while WMG, University of Warwick will contribute knowledge of battery technology, modelling and toolchain development.
WMG University of Warwick already works with Norton on a TT Zero race bike.
As well as developing bikes, Norton will work with those firms to develop other technology and products including batteries, motors, chassis, cooling oils and vehicle-to-home chargers.
Norton Motorcycles boss Robert Hentschel said called the investment "a momentous milestone for the brand as it marks the beginning of our electrification journey."
He added: "Norton is an exemplar of modern luxury and unafraid to challenge the status quo, innovating for the future of mobility while staying true to our British heritage. It also brings into focus our desire to support the UK in its mission for a net-zero automotive future.
"Working alongside our world-class partners, we're confident that project Zero Emission Norton will eliminate the current dispute between a conventional and electric motorcycle to create EV products that riders desire – motorcycles that blends Norton's uncompromising design DNA with racing performance, touring range and lightweight handling."
Norton Motors was founded in Birmingham in 1898, and became known for its innovative lightweight machines that owed much to the firm's huge success in motorsport events such as the Isle of Man TT.
The original firm suspended operations in 2006, but was revived as Norton Motorcycles in 2008. That firm went into administration in early 2020, before being bought in April of that year by TVS Motor Company, one of India's leading motorbike firms.
TVS committed to a £100 million investment in Norton, including the opening of a new manufacturing facility in Solihull.
READ MORE
Subscribe to the Move Electric newsletter
e-CARS
New electric cars for 2022 and beyond: what's coming when
New BMW i7 unveiled as luxury electric saloon
e-BIKES
Best e-bikes for every category 2022
Moustache Samedi 28.7 e-bike review
e-MOTORBIKES
Yamaha Neo's electric scooter review
Cake launches new global electric motorbike race series 
e-SCOOTERS
Government set to announce plans to legalise private e-scooter use
New study finds e-scooters are five times safer than bikes
e-WORLD
World's first airport for flying taxis opens in UK