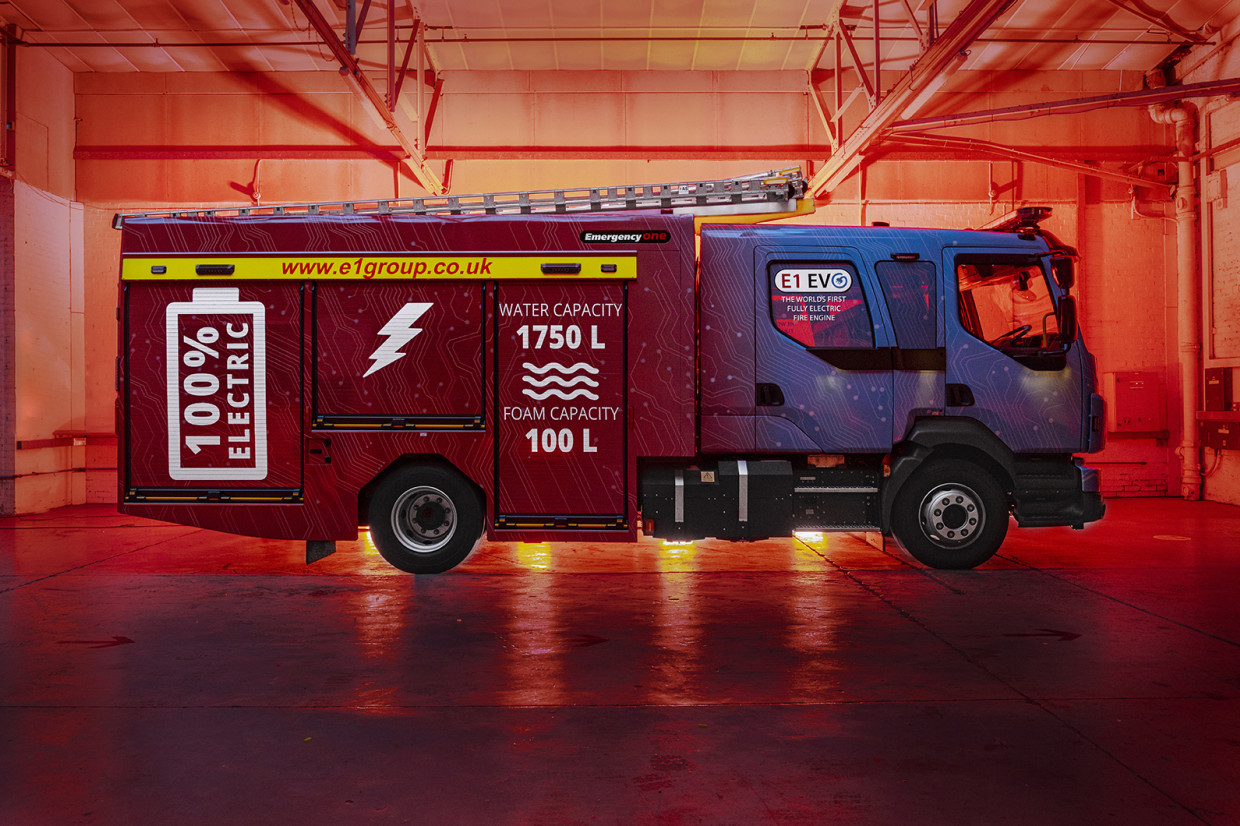 The first electric fire engine in Europe is set to be put into service in France – and it's been developed by a Scottish firm.
Emergency One, a leading manufacturer of fire-fighting vehicles and equipment, has been developed the E1 EV0 fire appliance since 2020. While full technical details haven't been revealed, the Cumnock firm claims the machine has a 220-mile range on an 80% charge. Perhaps more significantly for putting out fires, it can also house 1750 litres of water, and 100 litres of foam.
Subscribe to the Move Electric newsletter
Emergency One has now secured a contract to supply the E1 EV0 to Hérault Fire Service in France. The department containing Montpellier is on the Mediterranean coast of France, and has a population of around a million people.
The Scottish Fire and Rescue Service (SFRS) has also commissioned Emergency One to provide one of the zero-emission units as a test vehicle. Delivery is due to take place later this year, with the machine being put into service in 2023. A host station will be chosen based on an evaluation of local charging infrastructure.
The development of the electric fire engine has been aided by a grant from Scottish Enterprise in 2020, and backing from the £500,000 in funding the SFRS received from Transport Scotland to develop low carbon fire vehicles.
The E1 EV0 can be built to Britain's BN EN1846 Pumping Appliance regulations, although the firm says it can also be adapted to different location regulations.
Emergency One director Michael Madsen said: "The EV0 exceeds the standard's requirements for driving range and pumping performance at zero emissions, whilst the optional onboard smart charger provides resilience at protracted incidents.
"The EV0 as specified for SFRS carries the same inventory as a traditional pumping appliance, is one of the first of its kind in the UK, and the first to feature an innovative all-electric rear drive axle installation."
The SFRS estimates that an electric fire truck will reduce emissions by 66% compared with a diesel appliance. It says that a diesel truck omits around 10.79kg CO2e over the average six-mile journey, compared to 3.46kg CO2e for the EV truck.
Elsewhere, the Los Angeles Fire Department has recently taken delivery of its first electric fire truck, the Rosenbauer RTX. Developed by Austrian firm Rosenbauer, it produces 360kW from an all-wheel-drive twin-motor powertrain, with energy coming from a 132kWh battery pack.
READ MORE
Subscribe to the Move Electric newsletter
e-CARS
New electric cars for 2022 and beyond: what's coming when
New BMW i7 unveiled as luxury electric saloon
e-BIKES
Best e-bikes for every category 2022
Moustache Samedi 28.7 e-bike review
e-MOTORBIKES
Yamaha Neo's electric scooter review
Cake launches new global electric motorbike race series 
e-SCOOTERS
Government set to announce plans to legalise private e-scooter use
New study finds e-scooters are five times safer than bikes
e-WORLD
World's first airport for flying taxis opens in UK