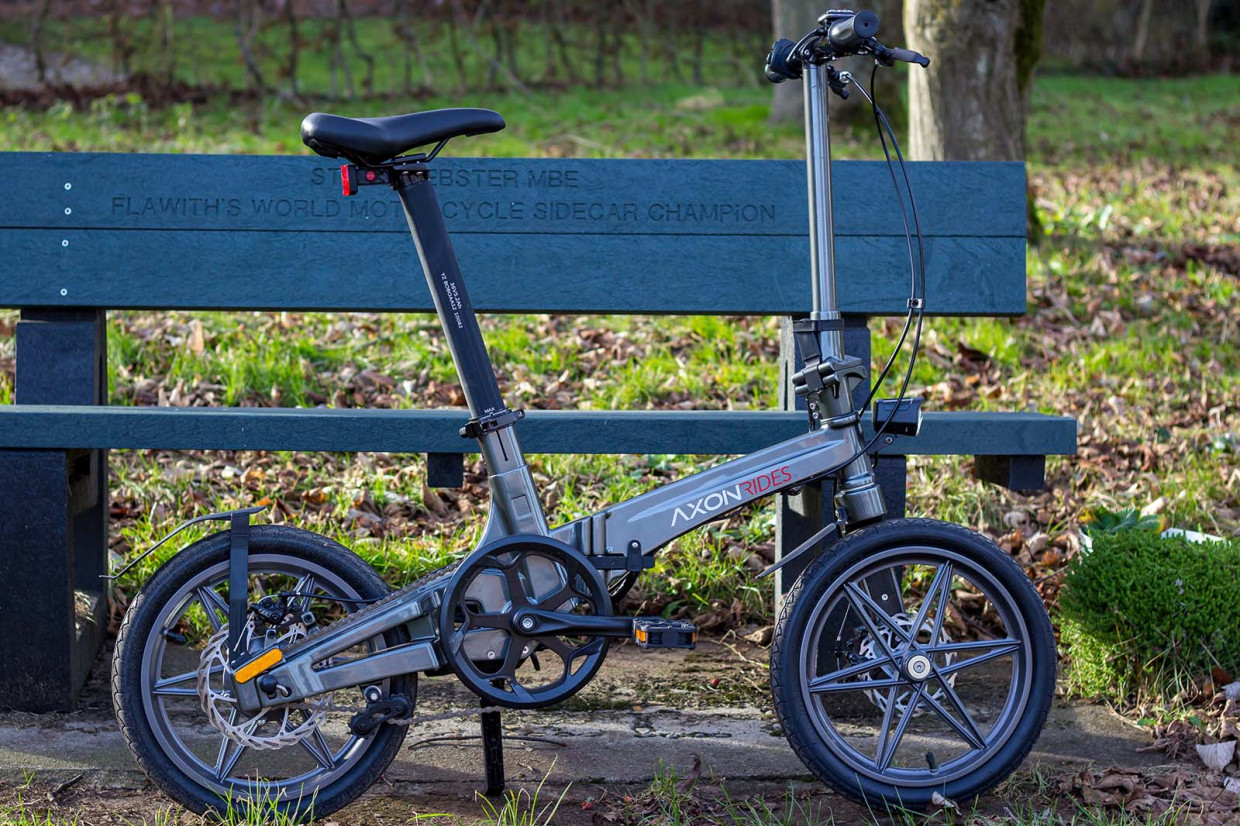 Move Electric rating: three out of five stars
What does it cost? 
£1850
What is it?
The Axon Rides Pro Lite is a lightweight electric folding bike with some great little features for the price – a great choice for multi-faceted commutes or city rides. It sits at the lower end of the Pro range at £1665, below the Pro and Pro Max models.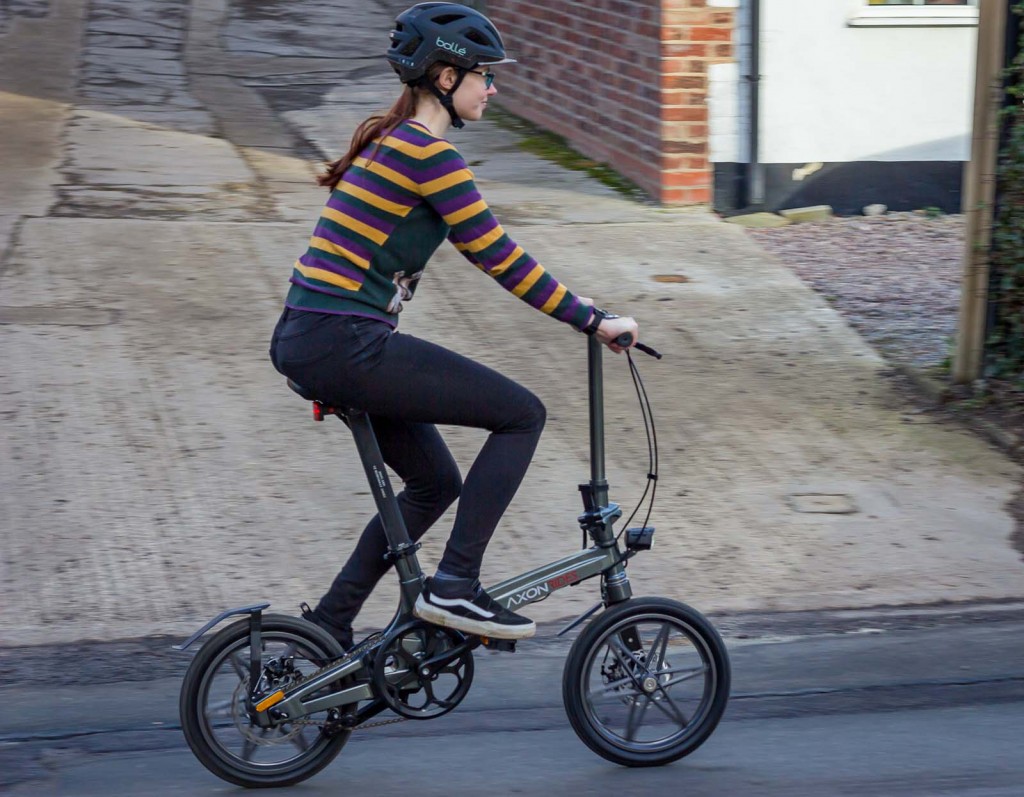 What is it like?  
Axon Rides appears to have gone for 'simplicity' with the Pro Lite. It is easy to fold, easy to move around and uses a single-speed drivetrain. That's not to say it is not without any thoughtful extras, such as the integrated lights and horn which can be used via a handlebar-mounted switch and the mudguards. But when it comes down to it, this is an electric bike purely designed to help you to get from A to B – some frills attached. 
I was pleasantly surprised by how stable the frame felt on the roads. It didn't once make me feel like I was about to be thrown off or end up holding a handlebar with nothing attached to it even on some of the roughest road surfaces nearby.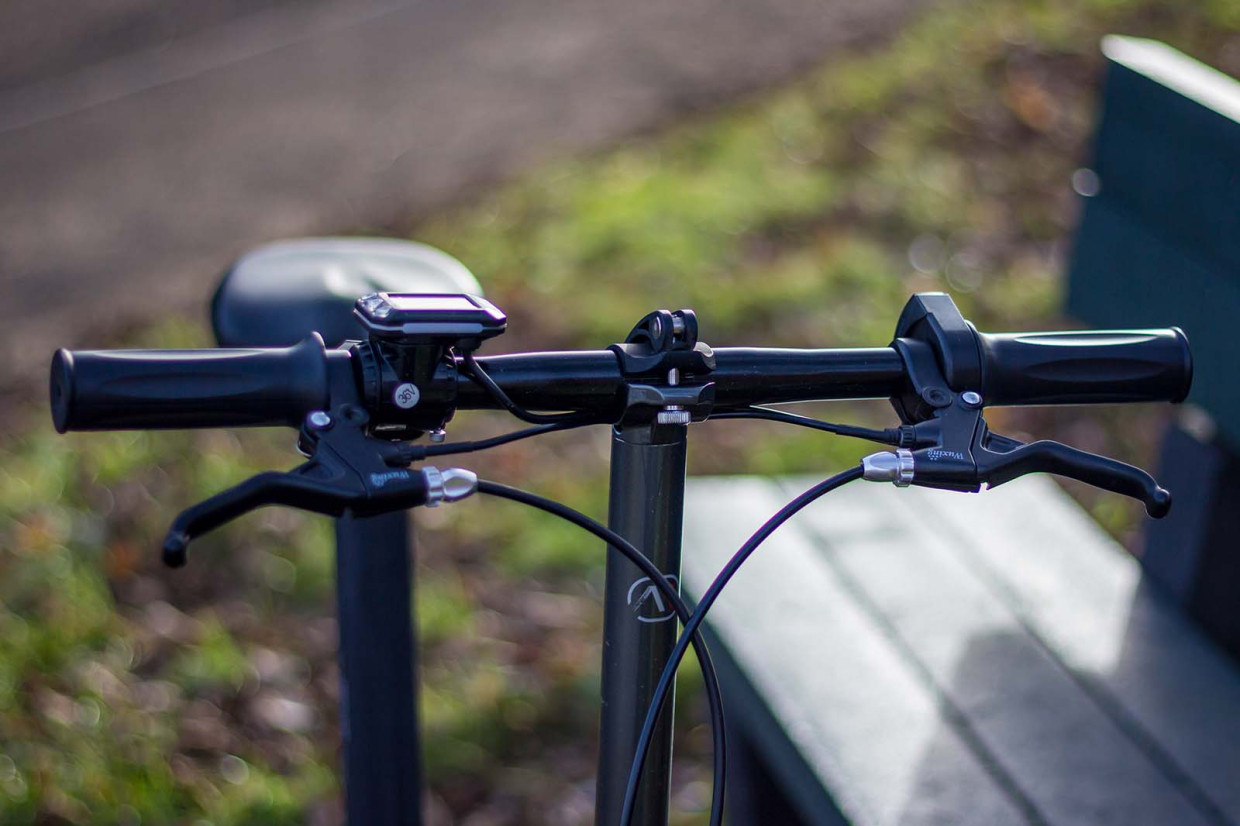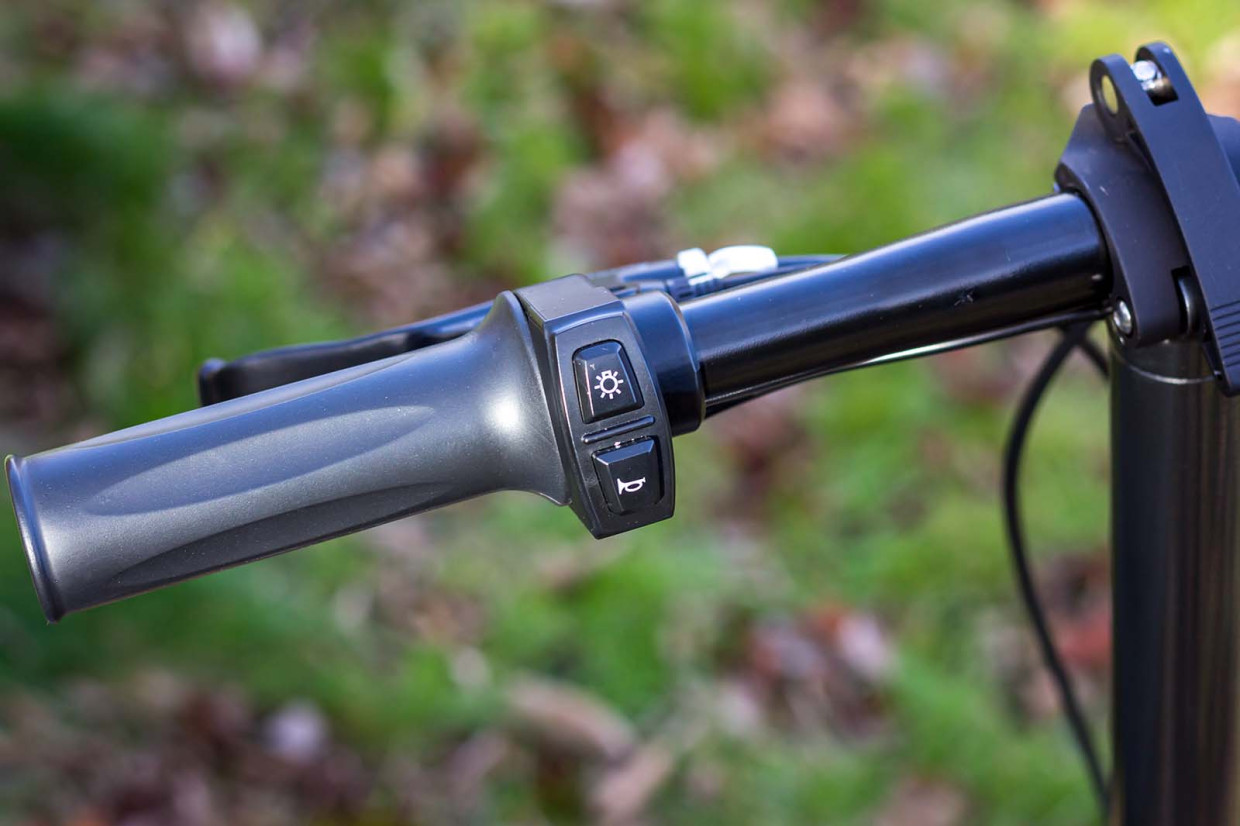 The handling is, of course, agile given the lack of stem and narrow bars, but it is not overly twitchy. In fact, it's great for city environments where you often have to make quick decisions on the road. 
Not much information is given about the motor except that it is 250W (as most are), but that's only one part of the picture. The ride experience is a little underwhelming, with the motor taking roughly two to three pedal strokes to 'kick in'. This means that setting off from junctions is not the speedy affair usually enjoyed with an e-bike. The Pro Max, the slightly more expensive in the range uses a torque sensor, which usually prevents this from happening, but the pedal sensor in the Pro leaves a little to be desired.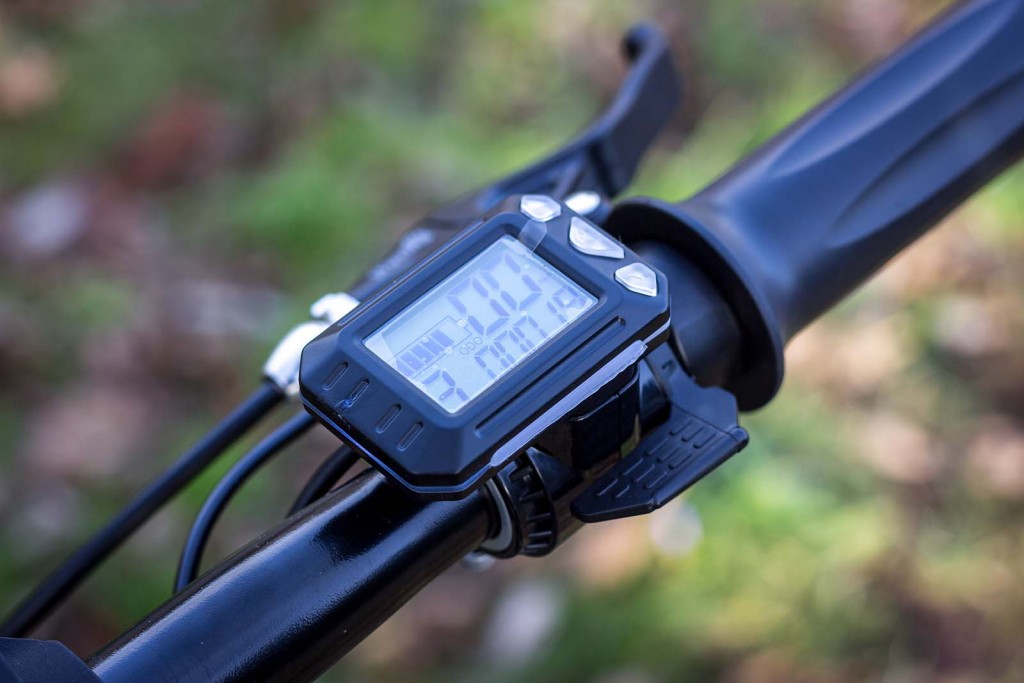 Once the assist has kicked in, however, you do notice it's there – as long as you're on the highest level (three). I found that the lower two levels provided little help unless you were content with riding at low speeds, which is down to personal taste. But against the wind or hilly terrain, the lower assist levels do not inspire much other than grinding along at about 35 RPM. The noise from the motor is sufficiently quiet, however, with just a reassuring whir as you ride along. 
And when not riding, it folds up easily and quickly. At 15kg, it certainly wasn't a burden to carry around, either, which is handy if you live in a flat or want to take it on public transport. I would advise caution, however, as the magnets don't seem particularly strong and I did find the bike was a little prone to falling open, but once you get the hang of putting the bars and cranks in a certain position etc. it tends to be more secure.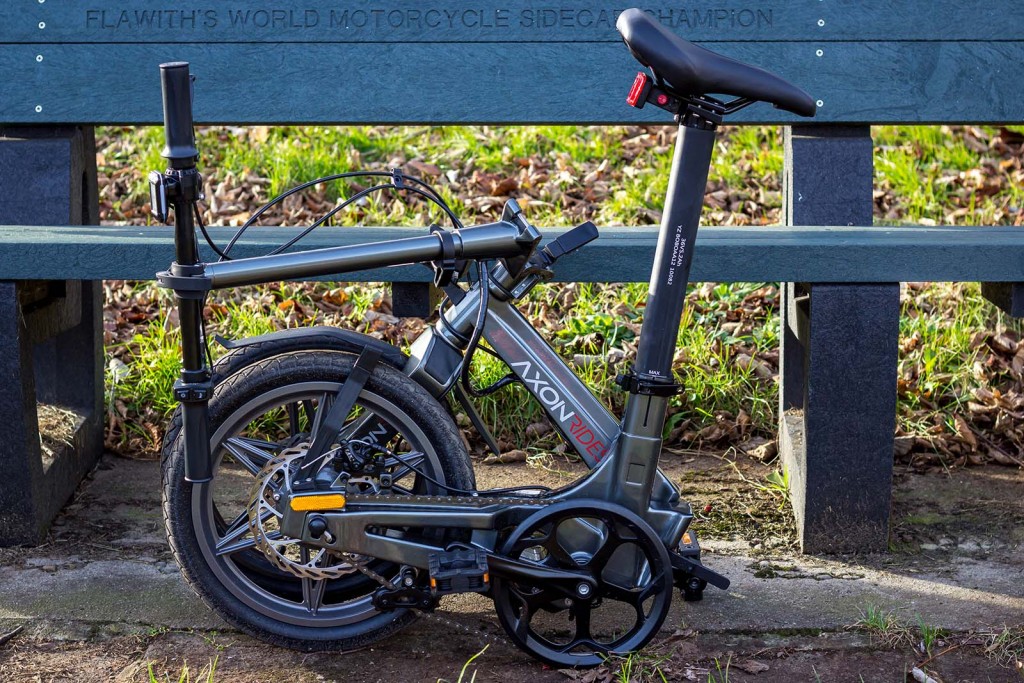 The folded dimensions (from my very rough measuring) of 75x61x32cm are similar to that of the Perry Ehopper we reviewed last year but still fall short of the tremendously tiny Brompton Electric. If space is the biggest reason you are looking for a folded bike then you may have to spend £1000 more for the Brompton, but whether that extra cost is worth it for the sake of 10cm is down to personal preference.
Another nifty feature Axon Rides has thought about is the accessibility to the wheels. In the event of a puncture, typically you take the bike wheel off to remove the tube (if it runs tubes), however, in the case of the Pro, you'll notice each wheel is accessible on one side. The front fork is on one side only, the same as the rear seatstay, providing access.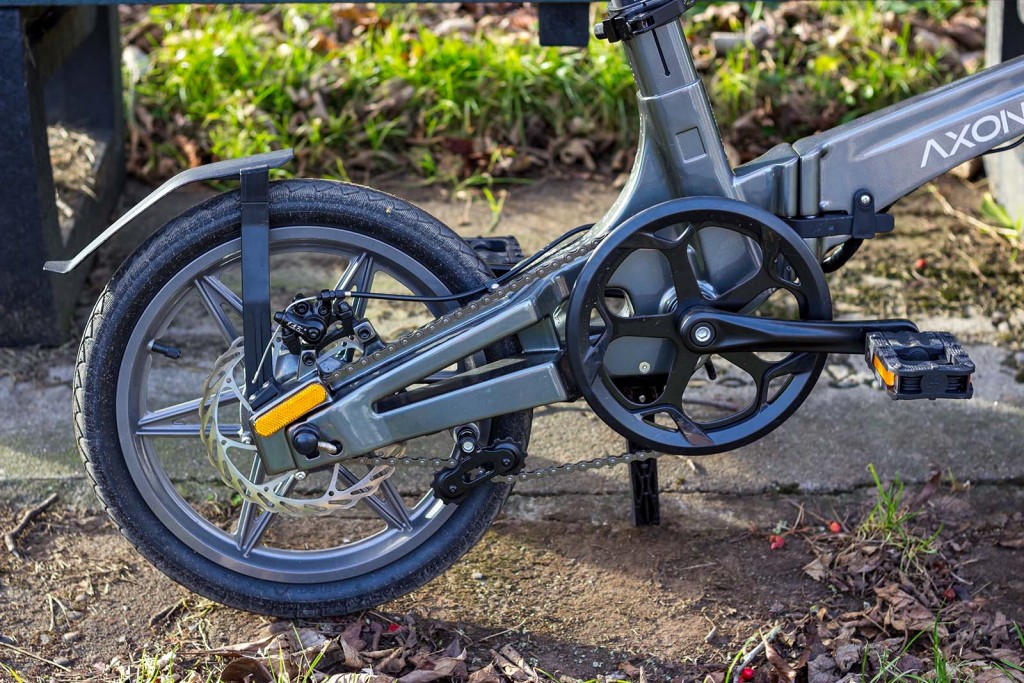 The brand has also included mudguards, integrated lights and a horn that is accessible via the handlebar-mounted buttons. Interestingly, they advertise the Pro model with hydraulic brakes. My test bike came with mechanical but I was pleasantly surprised with how well they operated. 
It would be remiss of me not to mention the height restriction on this bike – something that a lot of folding e-bikes struggle with. The Axon Rides website suggests the bike will suit riders between 150 cm /4'9" and 190 cm / 6'2" tall, but without a telescopic seatpost, I'm not sure how. I was riding with the seatpost at the minimum insertion point and I'm only 5'5" (granted, I do have long legs). That's not to say anyone over that height won't be able to ride it, instead, just be aware you most likely won't get the full range of motion from riding a bigger bike.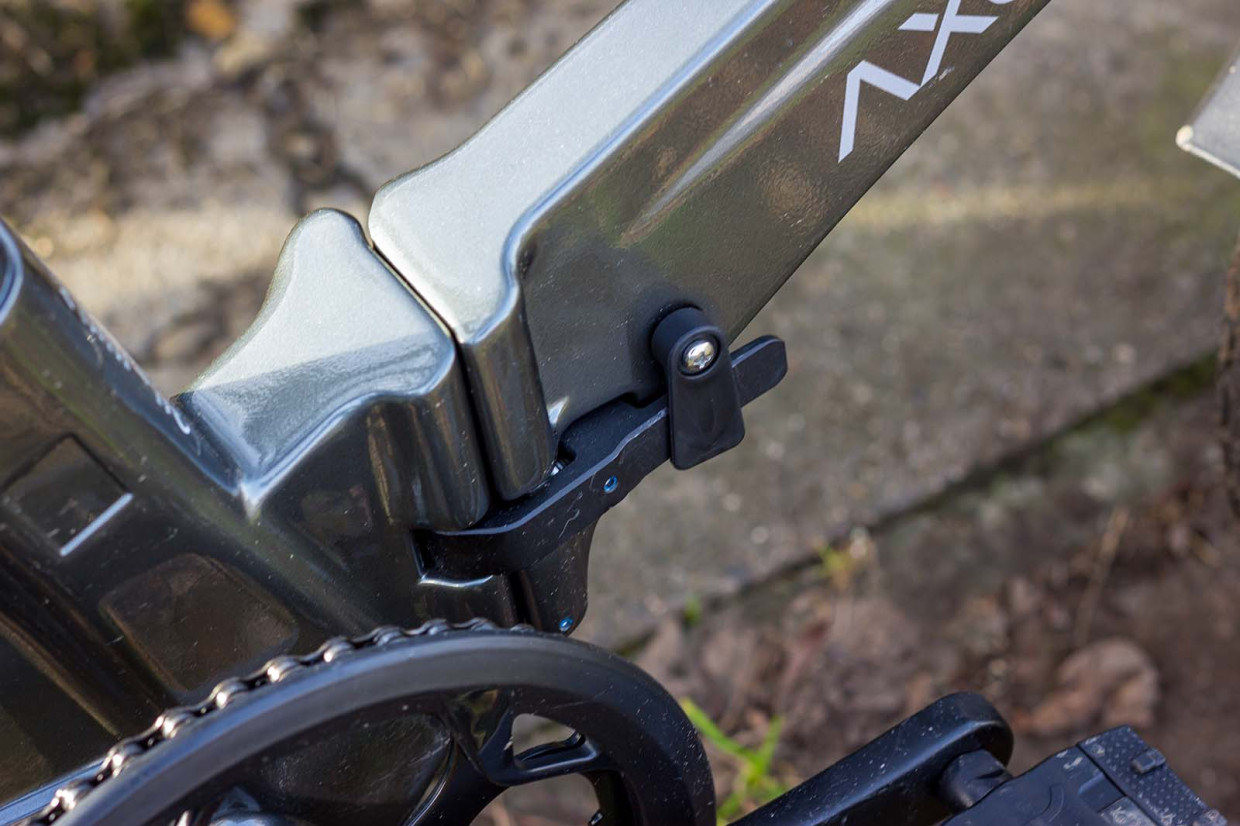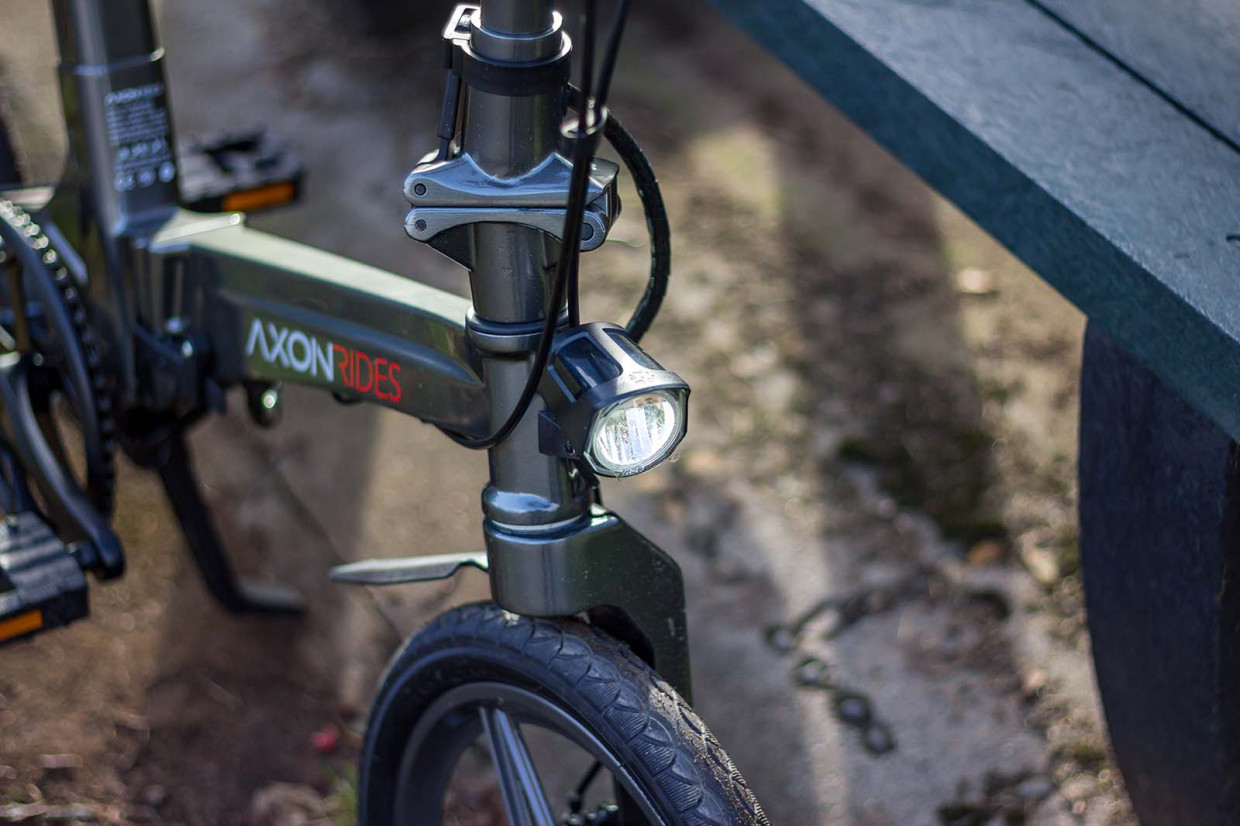 The 36V, 5.4Ah battery gave me about 15 miles before it died, but the conditions were not ideal – very windy, with some hills, and I was using level three assist for most of it. If you don't mind charging it frequently or have a short commute then this won't be an issue. Charging it is easy, simply plug the charger into the port under the saddle – and it's quite quick at roughly 3.5 hours for a full charge. 
Where can I buy it?
You can buy it directly from Axon Rides' website, or bike shops such as Decathlon or Leisure Lakes Bikes. 
How does it arrive?
Folded – simply unfold and charge the battery to ride it. 
Verdict
An intuitive simple folding electric bike, the Axon Rides Pro Lite is slightly highly-priced for what it offers, but with its ease of use and small folding capacity, it is a decent choice for commuters and city riders alike looking to stay under the £2000 mark – as long as you're not particularly tall.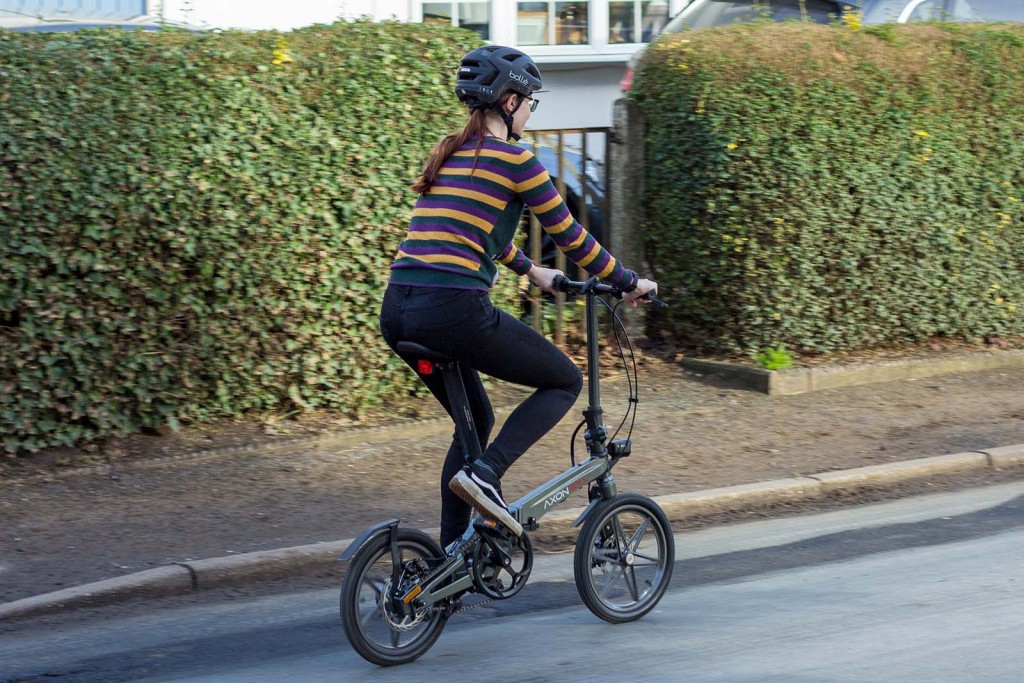 Axon Rides Pro Lite
Cost
£1665
Frame size tested
One size
Weight of bike
15kg
Groupset
Single-speed
Hydraulic/mechanical disc brakes
Wheels/tyres
16" wheels
16 x 1.75 tyres
Motor
250W rear hub-drive
Battery
36V - 5.2Ah (Lithium-Ion battery)
Mileage range
Up to 25
Assistance levels
3
Charge time
3.5 hours
Included extras
Mudguards
Built-in lights/horn (on the controller on the left of the handlebar)
LCD display
Kickstand
READ MORE
e-CARS
The ten best-selling electric cars in the UK
e-BIKES
Cairn Cycles E-Adventure 1.0 e-bike review
Ten e-bikes we're looking forward to in 2022
e-MOTORBIKES
Ten electric motorbikes to look forward to in 2022
Art, sustainability and choppers - the wonderful world of Stirling Eco
e-SCOOTERS
Hypercar firm Bugatti's first electric vehicle is an 18mph e-scooter
Ride-hailing firm Bolt set for UK expansion after big investment
e-WORLD
Veolia to open first UK plant for recycling EV batteries
The new Bobcat T7X is a truly groundbreaking electric digger