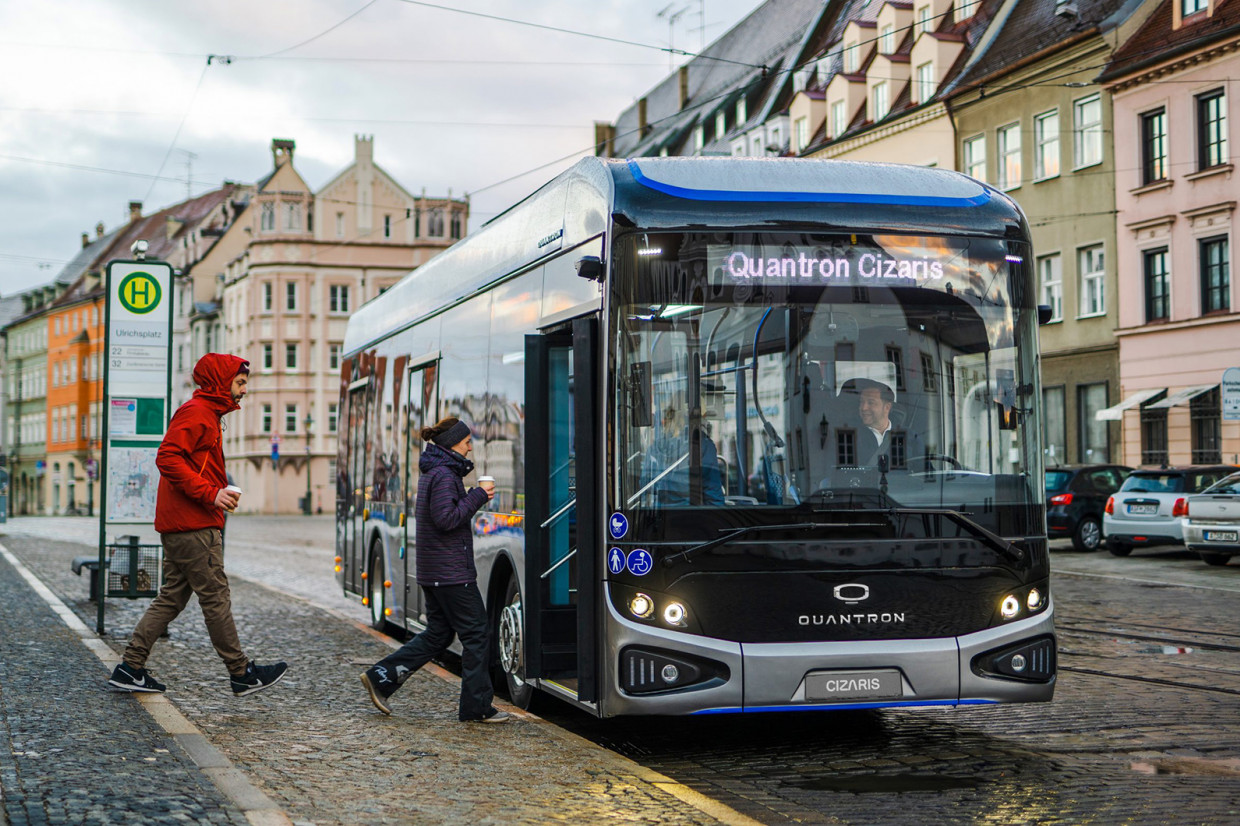 German electric bus specialist Quantron has revealed its new Cizaris electric bus, which it claims will lower the price gap to diesel machines.
The 12-metre-long Cizaris is due to go on sale later this year in battery electric form, with a hydrogen fuel cell version following in 2023. The electric version features a range of up to 229 miles, with space for up to 36 seated and 95 standing passengers depending on layout.
Quantron was created as a spin-off brand from long-running bus firm Haller in 2019, and is currently developing a range of battery electric and hydrogen-powered buses designed to capitalise on the push for zero emission urban transport.
The Cizaris – the 'Ci' stands for city, the 'z' for zero emissions and 'Aris' is derived from the Greek word for 'the noblest' – 12EV will launch with a centrally mounted and water-cooled electric motor that produces a maximum of 245kW (328bhp) and a peak of 2455lb ft. It also features adjustable brake regeneration settings, with three different levels offered.
Power is drawn from CATL-supplied lithium-iron phosphate batteries, which are mounted on the roof. The bus can fit a maximum of six modules on the front and rear, giving a capacity of between 242 and 424kWh. It can be charged at speeds of up to 150kW.
The Cizaris 12E is 12.1 metres long, with a wheelbase of 5900mm. It will be offered in two- and three-door versions. Quantron claims it offers more interior space than conventional diesel buses, with the lack of a 'power unit tower' raised section in the rear allowing it to offer between 24 and 35 seats, with room for between 81 and 95 standing total passengers.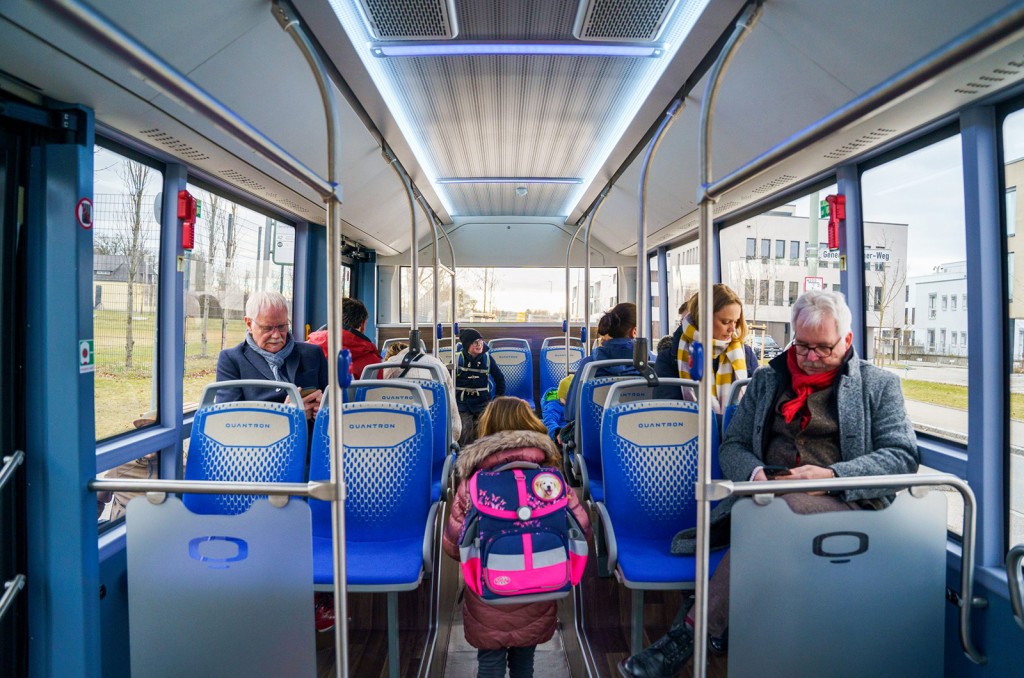 The roof-mounted batteries also enable a wide, flat floor, with Quantron highlighting wider passageways between the vehicle axle and 2449mm of headroom. Meanwhile the seat covers are made using textile digital printing, while a 33kW heat pump and air conditioning unit controls the climate. The aluminium ceiling is perforated to provide indirect light, and featured colour-changeable LED lights.
The driver's cabin is on a raised platform, and is fitted with adjustable seats, an 'easy-grip' steering wheel and a minimalist control panel that features a large screen for the rear-view camera. There's a digital instrument cluster, digital rear-view mirrors, and a separate front observation camera with a large monitor above the cockpit. There is no news year on what noise the bell to tell the driver you want to get off at the next stop will make.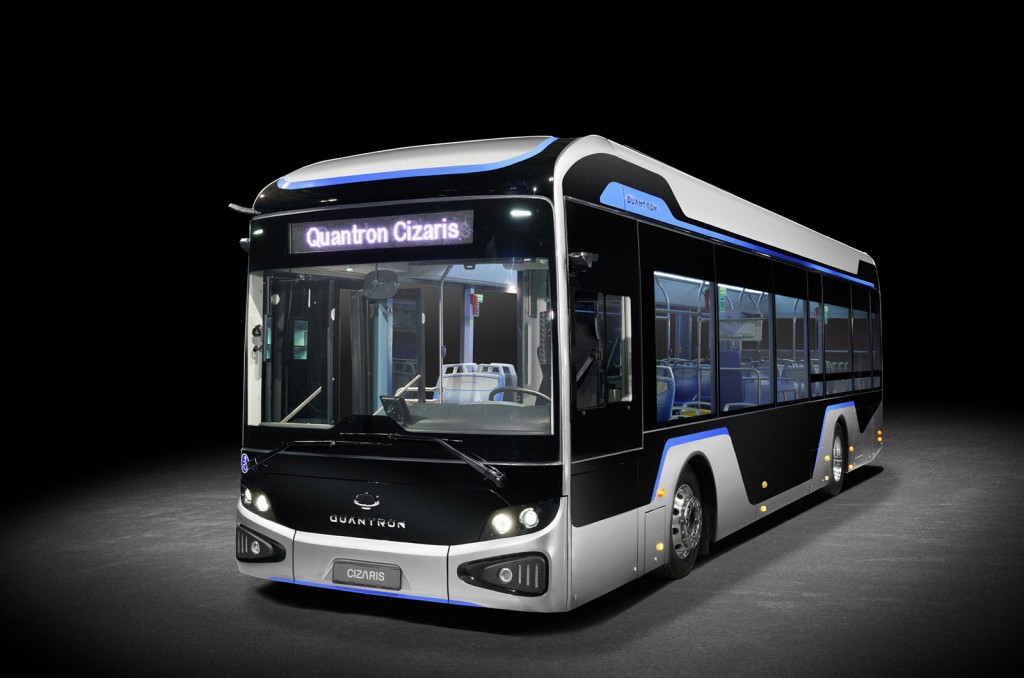 Quantron has yet to give details of the Cizaris 12H hydrogen fuel cell version that will follow, but said it will use an "even more powerful powertrain". It has also said that further versions of the machine will follow. 
While claiming that the Cizaris will "lower the price gap" between electric and diesel buses, Quantron has yet to give firm pricing information.
The initial market roll-out will focus on Eastern Europe, the Middle East, Scandinavia and Southern Europe, with sales in Germany, Austria and Switzerland beginning late this year.
 
READ MORE
e-CARS
The ten best-selling electric cars in the UK
e-BIKES
Cairn Cycles E-Adventure 1.0 e-bike review
Ten e-bikes we're looking forward to in 2022
e-MOTORBIKES
Ten electric motorbikes to look forward to in 2022
Art, sustainability and choppers - the wonderful world of Stirling Eco
e-SCOOTERS
Hypercar firm Bugatti's first electric vehicle is an 18mph e-scooter
Ride-hailing firm Bolt set for UK expansion after big investment
e-WORLD
Veolia to open first UK plant for recycling EV batteries
The new Bobcat T7X is a truly groundbreaking electric digger