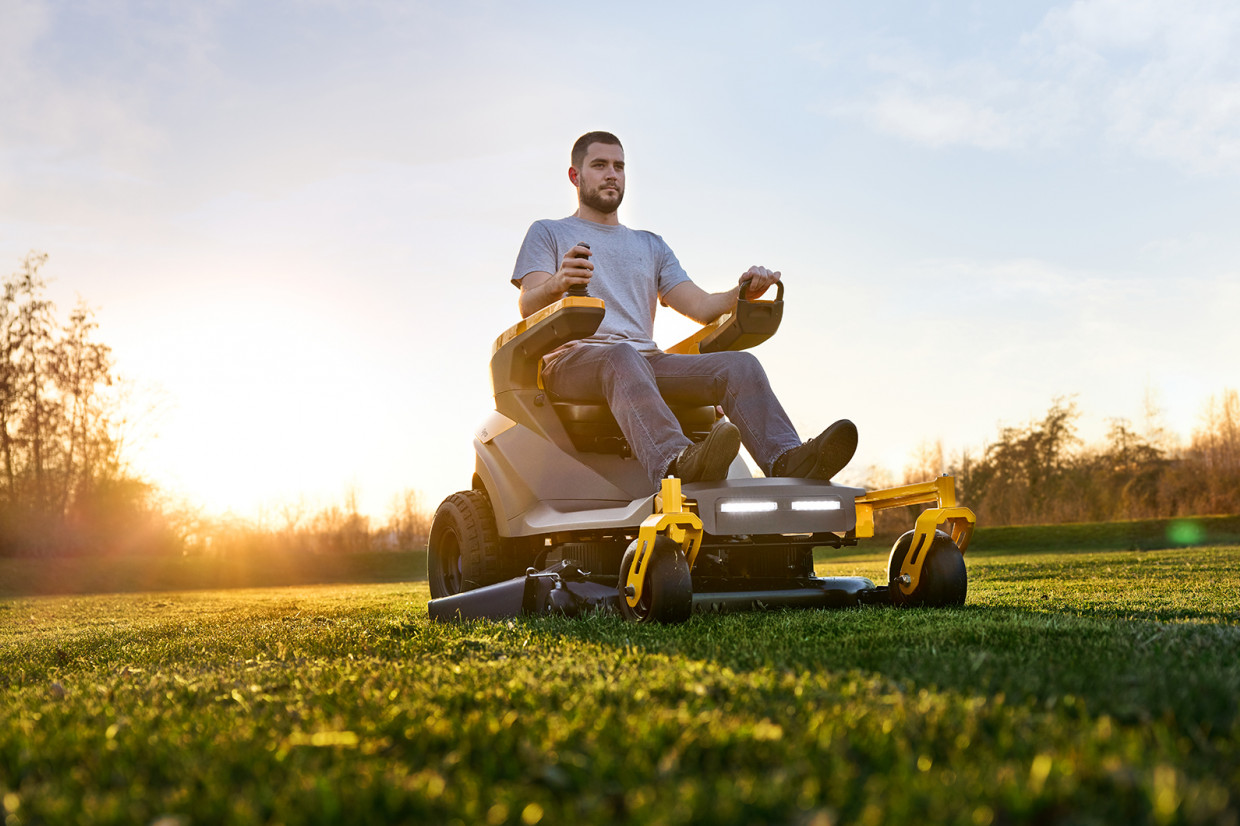 This is the new Stiga Gyro, a bold new electric lawnmower that uses some cutting-edge technology to reinvent the way you keep your garden tidy.
Now, lawnmowers aren't something we cover extensively on Move Electric, but the Stiga Gyro is genuinely interesting – and not just because its makers claim it's "an electric armchair that cuts the grass".
Subscribe to the Move Electric newsletter
Just like the prototype Lexus RZ 450e we tested recently, the Gyro uses steer-by-wire technology in a bid to offer the driver far greater control over their mowing. 
The Gyro is a 'zero turn' ride-on mower, which is able to pivot on the spot to make it easier to mow all those hard-to-reach places. Traditionally, zero turn mowers have been controlled by two mechanical levels, similar to the controls used to drive a tank.
Exclusive video: Lexus RZ 450e – the electric SUV with steer-by-wire
But by replacing the mechanical levers with an electrical connection, the Stiga Gyro uses a joystick mounted on the armrest. That means the machine offers a 360-degree turning radius, while offering increased driver visibility.
The electric tech on the Stiga Gyro is also really interesting. There is a 1.25 KW motor mounted inside each of the rear wheels, with a planetary gearbox employed to manage the load between them, which the firm also claims costs efficiency.
Stiga claims the Gyro can be used to mow gardens up to 8000 square metres in size, and can run for up to 110 minutes on a single charge. The machine is available with either a 1.92 or 3.07kWh batteries.
There's a reasonable level of performance too, with the mower offering three speeds settings with the fastest, Performance, allowing it to run at 7.45mph.
Meanwhile, the Zero features three Cutting Mode settings that spin the blades at between 2800 and 3200rpm. The cutting desk has up to a 108cm side-discharge cutting deck and, of course, an optional mulching kit.
Driver comfort has also been considered: the seat includes a dual parallel suspension system to absorb vibrations.
The Stiga Gyro is due to go on sale in the UK later this month, priced from £7131.
READ MORE
Subscribe to the Move Electric newsletter
e-CARS
New electric cars for 2022 and beyond: what's coming when
New BMW i7 unveiled as luxury electric saloon
e-BIKES
Best e-bikes for every category 2022
Moustache Samedi 28.7 e-bike review
e-MOTORBIKES
Yamaha Neo's electric scooter review
Cake launches new global electric motorbike race series 
e-SCOOTERS
Government set to announce plans to legalise private e-scooter use
New study finds e-scooters are five times safer than bikes
e-WORLD
World's first airport for flying taxis opens in UK