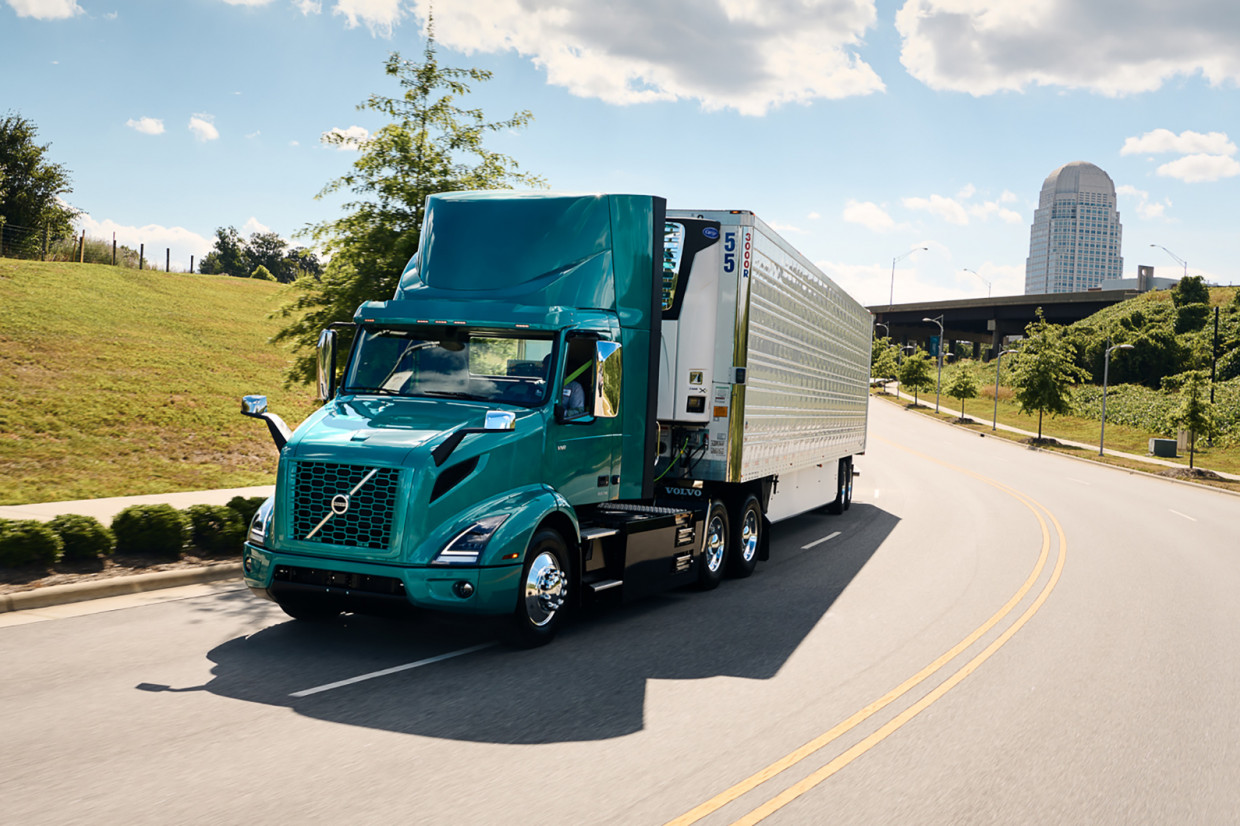 Volvo Trucks has launched a new version of its VNR Electric heavy duty truck that features nearly double the range of its predecessor.
The VNR Electric is specially designed for the North American market, and is a Class Eight truck with a gross vehicle weight rating of more than 14,969kg. It is based on the long-running VN truck that was launched in 1996.
The first generation VNR Electric was launched in December 2020 with a range of 150 miles from a 264kWh battery. Volvo Trucks has now increased the maximum battery size to 565kWh, increasing the maximum range by 85% to 275 miles. The firm says the improved range reflects improved battery design and a new six-battery option.
Power comes from a 339kw (455hp) electric motor, which also offers up to 4051lb ft of torque. The powertrain features a built-in two-speed I-shift automatic transmission. It is offered as both a straight truck, with a van body attached, or as a tractor for towing truck trailers. It is available in 4x2, 6x2 and 6x4 axle configurations.
The new VNR Electric also features 250kW charging, which means that the six-battery version can be charged from 0-80% in 90 minutes. The machine will be built at Volvo Trucks' factory in Virginia, with production due to start in the second quarter of this year.
Volvo Trucks North America boss said that is was "testament to Volvo Trucks' leadership in a continuously evolving industry that we are bringing the enhanced version of our VNR Electric to the market only a year after sales of the VNR Electric first started."
Volvo Trucks is aiming for full electric trucks to make up half of its sales by 2030. The firm started production of electric trucks in 2019, and now offers six models of various sizes and for various markets: the FH, FM, FMX, FE, FL and VNR. 
READ MORE
e-CARS
The ten best-selling electric cars in the UK
e-BIKES
Cairn Cycles E-Adventure 1.0 e-bike review
Ten e-bikes we're looking forward to in 2022
e-MOTORBIKES
Ten electric motorbikes to look forward to in 2022
Art, sustainability and choppers - the wonderful world of Stirling Eco
e-SCOOTERS
Hypercar firm Bugatti's first electric vehicle is an 18mph e-scooter
Ride-hailing firm Bolt set for UK expansion after big investment
e-WORLD
Veolia to open first UK plant for recycling EV batteries
The new Bobcat T7X is a truly groundbreaking electric digger