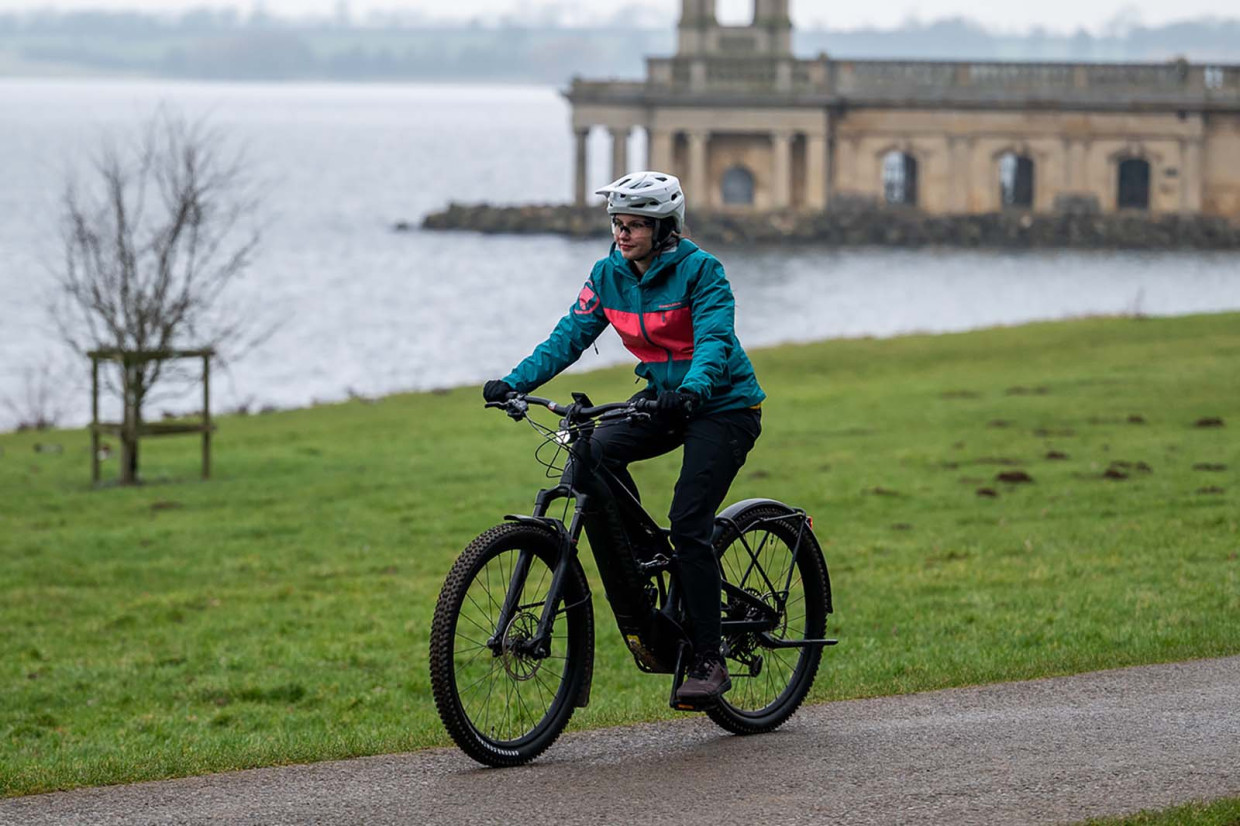 Californian brand Specialized is expanding its Tero range with the new Tero X electric bike, billed as a machine that "go anywhere, over anything, with everything".
It's an interesting new direction for the brand, with the machine representing an SUV of sorts, aiming for mass appeal as the go-to e-bike for most of your daily riding needs.
The latest e-bike news in your inbox: sign up for our FREE newsletter
Move Electric was invited to the launch at Rutland Water to be among the first to try the new machine out.
While to some it may look like a confused electric mountain bike, it embodies a move to appeal to the masses and focus more on e-mobility than performance. It's not that it can't do performance, of course – but it's a different type of performance.
Rather than a focus on riders bothered about measuring watt output and MPH, it's for people who want something that will do the job well, time and time again and on different types of rides. And I think, after a scenic ride around Rutland Water aboard the Tero X, Specialized might be onto something.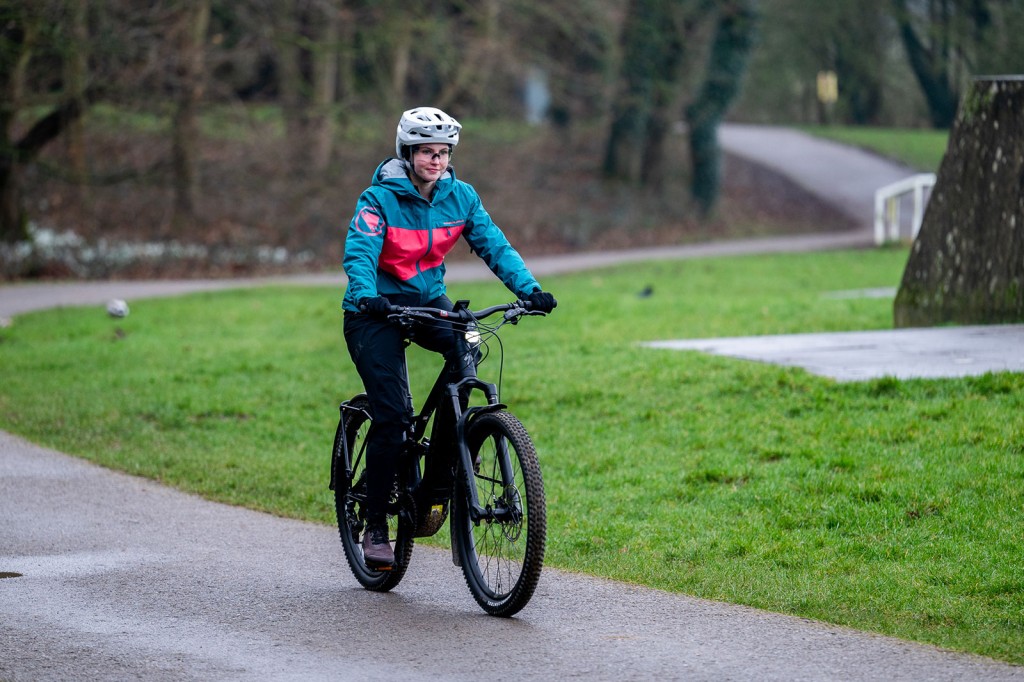 What is it?
The Tero X is a multifunctional e-bike, or as Specialized are calling it, an SUV. It's full-suspension, has a dropper post, and comes with specially fitted mudguards and a rear rack. Wide tyres, a Mission Control display and a Specialized Full Power motor complete the unique package.
There are three models in the range, 4.0, 5.0 and 6.0. These will cost £4000, £5000 and £,6000 respectively. I rode the mid-table 5.0 on the test route, which took in a nice mixture of Tarmac, gravel and a little bit of mud.
Each model comes with a slightly varied spec list, but the aluminium frame remains the same throughout. For the purpose of this 'first ride', we'll focus on the specification of the 5.0.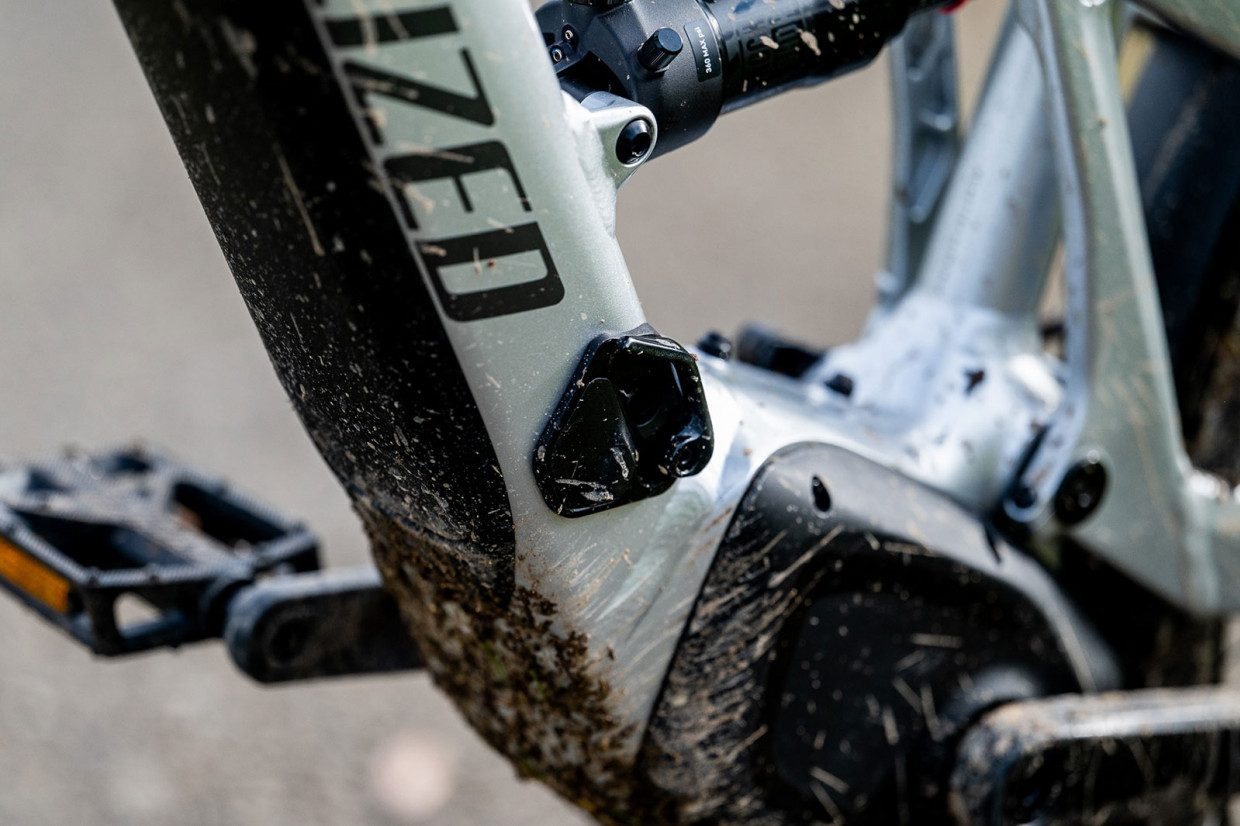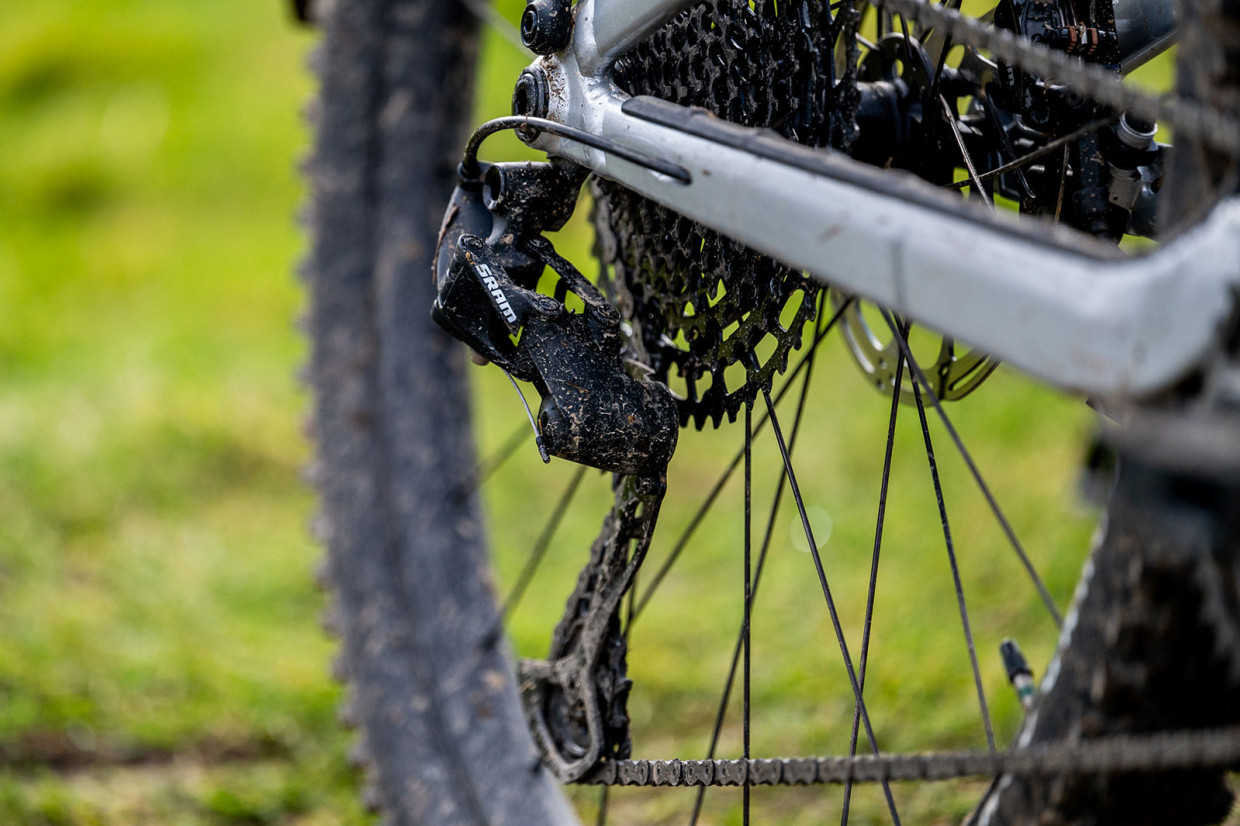 What is it like?
I'll admit I was a little sceptical about the purpose of this bike. It's full-suspension, with 130mm/120mm travel, single pivot, and a dropper post, but with long mudguards and a rear rack. It has all the makings of a decent aluminium e-MTB, but with utility components that typically aren't necessarily compatible with trail riding.
So I went in with an open mind, and an open notebook, ready to understand what I was looking at. The ride quality is typical of Specialized's other e-bikes – it's good. The sizing of the small was spot on for me at 5'5", and the bike feels incredibly capable. Going from Tarmac to gravel to mud and puddles felt natural, the Specialized 2.0 motor providing a tidy 70Nm of torque when needed. In the corners, it's planted. I don't think I noticed the extra weight of the rack, mudguards, kickstand or lights. And I don't think I'd really notice if I was carrying 20kg of weight on the back, either.
Off-road it's not rattly, as the mudguards are specially designed for the frame to avoid contact and noise.
So why is it full suspension? Why has Specialized gone to the trouble to make it as plush as possible? One reason: comfort. Having that travel in the front and rear means you don't need to get out of the saddle to avoid a pothole or lumps and bumps. While of course, you can if you want, there is a dropper post after all – even that's not equipped with performance riding in mind. Instead, it's there to prevent anxiety at putting your foot down at traffic lights.
For people who haven't ridden a bike since they were a child, or riding on the road or city environment for the first time, things like junctions and traffic lights can be daunting. Whether it's because of having to unbalance yourself and put your foot down, or setting off and worrying about getting off fast enough, the Tero X has some welcome features to alleviate that worry.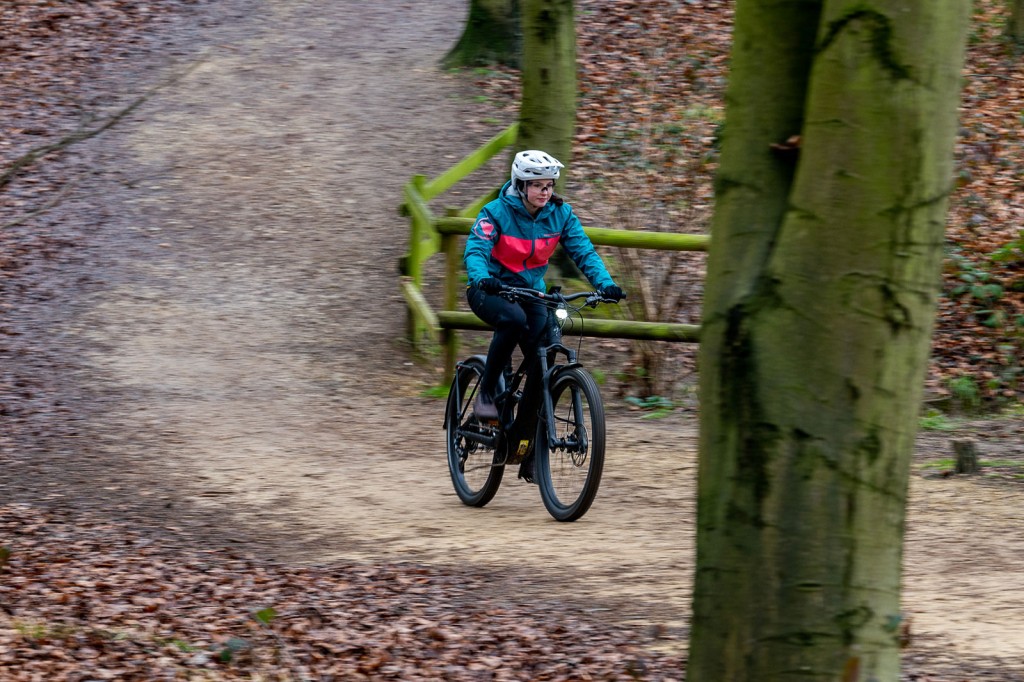 Then there's the Specialized 2.0 motor and MasterMind display and technology. There are three assist levels: Eco, Trail and Turbo. Unlike many other motors, the mid-level Trail option actually suits most riding. Granted, I haven't tried towing a 60kg trailer with it yet (keep your eyes peeled for more of this later in the year on the site), but off-road or on, it tackled the loop around Rutland Water with ease.
The MasterMind display pairs with the Mission Control app, which can allow you to personalise your riding experience – I didn't pair my phone with the bike for the test ride, but will for a more in-depth review to come.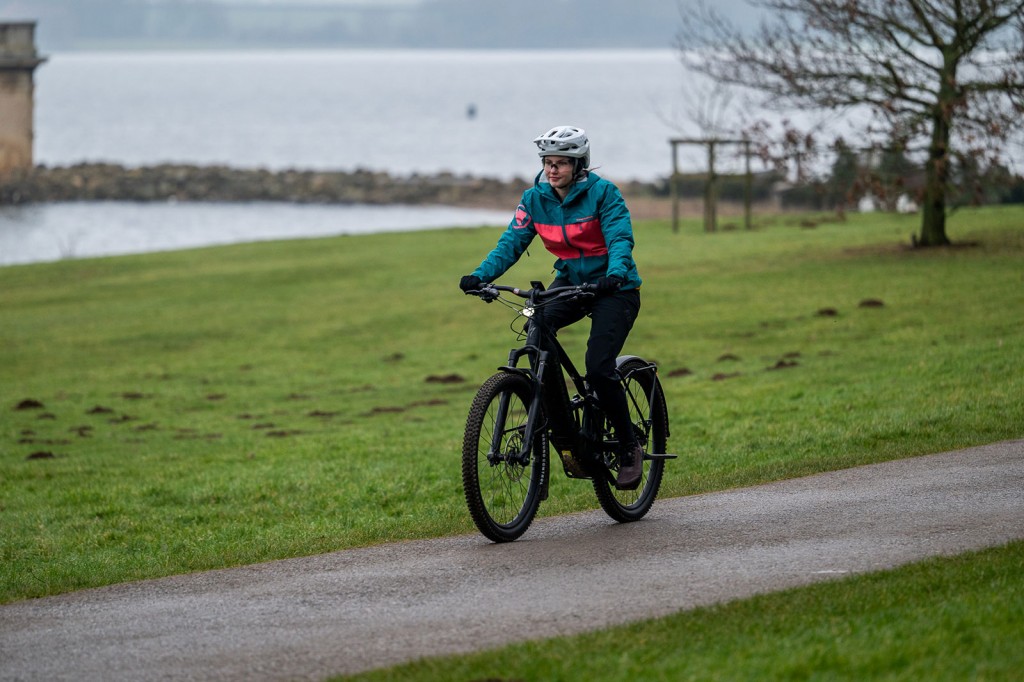 In terms of battery range, Specialized gives an estimate of up to 85 miles in Eco for the 710Wh battery and 2.0 motor which is equipped on the 5.0 model. Like with any estimate, there are so many variables at play, that you're better off looking at the live estimate on the MasterMind display as you ride.
Our experience of the multi-terrain Rutland Water loop (with pub lunch, we might add), brings home the point Specialized are trying to make with this bike. I'd love to try it fully loaded with panniers and a trailer to experience its full capabilities, but given its performance on my first ride, I'm pretty impressed not just with the bike, but with the direction Specialized want to take their e-bike range.