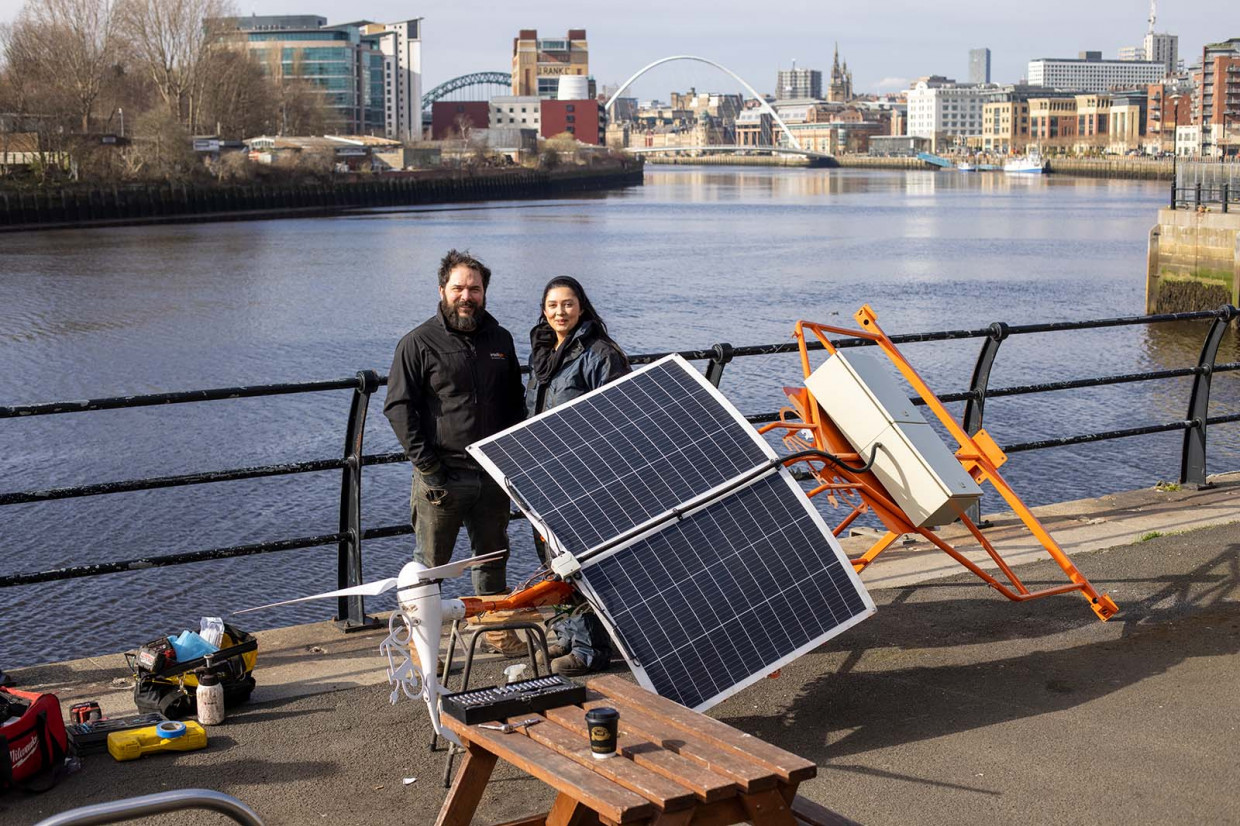 As electric vehicle charge points begin to co-ordinate and expand across the country, it would only seem fair that electric bike charging infrastructure should follow suit. Currently, if you plan on riding far enough that you'll need to charge your e-bike, it largely means bringing your charger with you and hoping you can find a socket somewhere to juice up the battery. Intelligen International want to change that. 
A small company based in the North East of England in Hexham, Intelligen was born out of founder Dr Geoff Wallman and his desire to see zero carbon energy flourish in practical uses. So under the Intelligen name, he designed e-bike charge stations that can be easily situated across the country at different hotspots.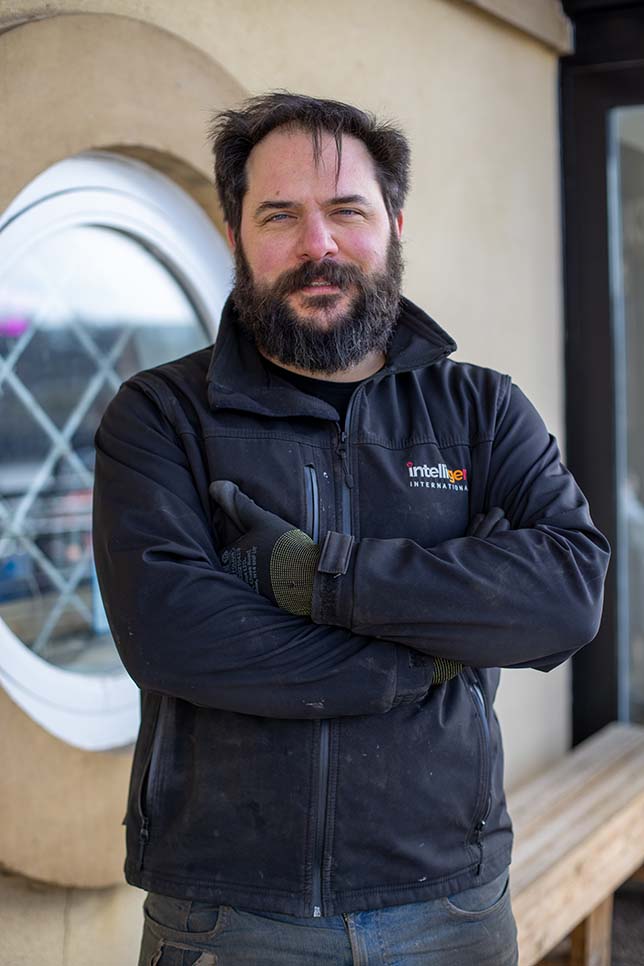 "I set up Intelligen in 2015 while I was doing my PhD at Newcastle University. We designed different products, some to do with heat and power systems, and at that time I was commuting on a push bike. E-bikes were starting to grow in popularity, and I bought this kit off eBay and built this Frankenstein's monster of a bike, based around an Apollo Transition. I could get to the office quicker than I could in the car, and I thought, this is the next big thing.
"When I got to university, there was nowhere to charge it, so I thought there has to be a case to make here for charging and storage infrastructure. So last year or the year before, we applied for some funding from the Office for Low Emission Vehicles, and through something called the Niche Vehicle Network, they funded us to develop some off-grid e-bike charging stations."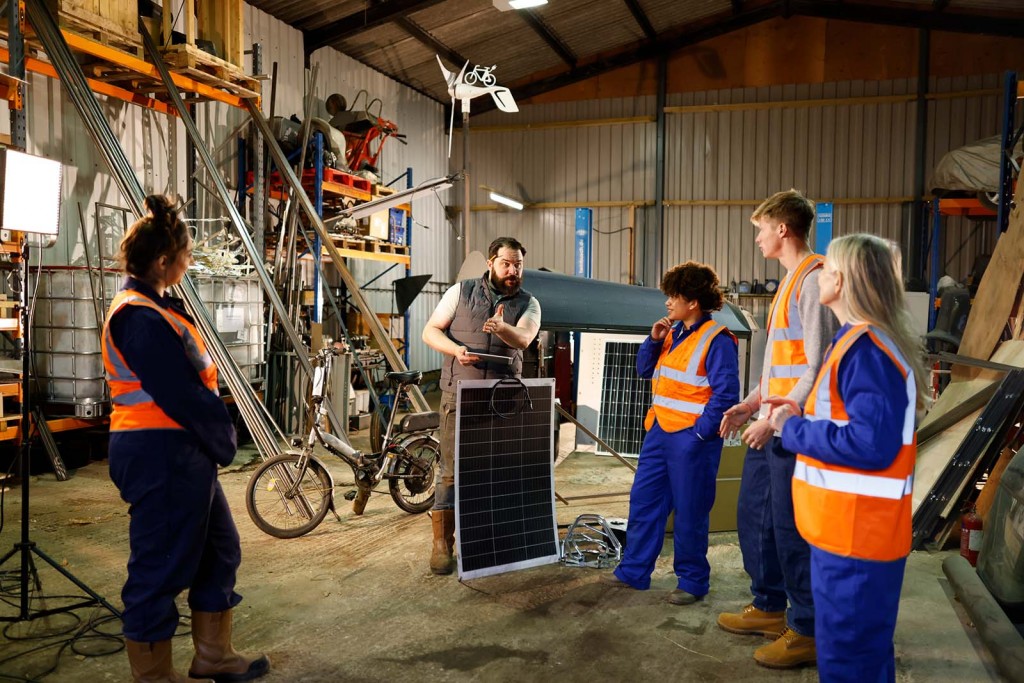 E-bikes are inherently efficient in terms of moving a person. They require far less food consumption to power them as an unassisted bike or even walking, and they're accessible, too. So it would make sense to invest in low-carbon charging options to encourage more people to make use of them. 
Currently, Dr Wallman and his team's big project is the off-grid e-bike charge stations they call Power Trip. These devices operate using wind and solar-generated energy to charge a 1kWh lithium-ion battery, which users can then plug their e-bikes into to charge (as long as they bring their own lead). The biggest selling point in Dr Wallman's eyes is the fact it uses "zero-carbon energy" to charge your e-bike battery. 
"From our life cycle analysis, we can see it's about six months from installation to when it produces less carbon than it took to make. There is a real environmental impact question around lithium-ion batteries, which we buy new. They're either LiFePO4 or lithium-ion at the moment, but we're looking into buying end-of-life EV batteries from Nissan, which are still at about 80% nominal capacity at the end of their life.
"I've got a Power Trip on the roof of this factory that charges my e-bike, and there's a real kick of charging it up with totally zero-carbon energy. This has zero environmental impact, this isn't grams of CO2 per kilometre, this is zero grams. It's a proper big deal, and we're excited about it."
The technology in solar panels has advanced in recent years, with a switch to monocrystalline panels from more traditional polycrystalline. Both use silicon, which works well but the effectiveness depends on the positioning and the ability to catch direct sunlight and UV. While Intelligen's solar panels currently use monocrystalline panels, there is another option emerging.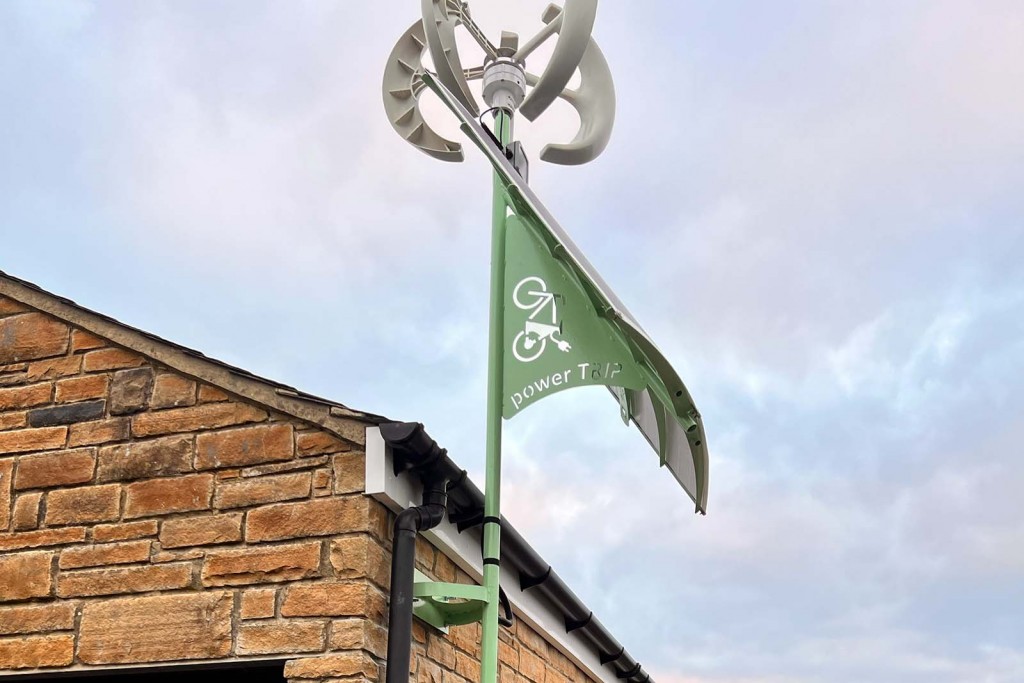 "There's been loads of research going on about this material called perovskite. Perovskite generates electricity from a much wider spectrum of electromagnetic radiation, not just UV so it generates electricity from infrared as well. So you can have these perovskite panels shaded, picking up the warmth, even towards the end of the day when you're getting heat radiated from buildings in an urban setting, and generate a bit of electricity from that. It's early days, but we're talking to intermediaries at the moment with the possibility of piloting some of their perovskite panels and seeing what the difference is."
Having the ability to generate energy from less sunny areas is key to being able to charge the battery effectively in more places, not just nominally sunny areas. However, there is a degree of personalisation Intelligen provides for each site, whereby they tweak the number of solar panels and wind turbines needed for optimum operation.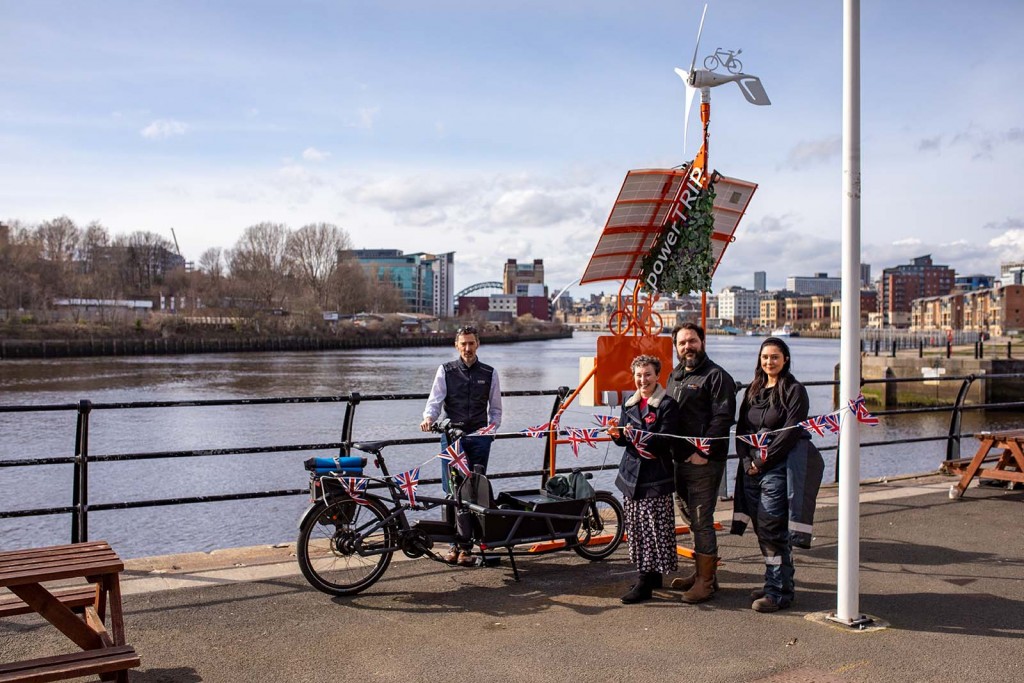 "if someone wants to install a Power Trip charger, they tell us the latitude and longitude of where they want to put it, and we feed that into our model, which uses retrospective data about solar radiation in western Europe over the past 10 years.
"It picks up all of the actual amounts of sunlight striking the ground, and takes into account things like the typical cloudiness of that location, but also things like air quality and pollution. We've also got a wind turbine database which roughly maps the way that the wind moves through the UK. Then we add those two together, and we can roughly tell you at one location how much energy you can generate."
Currently, there are only a few Power Trip locations across the UK, mainly in the North East, but there are expansion plans, with focal points being university campuses, hospitals, and National Cycle Network routes in partnership with Sustrans.
"We've got a little mini-network growing here in the North East. We've got one on the Quayside, one charger at Vindolanda on the Roman wall, one at an accommodation provider called Stanegate Hideaways on Route 72, and Haltwhistle train station. What we want to do is roll this out across the National Cycle Network and make it possible for tourists and recreational cyclists to start to knit together some of the long-distance routes."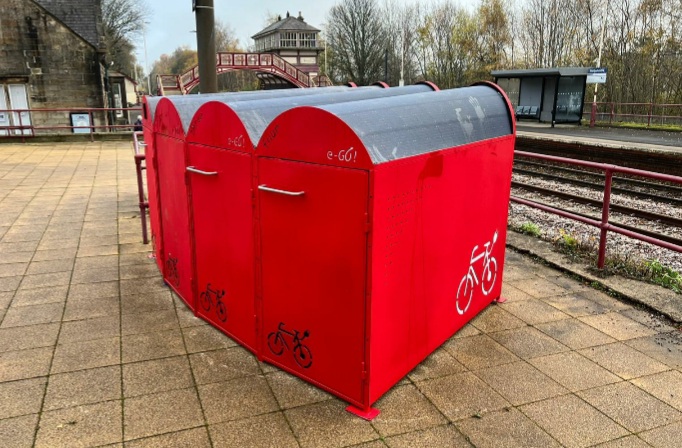 While there may only be a few options at the moment, there's no doubt these charge points would be a welcome addition for many e-bikers who experience range anxiety or want to ride further without the pressure of buying a second battery. 
Intelligen says that a full charge will take the same amount of time as it would at home, and currently, they use Sheffield bike stands so locking your e-bike is highly advised while you wait. There is a more secure option called the Power Park, which is a fully enclosed, keypad-operated bike locker and chargers which are available at Haltwhistle train station. Currently, charging your e-bike is free at any Power Trip, but slots aren't bookable, which is something Intelligen want to change with their second-phase chargers.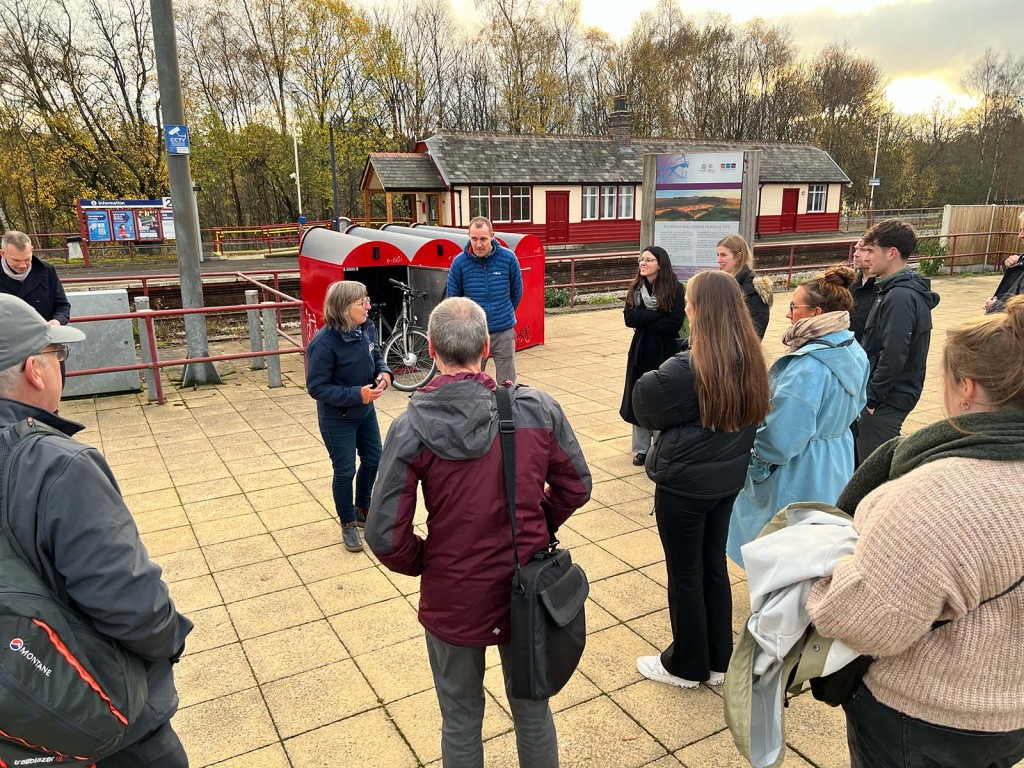 "It needs to be app controlled and bookable by the app. If you're looking at riding an e-bike as a genuine alternative to commuting by car, you need to be able to book a space where you know you can park your bike. And if the owner starts charging for the electricity in the future, pre-pay for that. Say you're taking on 250Wh and you want to pre-pay to do that, there could be all sorts of extensions to this. 
"The first phase is we get our hard points in, where riders know they can go to charge up and we've got the wind turbines and the solar panels in, and then later on we look at retrofitting those with our app which then allows you to pre-pay, secure the bike and charge and pay for that and whatever it is."
READ MORE
Subscribe to the Move Electric newsletter
e-CARS
Ten electric cars we're excited for in 2023
Getting an EV sideways: how easy is it to drift a Kia EV6 GT?
Q&A: Jaguar Racing's Sam Bird and Mitch Evans on Formula E's new era
e-BIKES
Ten electric bikes we're excited for in 2023
Can you get fit using an electric bike?
e-MOTORBIKES
Ten electric motorbikes we're excited for in 2023
Super Soco TC Max electric motorbike review
Cake and Polestar team up for new special edition Makka e-motorbike
e-SCOOTERS
Planned laws to legalise private e-scooters face delay
Five key takeaways from the rental e-scooter trials report
Which train firms have banned e-scooters from their services?
e-WORLD
Move Electric's best features of 2022: lap records, tuk-tuks… and sausage rolls
Volvo Trucks keeps on electric trucking with three new models