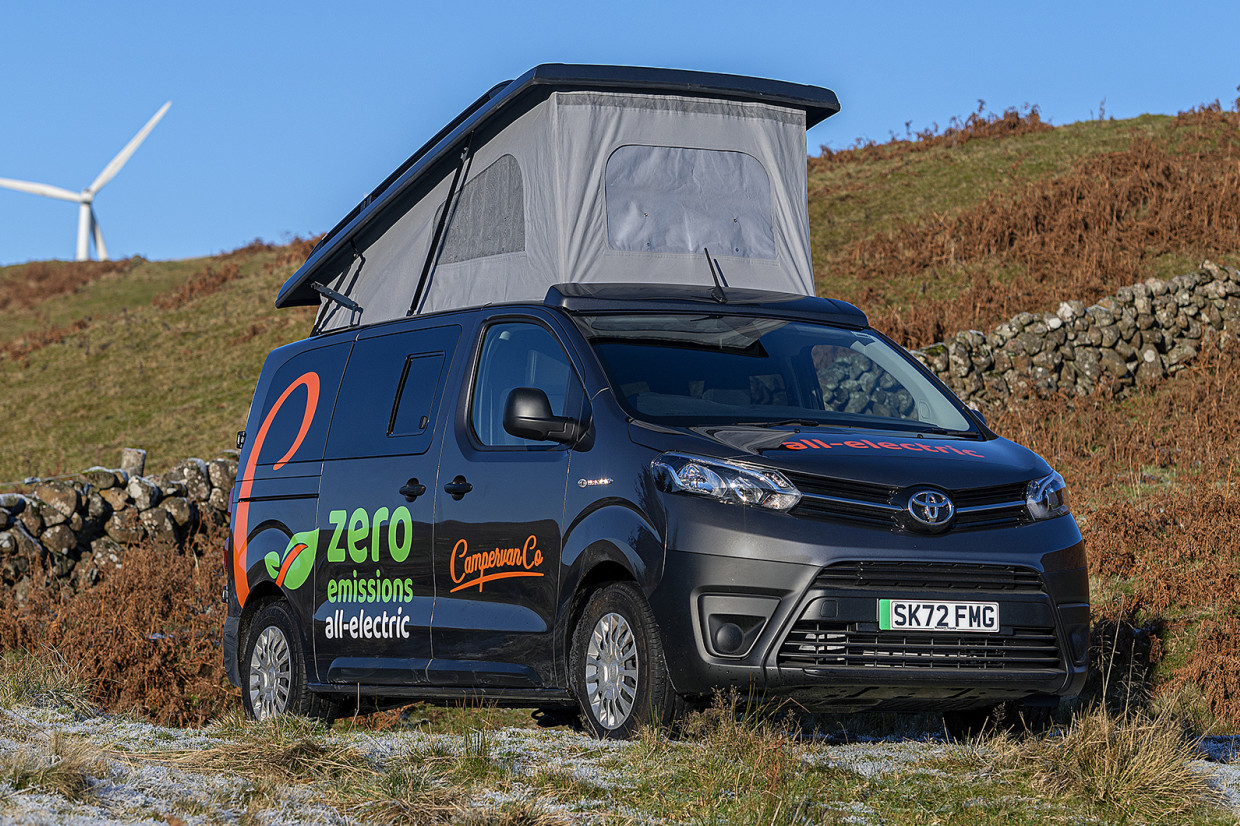 Scottish firm CampervanCo has launched a new multi-purpose electric camper based on the Toyota Proace van.
The Proace Eco Revolution has been developed by CampervanCo using Toyota's commercial van as a base. The firm has turned the regular Proace EV into a four-seat camper with a full kitchen. But the design is modular, so the kitchen and beds can be removing, turning it into a seven-seat MPV. 
The latest e-mobility news in your inbox: get our FREE newsletter
The machine retains the drivetrain of the regular Proace EV, so there's a 100kW motor and a choice of 50 and 75kWh batteries, offering a range of 144 and 205 miles respectively. The firm says that the Proace's battery could run the appliances in the machine for around two weeks. 
CampervanCo's conversion includes a pop-up roof that creates space for a two-berth bed, and there's also 930 watts of solar panels. Those can be used to power kitchen items including the induction hob, fridge, lights and heater.
The Toyota Proace Eco Revolution is priced from £69,995 and is available to pre-order now. It will be shown in public at the Camping, Caravan and Motorhome show at the Birmingham NEC later this month.
CampervanCo offers independent conversions of a range of vehicles, and since 2016 has offered a range of hybrid 'Eco' models.
The Proace Eco Revolution is one of the first electric camper to go on sale in the UK – but the market is set to grow rapidly in recent years with an influx of offerings from manufacturers and other third-party firms.
READ MORE
Subscribe to the Move Electric newsletter
e-CARS
Ten electric cars we're excited for in 2023
Getting an EV sideways: how easy is it to drift a Kia EV6 GT?
Q&A: Jaguar Racing's Sam Bird and Mitch Evans on Formula E's new era
e-BIKES
Ten electric bikes we're excited for in 2023
Can you get fit using an electric bike?
e-MOTORBIKES
Ten electric motorbikes we're excited for in 2023
Super Soco TC Max electric motorbike review
Cake and Polestar team up for new special edition Makka e-motorbike
e-SCOOTERS
Planned laws to legalise private e-scooters face delay
Five key takeaways from the rental e-scooter trials report
Which train firms have banned e-scooters from their services?
e-WORLD
Move Electric's best features of 2022: lap records, tuk-tuks… and sausage rolls
Volvo Trucks keeps on electric trucking with three new models