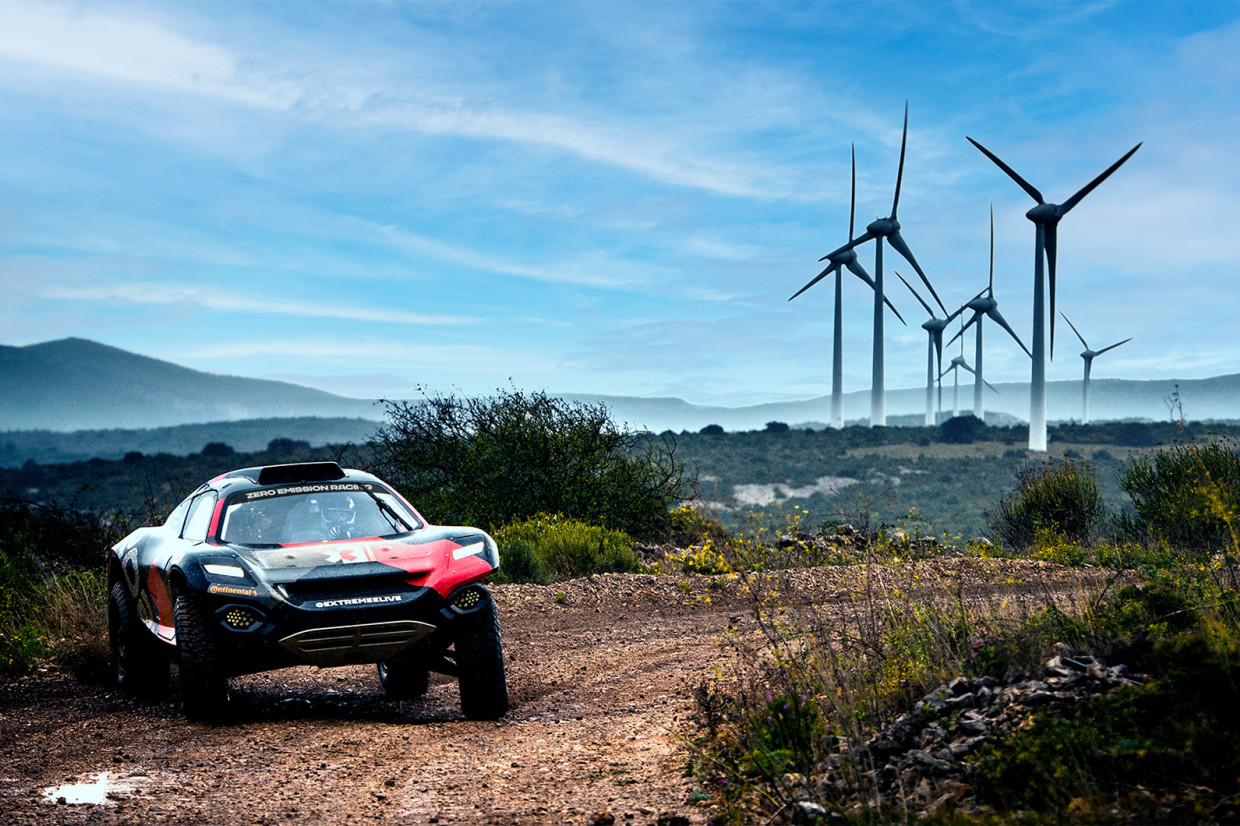 Extreme E, the electric off-road championship designed to raise awareness of climate change, has released its first sustainability report to highlight its efforts to reduce carbon emissions.
The series features identical 400kW (536bhp) Spark-Odyssey buggies racing in remote locations around the world impacted by climate change. The report, conducted by accountancy firm EY, shows that Extreme E was carbon net zero by the end of its first season last year, although that was partly due to carbon offsetting through investment in a wind farm in Patagonia, Argentina.
According to the report, Extreme E had a carbon footprint of 8870 tonnes of CO2 equivalent (tCO2e) for the 2021 season, an average of 1774 tCO2e per race. 
By far the biggest proportion of those emissions – 82% – were due to freight involved in transporting the infrastructure for the championship around the world. But series bosses say they have worked to mitigate that: Extreme E has its own cargo ship, a converted Royal Mail carrier called the St Helena. By running it on low sulphur diesel and plotting out the most efficient route between events, Extreme E claims it is the least harmful way to carry its freight – saving 5200 tCO2e compared with using air freight.
Staff travel accounts for 12% of Extreme E's emissions, with its impact reduced by limiting teams to seven on-site personnel (two drivers, one engineer and four mechanics). Cars are responsible for around 4% of the championship's emissions.
The Extreme E race cars are powered using electricity generated through green hydrogen produced on-site by AFC Energy, while the paddock is powered using second-life batteries and non-diesel generators.
Extreme E also reduces its environmental impact through running non-spectator events, and has also run legacy programme sustainability initiatives at every event. Those include helping plant a million mangroves to combat sea level rise in Senegal and investing in an education program and solar panels in Greenland.
Extreme E boss Alejandro Agag said: "This is just the start of our journey and we are learning all the time, but this report details our journey to having the lowest carbon footprint in international motorsport."
The 2022 Extreme E season begins in Neom, Saudia Arabia on February 19/20.
READ MORE
e-CARS
The ten best-selling electric cars in the UK
e-BIKES
Cairn Cycles E-Adventure 1.0 e-bike review
Ten e-bikes we're looking forward to in 2022
e-MOTORBIKES
Ten electric motorbikes to look forward to in 2022
Art, sustainability and choppers - the wonderful world of Stirling Eco
e-SCOOTERS
Hypercar firm Bugatti's first electric vehicle is an 18mph e-scooter
Ride-hailing firm Bolt set for UK expansion after big investment
e-WORLD
Veolia to open first UK plant for recycling EV batteries
The new Bobcat T7X is a truly groundbreaking electric digger