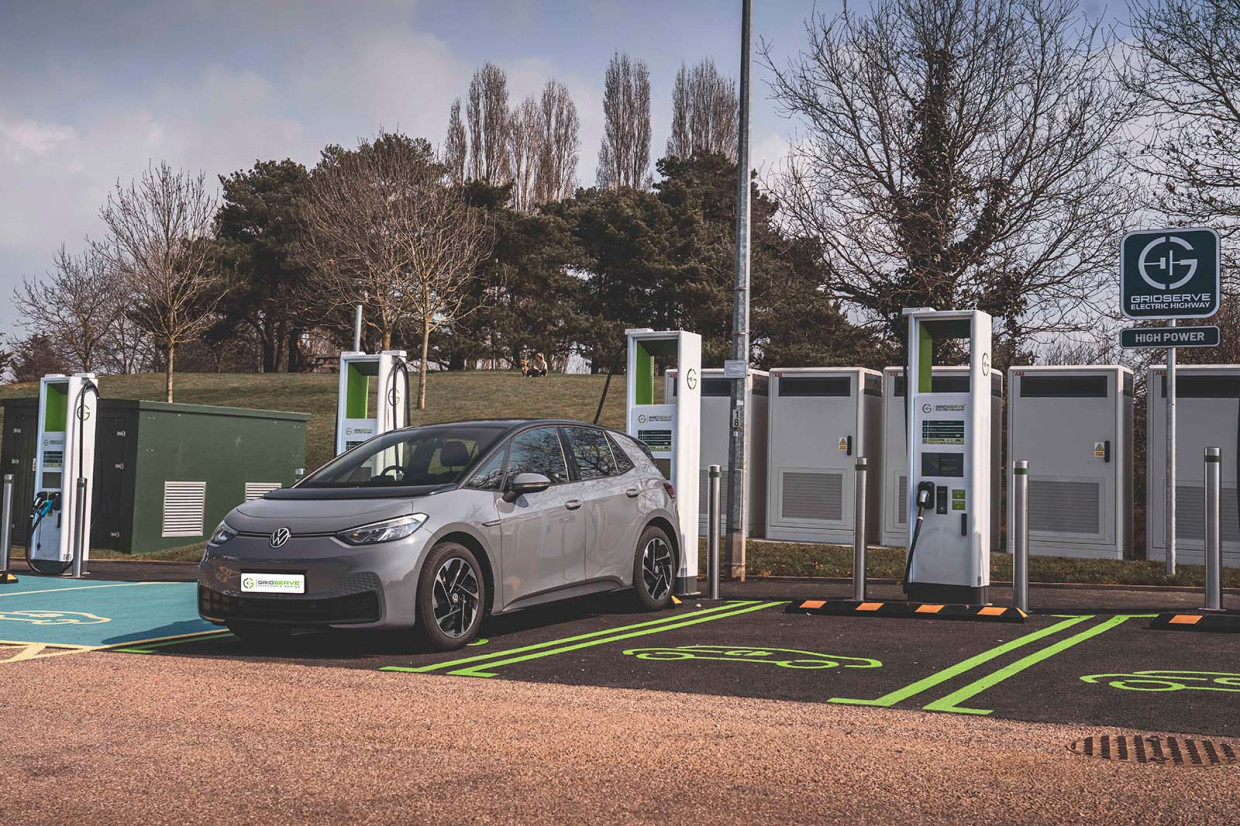 Every electric car charger on the UK's motorway network operated by Gridserve has been upgraded in the past ten months, according to the company.
Sustainable energy business Gridserve acquired the Electric Highway network from energy supplier Ecotricity last summer. At the time Gridserve's reputation for reliability and quality had received heavy criticism.
The work focused on upgrading more than 300 medium power Electric Highway chargers at over 130 motorway service areas run by Extra, Moto, Roadchef, Welcome Break and Westmorland.
Gridserve set about replacing the chargers on the Electric Highway network with more modern and reliable units offering contactless payment, 24-hour support and real-time status updates.
Alongside the updates to the network, Gridserve said that it had started to deliver new high power electric hubs, which consist of six or more high power chargers, with three of these new sites operational today in Swansea, Exeter and Burton-in-Kendal, with a further nine hubs under construction. 
The firm added that the new hubs are on major arterial routes in south Wales and north west England, where 24 new charges can deliver up to 100 miles of range in less than 10 minutes. 
 
This month Gridserve will move on to the next phase of its upgrading programme by rolling out a dual charging feature on the medium power chargers on the Electric Highway. This will enable multiple connectors to be used at the same time, on a single charger, doubling the number of cars that can charge at once at those locations.   
 
"As an early adopter of electric vehicles myself, the Electric Highway network played an essential role in enabling me to make the switch," said Gridserve CEO Toddington Harper. 
"However those days are long gone and Gridserve's focus is delivering an EV charging network fit for purpose to support the mass-market transition to electric vehicles."
READ MORE
Subscribe to the Move Electric newsletter
e-CARS
New Volkswagen ID Buzz: everything you need to know
How efficient are electric cars?
e-BIKES
Ducati expands e-bike range with first racing machine
e-MOTORBIKES
New Yamaha Neo is Europe-bound '50cc equivalent' electric moped
Electric Motion Epure Race e-motorbike review
e-SCOOTERS
Eskuta KS-450 e-scooter review
Taito unveils innovative new three-wheeled electric scooter
e-WORLD
Electric surfboard firm Awake aims to make waves with first e-foil
Volta Zero electric truck can 'dramatically improve' inner-city road safety