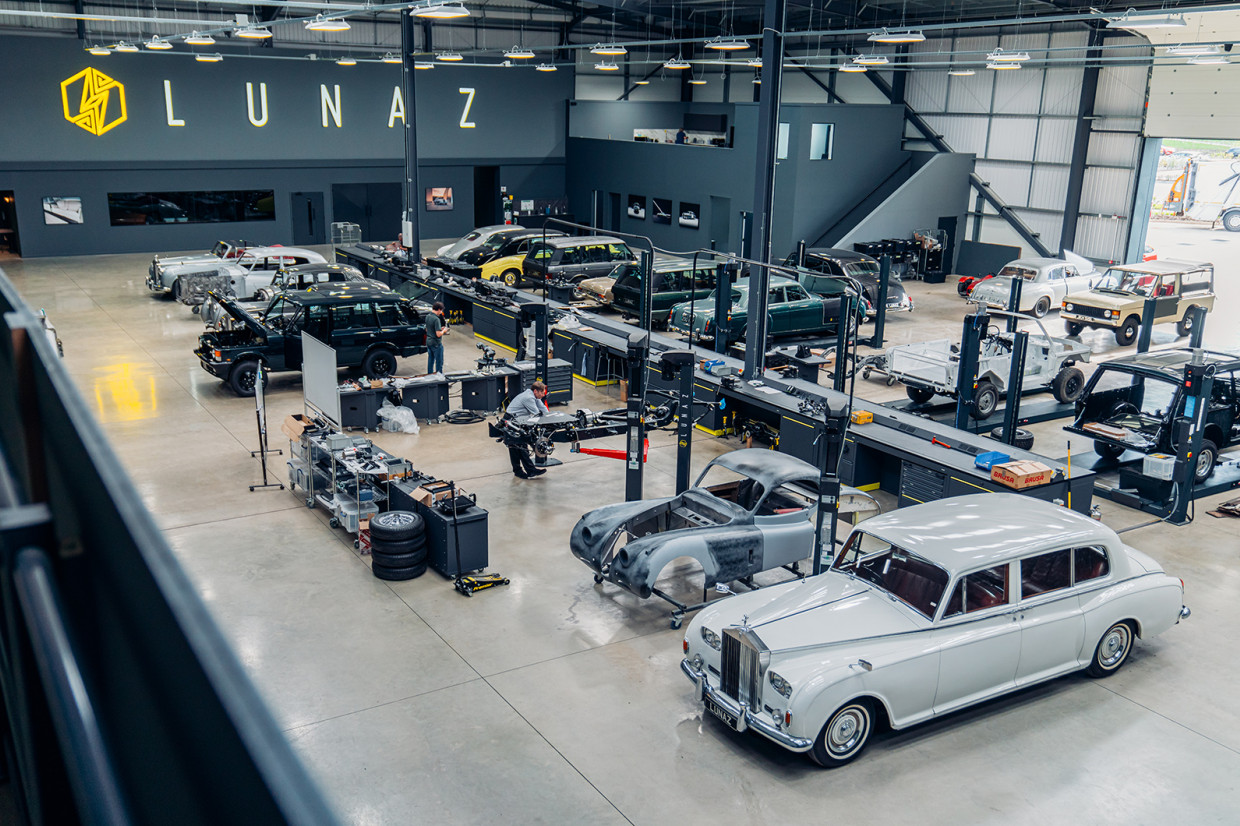 Electric luxury classic car conversion specialist Lunaz says it has sold out of its production run for the next two years - and is now taking orders for 2024.
The Silverstone-based firm takes high-end cars from firms such as Bentley, Rolls-Royce, Aston Martin and Range Rover, and re-engineers them by switching their combustion engines for an electric motor. It also making a raft of other upgrades which the firm claims ensures the machine retains it original characteristics.
Founded in 2018, Lunaz has found strong demand for its products, and says that it has now sold out of its production run in 2022 and 2023. Work is ongoing to build a new facility next to its current base that will increase output to 110 electrified vehicles per year – a 50% increase on its 2020 output.
Lunaz is now taking orders for 2024 delivery. Prices start at £295,000 for a converted Range Rover, rising to around £950,000 for an Aston Martin DB6.
The firm says that its electromods are popular with classic car owners who want to use their car in cities where there are regulations on emissions, and the firm has also enjoyed considerable success exporting to the USA, Europe and Asia-Pacific region. 
Lunza refers to its machines as uEVs - upcycled electric vehicles. The firm says that converting existing machines to electric power has a carbon saving of more than 80% compared to building a new one.
Each vehicle that Lunaz works on is inspected, weight, measured and 3D-scanned, which allows the creation of a details CAD model. The ICE unit is then removed and replaced with a bespoke modular EV powertrain that has been developed in-house, and uses cells, inverters and motors supplied direct from 'Tier 1' suppliers.
Software engineers then tune the powertrain specifically for each car to meet the dynamic requirements, before more traditional coachbuilding skills are used to strip down the car, remove all defects and rebuild it.
Interior work is also done with a process of 'up cycling', using recycled textiles and other materials.
As well as the DB6, cars that Lunaz says it has worked on so far include Range Rovers dating from 1969 until 1994, Bentley Continentals, Jaguar XK120, 140 and 150s, Rolls-Royce Silver Clouds and several Rolls-Royce Phantoms.
And if all that sounds a bit high-end for you? Well, Lunaz also has an operation that converts bin lorries to electric power. We imagine the customer base is somewhat different…
READ MORE
e-CARS
The ten best-selling electric cars in the UK
e-BIKES
Cairn Cycles E-Adventure 1.0 e-bike review
Ten e-bikes we're looking forward to in 2022
e-MOTORBIKES
Ten electric motorbikes to look forward to in 2022
Art, sustainability and choppers - the wonderful world of Stirling Eco
e-SCOOTERS
Hypercar firm Bugatti's first electric vehicle is an 18mph e-scooter
Ride-hailing firm Bolt set for UK expansion after big investment
e-WORLD
Veolia to open first UK plant for recycling EV batteries
The new Bobcat T7X is a truly groundbreaking electric digger