It's a common problem we've all experienced: you want to hit the beach to go surfing, but your electric motorbike doesn't have anywhere to carry your surfboard. Thankfully, that will no longer be an issue thanks to the new BMW CE 04 Vagabund Moto Concept.
Okay, we're exaggerating when we describe that as a common problem, but there's more to the new version of BMW's excellent electric moped than its ability to carry unusual loads. The new Vagabund Moto Concept has been designed to showcase how urban e-motorbikes can be customised to an individual's needs.
A wave of e-motorbike news three times a week: get our FREE news letter
The machine is a collaboration between BMW Motorrad Austria and Austrian motorbike customisation specialist Vagabund, and is a BMW CE 04 that has been heavily customised to showcase new multifunctional design elements. Including, most notably, a special attachment giving it ability to carry a surfboard.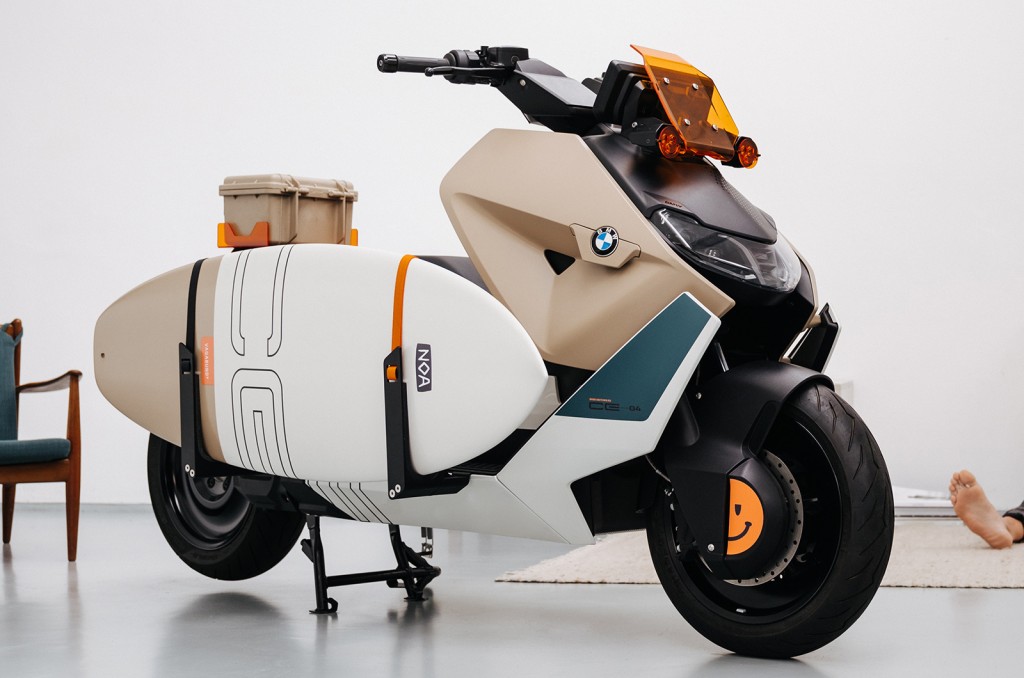 "The surfboard isn't just a piece of sports equipment: it's also a metaphor for a sustainable urban lifestyle," said BMW Motorrad Austria boss Oliver Balzer. "The BMW CE 04 Vagabund Moto Concept combines work, leisure and individual flair, demonstrating that there needs to be no contradiction between any of these areas."
No, we're not 100 per cent sure what all that means, either. But the bike is very well done: beyond the surfboard, there are number of other functional changes, with the standard CE 04's storage space given a functional top case to increase storage capacity.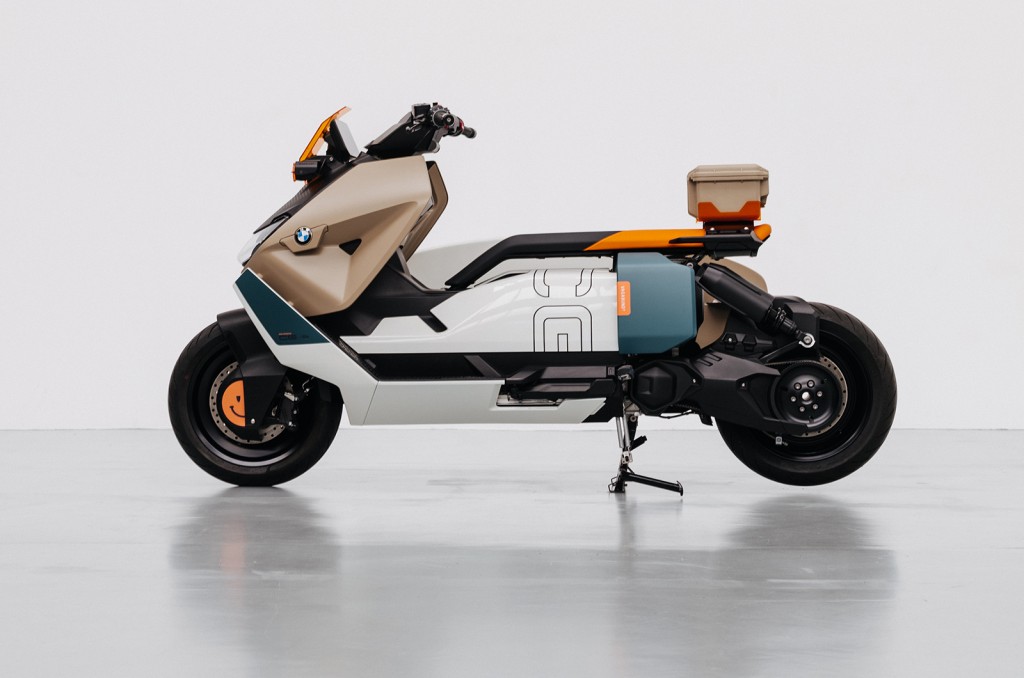 The machine has also received extensive styling modifications. There's a new white, dark green, beige and black livery, and the addition of a smiley face motif on the front wheel hub and indicator lights. 
The concept retains the same powertrain as the standard BMW CE 04, with a 31kW motor and 8.5kWh (usable) battery that gives an official range of 81 miles.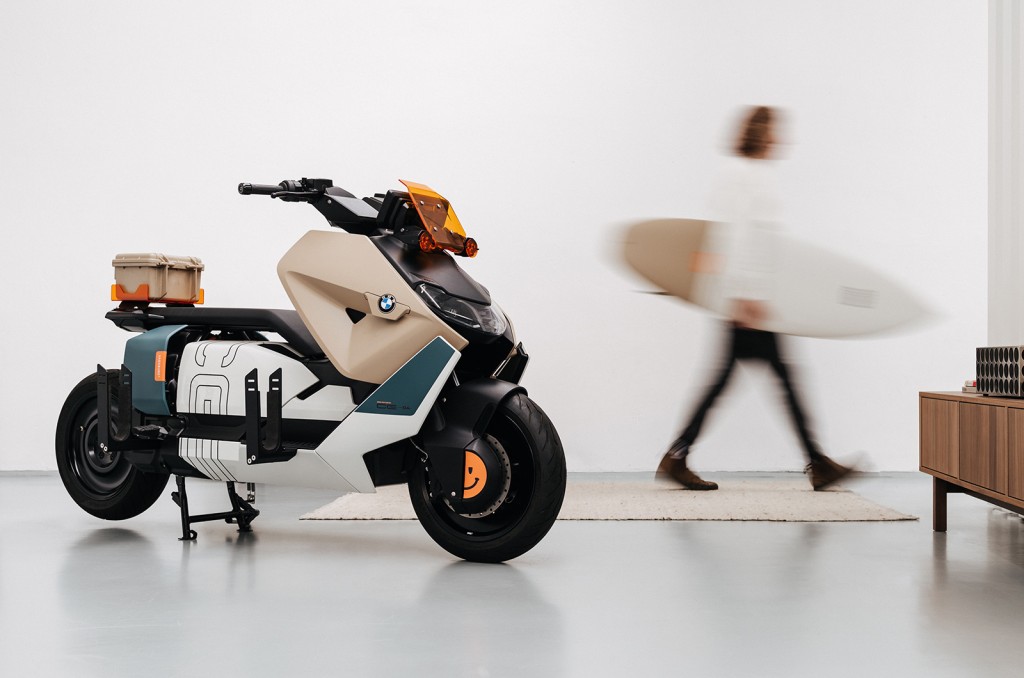 Vagabund boss Paul Brauchart said: "We haven't reinvented the wheel, but we have taken a new look at function. We call it drawing on the synergies between functionality and aesthetics in a way that is suitable for everyday use."
Whether your everyday use involves carrying a surfboard on an e-motorbike is another question, but it's nice to know you could. Sadly for surfing e-motorbikers, the machine is a one-off for now.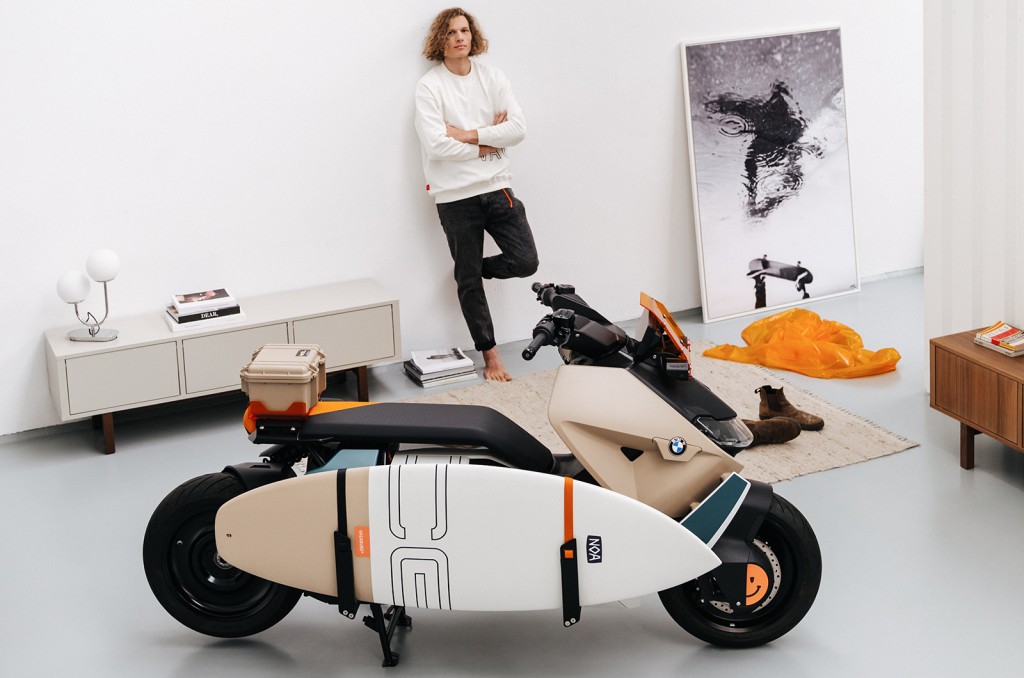 READ MORE
Subscribe to the Move Electric newsletter
e-CARS
Ten electric cars we're excited for in 2023
Getting an EV sideways: how easy is it to drift a Kia EV6 GT?
Q&A: Jaguar Racing's Sam Bird and Mitch Evans on Formula E's new era
e-BIKES
Ten electric bikes we're excited for in 2023
Can you get fit using an electric bike?
e-MOTORBIKES
Ten electric motorbikes we're excited for in 2023
Super Soco TC Max electric motorbike review
Cake and Polestar team up for new special edition Makka e-motorbike
e-SCOOTERS
Planned laws to legalise private e-scooters face delay
Five key takeaways from the rental e-scooter trials report
Which train firms have banned e-scooters from their services?
e-WORLD
Move Electric's best features of 2022: lap records, tuk-tuks… and sausage rolls
Volvo Trucks keeps on electric trucking with three new models