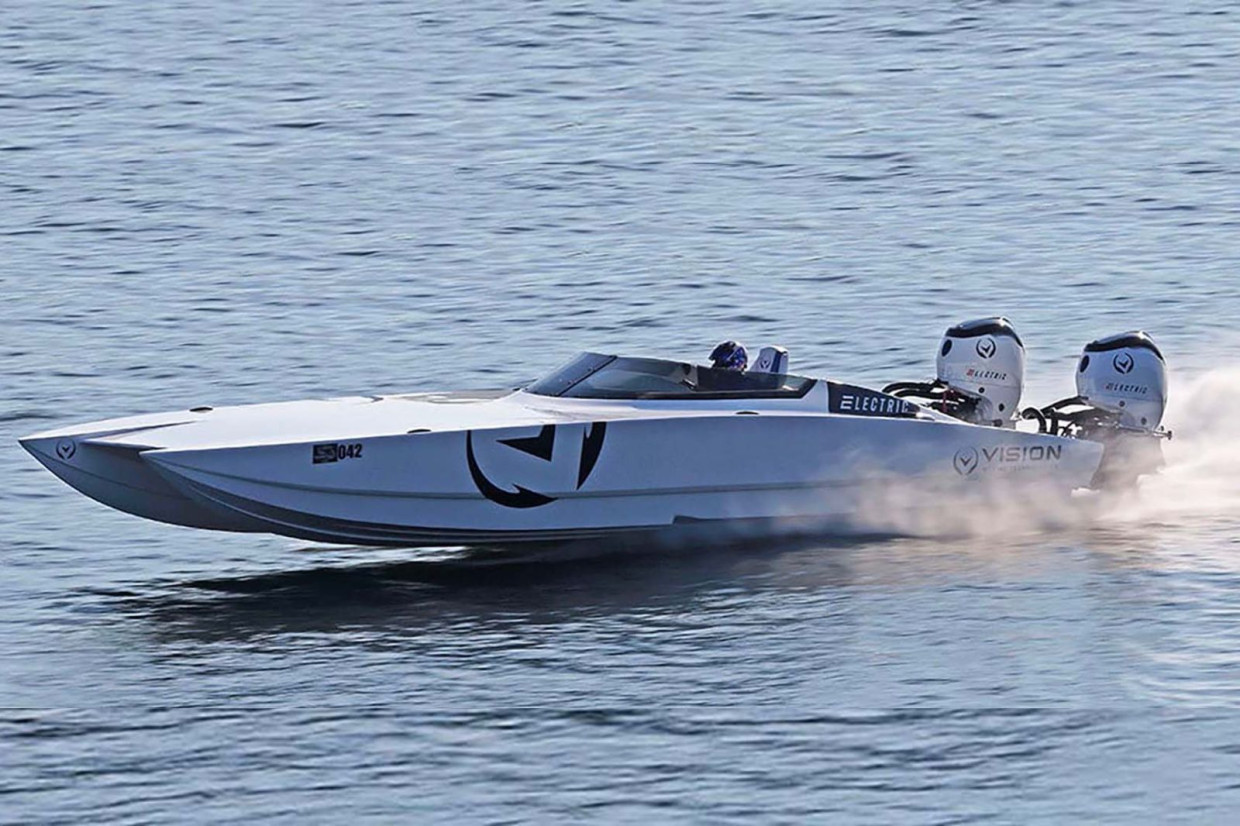 Electric boat manufacturer Vision Marine Technologies has shattered the world record for the fastest electric boat after its V32 vessel broke the 100mph speed barrier. 
The Canadian-based firm builds a number of electric boats, as well as a 70kWh, 134kW electric outboard. 
In partnership with boat maker Hellkat Powerboards, Vision Marine created the V32, a 32 foot catamaran hull specifically designed to accommodate the batteries needed to power the firm's E-Motion electric outboards. 
Vision Marine's V32 is claimed to have broken the world record for the world's fastest boat after achieving a top speed of 109mph at the Lake of The Ozarks Shootout. 
The V32 was built from the ground up and tested for several months in Florida prior to its record-breaking run. 
Vision Marine also partnered with Octillion Power Systems to power the vessel, while Nextfour Solutions helped with the V32's monitoring systems. 
"This accomplishment is the fruit of many years of close technical collaboration with our European and American partners," said Vision Marine CTO and COO, Xavier Montagne. 
"We worked hard on optimising the electric motors, the 700V batteries, the cooling circuitry, and the hardware and software integration, all of which are quintessential to our success as a leader in the electric marine propulsion industry."
The firm says that the commercial boating market "is in dire need of a performance electric outboard that can accommodate a wide range of vessel applications". 
In July 2022, Vision Marine entered a new partnership with sailing and motor boat builder Beneteau, which will see the E-Motion electric outboard integrated into various models across the Groupe Beneteau brand portfolio. 
The first collaboration between the two companies will be the launch of the Four Winns H2 OB, a new fully electric powerboat which will be presented at the upcoming IBEX boat show in September. 
READ MORE
Subscribe to the Move Electric newsletter
e-CARS
Video: Can the National Grid cope with a surge in electric vehicles?
e-BIKES
What to look for when buying an e-bike: Move Electric's top tips
The rise of Volt Bikes: 'when we launched, people thought we were mad'
e-MOTORBIKES
Maeving RM1 electric motorbike review
Q&A: Zapp founder on why electric mopeds are the future
Government plans 2035 ban on new non-zero emission motorbike sales
e-SCOOTERS
Tier to upgrade e-scooter fleet with a smart 'Parrot'
Q&A: Neuron Mobility's UK boss on e-scooters, safety and helmet selfies
e-WORLD
Polestar to supply battery tech to electric boat firm Candela
Engineering giant ABB working on electric Dover-Calais ferry