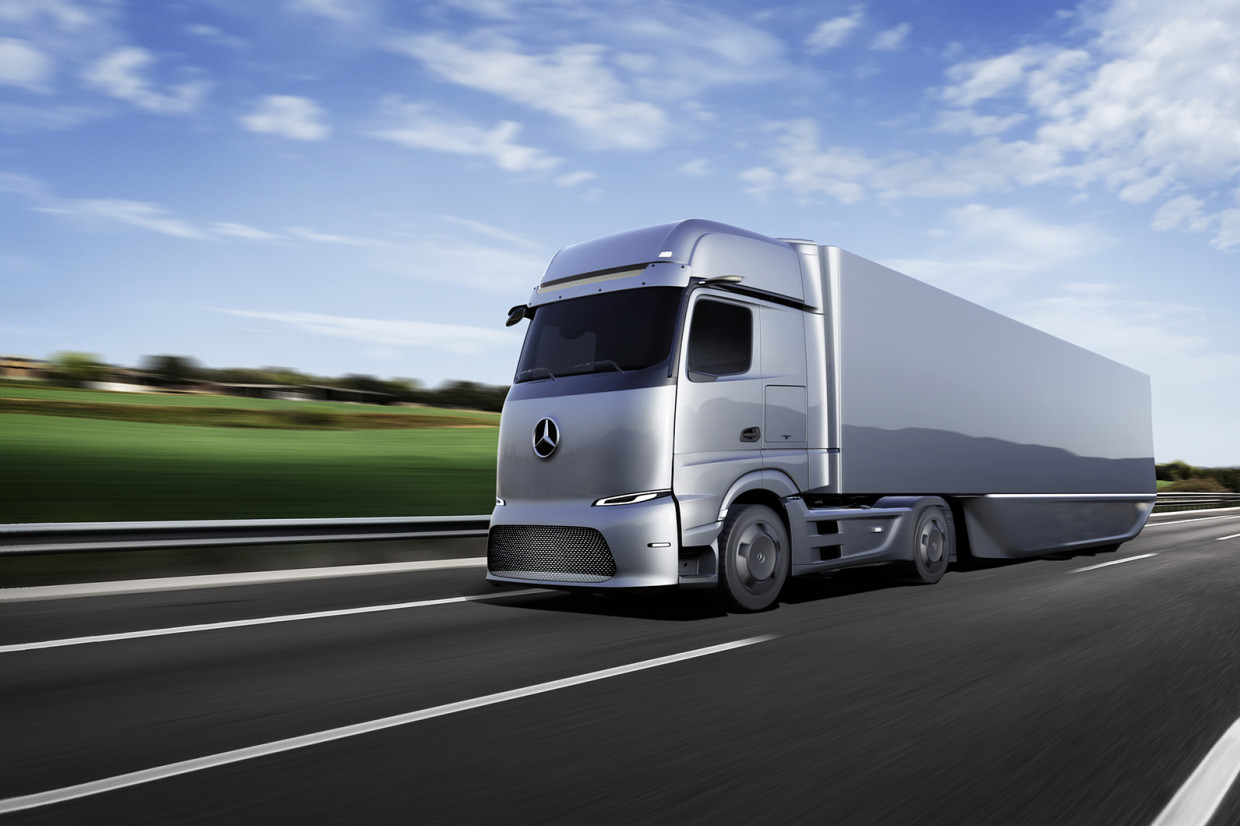 Mercedes-Benz Trucks will team up with Amazon and German logistics giant Rhenus to stage 'real-world' testing of its new electric eActros LongHaul 40-tonne truck in Germany next year.
The two firms will use prototype versions of the electric truck, which will offer a claimed range of around 310 miles, as part of a wider project named HoLa to test high-performance charging for long-haul trucking.
A big haul of e-mobility news in your inbox: get our FREE newsletter
Mercedes-Benz Trucks says feedback from the trial will be used to hone the final versions of the eActros, which is due to go into full production in 2024. The 40-tonne machine is designed to carry shipping container-sized loads, and will be capable of high-speed 'megawatt charging'.
It features batteries that use lithium-iron phosphate technology, which Mercedes-Benz says offers a long service life and more usable energy. Charging at an output of one megawatt would allow the battery to be charged from 20 to 80 per cent in under 30 minutes – although the firm has not specified the exact size of the eActros LongHaul battery.
Building on Mercedes-Benz's own internal trials, Amazon and Rhenus will use the truck on public roads for a range of long-distance roles, including carrying shipping containers.
The wider HoLa project is being run by Germany's motoring authority, the VDA, with the aim to develop a high-performance charging infrastructure for long-haul vehicles. Because of the size of batteries that will be required to shift large loads, to be viable for road use they will need to be charged at a substantially faster rate than more electric cars.
The HoLa trial will be run on the German A2 road between Berlin and North Rhine-Westphalia. Several CCS charging stations will be installed at sites along the route, both on the motorway and in logistics centres. The aim is to eventually develop a charging standard that can charge an electric lorry in 45 minutes – the length of a statutory driver break.
A prototype version of the eActross LongHaul will be shown at the IAA Transportation show in Hanover, Germany next week.
READ MORE
Subscribe to the Move Electric newsletter
e-CARS
Video: Can the National Grid cope with a surge in electric vehicles?
e-BIKES
What to look for when buying an e-bike: Move Electric's top tipsx
The rise of Volt Bikes: 'when we launched, people thought we were mad'
e-MOTORBIKES
Maeving RM1 electric motorbike review
Q&A: Zapp founder on why electric mopeds are the future
Government plans 2035 ban on new non-zero emission motorbike sales
e-SCOOTERS
Tier to upgrade e-scooter fleet with a smart 'Parrot'
Q&A: Neuron Mobility's UK boss on e-scooters, safety and helmet selfies
e-WORLD
Polestar to supply battery tech to electric boat firm Candela
Engineering giant ABB working on electric Dover-Calais ferry