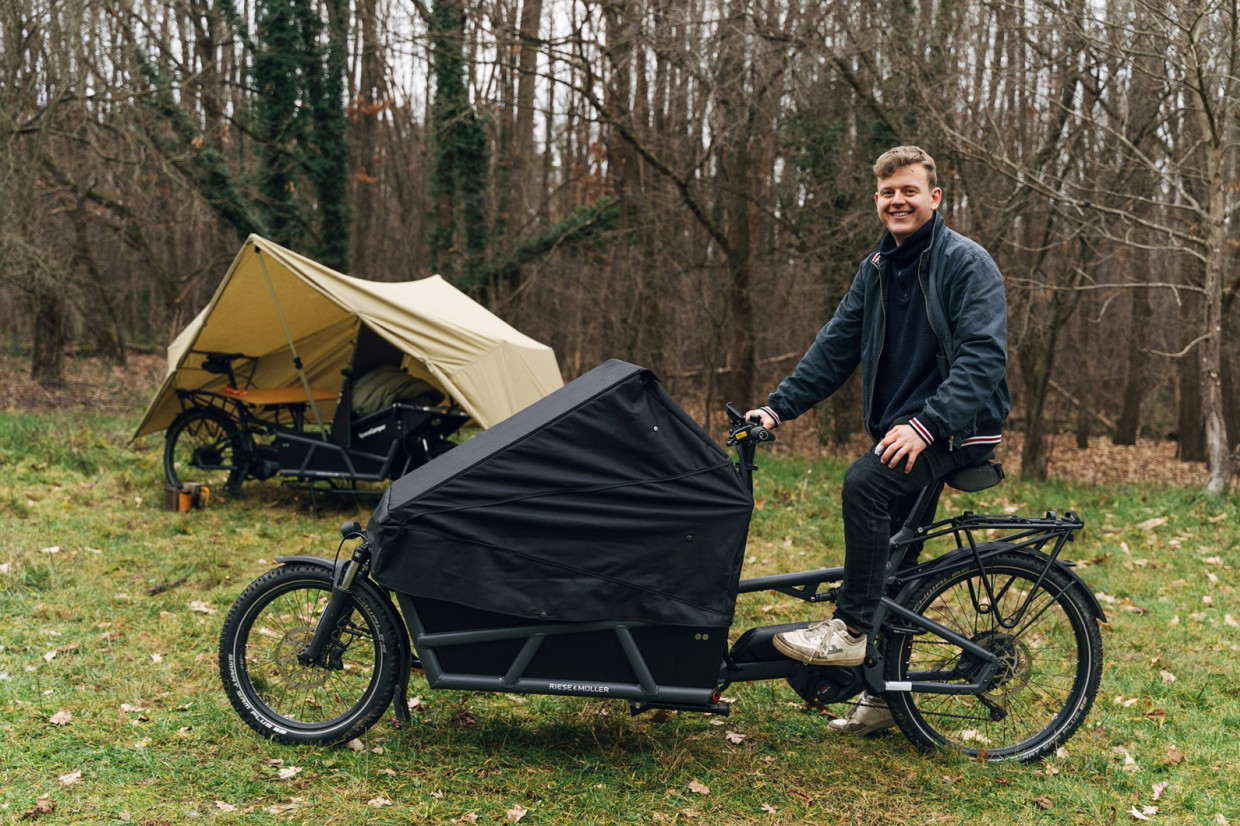 There's a rapidly growing number of electric campers on the way, offering a guilt-free way to spend some time enjoying the Great Outdoors. But German firm SpaceCamper reckons there's an even better vehicle for a green holiday – so it's created the first cargo e-bike camper.
The Darmstadt company has been producing campers for more than 15 years, mostly based on the Volkswagen Transporter. But company boss Ben Wawra reckons there's a gap in the market for a holiday vehicle on two wheels.
The latest e-bike news wherever you are: get the FREE Move Electric newsletter
The SpaceCamper Bike is an extensively reworked Riese&Müller Load, which features full suspension and a mid-mounted Bosch motor powered by a 100Wh battery. It can also be optioned with mountain bike tyres, an electronic 14-speed Rohloff gear selector and ABS brakes.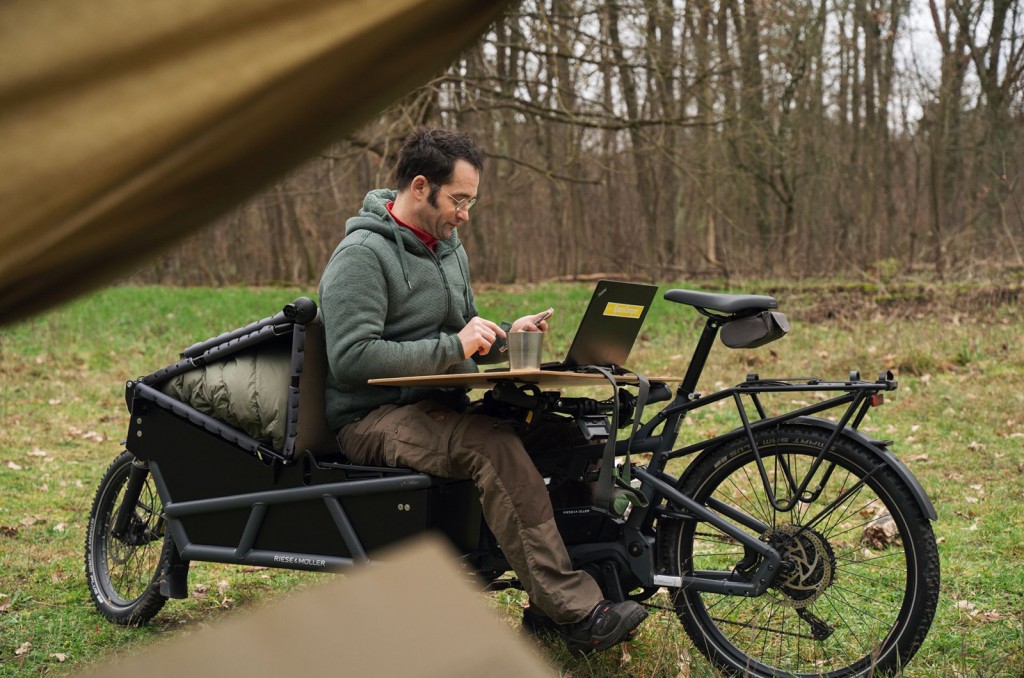 The choice of a Riese&Müller machine isn't an accident: SpaceCamper co-founder Markus Riese is also the two founders of the hugely successful e-bike firm. 
The machine is designed for both everyday use and for holidays, and features a built-in bed, table and canvas roof. The idea is that it will appeal to "digital nomads" who are seeking a better work-life balance.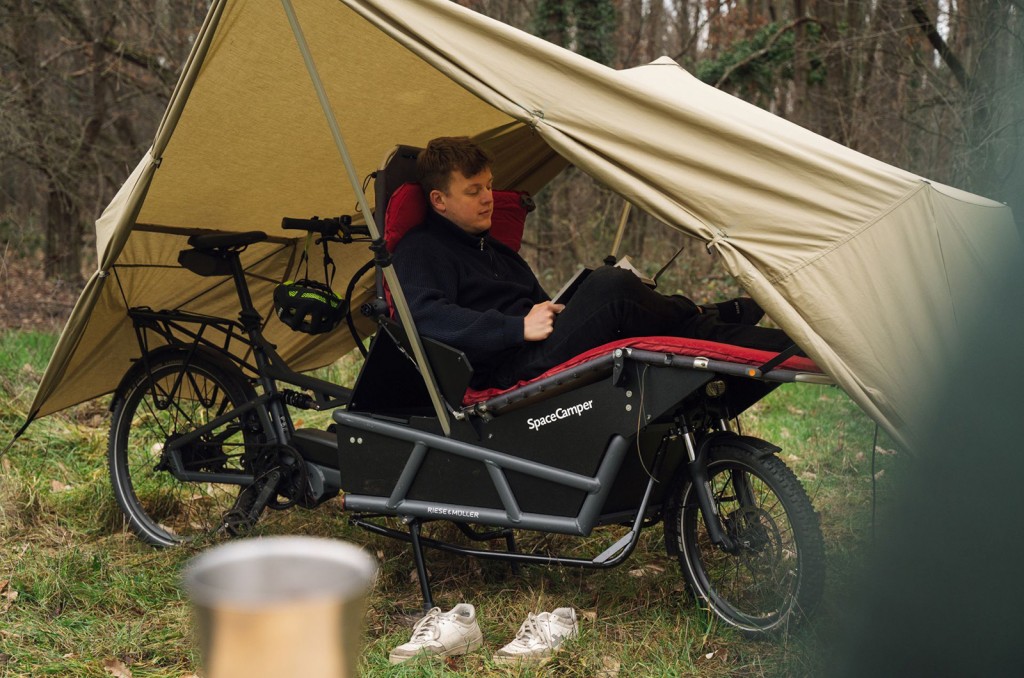 The SpaceCamper Bike has been in development for a year, with the challenge to maintain the functionality for everyday use while also adding camping features. So while much of the camping kit can be removed, the partially lockable luggage compartment remains.
The bike also features a variable reclining surface, which SpaceCamper says can serve as a chair if you need a short break or even as a bed for the night if you don't fancy unrolling your sleeping bag onto the ground.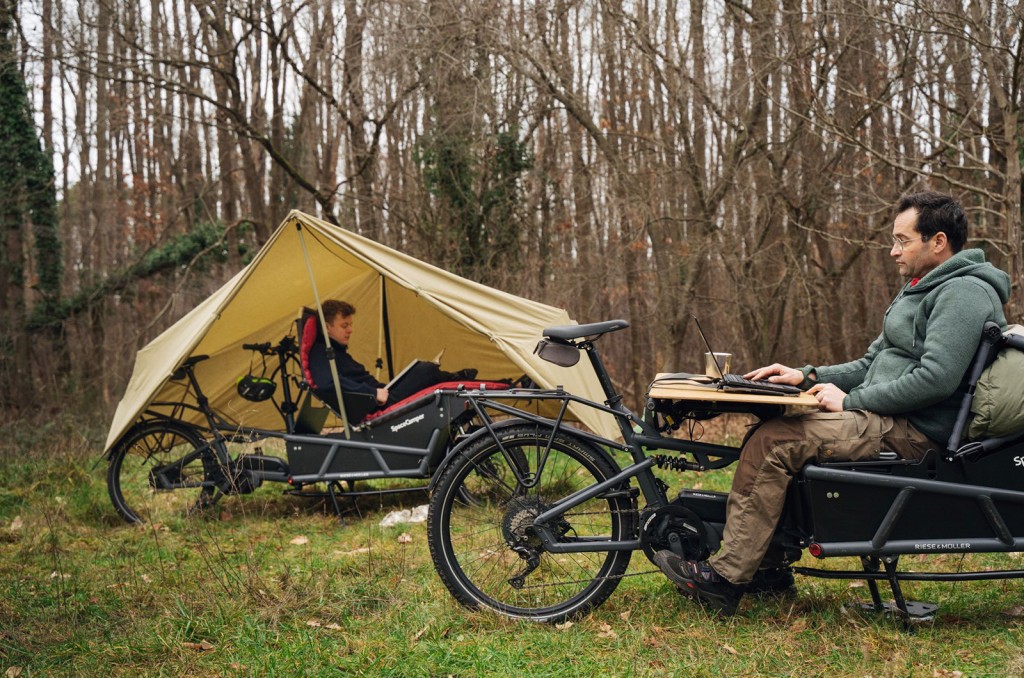 The table is then mounted over the folded-down handlebars, while the roof is provided by a tarp canvas, which is mounted directly onto the bike to avoid having to mess around with pegs and tension ropes. The firm claims that it can be set up or taken down in around five minutes.
SpaceCamper is currently putting the finishing touches to the bike in its workshop, with sales due to begin this summer.
READ MORE
Subscribe to the Move Electric newsletter
e-CARS
Ten electric cars we're excited for in 2023
Getting an EV sideways: how easy is it to drift a Kia EV6 GT?
Q&A: Jaguar Racing's Sam Bird and Mitch Evans on Formula E's new era
e-BIKES
Ten electric bikes we're excited for in 2023
Can you get fit using an electric bike?
e-MOTORBIKES
Ten electric motorbikes we're excited for in 2023
Super Soco TC Max electric motorbike review
Cake and Polestar team up for new special edition Makka e-motorbike
e-SCOOTERS
Planned laws to legalise private e-scooters face delay
Five key takeaways from the rental e-scooter trials report
Which train firms have banned e-scooters from their services?
e-WORLD
Move Electric's best features of 2022: lap records, tuk-tuks… and sausage rolls
Volvo Trucks keeps on electric trucking with three new models