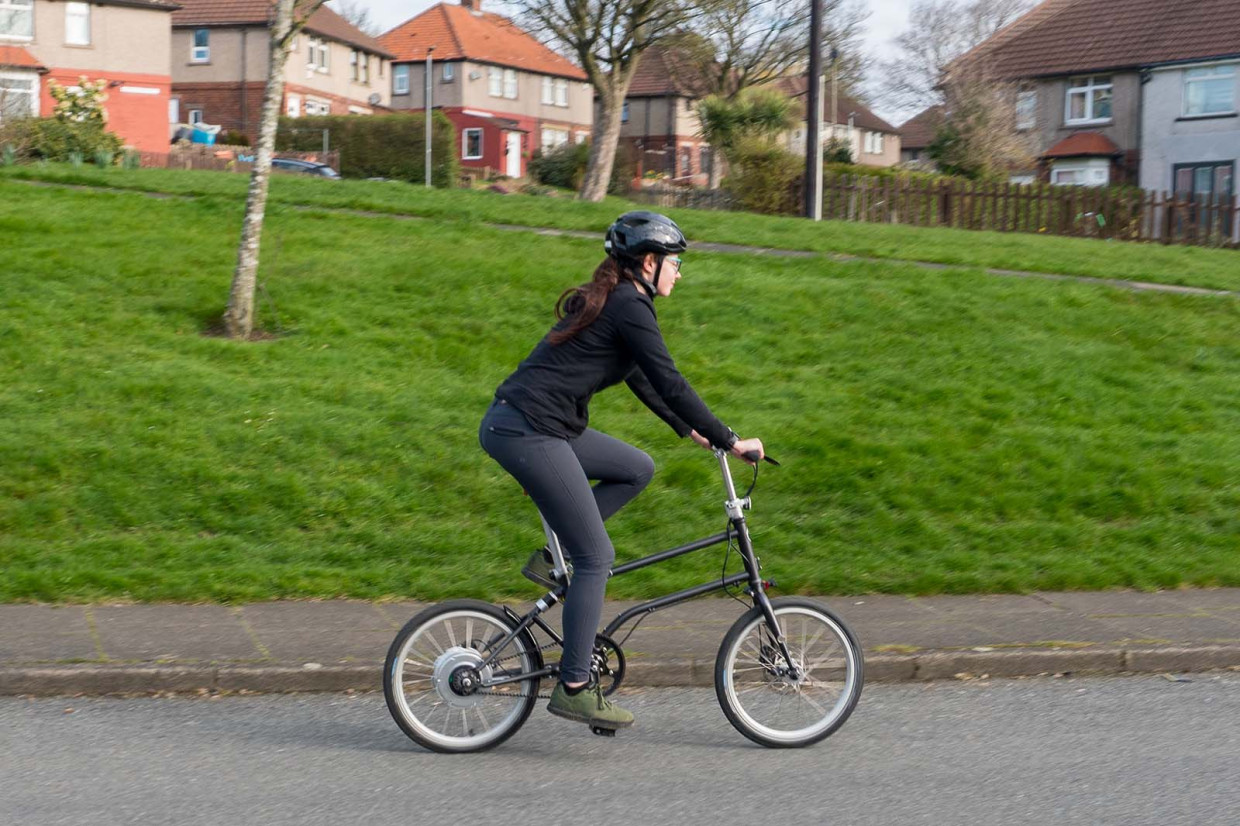 Move Electric rating: four stars out of five
What does it cost? 
From £2990
What is it?
The Vello Bike+ is a unique electric folder, and is as suave as it is useful. It is minimalist by design, with a lack of controls or displays on the handlebars, and a belt drive in favour of a chain or traditional gears. 
Without pedals, it's claimed to weigh 13.9kg, which is lightweight by a non-electric folder standard, let alone with a motor and battery on the bike. There are a few options for riders depending on their budget – you can go full simplicity with single-speed, or one of the more interesting Schlumpf Speed Drive or Schlumpf Mountain Drive options. These provide "ultra-flat planetary transmission mounted on the bottom bracket". 
Rather cleverly, you can change gear by kicking your heel on the crank arm button and it's actually quite a smooth transition. The difference between the Speed Drive and Mountain Drive options is the gear ratio, so depending on your riding terrain you can make an informed decision about which would best suit.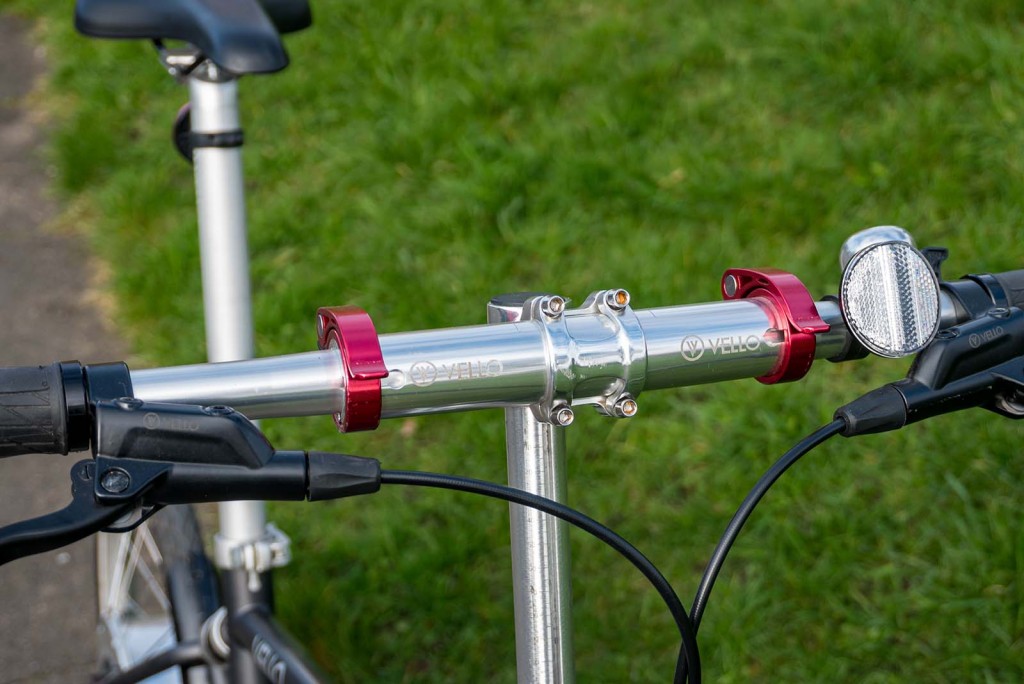 What is it like?  
To start, you need to pair the bike to the Bitride app, of which the user interface is a little clumsy but does the job. From this app you can set up the mode of assist – there is only one, but you can choose from riding modes like Turbo, which is what I used the most given the hilly terrain of West Yorkshire. 
Once you've initially connected and registered the bike, you can then begin riding with power. To do so, simply ride past about 6mph and then turn the pedals back three times – this kickstarts the motor and you can certainly feel it once you begin a forward pedalling motion.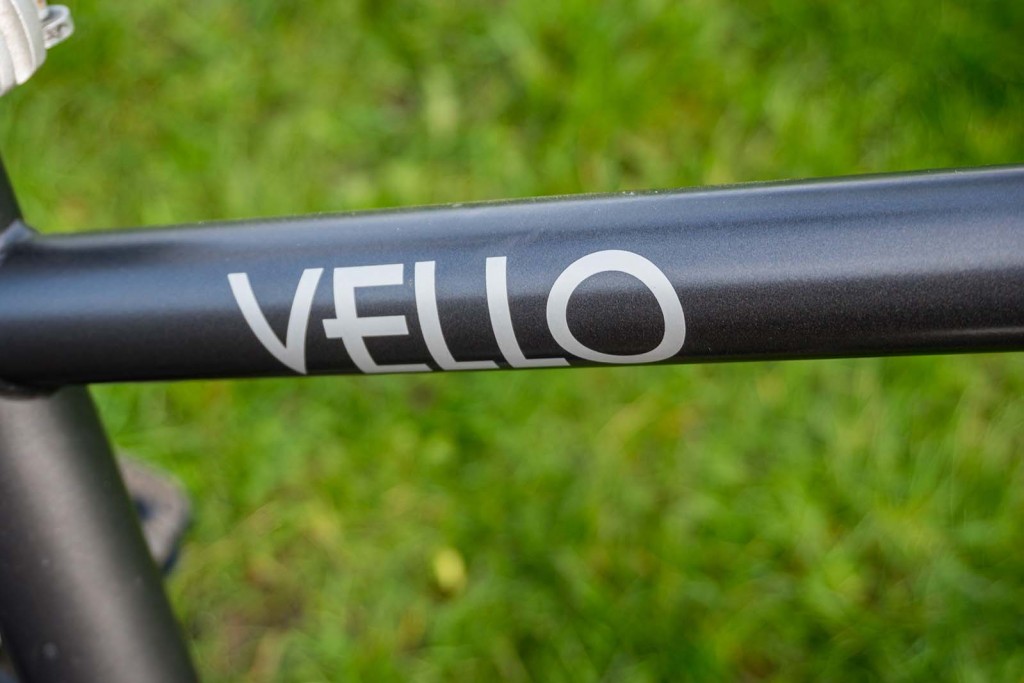 I was impressed with the performance and the quietness of the motor. It's not a bike for climbing hills, but in urban environments where reactions need to be quick and agility is the name of the game, the motor kicks in quickly and smoothly. I would say I felt ever so slightly undergeared and reached the assist limit of 15.5mph quite easily, but it's not like it's difficult to ride over that speed. 
The battery is around 173Wh, and is part of the Zehus all in one system that makes up the motor, battery and wheel hub. It's all very impressive packing that technology into something so small – but it does make me wonder about how easy it would be to maintain/fix if something went wrong.
One feature that many riders will find interesting is that of the regenerative braking, aka a Kinetic Energy Recovery System (KERS). To activate, simply pedal backwards and this allows the motor to store energy in for later. Vello suggest a range of 21-45 miles (in Turbo and Hybrid modes respectably), and the Bike+ mode is listed as 'unlimited'. I'd not go as far to say that's not possible, but it would really depend on your riding style and the terrain if you're going to ultimately rely on the bike to self-charge only.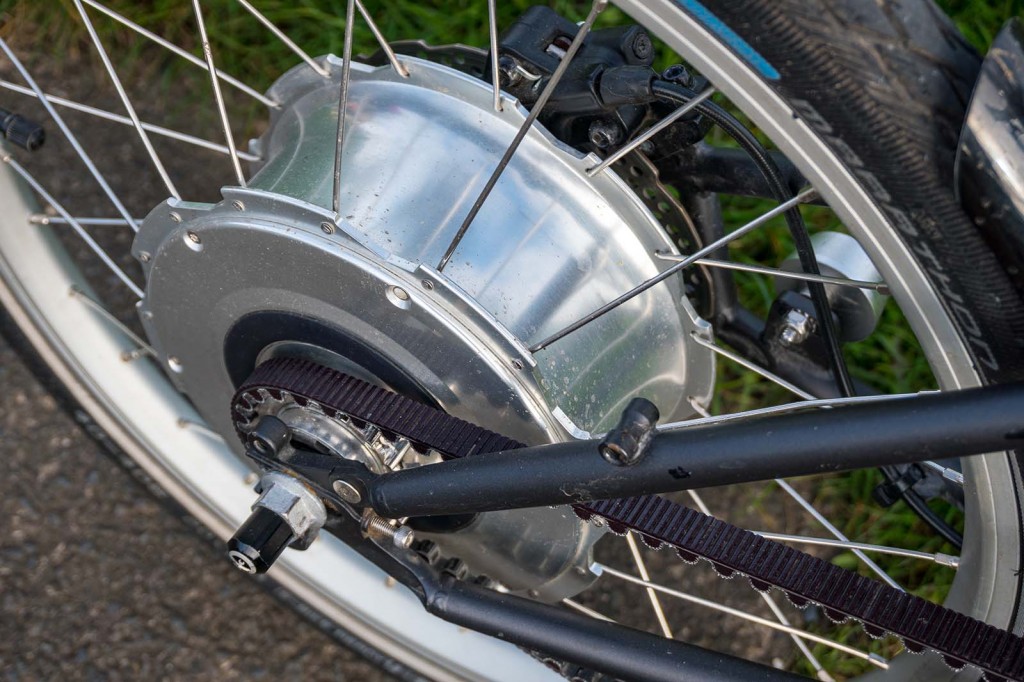 In terms of folding, it can be a little tricky to master but the key is to remember where the pedals need to be for success. I say this now, after a few Gordon Ramsey verbally inspired attempts in my living room. The frame itself doesn't hinge, rather, the wheels both fold in and the handlebars actually have two joins near the grips to fold in for further compactness. 
I really liked the belt drive addition, especially on a folder, where it could be easy to get your hands and clothes filthy with oil when disassembling. The lack of maintenance required with a belt drive can be a real draw to these kinds of bikes, particularly if you don't have the outside space required to continuously wash your bike through the winter months.
The Vello Bike+ comes as a one size fits all, with the choice of seatpost length (there are two length options, both adjustable in the bike).
Where can I buy it?
There are a few UK websites that sell the Vello Bike+, including About The Bike and Human Cycle.
How does it arrive?
Folded neatly in a compact box. Simply unfold and charge up (and connect to the app) to ride.
Verdict
For urban riders that want something lightweight and compact, it's a no brainer. It's slightly pricier than some other similar models, but for the ease of use and lack of maintenance required with a belt drive, it's a very attractive option.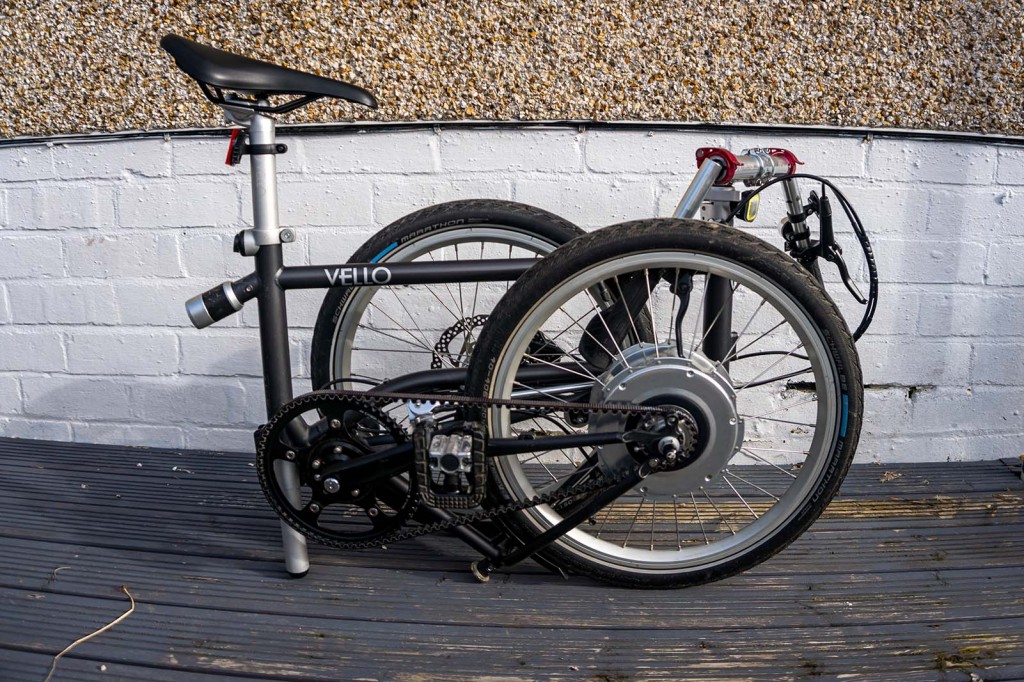 Vello Bike+
Cost: From £2990
Frame size tested: One size
Weight of bike: Claimed 13.9kg without pedals
Groupset: Single-speed belt drive or Schlumpf Speed Drive/Mountain Drive options
Wheels/tyres: 20in wheels, 20in Schwalbe Marathon Original tyres
Motor: 250W Zehus All-in-one Gen2 motor (rear-hub mounted)
Battery: 173Wh battery
Mileage range: Up to 31 miles
Assistance levels: Eco, Turbo, Custom
Charge time: Three hours
Included extras: Bell, Kickstand
READ MORE
Subscribe to the Move Electric newsletter
e-CARS
What is a heat pump and how do they benefit electric cars?
Bold new Volkswagen ID 2all previews sub-£22,000 electric car
e-BIKES
Ten electric bikes we're excited for in 2023
Nine ways to keep your e-bike safe
E-bike theft: how common is it and what can you do to protect your e-bike?
Haibike AllMtn CF 6 e-bike review
e-MOTORBIKES
10 electric motorbike start-ups you should watch out for
Energica e-motorbike to take on all-comers in US racing series
Ducati: How the Italian motorbike brand is gearing up for the electric era
e-SCOOTERS
Planned laws to legalise private e-scooters face delay
Leading e-scooter firms team up on best-practice guide for cities
Ambiguity over e-scooter legality causing 'confusion', says police chief
e-WORLD
Solar panels: 8 ways the sun can power your electric life
First ride: Lunaz Upcycled Electric Vehicle bin lorry
AutoFlight secures huge order for Prosperity 1 eVTOL craft