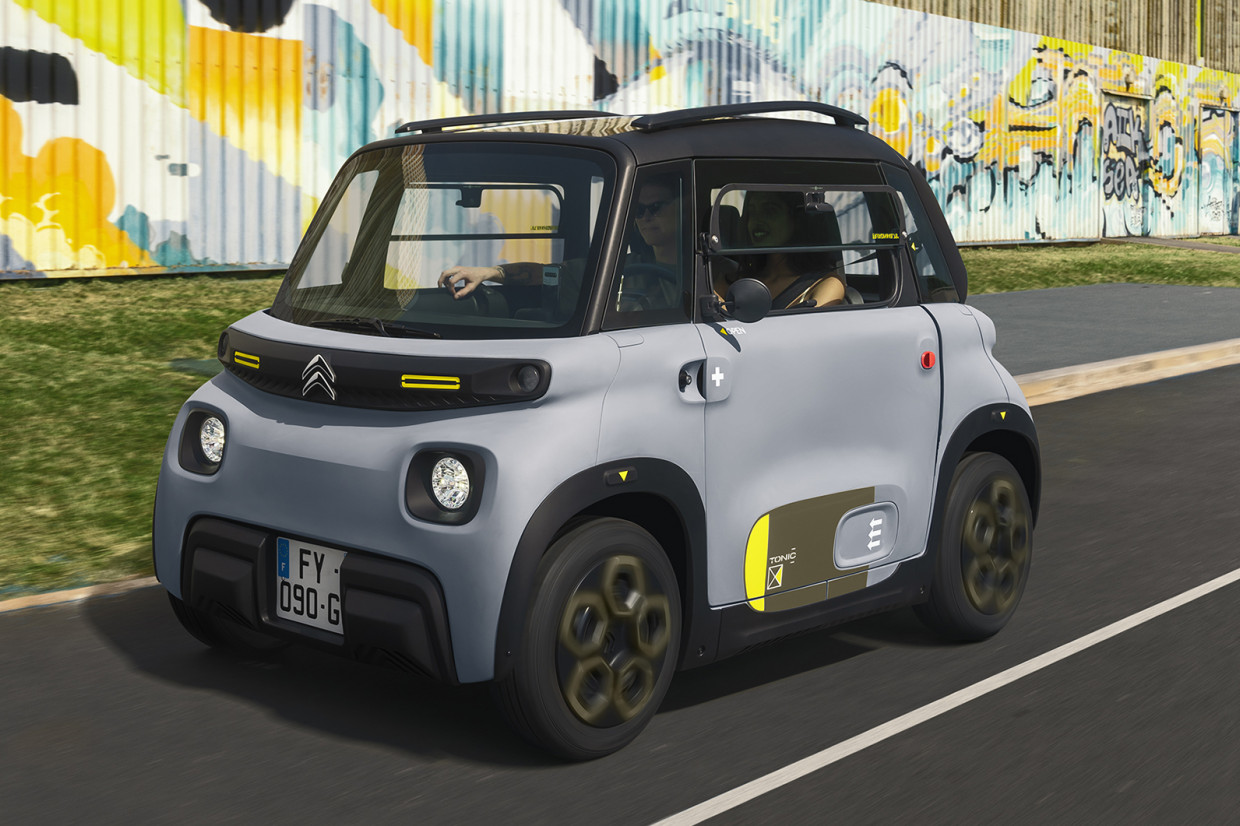 The Citroën Ami is now available to order in the UK, priced from £7495 – and the first 2000 buyers will receive three months of free charging from Ubitricity.
The quadricycle, which customers had previously been able to reserve, will only be sold in the UK online and will be offered in three trim levels. 
The first 2000 buyers will be given three months of free charging on Ubitricity's kerbside charging network, which includes more than 5400 lamppost chargers. Citroën says the offer is to help buyers who don't have access to home charging.
Citroën is also offering the Ami with a service called My Ami Care, which includes servicing, maintenance, breakdown cover and a vehicle and battery warranty.
The Ami line-up was recently boosted in the UK with the addition of a new range-topping Ami Tonic trim.
Priced at £8695, the Ami Tonic features headlight bezels, bespoke wheel trims and decorative roof rails. It also features + and - stickers on the A-pillars, apparently to highlight that it's electric. 
Inside, the door pulls, bag hook and front panel recesses also get a yellow trim, while the dashboard storage bins, door nets, bag hook, floor mats and other elements are finished in Khaki.
The Tonic replaces the Vibe trim at the top of the Ami line-up – and is £200 cheaper than that model. Citroen says that existing Vibe orders will be honoured.
The Ami officially went on sale in June, when customers who had reserved one were able to firm up those orders. It is priced from £7695, or customers can opt for a Personal Contract Purchase (PCP) deal.
Either way, the machine will only be offered online through a dedicated Citroën Ami sales portal.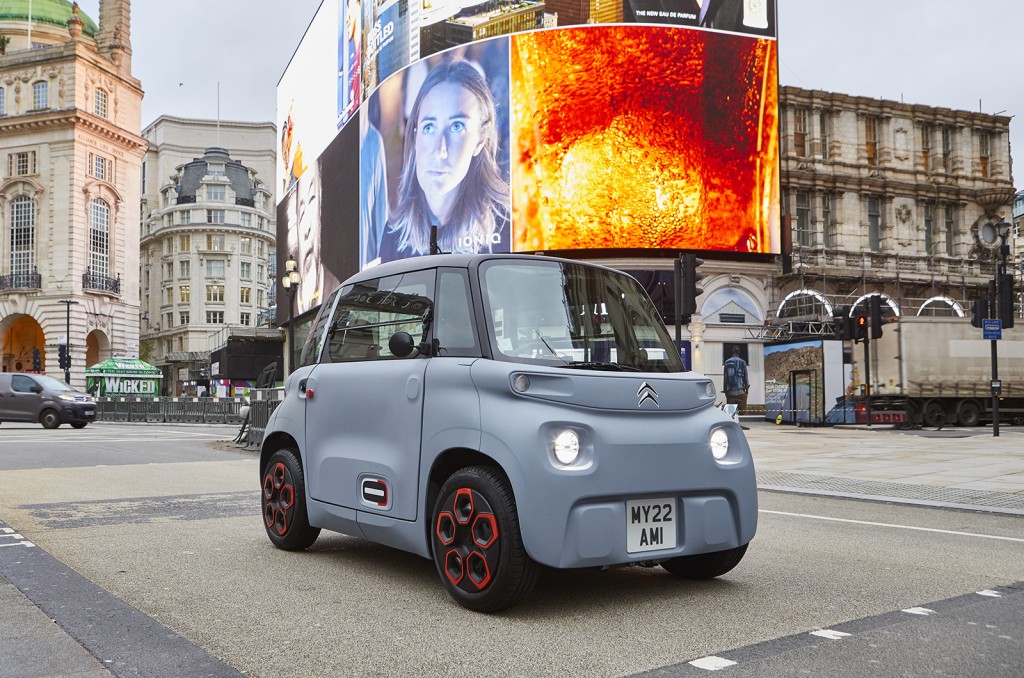 The PCP deal will run over 24 months, with a customer deposit of £2369 and then a £19.99 per month fee. At the end of the deal, customers can buy the machine outright for an optional final payment of £5594, making for a total outlay of £8423. The deal will include an allowance of 5000 miles per year.
The electric two-seater won the Innovation Award in the 2022 Move Electric Awards for offering a compact alternative for urban mobility. Designed to rival electric scooters and mopeds as much as cars, the Ami has a 5.5kWh battery giving a range of 46 miles, and 6kWh motor that gives a 28mph top speed.
The charging cable is built into the Ami featuring a standard plug socket, and a Type 2 connector will be added so it can be used on a home callbox or public charging point. It takes around three hours to charge to full on a home socket.
It is classed as a quadricyle, and while those machines are popular in France (where they can be driven from the age of 14) there are only a limited number offered in the UK. 
Citroën My Ami Buggy concept: we drive tiny off-roader
In the UK the Ami will be offered in passenger form in three trim levels, alongside the My Ami Cargo commercial vehicle.
The entry-level Ami will start from £7695, and features standard kit including a digital speedometer, LED front and rear lights, a glass sunroof and a USB charging port. For comparison pricing for the Dacia Sandero, traditionally the cheapest new car in the UK, now starts at £13,595. The Kia Picanto city car is priced from £11,810.
There will also be a choice of three Colour Packs – in Orange, Blue or Grey – which cost £400 each and can be fitted at home. They add colour-coded wheel trims and rear pillar decals, three dashboard storage boxes, a dashboard bag hook, storage nets and floor mars with colour-coordinated trim.
The Colour Packs also include a dashboard smartphone cradle, separation net between the driver and passenger footwells and a box to enable connection with the MyCitroen mobile app.
Above the entry-level model, the Ami Pop trim is priced from £8495 and includes the Orange Colour Pack along with new black trim elements, front and rear bumpers, a black rear spoiler and number '2' decals for the doors.
The Ami Vibe includes the Grey Colour Pack, a black finish to the front and rear bumper and bases, black roof rails and wheel arches and bespoke decals on the doors and wings. That is priced at £8895 – although it has now been phased out in favour of the Tonic trim.
Meanwhile, the My Ami Cargo is priced at £7995 and swaps the passenger seat for a modular storage area that can be configured in a range of different ways. There is a lidded box offering 260 litres of storage, with a total storage capacity of 400 litres.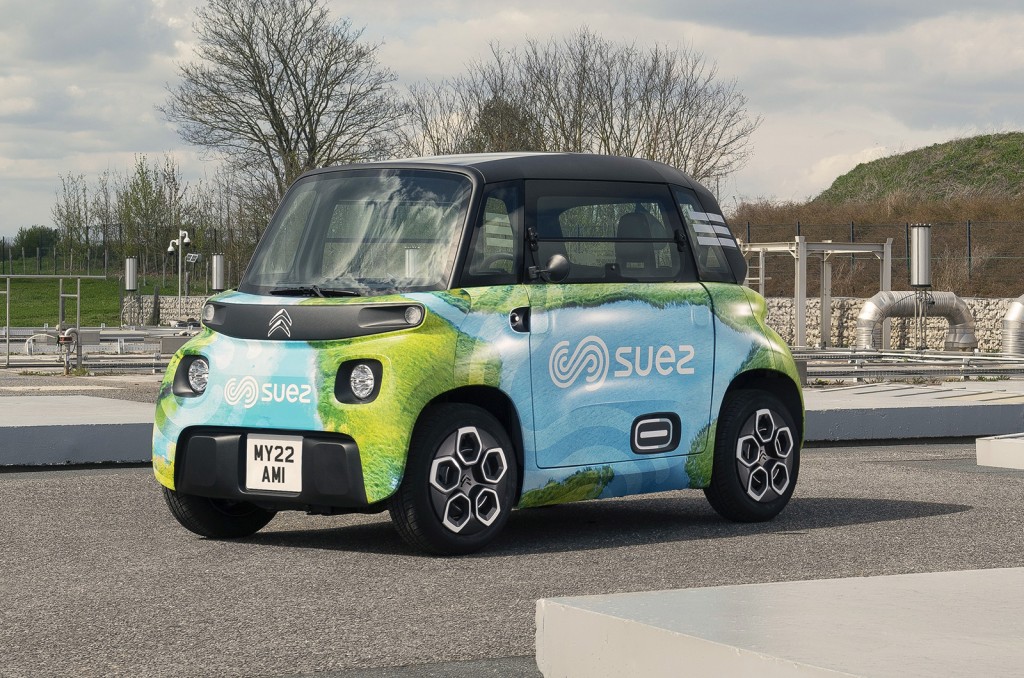 The Ami and My Ami Cargo will only be sold online in the UK. More than 2000 customers have already reserved an Ami online, and Citroen will contact them first to turn those into orders. New customers are able to place a refundable £250 reservation fee.
Buyers will be able to collect their Ami from an approved retailer, or have it delivered to their home for a small fee.
READ MORE
Subscribe to the Move Electric newsletter
e-CARS
New electric cars for 2022 and beyond: what's coming when
New BMW i7 unveiled as luxury electric saloon
e-BIKES
Best e-bikes for every category 2022
Moustache Samedi 28.7 e-bike review
e-MOTORBIKES
Yamaha Neo's electric scooter review
Cake launches new global electric motorbike race series 
e-SCOOTERS
Government set to announce plans to legalise private e-scooter use
New study finds e-scooters are five times safer than bikes
e-WORLD
World's first airport for flying taxis opens in UK