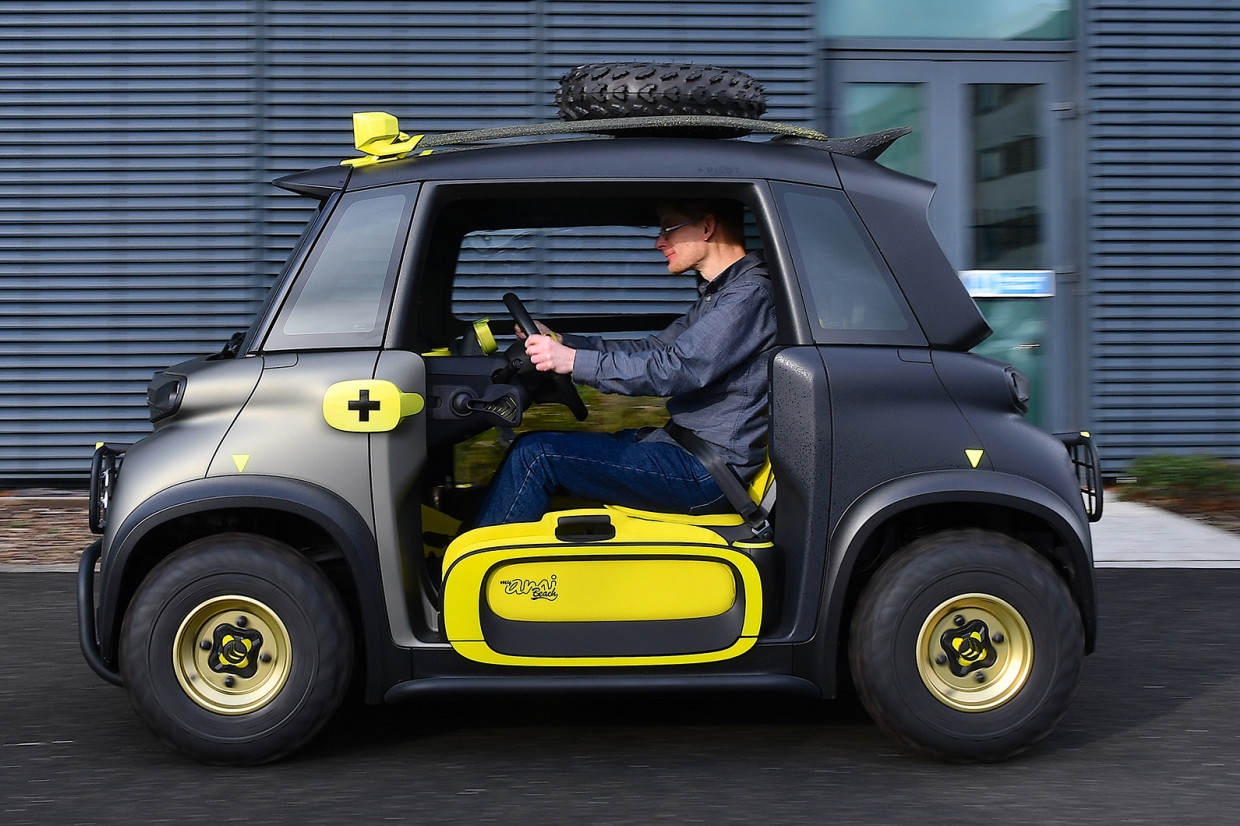 From the moment we saw the Citroën My Ami Buggy Concept, we've fancied a go in it. After all, who wouldn't want to try an off-road version of a tiny electric quadricycle that's been beefed up for a spot of beach combing? 
The good news is that we've been lucky enough to have driven it. But before you get too jealous, here's even more good news: you might get to drive it too. Sort of. Because while the My Ami Buggy concept itself will remain a one-off, we've heard that Citroën is strongly considering creating a special edition of the Ami that follows the same off-road concept. Hurrah!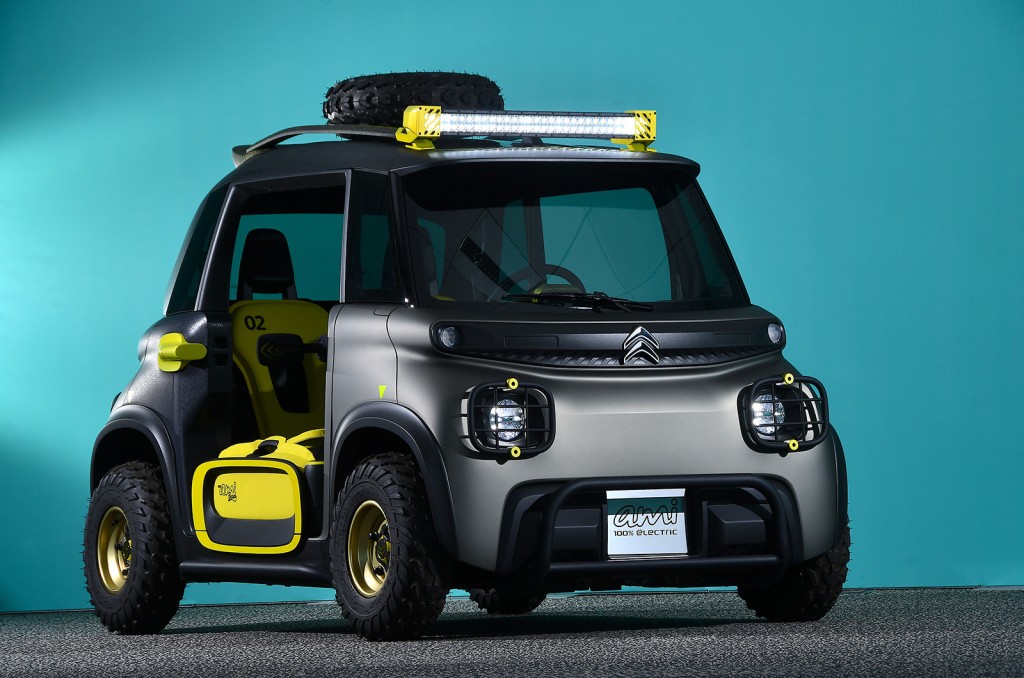 For now though, we've got out hands on the one-off Citroën My Ami Buggy to enjoy. So what's it like? Let's take a close-up look…
Exterior: beefy bull bars and big tyres
The one-off concept is recognisably a Citroën Ami: it retains the same cute styling, identical front and rear bodywork and tiny dimensions. But it's an Ami that looks like it's been working out in preparation to spend a weekend exploring with Bear Grylls.
The first significant addition to the Ami Buggy are the chunky off-road 'mud' tyres the machine sits on. With the wheel arches also extended and mounted on stylish gold alloy rims they add a bit of height, and certainly beef up the machine's presence. As an added bonus, there's a spare mounted on the roof, adding even more presence.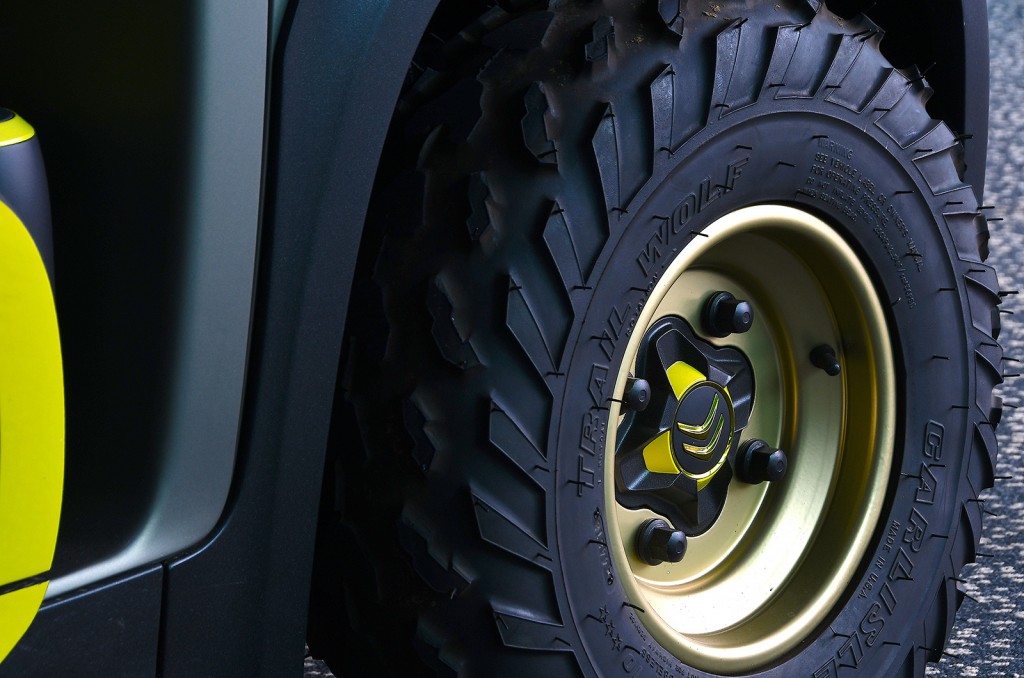 The rugged tone established by those wheels is continued with chunky bull bars and protective headlight grilles. There's also a roof rack and a roof-mounted LED light bar, which is intended both to boost visibility in bad conditions and as a useful light for campfire gatherings in the dark.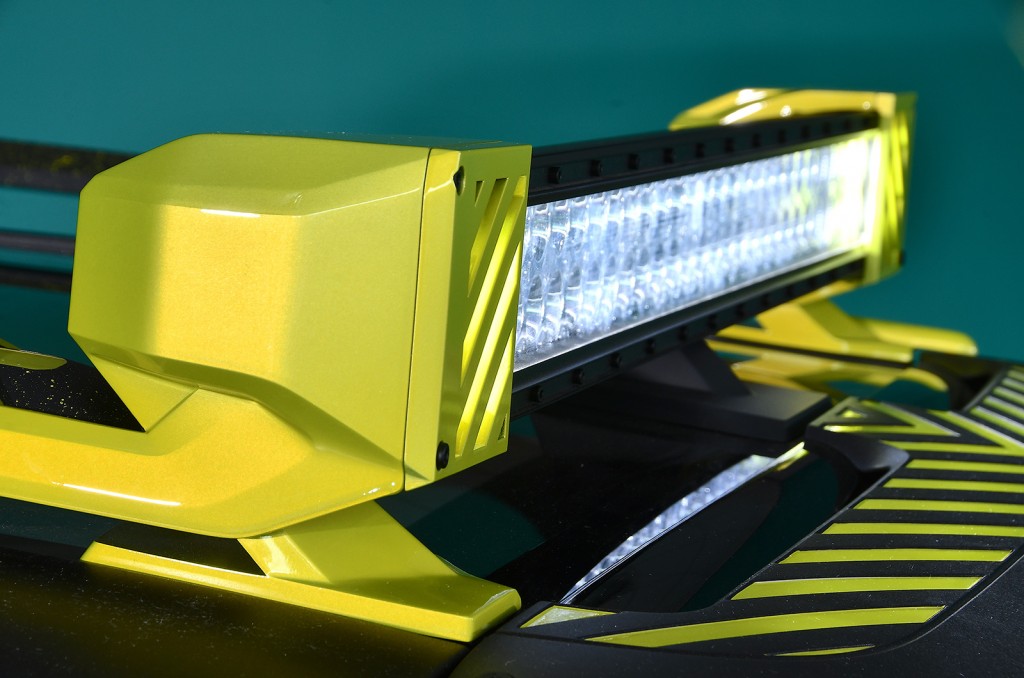 The other big design change is about what's missing: there are no doors. Actually, that's not quite true. While the doors have been removed, Citroën has used the door mechanism to mount a pair of small side protection frames, which can each house a small storage bag. While those frames do open to give easier access, we found it was easier just to clamber over them, Dukes of Hazzard-style.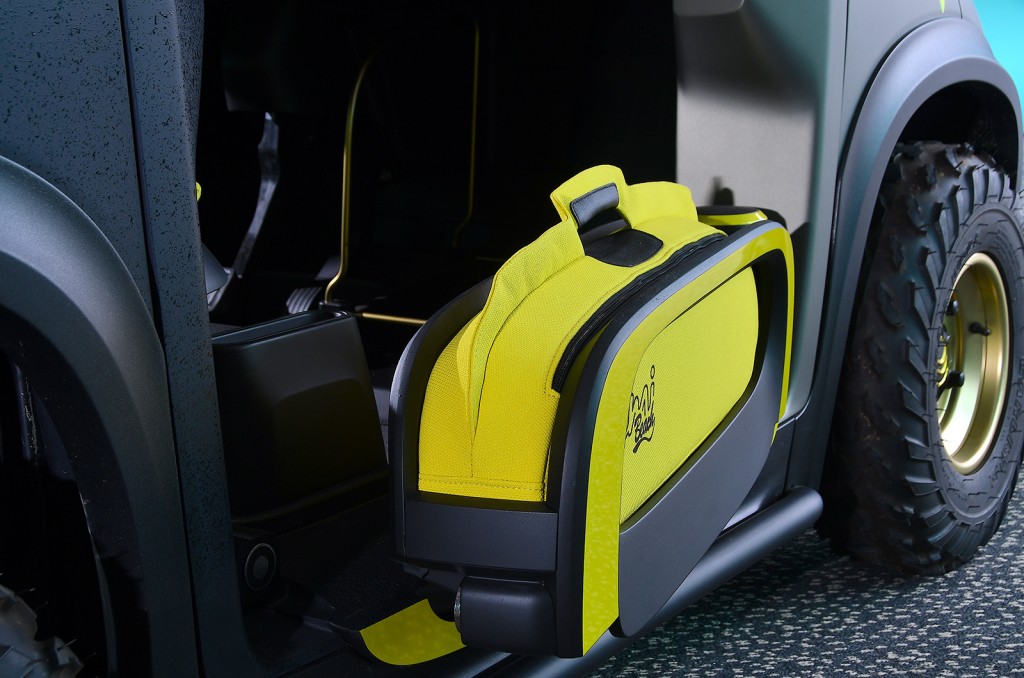 To offer some protection from the element, there are removable rainproof panels, apparently inspired by similar features on the Citroën Mehari. They can be fixed to the bodywork using big zips. We won't lie, though: they're not exactly straightforward to fit.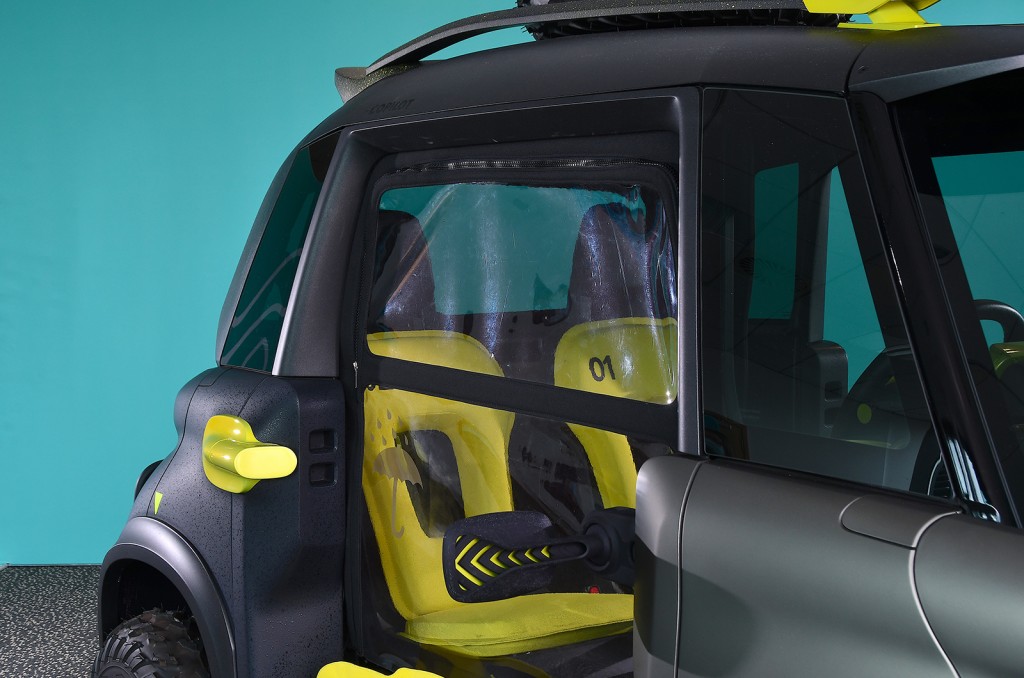 There are lots of other neat exterior styling touches, from the speckled effect in the black paint that gives it a bit of sheen, to the words 'pilot' and 'co-pilot' painted on the roof line on each side, and arrows showing the airflow direction on the underside of the small spoiler. Yes, they sound a bit cheesy, but when you actually see them on the concept they actually work.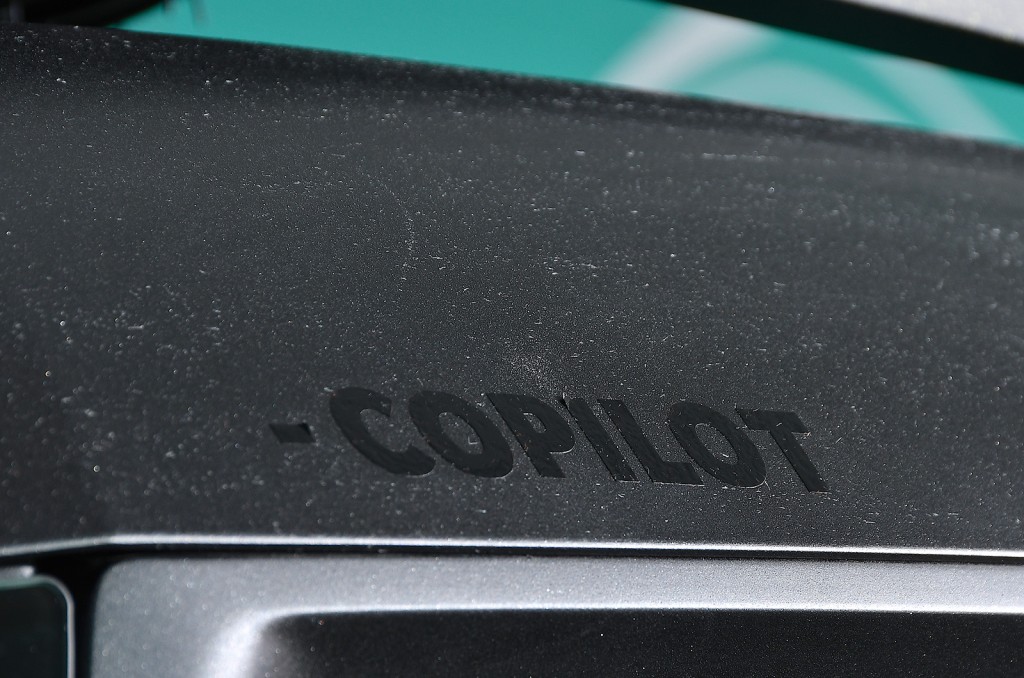 Another neat touch: the charging cable is actually attached to the car through an extendable cable that's next to the passenger door. Because it's been designed for France, it features a two-pin European plug, and since we forgot to pack an adaptor we were unable to test out how well it worked. Although the cable was a bit of a nightmare to wind back in.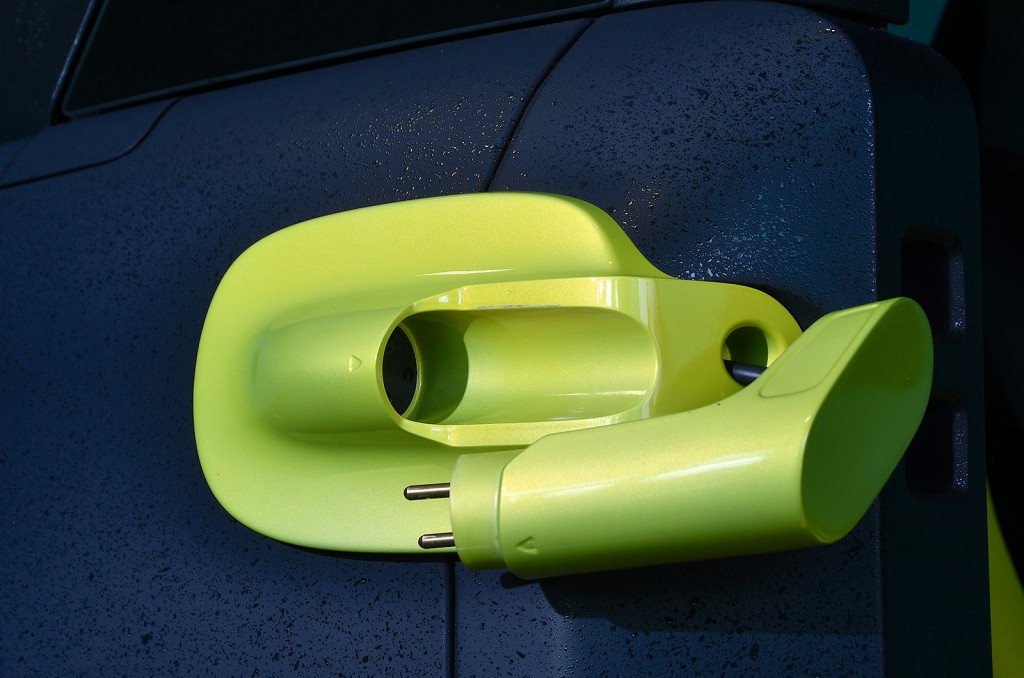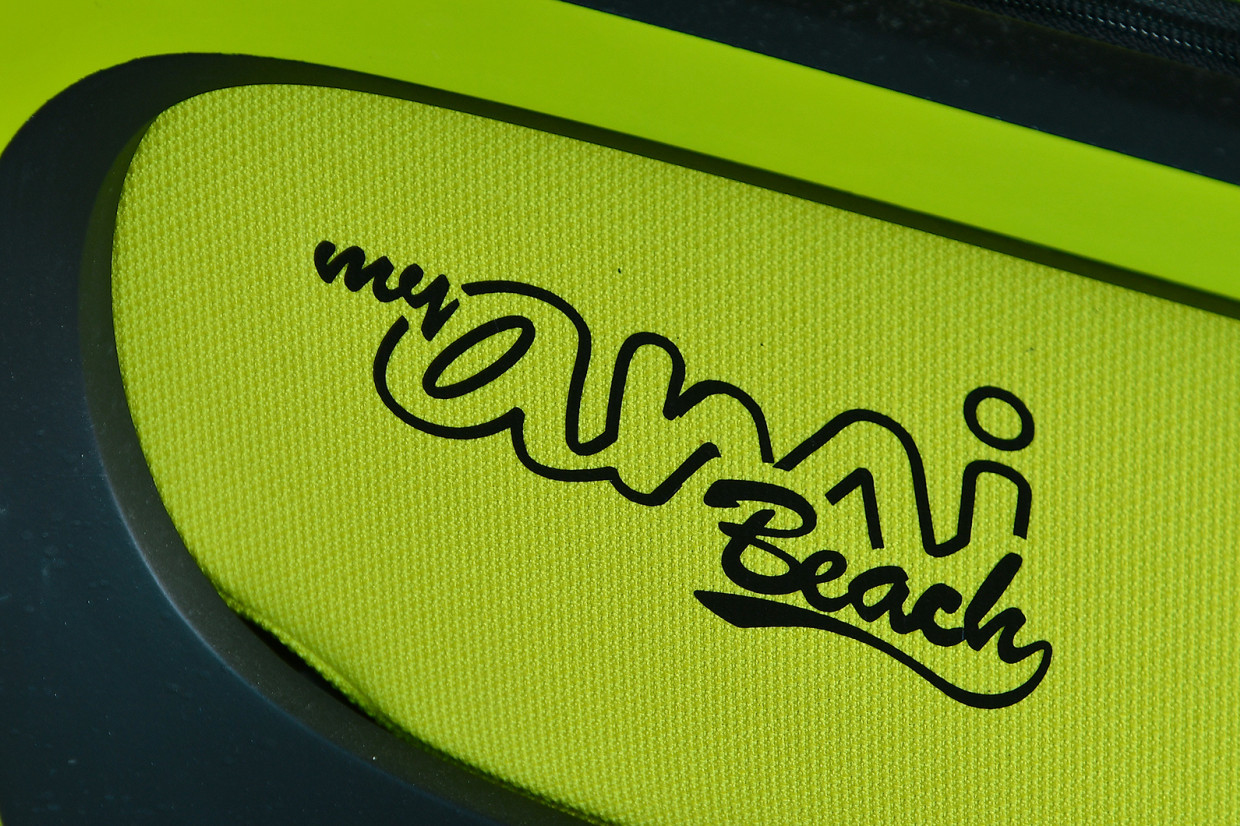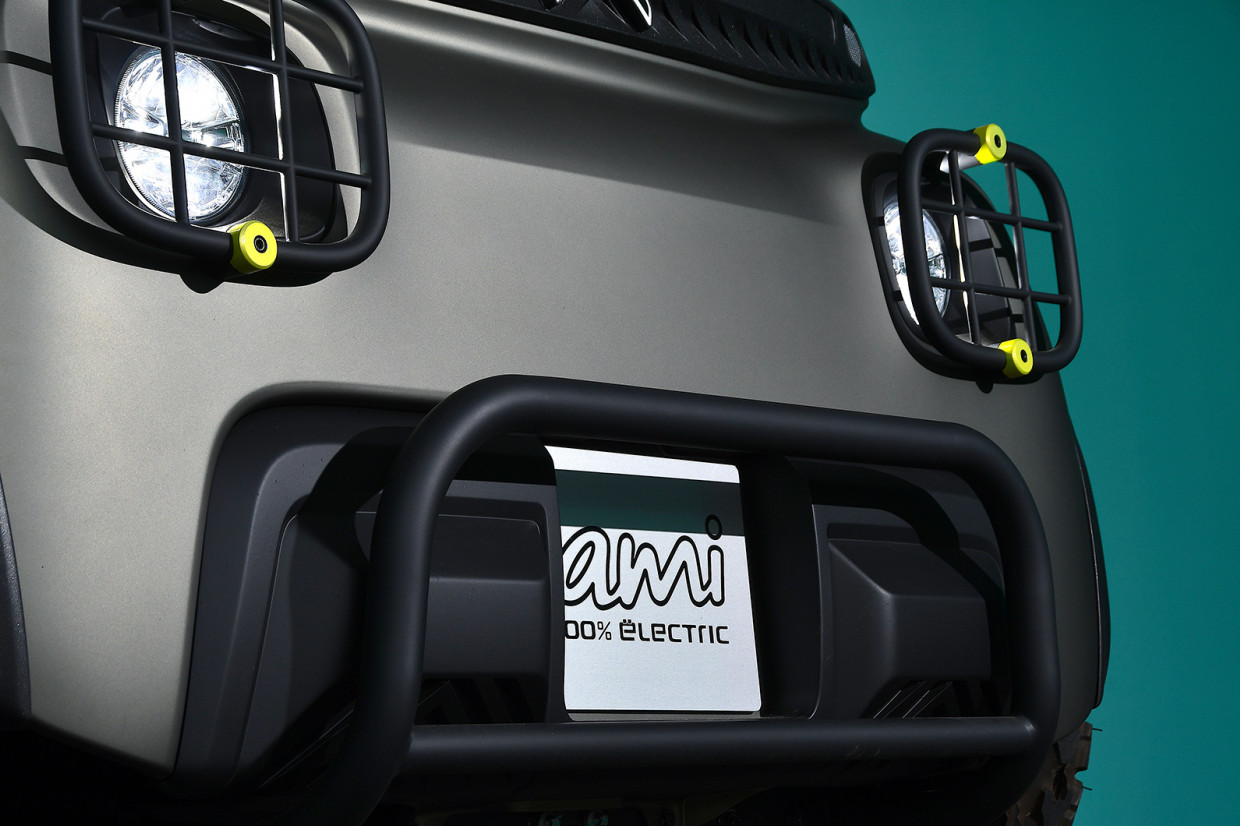 Interior: there's a bum bag on the steering wheel
The interior of the Ami Buggy isn't particularly fancy. But then the interior of the Ami isn't particularly fancy. This isn't really a machine designed to be fancy, though: it's all about affordable personal transport. And, frankly, if you're going to take your Ami Buggy to the beach, you want a practical, hard-wearing interior that can cope with getting filled with sand and dirt.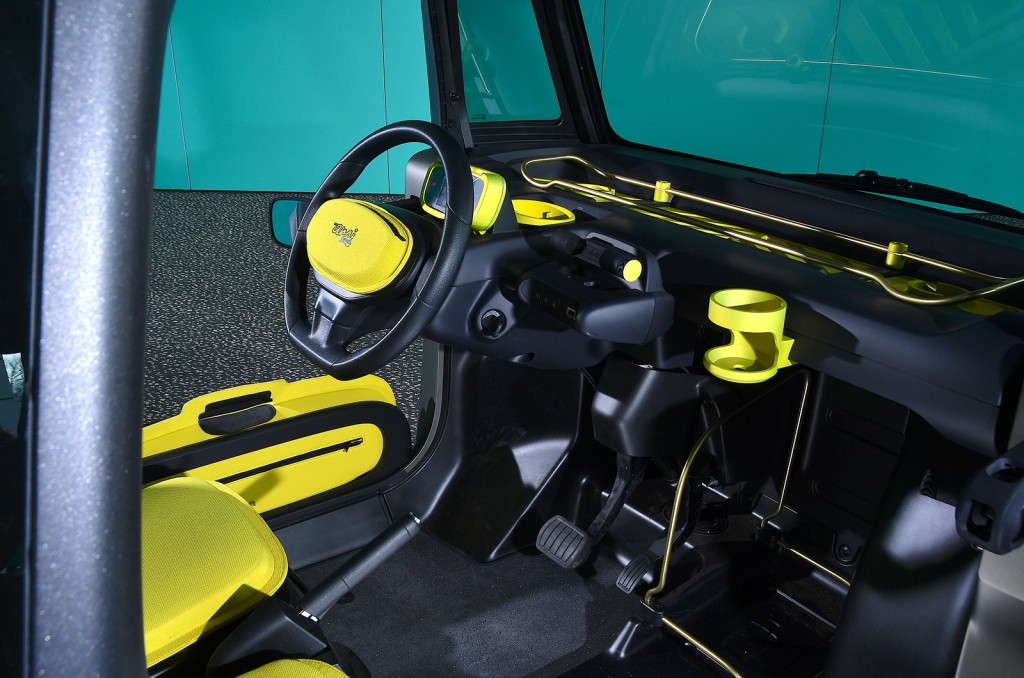 The seats feature a new version of Citroen's Advanced Comfort technology. Which basically means they get lots of extra supportive foam – 70mm, compared to 35mm in a regular Ami. The seats are actually designed to be removed – we didn't try this, since we struggle with even the most basic Ikea flatpacks – so they can be washed or swapped easily.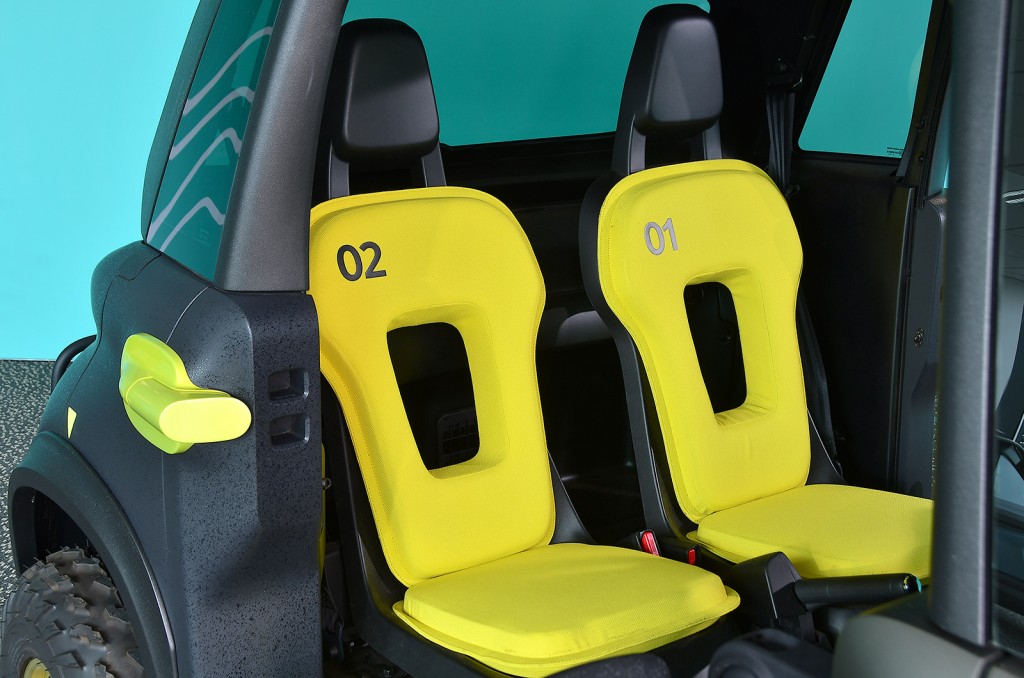 There's also plenty of storage. Beyond the two bags in the doors, there's a removable bum bag fixed to the middle of the steering wheel with a magnet, and a 'sailor's bag' under the dashboard.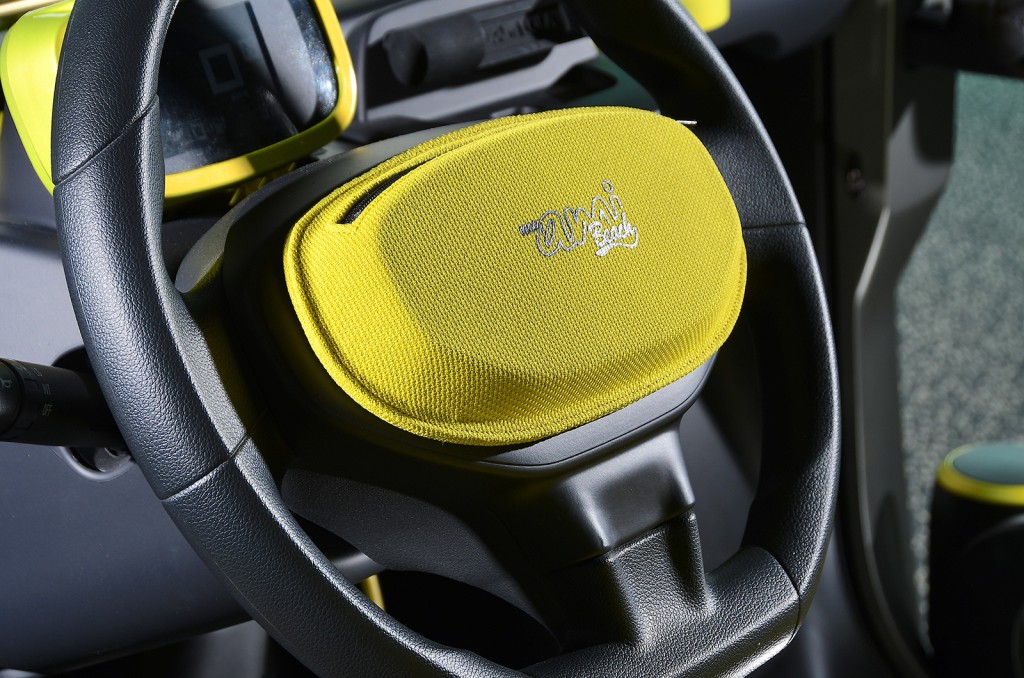 The speaker is located behind the steering wheel and can be removed and moved so you can take your musical party with you wherever you go.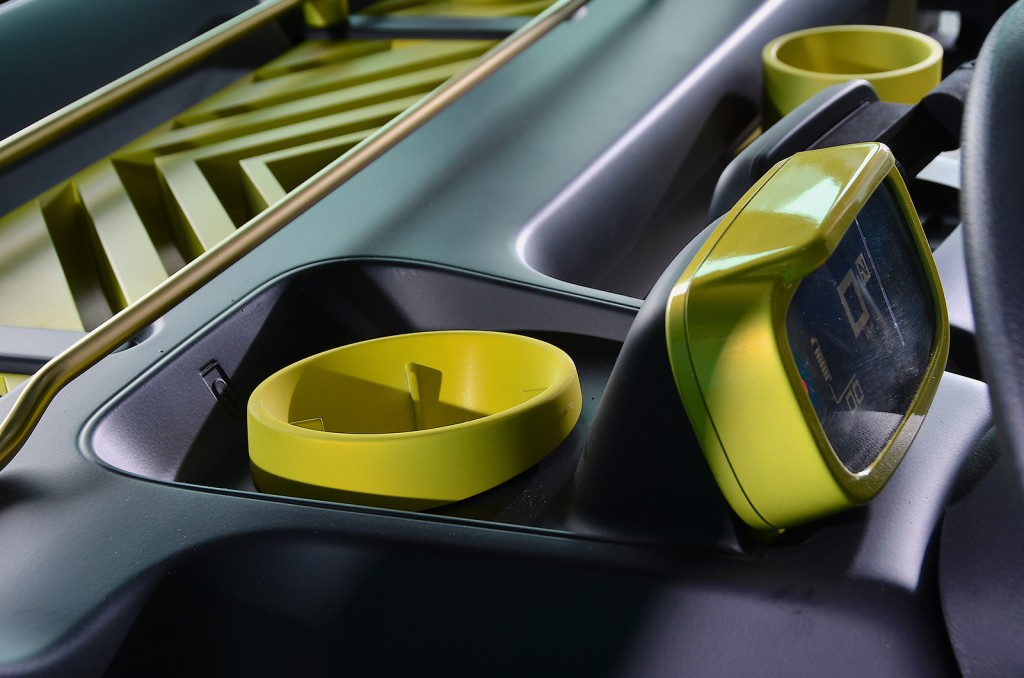 The mobile phone holder has been reworked with an adjustable tube holder. Citroen says this can also be engraved with your name, which is helpful if you often forget what your name is. There's also a special camera attachment feature, which can be fixed to four different parts of the dashboard. Hey, if you were driving around in a car as stylish as the Ami Buggy, you'd want a range of selfie angles too.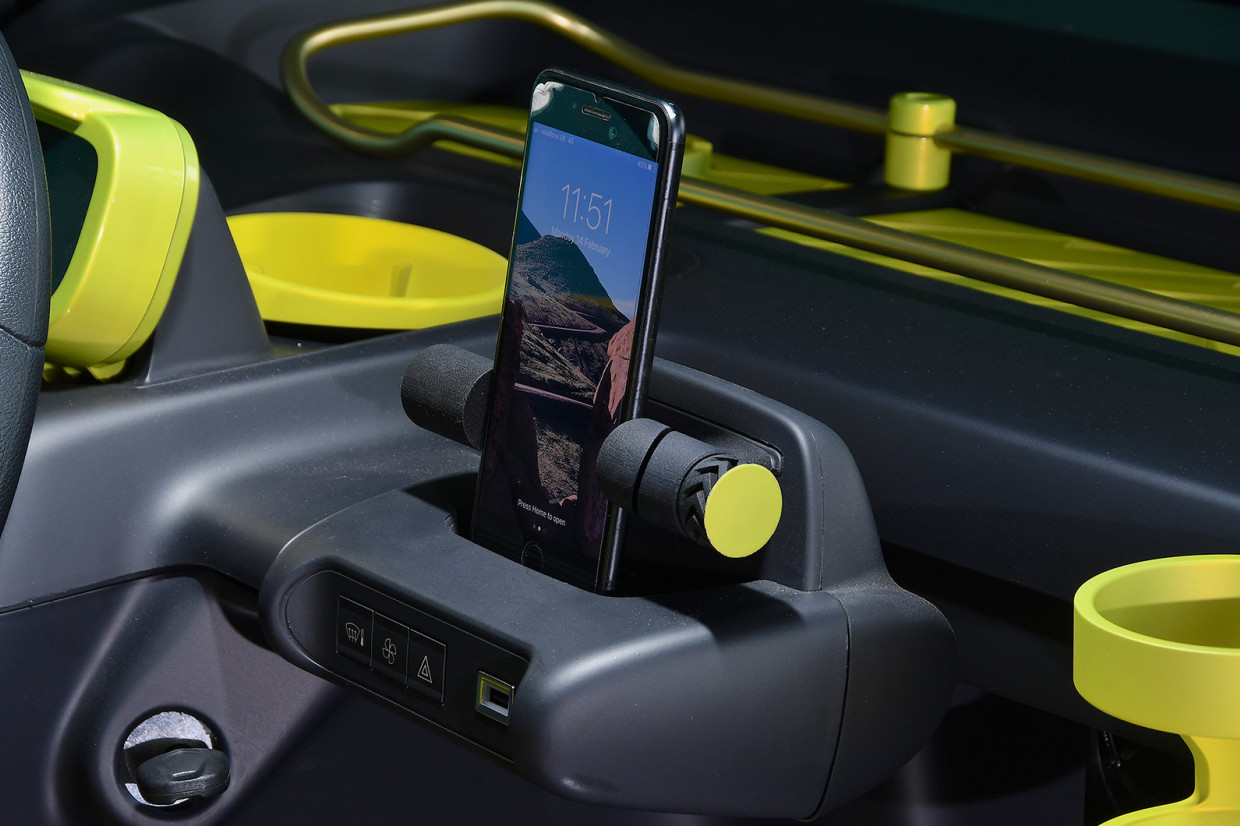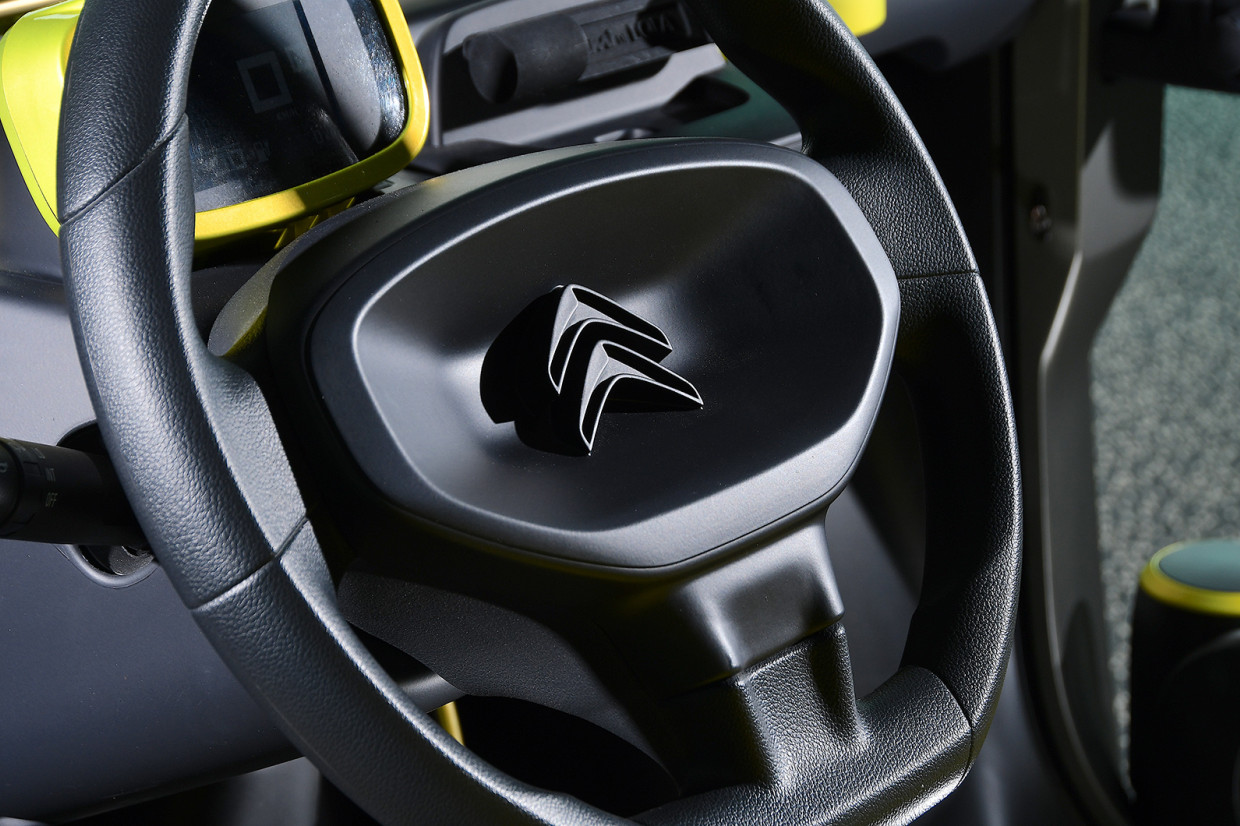 Driving the Ami Buggy Concept… slowly
We'd quite fancy trying the My Ami Buggy on Miami Beach (see what we did there?), or somewhere in the south of France. But our first drive has come somewhere without the glamour, sunshine or sand of either: Coventry. On a cold day in winter.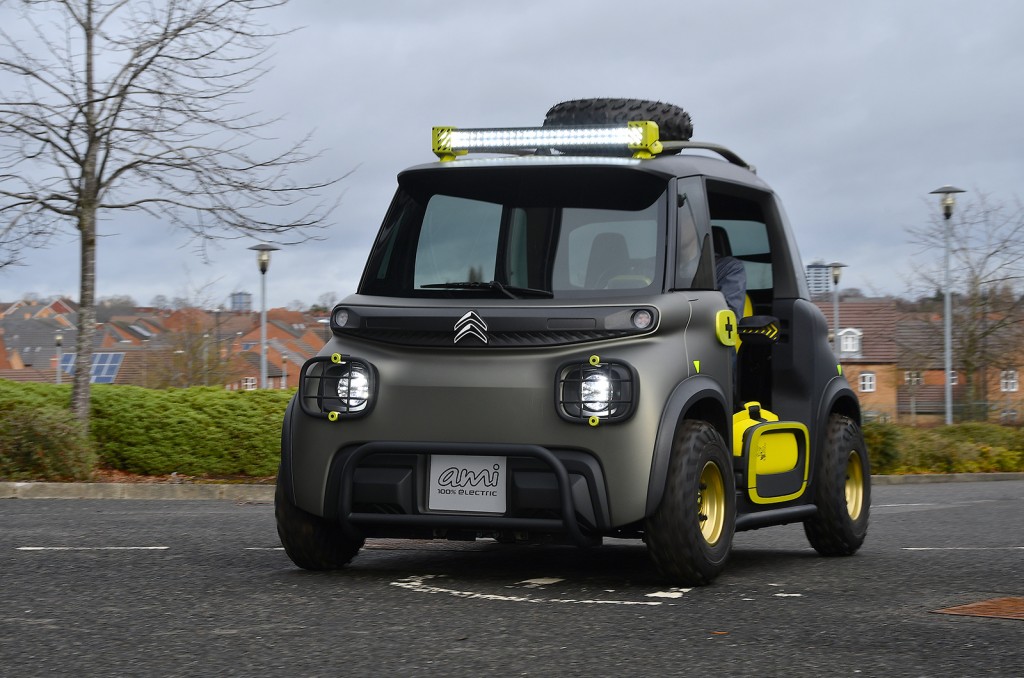 Still, the Ami Buggy is joyous enough to inject a bit of summer fun on an otherwise gloomy day. So what's it like to drive? The honest answer: slow.
Now, that's true of the regular Ami, given its modest 28mph top speed. But we're even more restricted with this concept, given we've been strictly ordered by Citroën to keep our speed well down. The thing is, Citroën's engineers really did build the Ami Buggy as a one-off show concept for a bit of fun, so they didn't much think about the practicalities of driving it.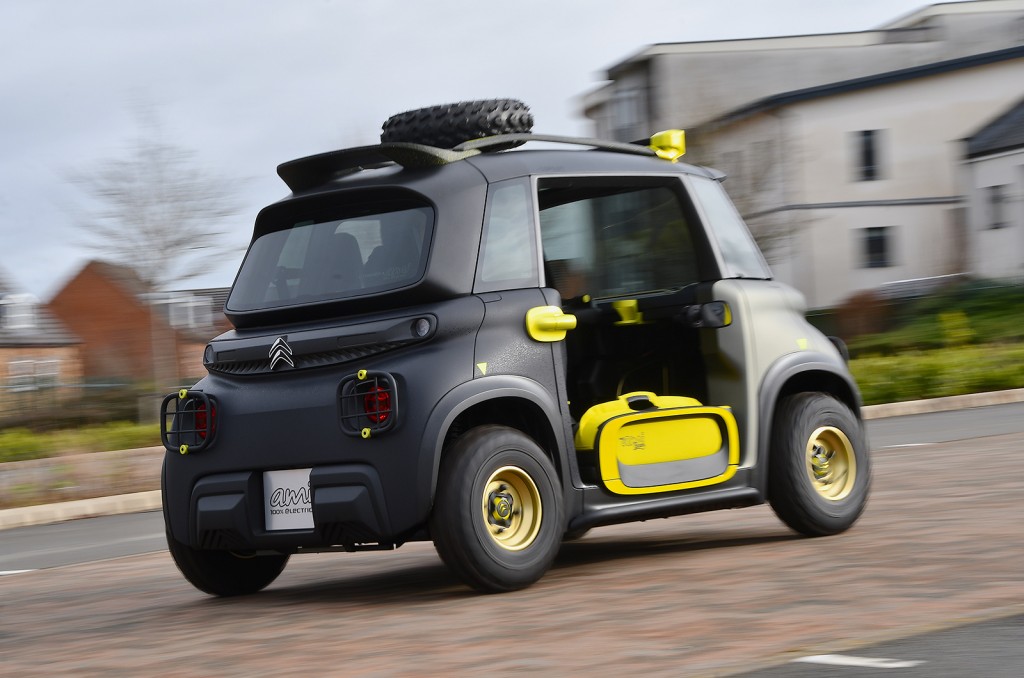 The big design flaw is that those chunky off-road tyres barely fit into the wheel arches when pointing forward. If you turn them too far, the tyres would start rubbing the one-off, custom bumpers, which would kind of mess up the concept.
With my running limited to travelling largely in a straight line at slow speeds, it's basically impossible to discern anything much of value about the Ami Buggy's dynamic potential. It's certainly not the most refined of drives, but then neither is the standard road-going Ami. That's not really what the Ami does: it's about offering affordable motoring for short trips rather than dynamic driving thrills.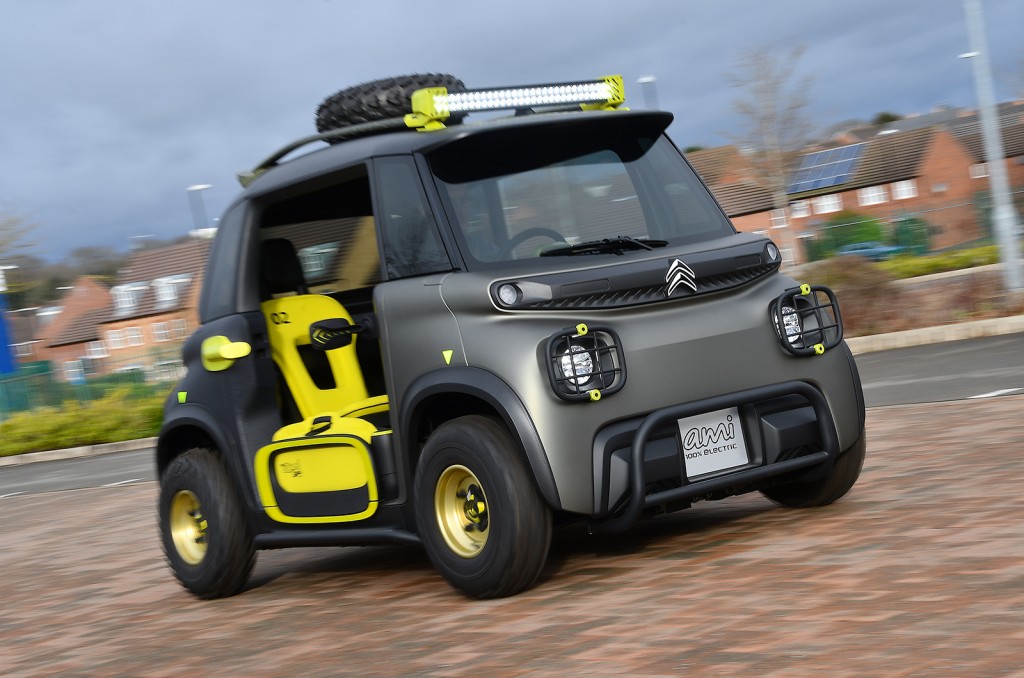 But it's plenty comfortable enough, with the revamped seats very pleasant to sit on and the colourful storage bags giving the interior a dash of colour. It feels surprisingly spacious too, helped by being open to the element without the doors and the light beaming in through a glass roof.
The lack of doors must be fantastic on a sunny day on the French Riviera, but it's not exactly ideal on a windswept day in Coventry, and I do find myself second-guessing my decision not to fit those removable door covers. 
But while fitting those protective covers would be the sensible thing to do, that seems counter to the ethos of the Ami Buggy itself. This isn't a car about being practical and sensible: it's about having fun and putting a smile on your face. And this concept certainly succeeds in doing that.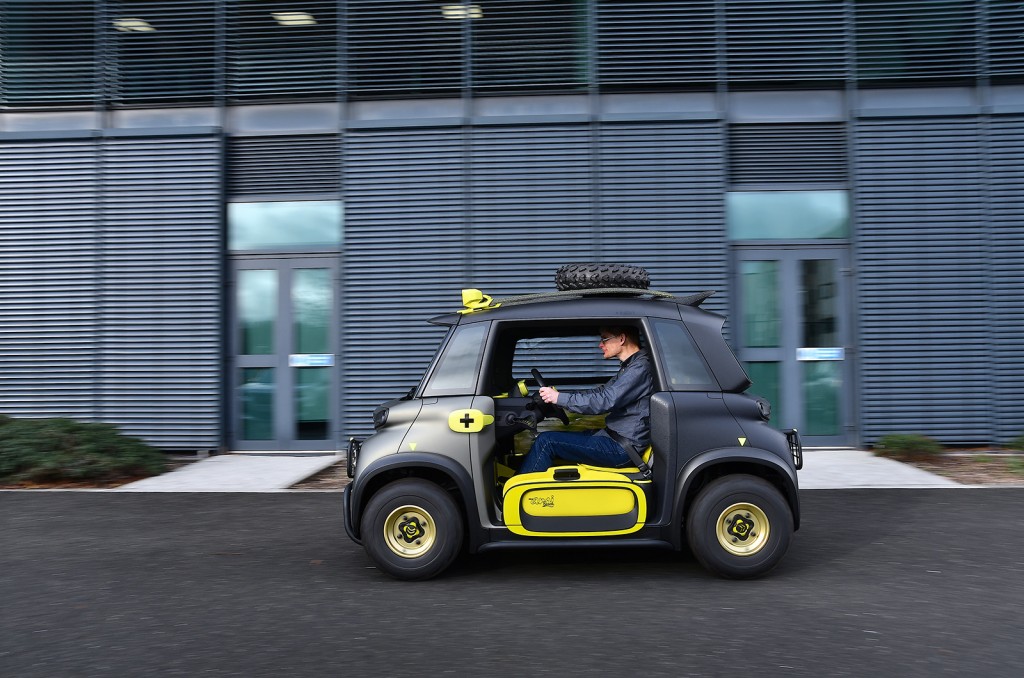 Where can I buy one then?
You can't. Well, you can reserve a regular Ami if you like – apparently, more than 1700 people in the UK already have – but the Buggy version is strictly a one-off concept. But, as we said, Citroën is considering making a special edition Ami with some off-road elements that's inspired by the Buggy. 
Exactly what form that will take, we'll have to see. But if it can take the best elements of the concept and offer a practical and truly affordable off-roader, it should win over plenty of fans.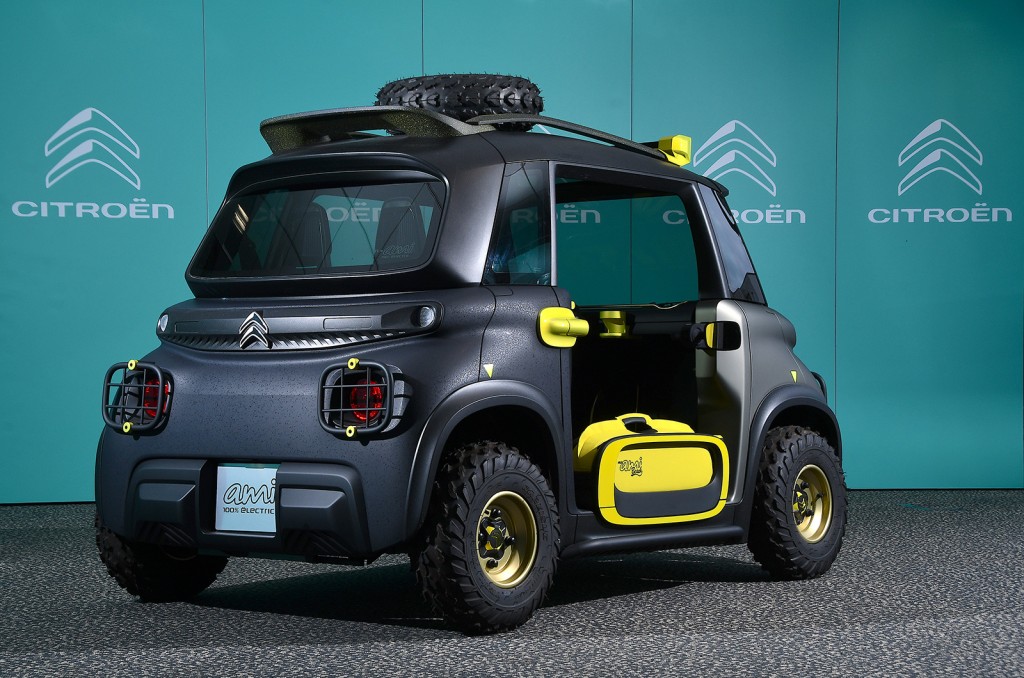 READ MORE
e-CARS
The 10 electric cars with the longest range
e-BIKES
Desiknio Pinion C1.9 Classic e-bike review
Ride for a worthy cause: Big Issue eBikes launches in Bristol
e-MOTORBIKES
Triumph reveals first electric TE-1 motorbike
BMW CE 04 electric scooter review
e-SCOOTERS
Superpedestrian Link e-scooter: first ride
The new battery tech designed to make e-scooters more sustainable
e-WORLD
New Candela C-8 electric hydrofoil has first 'flight'
Awake Ravik S 22 aims to take electric surfboards to the extreme