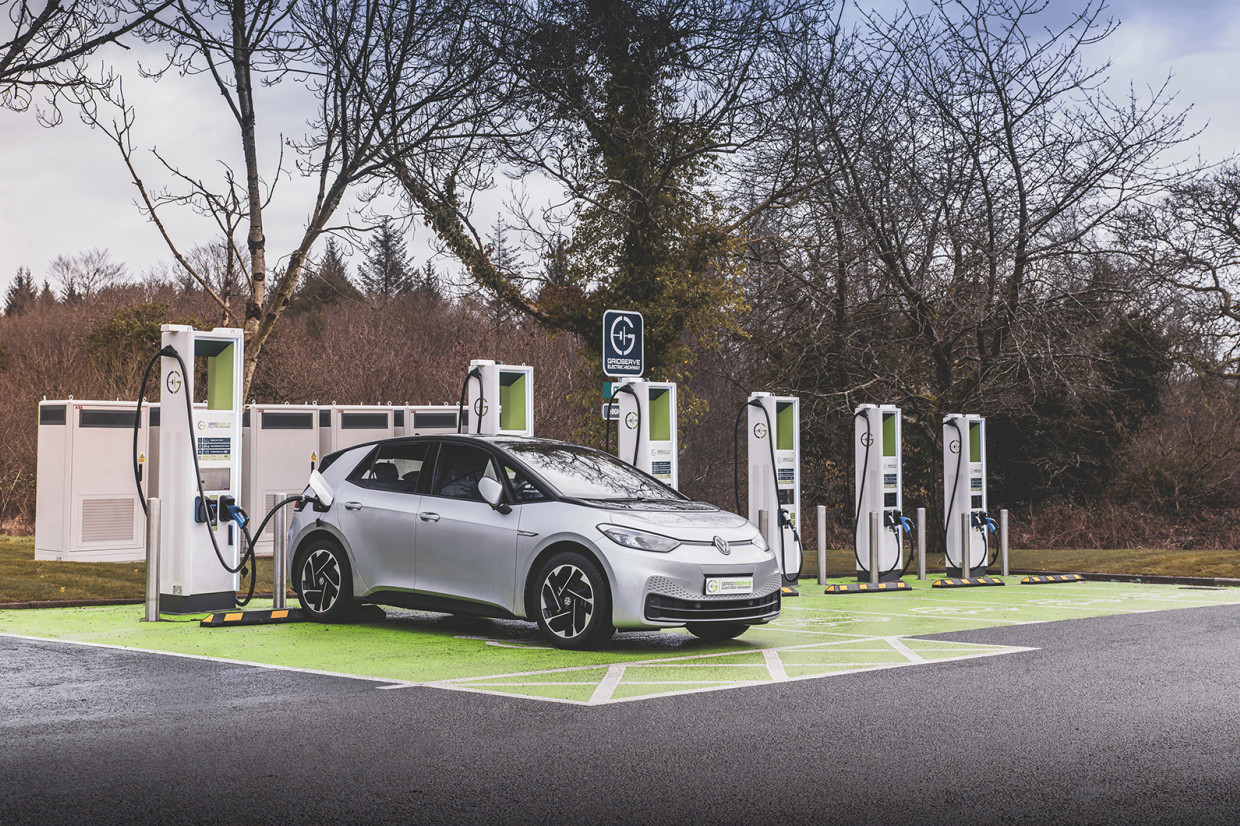 Charging firm Gridserve has opened the first high-powered electric vehicle rapid charging hub in Wales – and vowed it will be followed by further sites at underserved locations in the UK.
The new Electric Hub has opened at the Moto Swansea service station at junction 47 of the M4 in Southwest Wales, and features six high-speed 350kW chargers. Gridserve says all the power to the site will be 100% net zero carbon energy that comes from its own solar farms. It also has the ability to add six further high power chargers at the site when there is demand.
The new facility is a major boost to charging infrastructure in Wales. According to government data, Wales has just 5.3 public rapid charging devices per 100,000 people, the second-lowest of any region in the UK ahead of Northern Ireland.
The Welsh government has committed to delivering 4000 rapid chargers across the country in the next decade, although Gridserve says just 3% of that total are currently installed.
Gridserve boss Toddington Harper said that his firm was actively looking for further sites in Wales, and in other under-served parts of the UK. He said: "All parts of the UK should be able to embrace the EV revolution. We cannot let a lack of infrastructure prevent drivers from realising the myriad of benefits that come with driving an electric vehicle."
 
The firm says it will open more than 20 Electric Hubs – which contain between six and 12 350kW chargers – by the end of June.
Moto boss Ken McMeikan, CEO of Moto, said the firm was "accelerating our ambition to open ultra rapid charging at all of our motorway service areas over the coming 12 months."
He added: "We launched our first EV Hub with 24 ultra rapid chargers at Moto Rugby last year and EV drivers have loved it, we are super confident we'll see the same level of success here at Moto Swansea."
READ MORE
e-CARS
The ten best-selling electric cars in the UK
e-BIKES
Cairn Cycles E-Adventure 1.0 e-bike review
Ten e-bikes we're looking forward to in 2022
e-MOTORBIKES
Ten electric motorbikes to look forward to in 2022
Art, sustainability and choppers - the wonderful world of Stirling Eco
e-SCOOTERS
Hypercar firm Bugatti's first electric vehicle is an 18mph e-scooter
Ride-hailing firm Bolt set for UK expansion after big investment
e-WORLD
Veolia to open first UK plant for recycling EV batteries
The new Bobcat T7X is a truly groundbreaking electric digger