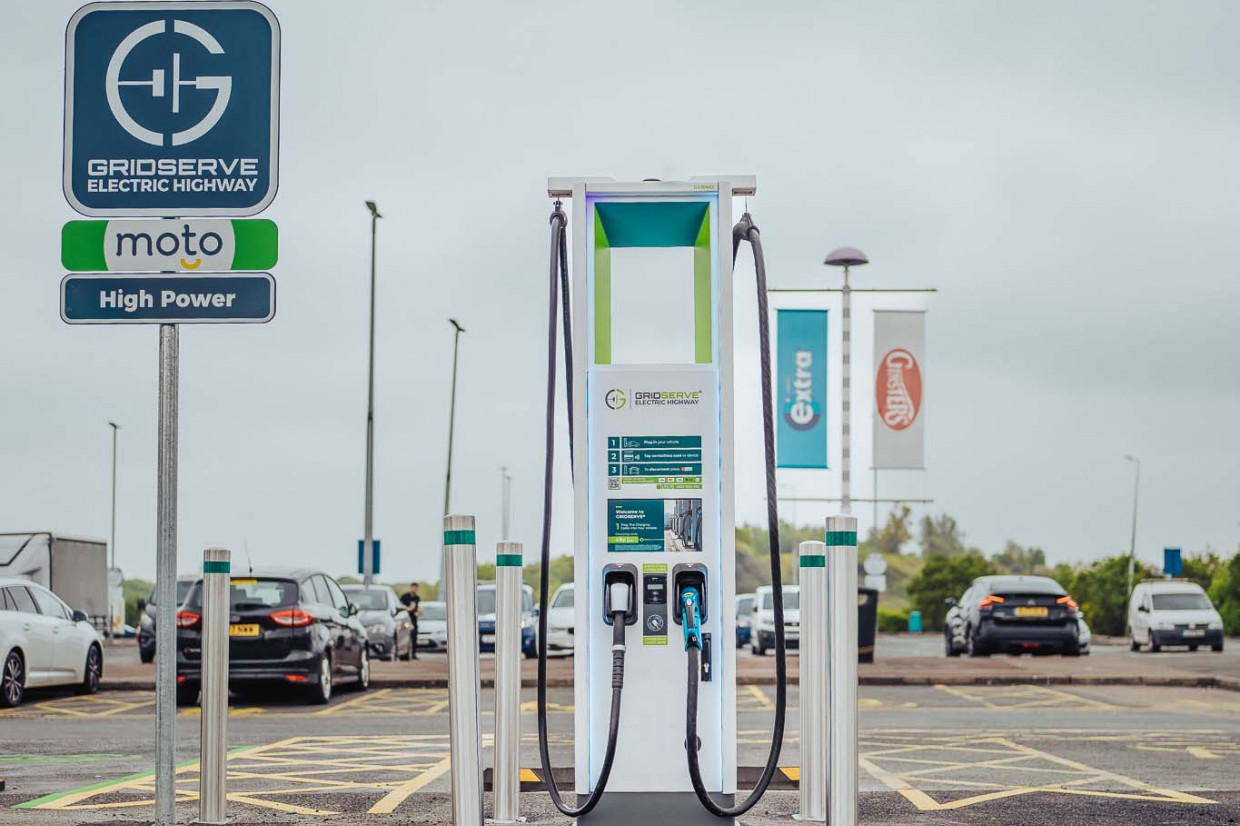 Sustainable energy firm Gridserve has unveiled its new High Power Electric Super Hub at the Moto service station on the M25 in Thurrock – the firm's first hub charging station on London's orbital motorway.
The new Super Hub features 12 of Gridserve's electric vehicle chargers, each capable of charging at speeds of up to 350kW. 
Gridserve says the latest EVs could add the 117 miles of range required to drive around the M25 in less than 15 minutes if they charged up at the new hub. Which frankly sounds a lot more fun than actually driving the 117 miles of the M25 ay anything approaching rush hour.
All the charging points feature both CCS and CHAdeMO connectors, accept contactless payment and provide real-time status updates to a number of popular EV charging maps. 
In keeping with Gridserve's commitment to sustainable energy, the chargers at the new Thurrock site are powered by net zero carbon energy from the firm's solar and battery farms. 
Last month Gridserve opened its second electric forecourt in Norwich, and completed its upgrades to the entire Electric Highway network. 
Gridserve and partner Moto says they are "committed to levelling up EV charging infrastructure in the UK" and want to ensure that "drivers in every part of the country have access to dependable, affordable and super-fast EV charging". 
The site is the fourth Gridserve High Power Electric Super Hub to open in the last five weeks, following sites in Burton-in-Kendal, Exeter and Swansea. The firm has also opened a dedicated Electric Forecourt in Norwich. 
The firm says the new site in Thurrock will provide "quick, convenient charging for both the Thurrock and wider Essex communities". 
Gridserve claims the new site will also support London's push to upgrade its EV infrastructure, with research showing the vast majority (74%) of car and taxi trips that include the M25 are known to start or end in London.
"We are committed to building a UK-wide charging network at a speed that will help give EV drivers the confidence they need to undertake any journey, irrespective of what electric vehicle they drive, and charge quickly, reliably and affordably," said Gridserve boss Toddington Harper.  
"Thurrock is further proof that we're building on our partnership with Moto and we'll continue to deliver more High Power Electric Super Hubs throughout the year. The level of passion on display and the pace of development within Gridserve never ceases to amaze me." 
READ MORE
Subscribe to the Move Electric newsletter
e-CARS
New electric cars for 2022 and beyond: what's coming when
New BMW i7 unveiled as luxury electric saloon
e-BIKES
Best e-bikes for every category 2022
Moustache Samedi 28.7 e-bike review
e-MOTORBIKES
Yamaha Neo's electric scooter review
Cake launches new global electric motorbike race series 
e-SCOOTERS
Government set to announce plans to legalise private e-scooter use
New study finds e-scooters are five times safer than bikes
e-WORLD
World's first airport for flying taxis opens in UK