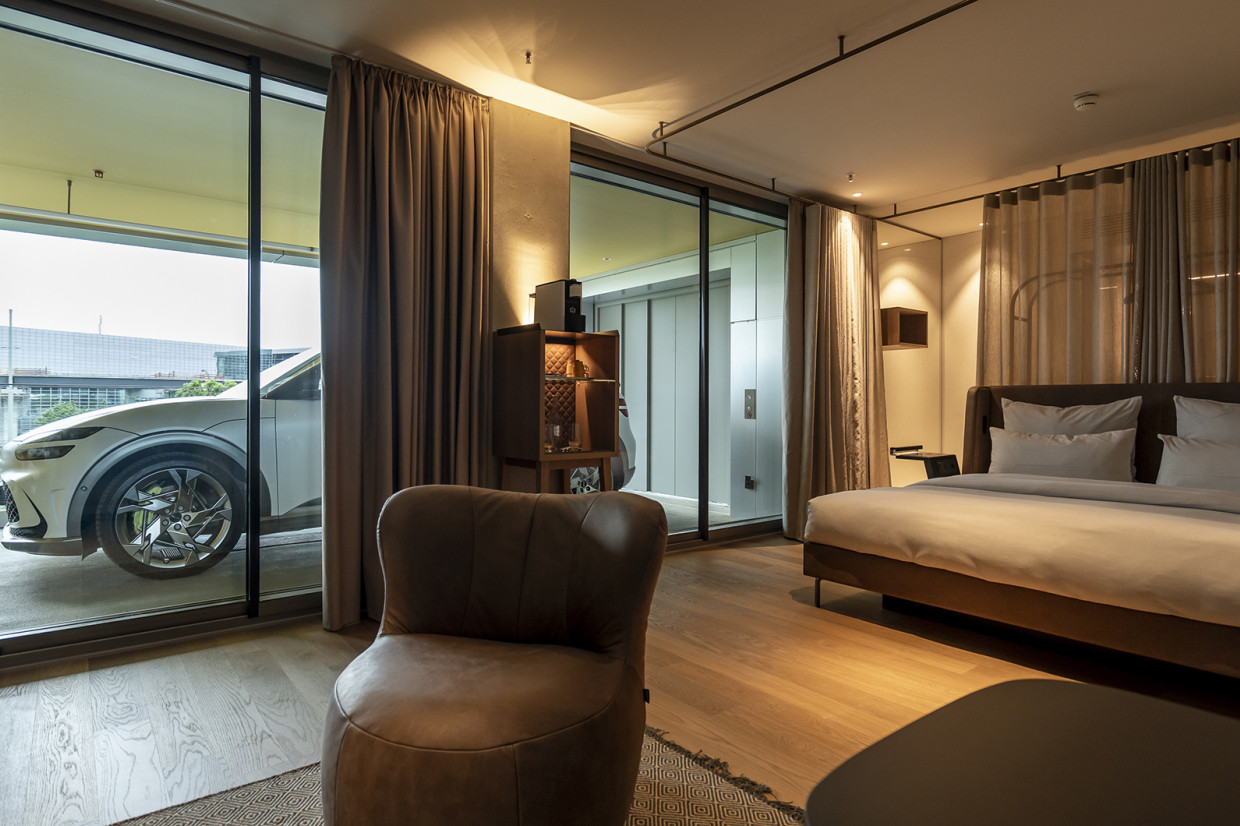 Electric car owners have spent many an hour researching hotels with easy access to electric charging points. Now a new hotel in Frankfurt, Germany can promise you total peace of mind - by taking your car in your room so you can plug it in.
The B'Mine at Frankfurt Hotel is Europe's first hotel to offer balcony parking and has 40 rooms which allow you to park your car on the balcony – no matter which of its eight residential floors you are on – and every parking space comes complete with a 22kW charging point.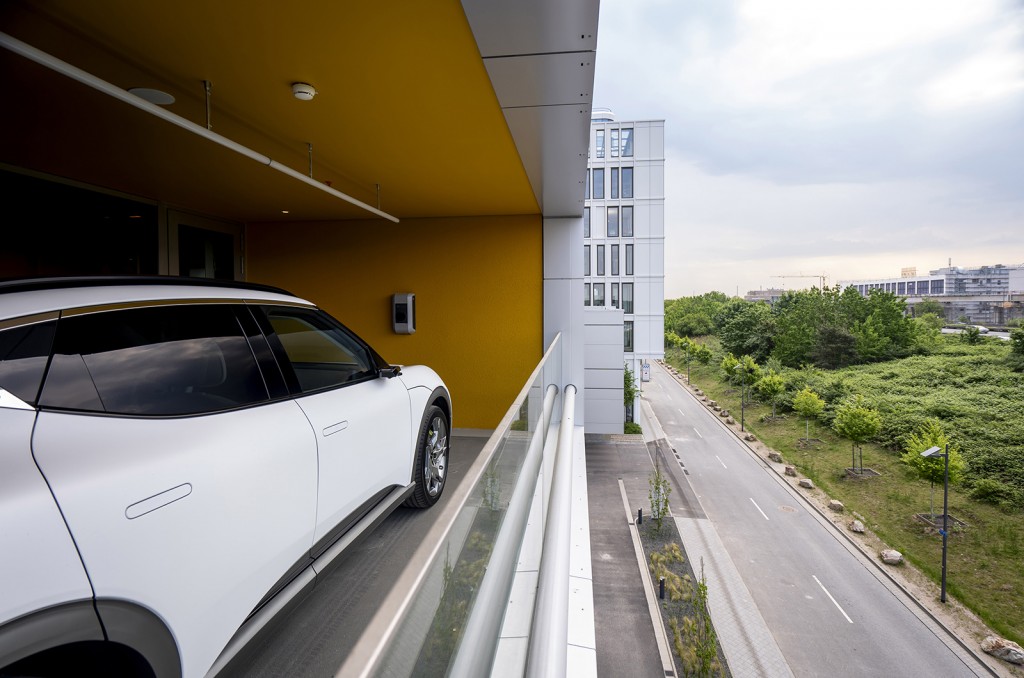 The hotel opened in April 2022, and offers a lift service for cars in 40 rooms. To access the lift guests simply use their keycard – or a barcode emailed to their phone if they check-in online and are so shy or famous they don't want to go to reception. They then drive in, head up to their room, and drive out onto the balcony to park – remembering to turn the engine off while in the lift it is a combustion engined car, of course.
"It's a unique experience, certainly in Europe, possibly the world – because our builder has the patent in 60 countries," says hotel manager Andreas Spitzner. "It is a very special idea that was originally inspired by a residential project. They couldn't build an underground car park because of the water table, so they hit on the idea of putting cars in the rooms."
Although guests in the 241-room hotel can park elsewhere in the vicinity, Spitzner argues that the 'car loft' concept is actually space and cost-efficient. "The cost for us to build and operate it is actually not that different to that of an underground car park, and it offers the added benefits of allowing you to go to your room without unpacking, and to keep everything super-secure," he says.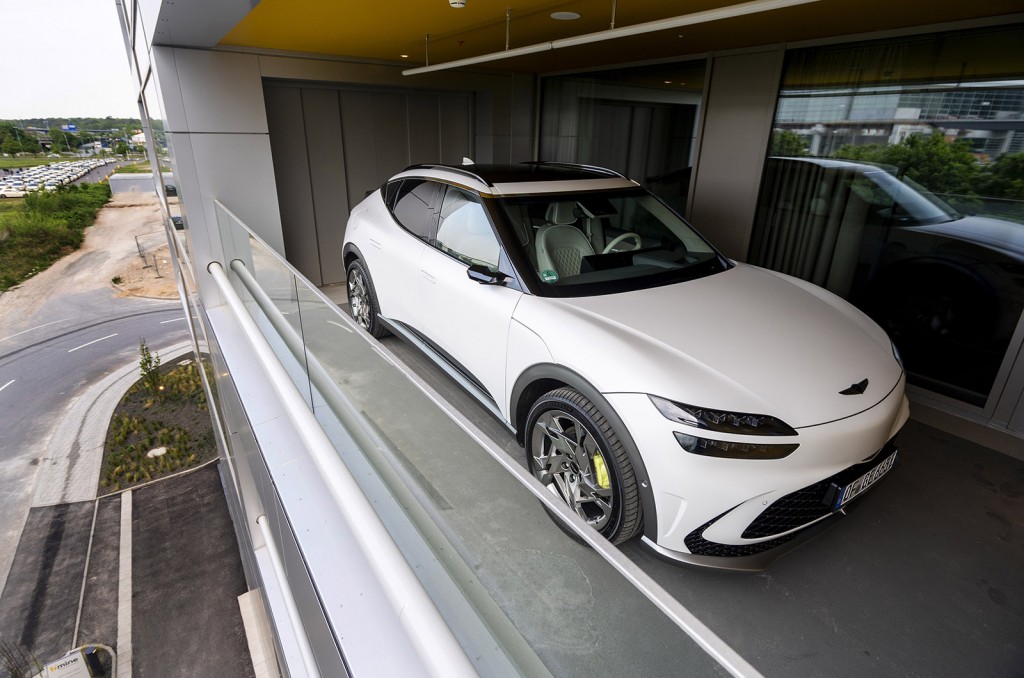 "For electric car owners the appeal is even greater. Here in Germany the number of electric car chargers is behind the number of cars – if you book one of the car loft rooms that stress is taken away. Our charging system spreads its charge rate according to which cars need charge most, prioritising those with the lowest range, but we guarantee that if 40 cars park up they will all be charge to full by the morning."
Room rates at the B'Mine start at 125 euros (£105) with car loft rooms attracting a 60 euro (£50) surcharge at present. The B'Mine hotel chain hopes to launch 30 hotels by 2030, with any new-builds likely to also offer car lofts to customers.
READ MORE
Subscribe to the Move Electric newsletter
e-CARS
New electric cars for 2022 and beyond: what's coming when
New BMW i7 unveiled as luxury electric saloon
e-BIKES
Best e-bikes for every category 2022
Moustache Samedi 28.7 e-bike review
e-MOTORBIKES
Yamaha Neo's electric scooter review
Cake launches new global electric motorbike race series 
e-SCOOTERS
Government set to announce plans to legalise private e-scooter use
New study finds e-scooters are five times safer than bikes
e-WORLD
World's first airport for flying taxis opens in UK