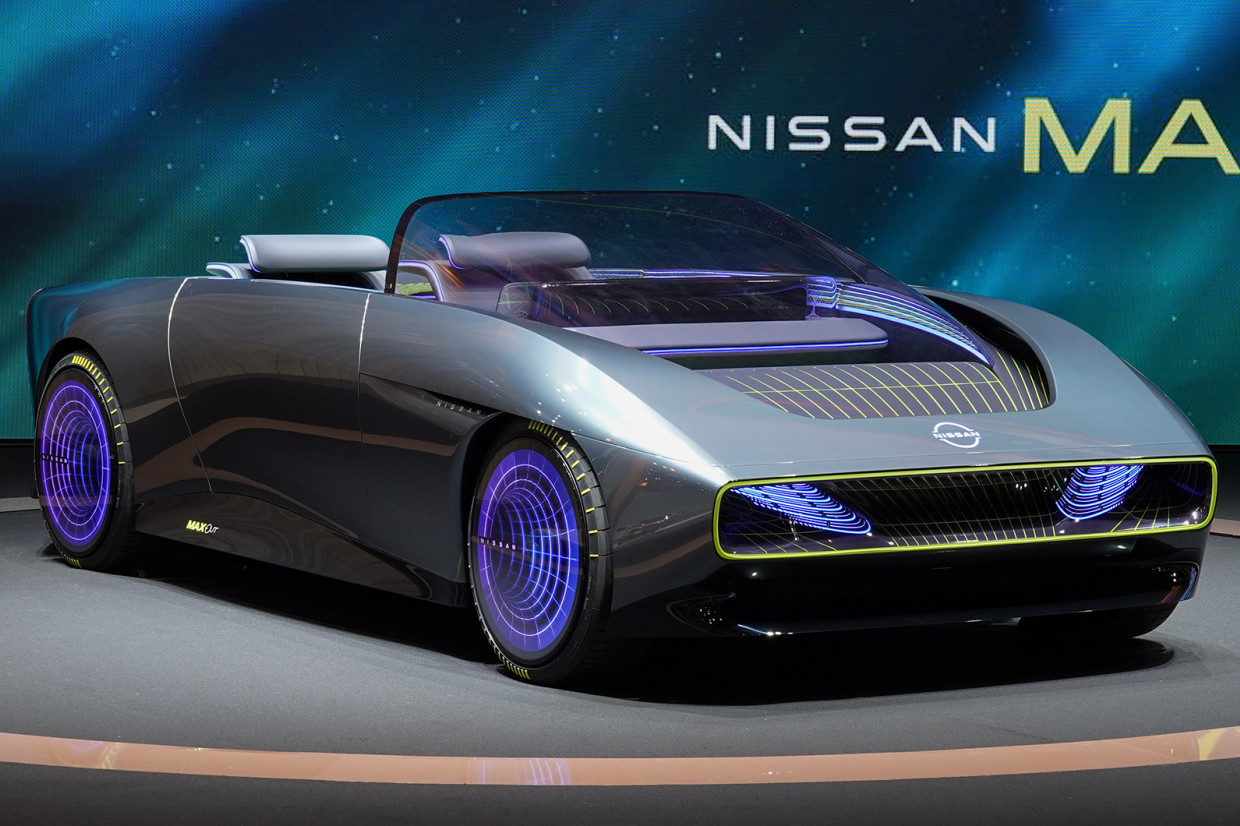 Say hello to the Nissan Max-Out, a new two-seater convertible concept that serves as a very stylish preview of a potential future electric sports car.
The Japanese firm has revealed the car at its Nissan Futures showcase in Japan, an event intended to showcase Nissan's vision for sustainable mobility and design in the future. And what better way to do that than with an advanced electric convertible?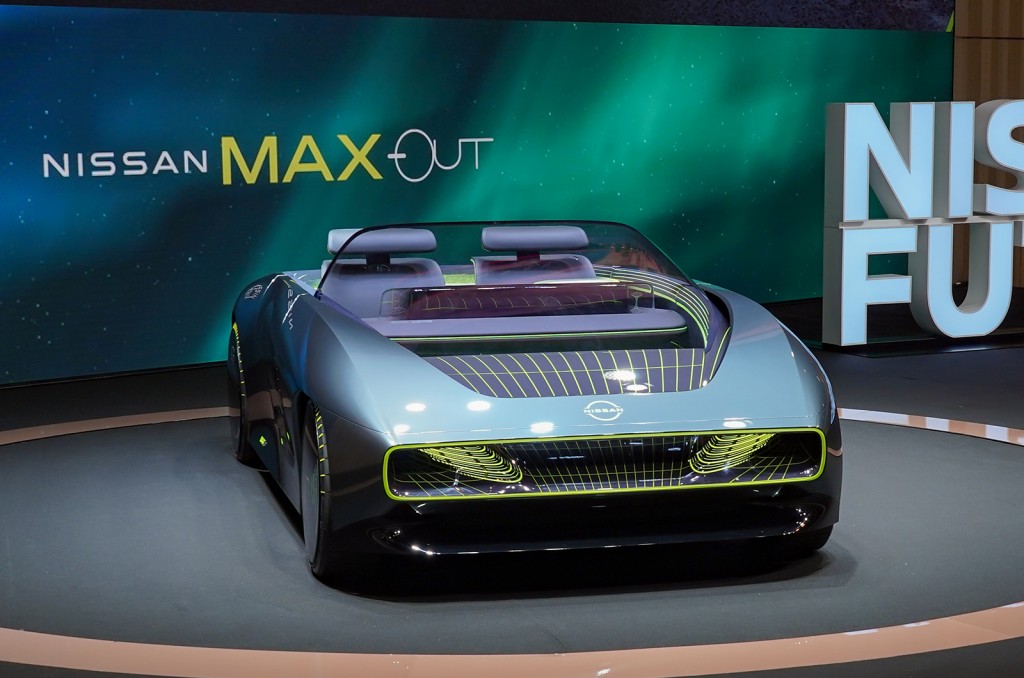 Now, strictly speaking we've actually seen the Max-Out before: it was one of four concept renderings that Nissan revealed in late 2021, along with the Chill-Out (a crossover), Surf-Out (a pick-up) and the Hang-Out (a big MPV-style vehicle).
The latest e-mobility news in your inbox: subscribe to the FREE Move Electric newsletter
The Max-Out features distinctive styling, with a glass front end covering the lighting panels and a large windscreen. The interior features a large central touchscreen and minimal physical controls.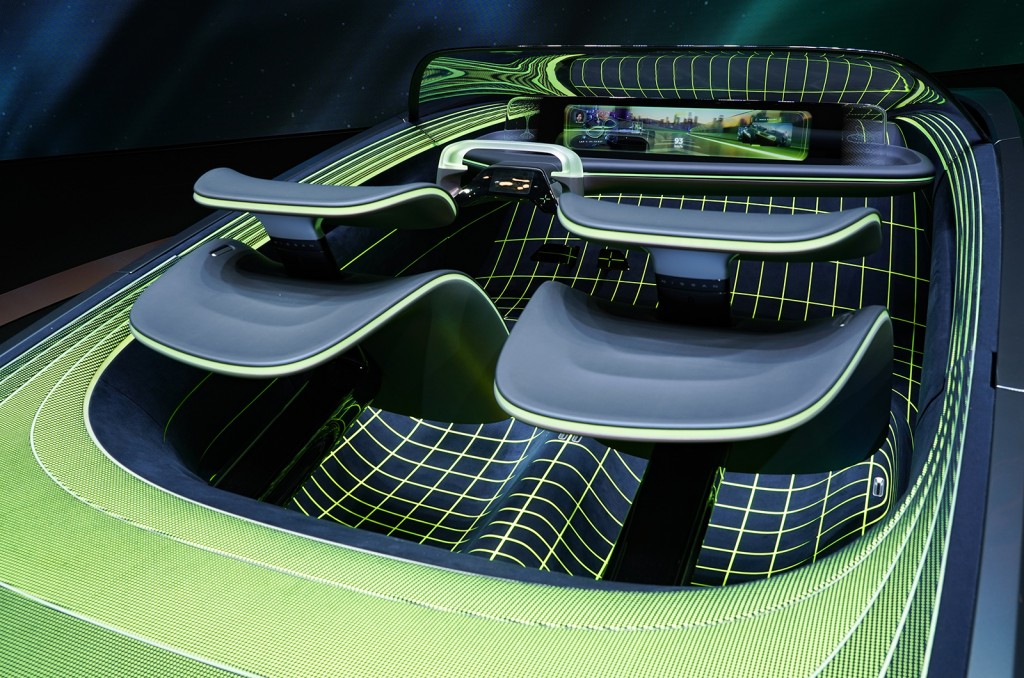 There aren't many details about the platform or powertrains, although Nissan has previously hinted that the various concepts were designed to showcase a future versatile electric 'skateboard' chassis, and that all the models would offer Nissan's four-wheel-drive technology, named e-4orce.
Nissan says that the Max-Our is intended to "provide a liberating sense of openness while offering an enhanced, dynamic driving experience", which really means that there's no roof and it's intended to have sporty handling. The firm says it also shows its aim "to develop a diverse range of advanced and striking vehicles", which suggests that Nissan really is considering a production car similar to it in the future.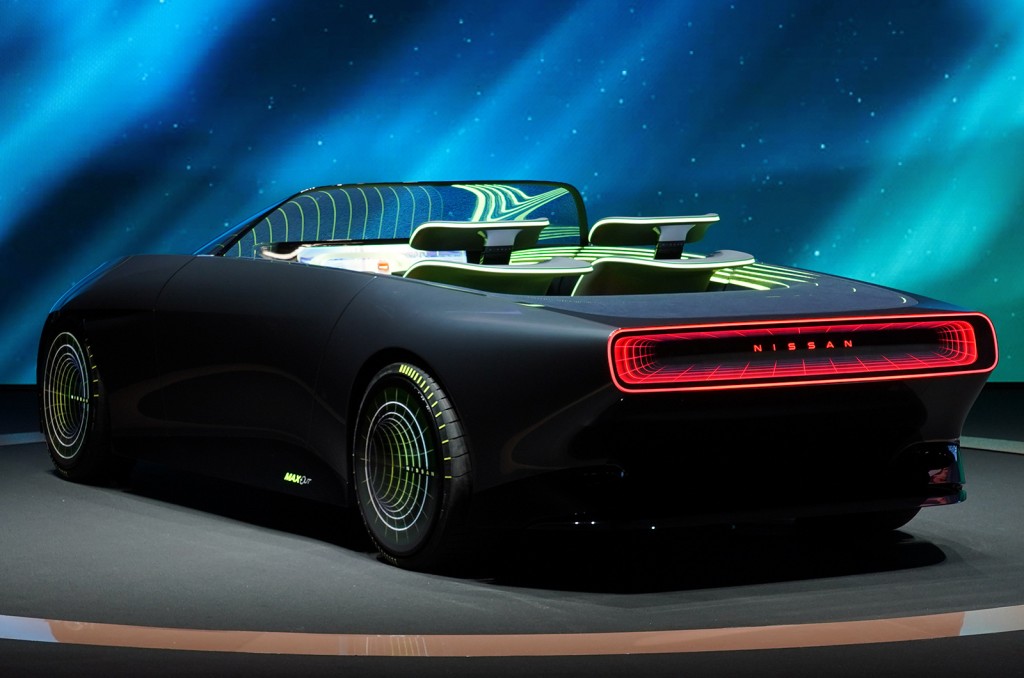 READ MORE
Subscribe to the Move Electric newsletter
e-CARS
Ten electric cars we're excited for in 2023
Getting an EV sideways: how easy is it to drift a Kia EV6 GT?
Q&A: Jaguar Racing's Sam Bird and Mitch Evans on Formula E's new era
e-BIKES
Ten electric bikes we're excited for in 2023
Can you get fit using an electric bike?
e-MOTORBIKES
Ten electric motorbikes we're excited for in 2023
Super Soco TC Max electric motorbike review
Cake and Polestar team up for new special edition Makka e-motorbike
e-SCOOTERS
Planned laws to legalise private e-scooters face delay
Five key takeaways from the rental e-scooter trials report
Which train firms have banned e-scooters from their services?
e-WORLD
Move Electric's best features of 2022: lap records, tuk-tuks… and sausage rolls
Volvo Trucks keeps on electric trucking with three new models