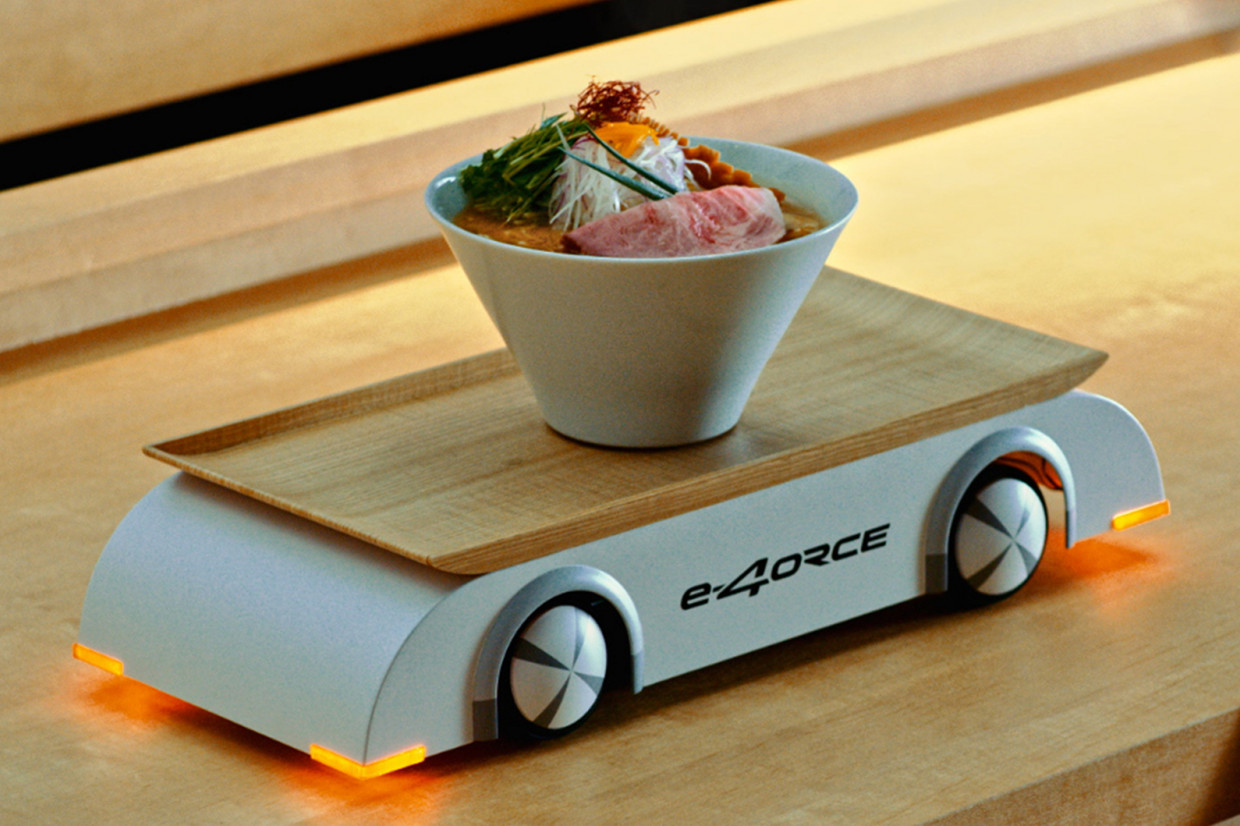 Electric four-wheel-drive powertrains have the potential to deliver world-changing benefits, offering a calm ride, go-anywhere ability and utility without creating any tailpipe emissions. But how best to demonstrate the ability of such a system? By delivering a bowl of noodles, of course.
Yes, we said noodles. Nissan has created a new machine called the e-4ORCE Ramen Counter, a tingly little counter-top electric vehicle which is designed to delver steaming hot bowls of ramen noodle soup. And we really want one. An e-4ORCE Ramen, that is, although we'll also happily take a lovely bowl of Japanese noodles while we're at it.
New electric cars for 2022: what's coming when
Okay, Nissan's ramen delivery device is a pure marketing gimmick, but it's also fun. It's fitted with an electric motor mounted on each axle, offering all-wheel-drive in a system that Nissan claims mirrors that of the forthcoming top-spec Nissan Ariya. 
While Nissan has not detailed any technical specifications for the Ramen Counter, the Ariya e-4ORCE offers 290kW (395bhp) from its twin electric motors. We suspect – well, hope – the ramen wagon
Nissan claims that the all-wheel-drive system on the Ariya is its most advanced yet developed, and manages both power output and braking performance to boost smoothness and stability, in doing so delivering a comfortable ride.
The similar system on the Ramen Counter? Well, in that case Nissan claims it "swiftly delivers ramen and maintains the integrity of noodle presentation by suppressing sloshing and movement."
While the Ariya will launch later this year, at this stage, the Nissan e-4ORCE Ramen Counter appears to just be a one-off prototype. Fingers crossed we'll get the chance to test both it and some delicious noodles soon.
We'd also like to see Nissan produce a truly hot performance version of its noodle wagon. Nissan GT-Ramen, anyone?
READ MORE
e-CARS
The 10 electric cars with the longest range
e-BIKES
Desiknio Pinion C1.9 Classic e-bike review
Ride for a worthy cause: Big Issue eBikes launches in Bristol
e-MOTORBIKES
Triumph reveals first electric TE-1 motorbike
BMW CE 04 electric scooter review
e-SCOOTERS
Superpedestrian Link e-scooter: first ride
The new battery tech designed to make e-scooters more sustainable
e-WORLD
New Candela C-8 electric hydrofoil has first 'flight'
Awake Ravik S 22 aims to take electric surfboards to the extreme