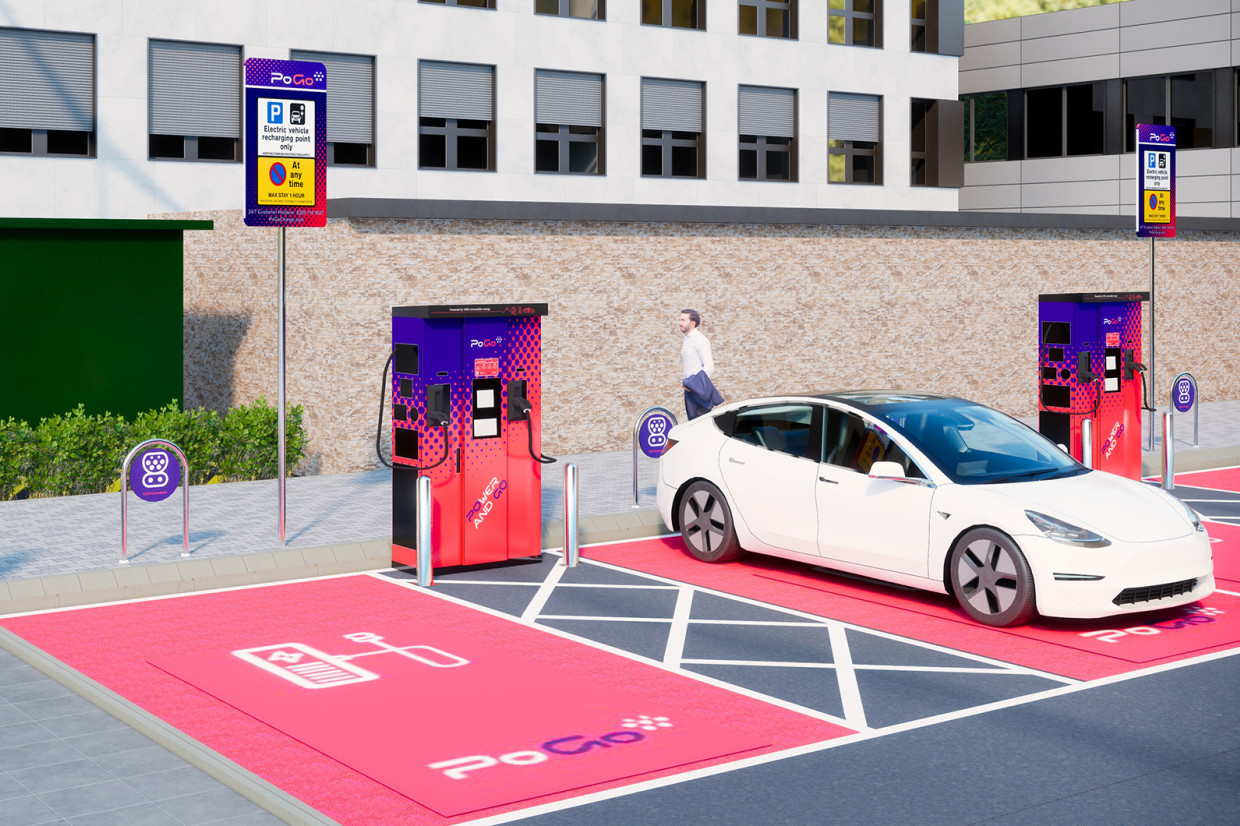 A new electric vehicle charging network called PoGo has been launched in the UK, with the aim of providing a bounce to the UK's charging infrastructure.
Despite what the name suggests, PoGo isn't actually named after a spring-loaded stick: it stands for 'Power and Go', which the network says represents its focus on making charging simple and easy for customers.
The latest electric vehicle news in your inbox: get the FREE Move Electric newsletter
PoGo is being launched by Swarco Smart Charging, a division of the Swarco traffic technology company that focused on the development of EV charging infrastructure. It has installed more than 12,000 charging points across the UK, including a mix of domestic and commercial units.
The firm says that it plans to build PoGo into a network of more than 2000 ultra-rapid charging stations within the next four years. It claims that chargers will be 'strategically positioned' to be convenient for drivers and close to public amenities such as coffee shops. 
Each PoGo charging site will have "multiple" charging options, with the firm claiming it will be powered by 100 per cent renewable energy. At launch the firm says that it will offer 100kW charging speeds, with more than 100 sites set to open this year.
The firm's website shows that AC charging will currently cost 75p per kWh on an AC tariff, and 97p per kWh on a DC tariff.
 
PoGo boss Eugenio Herrero said: "We are working closely with landlords to ensure an even spread across the UK so PoGo drivers can travel to each corner of the country through our ultra-rapid offering."
READ MORE
Subscribe to the Move Electric newsletter
e-CARS
Ten electric cars we're excited for in 2023
Getting an EV sideways: how easy is it to drift a Kia EV6 GT?
Q&A: Jaguar Racing's Sam Bird and Mitch Evans on Formula E's new era
e-BIKES
Ten electric bikes we're excited for in 2023
Can you get fit using an electric bike?
e-MOTORBIKES
Ten electric motorbikes we're excited for in 2023
Super Soco TC Max electric motorbike review
Cake and Polestar team up for new special edition Makka e-motorbike
e-SCOOTERS
Planned laws to legalise private e-scooters face delay
Five key takeaways from the rental e-scooter trials report
Which train firms have banned e-scooters from their services?
e-WORLD
Move Electric's best features of 2022: lap records, tuk-tuks… and sausage rolls
Volvo Trucks keeps on electric trucking with three new models