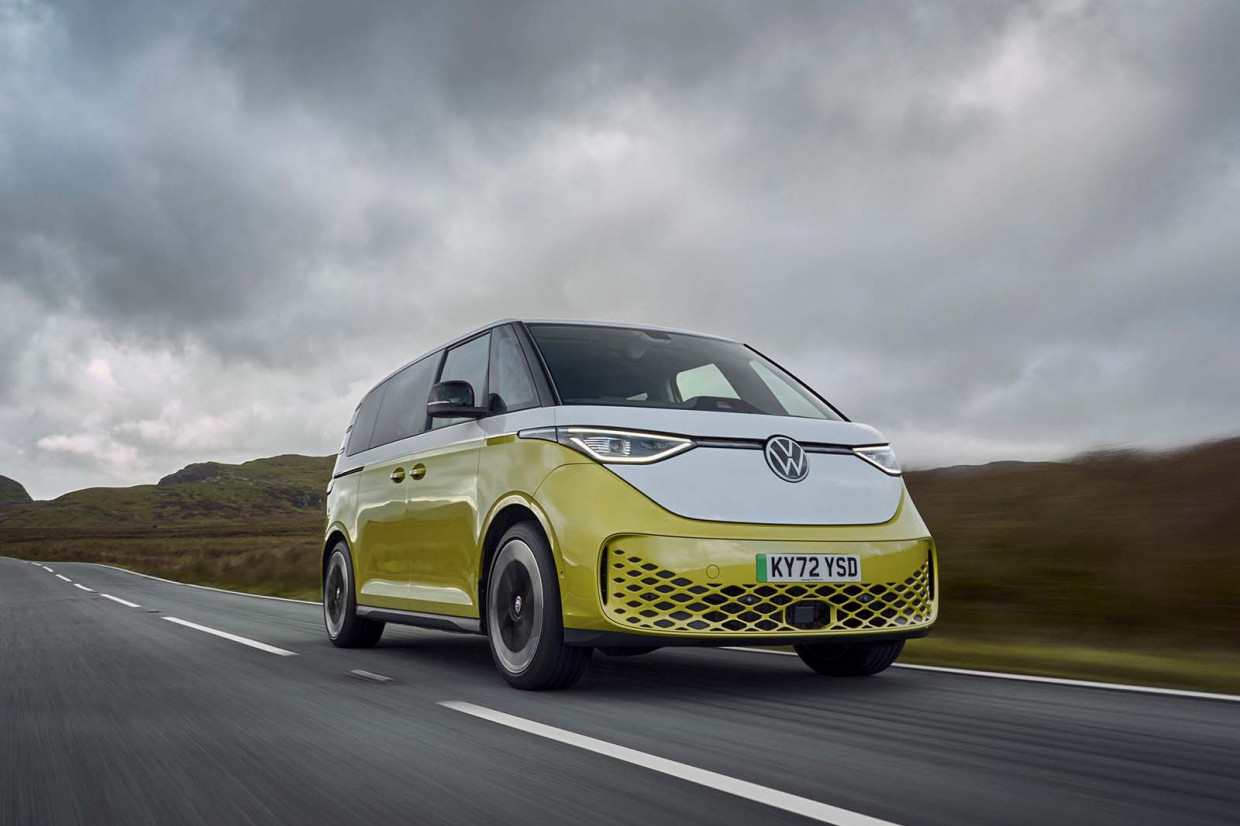 Move Electric rating: four stars out of five
Sell it to me in a sentence...
That cheery campervan depicted on your favourite fridge magnet from that holiday to Cornwall is now electric, and probably the coolest EV we've seen in a long time.
That's a concept car, right?
Not a chance: this is a real electric car you can buy. The ID Buzz is the latest in the Volkswagen ID range of models, following the ID 3, ID 4 and ID 5. Whereas that trio is all rather conventional and familiar shapes and sizes from the internal combustion engine world, the ID is anything but. 
Nominally, it's an MPV that seats five people. But just look at it; this is no normal people carrier, typically the dullest of the automotive species. VW has taken advantage of the 'skateboard' electric car chassis with the batteries in the floor to give freedom to its designers to create a top hat body on top that oozes charm and fun, clearly taking inspiration from the classic Camper to reinvent it for the electric era.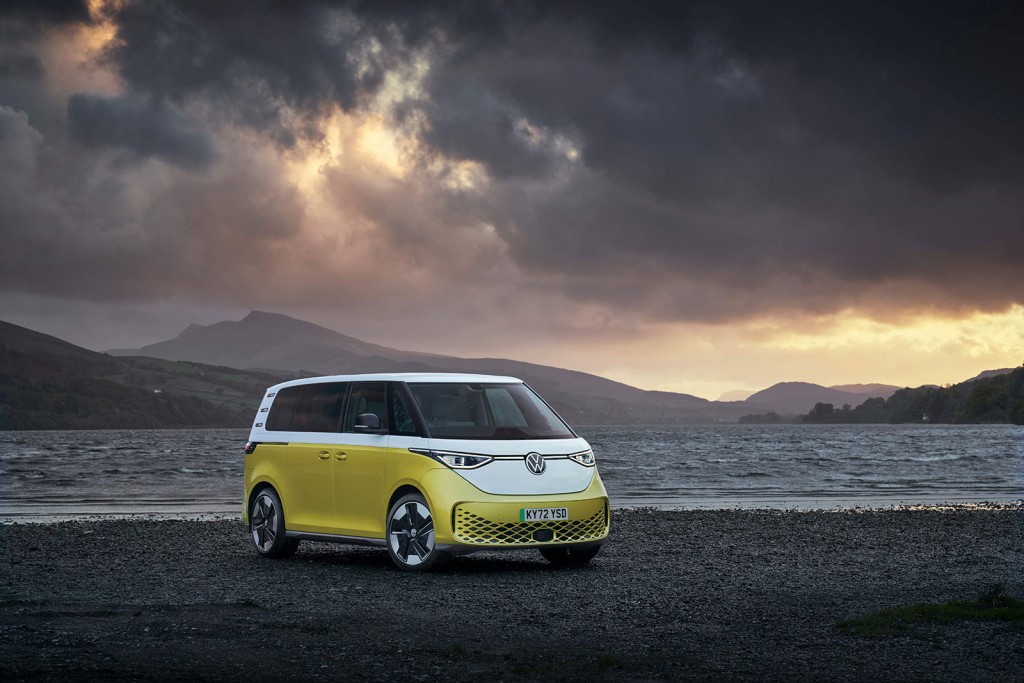 I'm sold on the looks alone. Can I skip to the end?
If you're sold on the way it looks (and who wouldn't be?), then there's nothing in the way it drives to put you off. But stick with us: there's plenty in its box of tricks to discover. Such as there not just one version of the ID Buzz, but two: at the same time as the launch of this five-seater version, VW will also put into production the ID Buzz Cargo, a three-seat van with an enormous 3900-litre load bay that can hold two Euro pallets. 
I can sleep in it then?
Not so fast… While it looks like it's come straight from a Newquay campsite, the ID Buzz (we're talking about the car version again now, not the van) is actually rather conventional. Those five seats include a three-seat rear bench that splits 60:40 and folds flat, just like in a Volkswagen Golf, but with nothing else clever about it. Nor can the seats be removed, which is a bit of a shame. It's all rather ordinary with this level of configurability, which feels like a missed opportunity.
Still, a California version with a bed and a place to make a cup of tea is going to come, from around 2024, so for now you'll need to keep booking that Airbnb for an overnight stay after your day at the beach in the ID Buzz.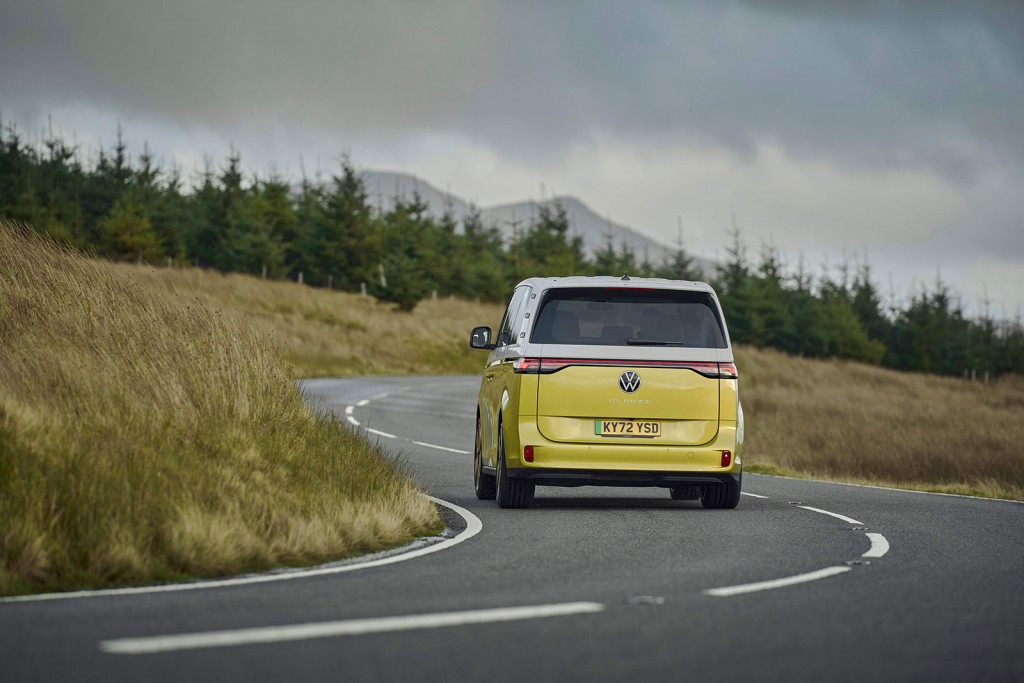 It still looks a nice place to sit inside, though... 
You'd be right. It's very light and airy, and the driving position offers a commanding view of the road and the seat is very comfy to boot. Visibility is excellent, notably forward visibility due to the split pillars at the front. There's no tunnel running between the two front seats, which makes the front cabin feel even airier. 
The materials and colours inside are all very slick and modern. Lots of recycled materials are used, and there is no animal leather used in the car, a first in a modern VW. There's loads of space to lose a smartphone and up to eight USB-C ports for passengers front and rear to charge their phones.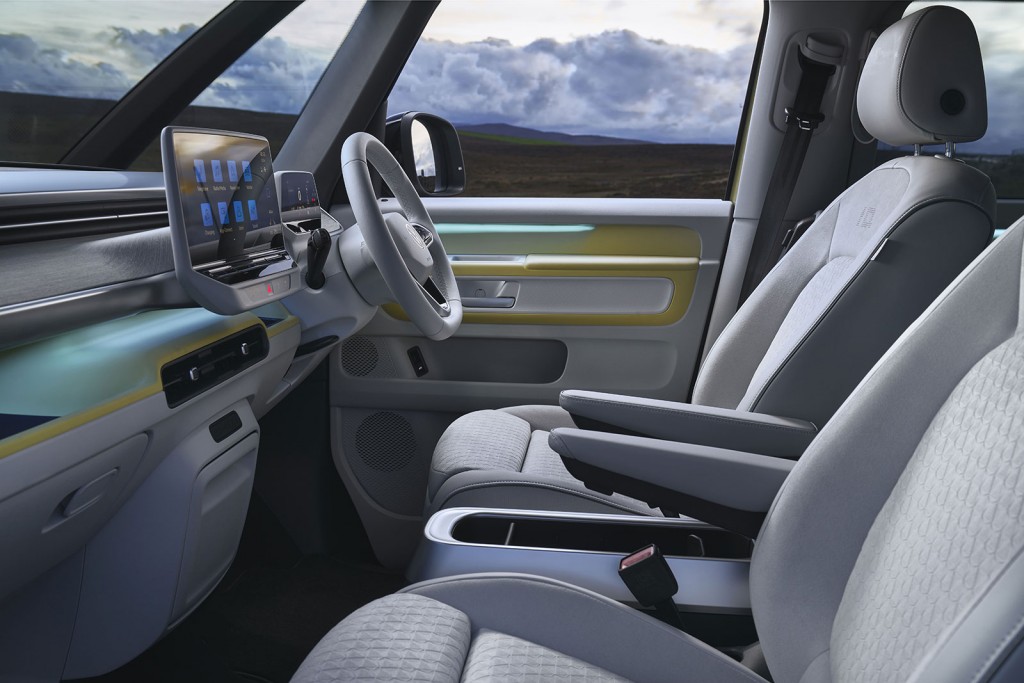 Unfortunately, the ID Buzz's place in the VW ID family also means it uses VW's latest infotainment system, which remains baffling to use. Honestly, it's pretty dire, and while the firm says that says the latest 3.2 software it runs is finally more stable, the user friendliness remains absent.
Multiple button presses are required for simple commands, and you wouldn't have much luck with the voice controls either. The heater controls are still not backlit either; good luck trying to change the temperature in the dark. Yes, all this in a car costing from £57,115.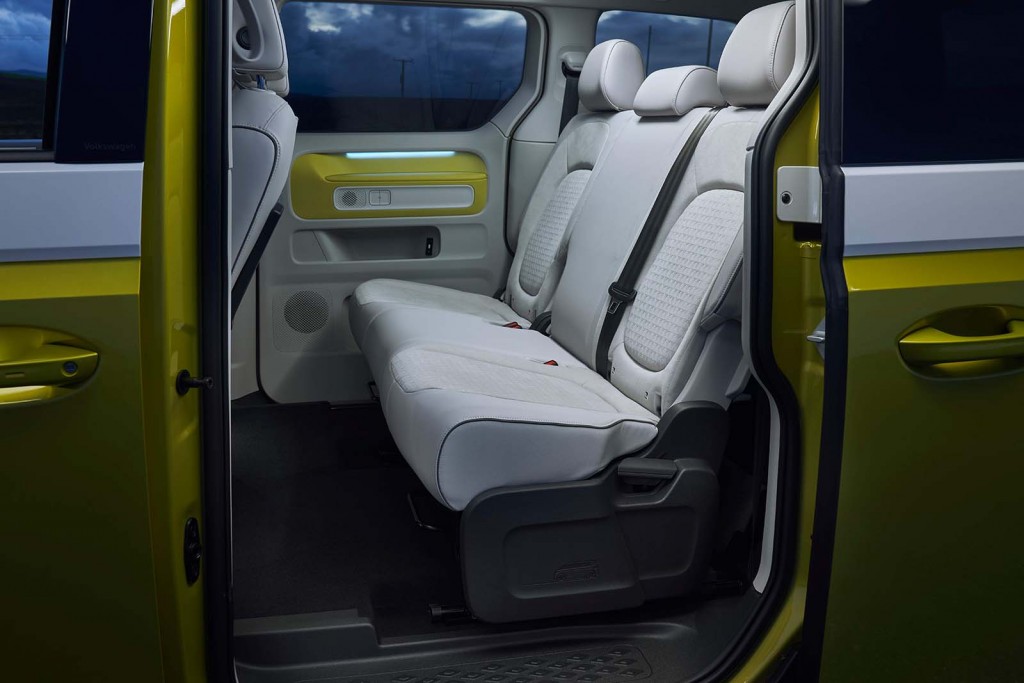 That's quite a lot of money…
It's not a cheap car, for sure. Yet despite those gremlins and its more humble roots on the same platform as the ID 3, which costs from £36,195, it does feel a good deal more substantial and grown-up to drive than the hatchback on which it is based.
That's in large part down to the extra size and weight (it's a similar length to a Volkswagen Passat at 4.7metres and weighs a smidge over two and a half tonnes). Weight is typically the enemy of fun handling, and that manifests itself here - as we found when we drove a prototype the ID Buzz isn't an especially fun car to drive, rather a very stable and secure one, with very predictable handling and no real quirks.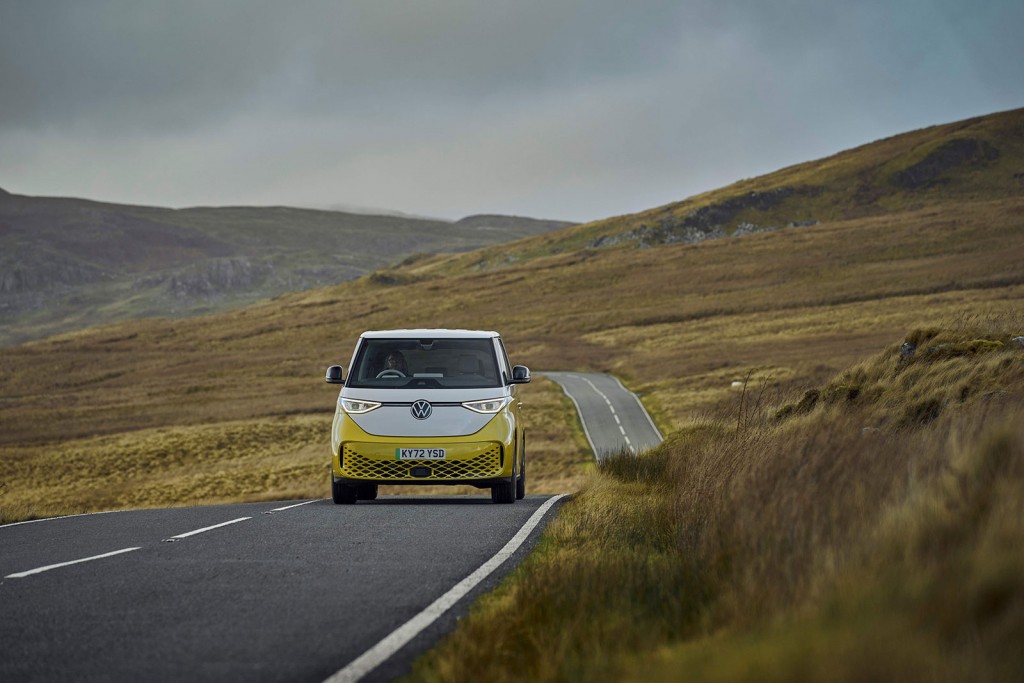 Yet weight can aid stability and refinement though, and this is the case with the ID Buzz. It feels much more settled on the road than an ID 3 ever does, with fewer vibrations. It's a comfortable place to be, particularly at higher speeds.
The ID Buzz uses the larger 77kWh battery pack found in the ID range, and draws its power from a rear-mounted single electric motor producing 150kW and 229lb ft of torque. Due to the weight it feels brisk rather than quick, yet always quick enough.
The official range is 255 miles for 3.3mpkWh efficiency, and on our test drive on an unusually warm late summer's day in Denmark we returned a range of just over 200 miles on a test route that included plenty of motorway miles. The maximum charging speed is 170kW. 
Anything else I need to know?
Did we mention those looks? Oh, we did. But they're worth mentioning again. It's impossible not to smile when you see an ID Buzz, and its ability to draw camera phones out of pockets of passers would rival a Bugatti. They'll be smiling, too.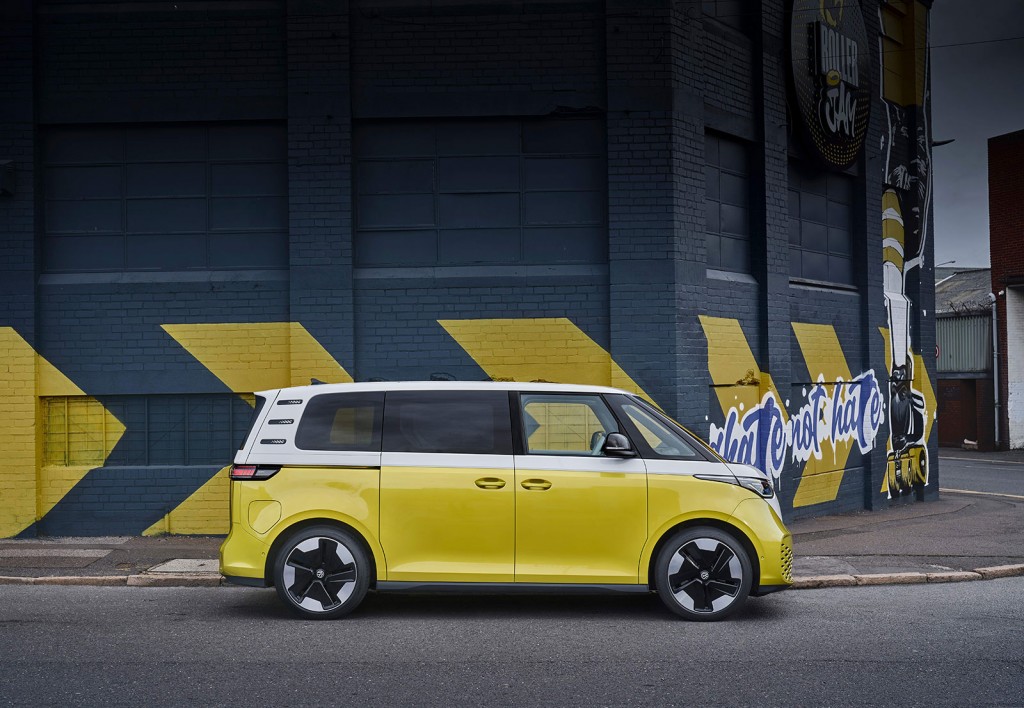 What the rear cabin lacks in configurability it makes up for in space. The boot is up to 1121 litres with the rear seats up and up to 2123 litres with them folded flat, which means space for a lot of fridge magnets. Access to the rear cabin is through sliding side doors and the boot floor can be raised or lowered, albeit not that easily (tools are required).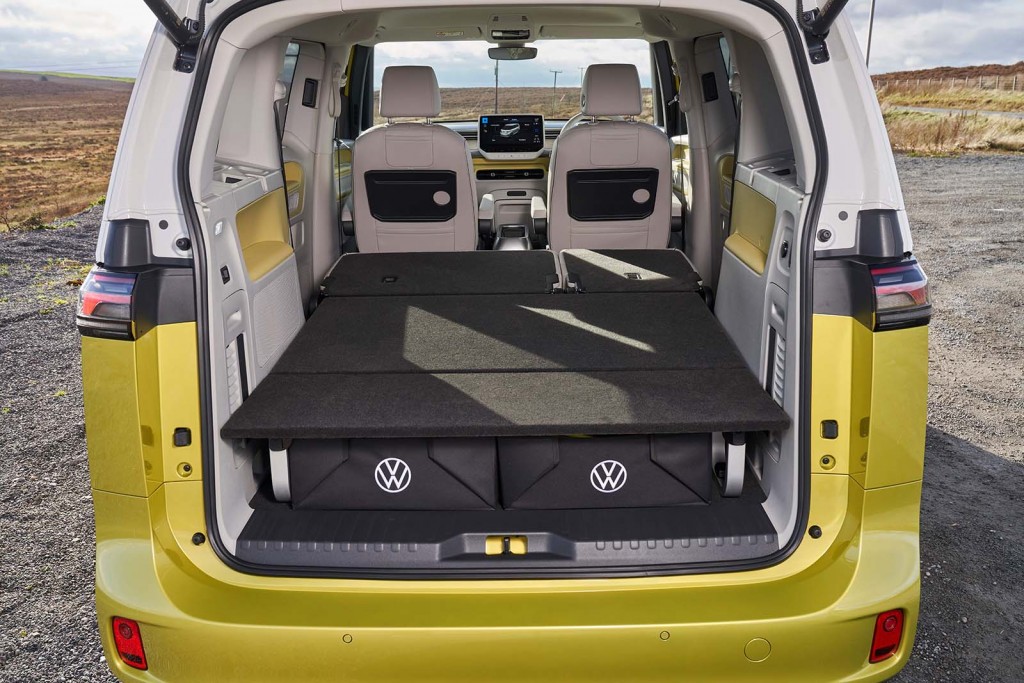 Also of note is just how slippery the ID Buzz is through the air with a drag coefficient of 0.29, similar to a Golf a few years ago. Finally, the car being rear drive and with a rear mounting of the electric motor means the turning circle is super-tight at just 11.1 metres, meaning the ID Buzz can turn on a proverbial Bitcoin. 
What rivals should I consider?
Electric people carriers are becoming increasingly common, including the likes of the Mercedes V-Class, Citroën e-Berlingo and Vauxhall Combo E-Life, and while capable none can match the charm and charisma of the ID Buzz. As we said earlier, if the heart has made up its mind, the head will run out of rational reasons not to get an ID Buzz.
Verdict
The Volkswagen ID Buzz feels like the kind of electric car we were always promised would come from the era of the skateboard chassis, allowing for much more creativity in body shapes, sizes and styles thanks to a reduction of fixed hard points cars have to be created around. The ID Buzz looks like nothing on the internal combustion engined market right now.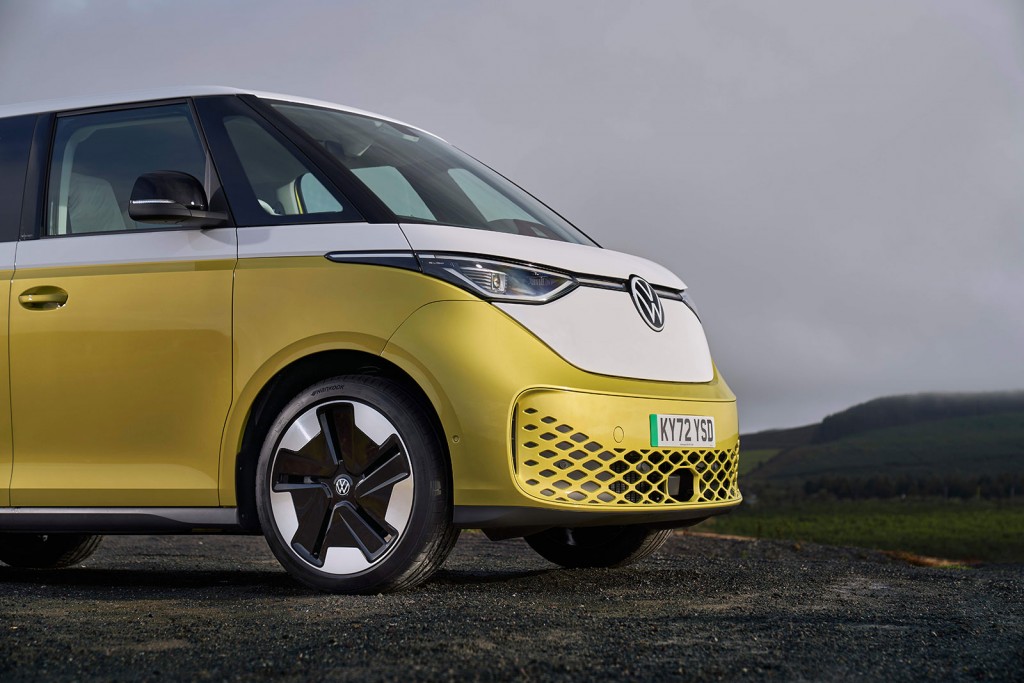 To that end, the ID Buzz is a triumph of design and a perfectly agreeable electric car to drive with it. For the full beach lifestyle, you'll want to wait for a true camper version, but for now the successful rebirth of a VW icon for the electric era is to be celebrated. 
Mark Tisshaw
Volkswagen ID Buzz Style 
Price: £61,915
Motors: One permanent-magnet synchronous motor
Gearbox: 1-spd reduction (automatic)
Driven wheels: 2 
Battery: 82/76.6kWh (total/usable)
Power: 150 kw
Torque: 229lb ft
Electric range: 255 miles
Energy consumption: 3.3mpkWh
0-62mph: 10.2sec
Top speed: 90mph
Kerb weight: 2502kg
Length: 4712mm
Width: 1985mm 
Height: 1937mm 
Wheelbase: 2988mm 
CO2, tax band: 0g/km, 2%
RIVALS
Peugeot e-Traveller
Vauxhall Combo E-Life