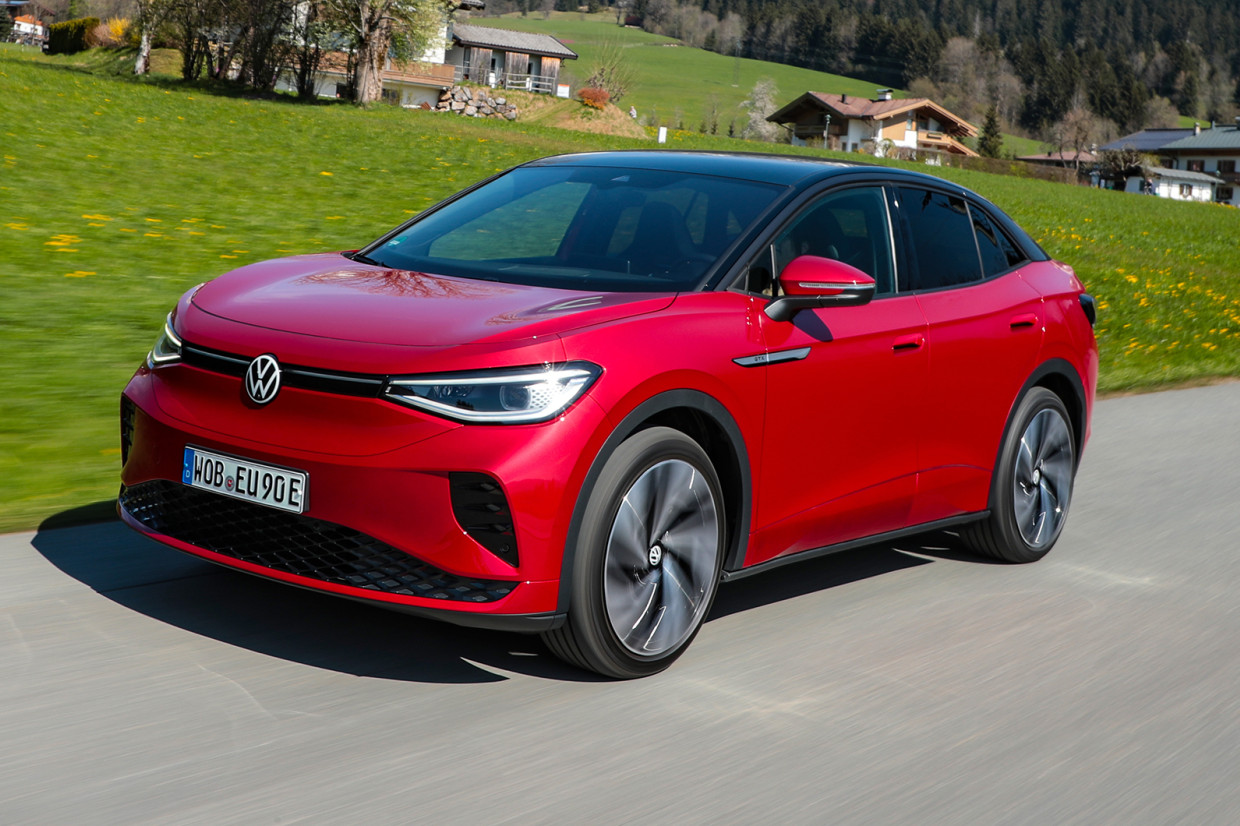 Verdict: Three-and-a-half stars out of five
Sell it to me in a sentence…
The Volkswagen ID 5 is a bold new electric coupe-SUV which, the firm claims, is imbued with charisma thanks to a 'distinctive design and individual character'.
Erm, it looks a lot like the Volkswagen ID 4…
Really? Hadn't noticed.
Look at it. It's the same car with a reworked roof...
Well, they're both part of Volkswagen's ID family of bespoke electric vehicles, so clearly there is a family resemblance, but they're completely different machines. Honest.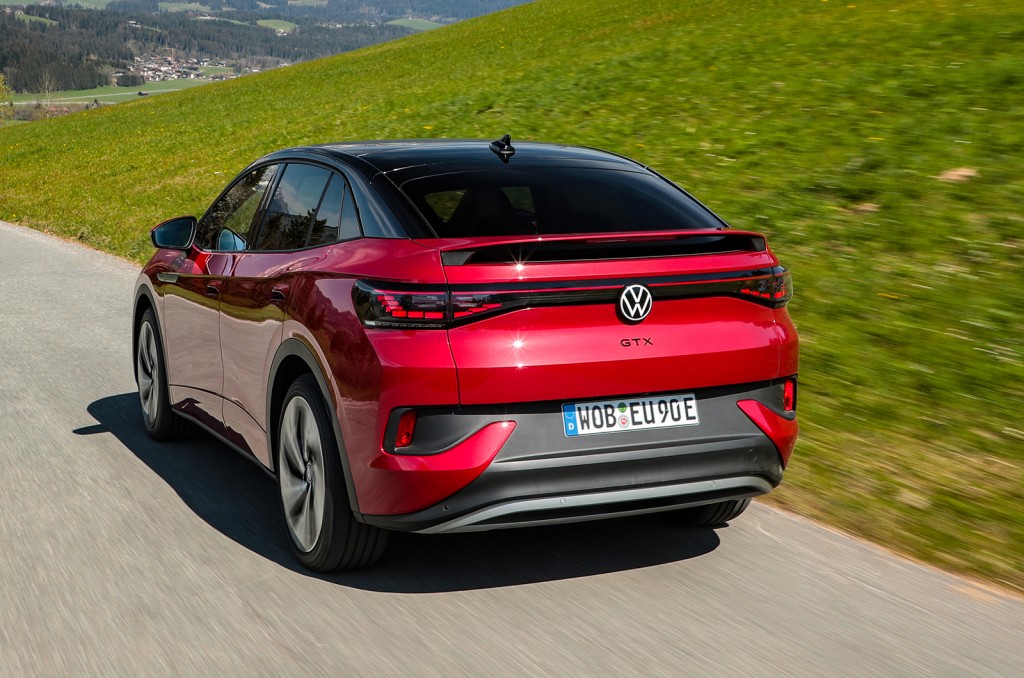 Come on, it's basically an ID 4 with less space in the back, isn't it?
Leaving our faux ignorance aside and ignoring VW's marketing speak, you're pretty much right. In fact, there are suggestions Volkswagen considered calling this the ID 4 Coupe rather than giving its newest machine its own, erm, ID number.
That's what other Volkswagen Group brands have done with their closely related electric SUVs (namely the Skoda Enyaq iV and Enyaq iV Coupe, and the Audi Q4 e-tron and Q4 e-tron Sportback) that use the same bespoke electric MEB platform.
Volkswagen isn't exactly hiding the link either. It suggests the relationship between the ID 4 and ID 5 is like that between the Passat and Arteon: one is a practical saloon car, the other is a bit sportier and more premium.
Still, ID 5 it is. That makes it the third of Volkswagen's fast-expanding full electric ID family to reach the UK, after the Volkswagen ID 3 hatchback and ID 4. The larger version of the MEB platform used by the ID 5 can house two sizes of batteries and either a single-motor rear-drive or twin-motor all-wheel-drive powertrains. 
Now, there are differences in terms of the model range and equipment levels the ID 4 and ID 5 are offered with, but when it comes to the platform, motors, batteries and general design – before the B-pillar, at least – they are basically the same. The ID 5 does have a slightly different suspension and chassis set-up… but that's largely to adjust for the slightly different dimensions of the car and make it feel as much like the ID 4 as possible.
But before you get too cynical about badge-engineering and pedant-troubling 'coupe-SUVs', does that really matter? After all, VW is hardly the only car firm producing a sporty-styled variant of an SUV (See also the Volvo XC40 and C40 Recharge), and with an electric platform such as MEB it's even easier to do. In fact, the ID 5 can roll down the same production line in Zwickau as the ID 4 (and, for that matter, the Q4 e-tron and Q4 e-tron Sportback). 
So, in the spirit of customer choice, why not offer a range of body styles, especially if people are prepared to pay a slight premium for a sleeker design? And, it must be said, the ID 5's more sweeping rear does give it something of a different flavour from the more practical ID 4, especially with the bespoke rear spoiler and a revamped body kit. Basically, there's an extra hint of dynamism, especially with the offset two-tone black roof the test cars we drove featured.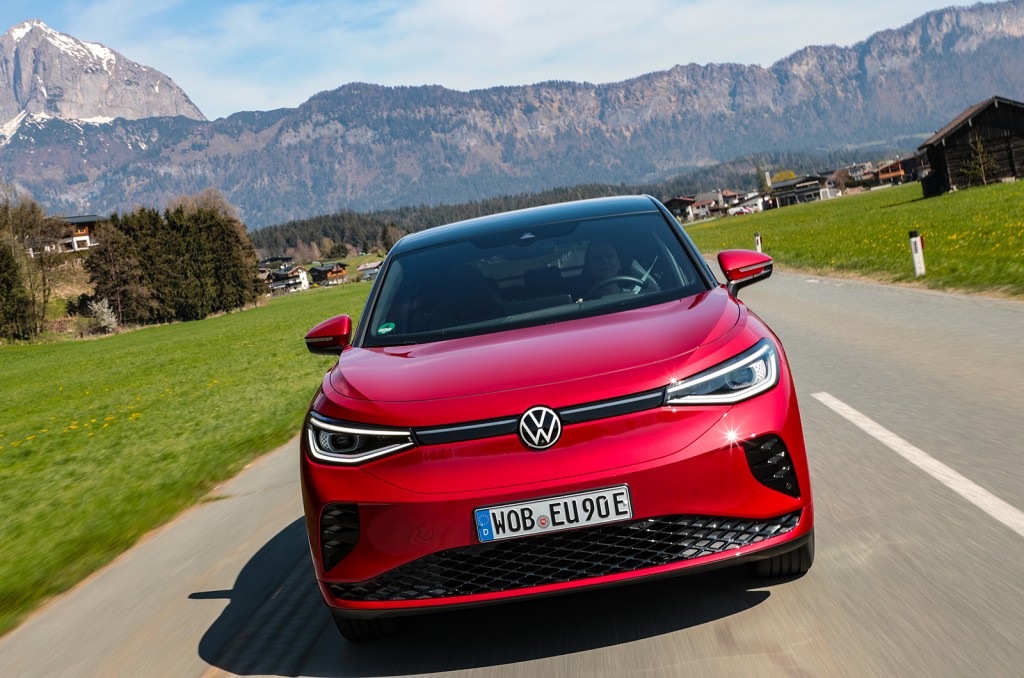 Okay, enough about the styling, what about the technical bits?
As noted, if you've read up on the Volkswagen ID 4 (and if not, click that link to go and read our lovely review) you'll have a good idea of what to expect – but there are differences.
While the ID 4 has a choice of 57kWh and 77kWh batteries, the ID 5 is only offered with the larger version. That's relates to the ID 5's standing as a slightly more premium, upmarket proposition.
There are two versions of the single-motor rear-drive powertrain available: the 128kW Pro and the 150kW Pro Performance. Both machines have the same 99mph top speed, although the Pro Performance offers more torque (228lb ft compared to 173lb ft) and its 0-62mph time of 10.4secs is two sections quicker than the Pro model.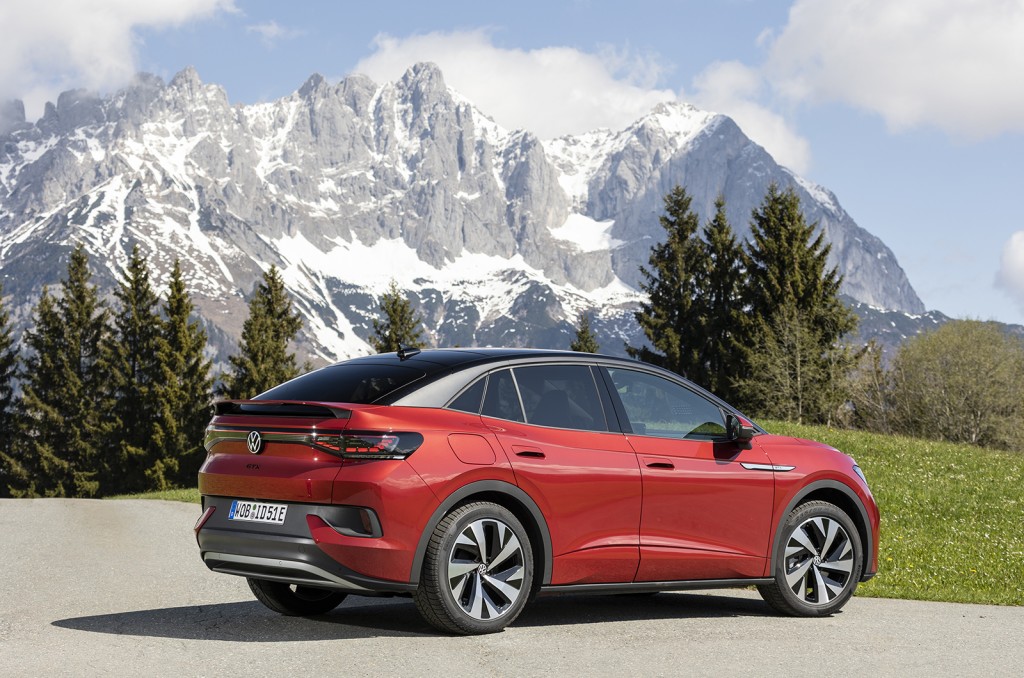 In terms of range, both the Pro and Pro Performance have an official range of 323 miles, with an official energy consumption of 3.67mpkWh, and both are currently capable of charging at speeds of up to 135kW. Oh, and they both weight 1200kg. Basically, the only difference is the power.
Volkswagen didn't have any Pro models at the launch event, so all driving impressions of the standard car relate to the Pro Performance. 
Pro and Pro Performance models are offered in two trim levels: Tech and Max. They're slightly better kitted out than the basic ID 4 models, so all cars get 19in wheels, matrix LED headlights with 3D 'dynamic' signals, a gland roof and a 12-in infotainment screen. In fact, beyond picking a trim VW only offers five options: paint colour, wheels, a trailer hook, a three-pin charging cable and a heat pump (which is standard on the Max and GTX Max).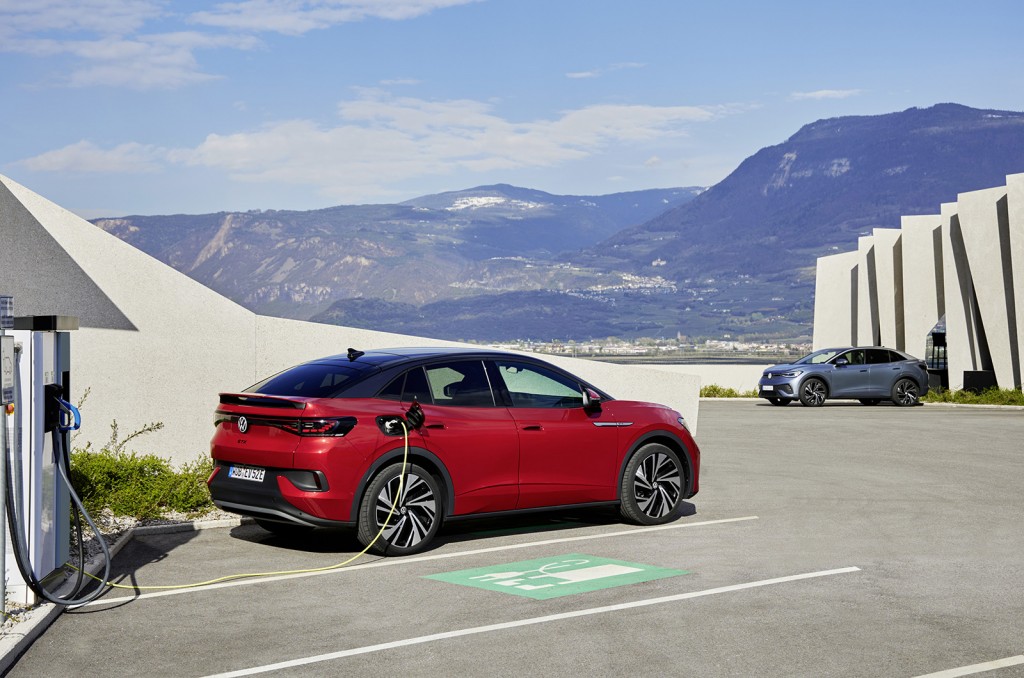 What about the GTX model? 
The ID 5 is the second Volkswagen – predictably after the ID 4 – to feature a range-topping GTX variant,  which comes in a single GTX Max trim level. That badge is broadly equivalent to Volkswagen's fabled GTI range, which have long mixed a performance edge with everyday usability. That latter bit is crucial: they're not strictly full-fat performance cars (that would be Volkswagen's R range).
The GTX powertrain features two electric motors, with a more powerful rear unit joined by a smaller motor on the front axle. That bumps the output to 220kW, with a total of 339lb ft of torque. The top speed is increased to 112mph, with the 0-62mph time cut to a sprightly 6.3 seconds – despite the GTX weighing an extra 200kg from the standard ID 5 due to the extra motors.
While the GTX features a 77kWh battery, the cell chemistry within it is actually slightly different from the standard models, with VW claiming the version used is more responsive and better for a performance model. It can still be charged at 135kW, although the extra motor means consumption is cut to 3.63mpkWh, with the range trimmed to 305 miles.
Oh, and for a fun bit of trivia: the bespoke styling elements used on the ID 5 GTX means it's actually slightly shorter than the standard car – although we're talking 17mm here, so you might find it hard to notice. It's 6mm taller too.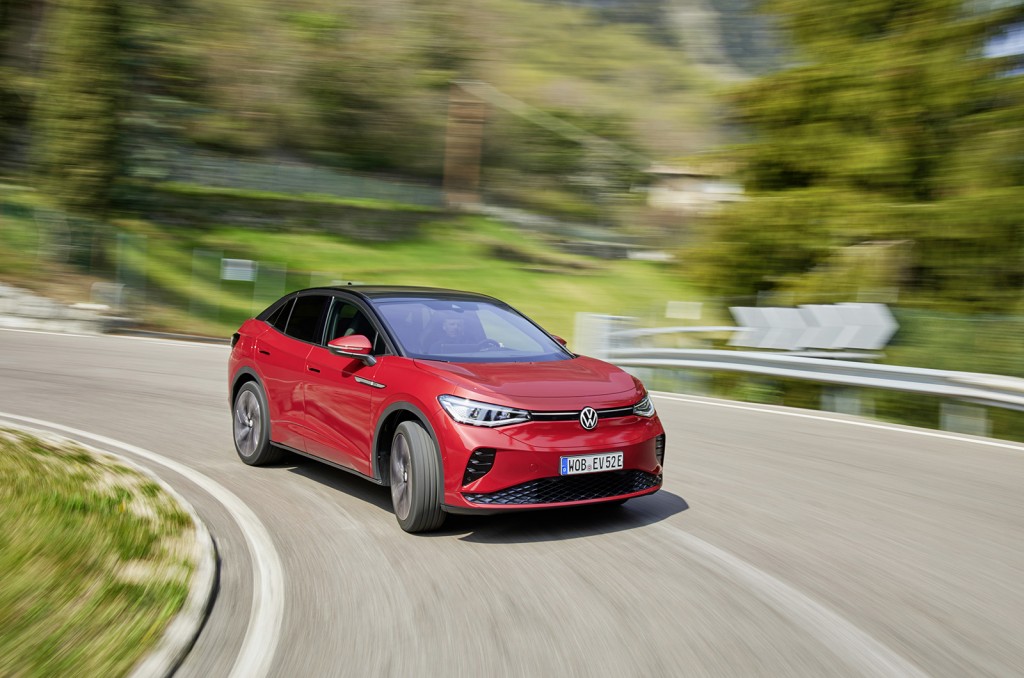 Since you mentioned dimensions… how much less space is there inside an ID 5 than an ID 4?
Here's a surprise: the rakish-roofed ID 5 has actually got a bigger boot. The ID 5 can house 549 litres, which is six litres more than the ID 4. Okay, that won't actually make much difference in the real world where you don't measure your shopping bags or suitcases in litres, but it's a reminder that a coupe roofline doesn't exactly make the ID 5 into an impractical proposition.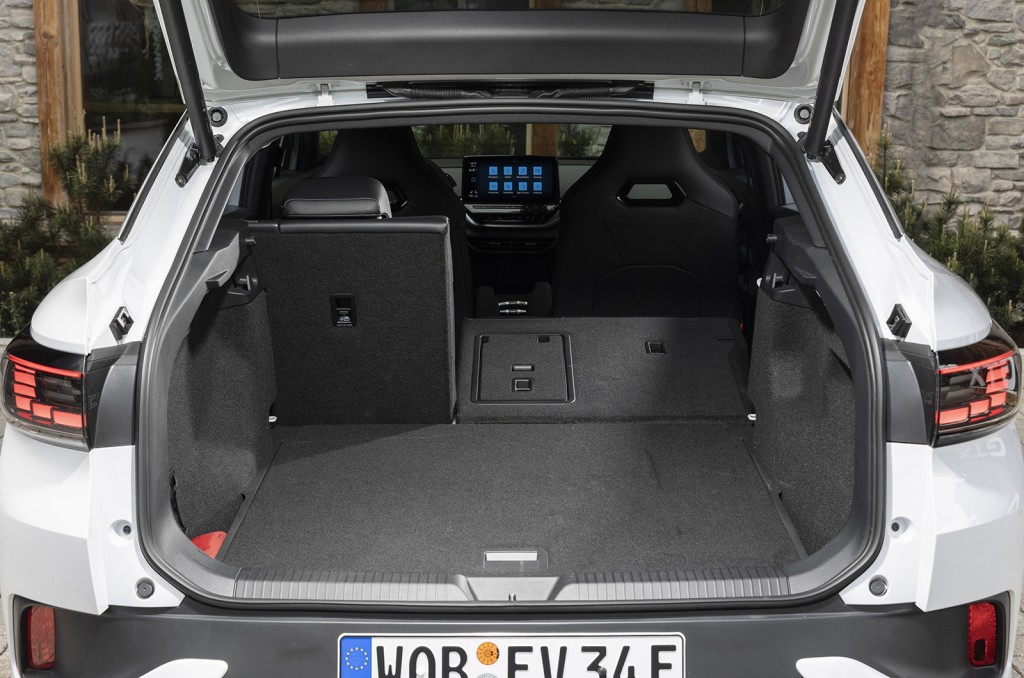 That extra boot space is largely because the ID 5 is 15mm longer than its SUV sibling, and if you fold the rear seats flat it actually offers 14 litres less capacity than the ID 4 (although a still substantial 1561 litres). 
Elsewhere, the ID 5 is 5mm lower than the ID 4, and does offer 5mm less headroom in the rear. Although from our brief time sat in the back, it's still relatively comfortable for adults without them feeling too hemmed in.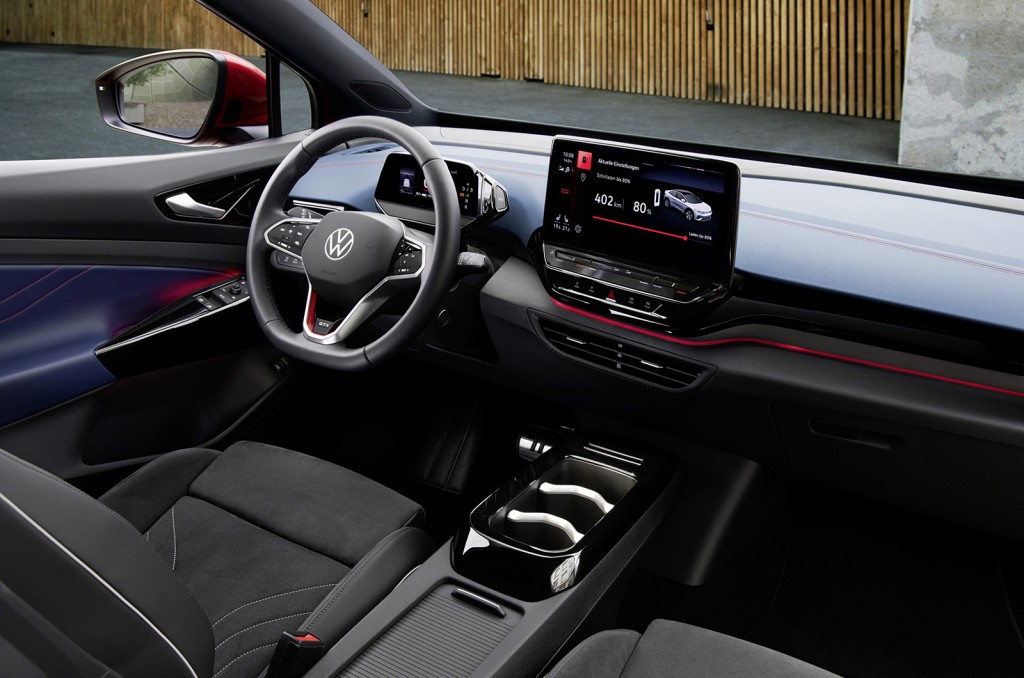 Okay, so what is the ID 5 like to drive?
Predictably, much like an ID 4. Which, once again, isn't really a bad thing. In both Pro Performance and GTX form the rider is remarkably smooth. Even accounting for the Austrian roads on our test route being somewhat smoother than many you'll find in the UK the ID 5 rides wonderfully well, remaining unruffled over all but the most jarring of bumps.
That's helped by steering that is weight and direct, giving you good confidence when you turn into corners. There's very little body roll given the unavoidable weight of a big, electric  SUV, and the power delivery is smooth and direct. Add in that wonderful lack of engine noise that you get in an EV and a clean, classy cabin (we'll get to that in a bit) and the ID 5 is an enjoyable place to easily eat up the miles.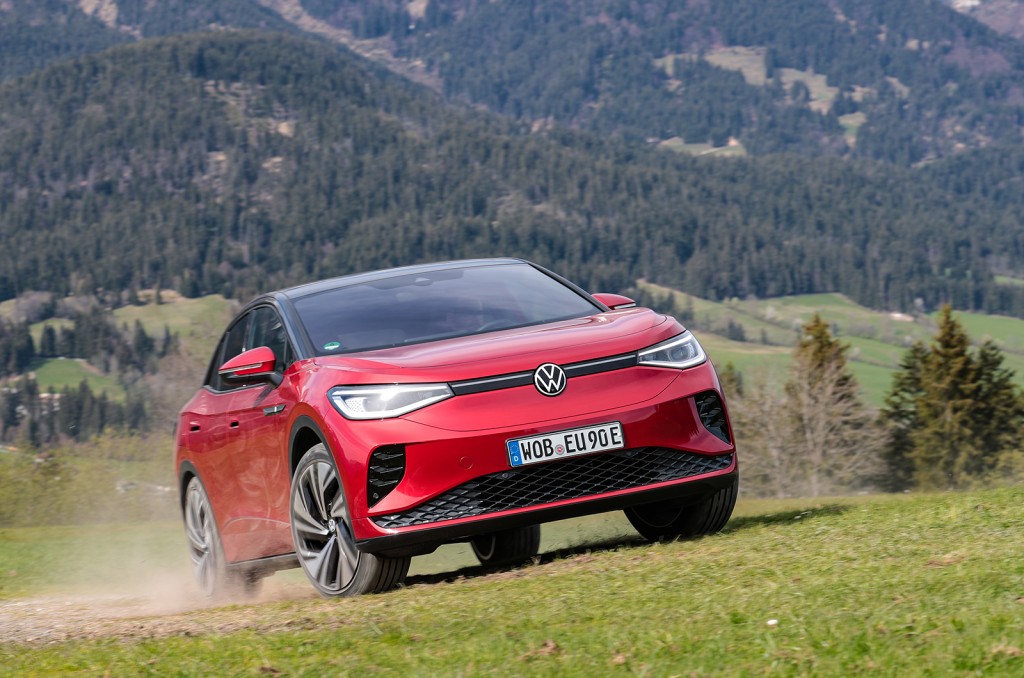 In Pro Performance form the power delivery is smooth rather than sensational, but there's always power on hand when you need it. Switch into that twin-motor GTX model and the extra power and acceleration is readily apparent, although that doesn't come at the expense of the ride quality or general refinement.
That said, while the ample output of the ID 5 GTX is worthy of a performance badge, don't expect the mix of dynamism and driver engagement offered by a Golf GTI. The ID 5 GTX doesn't really thrill in that sense, and isn't as engaging as other 'performance' EVs, such as the equivalent all-wheel-drive Kia EV6 (which is nearly £10,000 cheaper than the £60,520 GTX).
What is the ID 5 like inside?
How do you say 'much like the ID 4' without saying 'much like the ID 4'? Asking for a friend...
Anyway, the ID 5's interior is a really pleasant place to spend time, with a cool, stripped back design and minimal controls that are well-placed.
As with VW's other bespoke electric models, the drive selector has been moved to a control behind the steering wheel, and there's a handful of other well-placed physical controls. Many of the features, including the drive modes, are accessed with the decent infotainment touchscreen. It's relatively easy to use, as they go, but as with all touchscreens it can be a little frustrating when a physical button would be easier. And don't get us started on the really annoying 'sliders' underneath the touchscreen that control the volume and heating…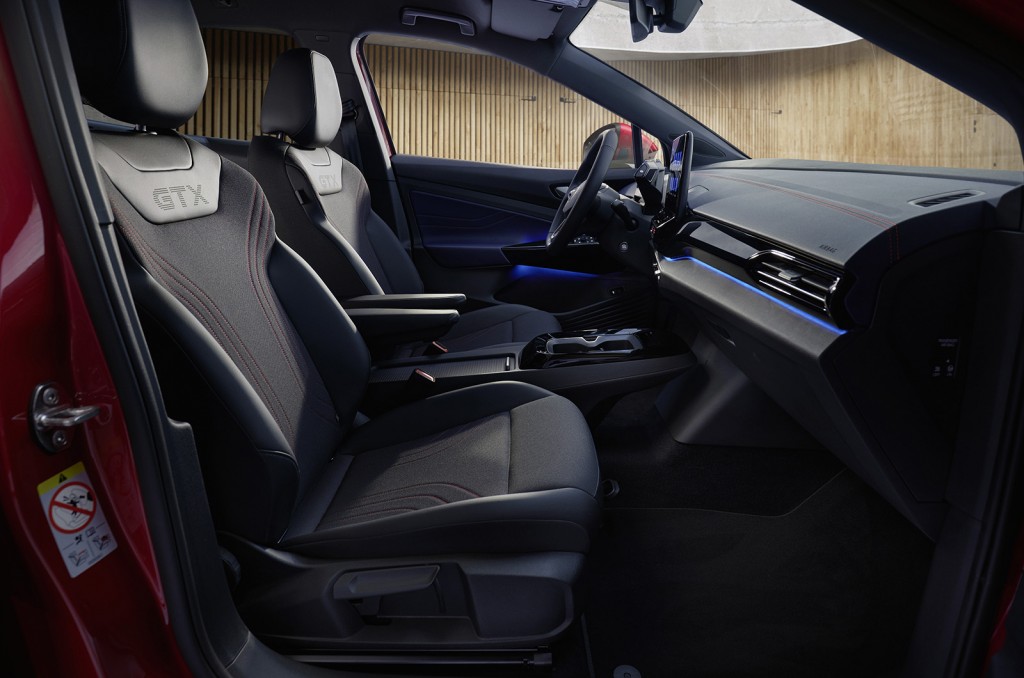 VW's infotainment operating system has been criticised in recent years, and has certainly had its quirks and frustrations. But the ID 5 is the first model that will be sold with the latest 3.0 version of Volkswagen's operating system (existing ID 3 and ID 4 models will eventually get it as an over-the-air update), which actually adds some extra features and usability.
Tell me more…
The most notable upgrade is faster charging, with the machine capable of fast-charging at 135kW, rather than 125kW on existing ID 4 models. That's a small but welcome addition, although not as fast as rivals with 800V architecture such as the Kia EV6 and Hyundai Ioniq 5 can achieve.
There's also a new system that recommends an optimal charging strategy for longer trips, studying EV chargers on your route and working out what speed you should drive, and how many times to stop and charge to get you to your destination in the least possible time. We weren't really able to try it on our relatively short test route, though.
We did get to try another new bit of software: Park Assist Plus. This actually allows you to save short complex parking manoeuvres. Then, when you are next in that area, the car can automatically retrace your exact wheel tracks and manoeuvres (don't worry, it has sensors to stop if something gets in the way). From our brief experience it works very well, and could be useful if you really have to regularly reverse onto an awkward driveway.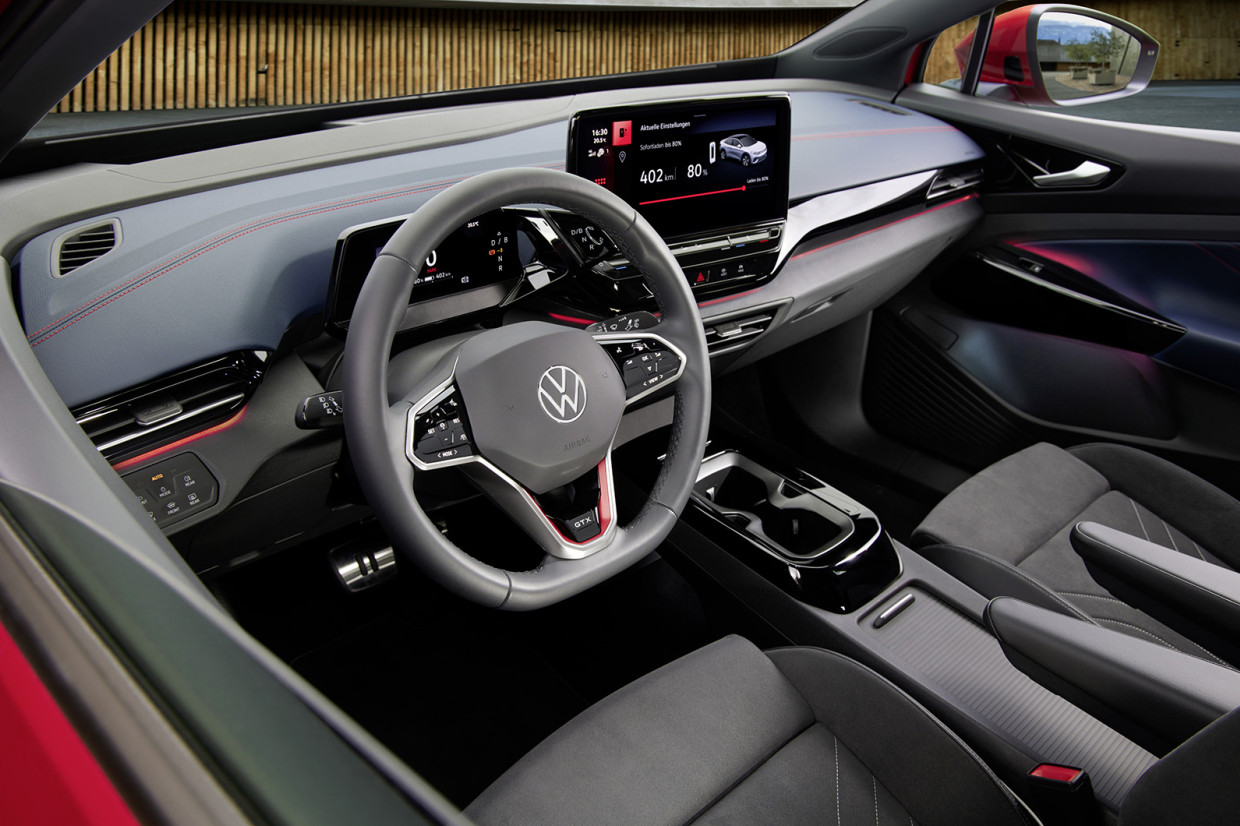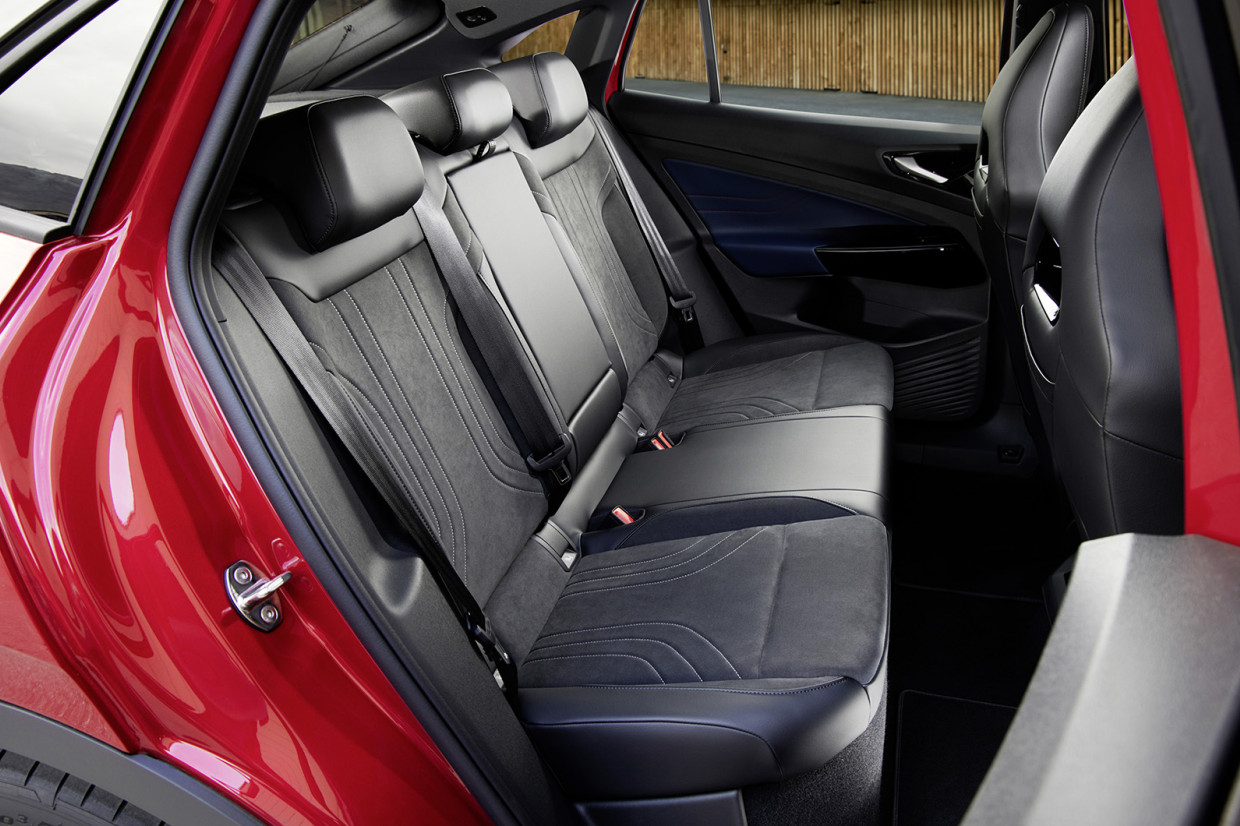 What rivals should I consider?
For starters, you have to pick between the ID 4 and ID 5 – and you will pay a premium for the coupe roofline. The ID 5 range starts at £52,185 for the Pro model in Tech trim, around £5000 more than the closest equivalent ID 4. The ID 5 GTX Max is priced at £60,520, compared to £57,270 for the ID 4 version.
If you're really sold on a coupe-SUV there are still plenty of rivals out there including the closely related Skoda Enyaq iV Coupe and the Audi Q4 e-tron Sportback. The Kia EV6 also has a dash of coupe-SUV to its snoopy styling and is a formidable (and cheaper) contender. And while it's not a coupe, if you're looking at this size of car we'd also consider the Hyundai Ioniq 5, Move Electric's Best Electric Car Award winner for 2022.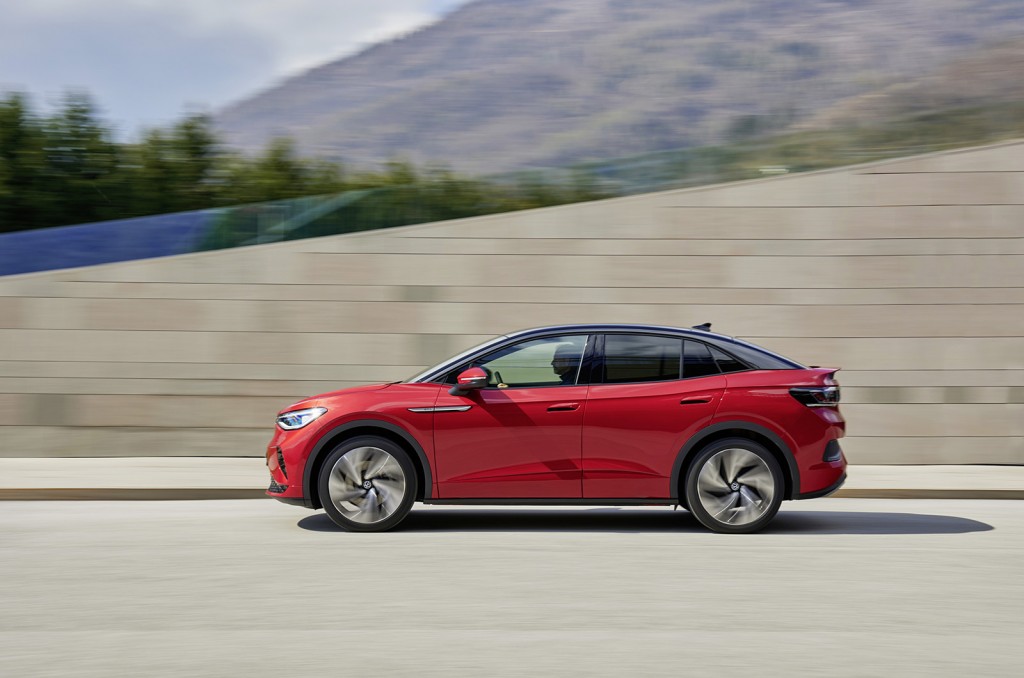 Verdict
There is much to recommend about the Volkswagen ID 5 although, for all its maker's claims about charisma, it's the practical, sensible aspects of the machine that shine through. This is an electric car that's designed to blend easily into your life: it's pleasant and relaxing to drive, and thoroughly practical. 
It's also well-equipped and furnished – although that does come at a price, especially in GTX form – making it a solid contender in this class. Ultimately, despite what its swooping roofline hints at, the ID 5 is much like the ID 4 in sentiment: it's more sensible than sensational.
Volkswagen ID 5 specifications
Price from: £52,185
Motor: Electric permanent magnet synchronous
Gearbox: Automatic
Driven wheels: rear and four
Maximum power: 128-220kW
Maximum speed: 99mph-112mph
0-62mph from: 10.4-6.3secs
Electric range (official): 304-323 miles
CO2 emissions: 0g/km
Tyres from: 18in alloy
Kerb weight excluding driver: 1965-2224kg
Gross vehicle weight: from 2167kg
Height: 1613mm
Length: 4599mm
Wheelbase: 2766mm
Width with mirrors folded: 1852mm
Maximum boot capacity: 549 litres